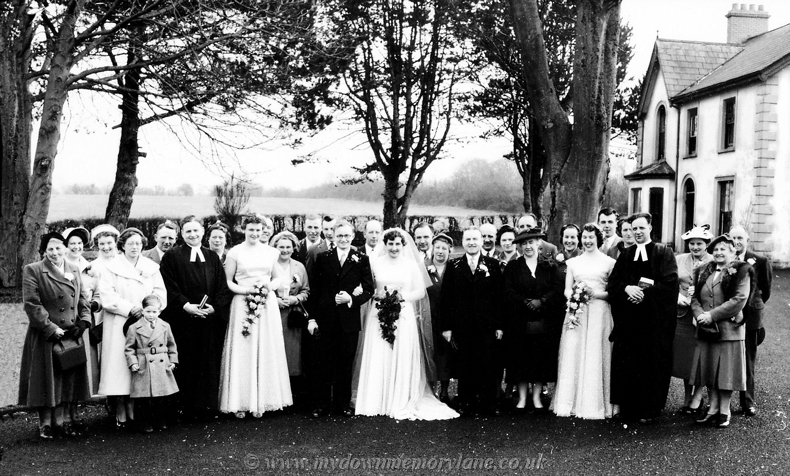 BROWN WEDDING 3009
Here we are out at Muckamore Presbyterian Church on the 24th March 1955 to capture on film a wedding that has just taken place.
In the Back Row: and from the left are Mrs Ethel McCombe, Gene Kirkpatrick, in case you are wondering Gene can be either a boy or girls name and means "Well Born", William Kirkpatrick, Daisy Kirkpatrick, Thomas Kirkpatrick, Robert McKnight, George Leathem Mccombe, Robb Kirkpatrick, John Kirkpatrick, James Kirkpatrick, Mary Kirkpatrick, Samuel Kirkpatrick, Betty Forsythe, Samuel (Sam) Mccombe and Netta Kirkpatrick.
Front row: On the left is Mrs McNeilly, then Jean Brown, in front of her Robin Brown, Rev Robert Brown, Bridesmaid Evva Carroll, her mother Mrs Eva Carroll, the Groom Harry Brown, his lovely bride (Sarah) Sally Brown nee McCombe, Henrietta Kirkpatrick, best man Miah Brown the meaning of Miah is "Exalted by God." also a nickname for Jeremiah, Mrs Margaret McCombe, Bridesmaid Margaret McCombe, Rev Alan McBride, Margaret Kirkpatrick, Mrs Wolfe and finally Mr Wolf.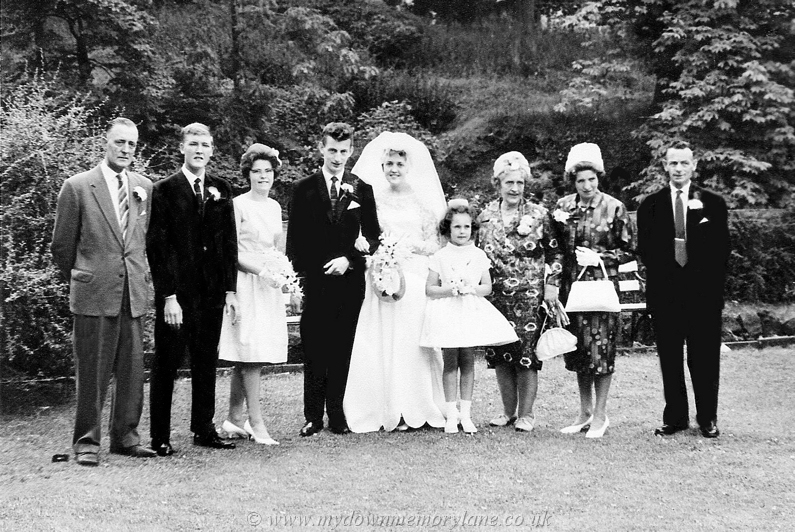 BROBYN WEDDING 3030
Before their reception the happy couple posed with family for this memorable taken in 1963.
From the left we have Samuel Fleming, Best Man Jackson Fleming, Bridesmaid Marjorie Brobyn, the Groom Cyril Brobyn, his lovely Bride Doris Brobyn nee Fleming, Linda Jones, Elizabeth Fleming and finally Mr & Mrs Len Brobyn.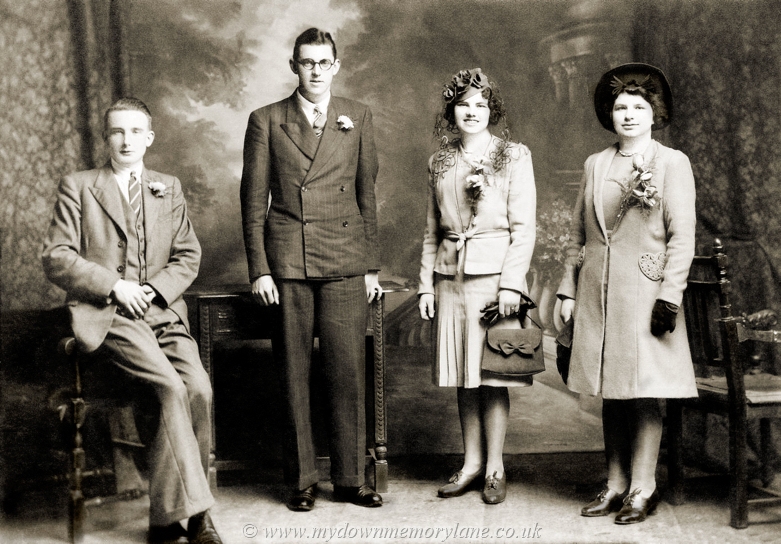 BIRD WEDDING 3053
After their wedding the happy couple along with best man and Bridesmaid went to the photographer's studio to have their photograph taken.
From the left is the Best Man Ronald E West who had come over from London, Groom Edward Bird from England, Bride Enid Bird nee Carson from Milltown Antrim finally the Bridesmaid Doreen I. Carson the Bride's sister also from Milltown.
CHRISTINE BUTCHER 3073
Outside their home at Belmont in 1962 we have at the back on the left and combing his hair to look smart is Arthur Butcher and beside him, looking so proud
is his mum Kathleen Butcher for in front of her is daughter Christine Butcher looking very pretty and all set for her first Communion.
Kneeling in front of Christine on the left is her brother Gerard Butcher with his tongue sticking out and beside him, brother Billy Butcher.
CONFIRMATION 3072
Standing at the back with his tongue out in a jolly way is Gerard Butcher, in front on the left all dressed up is Christine Butcher, then Nicky Wilson, who seems to be thinking 'Why has she her arm round me', Arthur Butcher, Katherine Wilson and James Wilson. The reason Christine is all dressed up and looking so proud is that this was Christine's Confirmation back in 1963.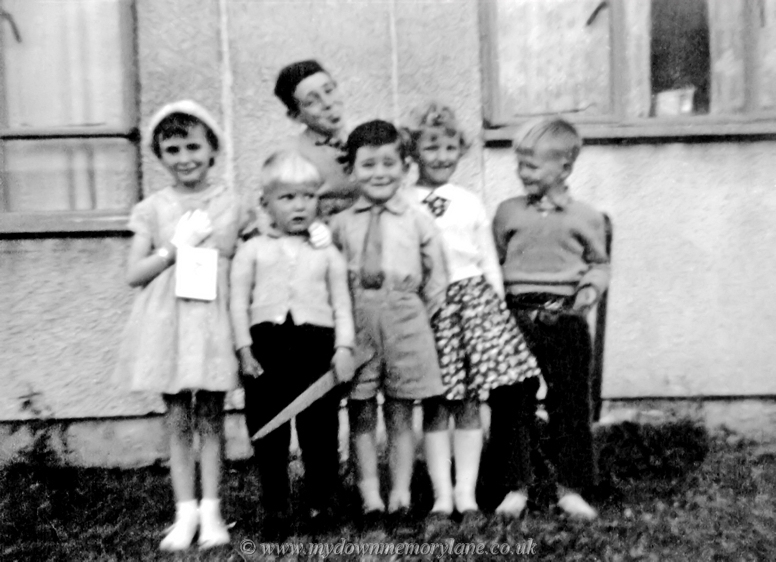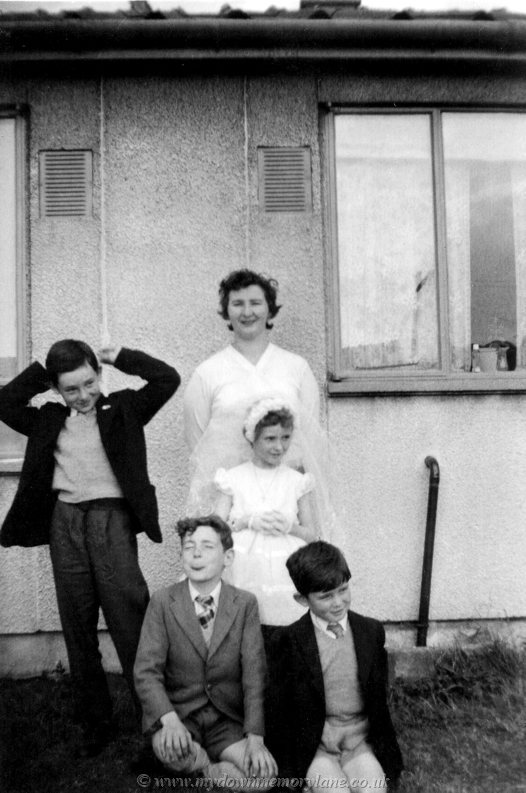 MUM 3074
Kneeling down between the babies is Kathleen Butcher with her daughter Dedrie Butcher and also Donna Wilson at Belmont in 1966.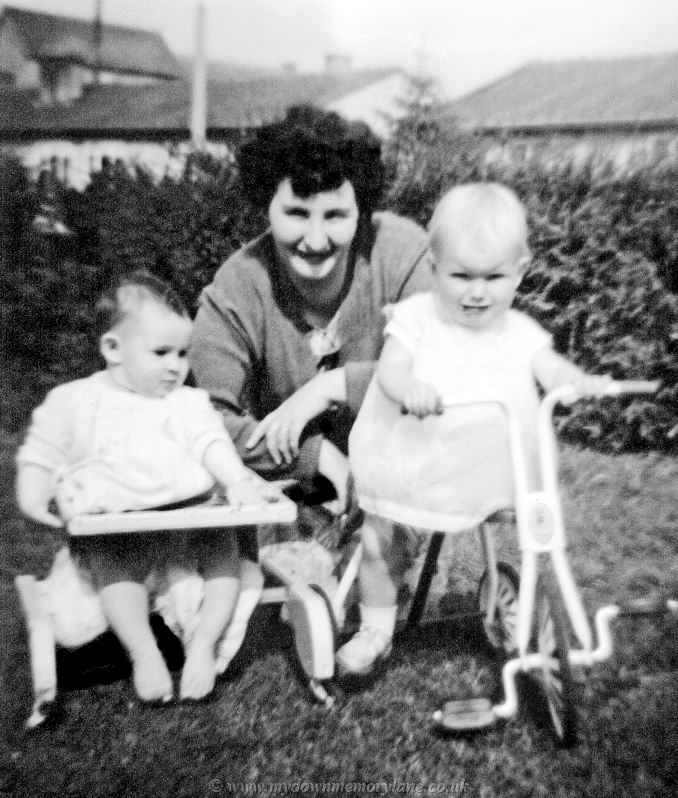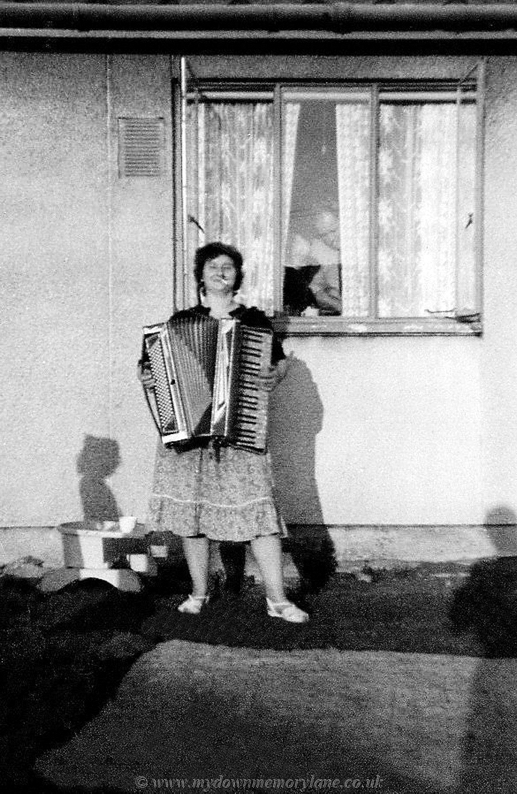 KATHLEEN BUTCHER 3075
Here in Belmont down Riverside in the 60's we have Kathleen Butcher belting out the tunes. Looking out the window is hubby Arthur Butcher while the shadows tell us one was taking the photo while one of the daughters was watching.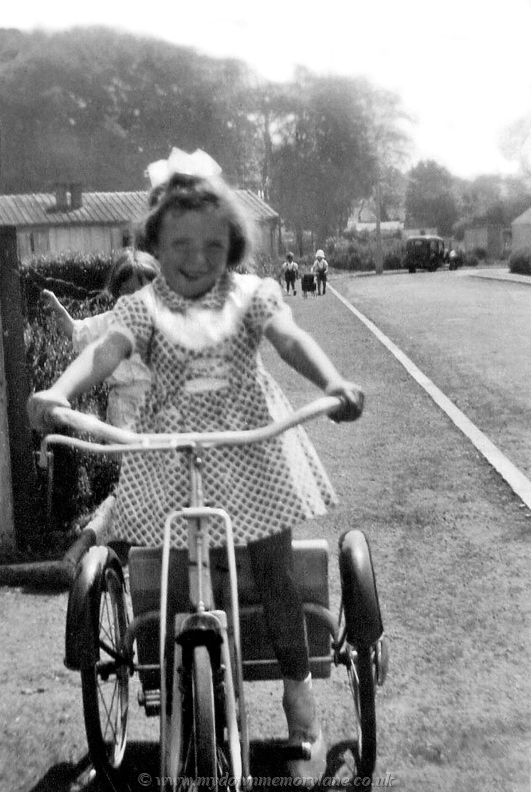 BELMONT PARK 3076
Here at Belmont Park is Christine Butcher on her tricycle with a carrier on the back to hold things and in the background look at the old car. In our day when the tricycle got old we took the lid off the carrier so our mate could stand in it and get a lift.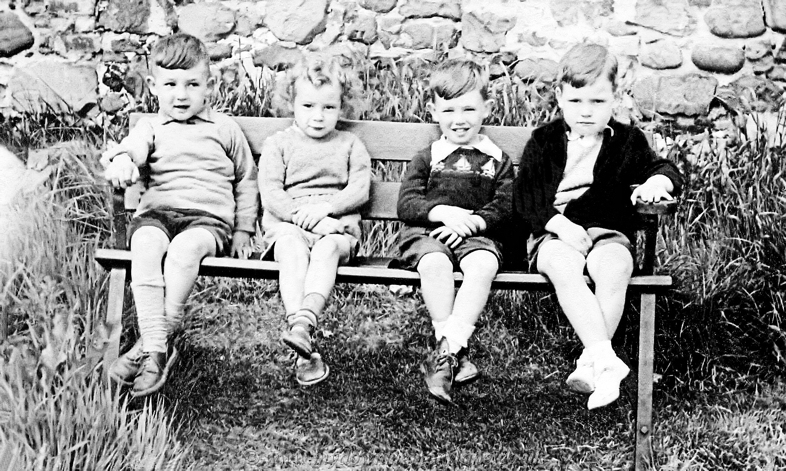 CHUMS 3077
These four chums sitting on the bench was taken somewhere in Antrim. Possibly taken around April or May for although they are all wearing sandals they are still well wrapped up. The boys names are Billy Butcher, Gerard Butcher, Unknown and Unknown.
BUTCHER CHILDREN 3078
Sitting on the doorstep outside their home in Belmont Park we have on the left Gerard and Billy Butcher. While behind them on her trike is their sister Christine Butcher.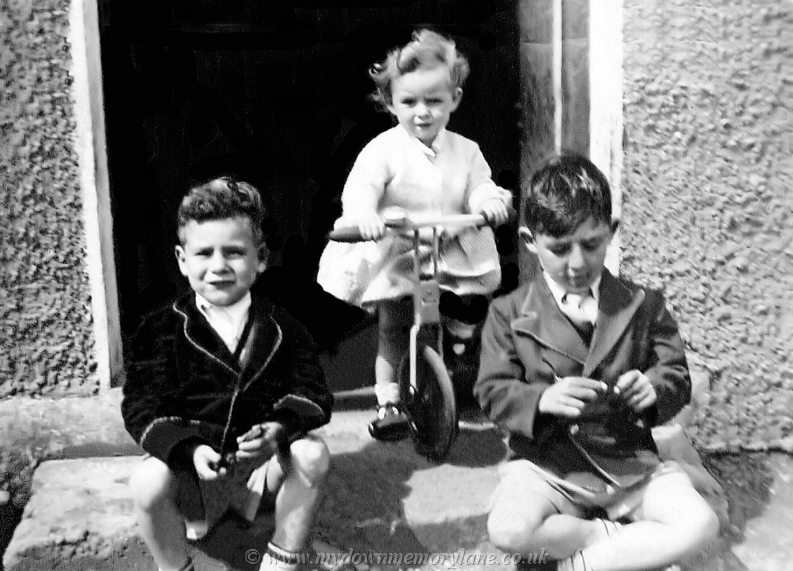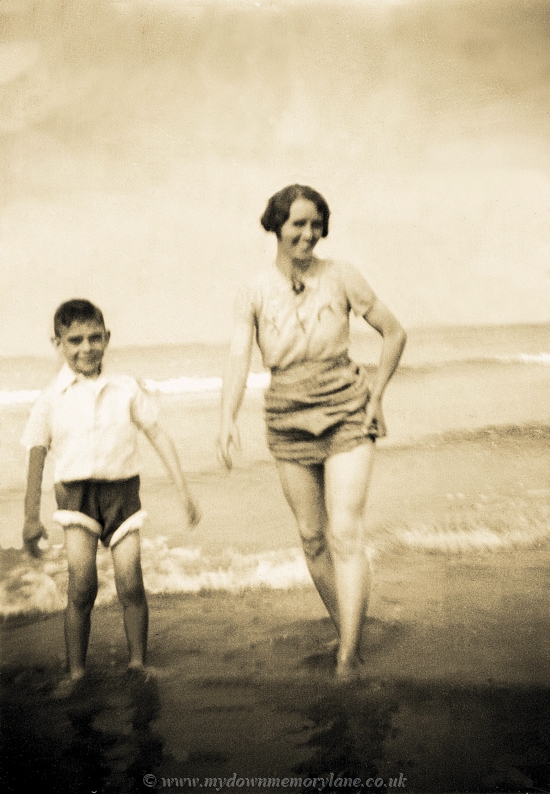 ON THE BEACH 3021
Here enjoying a paddle at the beach is Maggie Baxter and Philip Baxter.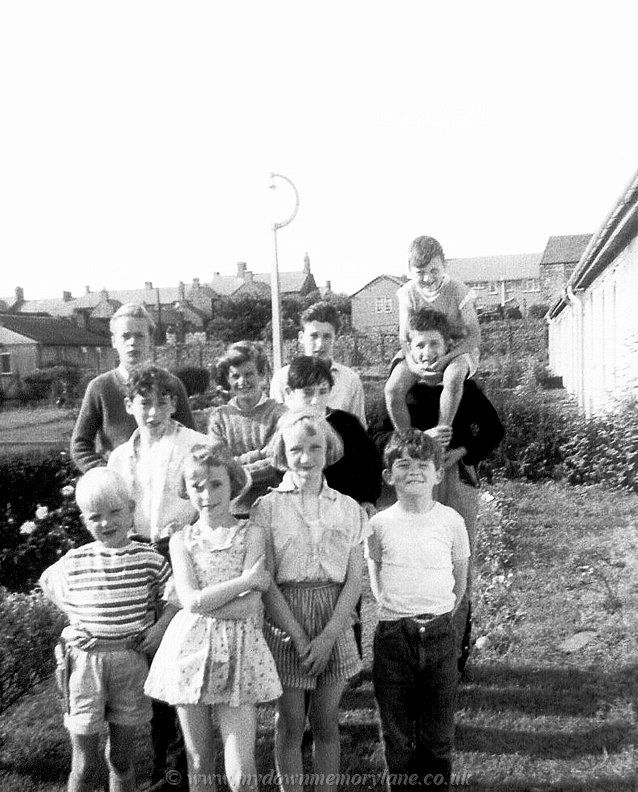 BELMONT GANG 3080
This is the Crazy Gang who played around Belmount Park off Riverside.
Back Row: left is Davy Craig, Kenny Gray, Ivan Gray and finally Roy Ager with Sydney Gray on his shoulders.
Middle Row: has Billy Butcher and Gerard Butcher.
Front Row: are Nicky Wilson, Christine Butcher, Sylvia Grey and Arthur Butcher,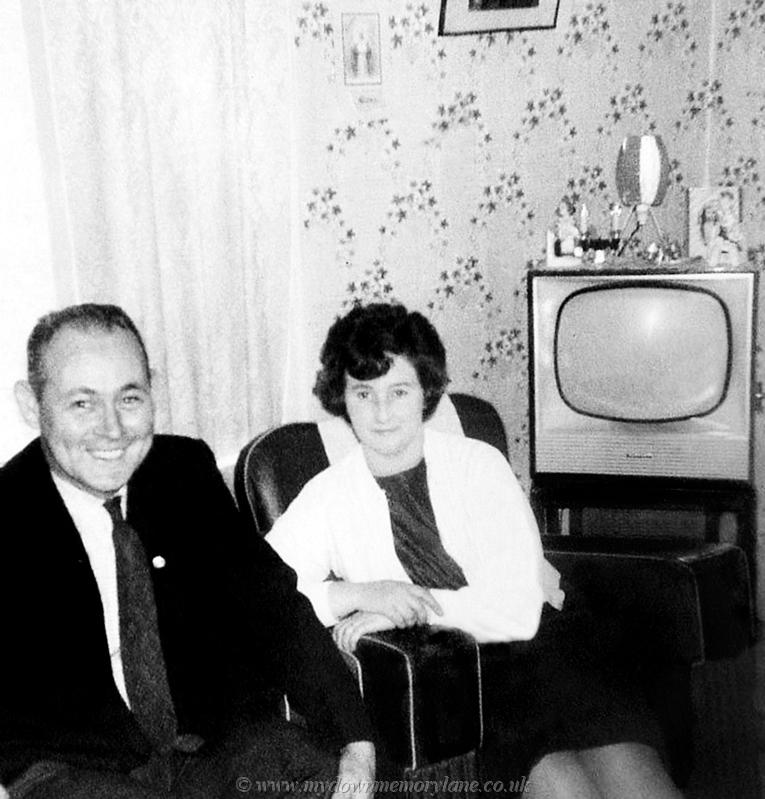 THE BUTCHERS 3084
Here sitting in the comfort of their home at Belmont Park in the Riverside is Arthur and Kathleen Butcher. Now behind them is the wonder of the times, a television and that was a good size then. Back then there were no video recorders ect and wait for it, ONE Channel ! It was BBC, I can't remember what time it started in the morning but the channel shut down at 6pm till 7pm to allow people to have their dinner at teatime, I kid you not, then closed down at 11pm till the following morning.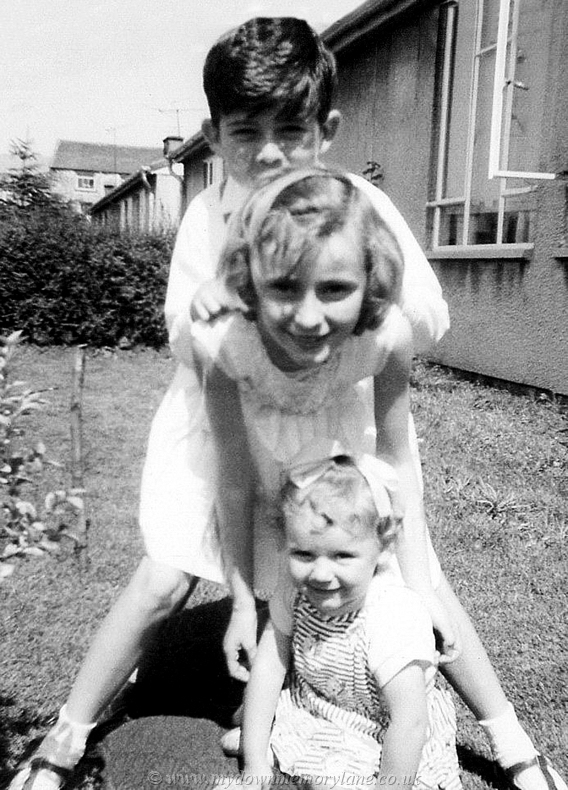 COUSINS 3085
In the front garden of their home in Belmount Park at the back is Arthur Butcher then his sister Christine Butcher and finally their cousin Grace Ann O'Neill.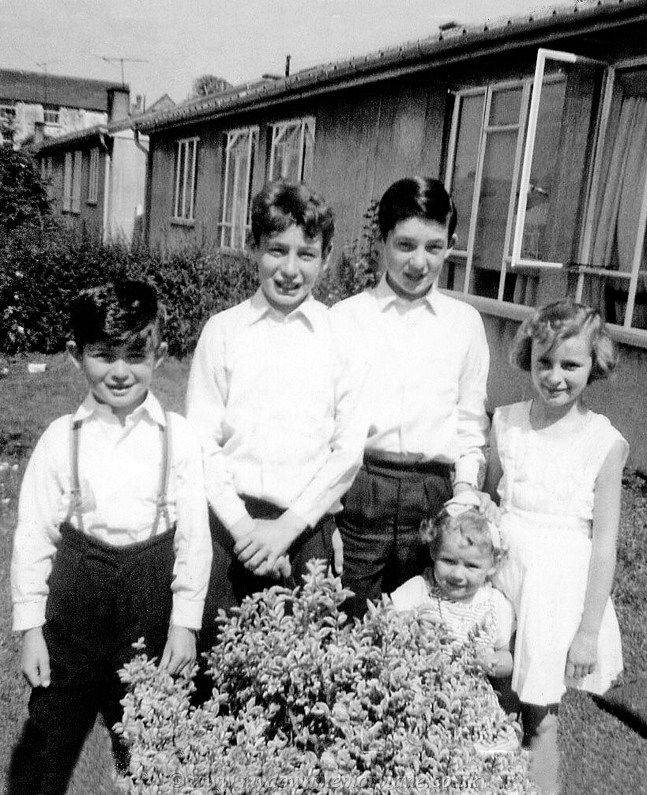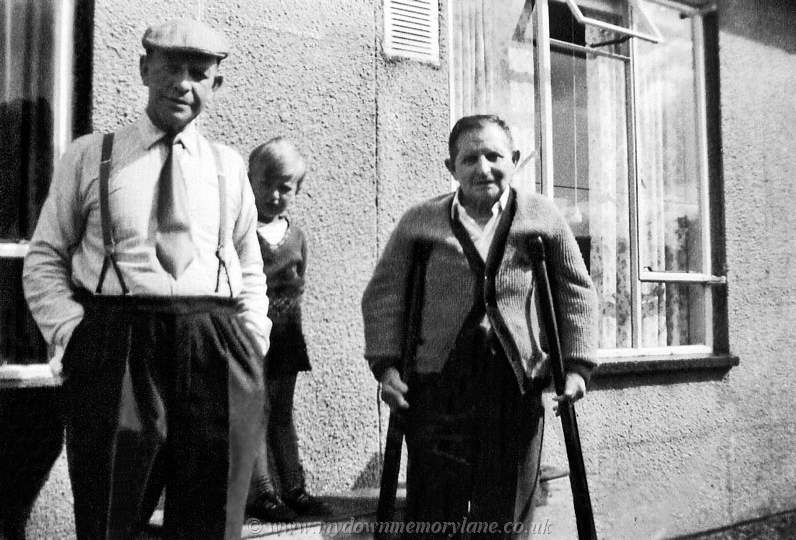 BUTCHER CHILDREN 3087
Standing in their front garden on a hot summer's day we have the Butcher children and their little cousin.
On the left with braces is Arthur, then Gerard, Billy, Christine and their cousin Grace Ann O'Neill.
Now they must be going somewhere or they are having visitors, the reason, they are all smartly dressed and their hair combed. Now the reason Arthur is wearing braces could be that he is wearing one of his brothers trousers that are too small for them but to big for him as you can see. When I was growing up I used to get neighbours sons trousers and my mum used to cut up my dad's old trousers and make two pairs, she always made them bigger so I could get more wear out of them as I was growing.
BELMONT PARK 3111
This photograph was taken when summers lasted weeks not days and on the left is Moore Whiteside and beside him is Tommy Whiteside and behind them is young Cryil Wilson down Riverside in Belmont Park.
Some of the names above were given to me by Roy Ager.

MASSEREENE STREET 69
The funeral hearse was the first motorised hearse that James Baird had. He is the man with the top hat on and the year was 1933.
They are just coming out of Massereene Street onto Bridge Street turning towards High Street. On the Right corner was the Cova Inn.
Jim Baird (grandson) told me that the motors when they came back were jacked up and a man cleaned the underneath of them.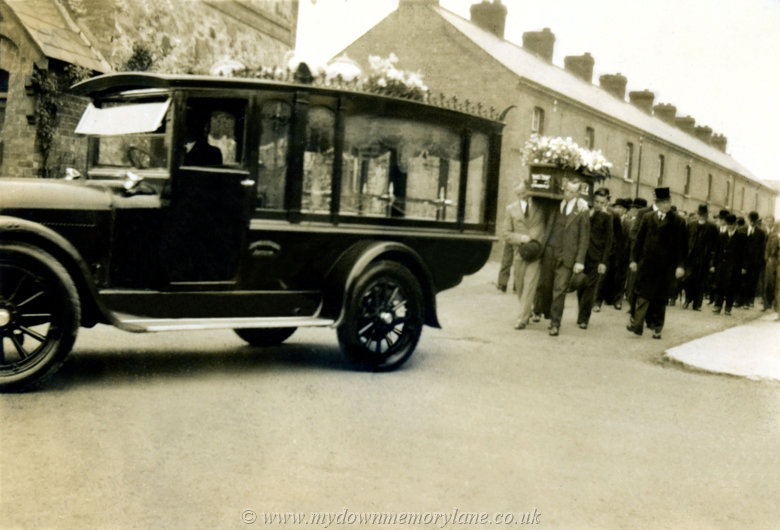 BALLYCRAIGY 1462
Belting out a tune before they wet their whistles in the Ulster Bar in 1975 we have some of the members of Ballycraigy band. The only one known is second from the left Eddie Baird.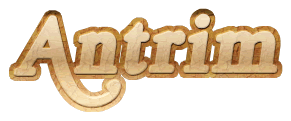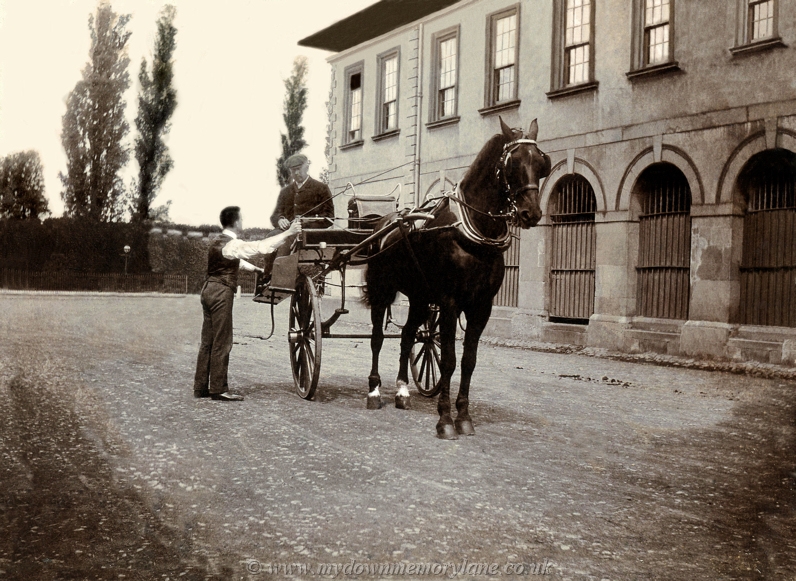 MARKET SQUARE 16
This is James Baird of Baird's undertakers in Church street photographed in the late 1930's at the side of the Court House.
If you look at the arched recesses you can see that they have iron railings this is the exercise walkway for the prisoners.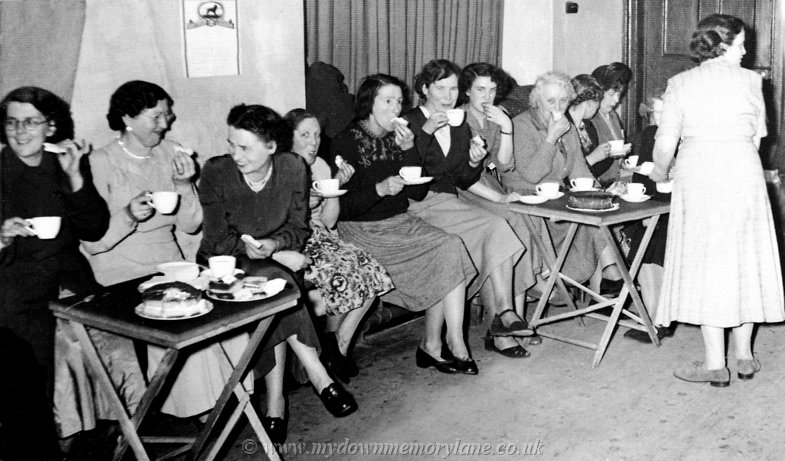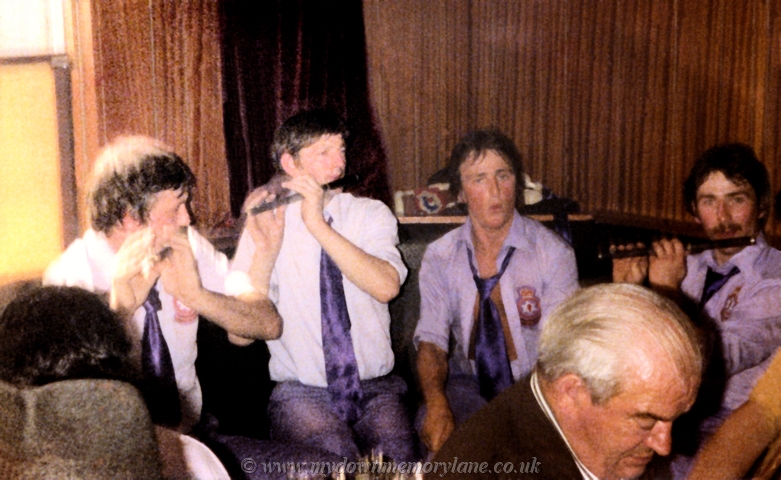 BRITISH LEGION 104
The secret is out, now we know why so many Antrim ladies wanted to be on the British Legion ladies committee this is what they did after a meeting. Just look at those sumptuous cakes and yet one lady in particular to this day has still kept her figure!
Photographed down the Lough Road in 1960 we have Margaret Trimble, Unknown, Hetty Stott, Unknown, Unknown, Sadie Bain, Dorothy McKeown, Mrs Jack, Mrs Allen, Mrs Collis, Unknown and serving them all is Betty Monaghan.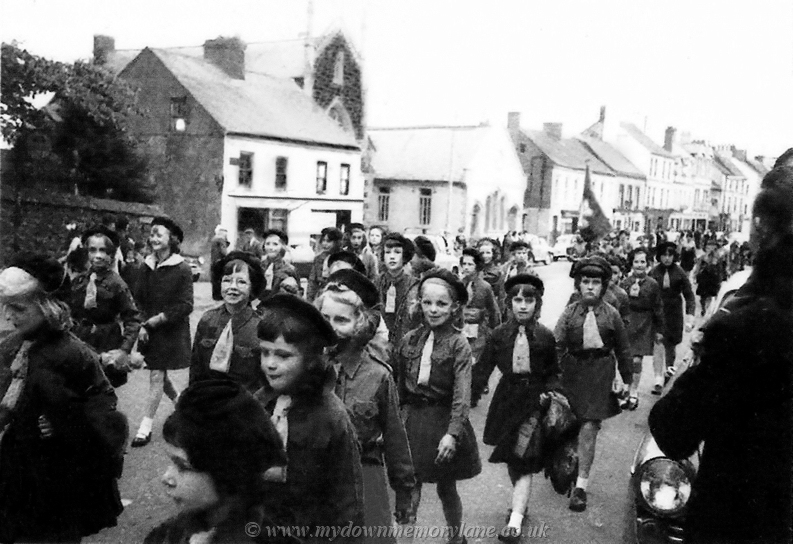 BROWNIES PARADE 50
The Brownies are just starting to walk up Church Street from High Street in a parade through Antrim in 1964.
In the background you can see the house that was two shops one of which was a woollen shop and was pulled down to widen the entrance into Riverside.
Also High Street Presbyterian Church and Orr School are still in their original state.
BRITISH LEGION 615
Standing on the steps of the former British Legion headquarters at Riverside in 1941 as the Second World War raged across Europe we have the Branch's first lady Standard Bearer Mona McMeekin. She is accompanied by Sadie Bain (left) and Betty Monaghan.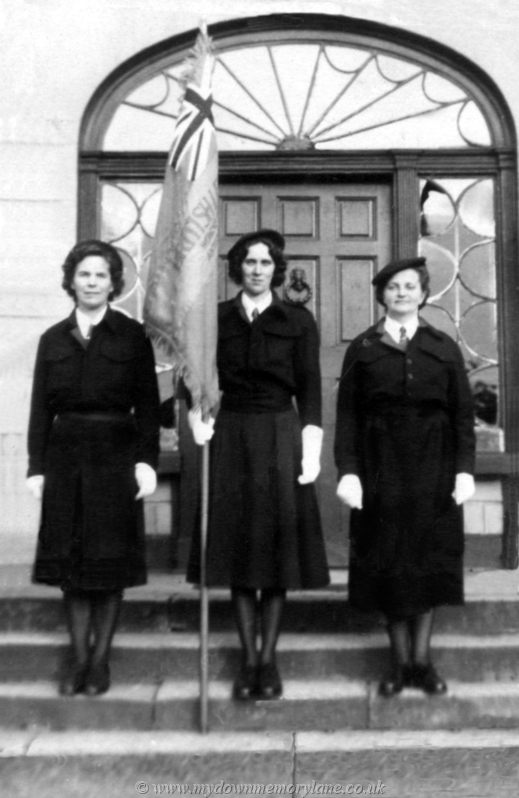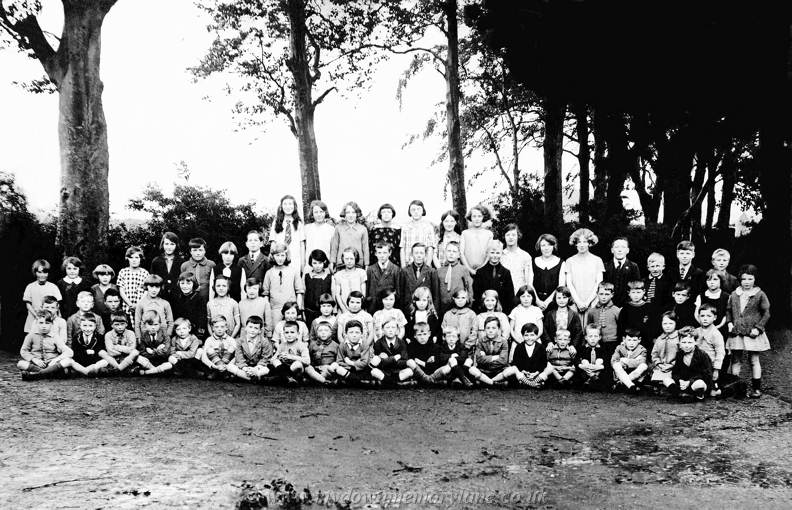 BALLYCRAIGY SCHOOL 2519
This is Ballycraigy School having their photograph taken probably before Ballycraigy estate was built for behind them you can see haystacks in the field.
At the moment neither the year or the childrens names are known unless you know better, if so let me know so we can bring this school photograph to life.
The first girl on the left in the back row is wearing a badge on her tie so she could possibly be a prefect or head girl.
In the front row 6th from the right is a little boy while the girl behind has her hands on his shoulders must be his sister, for no boy would allow a girl to do that!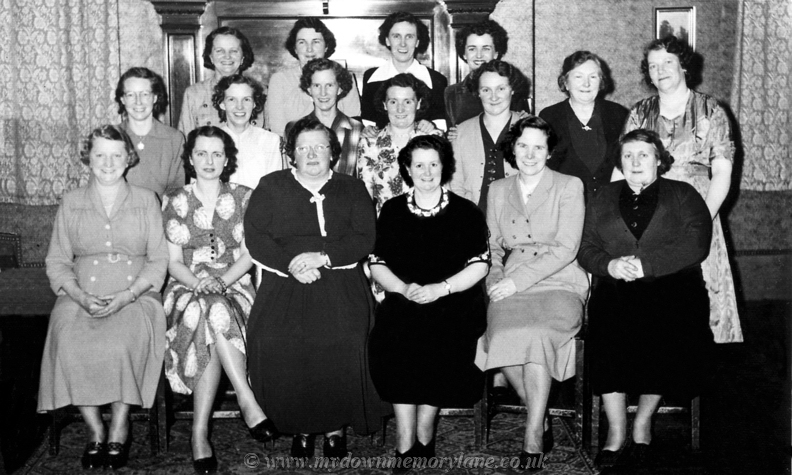 BRITISH LEGION 103
These smiling faces all belong to the committee members of the ladies section of the British Legion in 1960.
Back Row: from the left are Betty Monaghan, Dorothy McKeown, Mona McMeekin and Phyllis Lavery.
Middle row: we have Mrs Craig, Unknown, Margaret Mercer, Edith Hannan, Nora Wilson, Unknown and Unknown.
Seated: are Unknown, Unknown, Mrs Binstead (Chairwoman), Gwen Wilson (Treasurer), Sadie Bain (Secretary) and Unknown.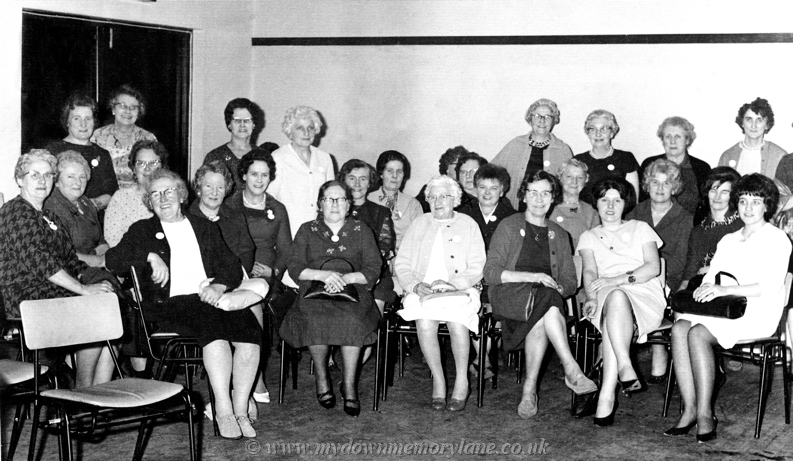 BRITISH LEGION DINNER 984
Here in Belfast for their dinner we have members of Antrim British Legion in 1961.
At the back we have (from left) Edith Hannan, Unknown, Jo Davis, Elizabeth Hannan, Minnie Allen, Unknown, Hetty Lennon, Mrs Rankin and Caroline Stewart. In the middle row are Ellen Hume, Mrs Scott, Charlotte Rankin, Agnes Hannan, Helen Brown, Sally Fee, Margaret Scullion, Nellie McKee, Jean Peacock, Cassie Craig, Unknown and Unknown. In front the first lady is unknown, then Ellie McKillop, Sophie Bones, Mrs Craig and Sarah Wallace.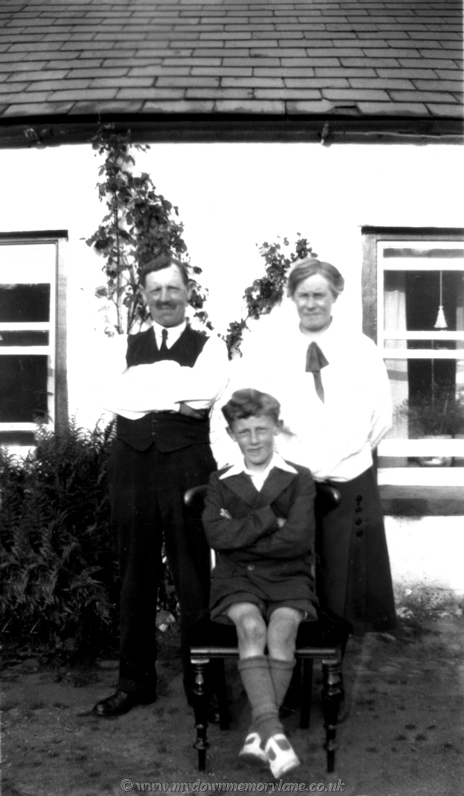 BAIRD FAMILY 1417
Posing for a photograph outside their home in Antrim we Willie Baird with his wife and son James. The year is unknown.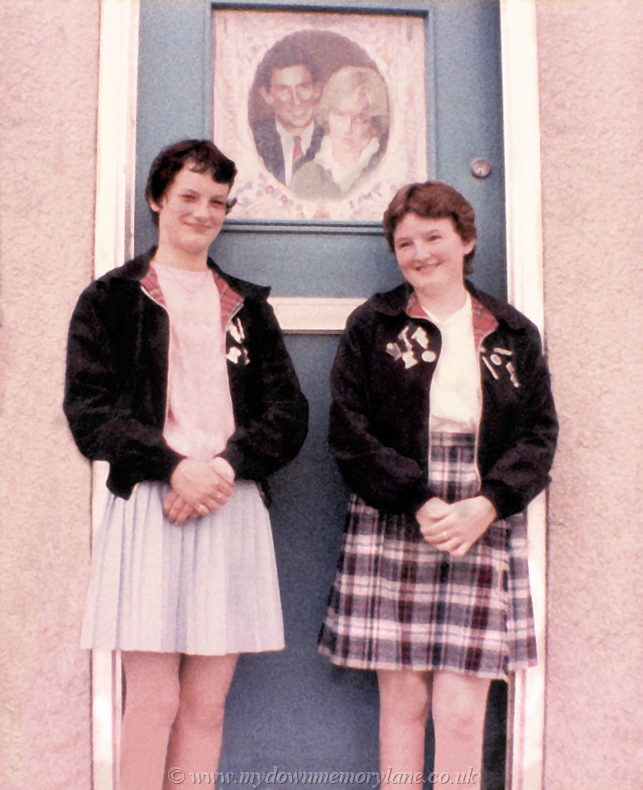 BELMONT PARK 1941
Standing outside her home at 14 Belmont Park, Riverside in 1981 showing off their matching jackets and fab badges.
We have Anna Young with her best friend Joane Kyles.
BOYS NIGHT OUT 1425
Enjoying a night out in the 60's we have Dougie Lynn, Clef McVeigh and Hugh Fleming.
While Dougie is wearing a normal collar, Dougie's is pinched in behind the tie and Hugh's is bang up to date with the cut away collar.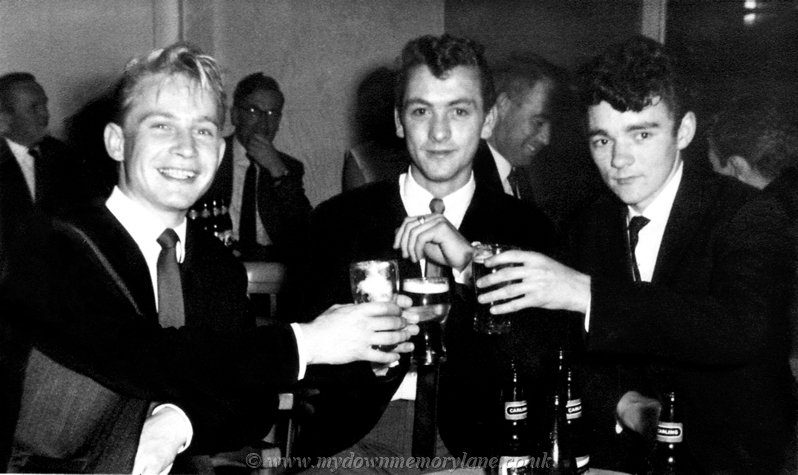 Pages: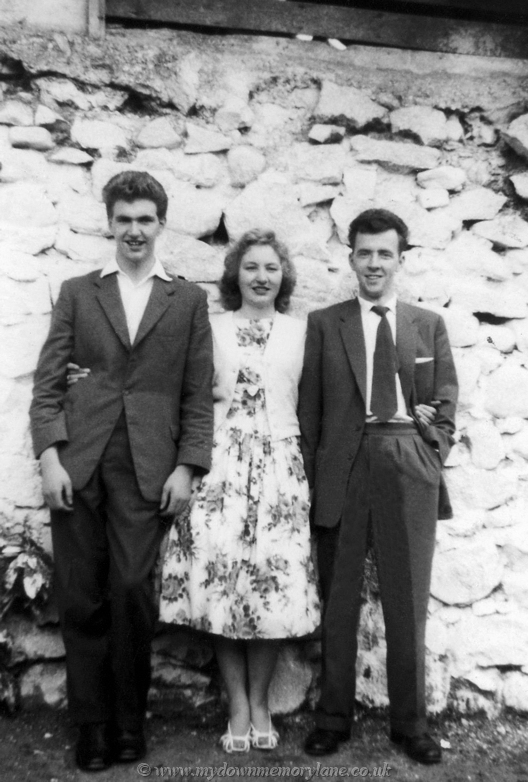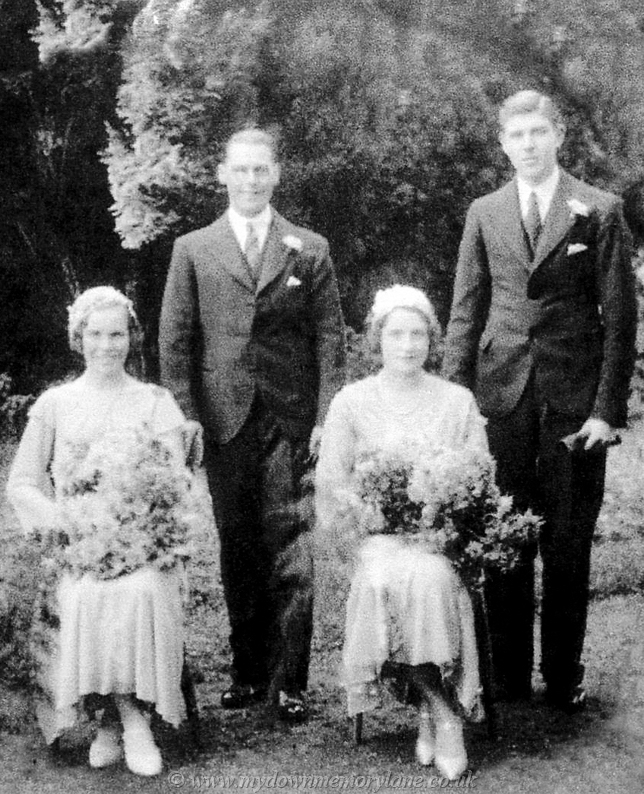 BAIN WEDDING 966
Pictured in the Castle Grounds after their wedding service at All Saints' Parish Church in Church Street, we have on the left our very own Sadie Bain nee McElrea, the Bride. Next to her is her handsome husband Jock Bain, then the Bridesmaid Muriel Scott and the Best man Joe Scott. Sadie lived in Castle Street in the Frenchman's house and because her father worked for Lord Massereene, he gave Sadie permission to pick the chrysanthemums out of his gardens to make the bouquets. It is a day Sadie will never forget the 3rd October 1932. Sadie has gone home to be with Jock.
BACK YARD 132
Here we Joan Nesbitt on the 19th September 1959 in the back yard of Lough Neagh Hotel with one arm round her brother Roy on the left and in her right arm is Desmond Warwick who later became her husband.
G. BELL 2580
This is a Mr G Bell taken Saturday 29th May 1926 sitting astride his beloved Royal Enfield.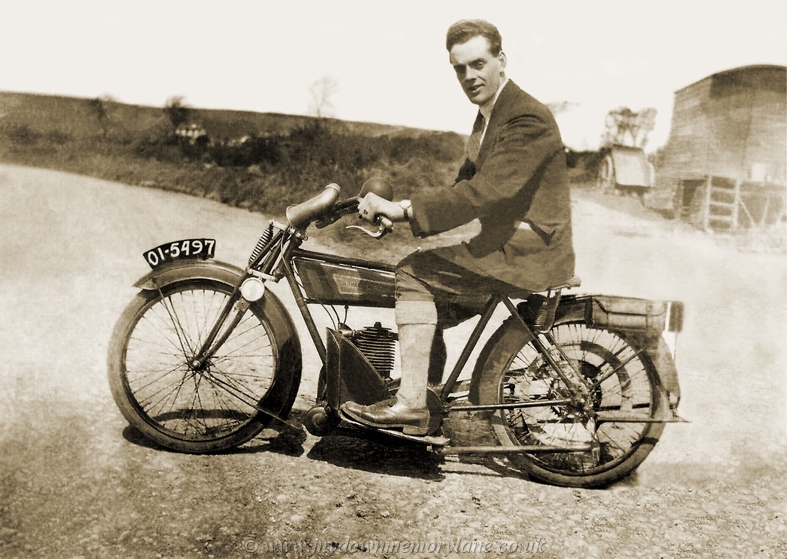 THOMAS BERESFORD 2470
Out for a dander down in Antrim back in the 60's is Thomas Beresford.
He's dressed in the hight of fashion then, Thomas has on a Camel coat with dark brown buttons and the trousers are straight leg with 16" bottoms and to finish it off he has a Teddyboy hairstyle.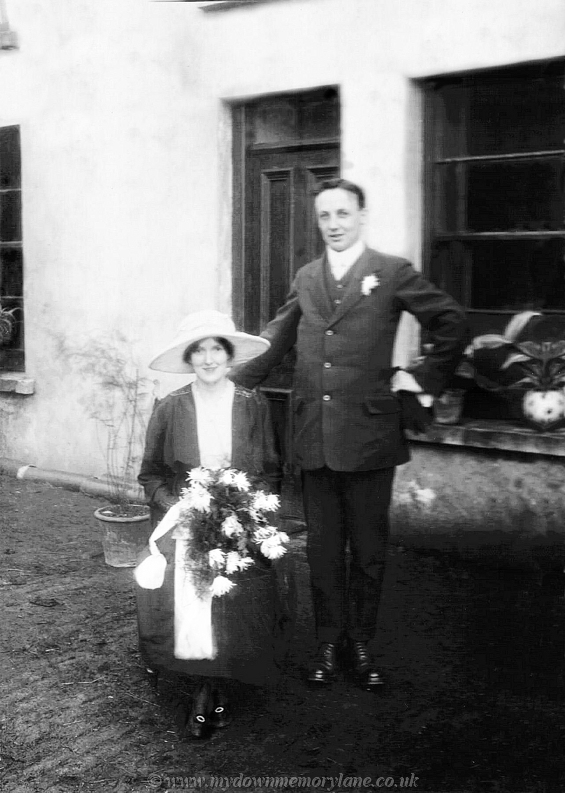 BRICK WEDDING 2333
Outside their home in 1919 after their Wedding in Antrim First Presbyterian Church in High Street are the brick couple.
Seated is the radiant bride in her outfit with her beautiful bouquet Sarah Brick nee Millar then aged 29.
Standing proudly beside her is her Groom Philip Brick wearing shoes with a shine on them that you could see your face in them.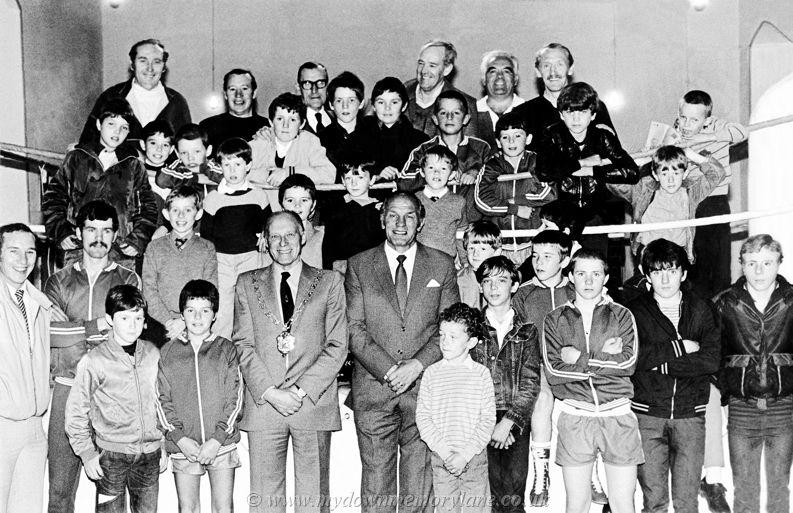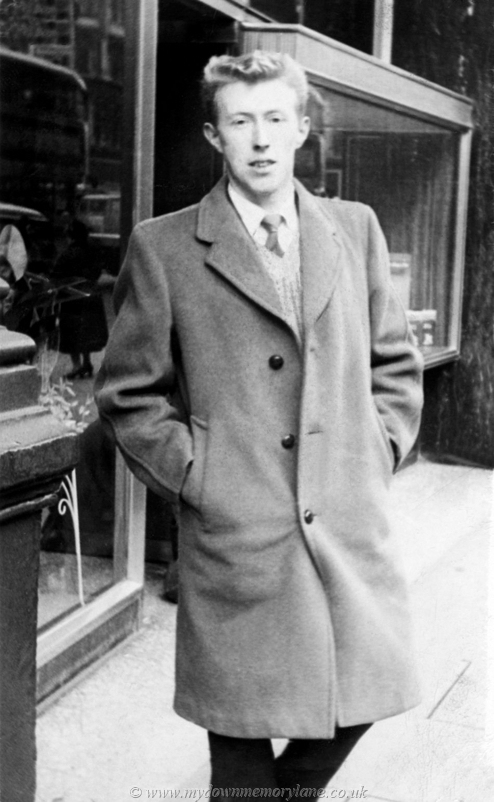 BREAD VAN 34
It's ironic when you think about it, you had hundreds of these vans in the late 1950's and now today in 2022 they are making electirc cars.
When you look at this van just below the number plate you can can see the steering joint which ran back to the front wheels.
Also you can see it only has one headlight, but there are indicators, up next to the sign on the side of the van you will see a thin black line. That's the indicators, when activated they would swing out at 90 degrees with a light inside them.
BOXING CLUB 2914
Here we are in Antrim at the local boxing club and everyone is so excited at the visitor who has come to meet them.
At the back in the boxing ring on the left we have Michael McCluskey, Lexi Mccombe, Jack, Jack, Mr Winter and Geordie Gratten.
In the next row are Unknown, Unknown, Unknown, Unknown, Unknown, Unknown, Trevor Davis, Master McCluskey, Unknown, Unknown and Paul Dempsey.
Next row has Unknown, Unknown, Unknown,Stephen McCombe and David Gratten.
At the front are Sydney McCombe, Unknown, Unknown, Unknown, Mark Winter, Antrim Lord Mayor Jack Allen, British Heavyweight Champion Henry Cooper, Master McCluskey, Unknown, Unknown, Unknown and Unknown.
Footnote: Sydney McCombe dedicated between 25 to 30 years of his life to running the club and they are trying to start the club up again.
Stephen McCombe now runs cage fighting and Mark Winter went on to become a British Champion.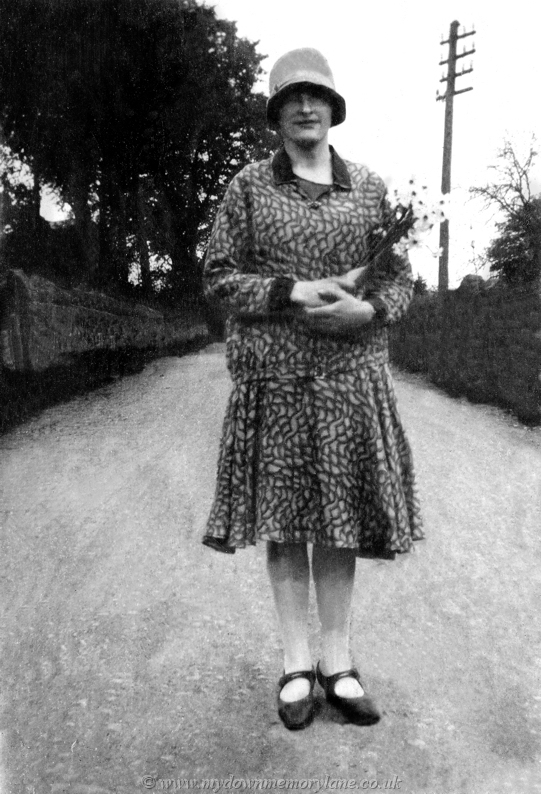 DUBLIN ROAD 876
This is May Brown on the Dublin road with a lovely bunch of Daffodills for someone.
The year is unknown.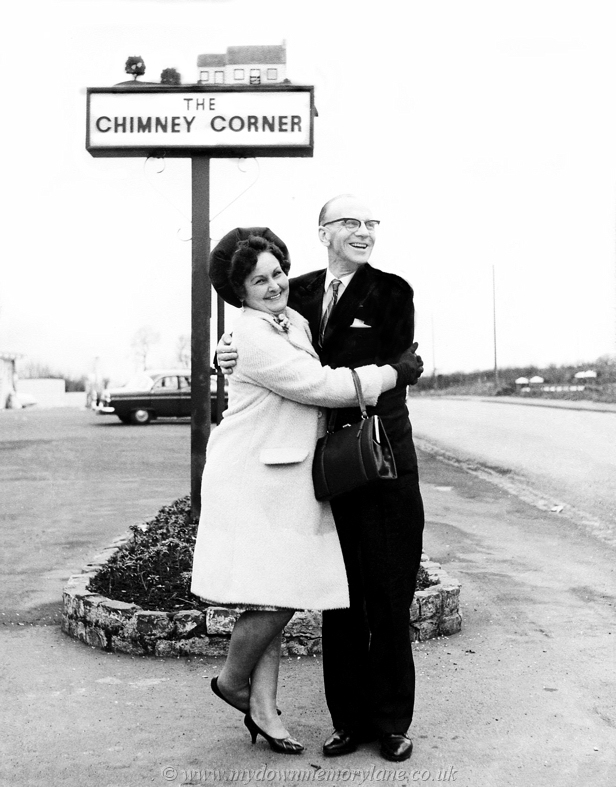 CHIMNEY CORNER 2006
This is Nellie & Dennis Butterfield enjoying the moment back on the 9th March 1968.
They were attending the Wedding reception of Nellie's sister Moreen McCaughey. Nellie's coat by the way was Salmon Pink with a browm handbag and brown shoes with Salmon Pink stripes.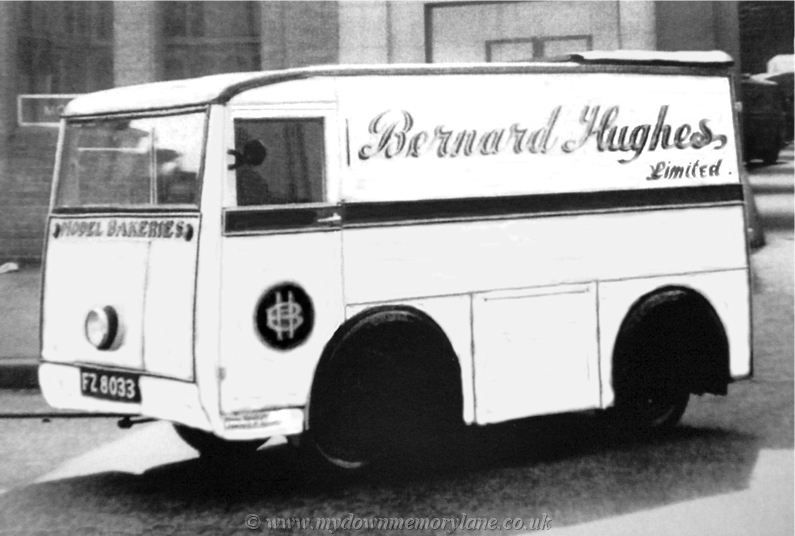 DOROTHY BREMNER 1654
This lovely looking girl all dressed up to get her photograph taken in the 1960's has not lost her looks, it is dear Dorothy Bremner.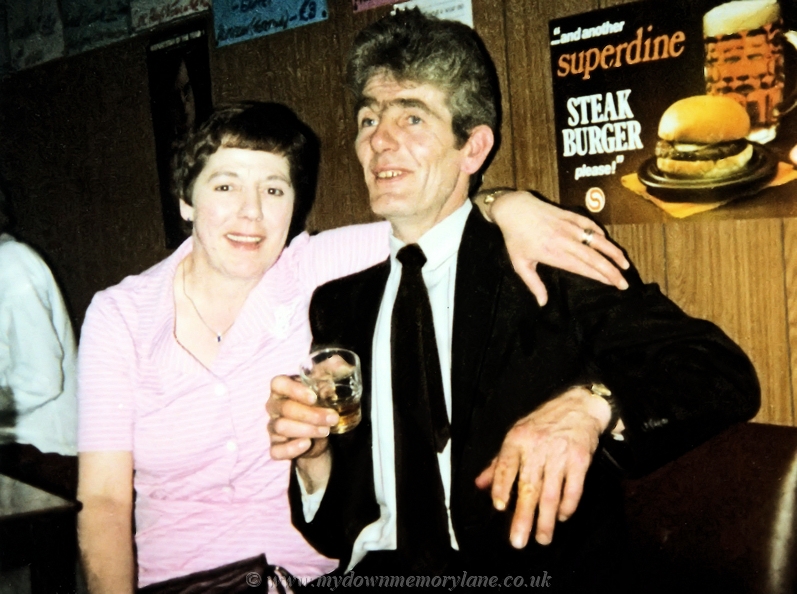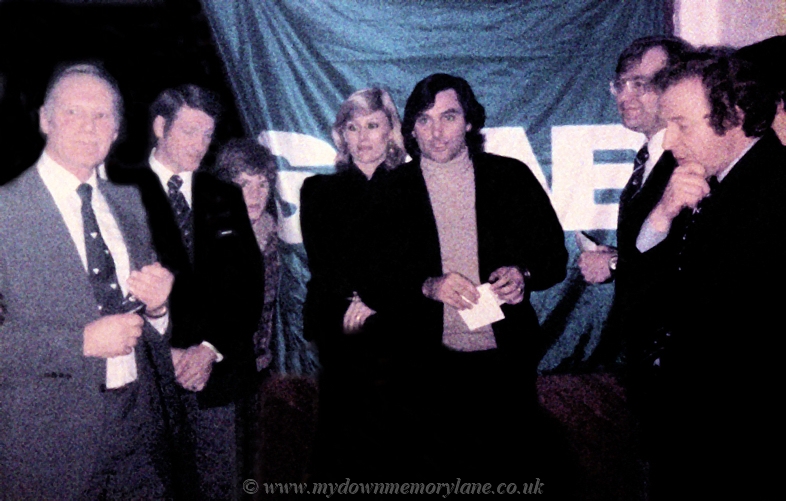 GEORGE BEST 1830
Here we have dear old George Best with his then wife Angie at a Sabb Sponsorship at Antrim hockey Club in the 70's.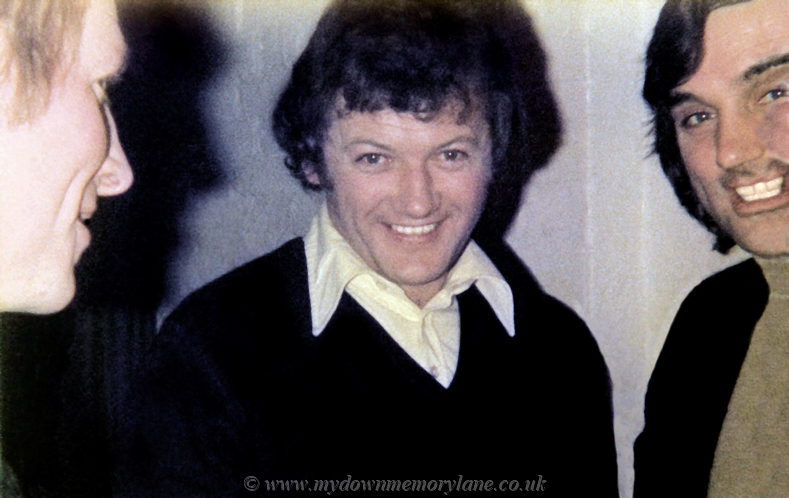 GEORGE BEST 1831
Seen here at Antrim Hockey Club in the 70's the chap on the left is unknown but on the right is George Best while in the middle is Jackie Fulereton.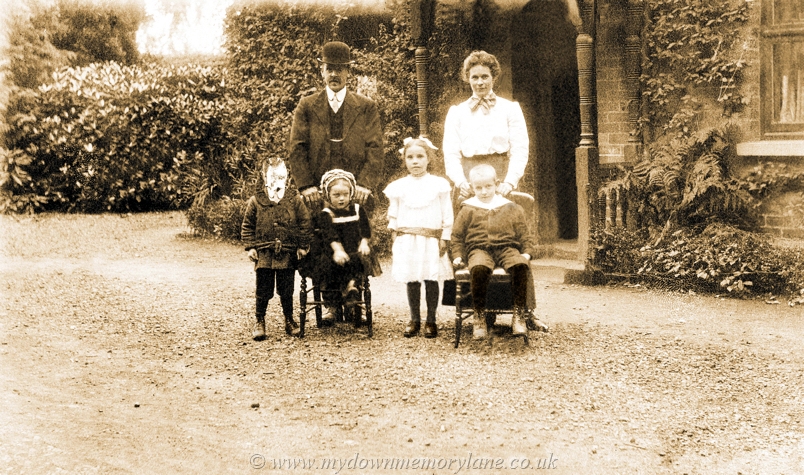 CHIMNEY CORNER CLUB 2469
Enjoying themselves on a night out at the Chimney Corner Club down Riverside. We have John and Betty Blair.
DEERPARK GATEHOUSE 167
This is the Gatehouse at the start of the lane down to the Deerpark Lodge.
The parents are Willie and Rachel Baird. The children from left to right are David, Rachel, May and John.
In case you are wondering David is not wearing a mask, apparently he did not like to see photographs of himself and we are very lucky for normally he would cut himself out of the picture! Date is unknown.