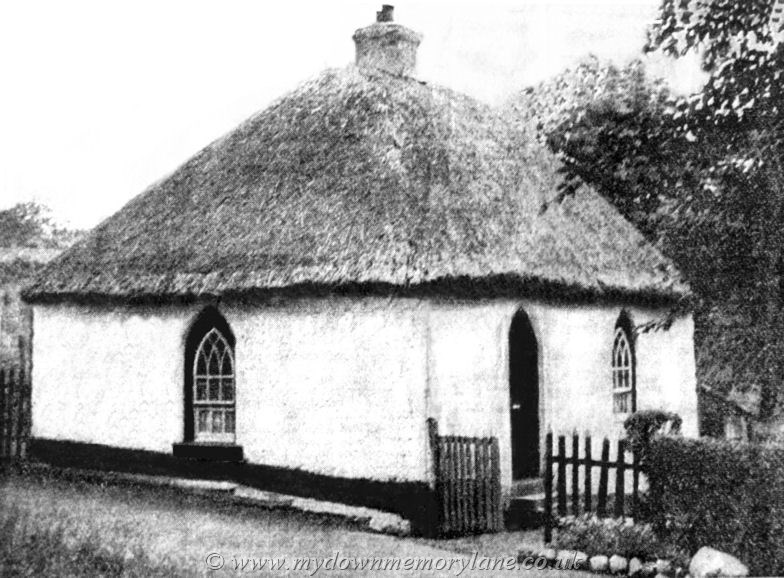 IRISH GUARDS 426
This is Corpl. A. Gray's Squad photographed in June 1945.
Back Row: Gdsn. J. Fitzgerald, A.Keeling, R. Harmer, Cpl. B. Collins, (P.T. Inst.),Gdsn. R. Balie, - - - - - - - - - - - - - - - -- - - - - - -- - -J. Tyrrell and W. Bell. - - --- - - -- - - - -- - - - - - - -- - - Middle Row: Gdsn. J. Martin, J. Bone, P. Hyde, R.Parr, L.Rose, D. Frett, E. Coleman, D. Brown, - - - - - -- - - - - - - - - - - - - - - - - - - - S. Steele and G. Colbourn. - - - - - -- - - - - ---- - - -- - - - - -Front Row: Gdsn. R. Bradbury, G. Cumings, Sgt. J. Bingham (Supt Sgr.), Cpl. A. Gray (Squad Instr.), Ts. S. M. Cain, C. Cross and K. Batchelor.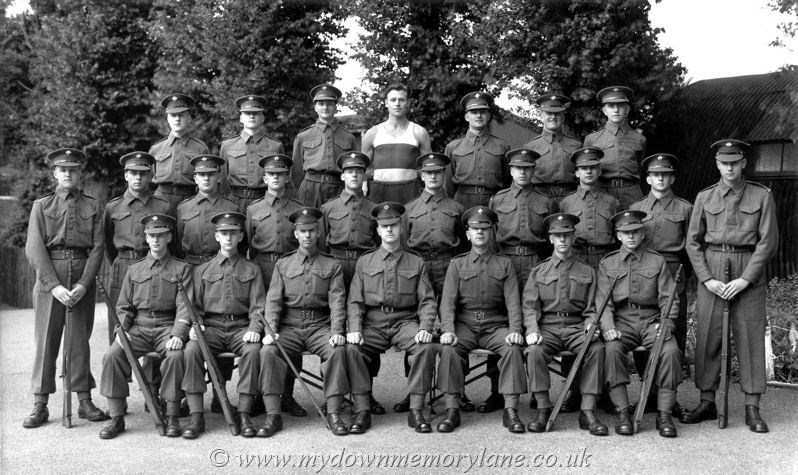 INKPOT COTTAGE 696
Here we have the charming thatched cottage which was dubbed the 'Inkpot' by the people Antrim. Though it is no longer standing in Kirby's Lane,
many locals still fondly recall the distinctive little building when out for a walk while courting.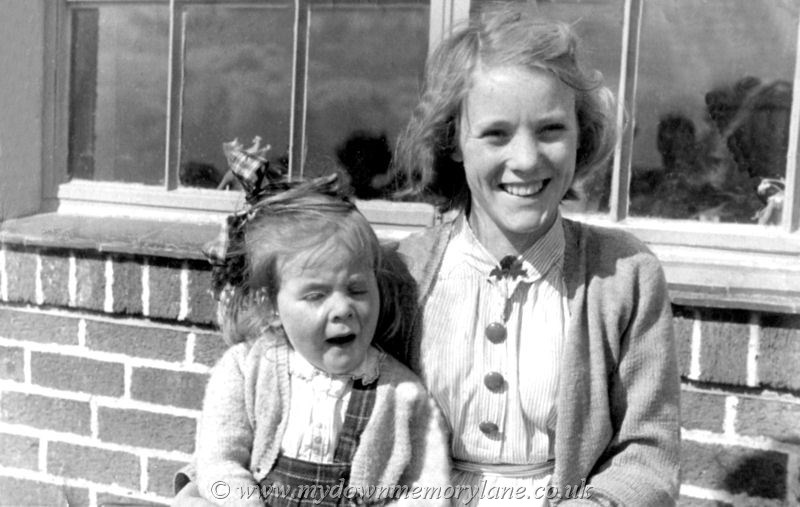 IRELAND SISTERS 938
All smiles for the camera at Lawther Primary School in 1952 we have Ella Ireland
who brought her little sister June to get photographed with her, but I'm afaraid it was all too much boring for June!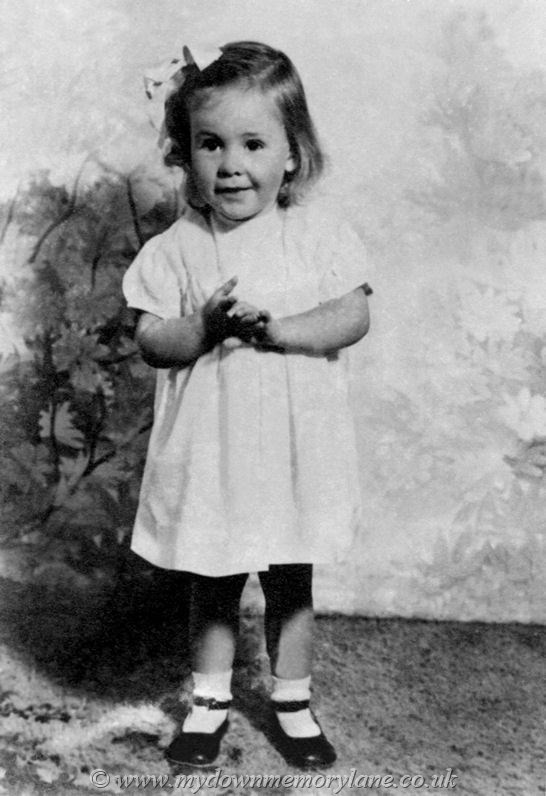 IRELAND PORTRAIT 933
This beautiful shot is of June Ireland who has just told the photographer
that gentlemen should not ask a lady her age - so all we know is that is was taken in 1953.
LEN IRELAND 2886
This is Len Ireland at Lurgan Park in 1956. He is sitting astride his home built streamlined race machine fabricated in 1955.
It had a 48cc four stroke Ducati engine named 'Cucciolo', a two speed gearbox mounted in a moped bicycle frame with his own designed front forks.The 'Dustbin Fairing' was permitted in the 1950's. Len rode this machine from his home near Antrim to Lurgan and other races hence the licence plate. He sold the machine the next year together with an accordian which was bought by Wilcil McDowell who now lives in Larne who went on to become a member of the 'Irish Rovers' group. Wicil was taught by Gordon Johnston who lived on the Seven Mile Straight.
My thanks to Ed Cunningham who has gone home of Ontario, Canada for this photograph.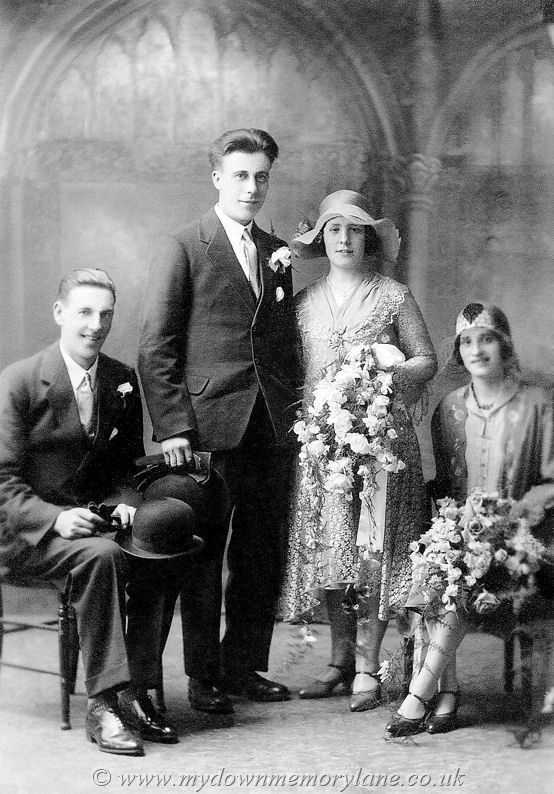 IRELAND WEDDING 1577
Having their picture taken in L'Atelier Studio's on the Main Street at Portrush in 1930.
Here after their wedding at Crosscennon, we have the Groom Robert Ireland and his beautiful Bride Jeanie Ireland.
Sadly the Best man and the Bridesmaid's names are unknown.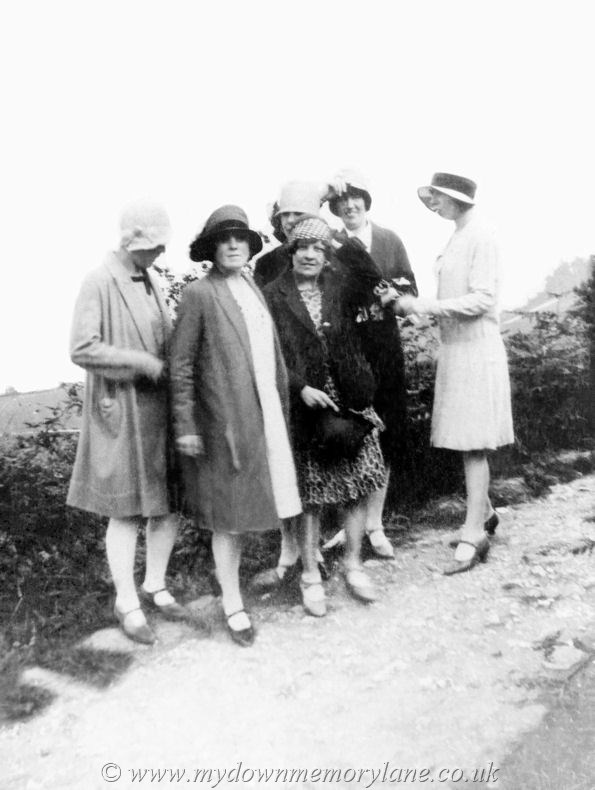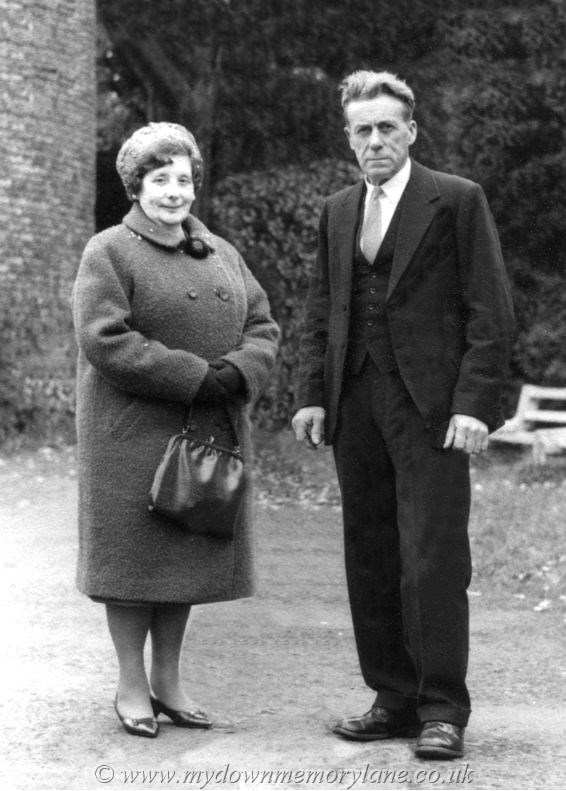 IRELAND 1482
This is Jeanie and Bob Ireland going to a Wedding in 1966.
INTREPID CLIMBERS 1305
These intrepid ladies from Antrim back in 1928 were not out for the usual walk even though dressed the way they were and look at the shoes.
In fact they were part of the way up the Cave Hill, the only known lady is second from the right Agnes Scott.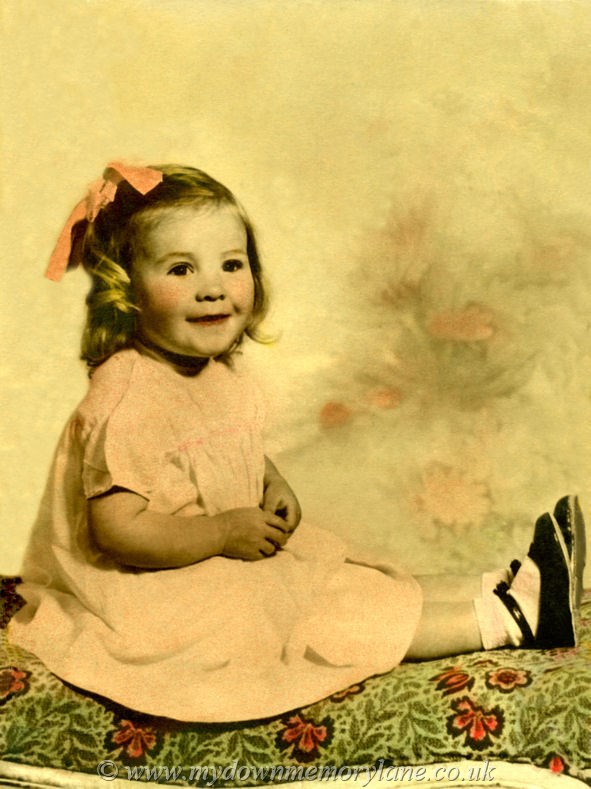 IRELAND PORTRAIT 950
This lovely portrait photograph of June Ireland in 1952 was originally black and white.
The photographer has hand coloured to make it look nicer back then - today June is just as pretty as she was then!
My thanks to Ed Cunningham who has gone home of Ontario, Canada for this photograph.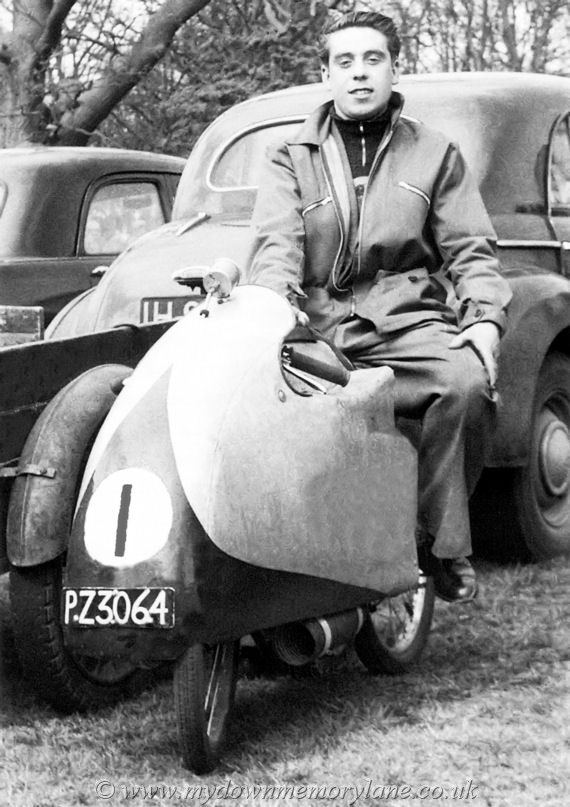 REV ROBERT IRWIN 1059
This is the Rev Robert Irwin who was a former minister of Grange Presbyterain Church.
The year is unknown.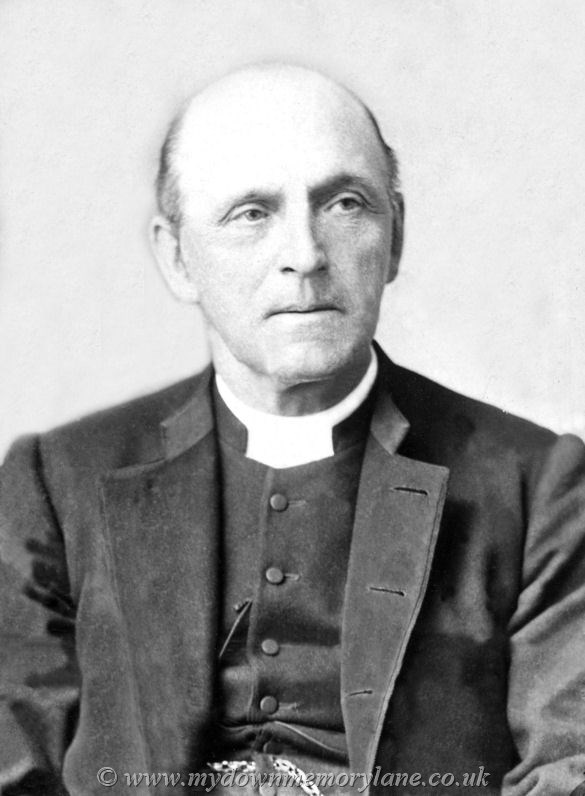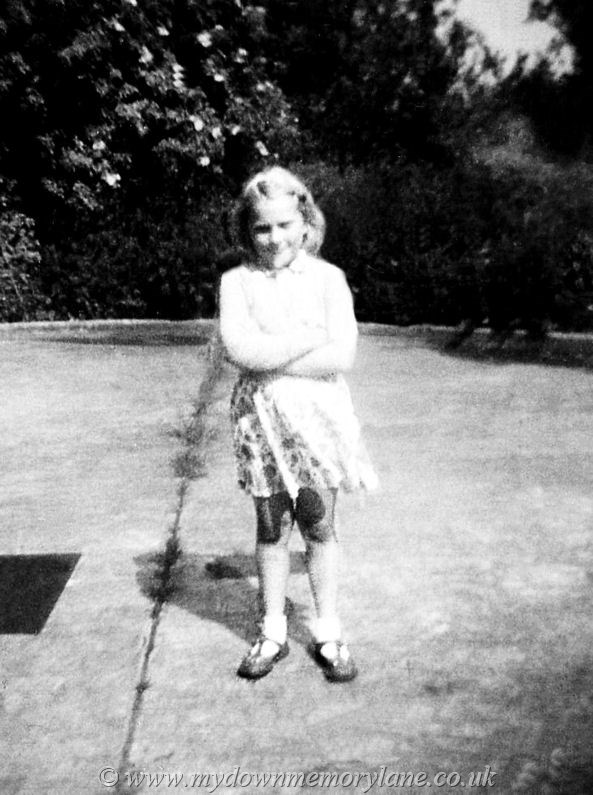 IRENE 4031
Standing here with a lovely smile in her summer dress is Irene. I do not know her last name but the photograph was in an Antrim Album and it was taken in July 1955.
If you do know her and where the photograph was taken please let me know and I will send you a large copy of the photograph without the watermark.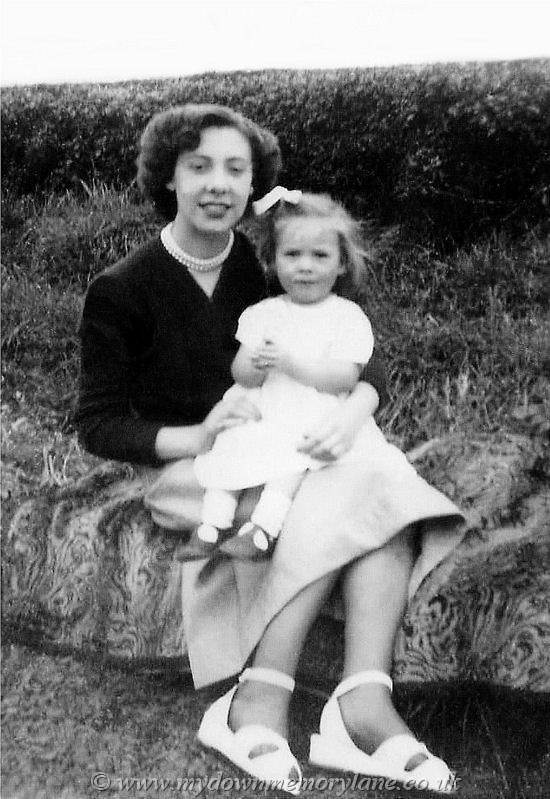 NAUGHTY MUMMY 1479
I'm sitting on my mummy's lap getting our photograph taken in 1950 at Ladyhill and my name is June Ireland. My mummy's name is Betty and she is doing something I'm not allowed to do, stick out my tongue why do adults have all the fun?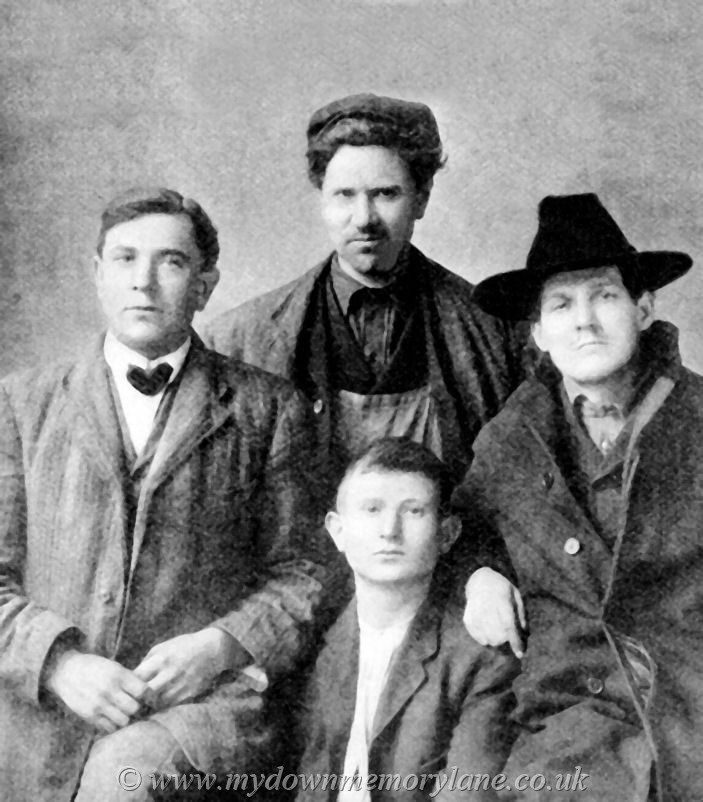 MUCKERS 80
On the left of this "Muckers" group of men you have Alexander Irvine, the year is unknown.
He worked for a while as a Mucker at Readers in Alabama, this meant he worked done the mines bringing out the ore and covered in red dust. This photograph was taken in Greenwich Street before they left for the South.
PUNCHING LOGS 81
This is Alexander Irvine punching logs in the Gulf of Mexico in 1907.
It was a dangerous job as you had to keep the logs from jamming.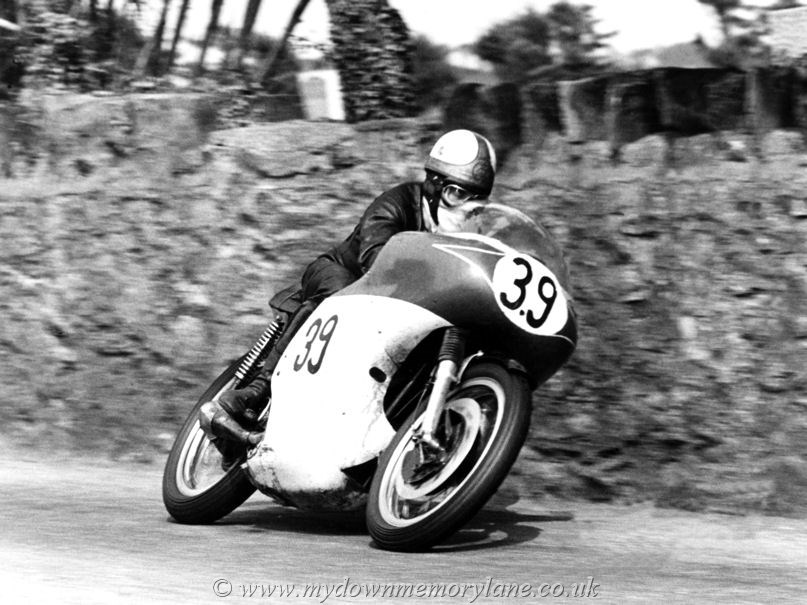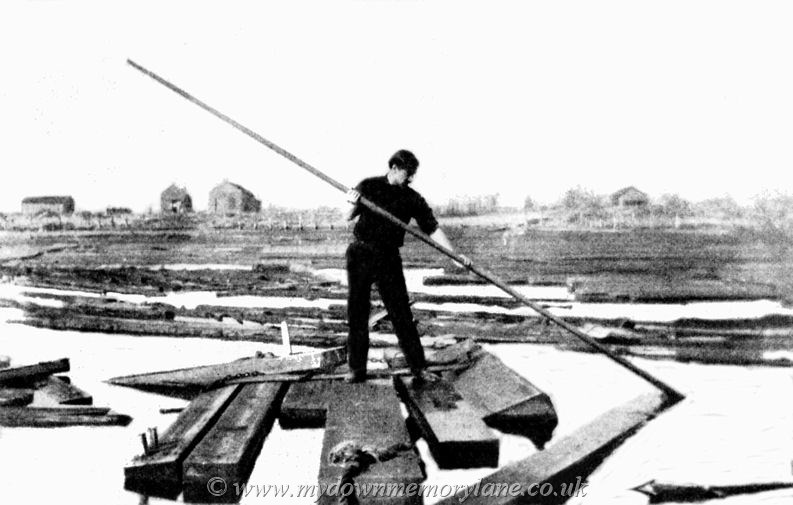 LEN IRELAND 968
Here we have Len Ireland racing through Castletown, Isle of Man in the Southern 100 race.The year is unknown.
My thanks to Ed Cunningham who has now gone home of Ontario, Canada for this photograph.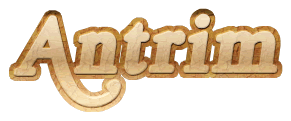 Pages: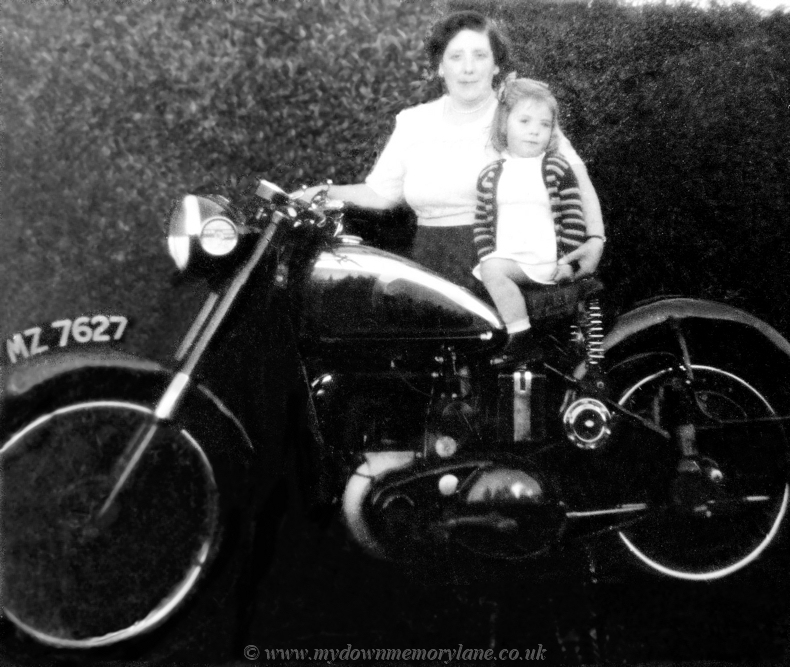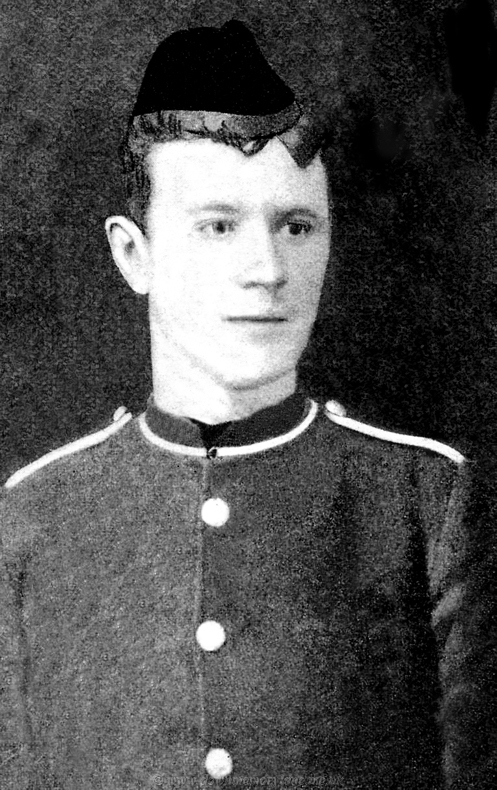 BIKE MAD 939
Standing beside the bike is Janie Ireland in 1953 with her daughter June who is sitting on her brother's motorbike who is the famous Len Ireland racing champion. June wishes her feet could reach the pedals!
ALEXANDER IRVINE 78
This is Alexander Irvine when he was a Marine in the 1880's at the age of 19.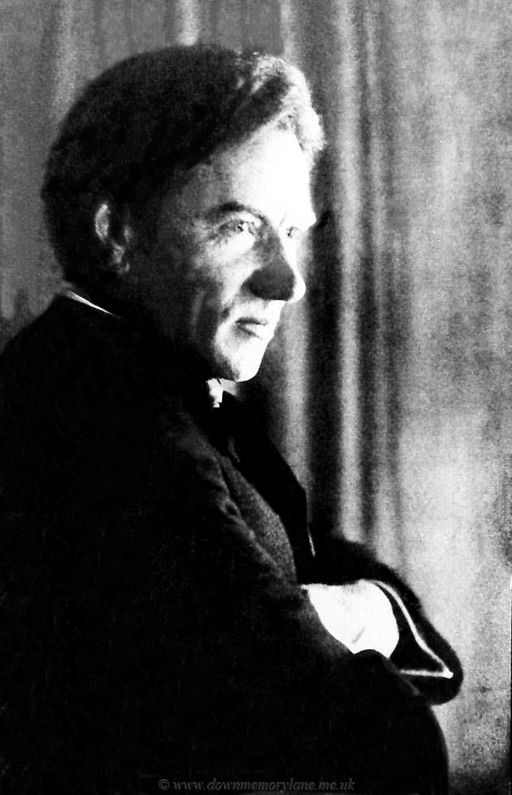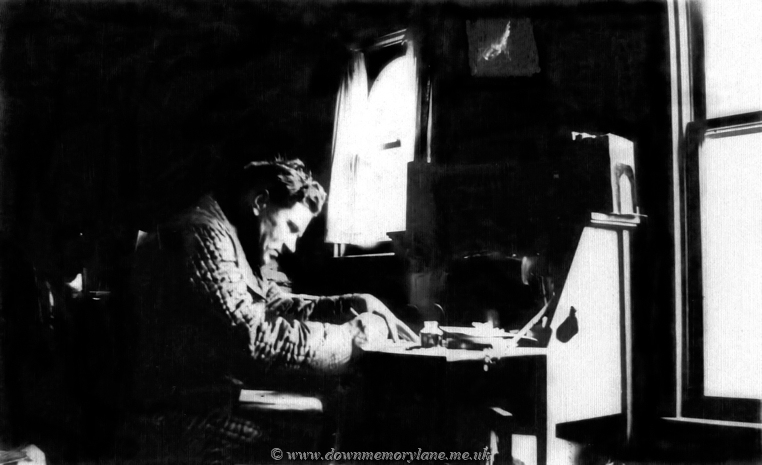 ALEXANDER IRVINE 192
- - - - - - -This is Alexander Irvine who wrote many books including a book called- - - - - - - -- - - " My Lady of the Chimney Corner "
which tells of his childhood days and describes life during the post famine days of Irish folk.
He became the Pastor of The Church of Ascension in New York and in 1946 they brought back his ashes and buried them with his parents.
Date of the photograph is unknown.
ALEXANDER IRVINE 411
Here he is sitting writing his famous book "My Lady of the Chimney Corner" around 1912-1913. If you look up the wall in front Alexander Irvine you can see his hand reflected on a picture.
A BICYCLE MADE FOR THREE 1480
Hoping for a spin on the motorbike in 1950 at Ladyhill we have Betty Ireland with her daughter June Ireland and her sister Ella Ireland.
June's brother became very famous for riding bikes his name is Len Ireland.