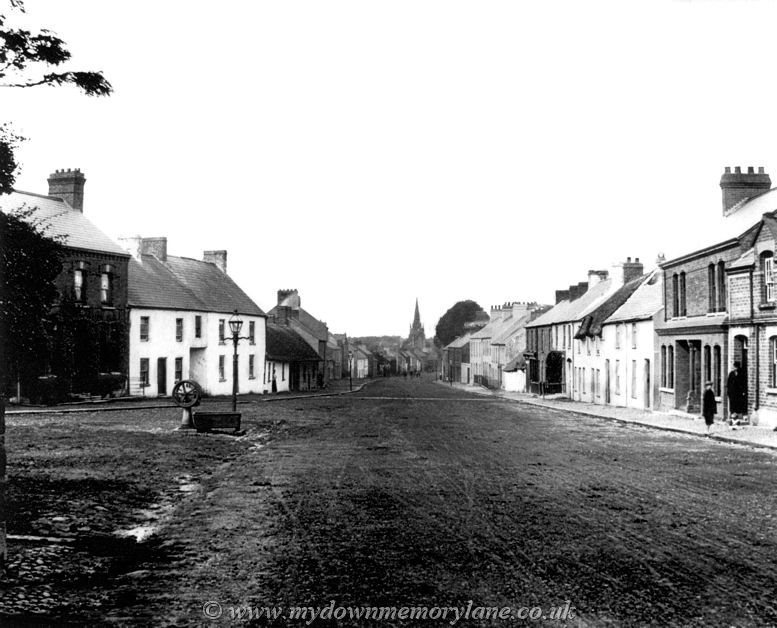 FOUNTAIN STREET 40
Used to be called Townhead, but the townsfolk called it ' Top of the Town' and still do.
How it got the name Fountain Street is quite obvious because next to the lamp post is one of the town's two water pumps the other was at the Old Court House. Remember these houses has no running water, can you imagine carrying a bucket of water to halfway down the street perhaps 3 or 4 times a day!
The boy to the right of the picture is in his bare feet and in front of the man standing in the doorway is a child sitting down on the pavement. To the left of the photograph at the thatched cottage which housed two families, at the whitewashed part stands a lady in the doorway and at the other end stands a man. further down the street are people standing in the road while a horse and cart heads down to High Street. If you are ever in the area see if you can find the green water pump that people drank from, its still there. After the First World War they mounted a war cannon in concrete next to the water pump.
Date is Unknown.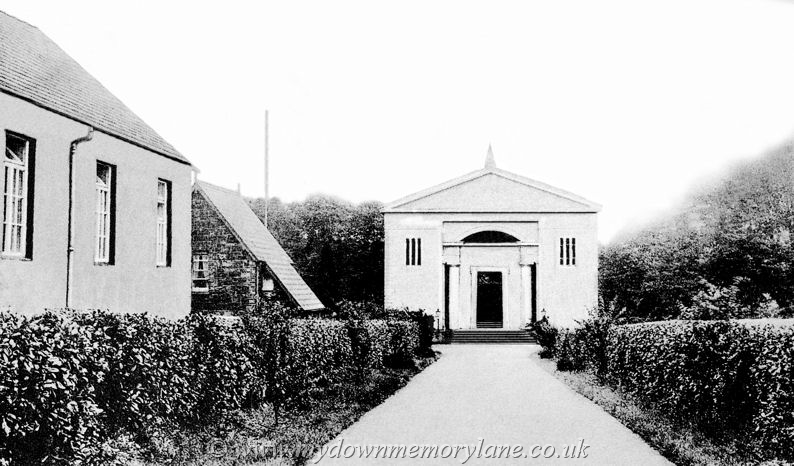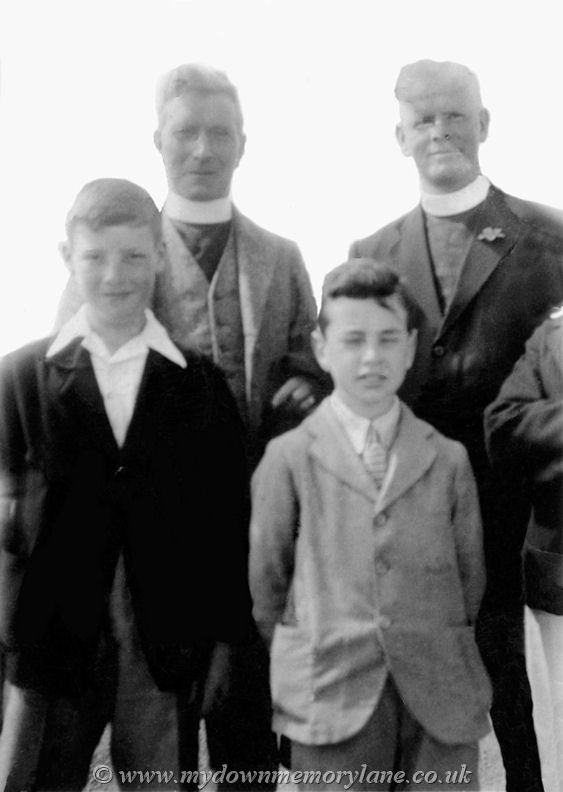 FATHERS & SONS 2425
Here with have the Rev Mitchell of High Street Presbyterian & the Rev McJury of 1st Antrim Presbyterian out a walk with their sons.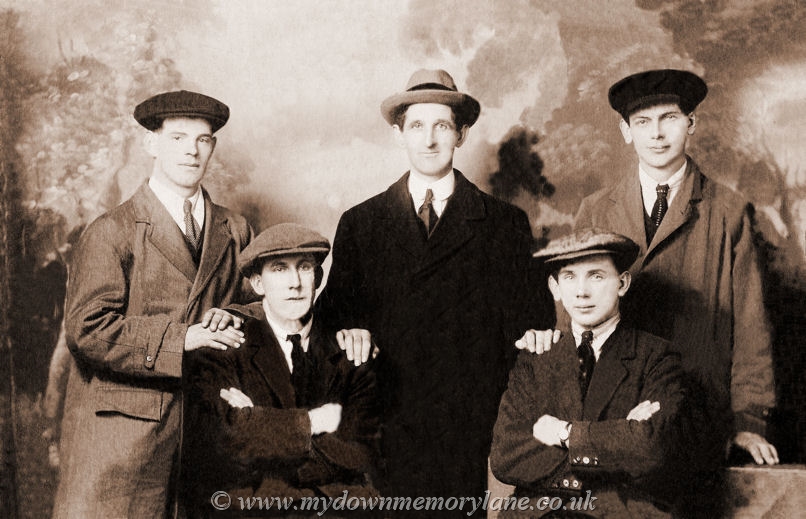 FAMILY 2687
Now all the people in this photograph are unknown. but to me it looks like they are all brothers. Now were they going away? were they signing up? It has to be something important for the men had travelled to Howard's Studio at 53 Donegal Place or to the other studio at Windsor Ave in Lurgan.
- - - - -- - On the back of the photograph one of the men had written the following: - -- - - -- - - - -" From Harry To Mother with love."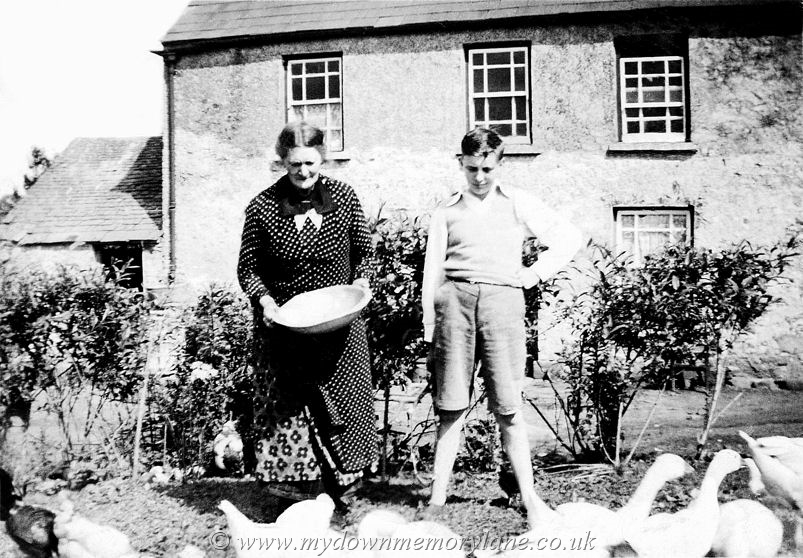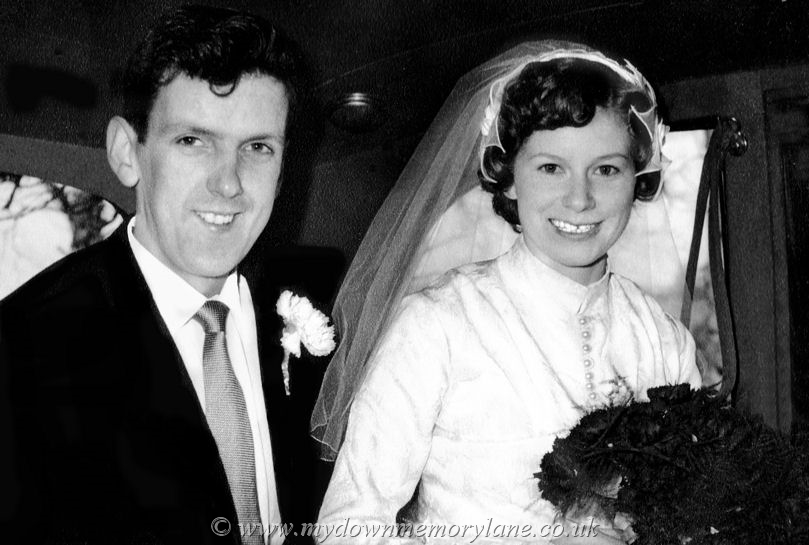 FLEMING WEDDING 2767
This photograph takes us back to Saturday the 18th March 1961 when the Wedding of Jackie and Phyllis Fleming nee Harkness had just taken place at Templepatrick Presbyterian Church. Here they are in the bridal car heading off to their reception which was being held in the Protestant Hall in Antrim.
Phyllis's dress was Ballet length and made of Satin brocade, the flowers were deep red roses with ferns.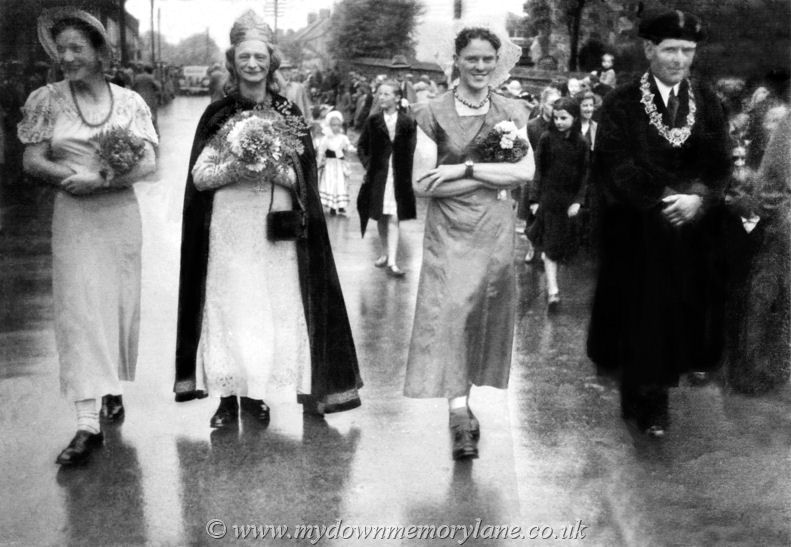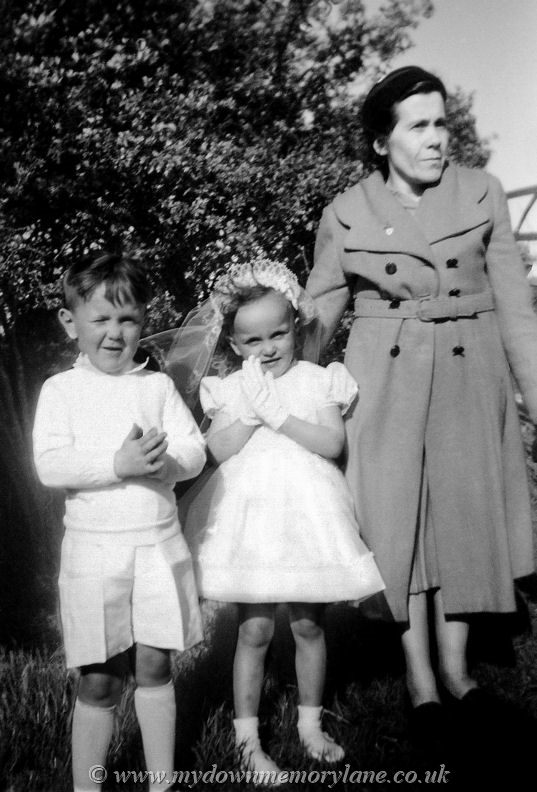 FANCY DRESS PARADE 2211
It's the annual fancy dress parade in Antrim and we join it in Church Street back in 1946 with these three lovely muscular lassies along with the gentleman.
The middle lassie is Frank Reford, the other two lassies are unknown to me, behind them in the distance is a little girl dressed as Bo-Peep.
Now in front of her a real lovely lassie and well known to us all is Anna McCabe and behind the man in the group is young Lizzie Loughlin.
FIRST COMMUNION 2228
What a wonderful day off to have their first Communion in 1963 we have Eugene and Josie Madden with their sponser Auntie Mary O'Neill. Just look at those smart creases on Eugene's trousers.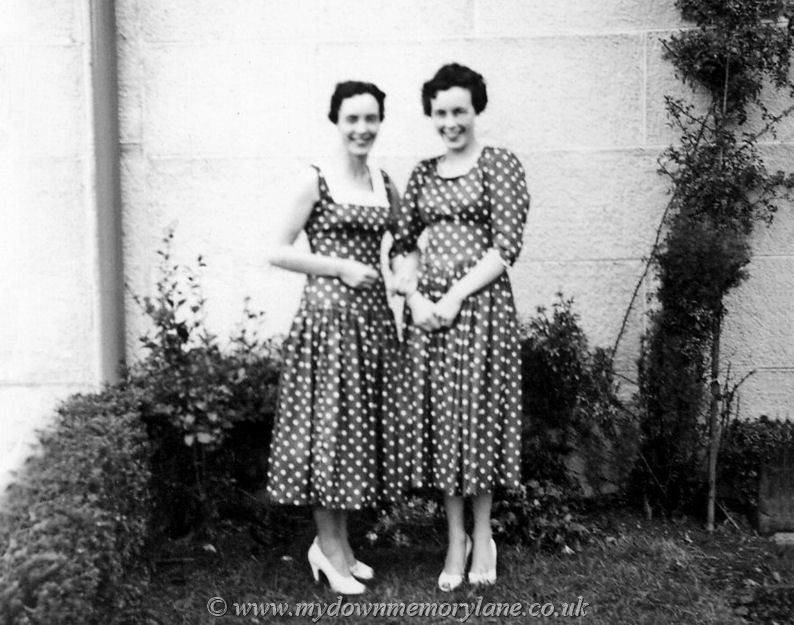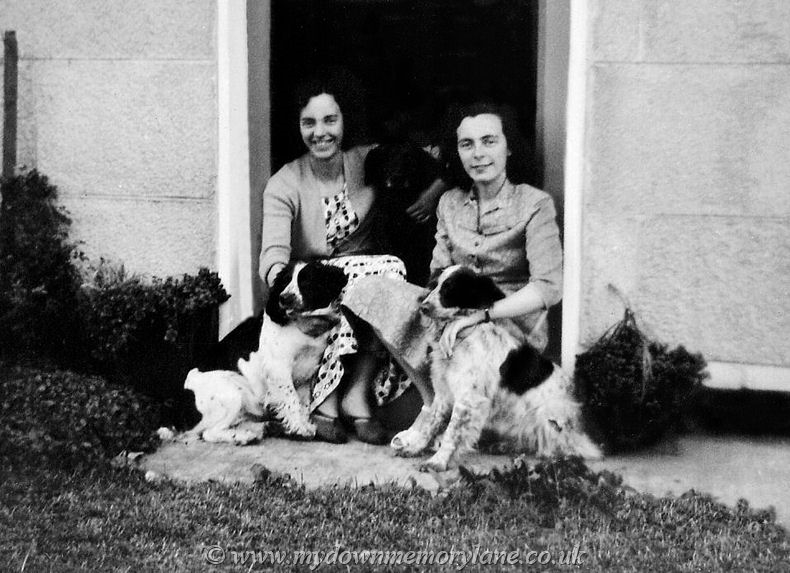 FIRMOUNT 1743
Relaxing on a jacket while lying on the rug in the fields at Firmount we have Mary Fleming with the camera bag at her feet. Now who was taking the photograph?
FOLLOWERS OF FASHION 1741
Standing in their front garden at Firfields we have these two dedicated followers of fashion Ena and Mary Fleming.
As you can see Polka-dot dresses and white high heeled shoes where the in thing back then.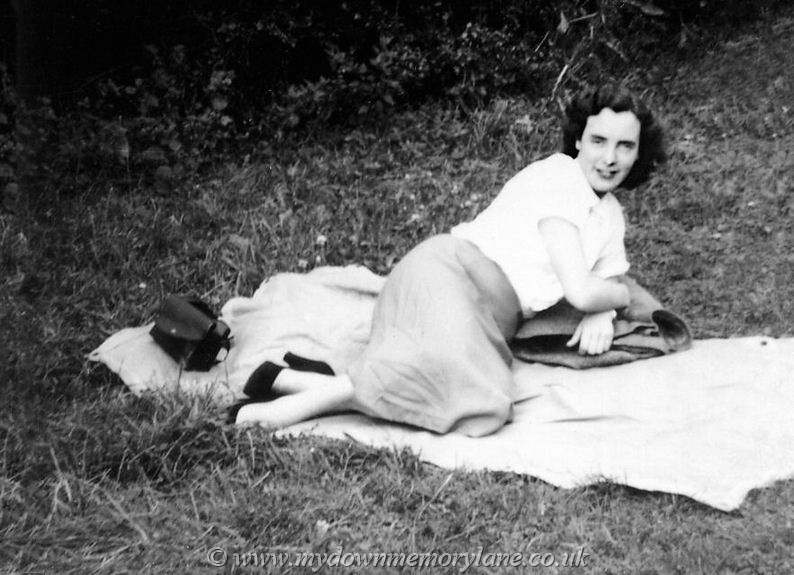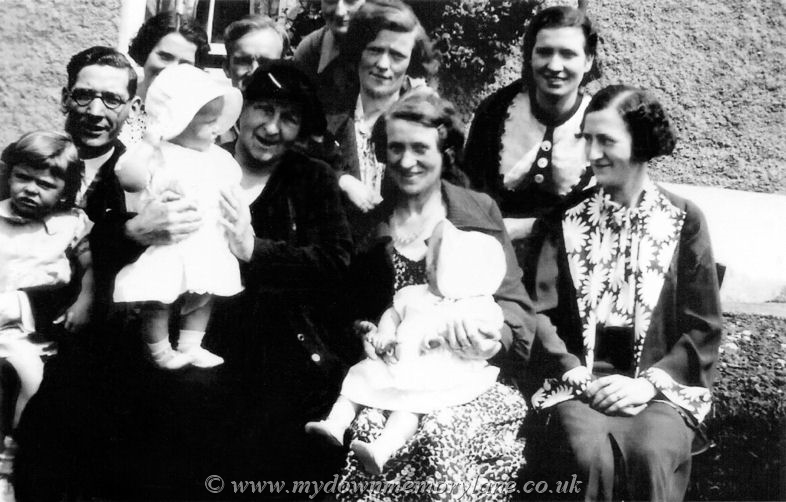 FAMILY GET-TOGETHER 2077
It's 1936 and some of the Clarke family have got together with friends for this photograph.
Only a few are known and they are at the back on the left is Aunt Carrie far right Peggy Clarke.
The front row has Gerry Healy with his nephew Chris Lea on his knee, Grandma Clarke with twin Alice McAteer on her knee, Patricia McAteer with the other twin Kathleen McAteer on her knee and finally Maisie Clarke.
FIRFIELDS 1744
Leaning against the windowsill of her mum's new home in Firfields is Ena Fleming.
FIRFIELDS 1742
Sitting at their front door in Firfields we have Ena and Mary Fleming holding on to the dogs who are raring to go. The dogs names by way are Sheila and Jif who would be away in a flash!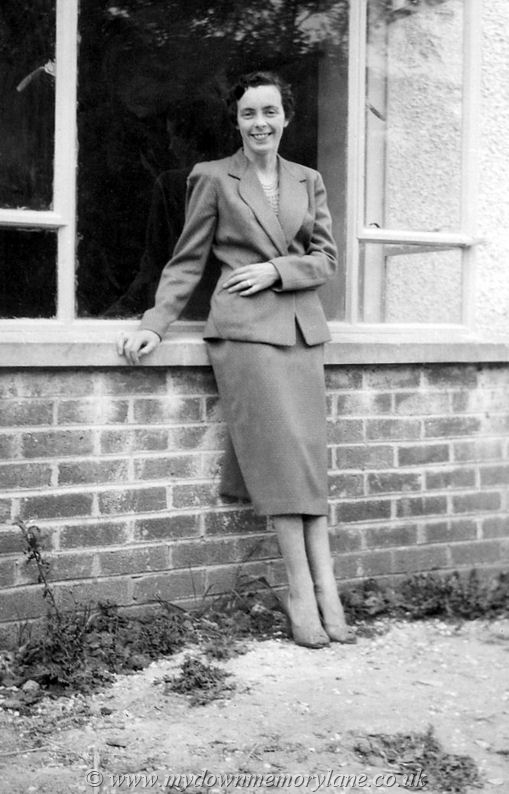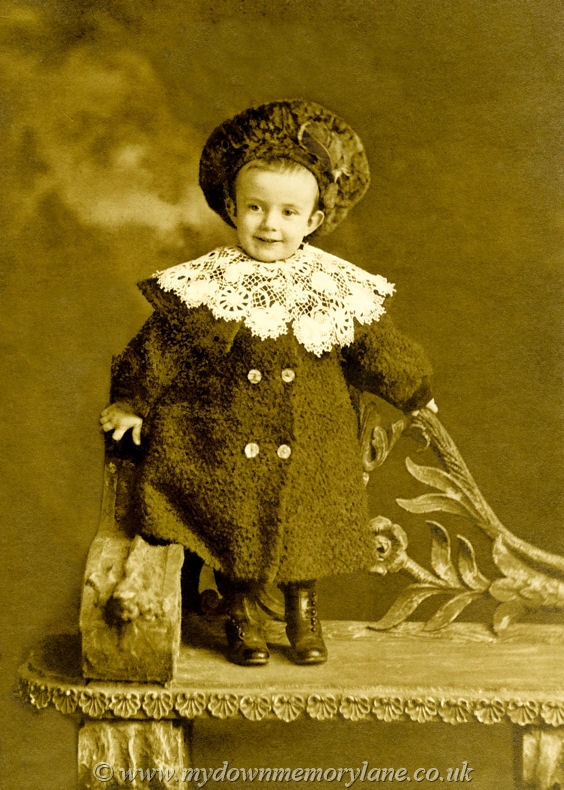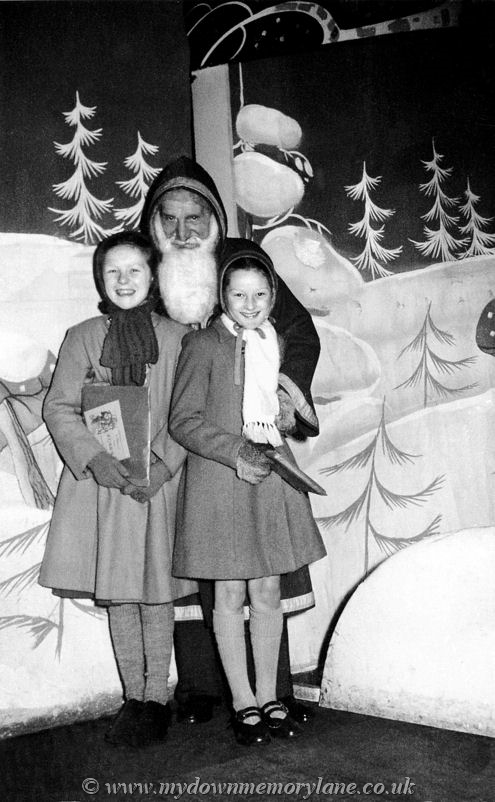 FEATHER IN THEIR CAP 1633
This little boy or girl having their photograph taken in Princes Studio 19 High Street Belfast but from Antrim with a feather in their cap but are sadly unknown.
Just look at the lovely lacework and those tiny leather shoes with the buttons on the side.
FATHER CHRISTMAS 2078
These two girls had travelled all the way from Antrim to Belfast and stood in the long queue which seemed to never move forward at Robbs store.
So it's no wonder to see the delight and happiness on their faces at meeting Father Christmas and getting their presents.
It's a day they have never forgotten, for the girls are Olive Healy and Patricia Mackreth back in 1949.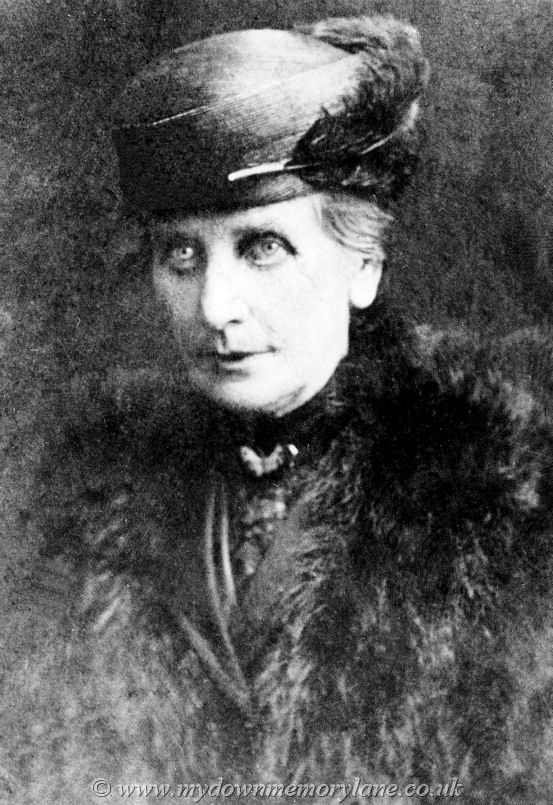 ANNIE FLEMING 1716
This portrait photograph is of Annie Fleming of Riverside, Tommy's wife and this photo was taken in the mid 1800's.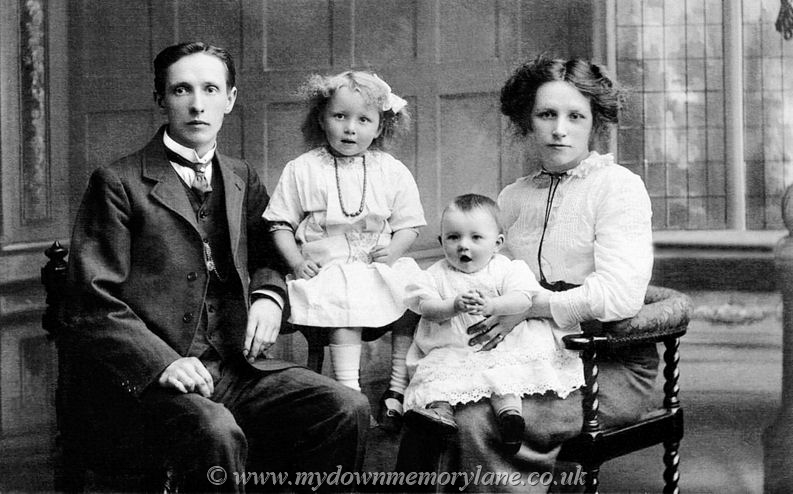 FLEMING OR MILLAR FAMILY 2335
This family group photograph is either the Flemings or the Millars.
Two names on the back of it say Malcom & Minnie, whether this is the parents or children I do not know. If you know these people or are a Millar, Fleming or related from the Antrim area. Please let me know and I will send you a large photo with no watermark.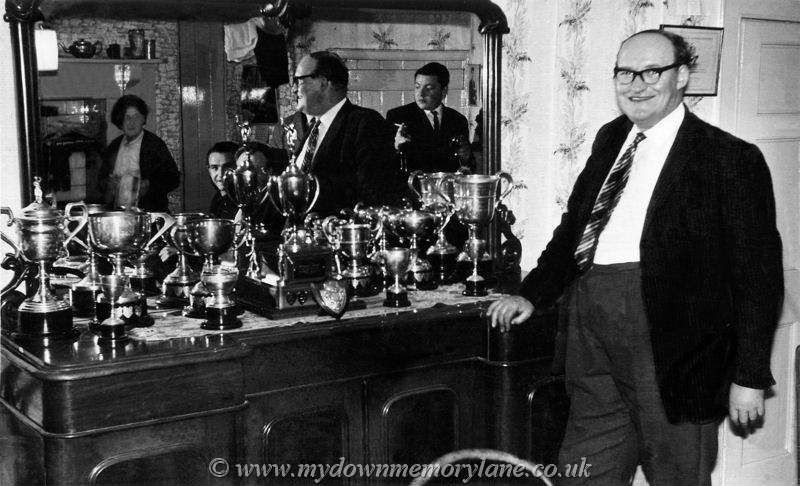 FOX'S 1692
This is John Fox of Fox's pub (now Ellie Mays 2021) at Dunadry showing off the large display of cups won by the pub's darts team.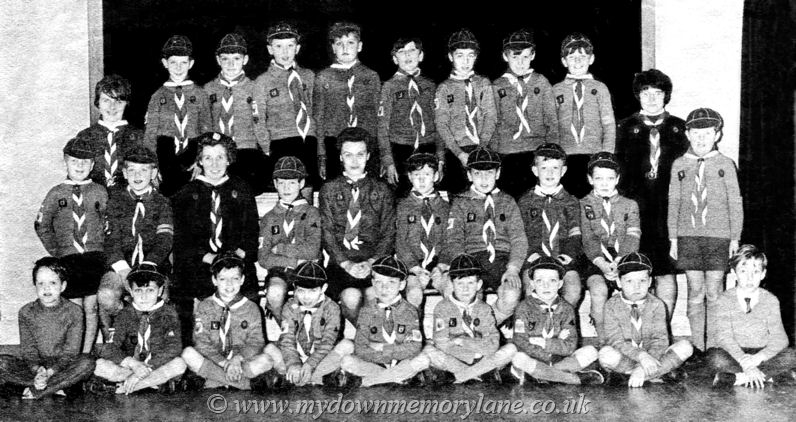 FIRST ANTRIM PRESBYTERIAN CUBS 1282
This is First Antrim Presbyterian Cubs being photographed in 1966, it was their Golden Jubilee.
The only one known at the moment is Gordon McCrea and he is sitting on the floor second from the right. If you know any of the other cubs please let me know and I will send you a large photo with no watermark.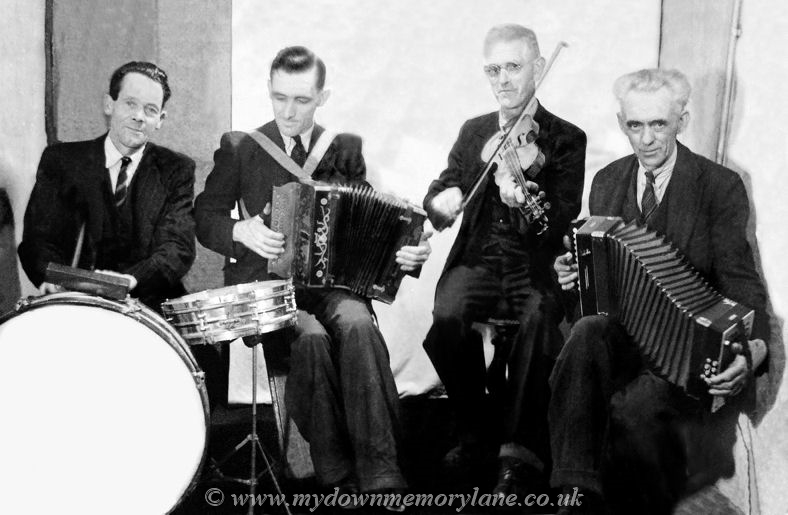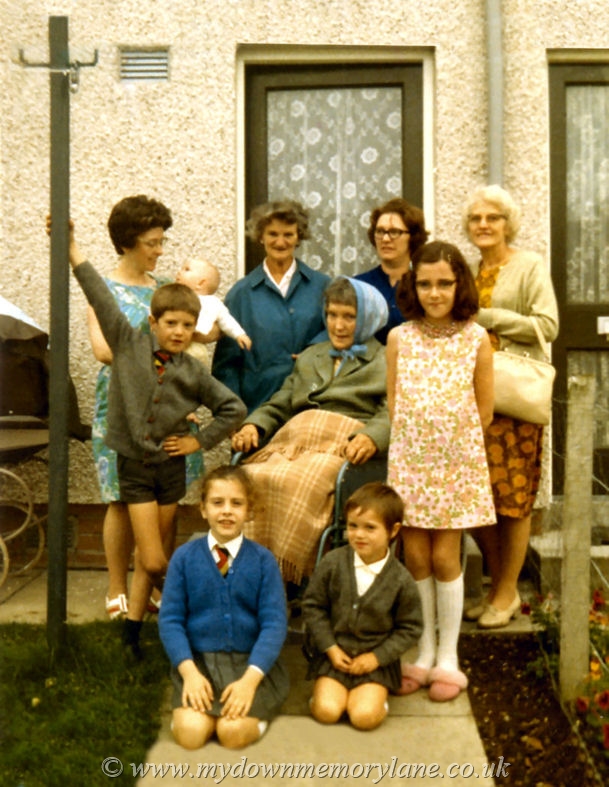 FAMILY GATHERING 1435
Back in 1970 this would be a familiar scene of neighbours have a bit of craic. At the back on the left we have Sadie Jenkins holding her baby son Mark, then Mary Murphy, Mary McCabe and Elizabeth McCabe. Holding on to the clothes line post is Robin Buck, in the wheelchair is Agnes and beside her is Jackie Jenkins. Kneeling on the ground are Sharon Jenkins and Eleanor Buick.
FOUR L'S 1542
This group of musicians back in their day were known as the Four L's but also known as the Round Tower and Crimson Ceilidh Band.
Apparently they got your feet tapping before you got on the floor for a dance, the drummer is Joe Letters and came from Whitehill Road, playing the accordian is Joe Duffin from the prefabs in Antrim. Giving us a tune on the fiddle is Thomas Lynch from Lynch's Bar in Randalstown and finally on the accordian is Johnnie Logan of Nooks Lane, Whitehill.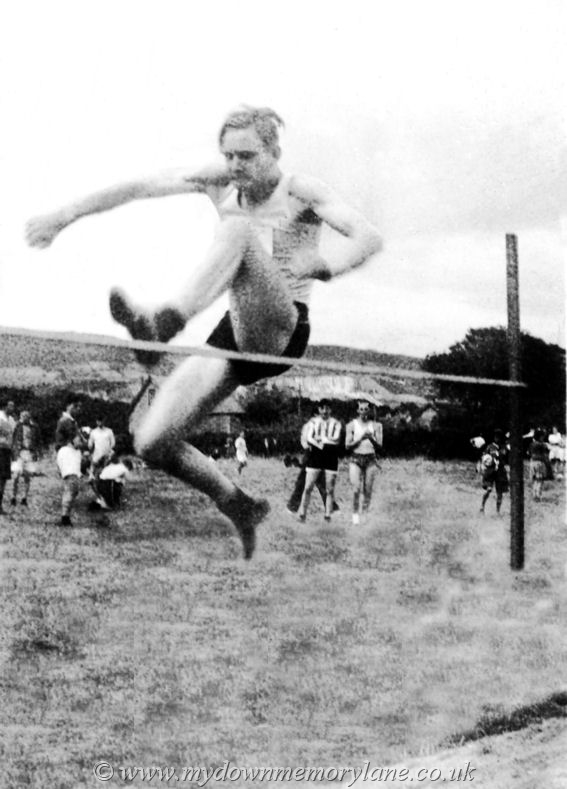 FERGUSON FAMILY 1427
Out for a Sunday walk down by the shore of Lough Neagh in 1948 we have some of the Ferguson family with friends.
Standing we have Samuel Ferguson next to him is his wife Margaret Ferguson. The lady with her son are both unknown but next is their daughter Ester Ferguson. The man with the little girl on his knee are also unknown.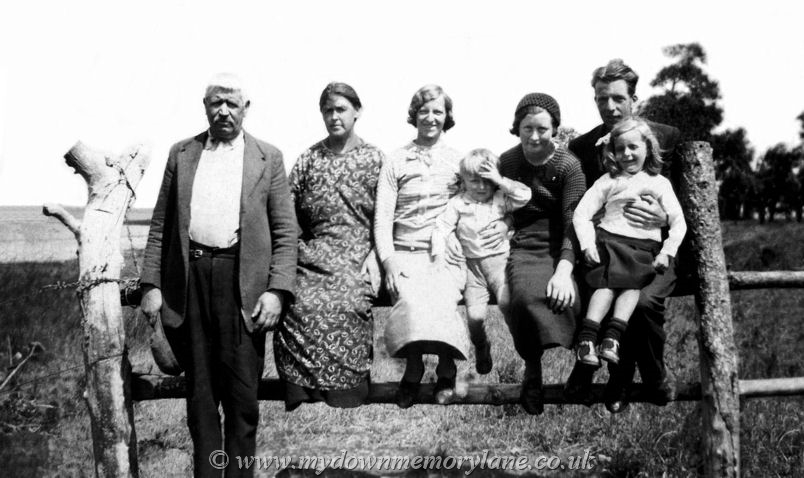 FOR THE HIGH JUMP 1367
Hoping the best here at the high jump is Bob Fawcett. Bob who was in the Boys Brigade was down at Carnlough with 1st Antrim B.B. at the summer camp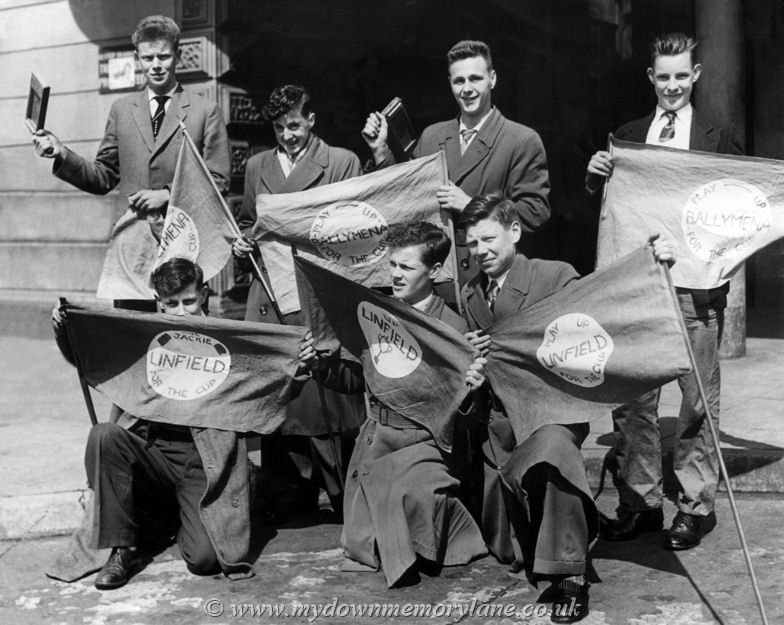 FOOTBALL FANS 842
Outside the Midland Railway Station we have followers for Linfield and Ballymena who were playing in the Irish Cup Final of 1958.
In the back row is Andy Blair, Clifford Wilson, Norman McIlroy and Sammy Young.
Kneeling is Harry Kelly, Mervyn Cummings and Matt McCullough.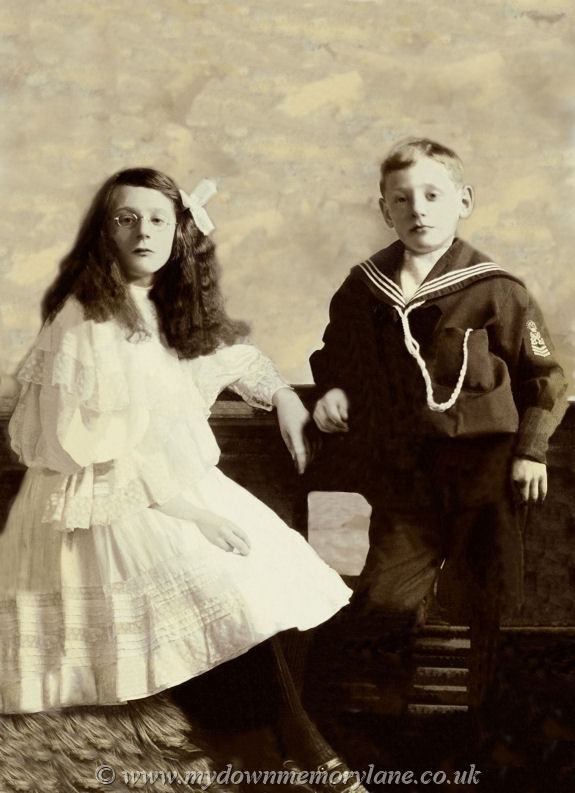 FINNEGAN CHILDREN 2555
Having their photograph taken at a studio back in 1908, on the left in her white linnen dress and buttoned up shoes is May Finnegan.
Beside her and standing proud in his sailor uniform is her brother Ustie Finnigan.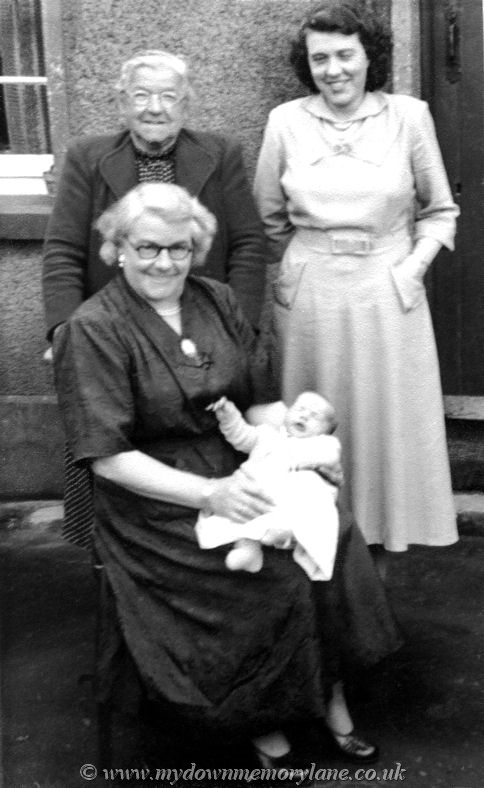 FOUR GENERATIONS 1175
This family photograph taken in the 1950's has a difference to it for it is of four generations of the one family.
At the back on the left is Mary Taylor then seated is her daughter Priscilla Steele whose daughter is on the right at the back Jean O'Neill and her daughter is on gran's knee and she is called Elizabeth.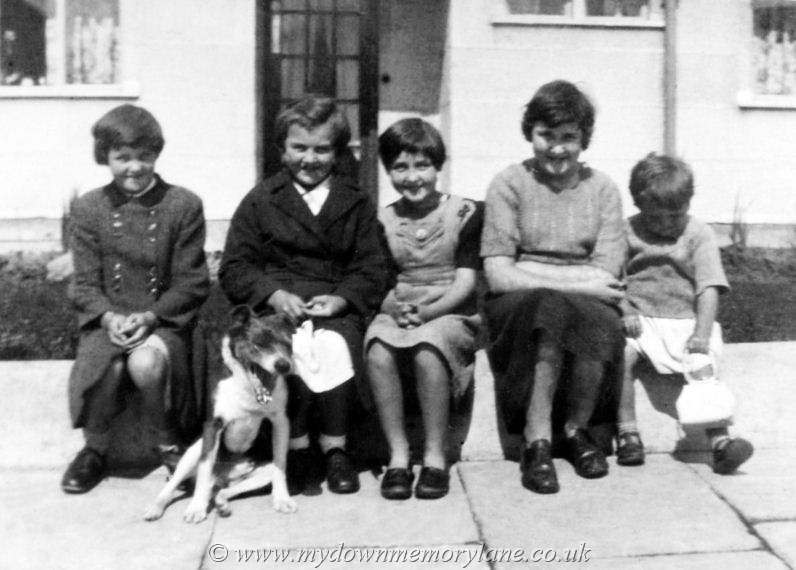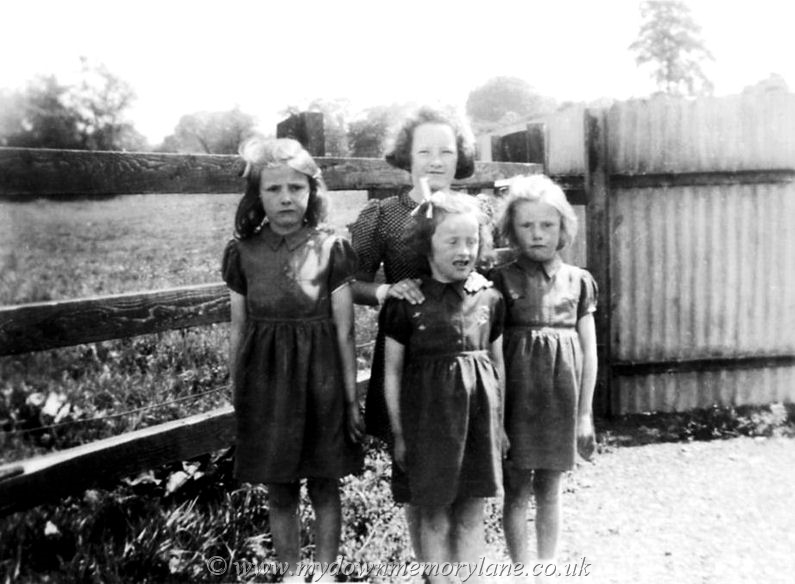 FIRHILL 325
Standing behind her cousins who at the moment are unknown is Edith Buick in 1944 at Firhill.
FIRFIELDS 957
Enjoying the 1955 school holidays in Firfields we have the Reade girls (from left) Evelyn, Lena, Ester, Margaret, Bessie who is more interested in her handbag and Penny the dog who is bored and wants to play, that's what holidays are for!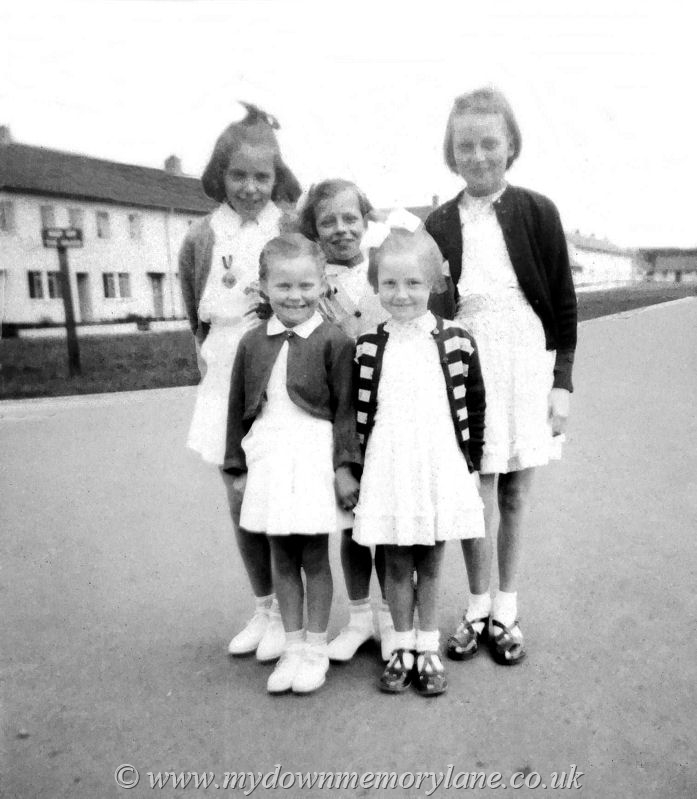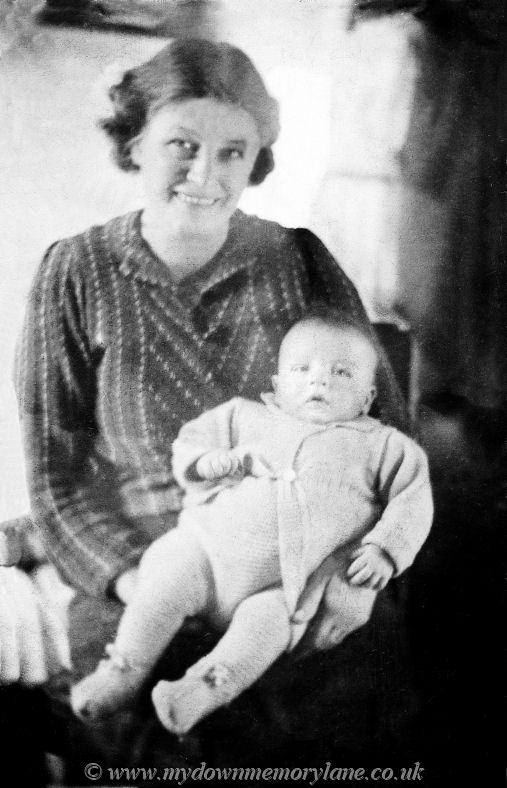 A MOTHER'S JOY 2610
One cannot but notice the love and joy of a mother showing off her first born.
Matilda Francey is a fine example for here she is with her son Jim Francey back in late 1940.
FIRFIELDS 483
In Firfields getting a photo taken at the back are Pearl Hanlon, Mary Boyd and Ruby McBride.
In the front we have Pamala Hanlon and Miss Allen. The year is unknown.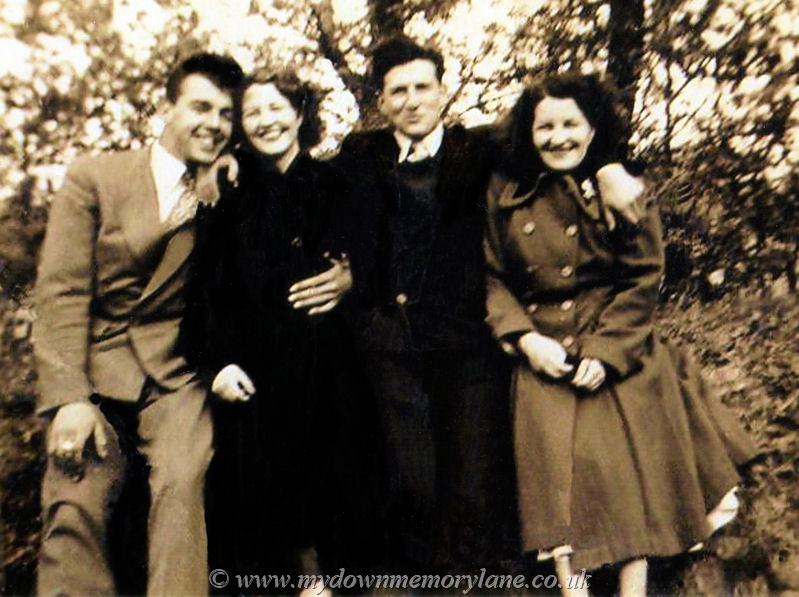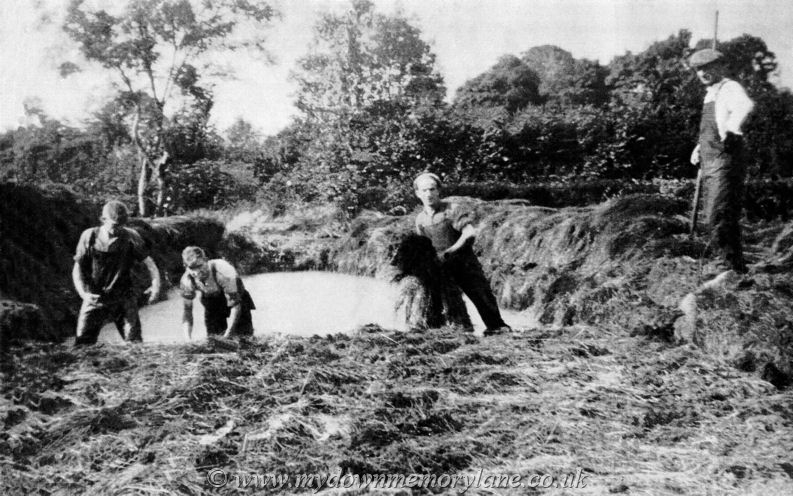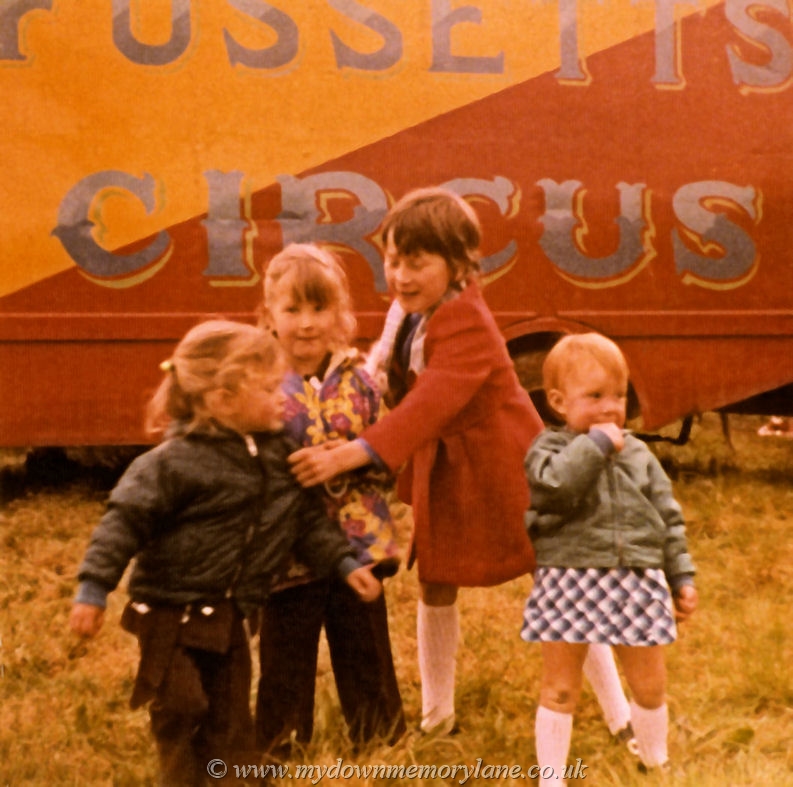 FOURSOME 2370
Out for a walk this foursome were having their photograph sitting on the embankment opposite Mount Cottage Primary School in 1948.
On the left is Sam McCombe from Dunadry who went on to start his own business in Antrim called the McCombe Bros. Next is Lily Gibb from Dungonnell, then Leslie Steele from the Oldstone and finally Lily's sister Isobel Gibb.
FLAX SOFTENING 2391
It's 1947 a real thankless job, they are lifting out the raw flax from this dam. They have still a good bit to go for that is not dry land in front of them but the flax being softening by the water in the dam. You might think that it's not really a bad job, but that could take all day to empty the dam of the flax.Remember the flax has been lying the dam for a while and so the stench when they start lifting it is so unbelievable you can smell it half a mile away! Doing this terrible jobs from the left is Tom Hessin, Robie Hessin, Robert McCready and Tom Hessin who is forking back the best of the raw flax.
FOSSETTS CIRCUS 2474
Here we are at Fossetts Circus and just before going in the girls are having their photograph taken back in the 1970's. On the left is Pamela Rantin being dragged back into line, then Angela Rantin and Dawn Rantin.
Standing out in front is Lorriane Hutchins who is looking at the lion she wanted to bring home but had to settle for a dog!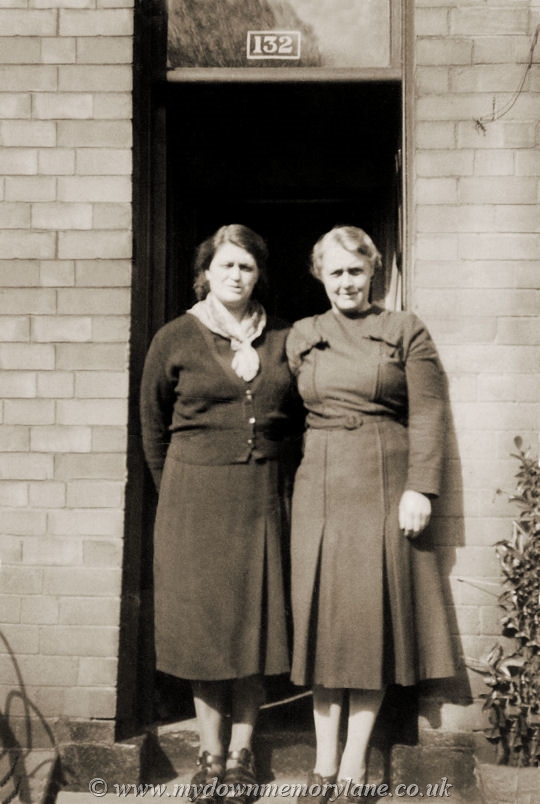 ABBEYVILLE 2615
Standing in the doorway of her home at 132 Abbey View, Muckamore in 1949
is Tillie Francey with her Sister-in-law Anna Francey.
ANDREW FRANCEY 2714
Here we are out at Muckamore and standing in the garden of his Grandmother's home at 132 Abbeyview we have Andrew Francey in the late 60s. Andy worked in the Coop in Glengormley where he met his wife Ethel McDonald. They then emigrated to Sydney Australia where he worked for Quantas Airlines until he retired in the 1990s.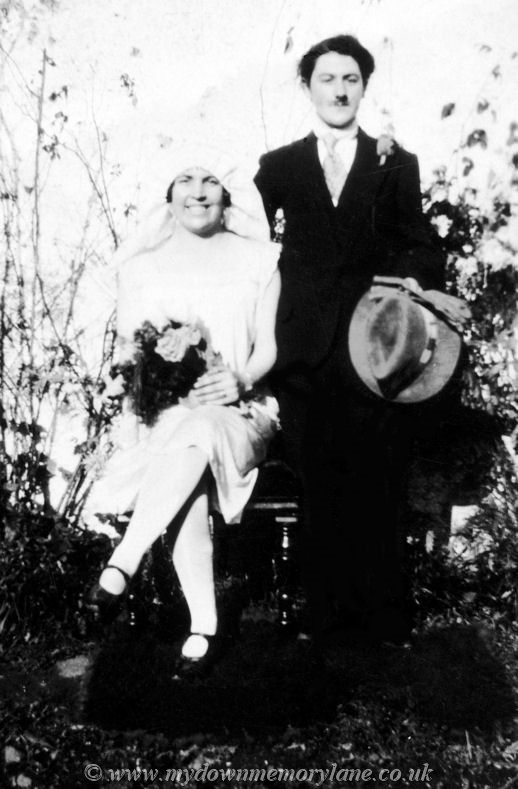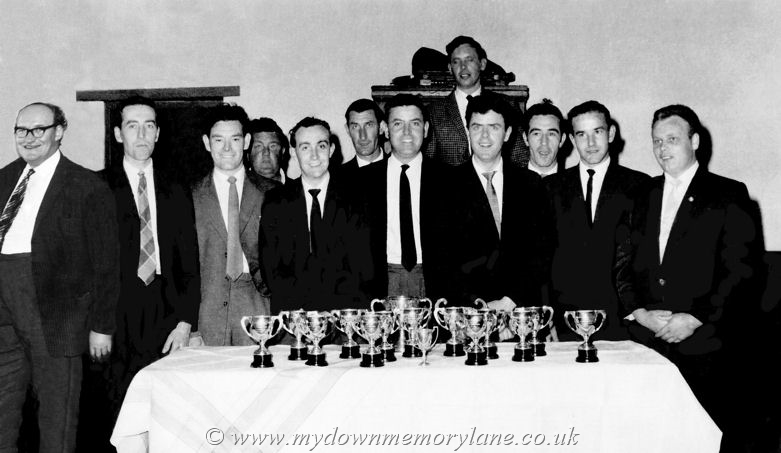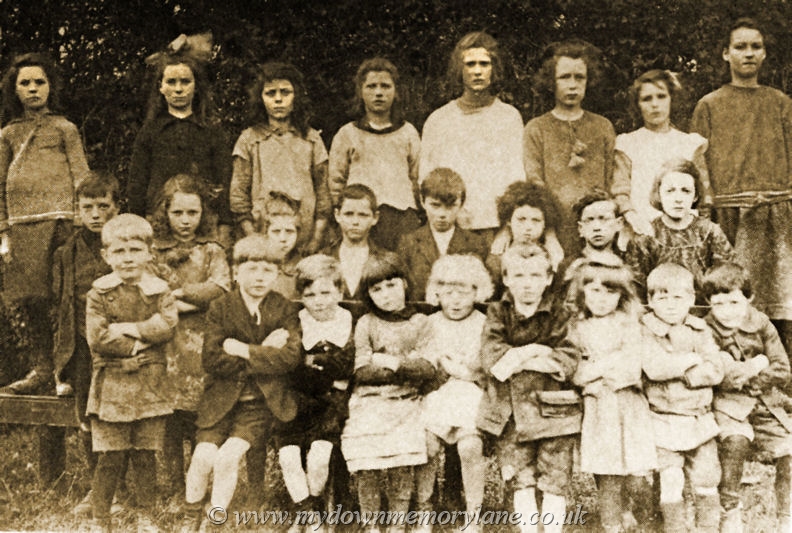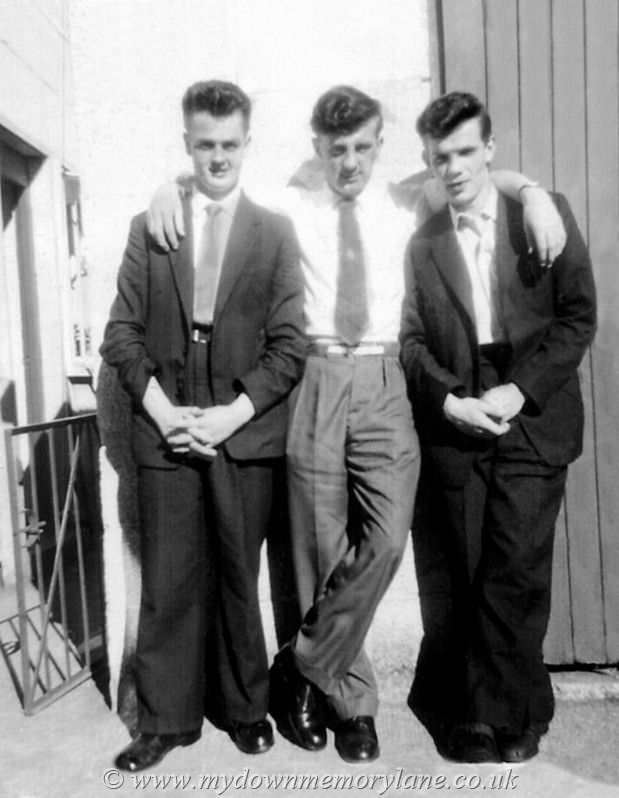 FIRFIELDS 1870
All set for a walk in 1959 on a summer's day we have Norman McCaig in the centre at his home in Firfields on the Lough Road.
His pal on the left is Herbie Napier and his other pal on the right is Hubert Logan.
FEYMORE NATIONAL SCHOOL 538
This Feymore National School in 1923.
B.Row: Maureen Brankin, Farncis McDowell, Margaret McGarry, Margaret Nelson, Winnifred Nelson, Margaret Armstrong, Margaret Armstrong (Burns) and Rose A. Brankin.
M.Row: Hugh Brankin, Kathleen Brankin (Lavery), Kathleen Nelson, Peter McNally, James Nelson, Annie Meehan (Mullholland) Leo Mooney and Annie M. Faloon.
F.Row: Bertie Hickland, William Kane, Lily Brankin, Annie Hickland (Horner), James McNally, May Brankin, Francis Nelson and Frank Nelson.
FOX's DARTS TEAM 2545
It's the early 1960's and this is the famous Fox's Darts Team who never stops winning cups as you can see by what's on the table.
From the left we have the owner John Fox, then Billy Gilmore, Davy Harper, Eddie Glenholmes, Billy Caulfield, Robert McCleary, Pat Lees, Henry Lees, Billy Beck, Tommy Beck and Sammy McQuillan. While standing tall at the back is Raymond Todd.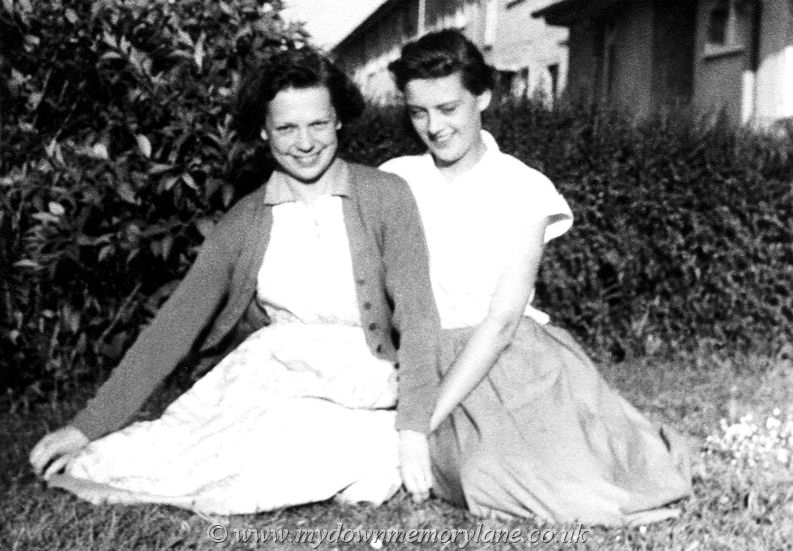 FAIRFIELDS 1157
This Marie Hemming and June Neeson relaxing in the front garden at Fairfields. The photograph was taken in the 60's.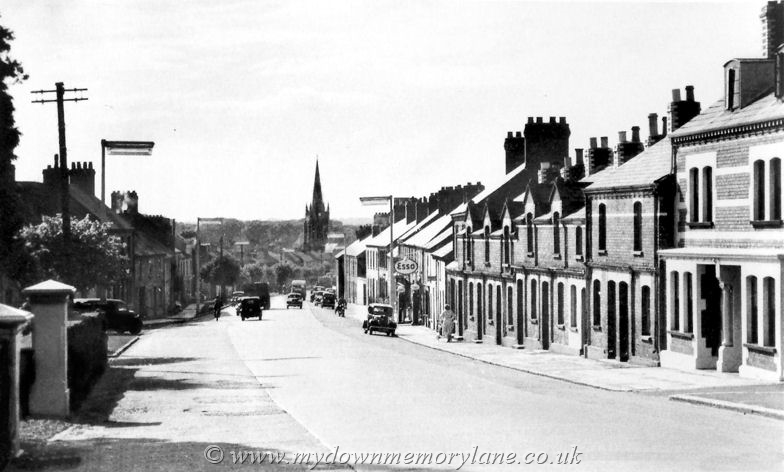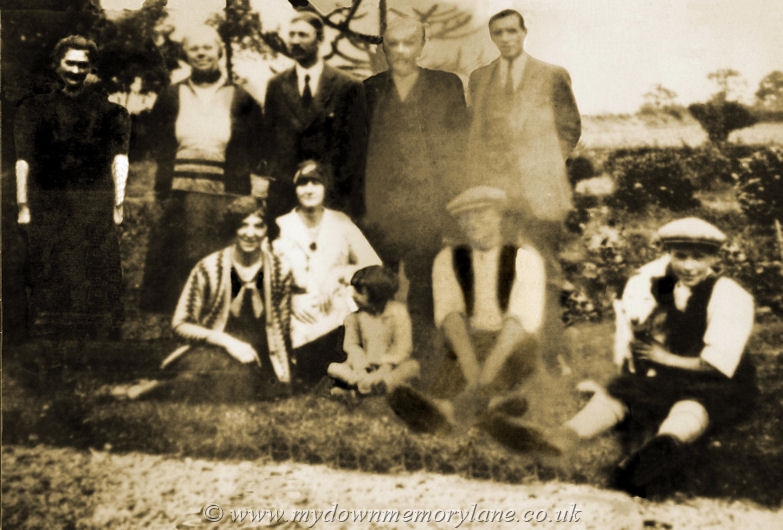 FAMILY GATHERING 2549
Back - Unknown, Unknown, Unknown, Unknown, Unknown.
Front - Unknown, Unknown, Unknown, Unknown And Sam McComb with dog.

Pages: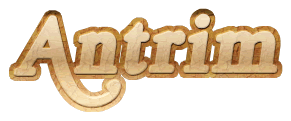 FOUNTAIN STREET 41
Photographed in the 1950's people will remember Miss A. Mackey's who sold sweet and groceries. You also had the grocers William French, Thomas Swann and Robert McCrory. The houses next to next to Hargrove's petrol pumps were demolished to make way for the entrance to the North East Institute for Further and Higher Education.
FEEDING TIME 2699
Outside the family farm house we have Granny showing her grandson how to feed the hens and ducks. Perhaps she's fattening then up for Christmas, who knows? and that goes for their names as well.
FIRST ANTRIM PRESBYTERIAN CHURCH 21
Built in 1834 but unfortunately was burn down in 1860. It was rebuilt, and the interior was altered in 1903. From the outside the building has retained its appearance from the 1800's.
To the left of the picture is the Bruce Memorial School which taught approximately 100 pupils. Behind the school is the Sexton's house. These buildings were replaced in 1994 with a large Church Hall. Date is unknown.
FANCY DRESS -276
The Bride is May Baird and the groom 'Charlie Chaplin is Jeannie McKee.
This photograph was taken at Spa Terrace, date is unknown.