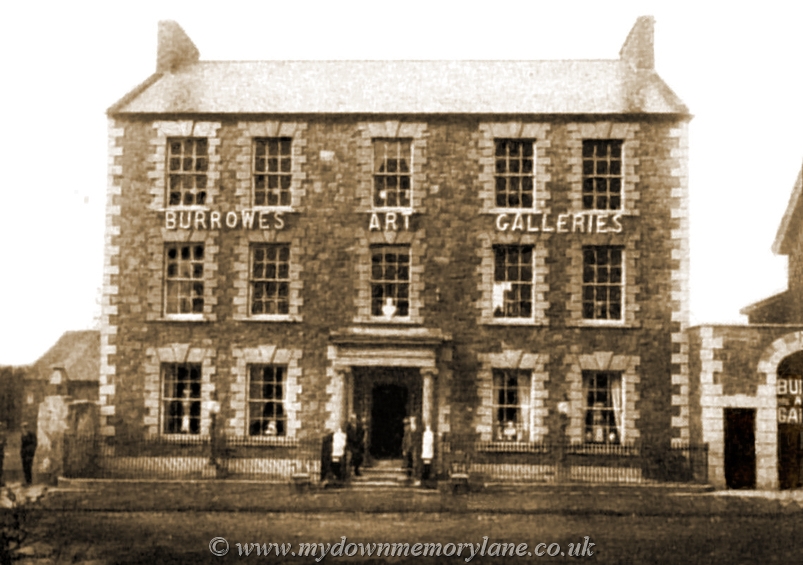 CASTLE STREET -27
The castle grounds are to your left, then you have 'Frenchman's House' and the Royal Irish Constabulary barracks. To your right you can see McKeown's shop, Patrick Magill's pub, also Samuel Rea's Antrim Saw Mills worked here. Sadly all the buildings in this street were later demolished, but can still see two of the places, Rea's and the Barracks. They were removed and rebuilt brick by brick to their former glory at the 'Ulster Folk and Transport Museum at Cultra.
Date is Unknown.
CASTLE PUFF -38
This was originally the manse for the Unitarian Church.
Guests who were not quite elegant enough to stay at Antrim Castle were lodged here at the Manse. Local people at the time classed them as being ' Puffed Up ' and to this day that is what the building is known as, Castle Puff. At the time of the photograph it was being run by a C. Burrowes who bought and sold all types and makes of furniture also silver and small arms. Date is Unknown.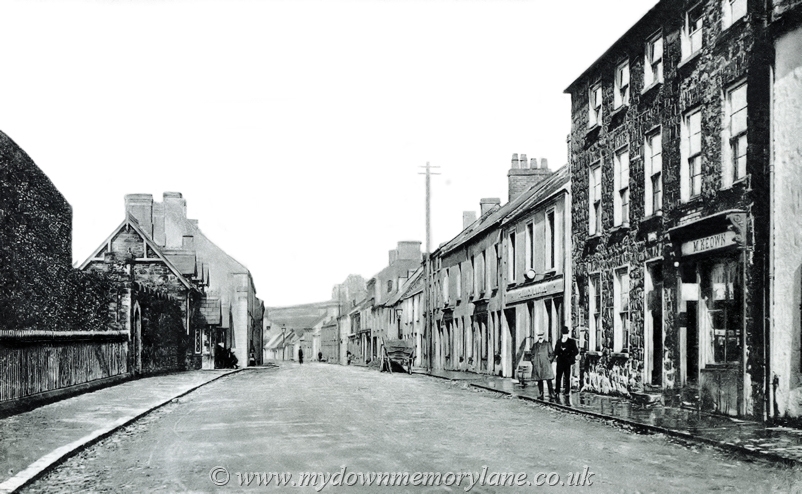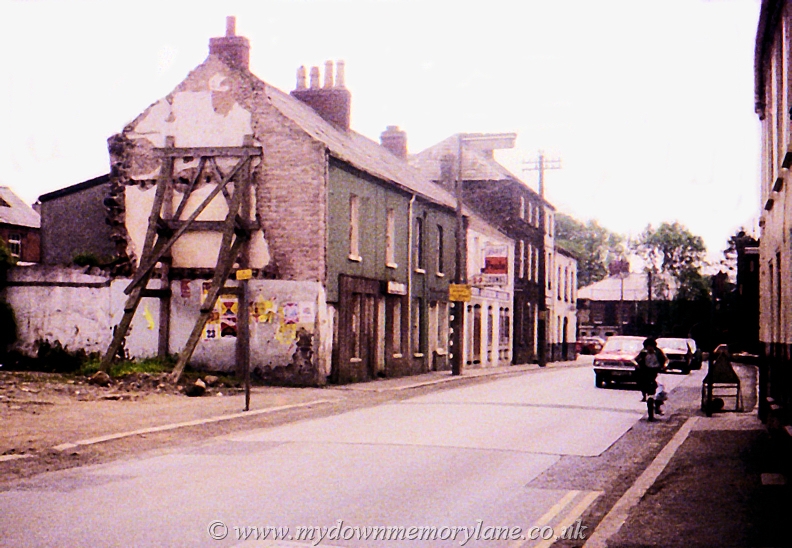 CASTLE STREET 2263
It's the 1980's and we are in Castle street or what is left of it. As it it is slowly torn down for new development which hasn't lasted as long as this street did.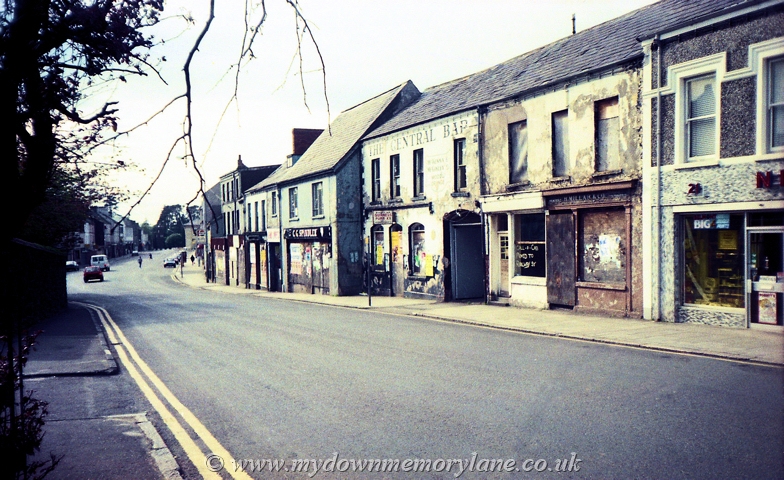 CHURCH STREET 2264
Here we are in Church Street in the 1980's and sadly all the buildings from Nicholl's shop on the right down to Railway street are ready to be demolished.
31years later the place only one building has built, the library, when you look at these buildings in all shapes and sizes with their own unique character could probably be still in business today.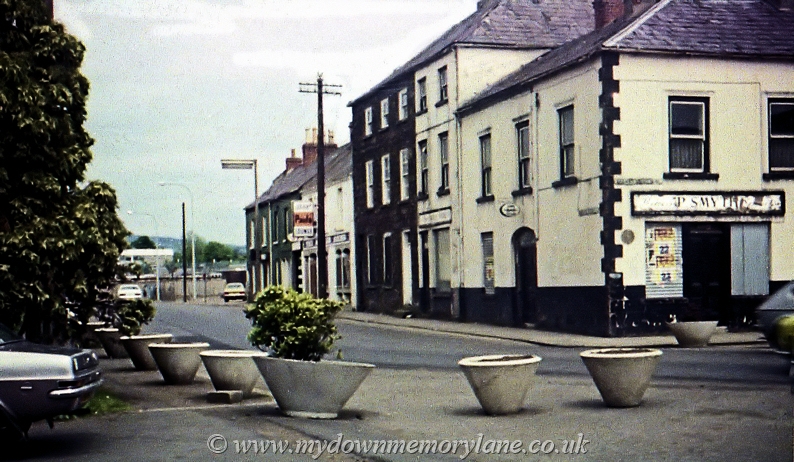 CASTLE STREET 2284
This is a view down Castle Street from the Market Square in the 1980's.
On the corner and closed down but not forgotten is Pat Smyth's pub.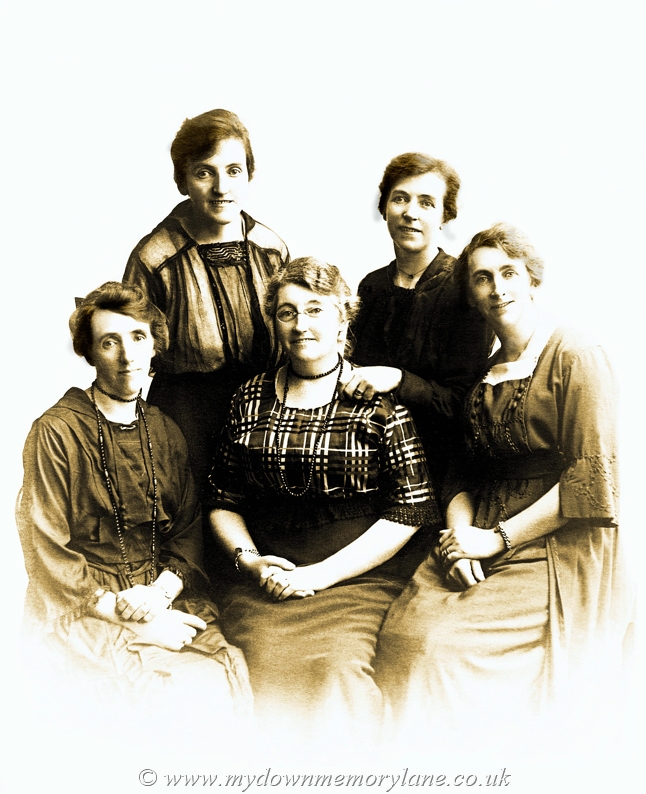 THE FAMOUS FIVE 2583
Here we have the famous five, the Crawford sisters never have I seen such a beautiful sisters portrait photograph which was taken in Belfast.
At the back we have Madge Jennings and Sarah Simpson. In front are Hanna Simpson, Lizzie Nelson and finally Martha Rea.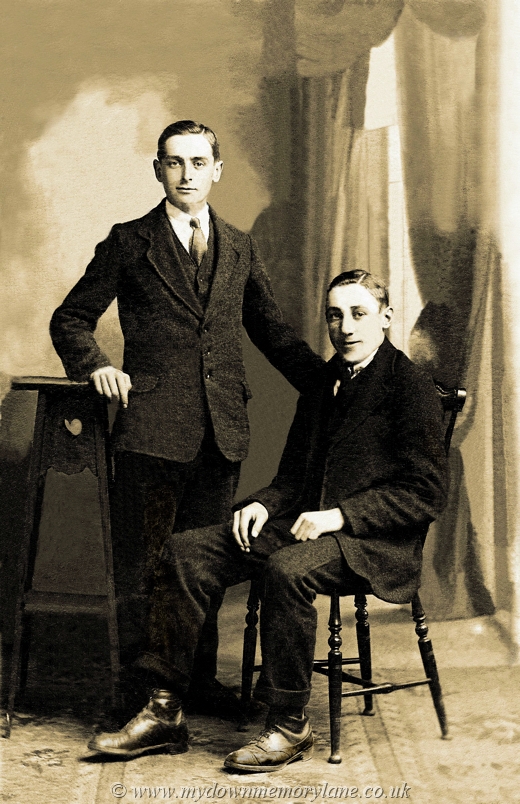 CLARKE BROTHERS 2719
In the studio having their photograph taken are the Clarke brothers, standing is John Clarke and seated is Charlie Clarke snr.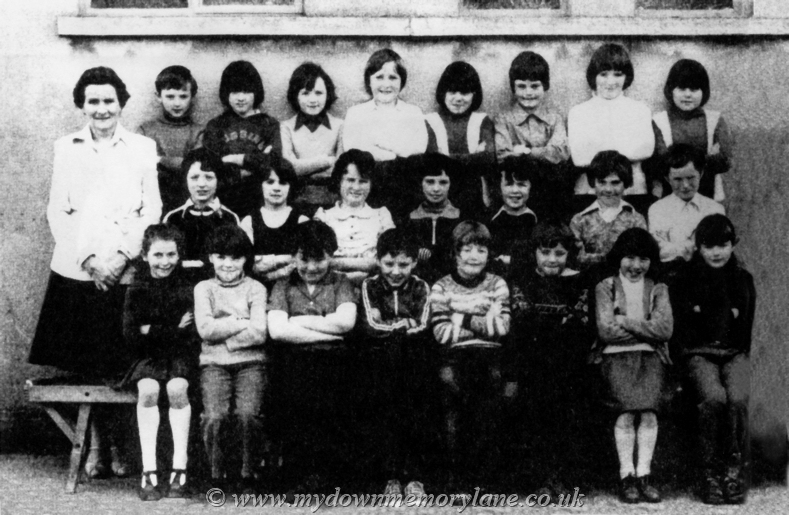 St. COMGALLS PRIMARY SCHOOL 2732
Here at St. Comgalls Primary School in 1980 and class 5C are having their photograph taken.
The teacher is Mrs Crosgrove and here are some of the names of the pupils, Gavin McKenna, Michelle doran, Naomi Letters and Brian McNally. Now where they are in the photograph I do not know just yet, but I'm sure you will be able to tell along with the rest of the pupils.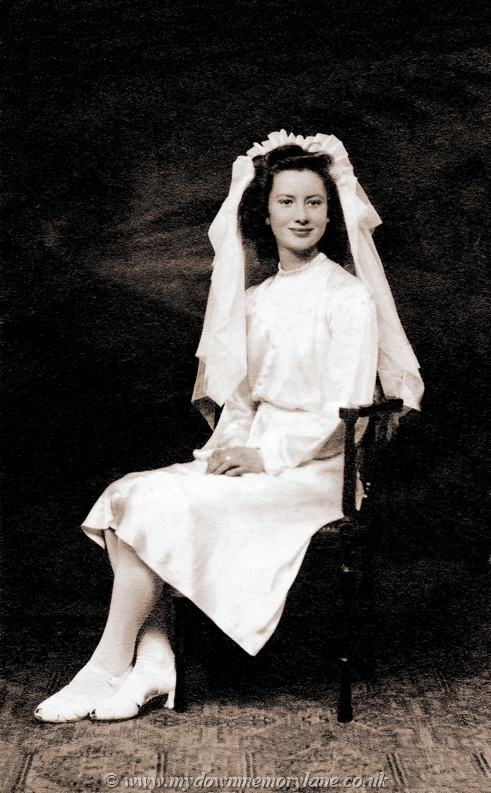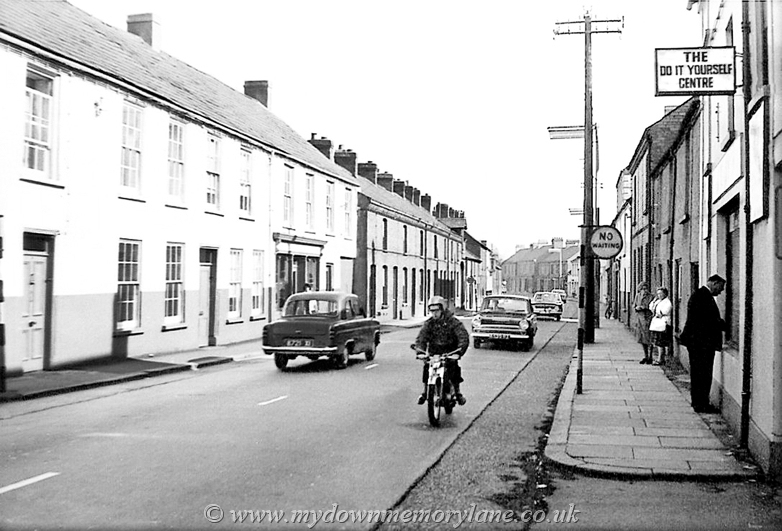 AUDREY CRAWFORD 2688
Seated to have her photograph taken at C.H. Pidduck Royal Studio of 79 Royal Avenue Belfast, is Audrey Crawford.
The reason being, Audrey was celebrating her Confrimation.
CASTLE STREET 2597
This is Castle street in the 50's and you are looking towards the bend in the street where the street's original name came from 'Bow Lane', beyond the bend the street ends at St Comgalls.
The motorcyclist in on a Honda moped, the car behing him I'm not sure of but the car behind it everone will reconise it, a Ford Zepher which became famous as a police car in the TV series 'Z Cars'. Of the two ladies having a natter one of the is Mrs McWilliams standing outside her home, next to the 'Do it yourself Centre' and down the entry was McCormicks taxi and funeral undertakers premises. Now apparently the entry on the left led to the Antrim Castle grounds, but the lady in the house next to it, one of her windows looked into the entry and anyone going down the entry she would open the window and ask them where they where going before they proceeded any further.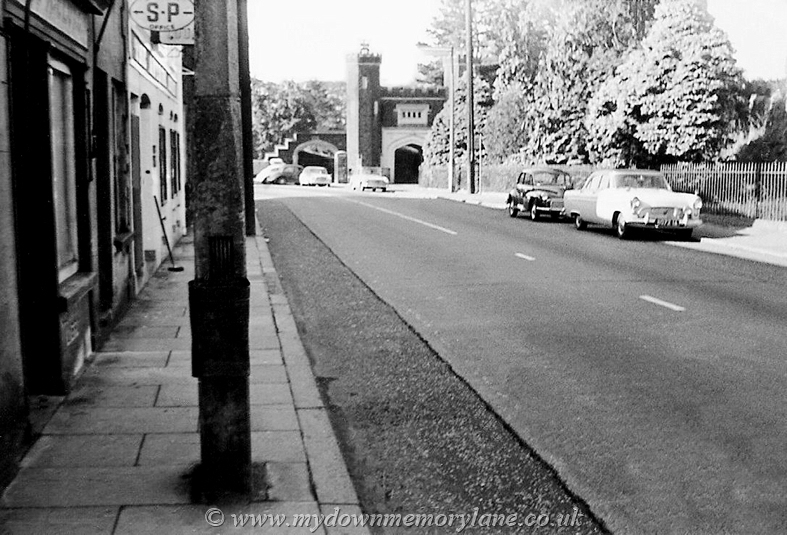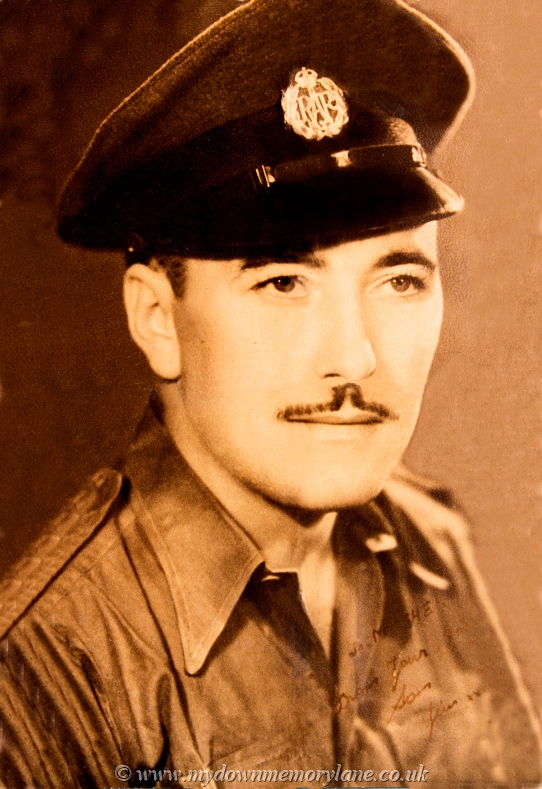 CASTLE STREET - 2598
Standing here in Castle Street in the 50's you can see in the distance the Barbican Gate and among the cars there is a Volkswagen Beetle. On right we have a Morris Minor and a Ford Zephyr car, the trees behind the railings are next to the castle wall.To the left is Freddie McClung's shoe shop, then The Antrim Arms, on down the road is Miss Crawfords drapery shop.
JIM CONNELL 75
This photograph of Jim Connell who was in the RAF was sent home to his mum around 1943.
Jim wrote on the photograph the following words: To: MOTHER from your Son Jim xxx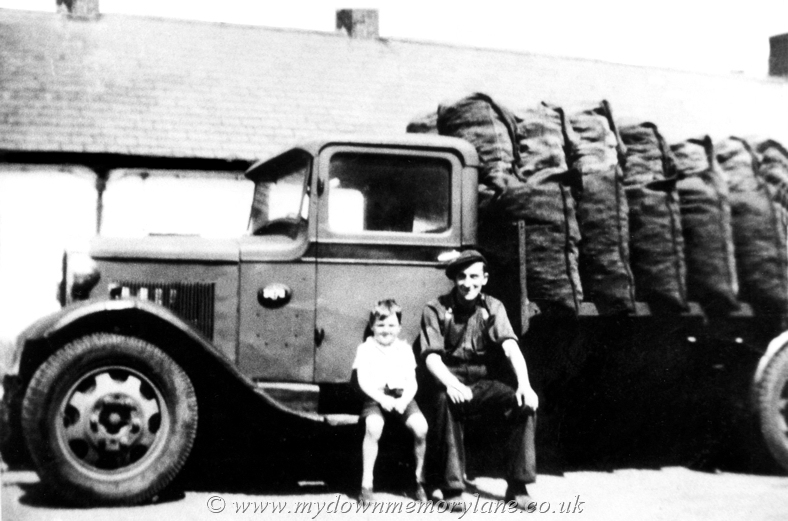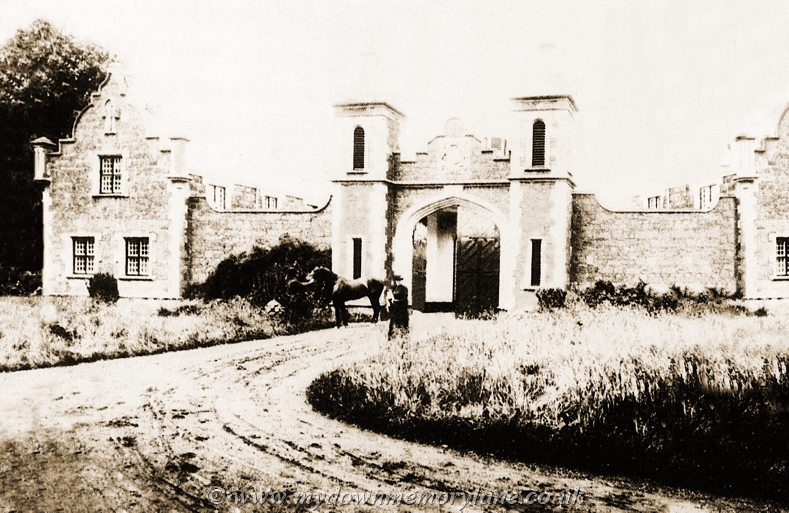 CLOTWORTHY -77
These are the stables at Clotworthy at the turn of the century before the great fire destroyed Antrim Castle and the stables where then turned into living accommodation for Lord Massereene and his Family. In the foreground is a lady holding a short haired terrier in her arms and dressed in all her finery posing for the camera and behind her to the left is one of the grooms with a horse. It's not saddled so it has been brought out for the photograph.
COAL LORRY 1009
Sitting on the running board before setting off to deliver the bags of coal is William McFarlane and seated beside him is young Alex Agnew.
The photograph was taken in 1948 at Ballybentra Road in Templepatrick.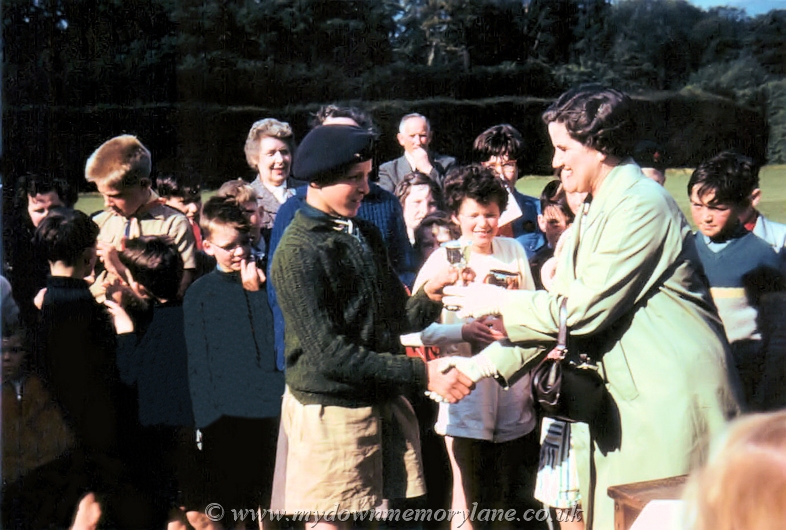 COMMONWEALTH DAY -2761
It's 1961 and Commonwealth Day and here we are in the Castle grounds were they were holding sports events.
This is Billy McConnell of 1st Aldergrove Scouts being presented with a prize by Mrs Hawkins wife of the Rev Hawkins while looking on is Anne Weir.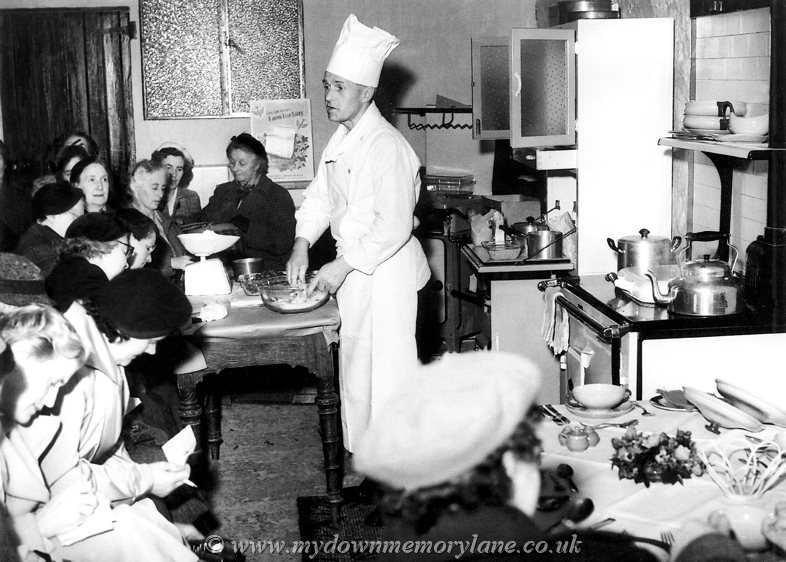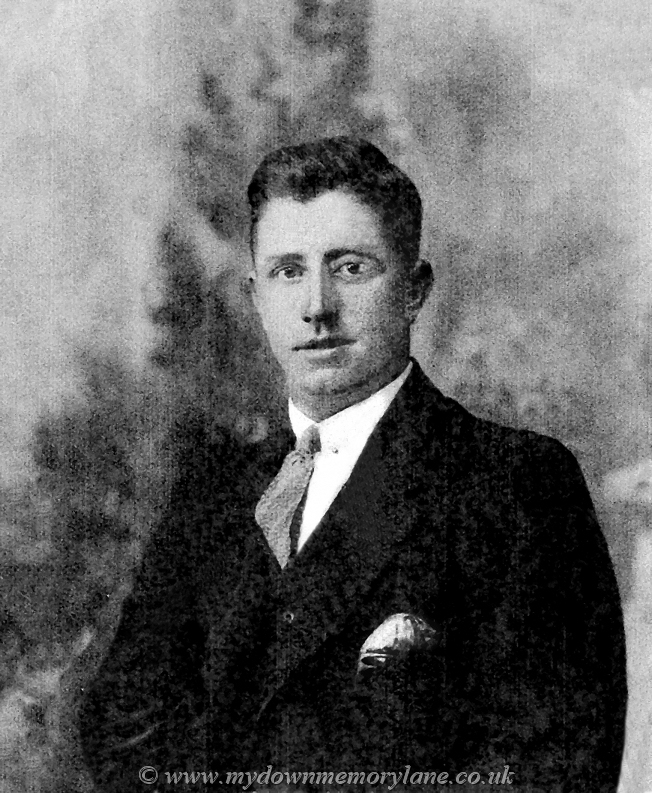 COOKERY LESSONS 1118
This is Chef Smith from Bonnybridge in Scotland who travelled around giving cooking demonstrations on the 'Esse' cooker which they were promoting.
This was taken in a church hall in Antrim and as you can see the ladies who are unknown are busy taking notes - it was in the late 50's.
JACK CAMPBELL 1549
Getting his protrait photograph taken in 1936 is Jack Campbell.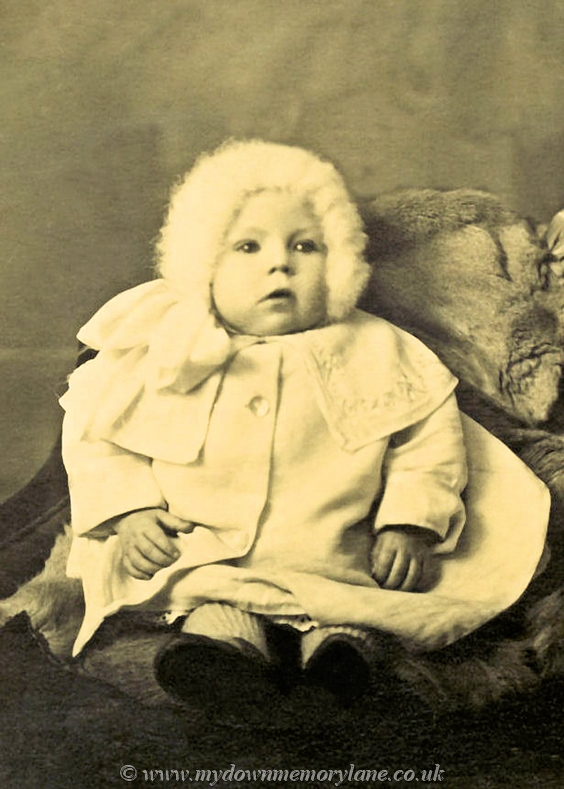 MINNIE COOPER 2596
It's 1928 and little Minnie Cooper in her beautiful outfit is having her photograph taken in a studio.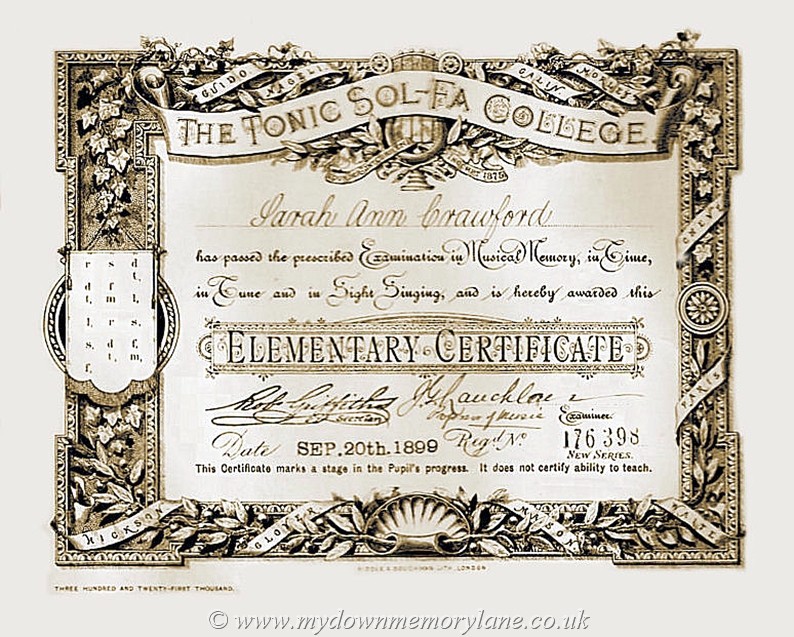 SARAH ANN CRAWFORD 2576
This Elementary Certificate from 'THE TONIC SOL-FA COLLEGE' which was established in 1875 is for Miss Sarah Ann Crawford from Creavery.
Sarah had worked hard to obtain this achivement and was now qualified in Musical Memory, being in Time, in Tune and in Sight singing.
It states at the bottom " This certificate marks a stage in the pupil's progress. It does not certify ability to teach."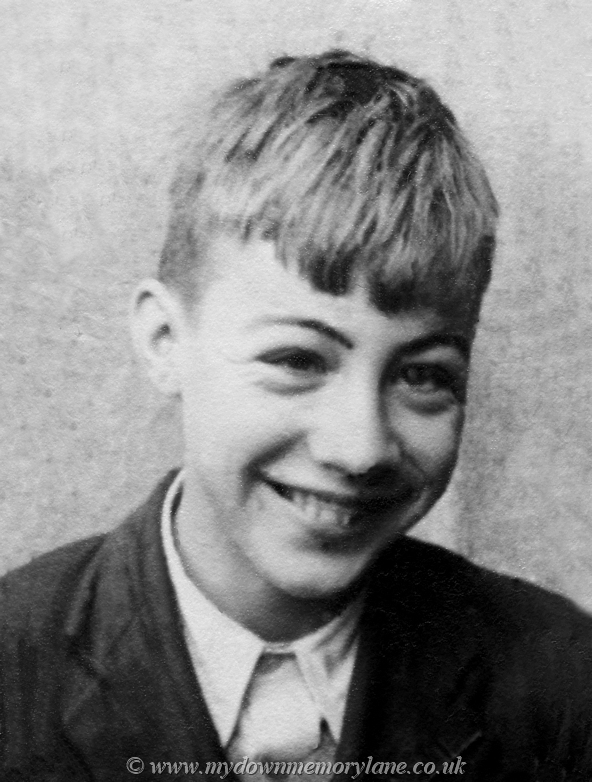 THOMAS COULTER 2706
It's that time of the year when the school photographs are taken and this time it's the turn of Orr Memorial School back in 1953.This is young Thomas Coulter who back then lived at 21 Market Square.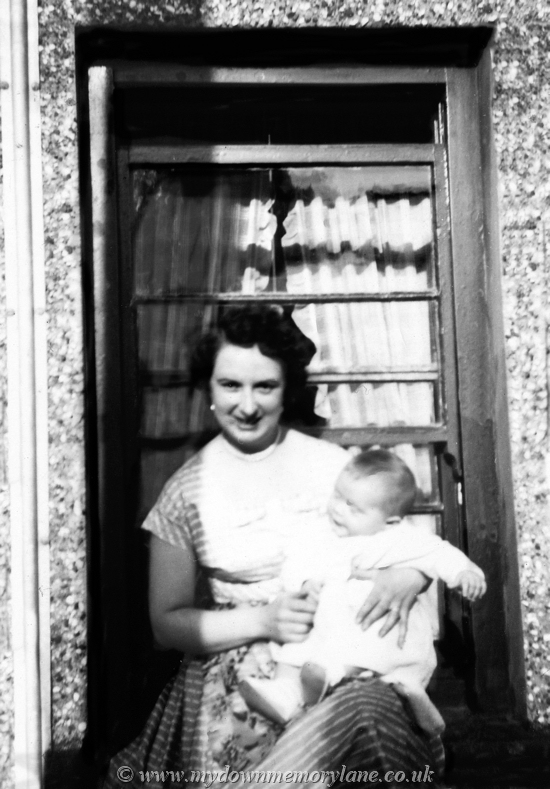 CASTLE STREET 2141
Enjoying the sunshine while sitting on the windowsill of Wallace's home in May 1957 is Audrey Love with Marie Wallace on her knee.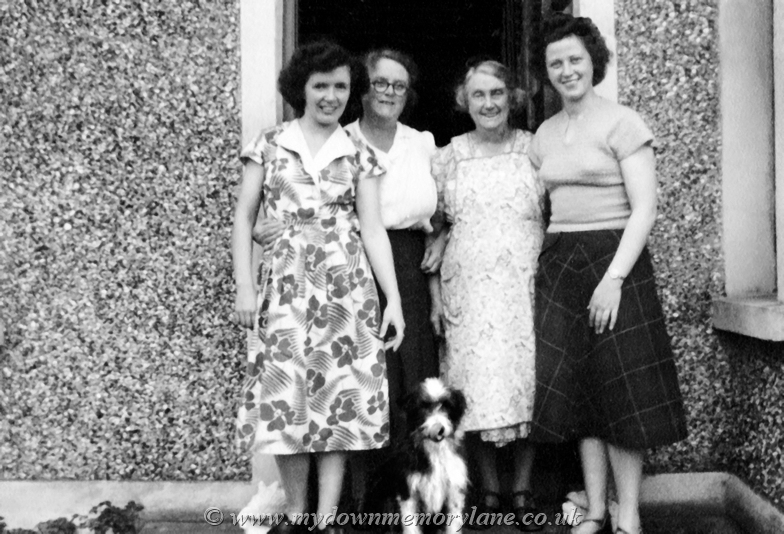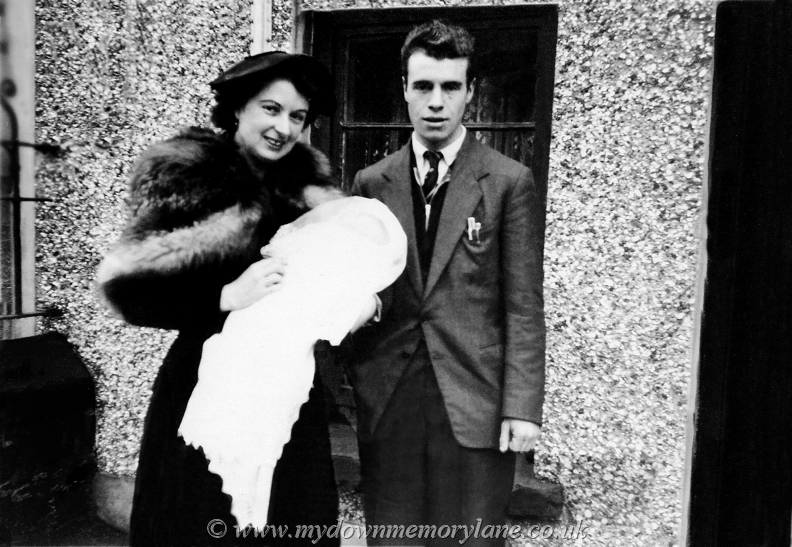 CASTLE STREET 2142
Standing at their front door in Castle Street in 1951 we have from the left Josephine McMullan, Mum Helen McMullan, Gran Annie Hamilton and Audrey Love. The dog's name is Prince but I hope he hasn't got a cold for he's licking his nose!
CASTLE STREET 2144
Here we have in Castle Street Cavanna Wallace with Audrey Love in 1956.
Audrey is holding Marie Wallace who had just been baptized at St Comgalls and they were now Marie's Godparents.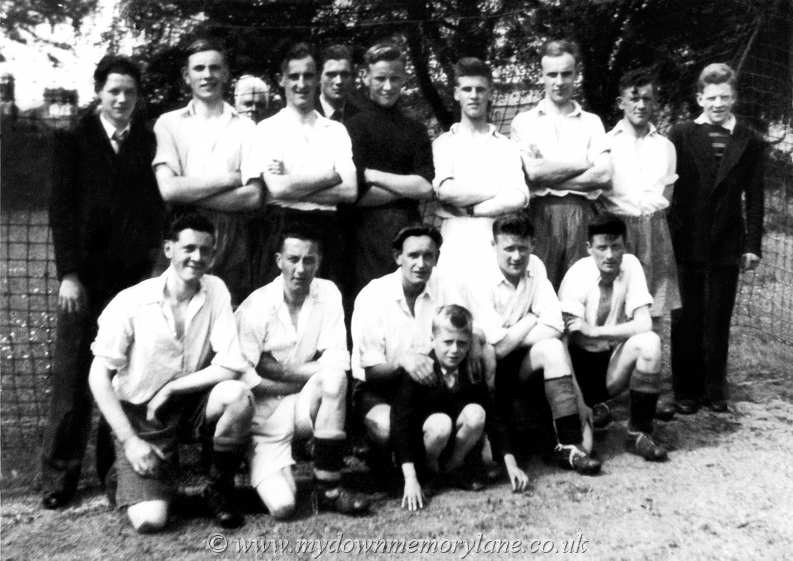 CLADY RANGERS FOOTBALL TEAM 1910
This is Clady Rangers Football Team back in 1956.
At the back are Norman Young, Basil Kinnen, Crawford Wilson, Joe Young, Bertie Orr, Frankie Corrigan, Johnny Kinnen, Sam Busby and William Craig.
In front are Andy Francey, Francis Skelton, Dennis Young, little Mervyn Thompson, Bryan Beggs and Sammy Kyle. In the background are two Unknowns.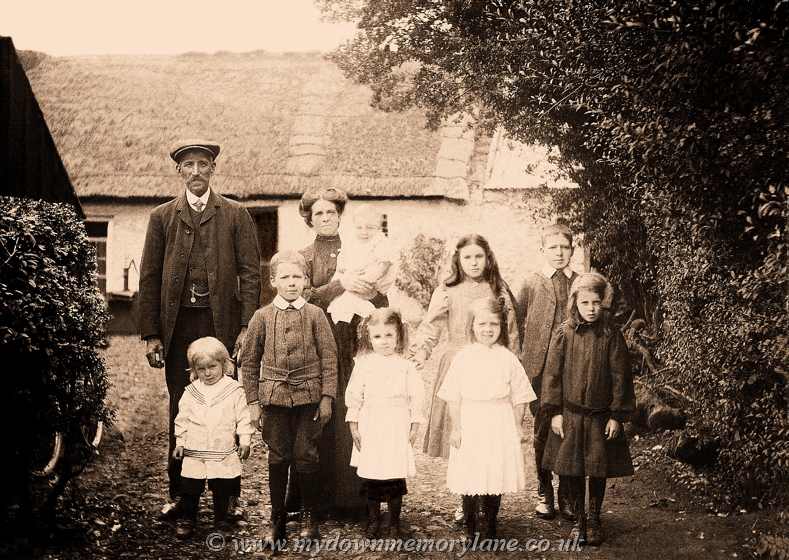 CARSON FAMILY 1731
Being photographed outside the family home we have the Carson family with relatives.
On the left at the back is Granda Carson, next is his wife Granny Carson with Sam Carson in her arms, then Catherine Anne Adair and George Carson.
In front are James Carson, Ben Carson, Martha McClean, Mary Smyth and Nellie Suitters. to the left of Granda Carson is a bicyle and behind him is the water pump.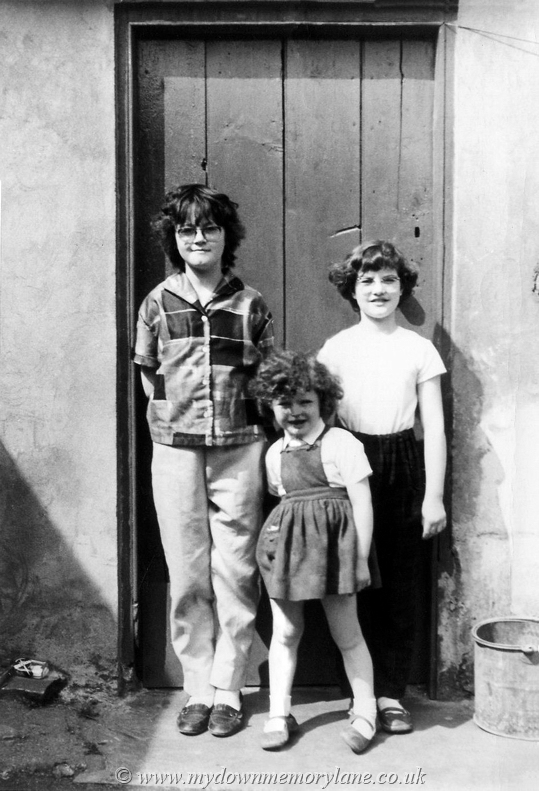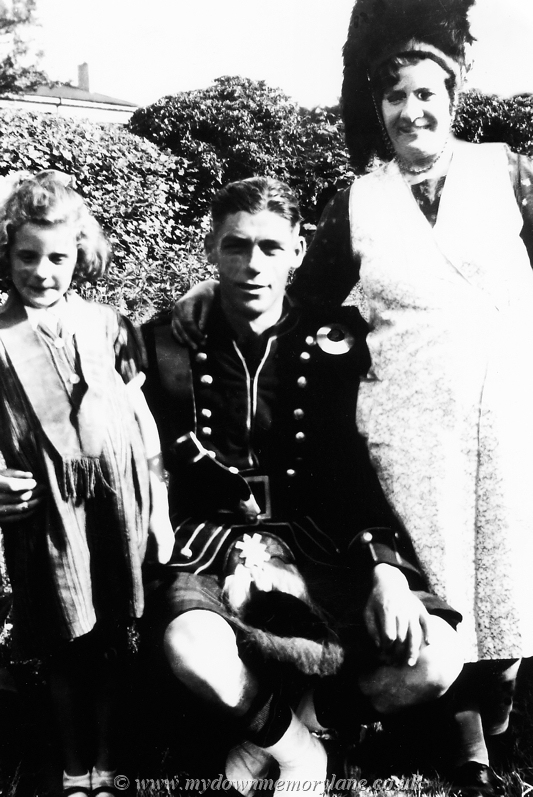 CHURCH STREET 1514
In the back garden in 1945 at Church Street getting their photograph taken with Tom Knox in his band uniform is Mrs Steele sporting the headgear of the uniform and her daughter who is unknown.
CASTLE STREET 1765
Standing at the back door of their house at Castle Street in 1961 we have Marie Buick with Anne McCabe and her sister Suzanne McCabe.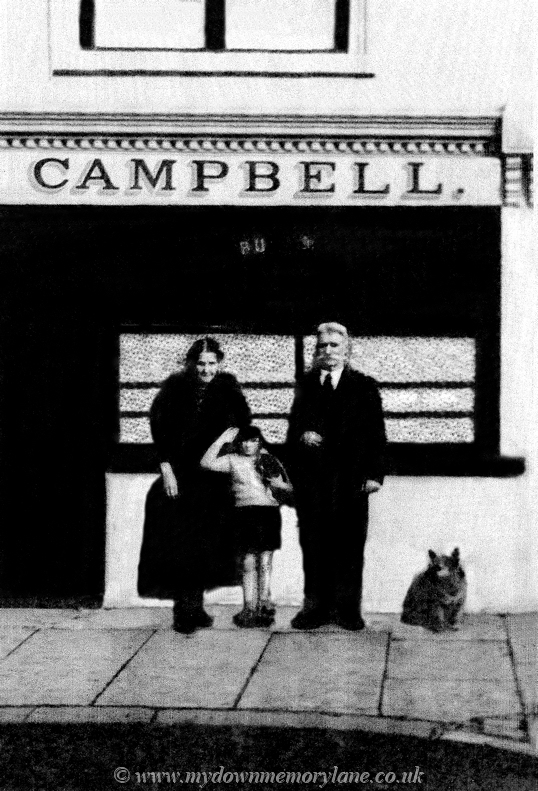 CAMPBELL'S PUB 1545
Here is Campbell's pub which was in Market Square, it is 1942 and war in Europe was still raging on.
Standing outside the pub is Ellen Campbell, her husband Campbell who owned and their granddaughter Margaret. Now we do know that it was an American soldier who took the photograph so perhaps he said "Come on Margaret Rose give us a salute" and Margaret obliged while still holding on to the cat.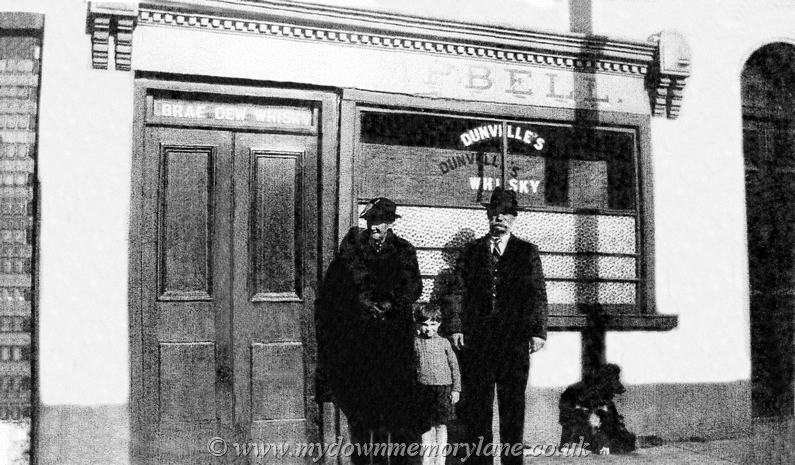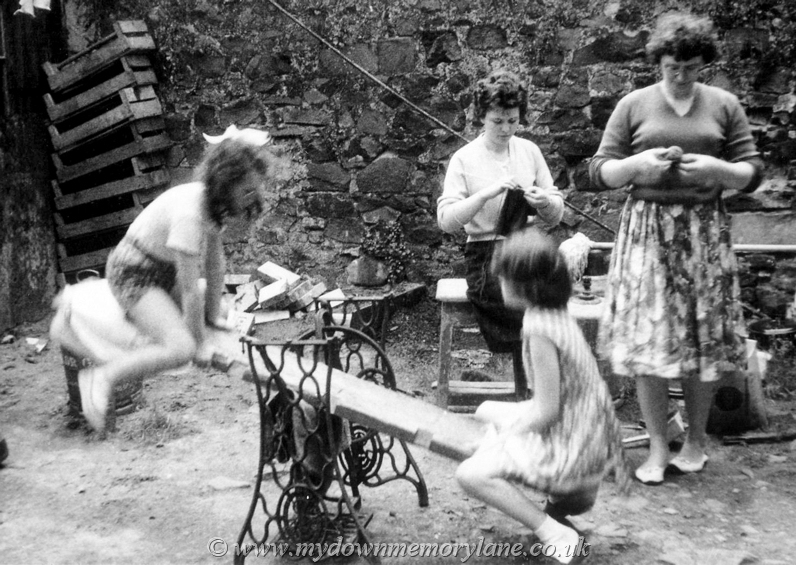 CHILD'S PLAY 1767
No play stations or TV back then in ... That's when children were children and they amused themselves. Here in the backyard of their home in Castle Street Anne McCabe on the left and Marie Buick on the right had no problem enjoying themsleves on their see-saw made from a plank and an old Singer sewing machine frame. While in the background sitting down knitting away is Eleanor McCabe and also knitting while standing is Mary McCabe.
CAMPBELL'S PUB 1546
Standing outside their pub which was in Market Square in 1942 we have Ellen and Sam Campbell with their Grandson Sammy Kyle.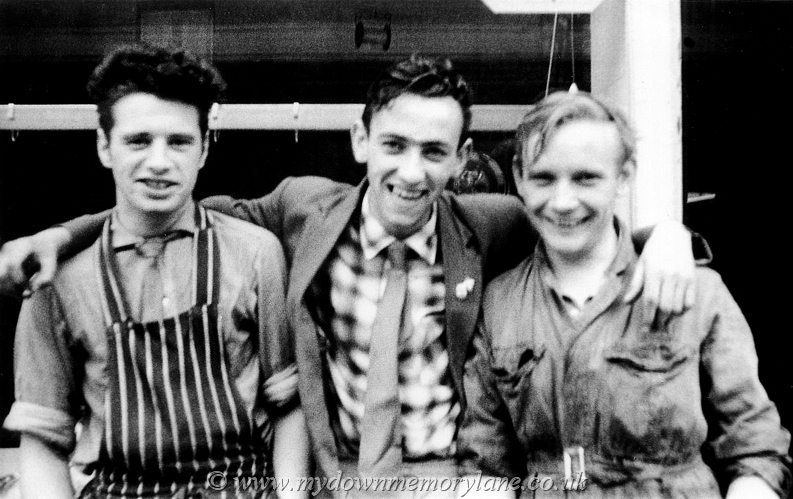 CASTLE STREET 1766
Sitting on the windowsill of Sammy McCabe's butchers shop in Castle Street is his son Robin McCabe as you can see he worked there. Next is Alex McDonald and finally Raymond (Tiddler) Lynn who worked at Franklin Young's garage in High Street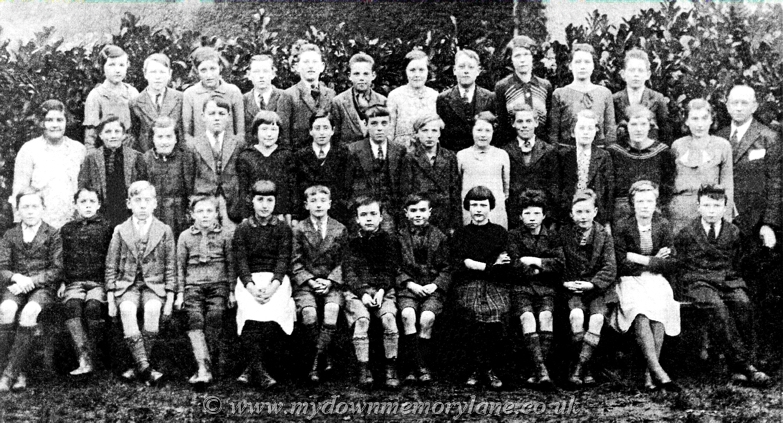 CREAVERY PRIMARY SCHOOL 1503
This Creavery Primary School in 1939.
The photograph was in a very bad state and I have done the best I can with it if you know anyone in the photograph and also the year I would be most gratefull or if you have a better photograph please contact me.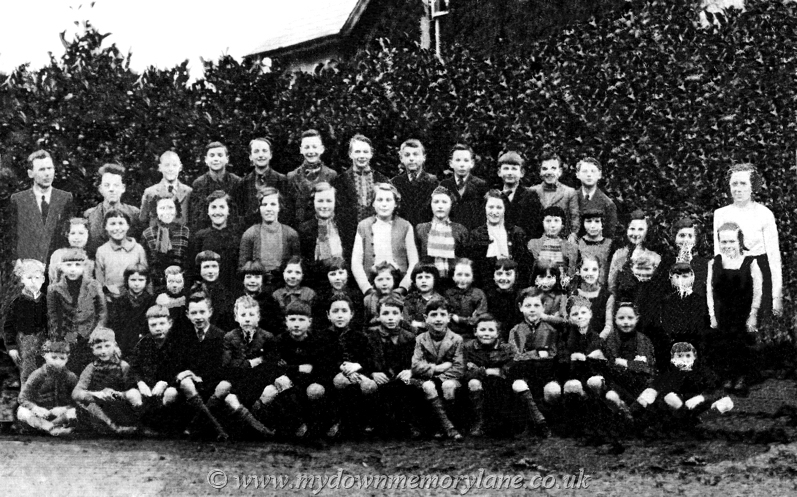 CREAVERY PRIMARY SCHOOL 1502
This is Creavery Primary School class of 1935 and as you can see by the ground there was no tarmac in those days.
Back row: we have Sarah McClenaghan, Joe Millar, Jeannie McCollum, Robert Millar, David Millar, Joe Buick, Bella McKee, Alex Fletcher,Nellie Moundell, Rosaleen McKowen and John Cupples. Middle row: has May McCollum, John Duncan, Mary Crawford,.Sam Fletcher, Jeannie Millar, Robert Hanna, Jim Fletcher, W.J. McDonald, Isa Black, Jim McDowell, Betty Cupples, Isobel Millar, .Patsy Ruckham and James Clarke the Headmaster.
Seated: at the front we have Graham McKee, Craigy Duncan, James Adair, Robert Duncan, Margaret Moundell, John Fletcher, Johnnie McKowen,George Buick, Josphine McCollum, Robert McDonald, W.J. Buick, Lizzie McDonald and Billy McClenaghan.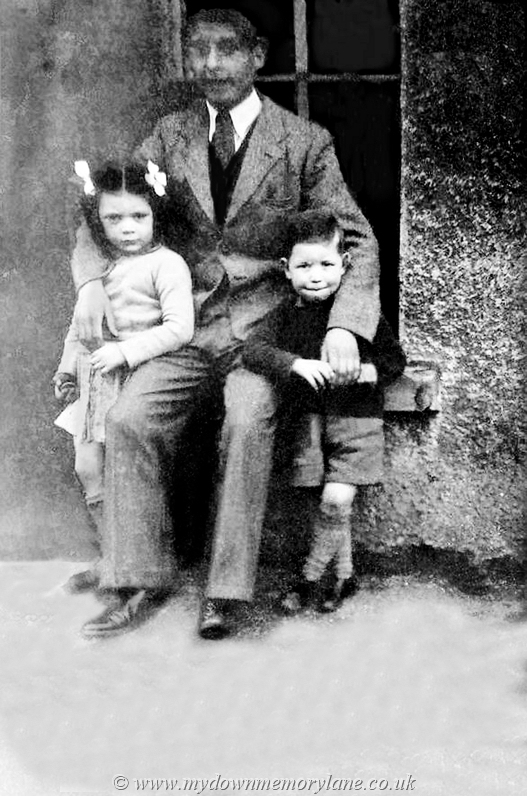 CHURCH STREET 1483
Sitting on the windowsill along Church Street in 1945 we have Sammy McIlroy. His arms are around Annie Knox and her brother Jim Knox. Anne has clutched in her right hand a couple of biscuits.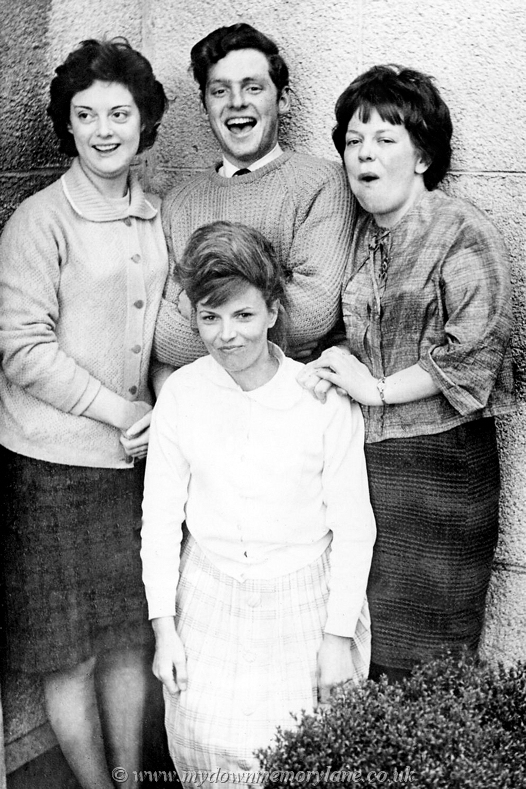 CORNERED ! 1156
It looks like poor Roy Simpson is well and truly cornered by three lovely lasses in the 60's. On his left is June Neeson, to the right is Marie Hemming and in front with a mischievous grin on her face is Kathleen Peel.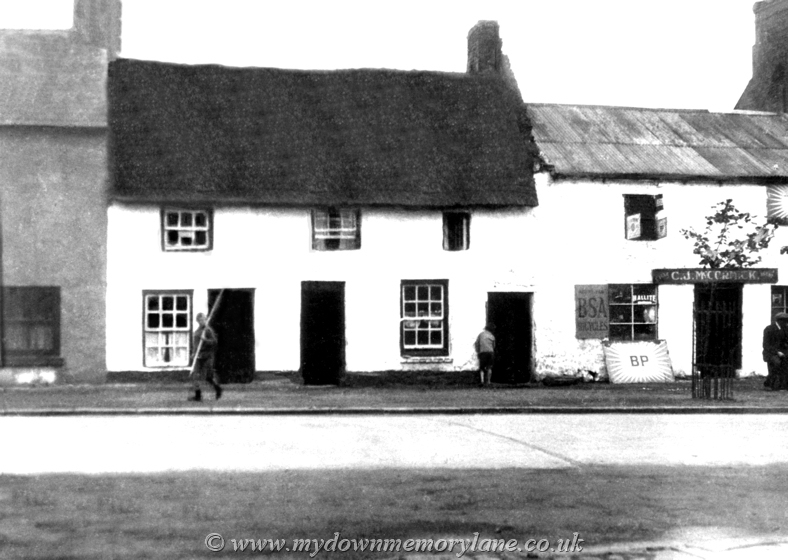 CHURCH STREET 667
Next to this thatched cottage in Church Street is C.J. McCormick Cycle Agent who of course sold bicycles. The sign says he sold B.S.A. bikes which back then were the top of the range, a must for all boys. The boy at the side of the entry is looking into a very famous place, it's Poque's Entry!
The other boy looking at the camera with the long stick could have been fishing or else going to drive the cows to be milked.
The centre section of the road has been concreted. The year is unknown.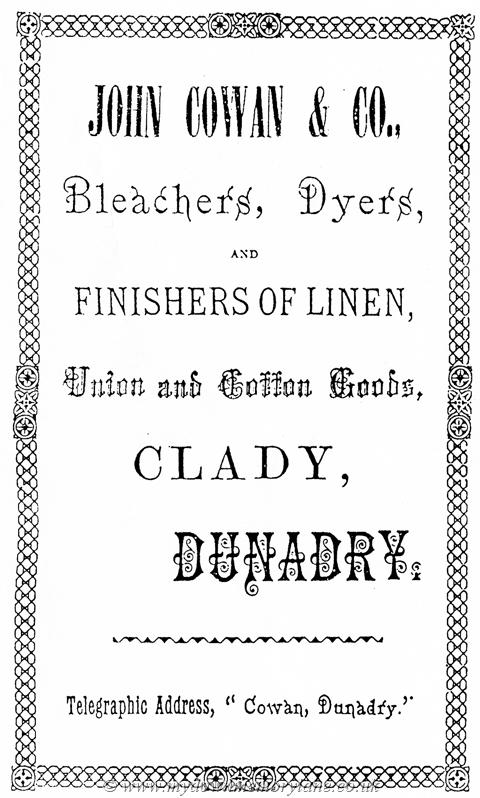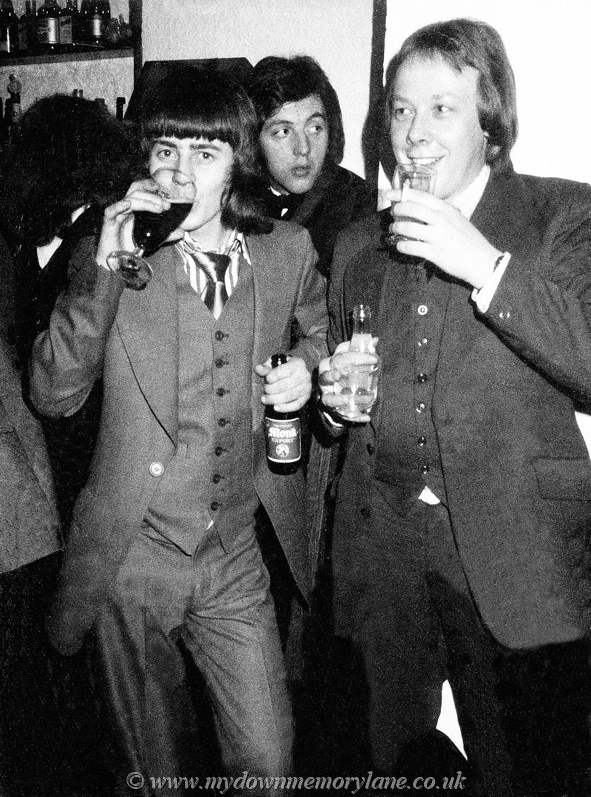 CHIMNEY CORNER 2373
Seen here enjoying themselves on a night out at the Chimney Corner.
On the left we have Ken Hamilton and Berty Carnwath from Antrim.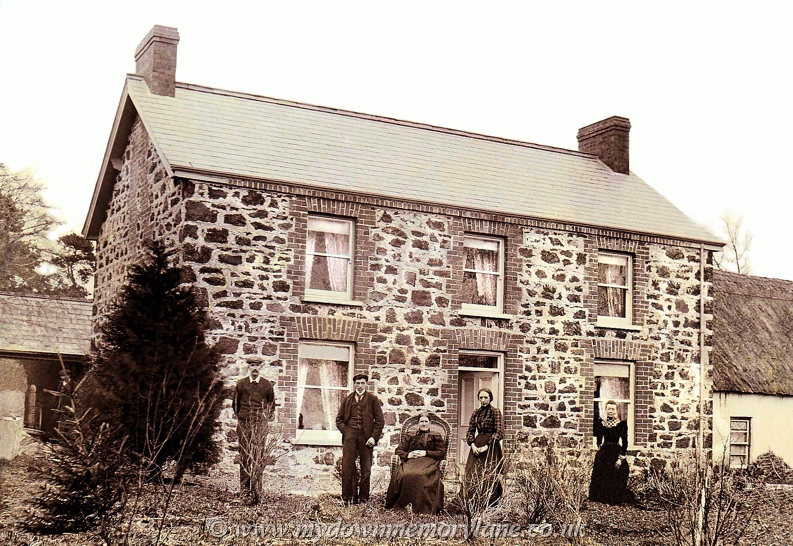 CRAWFORD FARM 2514
This is the Crawford farm at 21 Creavery Road back in the 1900's.
On the left we have R G Simpson, William Crawford, Sarah Ann Crawford (nee Dennison), Hannah Simpson (nee Crawford) and cousin Aggie Stewart.
The farm is still occupied by Wilbert Crawford, son of William Crawford while Wilbert's son William operates a joinery business now from the farm. Now who is that peeping round the left hand side of the house?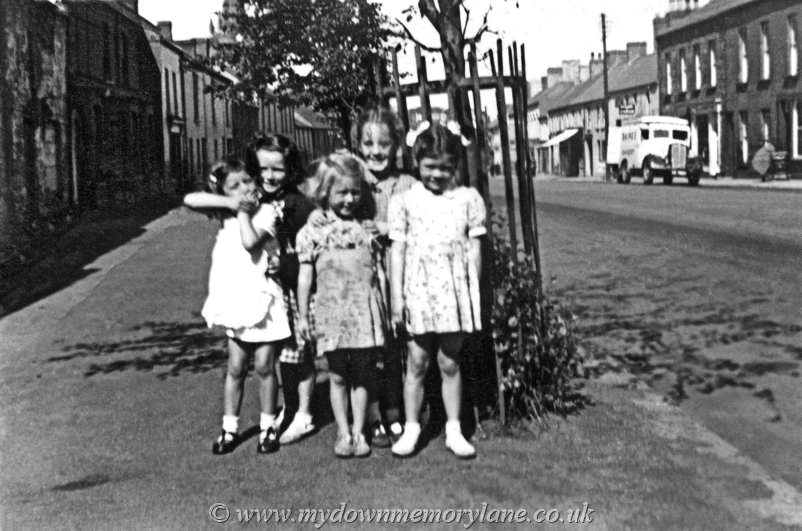 CHURCH STREET 838
This group of local youngsters are clearly enjoying the long break from school holidays during the hot summer of 1947. The shy one with the hand over her mouth is Edith Blair, and she is pictured with two friends unknown and then Margaret Myles and Ann Knox. Note the lovely vintage truck parked on Church Street delivering goods in the background.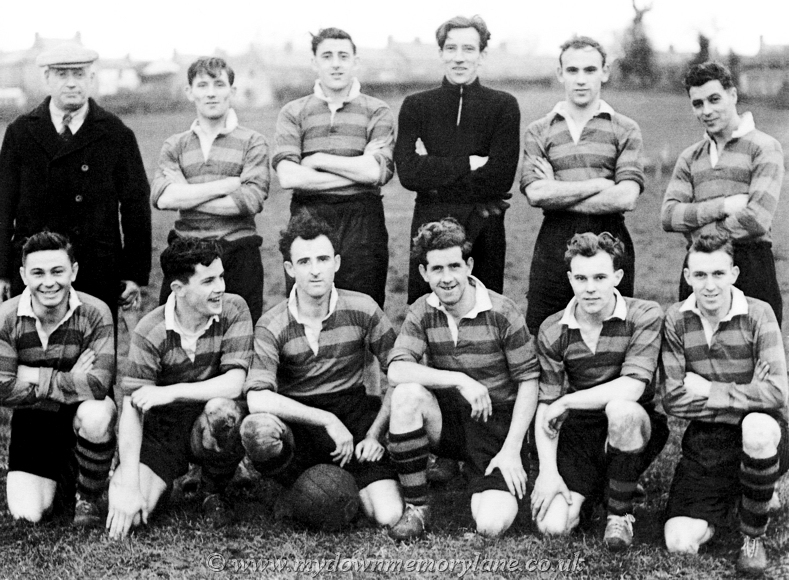 CHIMNEY CORNER FOOTBALL TEAM 1268
Here we have the Chimney Corner Football Team of 1956 - 1957.
Standing at the back (from Left) Jack Hemmings - Trainer, Sammy Agnew - Left Back, R. Steele - Right Half, R. McFarland - Goalkeeper,
J. Kennen - Right Back and A. Geddis - Inside Left. In the front are J. Doubis - Outside Right, S. Quinn - Centre Half, R. Wasson (Capt) - Left Half,
J. Nicholl - Inside Right, A. Geddis - Centre Forward and Norman McCauley - Outside Left.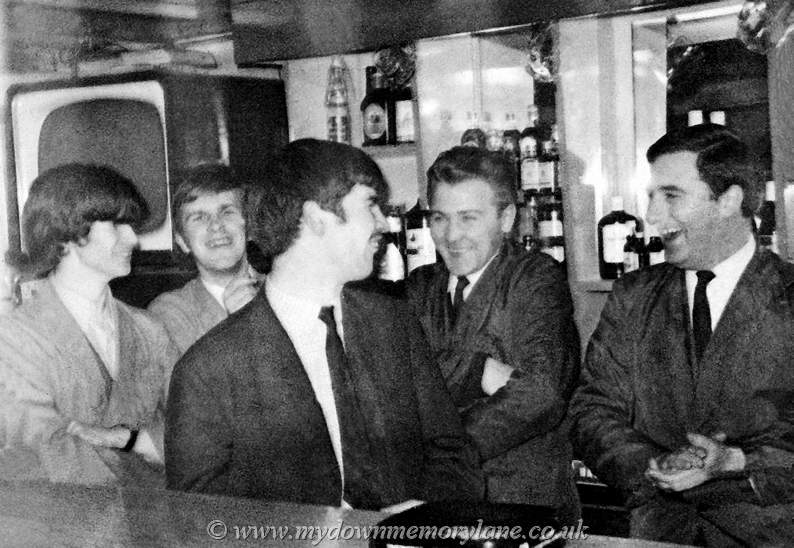 COVA INN BARMEN 1937
Standing behind the bar in the Cova Inn in the 1960's from the left is Michael Anderson, Unknown, John Anderson, Charlie McStocker and David Mailey is Charlie McStocker.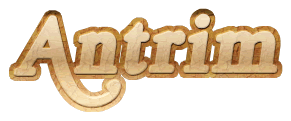 Pages: