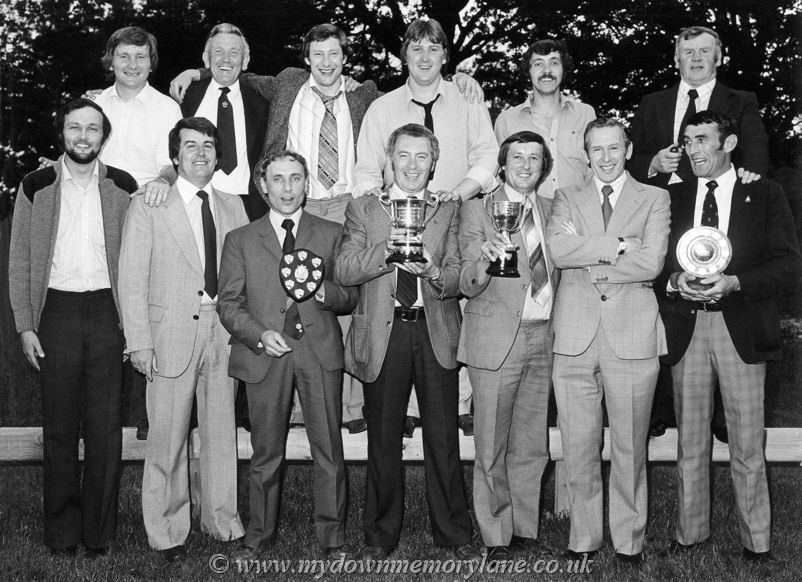 ENKALON FIRE CREW 1988
This photograph is of Enkalon Fire Crew in the mid 1970's which had won the Inter-Plant man made fibre Fire Crews competition. Only two are known in the photograph and that is Joe Boyle the plant's Health & Safety Office and Charles Doyle the plant's Fire Officer.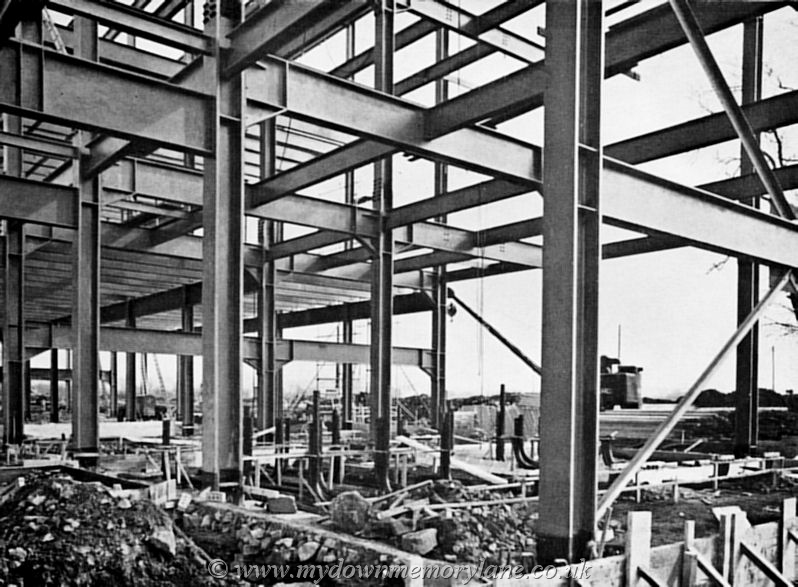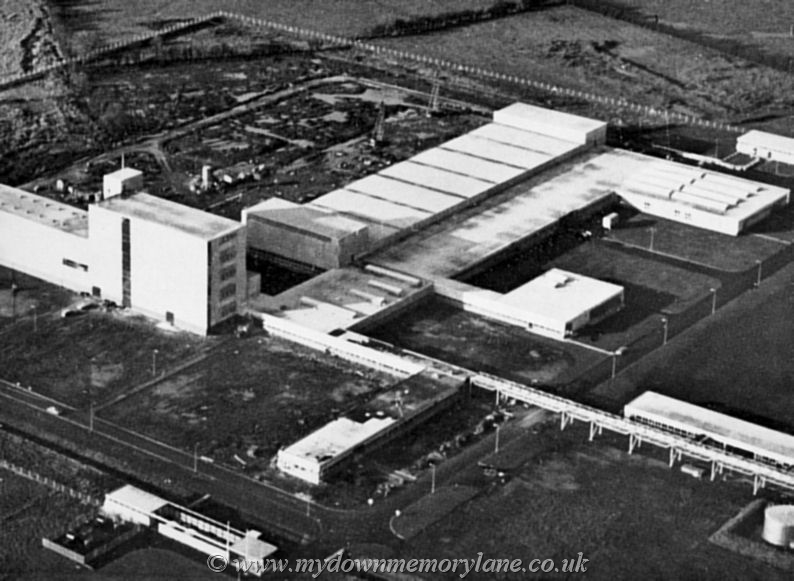 ENKALON 2497
Now I'm sure you are wondering what on earth this photograph is doing here. Well all this steel was the beginning of a new era of prosperity in Antrim.
It's 1961 and this steel will hold a plant that everyone will know, Enkalon.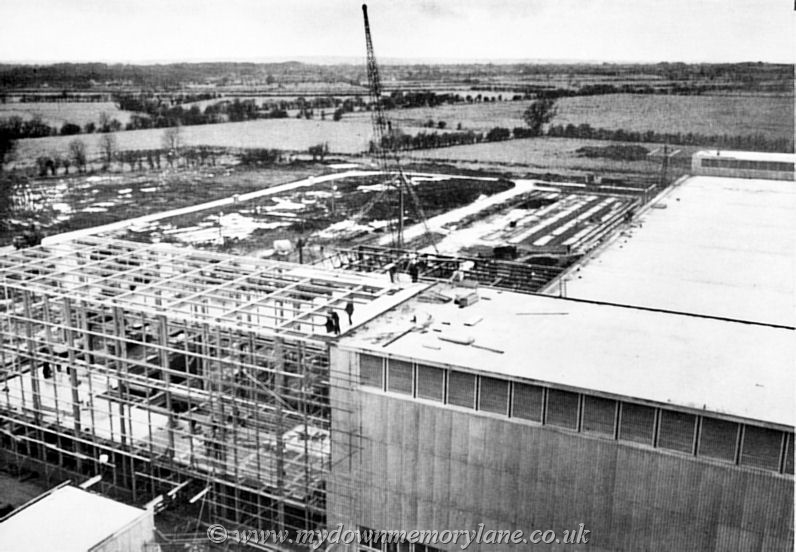 ENAKLON 2499
This aerial photograph taken 1964 gives you an idea the size it was and the prosperity it brought to Antrim town.
.ENKALON 2498
As you can see the building is growing, it's January 1964 and soon Enkalon will be up & running.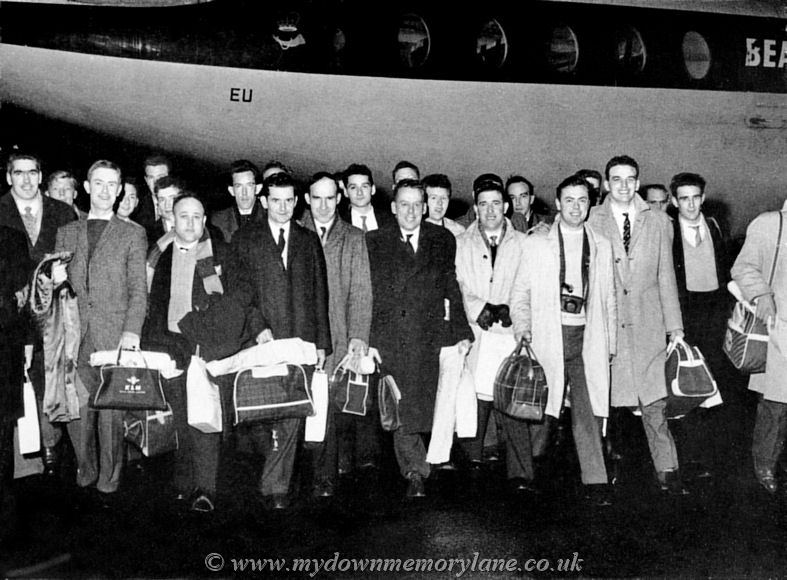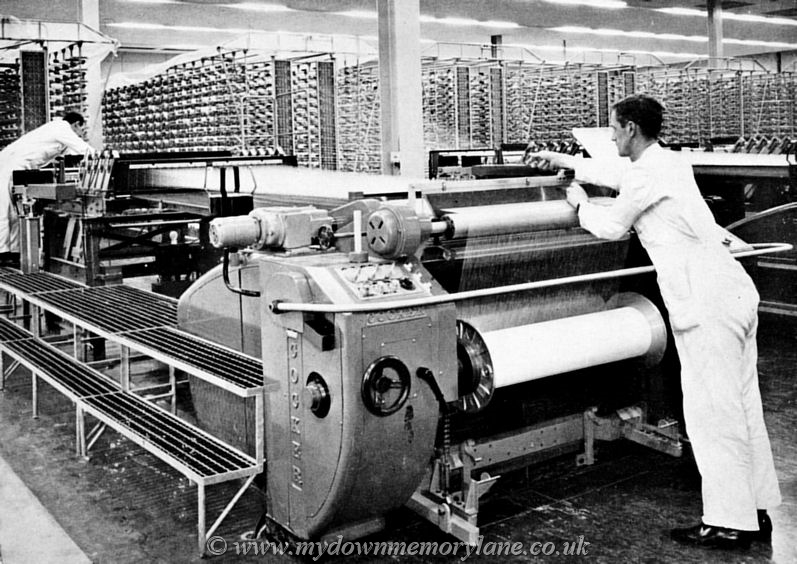 ENAKLON 2500
Just off their flight with British European Airways from Holland are some of the new Enkalon workers back in 1963. They had been to Emmen to train for the jobs they were going to do in Ankelon and also to train other workers.
ENAKLON 2501
Here we are inside Enkalon and these two men working this machine are producing Beaming yarn for the warp-knitting industry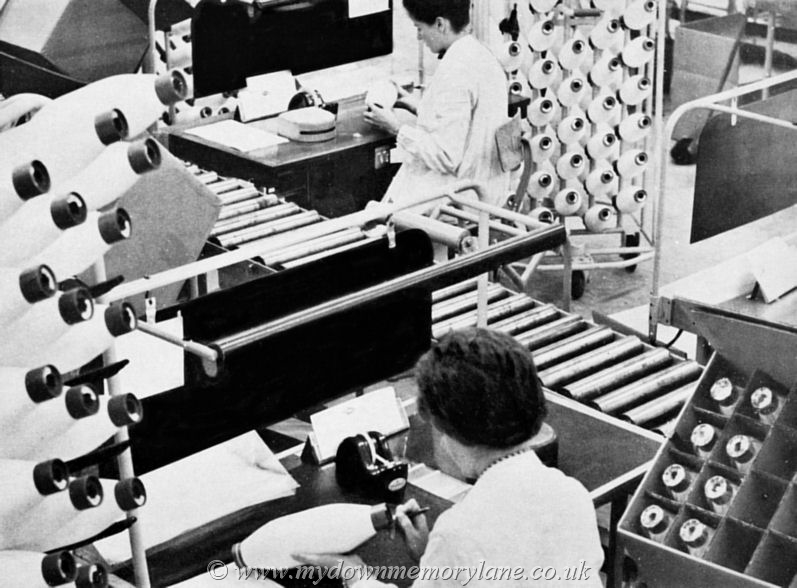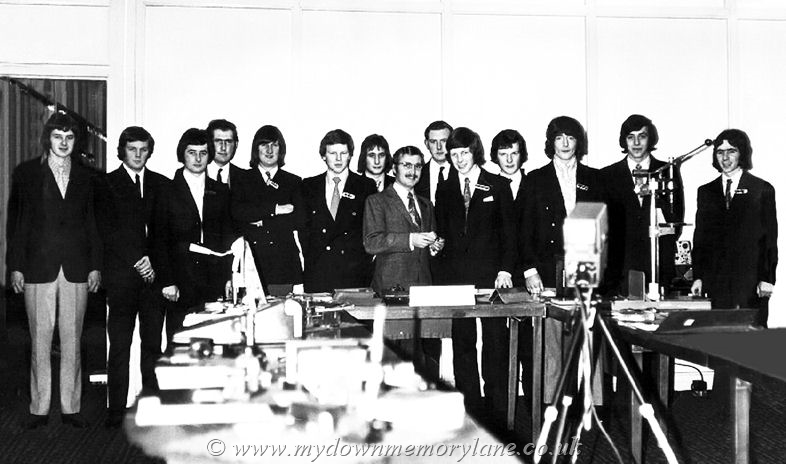 ENKALON 2753
Here we are in the Enkalon back in September 1971. These apprentice's are all smiles and it's no wonder for they have just received their prized certificates confirming they had completed their apprenticeship.
From the left we have Alan Porteous, Sammy Lyttle, Unknown, Unknown, Willie Greer, R Tate, Ivan Brownlees, Ivan Fox (Apprentice training Centre Manager), Kenneth Fletcher, Sammy Wolfenden, Unknown, Eugene O'Hagan, Dan Lorimer, and Wallis Service.
ENAKLON 2502
This is the Inspection department in Enkalon and these two girls inspecting the tubes of yarn for any faults before going to the Despatch department for delivery.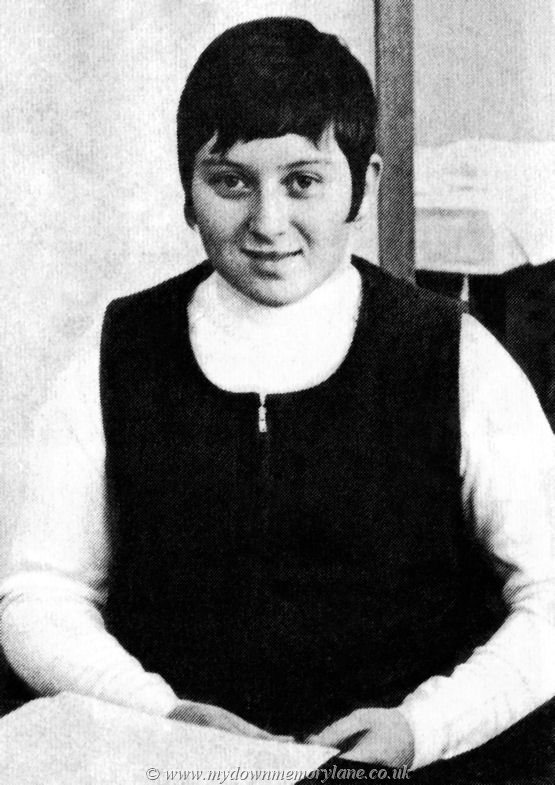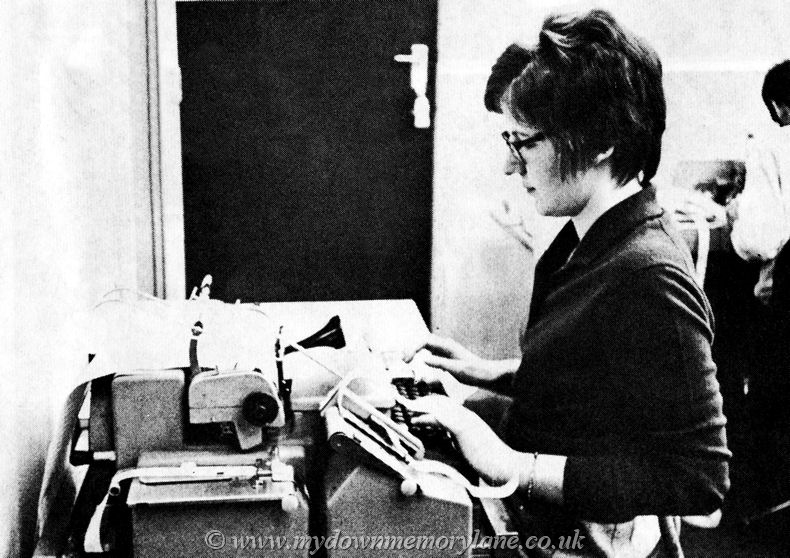 ENKALON - 91
Hard at work in Ankalon is Elizabeth Witherspoon who is the ' senior girl ' in the Data Preparation department in 1971.
Elizabeth works along with six other girls each capable of punching the equivalent of 300 foolscap sheets of information every day!
ENKALON -93
This is Heather Bulter then aged 21 in 1971 who worked in Ankalon. Heather was a keen badminton player and a member of the Ulster Minor representative team which won the inter-provincial championship that season.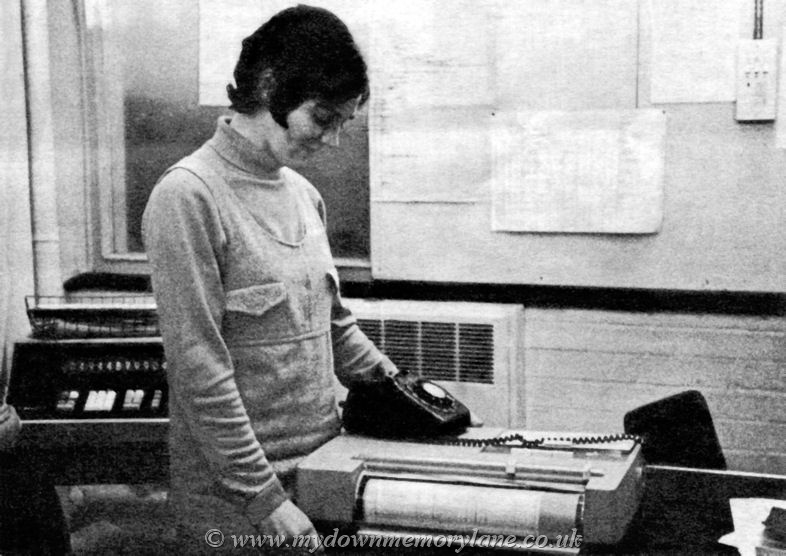 ENKALON 101
Photographed at Enkalon in 1971 this amazing machine that this girl - who is unknown - is operating can actually transmit pictures through a telephone
to anywhere in the world! Then it took five minutes to transmit a sheet A4 but they hope to in the not too distance future to get it down to 45 seconds!
This of course was the fore runner of your everyday fax machine.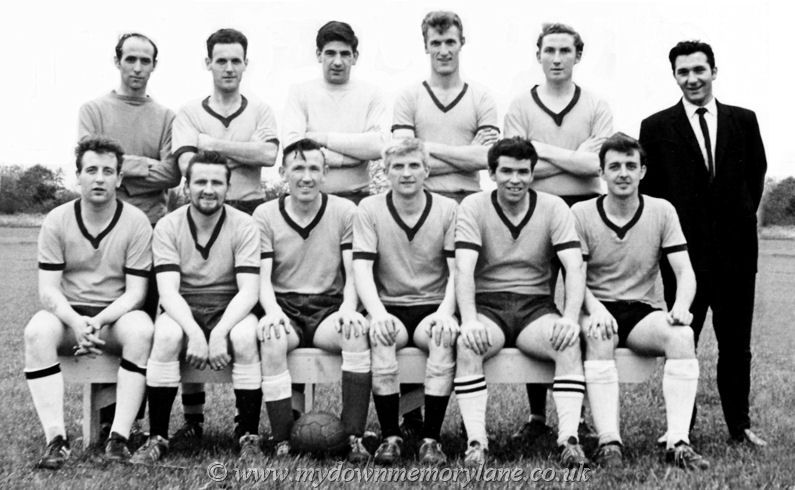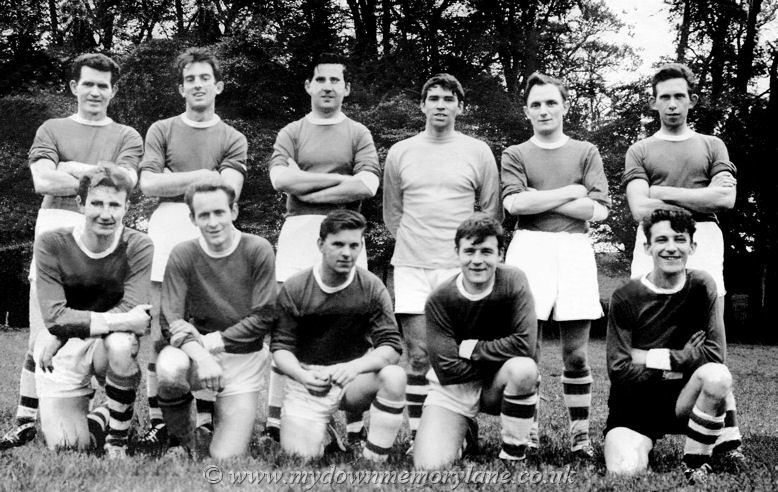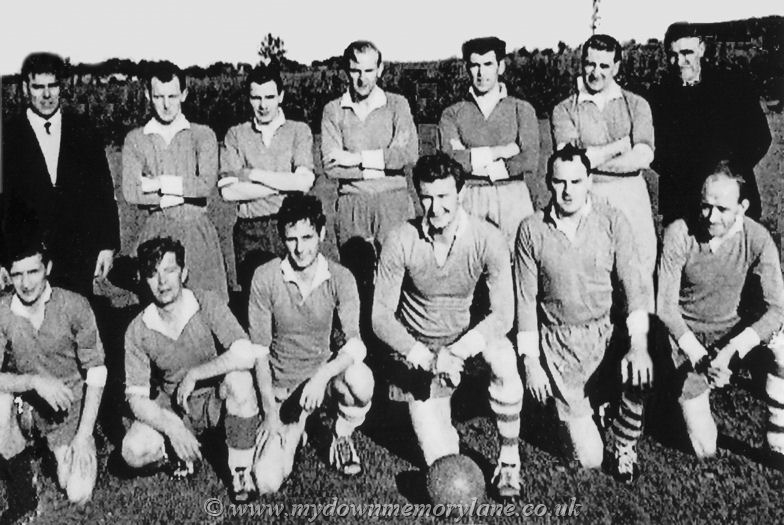 ENKALON FOOTBALL TEAM G. SHIFT 1504
This is Enkalon Football Team G. shift getting their photograph taken.
At the back are B. Loughran, J. Burton, Unknown, Danny Letters, F. Robb and Unknown.
In front we have B. Devlin, R. Coles, Unknown, J. Cathcart and W. Shaw.
ENKALON FOOTBALL TEAM 1659
All smiles before their match we have the Enkalon boys of 1965.
At the back from the left B.Clarke, T. Johnston, D. Letters, B. McVeigh, S. McKee, Unknown and E. Smyth.
In the front are E. Baillie, Unknown, B. Devlin, Unknown, J. Wright and W. McClure.
After the match they weren't smiling, they lost 4 -2 to the Dutch factory team.
ENKALON FOOTBALL TEAM G. SHIFT 1505
This is Enkalon's football team from G shift in 1963.
At the back the goalie is unknown, then Mr. Macguire, Unknown, Unknown, D. McCreight and the manager M. McCauly.
Seated in front are Unknown, C. Creighton, Bill Atkins, Unknown, Danny Letters and W. Craig.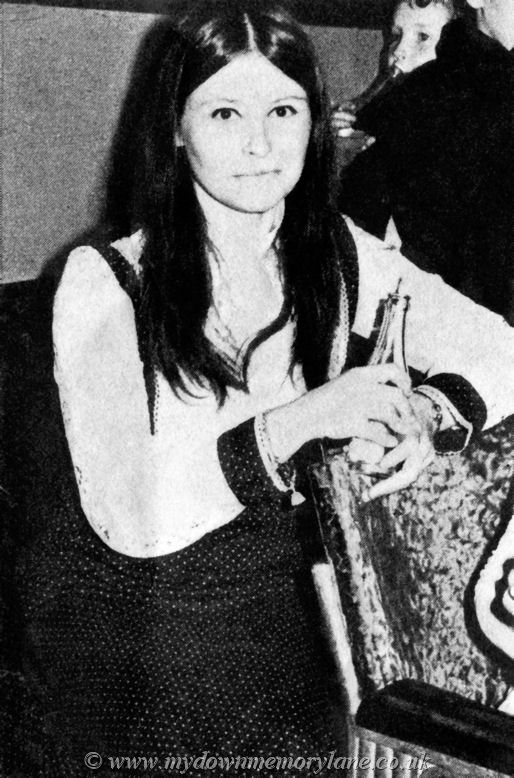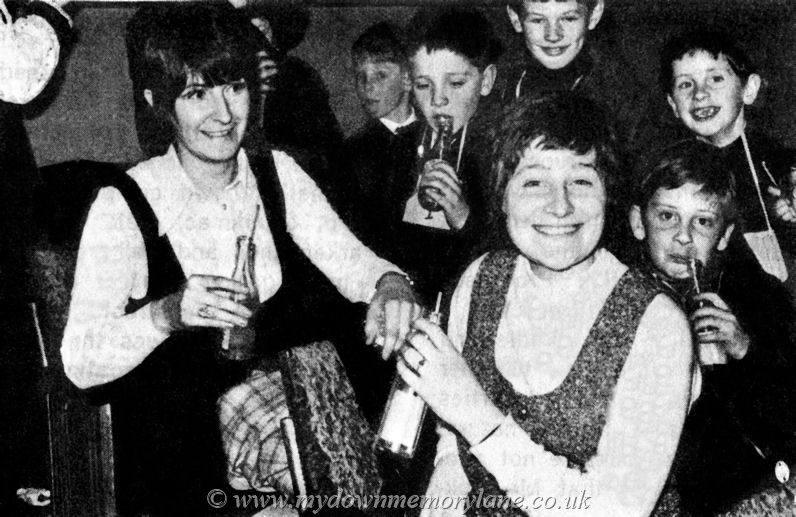 ENKALON 100
This is Anne McKee one of minders who took the Enkalon workers children to the annual Christmas circus in 1970.
ENKALON 099
Enjoying a bottle of pop at the theatre is Bridgett Murray and Eileen Nicholl who had taken these children to the theatre for their annual Enkalon Christmas treat in 1970. The children's names are sadly unknown.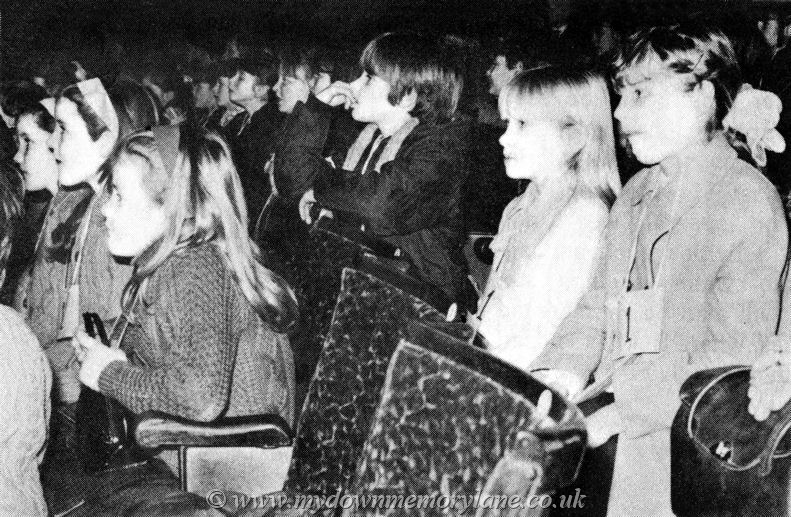 ENKALON 098
All eyes and total concentration from these children at the theatre in December 1970.
This was their annual treat as their parents worked in Enkalon, their names are not known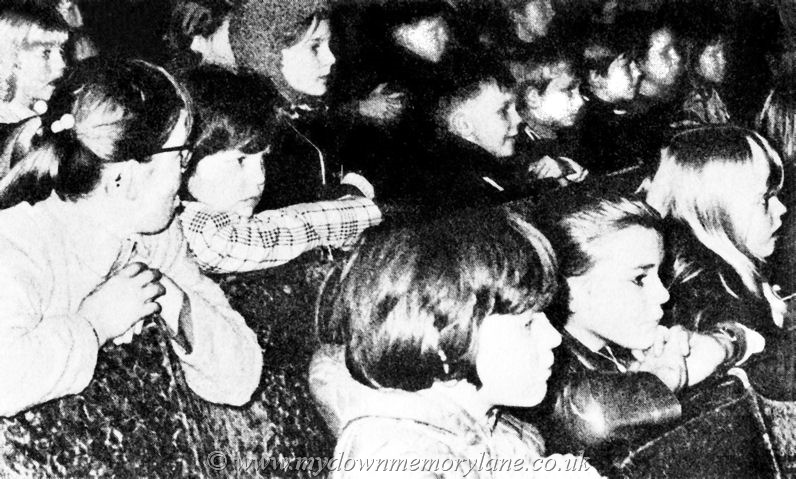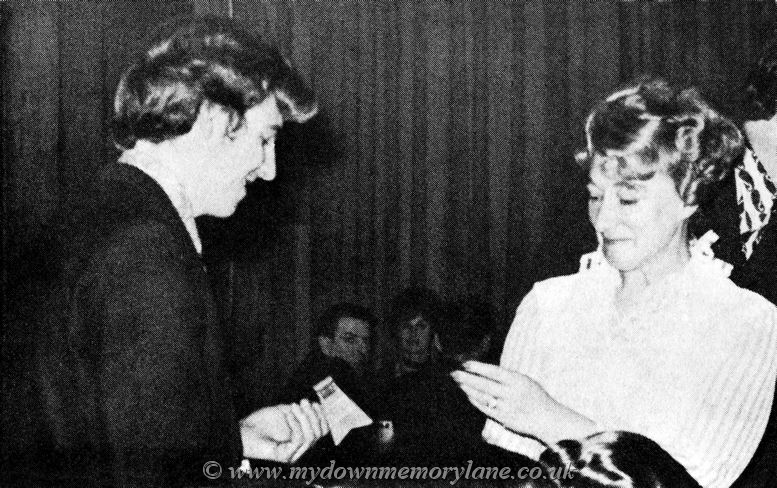 ENKALON -97
Here enjoying themselves at the theatre are Enkalon workers children in 1970.
At the moment the names are unknown.
ENKALON--96
Jiving the night away in 1970 at the annual Enkalon Christmas do, the two jivers are unknown.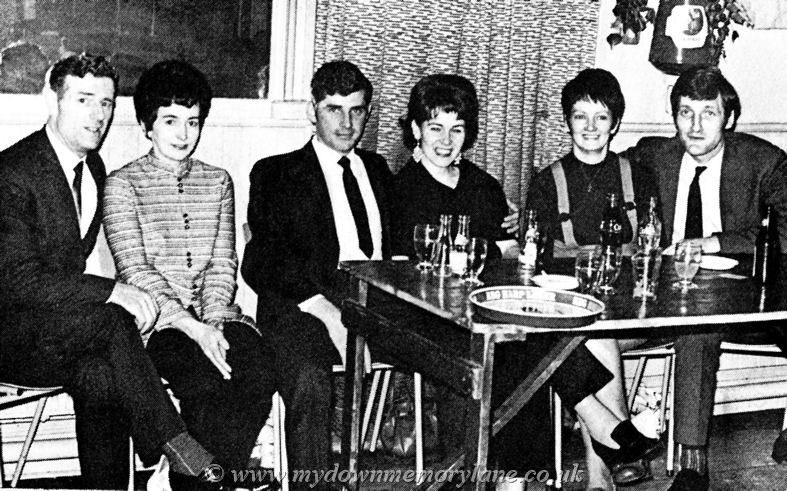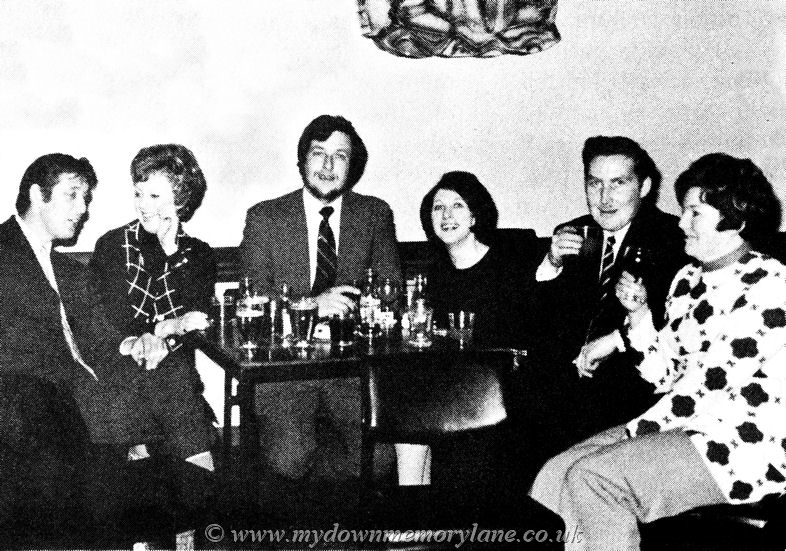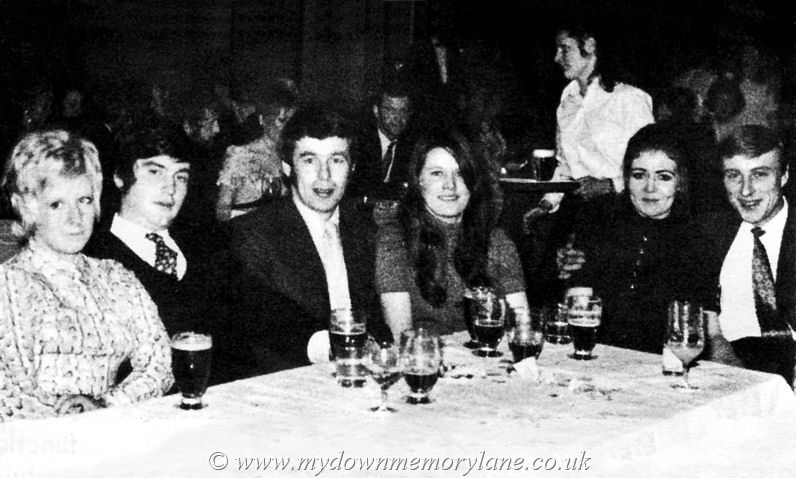 ENKALON 094
Pictured here enjoying themselves at the Enkalon Christmas do in 1970.
At the moment they are all unknown but who is the Elvis look-alike on the left?
ENKALON 092
Pictured at Enkalon's Christmas do in 1970 we have on the left is June McIlvenna, Melvyn McIlvenna, George Patterson, Joyce Patterson, Patrica Kirkwood and Leslie Wallace who later got married.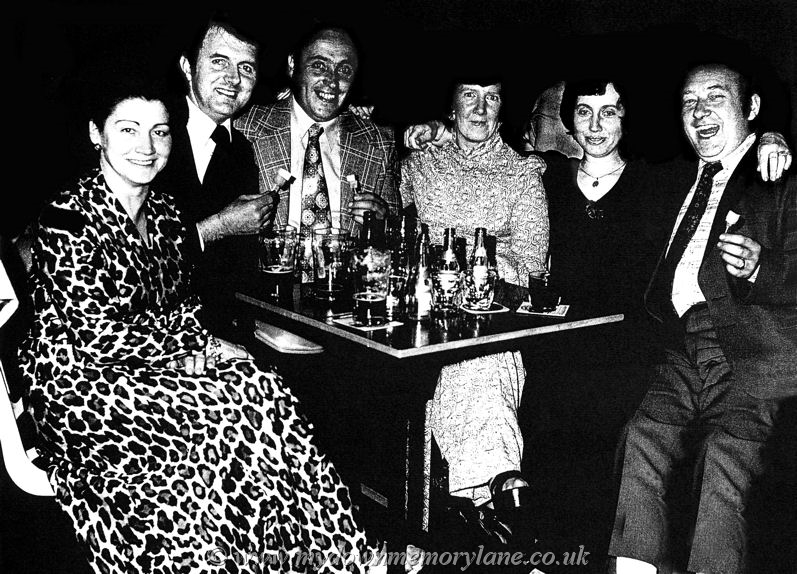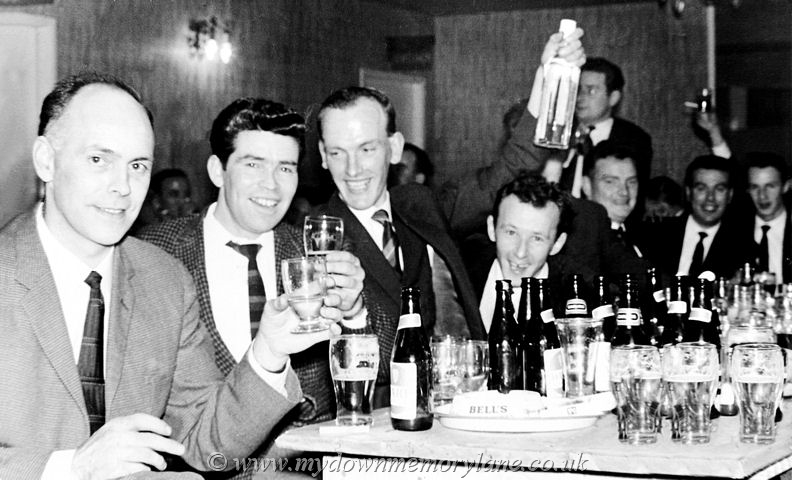 ENKALON "H" SHIFT PARTY 1506
This is Enkalon "H" shift at their club having a party in 1967.
Lifting their glasses are F. Adams and Danny Letters, not to be outdone we have F. Smith lifting a bottle instead. Sticking his head in A. Murray and next to him is E. Smith, the other two men are unknown.
ENKALON CLUB 1467
Out for the night at Enkalon Social Club, having a good time and when you have something to celebrate that's even better. The reason for being there was that is was the last night of 1970 Old Year's Night and seated at the table waitng for midnight from the left we have Isobel Sands, Maurice Cullen, James McClintock, Gladys Cullen, Ena McClintock and Jackie Sanos.
Notice that it is the men that are eating well from the cocktail sticks.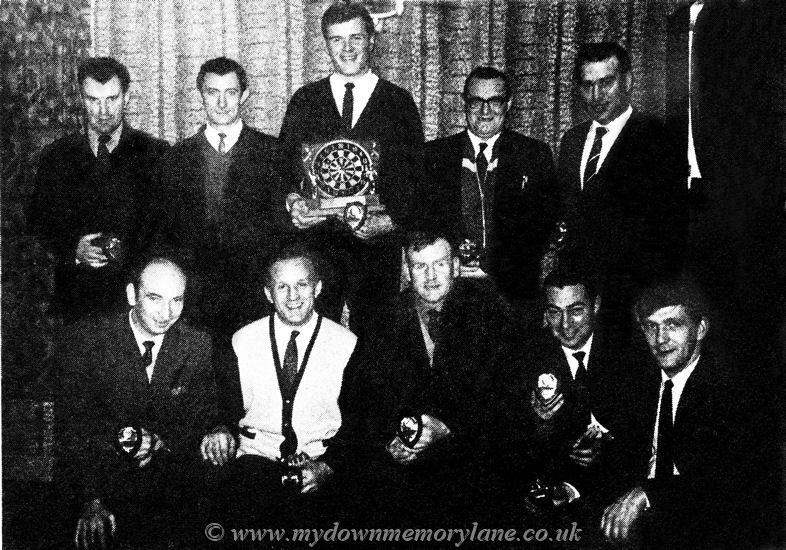 ENKALON DARTS CLUB 090
Winners of the Enkalon darts team competition in 1971 is Marshall Hunter and his boys from the 'H' shift.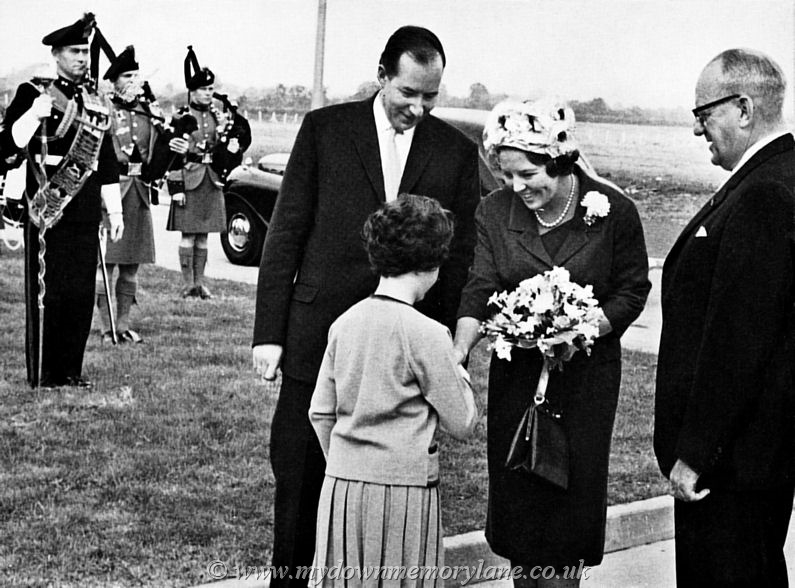 ENKALON 2503
It's the 23rd September 1963 and Her Royal Highness Princess Beatrix Crown Princess of the Netherlands has just arrived to officially open the Enkalon plant.
There to meet Her Royal Highness is the Joint Managing director of Enkalon Mr R.L. Shierbeck
Greeting her on her arrival is a little girl giving her a bouquet of flowers, are you this little girl if so please let know.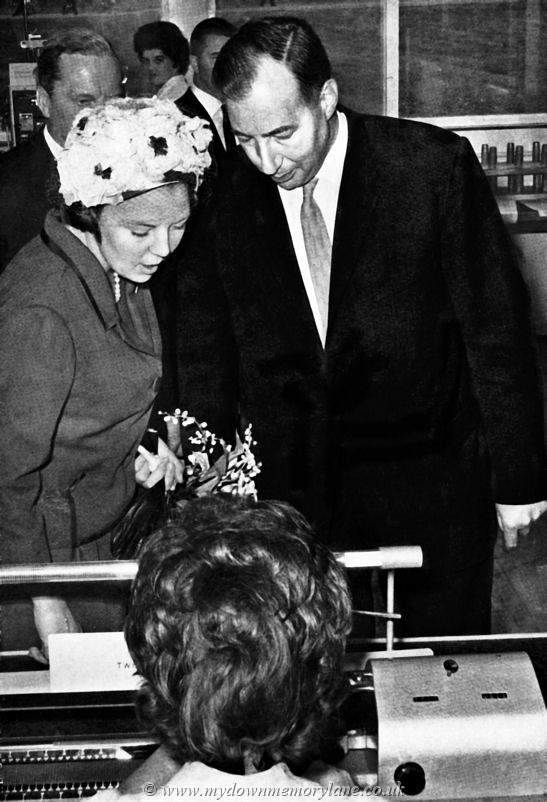 ENKALON 2504
Here in this photograph in Enkalon's Textile Laboratory, the Joint Managing director Mr R.L. Shierbeck is explaining the function of one of the pieces of appartus to Her Royal Highness Princess Beatrix Crown Princess of the Netherlands, during her tour of the plant.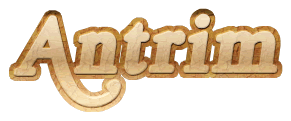 Pages: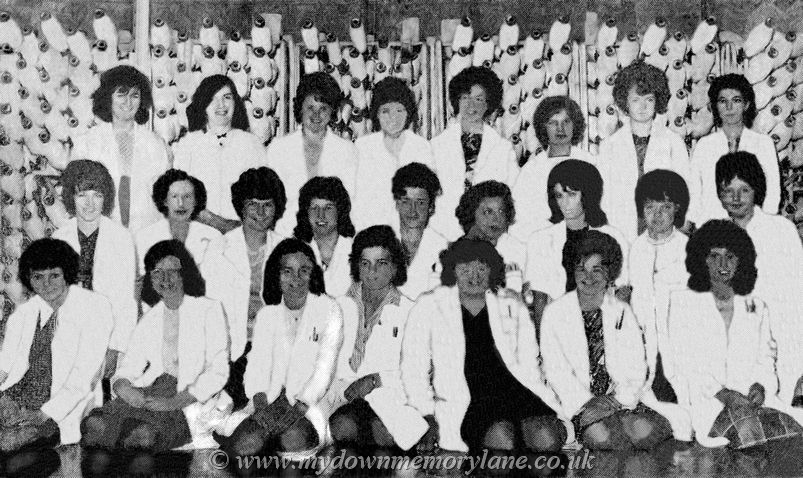 This copy was taken from a newspaper photograph and so does not do the girls justice, if anyone out there has an original photograph I would love to borrow it to make the girls faces more identifiable.
ENKALON WORKERS ANNUAL DINNER DANCE 3474
Here we are in Halls Hotel it's a Wednesday night but the date and year are unknown. The people in the photograph who seem to be having a great time
are from the left Mr. G. Davis with his wife Mrs G. Davis and then Mr. S. Gallagher and his wife Mrs S. Gallagher. The reason they are there is because
it's The Annual Dinner Dance of Enkalon 'E' shift, Drawtwist department.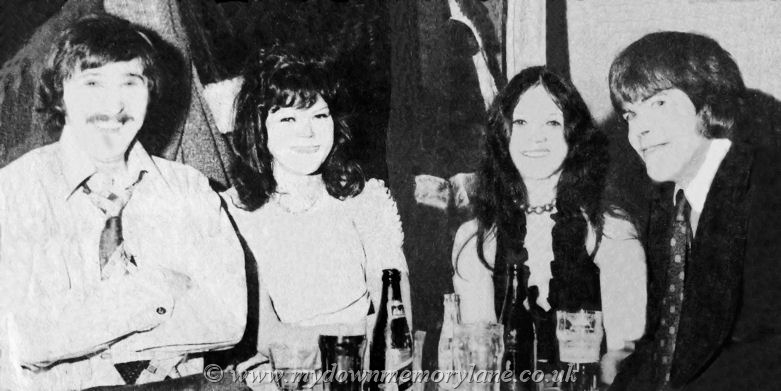 ENKALON APPRENTICES 3451
These proud young men having their photograph taken in August 1977 is because they have just received their Tradesmen Certificates.
At the back on the left we have Norman Kirk then Stephen Chestnut, Adrian Clarke, Stephen Lee, John McBurney, David McDowell, Sam Tweedy, Stephen Gillen, Mervyn Fletcher, Gerry McLarnon and Colum Milner
Seated are Unknown, Unknown, Mrs Schierbeek, Norrie Sullivan and Richard Logan.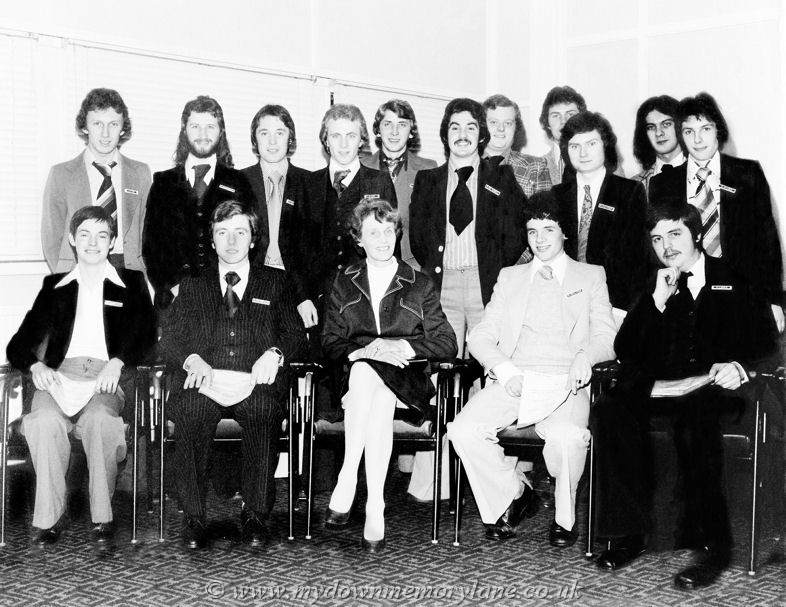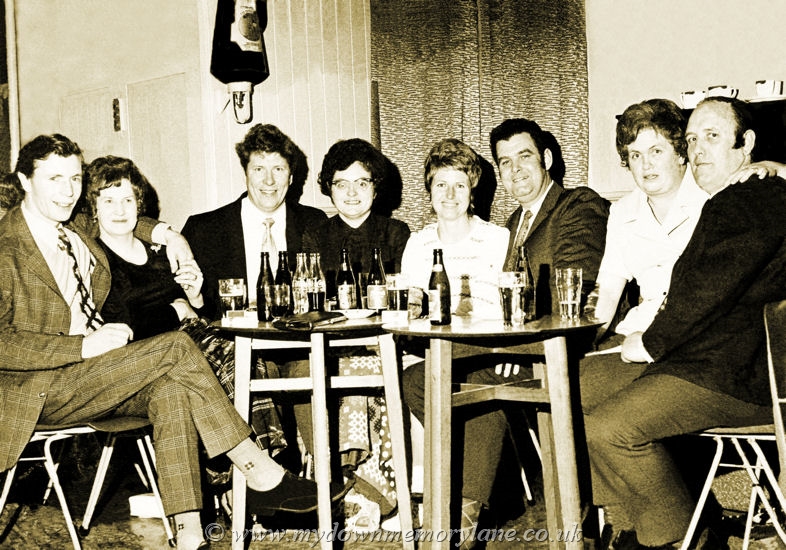 ENKALON WORKERS CHRISTMAS DINNER DANCE 3473
Here are some of the Enkalon workers at their Christmas Dinner Dance all smiles because they have had a great meal and are now washing it down with some
local beverages before getting up and having a bit of a dance. Now I'm sure some of the Enakalon workers are trying to figure out where on earth the photograph was taken in the club, well it wasn't it was taken in the 'The Hall's Hotel' for at that time the Enkalon Social Club had not been opened.
On the left Tom Kempson, then Mary Kempstan, Maureen and Victor Mulholland, Rosemary and Tom Creighton and finally Maud and Jack Montgomery.
ENKALON SPORTS DAY -3548
Here we are on a bright sunny day in 1968, these eight strapping smiling lads are having their photograph taken because they are the winners of the Tug of War at the Enkalon Sports day.
Standing at the back (from the left) are J. McClintock, J. Robinson, M.Laird and T. Mawhinney.
Kneeling are (from the left) we have R. Elliott, T. Harbinson, R. Maguire and W. McIlroy.
ENKALON 3351
It's either 1962 or 1963 and we are in Enkalon's Yarn inspection department and the girls have been given a break to have this photograph taken.
At he back from the left are , Lois Martin, Ailish Burns, Coleen Tethers, Jean McCaughey, Dolores Murray, Lillian McQuillan, Valerie Murray and Philomena Magill.
Middle row has Sheila Kelly, Annie McClung, Rose McCoy, Rita Hall, Sally George, Mary O'Neill, Margaret Battersbay, Ruby McClung and Ann McCloan.
In the front row are Elizabeth Beresford, Pat Cummings, Violet Millar, Dorothy Millar, Ann McQuillan, Eileen Jackson and Eleanor Malon.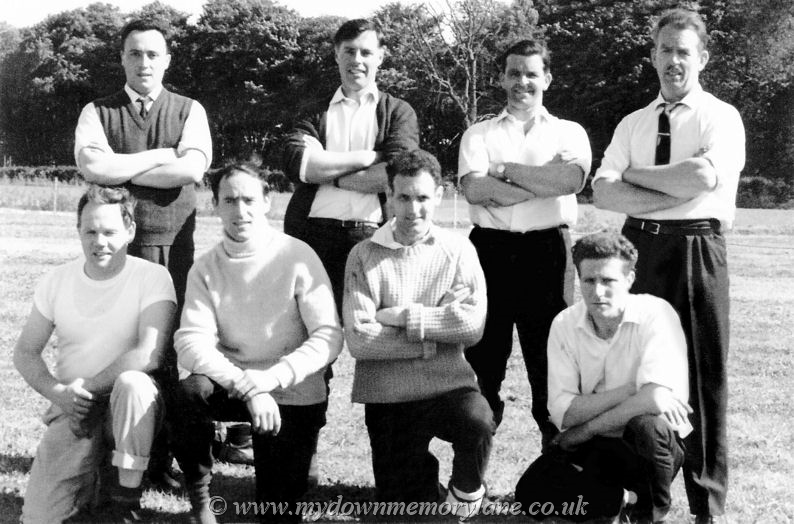 ENKALON 95
All smiles for the camera in 1970 at their annual Enkalon Christmas do. The couple on the left are Tommy Corrigan and his wife her name is Unknown at the moment along with the rest of the group.
I wish to thank Carol Corscadden for remembering Tommy's name.