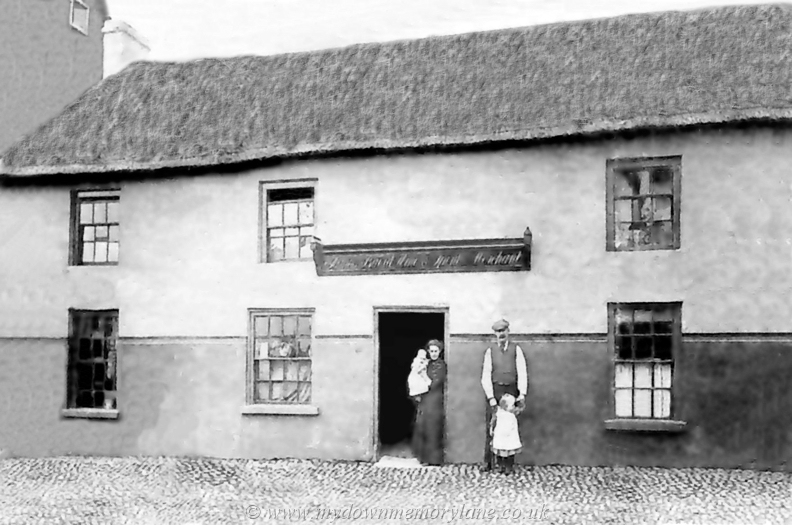 BAIRD'S of ANTRIM 184
This is when Baird's the undertakers had a bar in Church Street.
Taken during the 1940's on the shelves you can see three figurines of Winston Churchill, Monty, the Laughing Cavalier, a horse and a comedian with a crooked top hat whose name escapes me.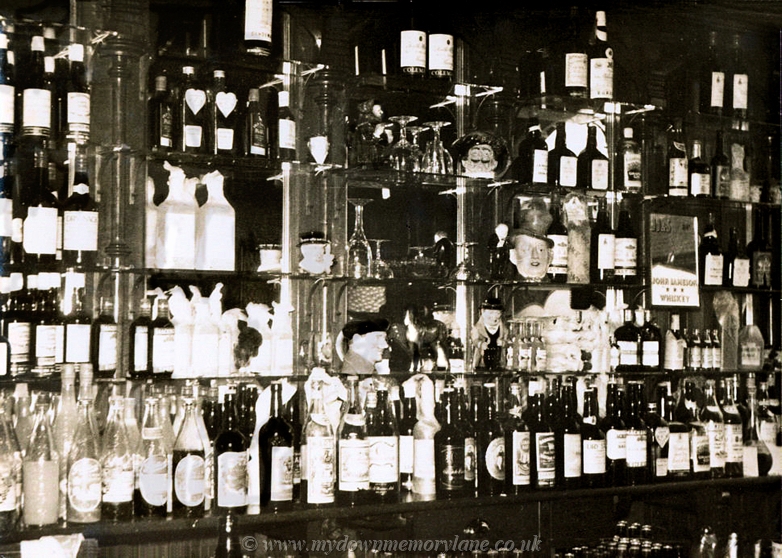 BAIRD'S of ANTRIM 28
There has been a building on this site since 1605 and was then renovated in 1905, note the cobbled pavement. It was the First Pub, Eating House and Stabling for horses in Antrim and was then owned by three brothers called Ferguson. They had returned to Antrim from America after going there because of the Famine. The first undertakers in the building were called Blair and Baird, then in 1860 it was owned solely by James Baird and they had horses until 1950.Jim Baird told me that when they had the horses they had to be in the yard for 5am to get the horses ready.Date is Unknown.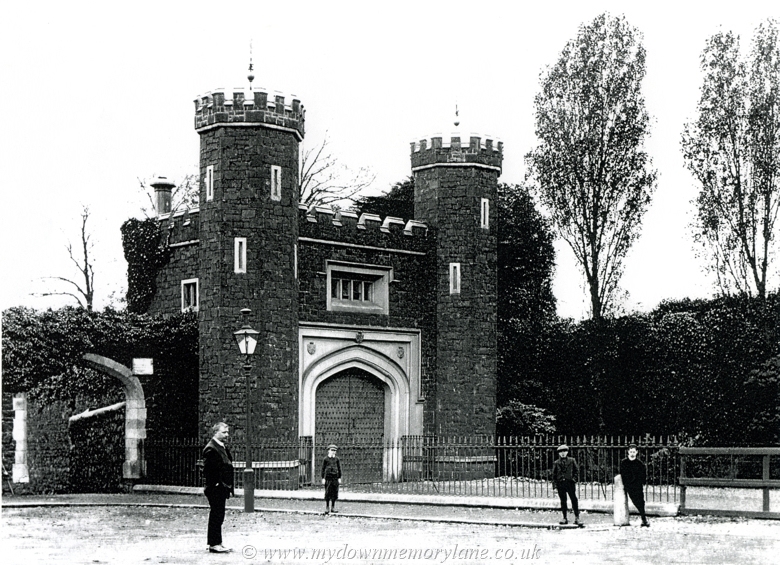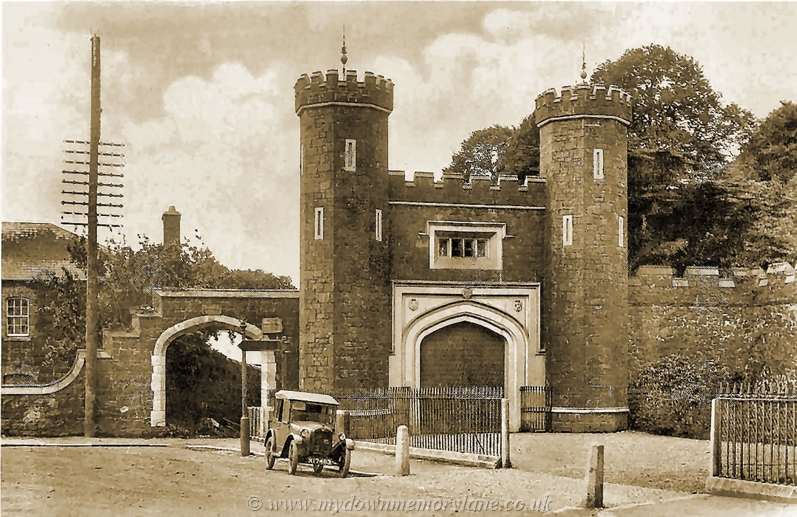 BARBICAN GATE 266
This was originally the main entrance to the castle and was built about 1818 with Tudor towers.
Behind the windows in the centre above the gate is where the gatekeeper would have lived. Just below the windows are displayed the coat of arms of the Massereene and Ferrard families. The family motto reads Per Angusta ad Augusta - ' Through hard times to prosperity '
The people are posed and made to stand still for the photographer. Date is Unknown.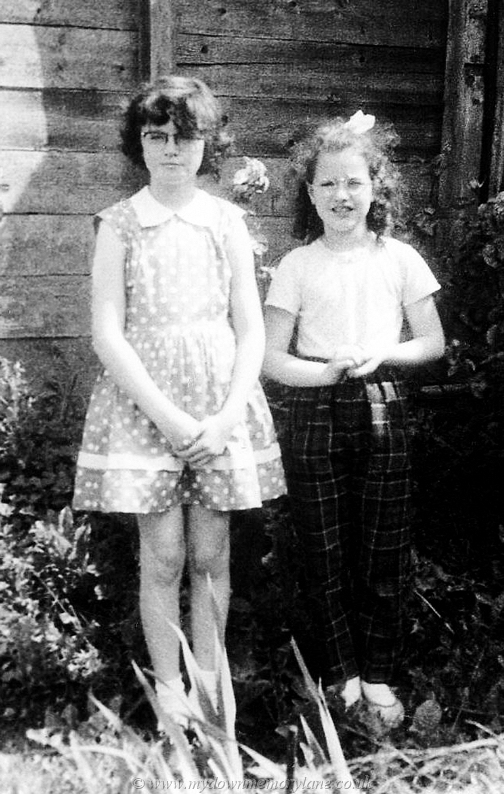 BEST OF CHUMS 1772
Getting their photograph taken in the back yard of Harry Kelly's farm at Parkhall in the 1960's. are Marie Buick and Anne McCabe.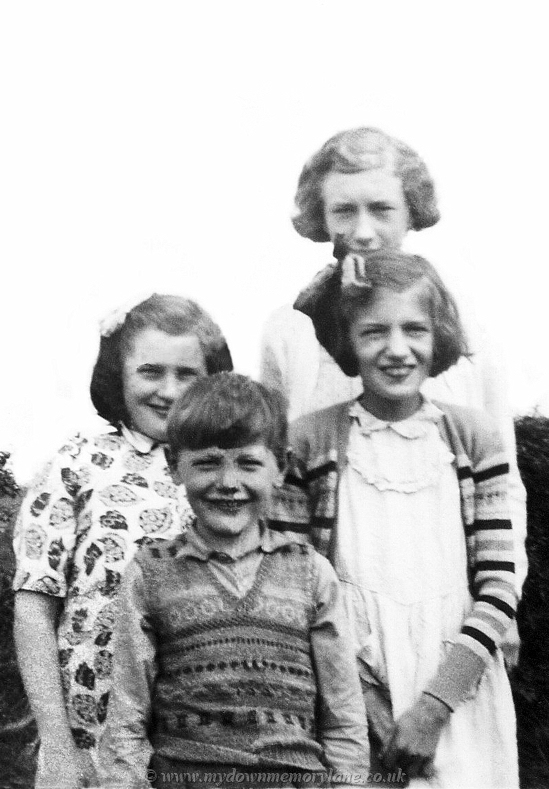 BEATTIE CHILDREN 2309
These are the Beattie children who lived out at Dunadray.
At the back is Muriel, then Kathleen with Ann and finally with a cheeky grin we have Carson.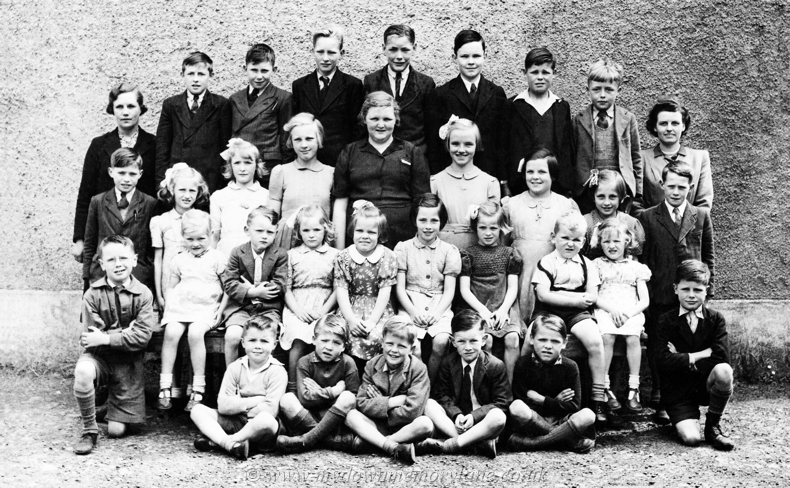 BOY SOLDIER 2695
This young man playing soldiers while his father, older brother or possibly both away fighting in the Great War.
Sadly his name is unknown to me at the moment,so if you do reconize him please let me know.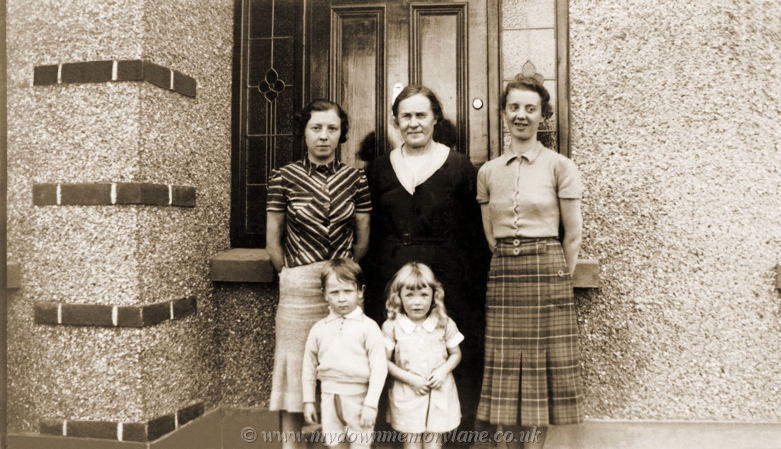 BAIRD FAMILY 2855
Standing outside their home at 1 Dublin Road are from the left Unknown, Rachel Baird and Unknown.
In front we have Tom Baird with his sister who is as lovely as ever Anna Baird.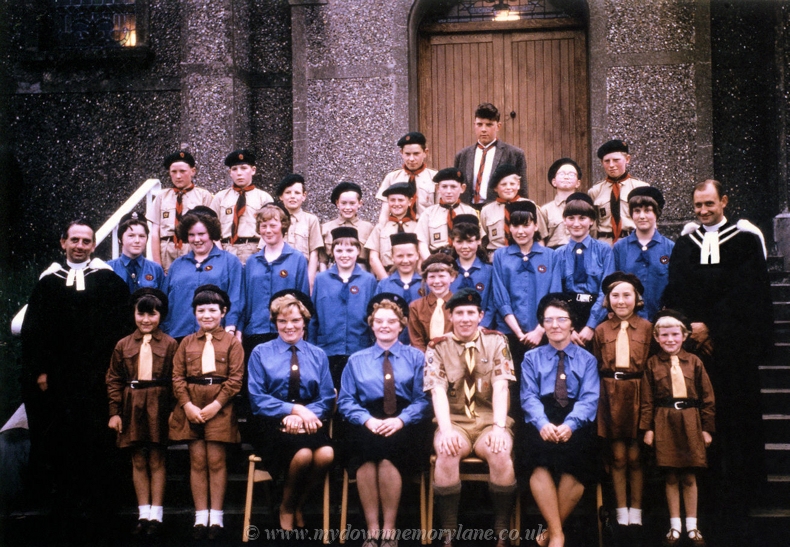 BROWNIES, GUIDES AND SCOUTS. 1644
Stnding on the steps of their church we have 2nd Donegore Brownies, Guides and Scouts.
At the moment the year and everyone in the photograph is unknown.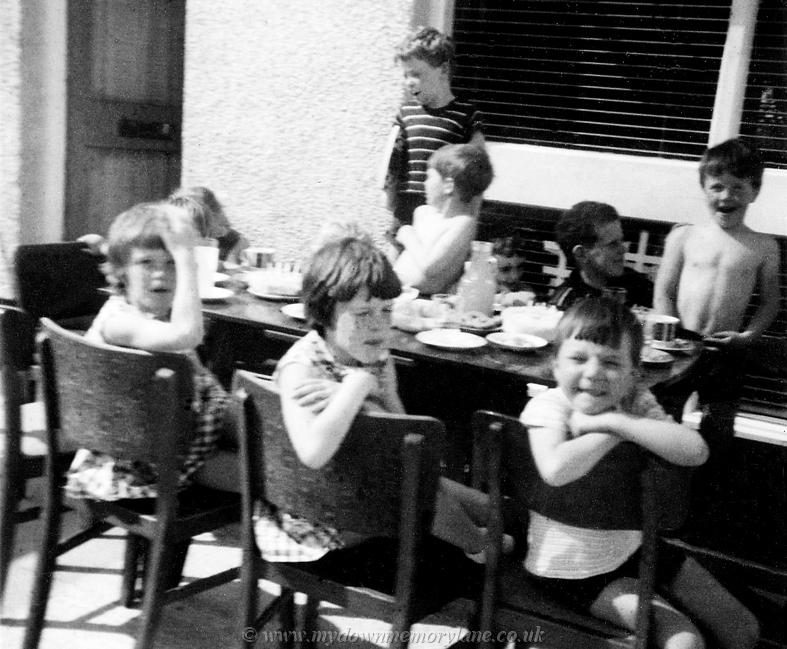 BIRTHDAY PARTY 1823
Here we have Arnie Clarke's birthday on the Dublin Road in Antrim in 1969.
From the left in the front seated we have the Loughran Sisters and Bill Flaherty. On the other side of the table are Martin Clarke, Damian McSorley, Kevin McKeever and the birthday boy himself Arnie. He now counts cash rather than candles nowadays in his role as a financial adviser.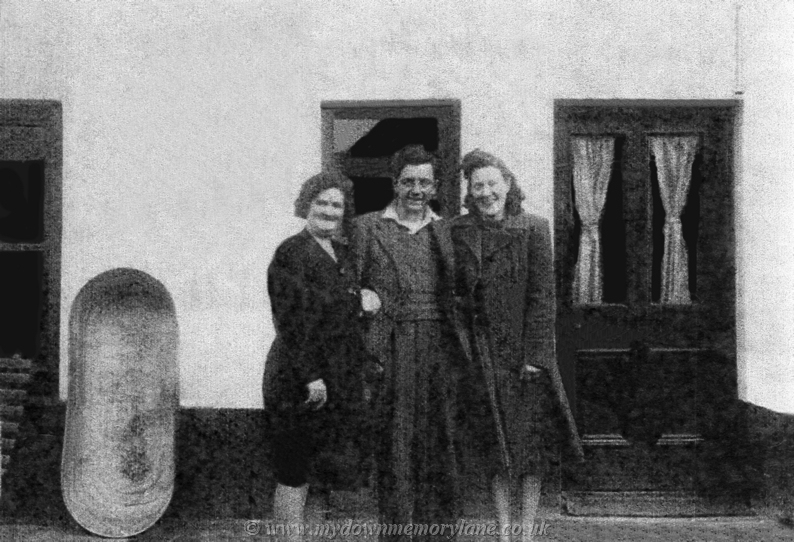 BACK YARD 1544
Here we are in the back yard and posing for their photograph is Rachel Kyle nee Campbell, Jim Sharples and Millie who came from Muckamore. Now what should bring back memories to a lot of people is the bath behind them. This was a time when there was only a cold water tap in the kitchen, no inside loo or bathroom. so during the week you gave yourself a daily wash at the kitchen sink and then come Friday, Bath night. All the biggest pots where filled with water and heated up on the gas stove and then everyone had their turn of having a bath in front of the kitchen fire, so the older you were the better chance you had of cleaner water. When all had had a bath then the bath water was thrown out.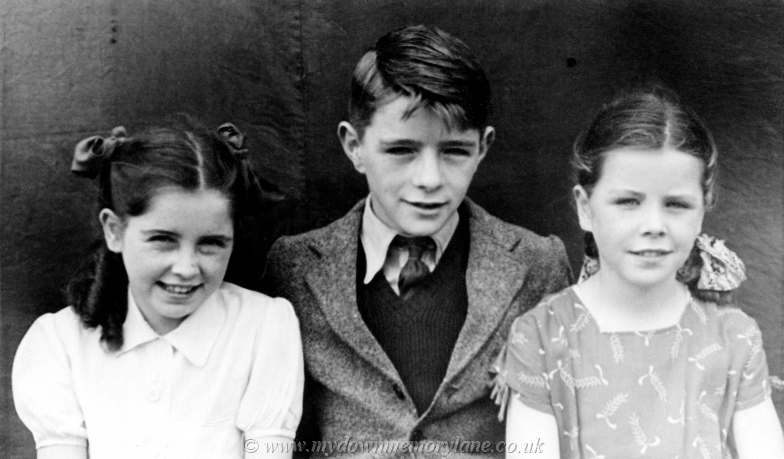 BLACKBOURNE CHILDREN 1600
Here we have Liam Blackbourne having his photograph taken with his two sisters when the photographer came to Massereene National School.
Marnie with the lovely long ringlets is on the left while on the right is forever young Doris with pigtails.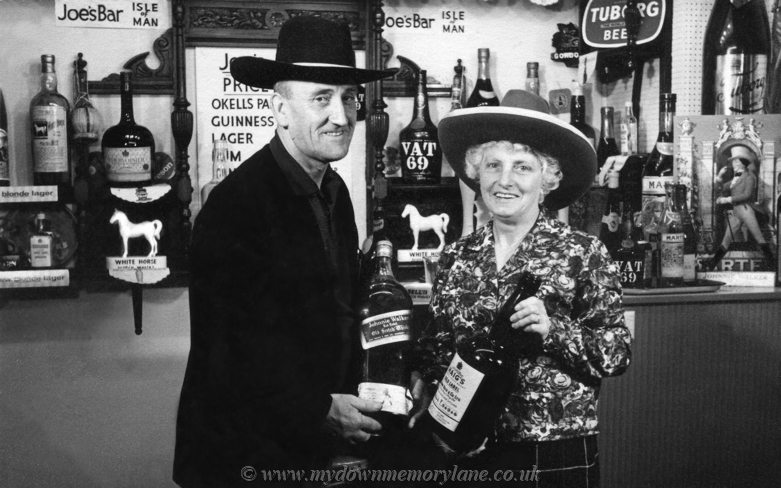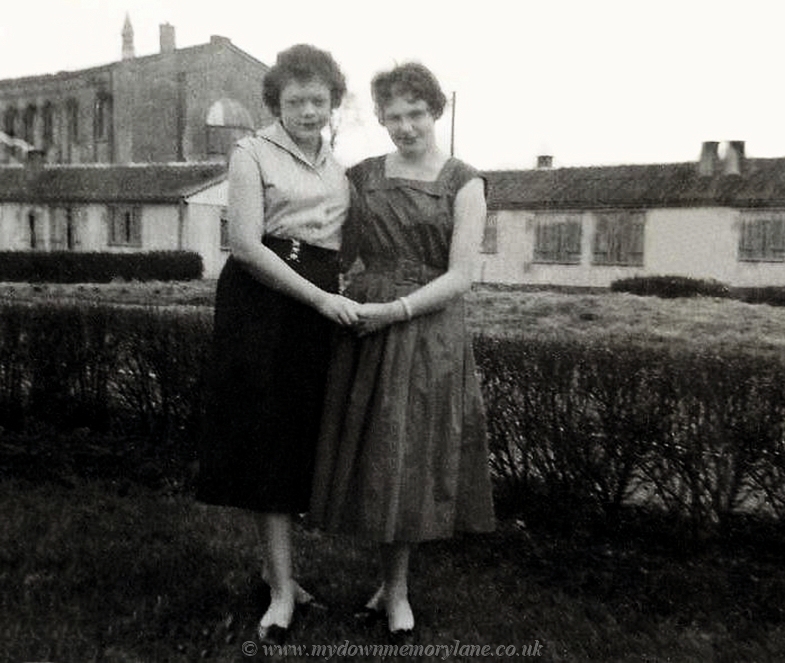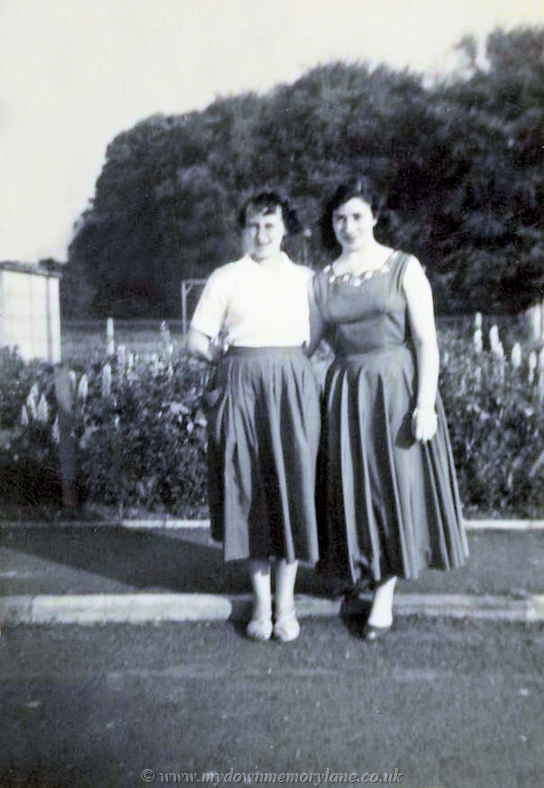 BELMONT PARK 1488
Here we are in Belmont Park which was down in Riverside and these two young ladies, Annie Knox and her friend Mytrle Hannah have stopped to get their photograph taken. Behind them is someone's garden with a great show of Lupens and beyond that is the football field, the year is unknown.
BELMONT PARK 1487
This is Belmont Park which was in Riverside and getting their photograph taken are Anne Knox and Mildred Jackson in 1959.
The houses behind them are the Prefabs called because they were prefabricated and could be built very quickly. Designed after the Second World War to ease housing shortage, the wall were made of aluminium and the roofs were made of Asbestos! But they were great bungalows I lived in one for years,
In the distance you can see 1st Antrim Presbyterian Church.
BLACK IS BLACK 1453
Here we have Willie and Minnie Black getting their photograph taken in Blackpool while on holiday. The year is unknown.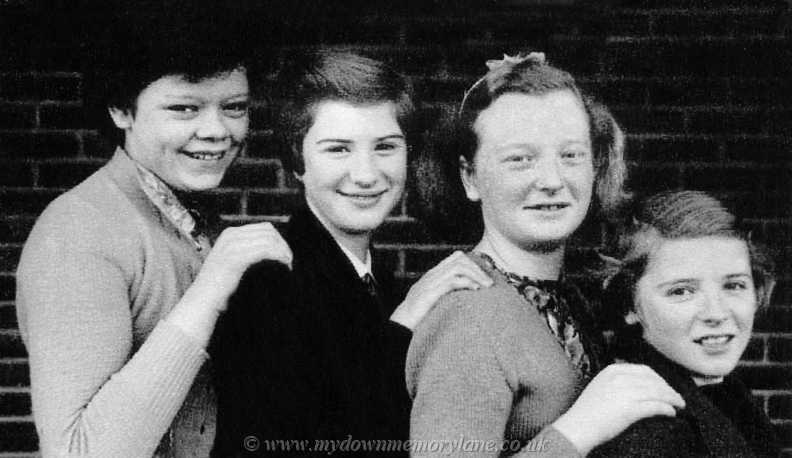 BEST OF FRIENDS 1489
Although of different ages these girls were inseparable and the best of friends.
Getting their photograph taken down Riverside we have Annie Knox, Doris McIlveen, Doreen Hamill and Anna Richie, the year is unknown.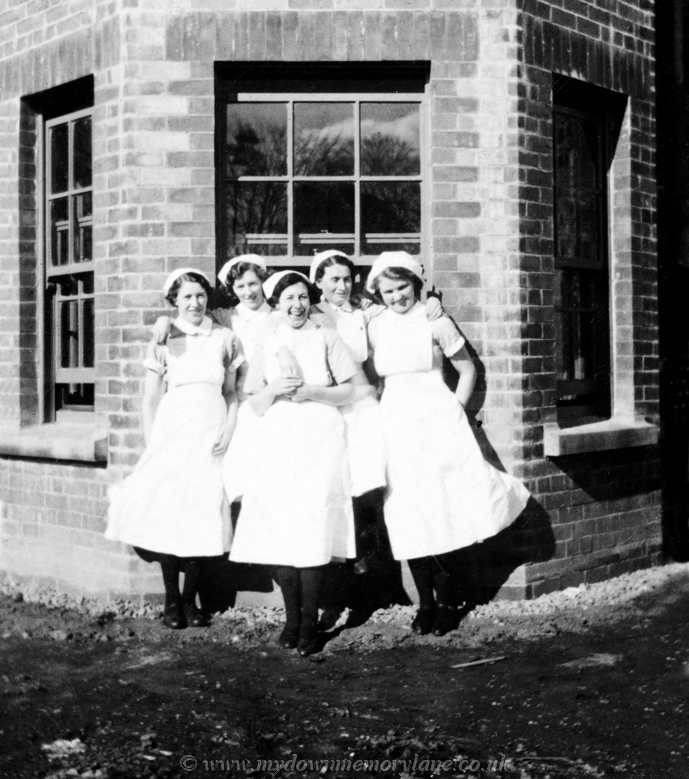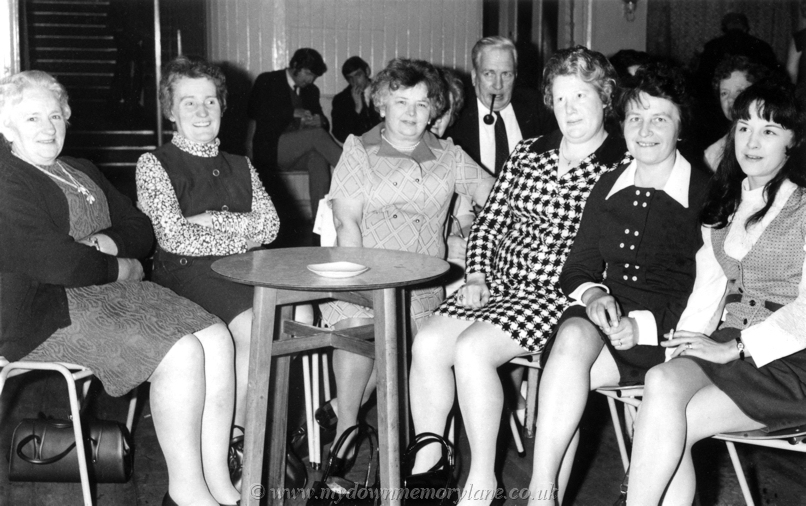 BRITISH LEGION DANCE 1031
Here enjoying themselves on a night out to Hall's Hotel, High Street Antrim for a dance in 1960 we have some of the Lady members of the British Legion.
From the left we have Mrs Scott, Edith Hannan, Jean Peacock, Muriel Nicholl, Isobel Houston, Ray Millar and in the background is Sean Dobbin.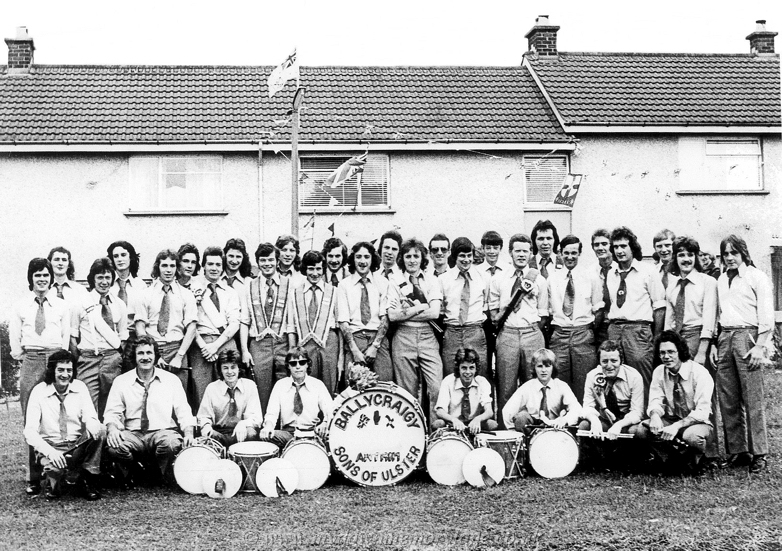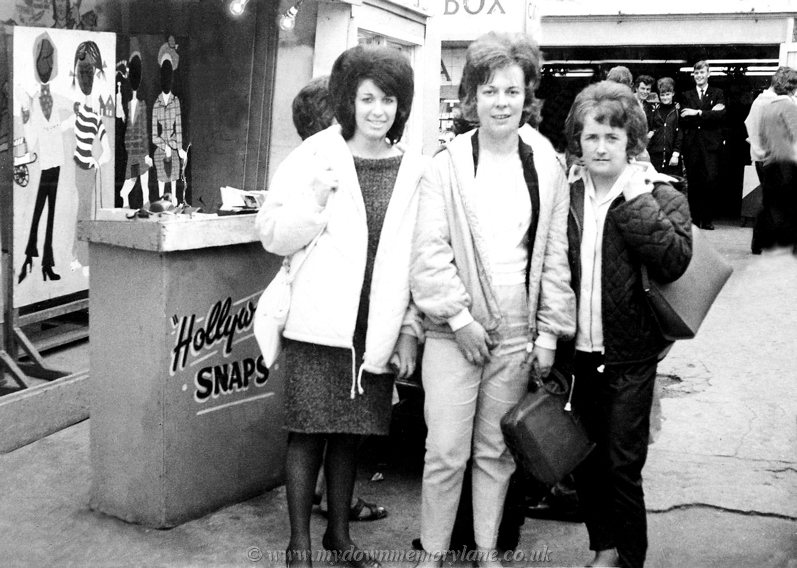 BLACKPOOL 159
On holiday in Blackpool and enjoying themselves these Antrim girls were caught on camera next to the "Hollywood" snaps.
It might be the 60's but "Hollywood" is not going to turn the heads of Margaret Battersby, Marie Hemming and Charlotte Harkness.
BALLYCRAIGY S.o.U. FLUTE BAND 487
Taken in Ballycraigy in the 1970's.
The band members names are unknown.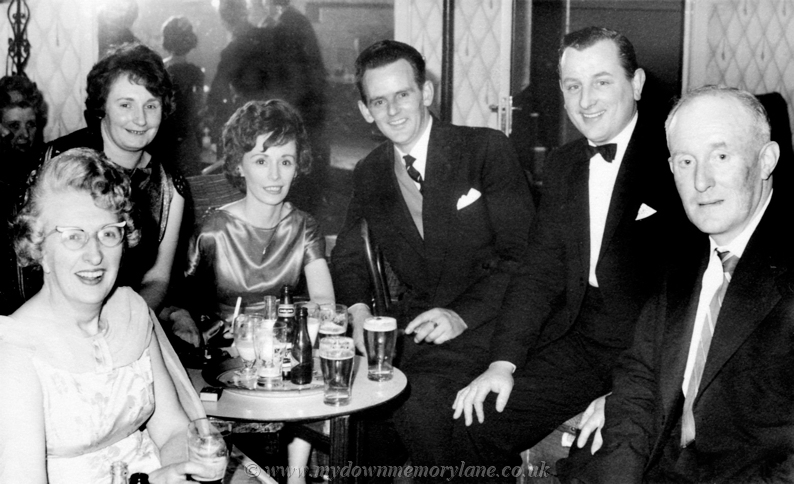 BAIRD'S PUB 2464
Well here we are in Baird's pub in the 1960's, yes they did have a pub back then.
Enjoying a night are these three lovely couples, Andrew and Molly Beresford, Jimmy and Vera Duckworth and finally Ken and Dawn Johnston.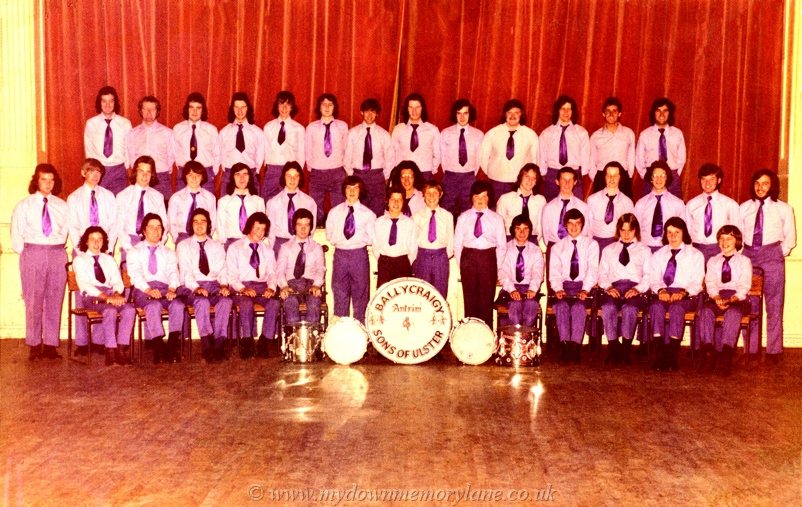 BALLYCRAIGY S.o.U. FLUTE BAND 489
The band members names are unknown. Taken in the 1960's.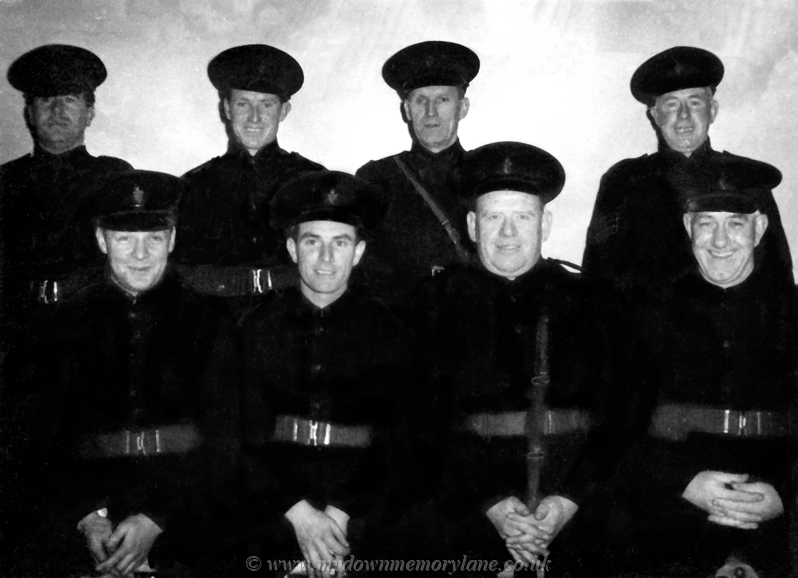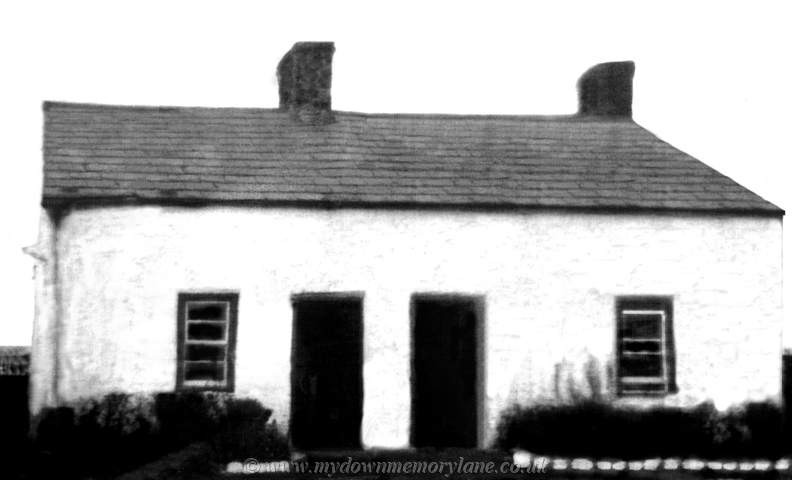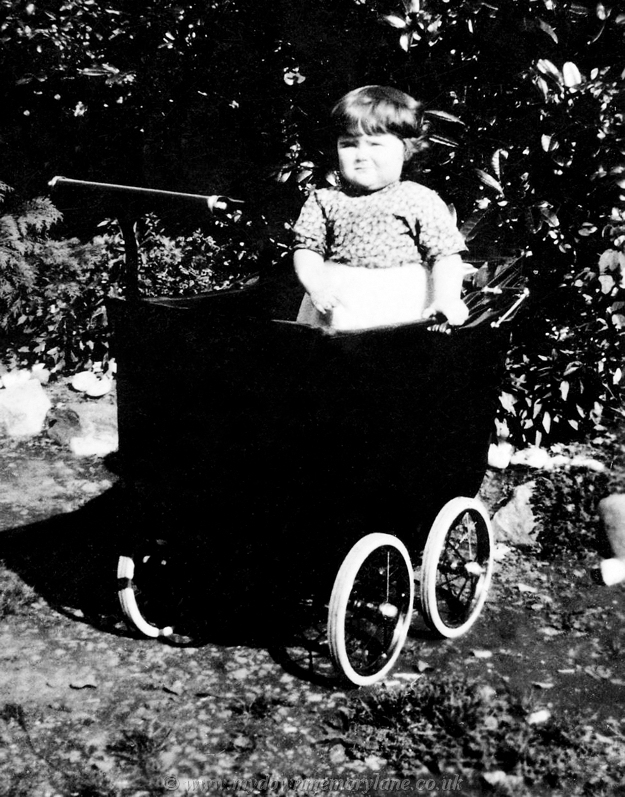 BABY IN A PRAM 1163
At the moment I don't know whether to smile or cry for the camera. I can't remember my name so if you reconize me please let me know.
BALLYBENTRA ROAD 1020
It is 1933 and these two houses stood near the corner of Ballybentra Road, Templepatrick.When the photograph was taken Maggie Smyth and Rachel Agnew lived beside each other.
B. SPECIALS 528
B.Row: Unknown, Unknown, Mr. Reid and Mr. Black.
F.Row: Unknown, Jimmy McKee, John Craig and Ernest Campbell. Year is unknown.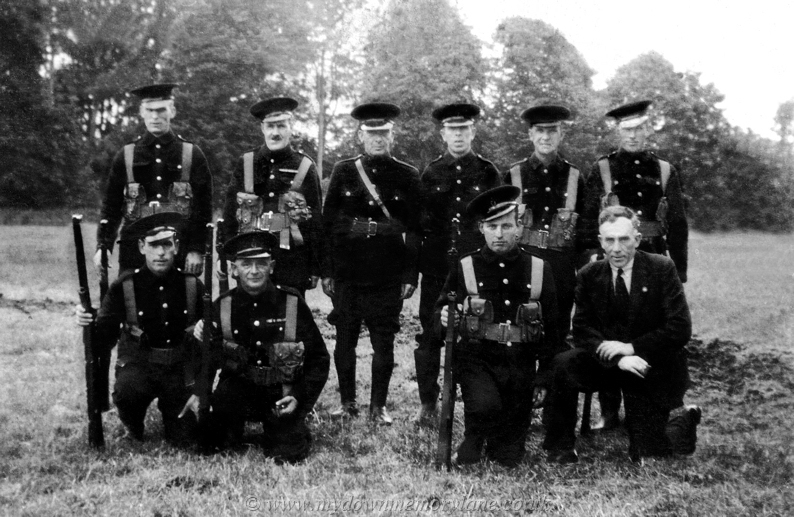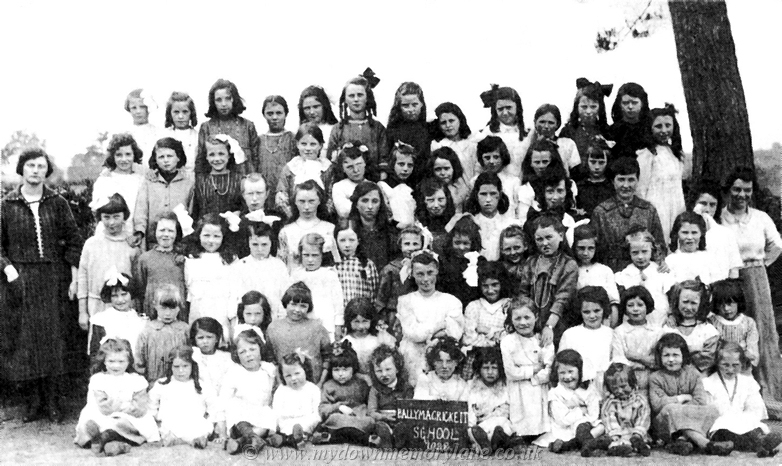 B. SPECIALS 1083
This bunch of Antrim lads getting their photograph taken down in Antrim Castle Grounds are in the uniform of the 'B - Specials' the year is Unknown.
Standing at the back are Unknown, Archie McQuilken, Unknown, Unknown, Unknown and Unknown.
In front we have Mr Reid, Unknown, Unknown and Davy Stirling.
BALLYMACRICKET PRIMARY SCHOOL 533
This Ballymacricket School in 1922, at the moment I have no names for the faces.
School Inspectors remarks:
March 1901: The walls of the school have been whitewashed and this, doubtless, will have a good educational effect upon the pupils.
Sept 1918: Floor should be swept after school is over and furniture dusted in the morning.
Feb 1940: See that the hand is supported by, and moves over the paper upon the little finger when writing.
Date unknown: Now that lighting is satisfactory, children should be expected to sit well at work.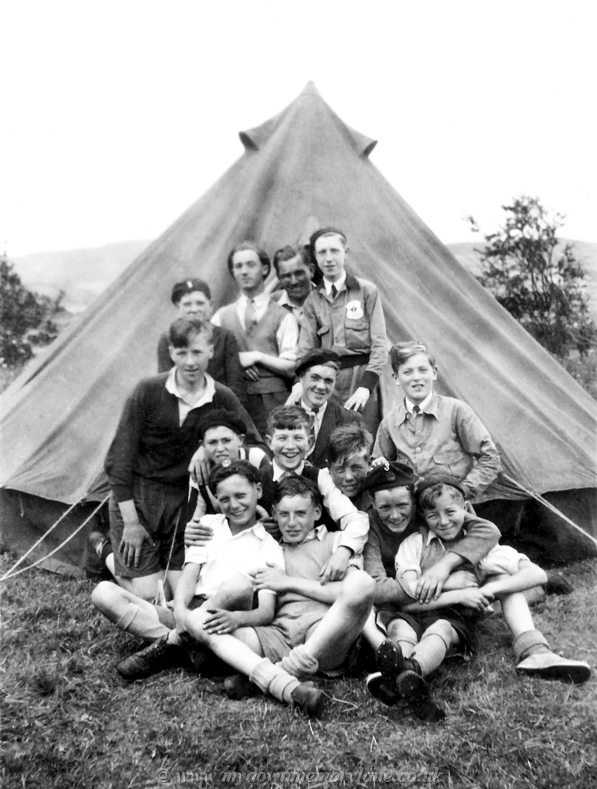 BOYS BRIGADE 1373
At the moment all the smiling faces in this photograph taken in 1946 are unknown.
All I know is that it was at Carnlough in July and that this was No. 4 tent.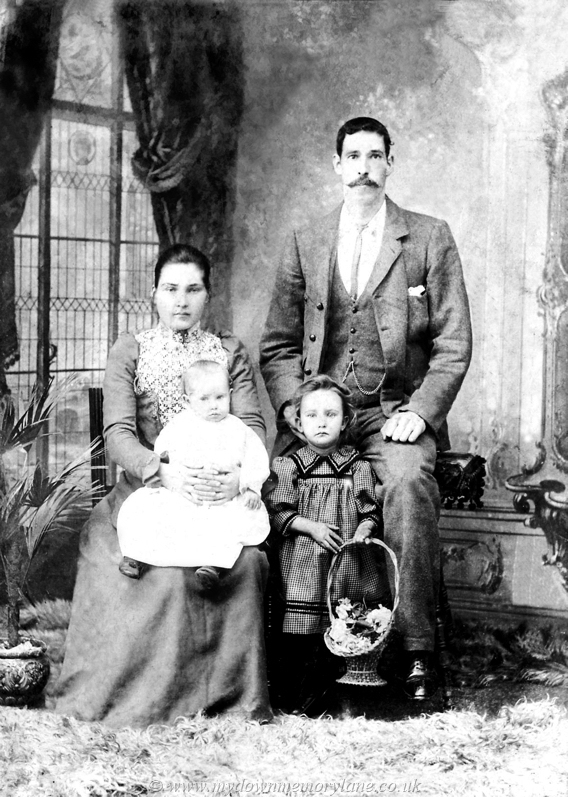 BELL FAMILY 1295
Here we have the Bell family in 1906, the parents are Gertrude and Thomas and the children are Susan who is on her mother's knee and standing is Maggie.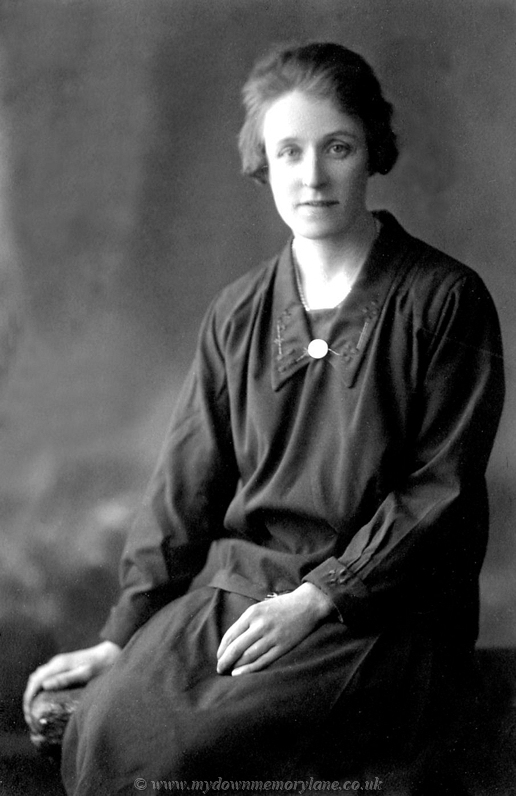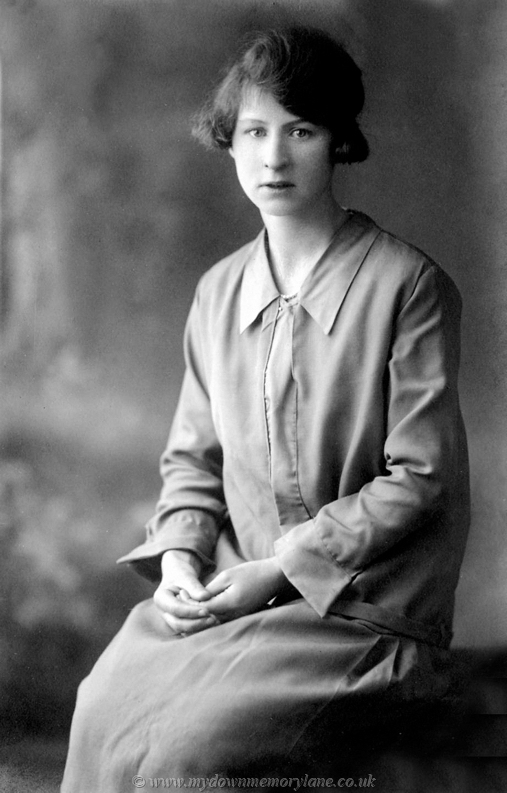 BROWN PORTRAIT 892
Looking a bit nervous at the camera in this portrait photograph is Annie Brown.
The year is unknown.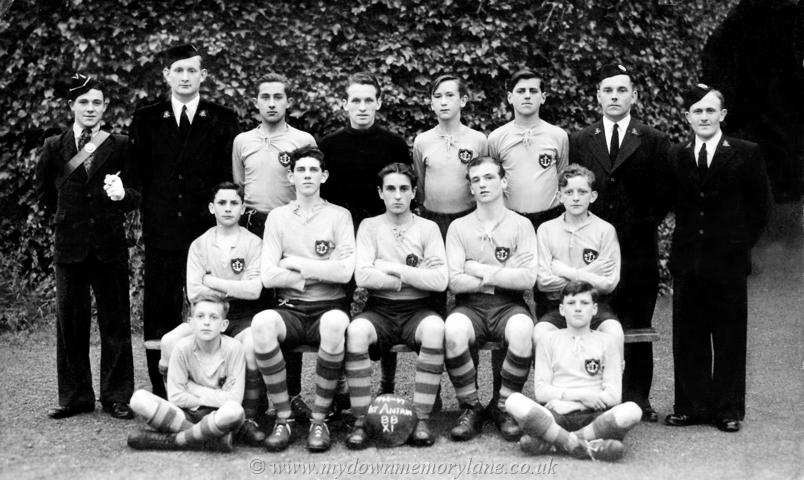 BOYS BRIGADE 1369
Getting their photograph taken in Antrim Castle Grounds we have 1st Antrim Boys Brigade football team of 1947.
Back Row: are Wilf, Bob Fawcett, Master Carson, Chris Quigley, Master McCullough, Unknown, W.E. Charles and Mr Johnston.
Seated: are Unknown, Unknown, Jim Carson, Tommy Rodgers and Unknown. - - - - - -- - - - -- - -On the ground: are Unknown and Master Hannon.
BROWN PORTRAIT -891
This is Ellie Brown, who looks so gentle in this portrait photograph.
The year is unknown.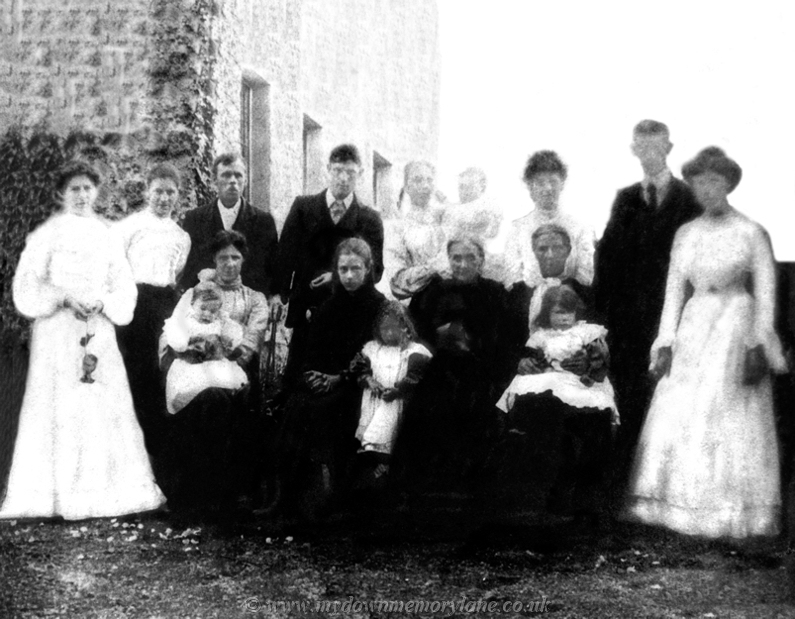 BROWN FAMILY 907
Here in their back garden we have the Brown Family getting their photograph taken in 1939.
The Blondie on the left is Margaret, then her mum Nan, sister Evelyn, Dad who is called Eddie and her little brother Bobby.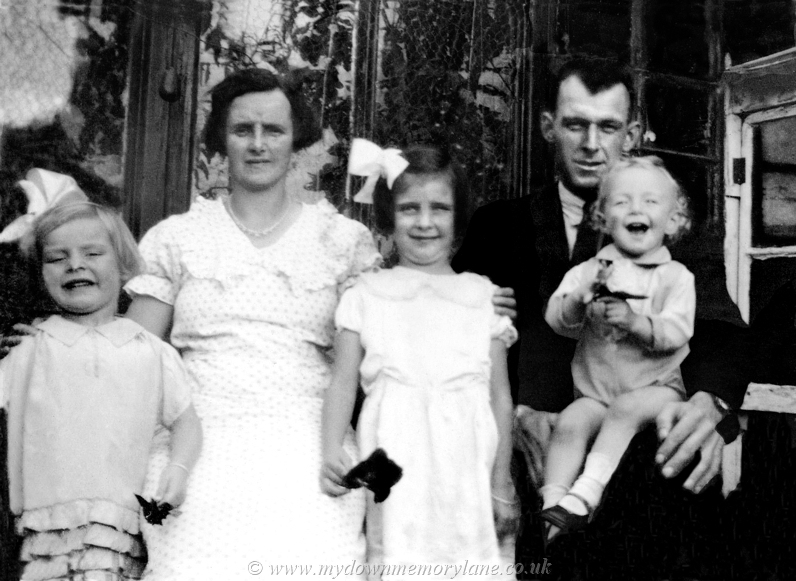 BROWN FAMILY 864
Here we have the Brown Family gathering for a Wedding photograph, sadly the year is unknown.
Standing from the left at this joyous occasion are Tillie Connon, Maggie Connon, Robert Brown, Johnny Connon, Martha Connon - Johnny's wife, Baby name is unknown, Lady unknown, Bob Connon and his wife Lizzie Connon. Seated at the front with flower petals scattered on the ground we have Leatisha Brown with Eddie Brown on her knee, Ina Brown, Ellie Brown, Grandma Connon and Granddad Brown with Annie Brown on his knee.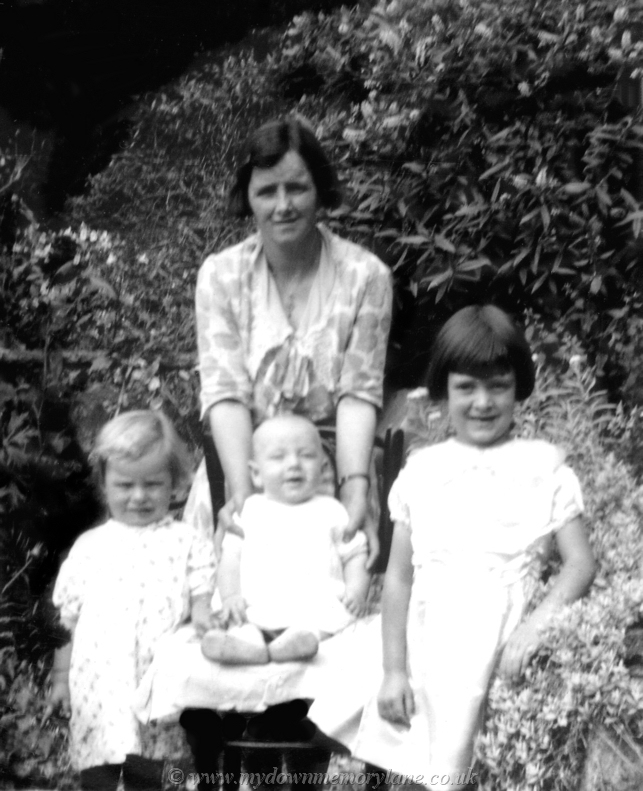 BROWN FAMILY 940
Taken in their back garden with the mother Nan Brown wishing the photographer would hurry up and take the snap! Not too sure on the left is Margaret Brown, her baby brother Bobby Brown and smiling as always her sister Evelyn Brown 1936.
BROWN SISTERS 865
It is 1935 and looking all pretty in the back garden of their Grandparents shop 'Renton's' in High Street we have Elevyn and Margaret Brown who is quite happy with a poke in her hand. God help her if she spills it on her dress!

Pages: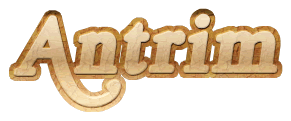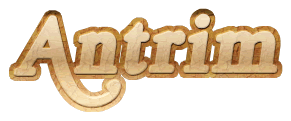 BALLYROBIN PRIMARY SCHOOL 2685
Here we are at Ballyrobin Primary School were the teachers and pupils are having their photograph taken.
Back row: from the left has teacher Miss Montgomery, Shaun Kirkpatrick, Billy Campbell, Anderson Rea, Billy White, David Campbell, Sammy Brown, Allister McCourt and teacher Miss Stirling.
Second row: has Wilbert Rankin, Muriel Beattie, Edna Taylor, Eleanor Rea, Lesley Russell, Peggy Lougheed, Phyliss Campbell, Isabel Kirkpatrick and Hugh Rankin
Third row: are Noel Russell, Margaret Rea, Crawford Taylor, Marie Taylor, Evelyn Lewis, Beryl Kirkpatrick, June Kirkpatrick, Ronnie McQuillan and Ann Beattie.
Front: on the ground are Ian Russell, James McComb, Jackie Brown, Jimmy Jenkins, William McComb and Ronnie Brown
My thanks to Robert Wallace for giving me all the names.
BARBICAN GATE 29
Behind the parked car is the main entrance to the castle and was built about 1818 with Tudor towers.
The windows in the centre above the gate is where the gatekeeper would have lived. This photograph was taken after photo No.266 as all the ivy has been removed from the castle walls. The year is unkown.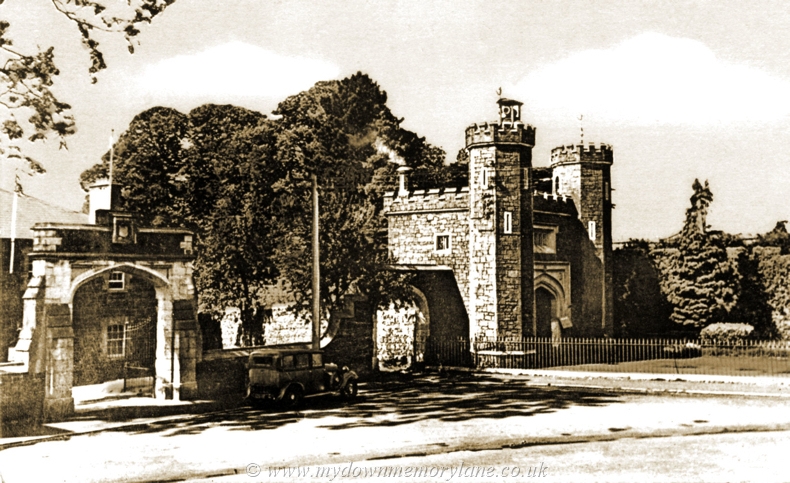 BARBICAN GATE 29
This photograph of the Barbican Gate was taken in 1940.
To the left is the Police Station and if you look at the top of one of the towers you will see the Air Raid Warning Siren. You can also see smoke coming out of a chimney this is because the Gatekeeper lived there with his family until 1952.
BUSH HOUSE 442
These are the cooks at Bush House in 1936.
They are Jean Beresford, Lily Beresford, Cissy Dobbin and the last two are unknown.