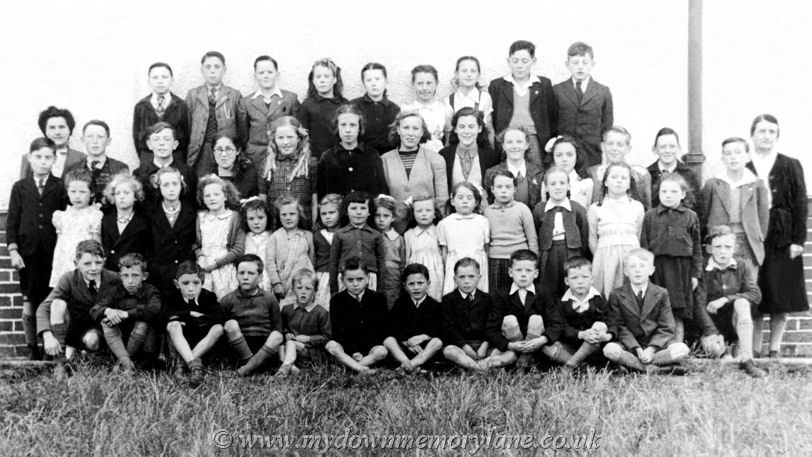 LADYHILL PRIMARY SCHOOL 70
- -B.Row: Bobby Cameron, Len Ireland, Herbie McCabe, Amanda Armour, Eileen Fleming, Betsy Fleming, Pamela Wilson, Jim Purdy and John Fleming.
3rd Row: Mrs. McIlwaine (Teacher), Tommy Fleming, Billy Ingram, Audry Beattie, Mable McCammond, Elizabeth McMahon, Mauve McCallum, Margaret (Marty) Purdy, Anna McCabe, - - - - - - - - - - - - - - -Beatrice Purdy, Kenneth McKitterick and George Bates.- - - - - - - - - -- - - --2nd Row: Bobby Armour, Muriel Flemming, Marion Clark, Dorothy Clark, Elsie Carson, Audrey Purdy, Kay Carson, Margaret Warwick, Mary McClenaghan, Joesphine McMahon, Olga Carson, - - - - Evelyn Armstrong, Dorothy Armour, Ella Ireland, Doris Blackbourne, Joseophine Fleming, - - - - - - - - - - - - - - - - - - - -Mervyn McKitterick and Miss Allen (Teacher). - - - - - - - - - - - - - - F.Row: Liam Blackbourne, James McMahon, Norman Purdy, James Armour, Brian McCabe, Sammy Rantin, Donald Rantin, Derek Jackson, Artie Stevenson, Ian Stevenson, Derek McCabe, and Davy McMahon. The year is 1947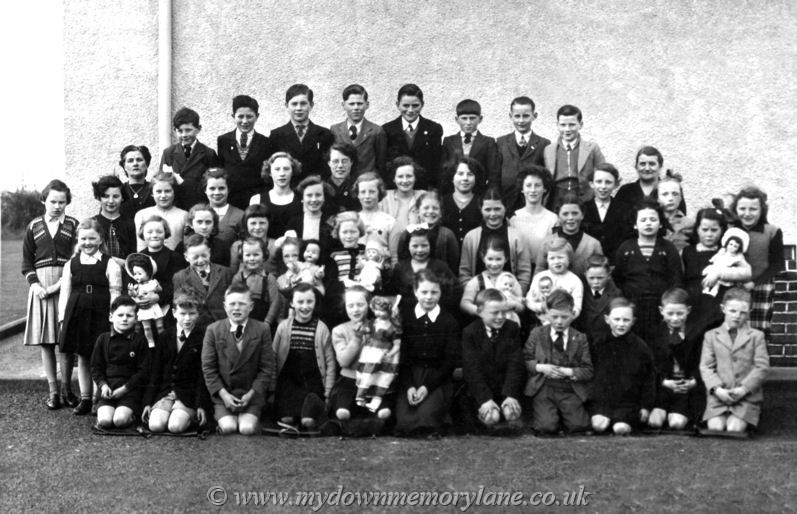 LADYHILL PRIMARY SCHOOL 926
- - - - -- - - - -- - - -This is the class of 1954 from Ladyhill Primary School. - - - - - - - -- - -- -B.Row: Mrs McElwaine, William Fleming, Unknown, Sammy Warwick, Sammy Ranton, Andy - - - - - - - - - - - - - - - -Warwick, Bobby Reilly, Kenneth McClenghan and Unknown. - - - -- - - - - Next Row: Vera Kennedy, Mary McCleanghan, Margaret Warwick, Martha Irvine, Chris McCleanghan, Dorothy Armour, Elsie Carson, Evelyn Armstrong, Marrion Clark, Miss Allen - - - - - - - - - - - - - - - - - - - - - - - - - 'Head Mistress' and unknown.- - -- - - - - - - - - - -- - - - - -F.Row: Ann Newell, Florence Hall, Audrey Cameron, Lucy Matchett, Kay Carson, Wilma Carson, Rene Clark, Miss Crawford, Miss Crawford 'twins', Pat Gage, Sarah Mary Armour and - - - - - - - - - - - - - - - - - - - - - - - - - -- - - - - - - - - -Margaret Price.- - - - - - - -- - - - - - - - - - - - - - - - -Seated: William Hall, Pamela Heath, June Ireland, Wilma Carson, Betty Millar, Mary - - - - - - - - - - - - - - - - - - - - - Montgomery, Jane Montgomery and William Montgomery. - -- - - - - - -Kneeling: George Heath, Martin Terry, William Hall, Ann Simpson, Evelyn Hill, Josphine Fleming, Gilbert Rantin, Unknown,Unknown,Unknown and Unknown.
LADYHILL PRIMARY SCHOOL 1146
Here we have Ladyhill Primary School were lots of people have told me about their times there. The year of the photograph is unknown.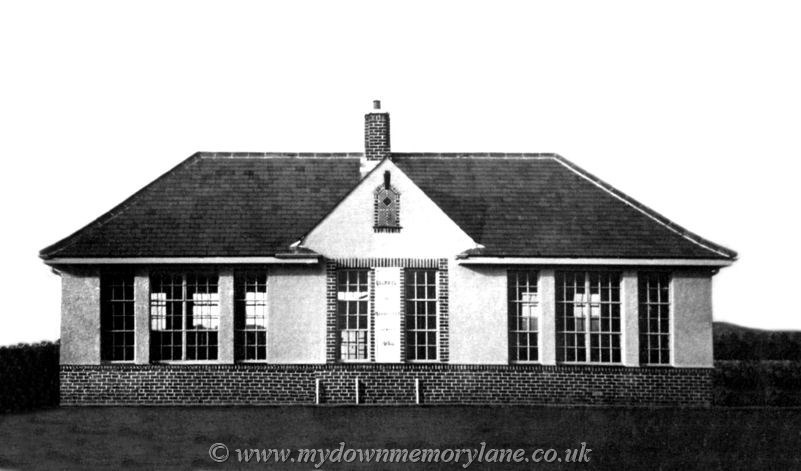 LADYHILL 1832
Here we are on the Old Ballynoe Road ,Ladyhill in 1938.
Sitting outside her house is Mrs Craig, beside her is Leslie Agnew in his Tartan outfit. Leslie was up visiting Mrs Craig who was his Great Grandmother.
LAWTHER WEDDING 2070
This wedding photograph taken in 1950 is of Josha Lawther with his Bride Ethel Steele and her sister Catherine Jackson Steele, the Best man is unknown.
Now some information for the ladies: The bride's dress was light Blue, with matching hat, handbag, gloves and shoes in navy. The flowers were pink Carnations and she had Sandy hair and Blue eyes. The bridesmaid dress was a darker Blue with matching hat, handbag, gloves and shoes in navy.
The flowers were pink Carnations and she had Sandy hair and Brown eyes.
The Groom of course was in Kaki with Black hair and Brown eyes. The best man's suit was Navy and he had fair hair and Blue eyes.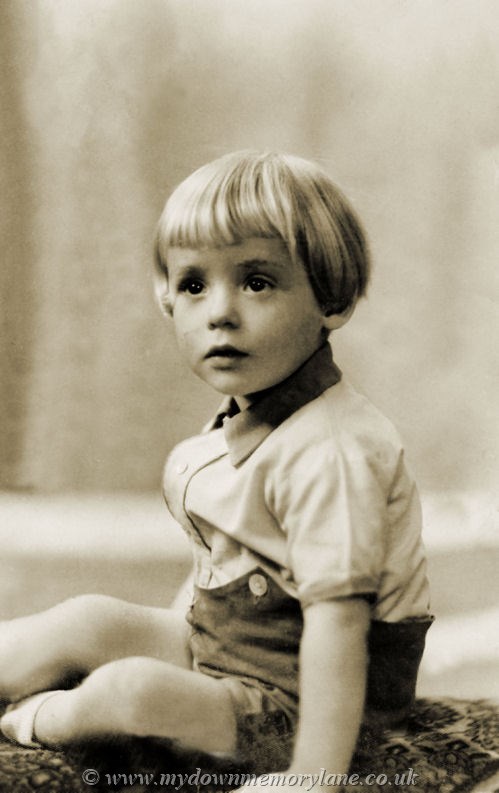 MAURICE LEITCH 2689
Taken all the way by his parents in 1936 to the Louis Morrison Photographer's Studio at 83 Royal Avenue Belfast to have this lovely photograph taken.
This little lad was born in Muckamore in 1933, later in his life he trained as a teacher at Stranmillis College in Belfast. He went on to teach at Antrim Primary School for a number of years before moving to London to be head of the BBC radio drama features in 1970. He has written radio and screenplays, nine novels which have won prizes and also a collection of short stories.
I'm sure by now you know who the lad is, it's our very own Maurice Leitch!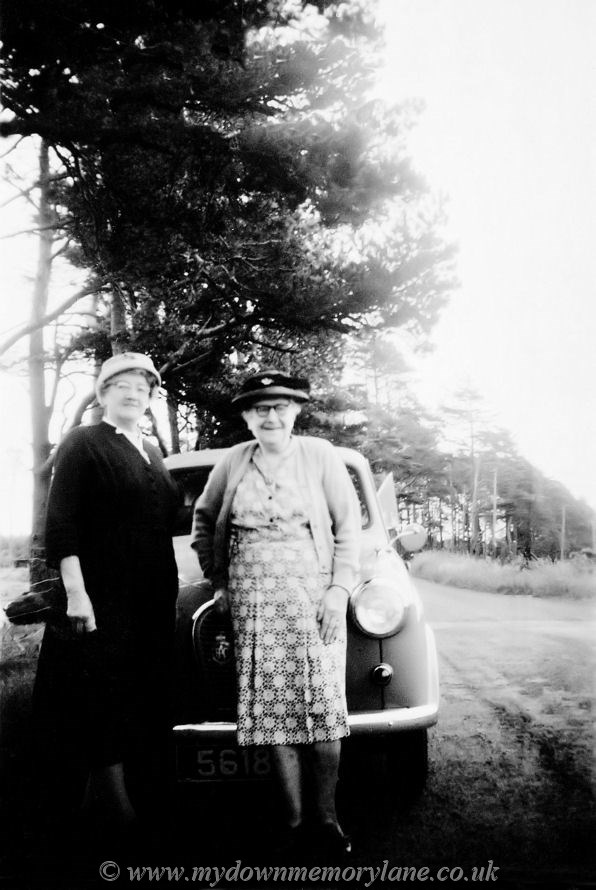 LADIES & MORRIS CAR 2694
These two ladies who, unknown are having a break from driving while out for a run in their Morris car are also sensibly members of the RAC.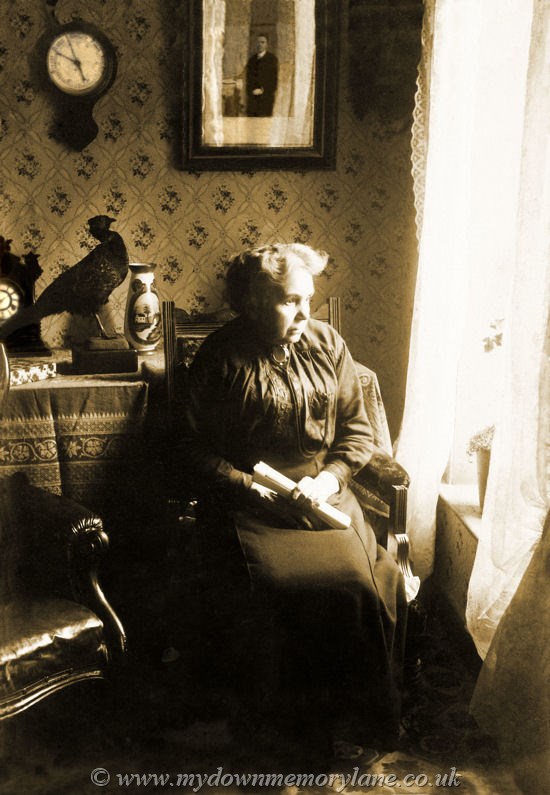 GRANNY LOUGHLIN 2718
It's the early 1900's, nearly Christmas and before 2pm as Granny Loughlin deep in thought looks out the window at the rain coming down.I wonder did the barometer on the wall forcast it also is that her beloved husband in the photograph looking down on her? Now is Granny who is wearing a beautiful embroidered blouse with a throat brooch, has she just finished reading the rolled up paper in her hand? for her glasses are tucked in the pocket in the blouse. Perhaps Granny Loughlin is waiting for someone to come so she can give them the present on the mantlepiece.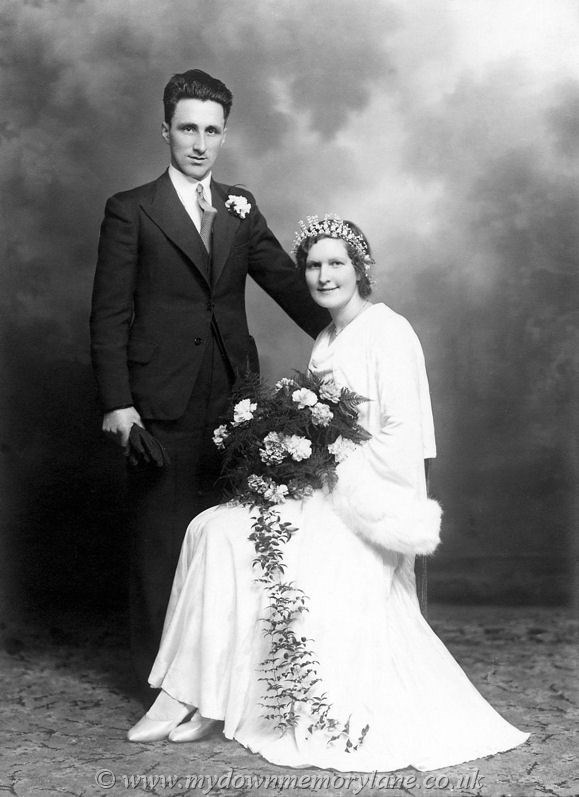 LAUGHLIN WEDDING 2118
This lovely wedding photograph was taken at the Ashleigh Studio in Belfast on January 1936.
The groom, Robert Laughlin lived in Castle Street Antrim and his beautiful Bride Nora Gillespie who came from Fermanagh but worked at Bush House.
Just look at her Bouquet, her wedding dress with the white fur on the sleeves and her Tiara, just sheer elegance.
LAUGHLIN WEDDING 2119
In this photograph we have to go back 73 years to this wedding in January 1936.
Sadly on the left the Best man is Unknown but could possibly have been an Antrim man for the Groom is Robert Laughlin who lived in Castle Street.
His lovely Bride Nora Gillespie came from Fermanagh but worked in Bush House. The Bridesmaid with the trailing bouquet was her sister Emily Gillespie.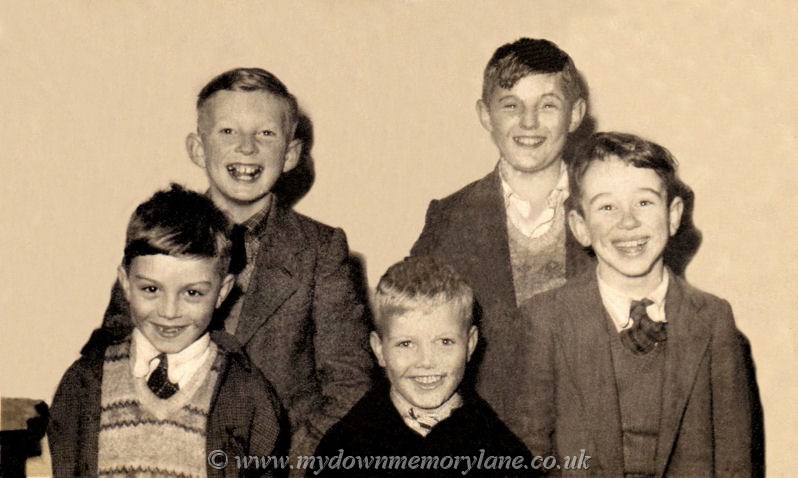 LOCAL ANTRIM LADS 1820
These local Antrim lads back in 1954 lived in Castle Street, Market Square and High Street.
At the back is Alan Crawford and Dessie Gillespie. In front are Stanley Coulter, John Coulter and Arnold Creighton.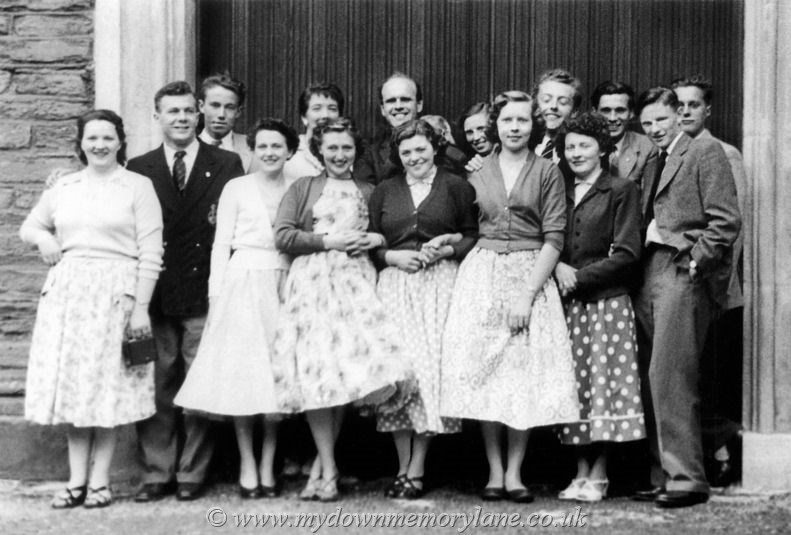 LOANENDS CHURCH YOUTH GROUP 1890
Standing outside their church are the members of Loanends Church Youth Group in 1956.
In the back row are Wislon Kilpatrick, Kathleen Kilpatrick, Rev Derek Allen, Mrs Alice Allen, Allistar McCourt Willbor Rankin and Wallace Coulter.
At the front we have Eileen Price holding her box camera of the day, Hubert White, Margaret White, Joan McQuillan, Elizabeth Devlin, Netta Scott, Molly Price and Jim White.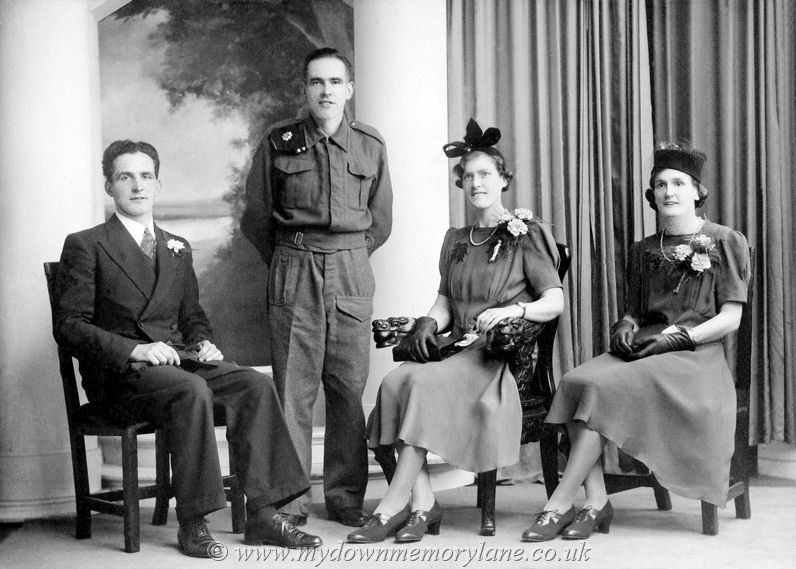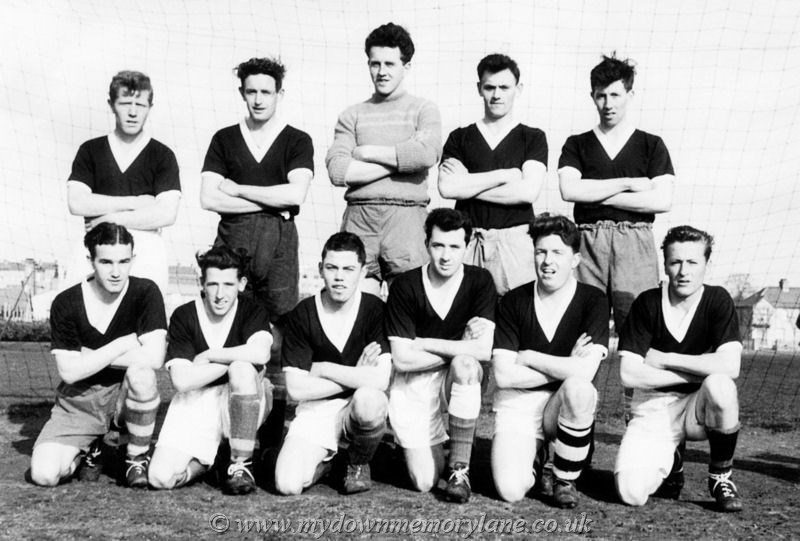 LOANENDS UNITED FOOTBALL TEAM 2878
This is Loanends United football Team in 1960 and at the back from the left are Sammy Robinson, Unknown, Cedric Blackbourne, Alex McBride and Stanley Coulter.
- - -In front are Unknown, Unknown, Nelson Mcdowell, Harry Price, Unknown and Unknown. - - - My thanks to Ed Cunningham who has now gone home of Ontario, Canada for this photograph.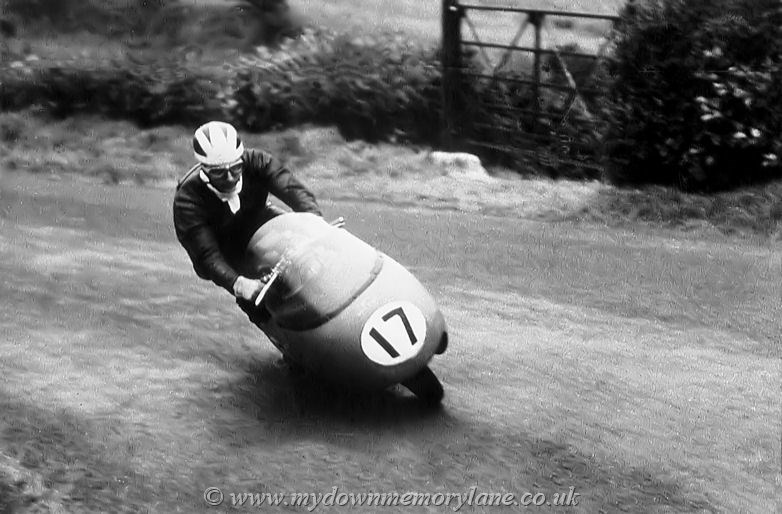 BILL LOMAS 2882
Leaning over as he hurtles over Leathermstown bridge on his 350 Moto Guzzi in the 1955 Ulster Grand Prix.
My thanks to Ed Cunningham who has now gone home of Ontario, Canada for this photograph.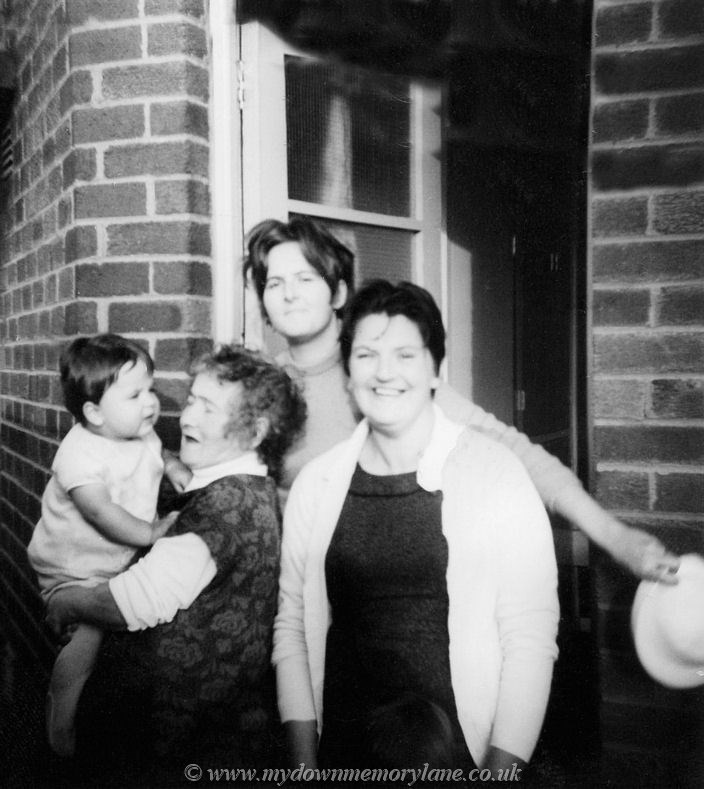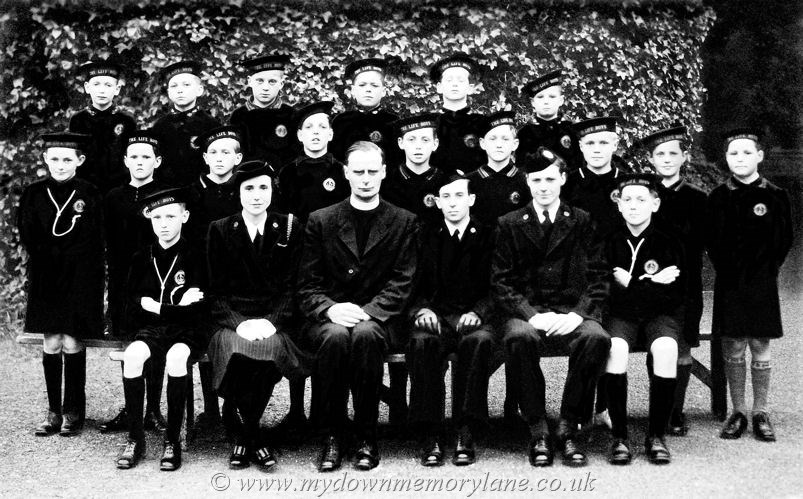 LIFEBOYS 173
Photograph taken in Antrim Castle grounds in 1947 are Antrim Lifeboys and their Leaders.
At the back we have George Millar, Bobby Cameron, Norman McCaig, Cecil Hannon, Victor Erskine and George Nicholl.
Standing in the middle are Warren McCabe, Herbert McCabe, Mervyn McKitterick, George Ferguson, Jim Beresford, Stanley Carson, Usher Hood, Sidney Quinn And George McFadden. Seated at the front are Jackie Baird, Miss Violet Bell, Rev Cannon Kerr, Mr. Tommy Moore, Mr. Bill Cameron and James Purdy.
THE LYONS 2790
Here we are at the Lyons family home and at the back on the doorstep is Lily Lyons and in front of Lily to the right is Mae Lyons. The lady and the child are unknown.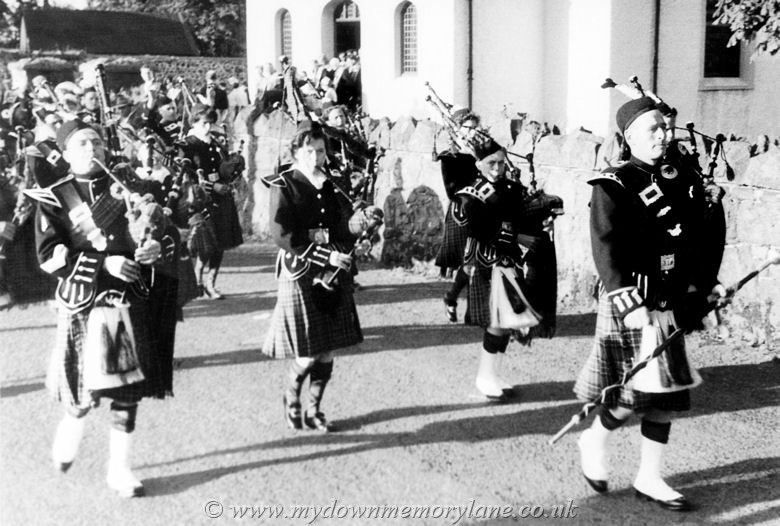 LOANENDS PIPE BAND 2796
Here we are on the Seven Mile Straight road in 1957 and just passing Loanends Church is Loanends Pipe Band. At the moment I have no names of the members of the band. Over the wall you can just see someone's bicycle leaning against the church wall.
I can remember when I was about 12 years old I realised I was going to be late for Sunday School, so I hopped on my bike and made it just in time. When I came home my mother wanted to know why I was on my bike on a Sunday and when I told her, my mother was mortified for back then everyone walked to church rain or shine even if you had a car or not it was not the done thing to do, I was grounded for a week!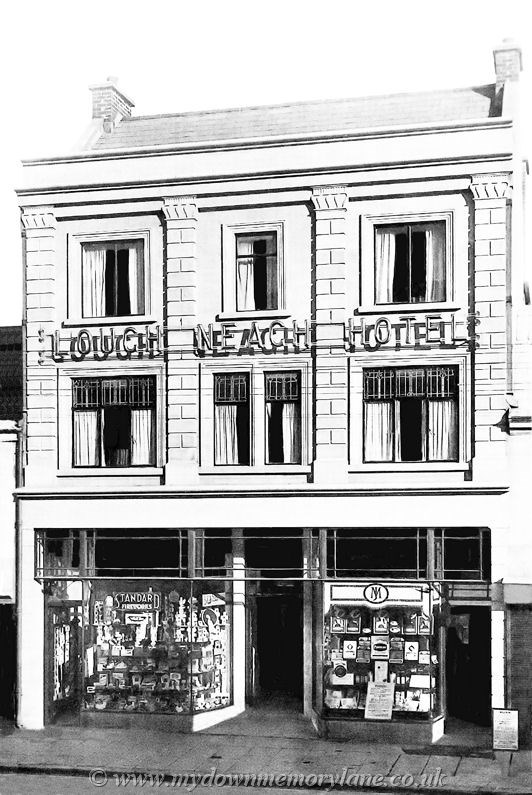 LOUGH NEAGH HOTEL 12
This hotel was in a way quite different from the other hotels in that it didn't have a bar or restaurant on the ground floor. It had a retail shops instead, J.Murphy the jewellers owned the shop on the right but the owner of the left one is unknown. The photograph was taken sometime in October, year unknown, reason being is that the shop window is full of Standard fireworks.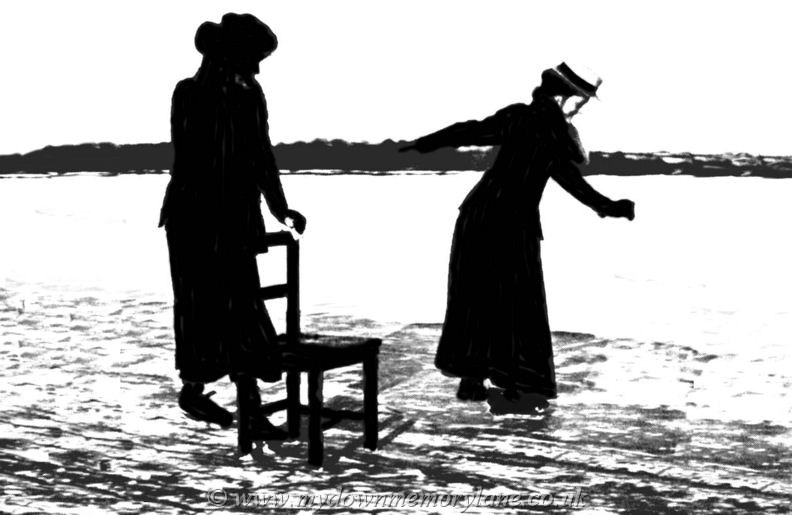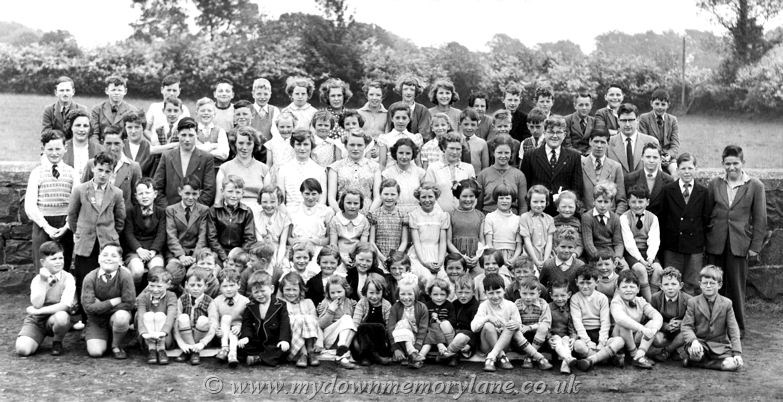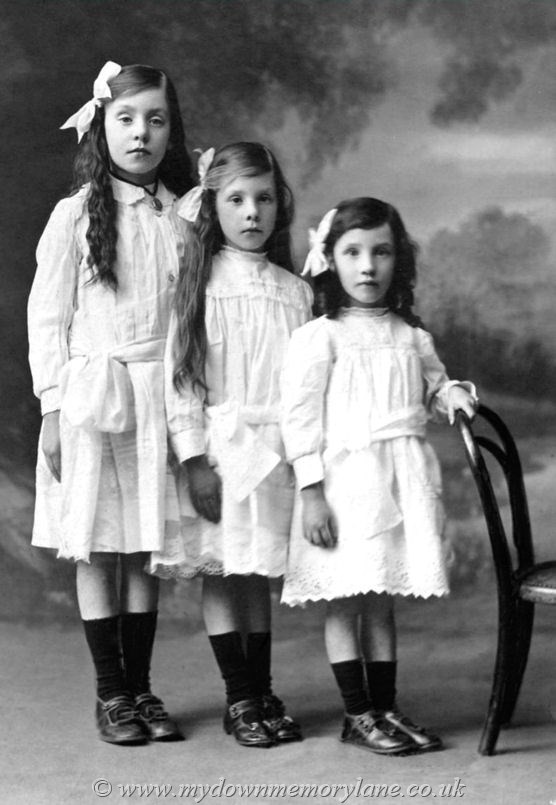 LOUGH NEAGH 2243
This photograph taken as the sunrise sets over Lough Neagh in the distance you can see the ruins of Shane's Castle in the 50's.
This was a postcard photograph and was sent by Ruby to her friend Miss E. Kane of 23 Ballywilliam Road Portrush, posted at 5.30pm on the second 2nd March 1953 in Antrim town.
It reads as follows: "I am keeping better, many thanks for sending on parcel so quickly. I had a nice long walk this morning, the weather is quite mild. I am glad you had a nice week-ending Belfast. Looking forward to seeing you soon again, Love from Ruby."
LENNON PORTRAIT 930
Such a beautiful portrait of the Lennon sisters from Antrim, their parents took them to Belfast to get this photo taken - from the left we have Hetty, Janie and Emily. Janie when she grew up married and had children, her son took up motorbike racing and became a champion - his name? Len Ireland!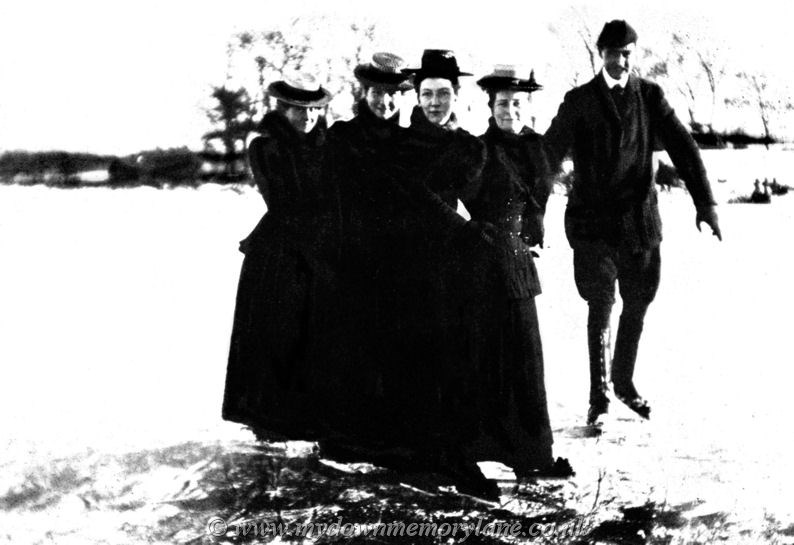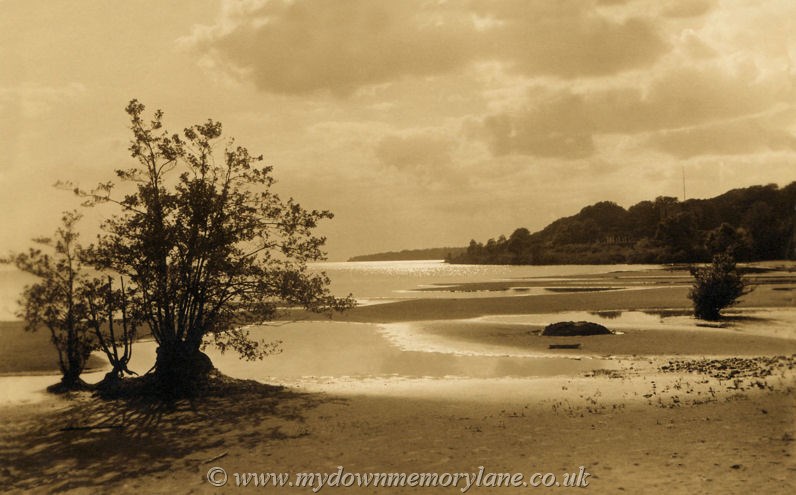 LAWTHER PUBLIC ELEMENTARY SCHOOL 112
It is 1956 and here we have the pupils of Lawther Public Elementary School out at Dunadry.
- At the back are R.Steele, L.Wilson, Pauster McQuillan, Unknown, John Goodrich, Wilma - - -Kinnen, Margaret Allen, Unknown, - J.Wallace, Beth Rainey, M.Wells,Miss Spence,Unknown, - - - - - - - - - - - - --Robert Wasson, Raymond Doole, Sammy Wells and R.Spence.- - -- -- - - ---- - -5th row Mrs Ginn (Teacher),Unknown,D.Hunter, A.Goodrich,Unknown, Unknown, M.McComb, - - - - -Unknown, Unknown, Miss Slavin, Bill McCormick, Unknown, N.Hunter and Mr.Ginn - - - - - - - - - - - - - - - - - - - - -- - -- - - - - - - - - -(Head Teacher). - - - -- - -- - - - - - - - - - - - - - - - - -4th row B.Elliott, Ronnie Maybin, John McQuillan, Tully Lynn, Carol Fox, Mary McQuillan, Miss Spence,Margaret Steele, Mari Millar, Wilson Steele, Maxi Millar,Gerald McCaig, Jim Millar - - - - - - - - - - - - - - - - - - - - - -- - - - - - - - - and D.Beck. - - - -- - -- - - - - - - - -- -- - - - - - - - - -3rd row Jim Craig, Malcolm Ashe, M.Doole,Unknown,R.Wilson, M.Gillispie, Miss Wells, - - - - -Unknown, Miss Millar, Ann Millar,Unknown,C.Gray, C.Kirkpatrick,N.Faloon and Unknown. - - - - -..Half hidden away we have the 2nd row Andrew Wilson, Edmund McQuillan, Unknown, - - - - Unknown, T.Graham, Pearl Craig, Betty Craig, Unknown, Miss Doole, Joy Millar, Unknown, -- - - - - - - - - - - - - - - - - - - - - - - - - - - - - -Unknown and Master Fallon.- - - - - -- - - - - - - - - - -Front row Unknown, Master Hunter, Unknown, John Craig, Unknown, E.Gray, Elenor Spence, Miss Wells, A.Wallace, Unknown, Unknown, M.Barnes, Unknown, Unknown, Unknown, John Gray, Samuel Wilson and Unknown.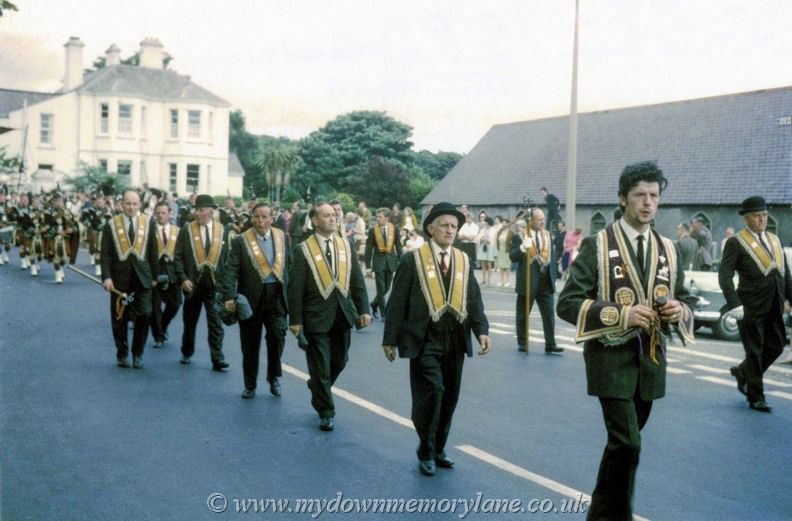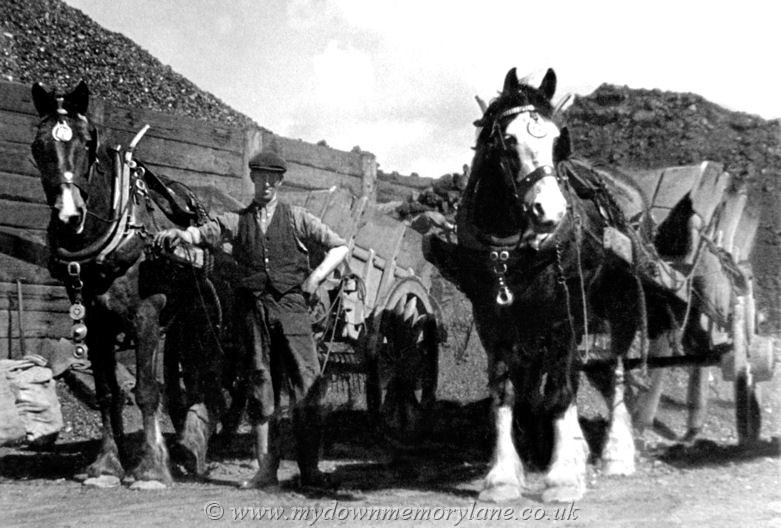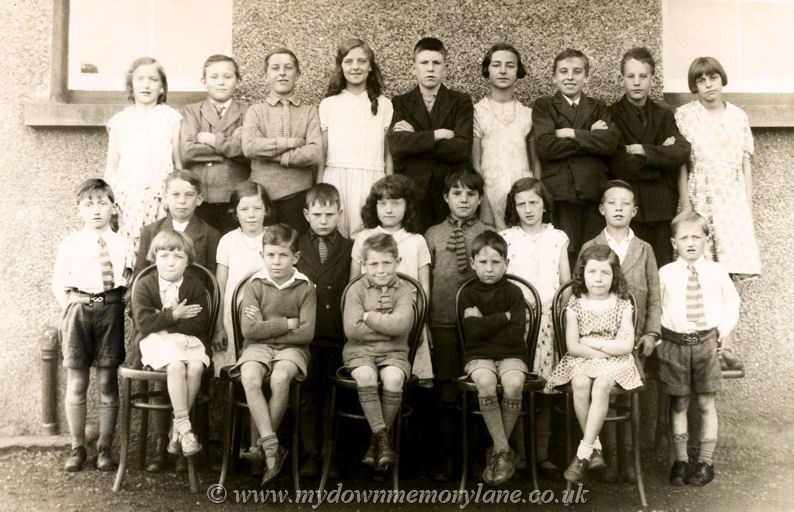 LOADING COAL 1051
Loading up the carts with coal at Larne Harbour to take back to Antrim!
Left you can see the empty bags ready to be filled to load unto the cart. The year is unknown.
LOL 201 1791
Striding out in front for LOL 201 is Philip Martin. Behind Philip is Willie Steele and to Willie's left is Gordon McCaig. Behind Willie is Harry Scott, Harry Ireland, Willie Trimble, Unknown and then Jimmy Wallace carring a Deacon Pole. The Band is the A.B.D. Pipe band from Antrim.
LAWTHER PUBLIC ELEMENTARY SCHOOL 859
- - - -This school photograph taken in 1935 at Lawther Public Elementary School, Dunadry.- -- -At the back we have Betty McGrath, Wilbert Milligan, Bertie Patton, Bertha Gray, Gorgon- - - - - - -- - - - Morrow, Molly Porter, Gordon Johnston, Herbie Spence and Peggy McQuilken.-- - - - Middle row are John McGrath, Tom Johnston, Elsie May, Master Spence, Dorothy Greddis, David Spence, Marion McGrath, James Patton and Allen McGrath.
Seated with their arms folded are Beatrice Patton, Danny May, Master McQuilken, Sandy Spence and Peggy May.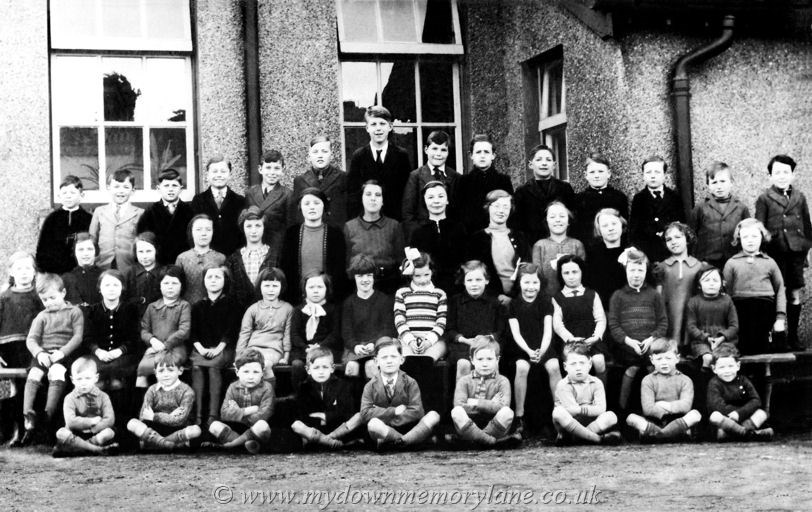 LAWTHER PUBLIC ELEMENTARY SCHOOL 570
This is the class of 1939 of Lawther Primary School at Dunadry and all smiles for the camera.
Back row Alan Craig, Sam McCombe, Jogn McGill, Willie Montgomery, Danny Davidson, Willie McGill, Norman Hawker, Jack Davidson, Jim Young, Gilbert Lynn, Wesley McQuilken, Frank Skelton, Sidney Quirey and Bobby May.
In front of them are Hilda Hall, Evelyn Brown, Maureen Craig, Sadie Skelton, Evelyn Kennedy, Ruth McCormick, Margaret Jackson, Margaret Shannon, Barbra Ashe, Lizzie Skelton, Ina Logan, Sally McCombe and Martha Kirkpatrick. Now seated and with his head down we have Erskine Campbell, Betty Cairns, Margaret Davidson, Ellen Skelton, Freda Craig, Ruby Logan, Ellie Ashe, - - - - - - Mary Wilson, Margaret Brown, Margaret McCombe, Jean Geddis Maureen French - - - - -- - - -- - - - - - - - - - - - - - - - - - - - - - - and Phyllis Young. - - -- - - - - - - - - - - - -- - - - - - - - On the ground with their arms folded are Bobby Brown, Maurice Leitch,Willie Hall, Dennis Young, Bertie Jones, David Hall, Tommy French Jimmy Kirkpatrick and Willie Craig.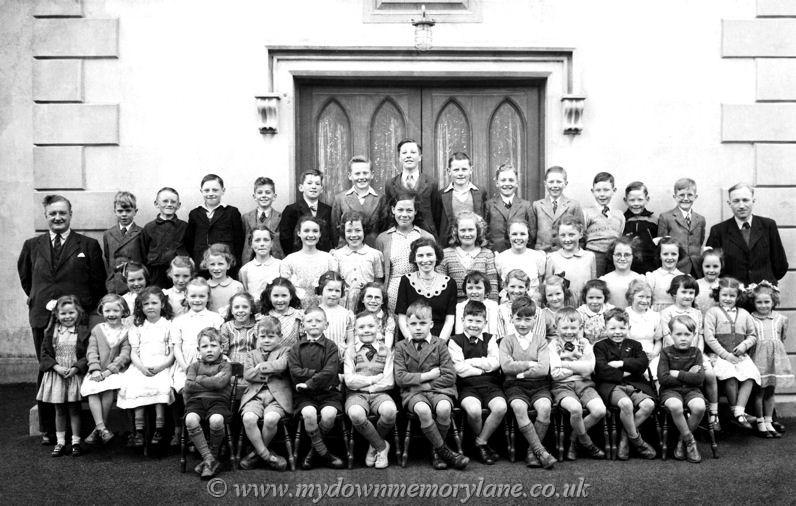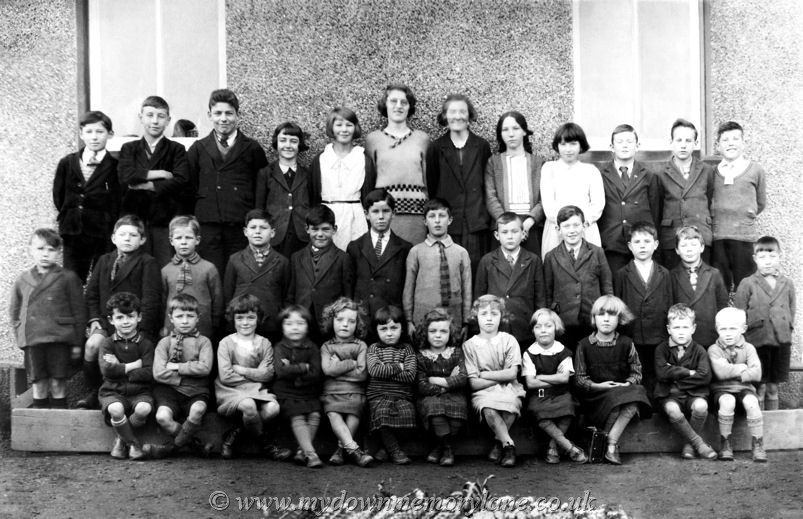 LAWTHER PUBLIC ELEMENTARY SCHOOL 845
This Lawther School photograph with all these fresh well scrubbed faces was taken in 1954.
Back row Mr.Lamont (Teacher), John Goodrich, Crawford Taylor, Robert McMullan, Fulton McClure, Britton Logan, David Fletcher, Ronnie Patton, John Fletcher, Ivan Foxe, Derek Steele, Samuel Quigley, Taylor Kirkpatrick, Willson Steele and Mr. Lamont (Teacher). The Lamont teachers were not related. The Lamont on the left when he was lowering the flag to half-mast for the death of King George he dropped dead.
3rd row Molly Rainey, Tillie Lynn, Ailleen Lamont, Margaret McQuillan, Elsa McQuillan, Betty Quigley, Frances Quigley, Dorothy Steele, Jean Spence, Olga Lamont, Margaret Kennedy, Annie Brown and Anne Spence.
2nd row Wilma Kinnen, Bertha Rainey, Evelyn Reade, Mary McQuillan, Ruby Gillespie, Margaret Reade, Elizabeth Warnock, Marie Craig, Mrs.McBride (Teacher) was the minister's wife and her daughter is Muriel further along the row, Pamela Mullan, Ansy Skelton, Margaret Warnock,
Isobel Spence, Margaret Steele, Norma Quigley, Muriel McBride and Mavis Gillespie.
Front row Master Quigley, Unknown, Canning Taylor, Gerald McCaige, Bobby Cairns, Arrell Kinnen, Master McQuillan, Ian Alexander, Leonard Wilson and Raymond Doole.
LAWTHER PUBLIC ELEMENTARY SCHOOL 110
This is the Lawther Public Elementary School class of 1931. Some of the faces are blurred because they moved while the camera was taking the photo.
In the back are Albert Topping, Hugh Worthington, Samuel Steele, Margaret Steele, Margaret - - -Moore, Levina Preston, Kathleen Scott, Bessie?, Miss Steele, Miss Steele, Unknown, Master - - - - - - - - - - - - - - - - - - - - - - - - -Spence and Charlie Scott. - - -- - - - - - - - - - - - - -- - - - -The middle row starts with Unknown, Master Shannon, Kenny Preston, George McCaige, C.McNall, Walter Parker, Bertie Patton, Bertie Steele, Master Spence, Master Shannon and - - - - - - - - - - - - - - - - - - - - - - - - - - - - - - - - - -Master Patton.- - - - - - - -- - -- - - - - - - - - - - -IIn the front with all arms folded are Master Wassen, Master Patton, Miss Smith, Miss Skelton, Miss Smith, Miss Steele, Miss Smith, Miss Smith, Miss Skelton, Miss Skelton,
Master Magill and Master McMullan. Hugh Worthington in the back row went on to become an air gunner in the Second World War but was sadly lost.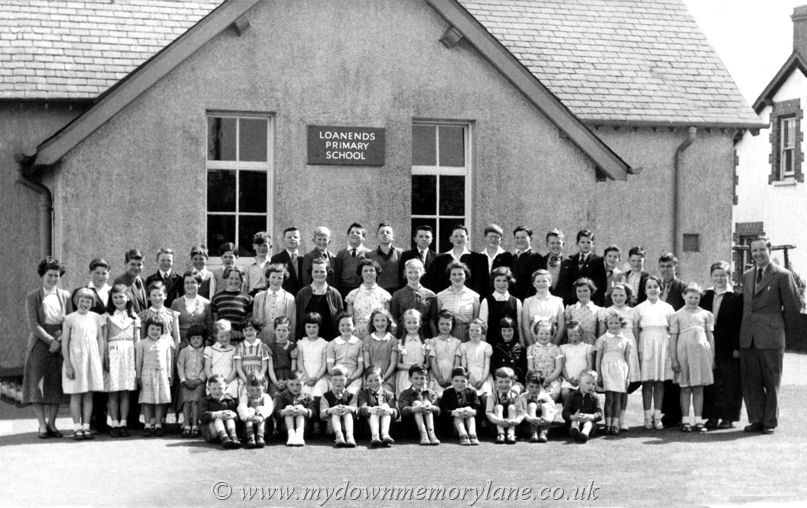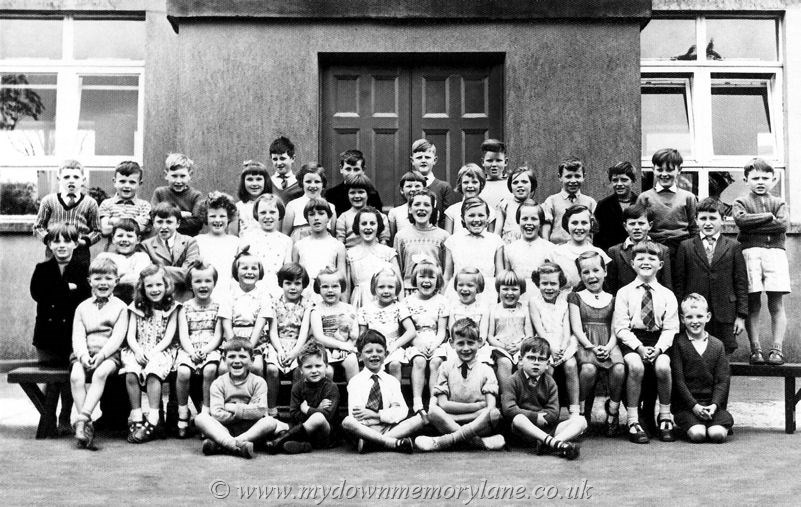 LOUGH HOUSE SCHOOL 1124
This is the class of 1941 of Lough House School Aghalee and the boy cross-legged at the front on the right is Stephen Gilchrist from Antrim Sadly the rest of the children are unknown unless you know and can make a happy photo really happy once more.
LOANENDS PRIMARY SCHOOL 1137
All smiles for the camera these " Bright Sparks" or should I say " Model Pupils " belong to - - - - - - - - - - - - - - - - - - - - - - - Loanends Primary School in 1957. -- - - - - -- - - - - - -- - - - - -- -At the back are Miss Fisher (Vice Principal), David Wallace, Unknown, Roy Kirkpatrick, - - - - - - -Unknown, David McGregor, Alex Mackay, Samuel McClurken, Unknown, Unknown, William - - -- - - - - - - - - - - -- - - -- - - -Devlin, Unknown and Mr. Logan (Principal). - - - - - - - - - - - - - - - 2nd row has Ann Falkener, Unknown, Maureen Wallace, Ruby Erwin, Edna Kirkpatrick, Eleanor Johnston, May Gowdy, Unknown, Unknown, Unknown, Unknown, Margaret Wallace, Evelyn - - - - - - - - - - - - - - - -Thursby, Ann Devlin, Margaret Scott and Mavie Mackay. - - - - - - - -- - - The Front row has Unknown, Jean Adair, Helen McQuillen, Rosemary Patterson, Hannah Taylor, Unknown, Irma Brown, Linda Kirkpatrick, Helen Logan, Unknown, Agnes Jones, Unknown, Elizabeth Wallace, Unknown and Ann Harper.
On the ground are Unknown, Unknown, Unknown, Unknown, David Taylor, Unknown, Bill Jones, Norman Kirkpatrick, Unknown and Unknown.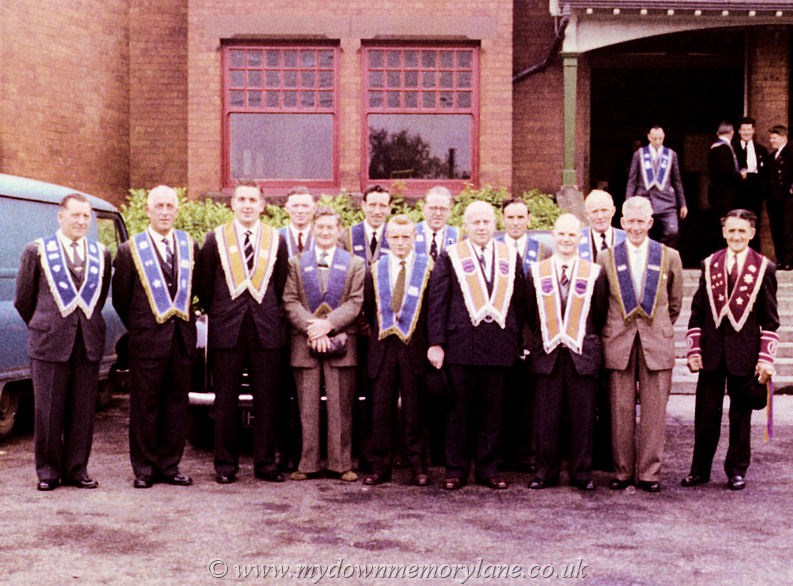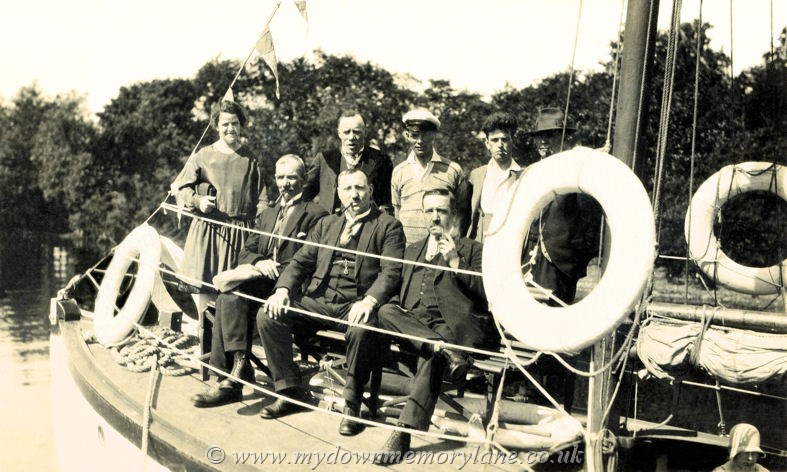 LODGE 2467
Here we are in the sixties and outside Antrim railway station are members of a lodge waiting for a train. Among the members are staff from Holywell Hospital Sam Jackson, George Jackson, Alex Fleming, Andrew Reresford, Herman Taggart, Gaston Gamble, Gilbert Rantin and Jimmy Carson.
LOUGH NEAGH 234
The man with the white cap on is the skipper Bristow Wallace who took the tourists out on to the Lough sightseeing. Two of the men are wearing watch chains and the lady has on a very daring dress. Taken in the 1930's.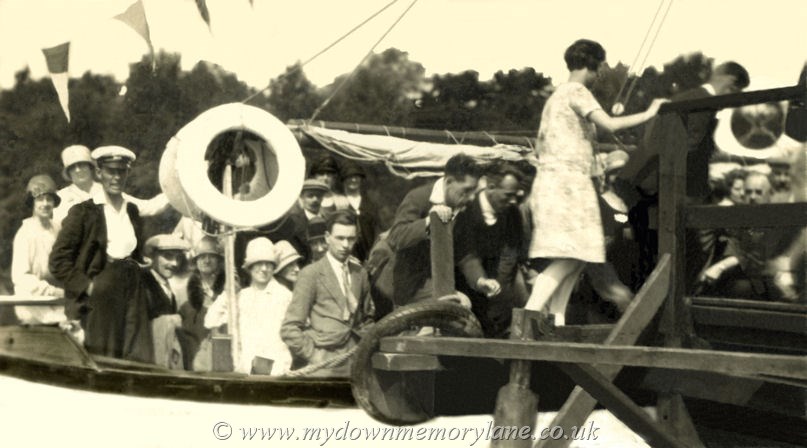 LOUGH NEAGH 238
Here the tourists are disembarking after being out on the Lough with skipper Bristow Wallace. Everyone looks happy so it must have been a calm Lough.
Date of the photograph is unknown.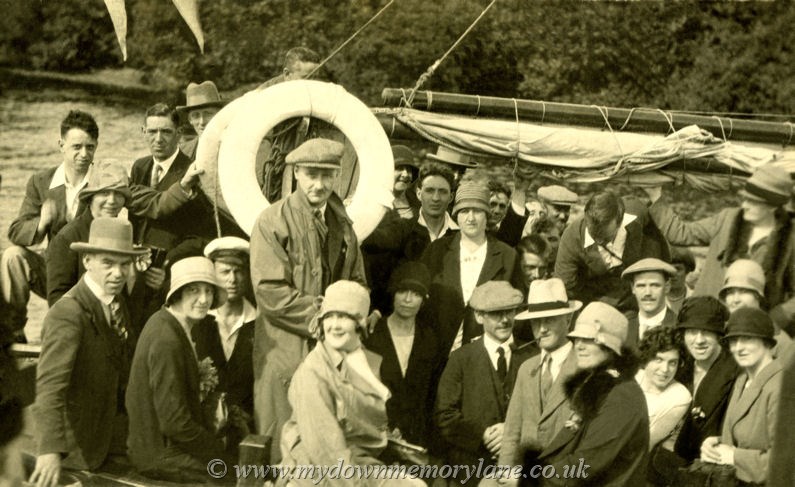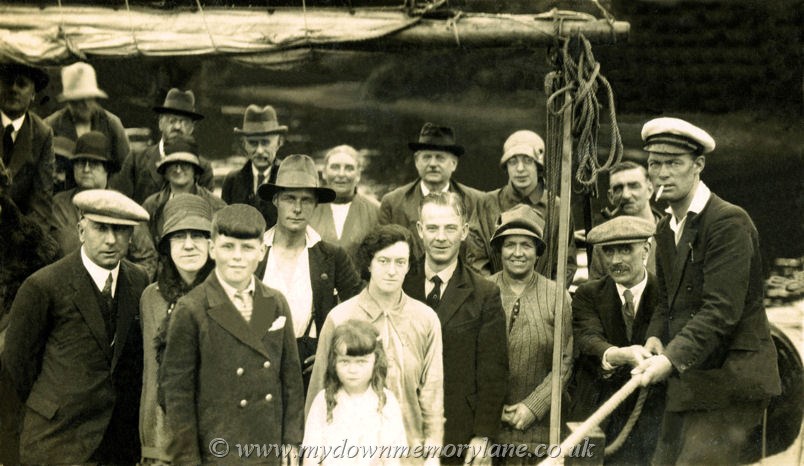 LOUGH NEAGH 243
Here we have the skipper Bristow Wallace with the help of one of the tourists tying up the boat after a trip on the Lough. Date of the photograph is unknown.
LOUGH NEAGH 239
All set to out on to the Lough with skipper Bristow Wallace are more tourists and perhaps a few locals. It must have been a cold day looking at some of the coats and look at the ladies hats. Date of the photograph is unknown.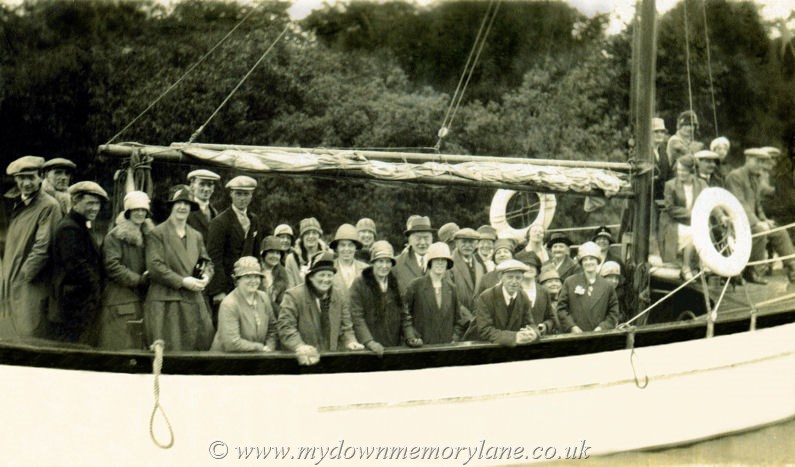 LOUGH NEAGH 252
Tourists ready to come in after a trip on the Lough. Date of the photograph is unknown.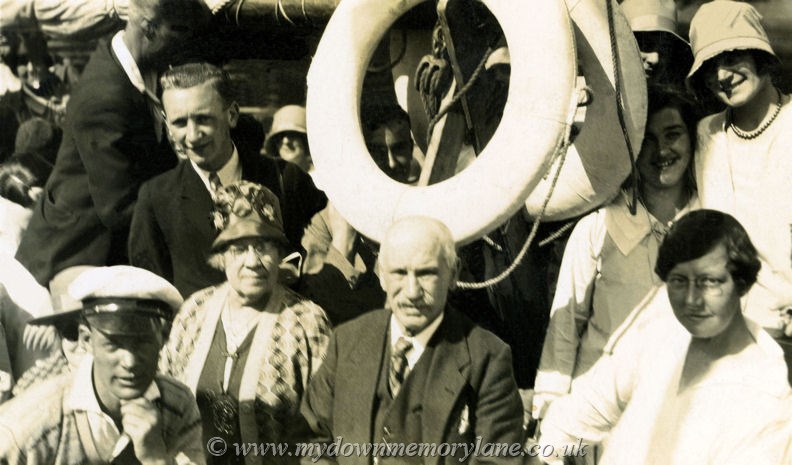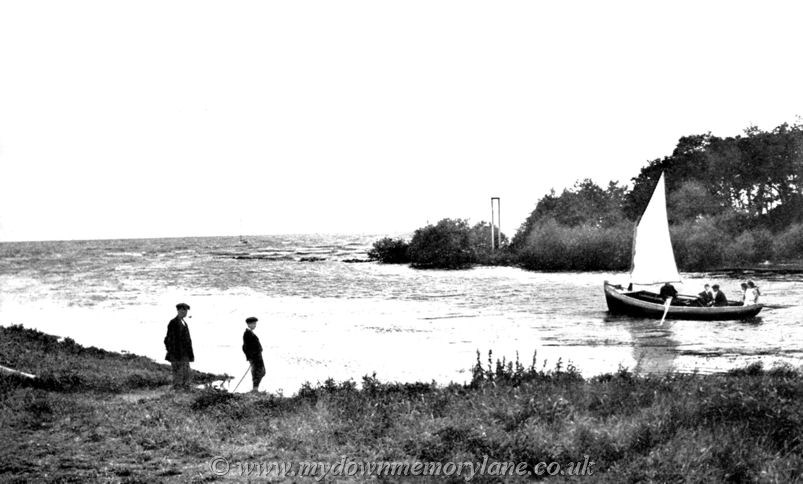 LOUGH NEAGH 706
Sailing out into Lough Neagh in 1923 are two boys and girls with a man rowing.
On the shore watching is possibly a father who is smoking a pipe and his young son.
LOUGH NEAGH 253
A load of happy looking tourists, look at the hat on the lady to your left. In the bottom left hand corner is the skipper Bristow Wallace. Date of the photograph is unknown.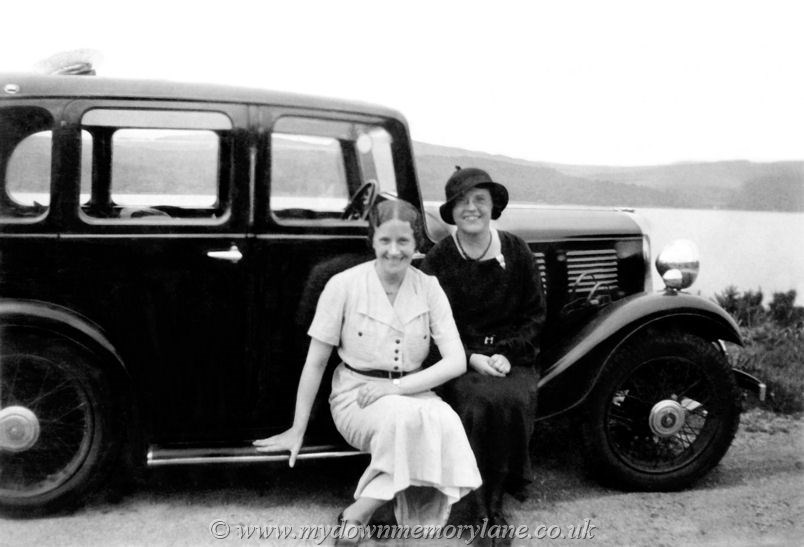 LOUGH NEAGH 904
Look at this beautiful old car with it's running board, chunky headlights and turning indicators. Well back to the ladies in the photo, the first lady is unknown but the other lady is Auntie Claris. The man who took the photo is in the services, how do I know? his cap is on the roof of the car!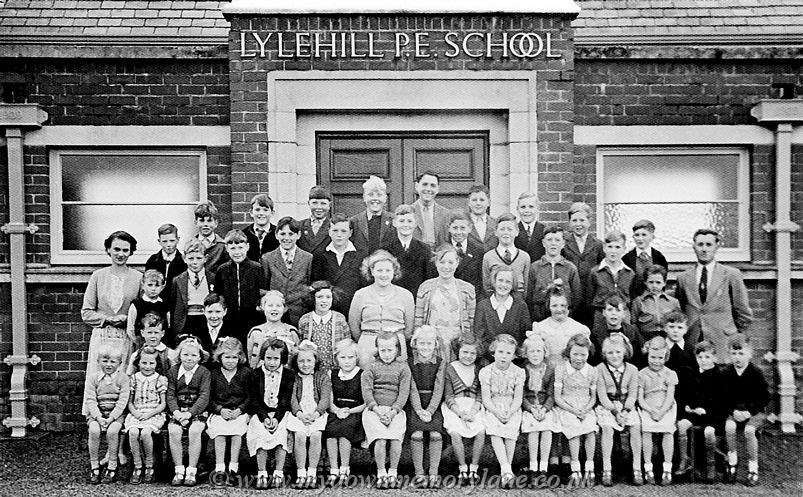 LYLEHILL P. E. SCHOOL 2422
Here we have the pupils of Lylehill PE School having their annual photograph taken, the year is unknown.
At the back are from the left Hugh McBurney, Bertie Crooks, Cecil Cummings, Jim Coulter, Ivor McKay, George Fleming, Drew Johnston, Noel Rea, Sammy McCrea and Francis Calvert.
Third row has Miss Best (Teacher), Davy Coulter, Billy Parkes, Sammy Lindsay, Rex Cummings, Alex McBride, George Johnston, Dessie Hall, Sam Carlise, Francis Coulter, Billy Richie, Robert Ogilby and Ben Hoey (Headmaster).
Second row are Ronnie Charlton, Neilly McBride, Pat McKay, Kate Moore, Mavis McKay, May Lindsay, Margaret Hall, Elsie Walker, Brian Williamson and Barry Rea.
Front row has Matt Walker, Ruby Walker, Esther Parkes, Elizabeth McCrea, Annie Ogilby Eileen Nesbitt, Frances Rea, Lilah Ogilby,Noreen Johnston, Kate Moore, Elizabeth Hoey, Anne Charlton, Miss Coulter, Kathleen Walker, Catherine Hoey, Fleming McBurney and Tom Carlisle.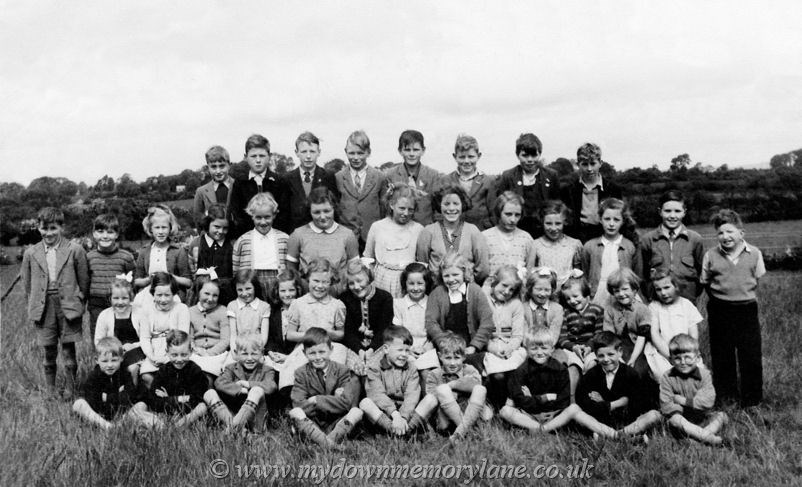 LYLEHILL P. E. SCHOOL 2423
This photograph of Lylehill P E School pupils was taken in the field next to the school, the year is unknown.
At the back from the left are Geo Cameson, Robert Crawford, Sam Lindsay, Brian Russell, George Russell, William Parkes, Brian Williamson and Jimmy Ford.
Second row has Francis Calvert Barry Rea, Anne Charlton, Belle Moore, Noreen Johnston, Elsie Walker, Marie McCoy,Miss Ford, Mabel Bannor, Eliz Hoey, Hester Crawford, Neilly McBride and John McBride.
Seated we have Ethel Barron, Linda Sherrard, Unknown, Minnie McBurney, Lena McBurney, Catherine Hoey, Kathleen Walker, Unknown, Ester Parkes, Unknown, Helen McGookin, Ruby Walker, Unknown and Miss P Williamson.
On the ground are Unknown, Master McCoy, David Carlisle, Tom Carlisle, Ronnie Charlton, Davy Coulter, Matt Walker, Flening McBurney and David Walker.
Catherine Hoey went on to hold the position of Minister of Sport for about 4-5 years, also the headmaster was her uncle!

LOUGH NEAGH 62
The lady skaters and Gentleman skater here I would say are upper-class. The ladies are well wraped up including fur collars, the lady next to the man is wearing a fox collar, my mum had one it was brown.Sadly everyone are unknown but enjoying themselves in the winter of 1893.
They used to hold in the middle of lough Neagh, barbecues, roast cattle and have parties also you could go from one side of lough Neagh to the other even in a horse and cart the ice was that thick.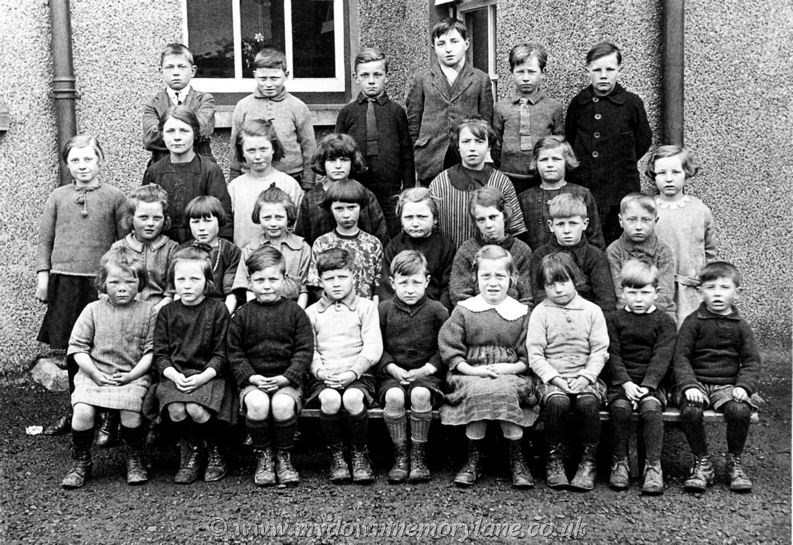 LAWTHER PUBLIC ELEMENTARY SCHOOL 1325
Children getting their photograph taken in 1925 belong to Lawther Public Elementary School.
At the back are Unknown, Tom Steele, Arty Kirkpatrick, David Craig, Norman Annesley and George Francey.
Third row has Martha Kirkpatrick, Miss Milligan, Maggie Steele, Kate McQuillen, Miss Robinson Ida McQuillan and Unknown.
Second row includes Jean McCormick, Margaret Burns, Nesta Steele, Sadie Forsythe, Agnes Milligan, Jemina Morrow, Jack Morrow and James Crossey.
Seated are Kate McCormick, Muriel McCormick, Samuel Steele, Audrey Francey, Hugh Worthington, Jean Worthington, Unknown, Gordon Morrow and William Crossey.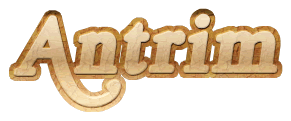 Pages:
LOUGH NEAGH 63
The lady who trying to keep her balance while skating is the lady next to the man in the other picture. Behind her holding the chair is most likely a maid, it must have been bitterly cold for the maid is holding a hanky between her hand and the chair.