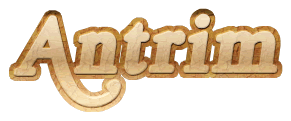 ANNIE McQUILKEN 1081
Having a break while out for a Sunday walk we have seated Annie McQuilken.
The two ladies in the background are unknown as is not only the year but where it is.
In the background behind Annie is either a pond, lake or a river and you can see a swan in it.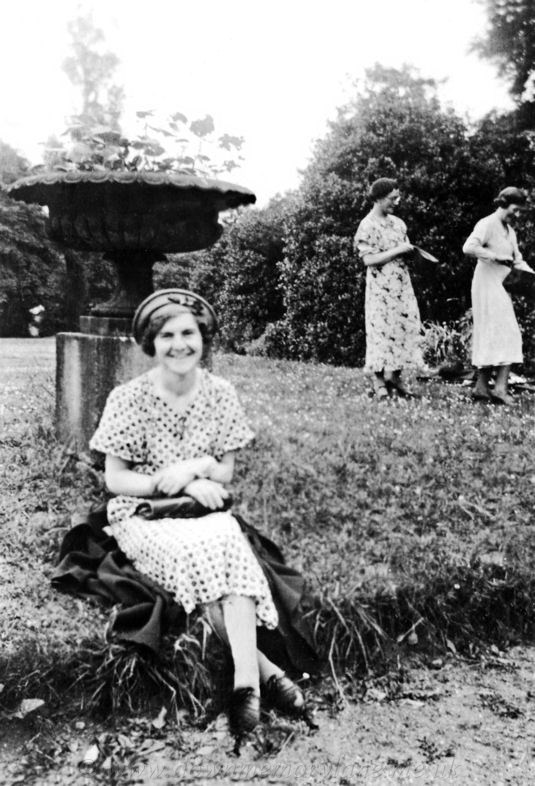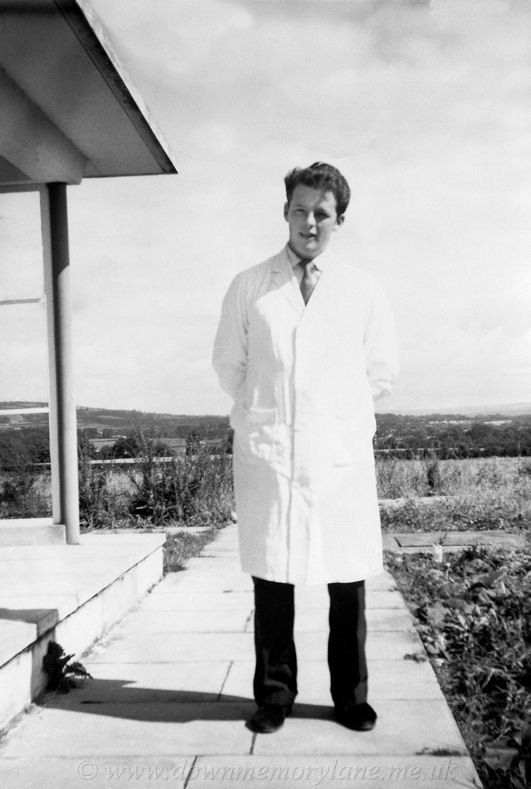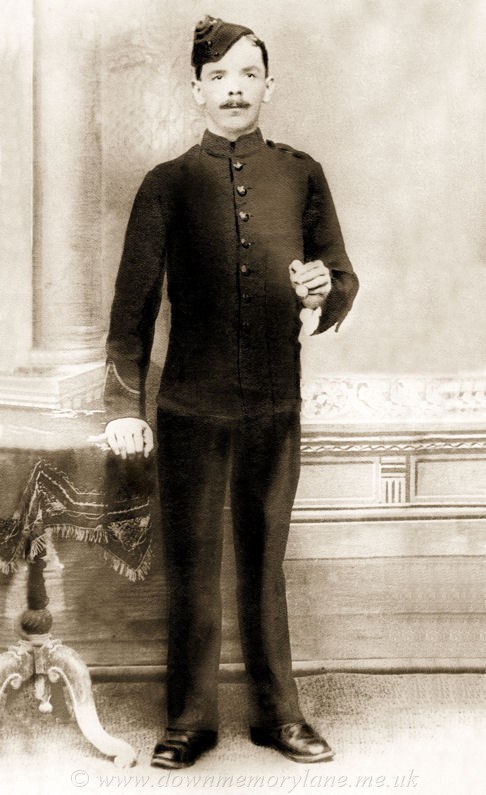 McCREIGHT 862
This studio photograph which was printed on cardboard was taken in 1918.
The soldier was called William Alexander McCreight and he is holding a medal, what the medal was for or his regiment is unknown.
BILLY McQUILLAN 3413
Here we have Billy McQuillan who hails from Islandrea Dunadry training up at Greenmount.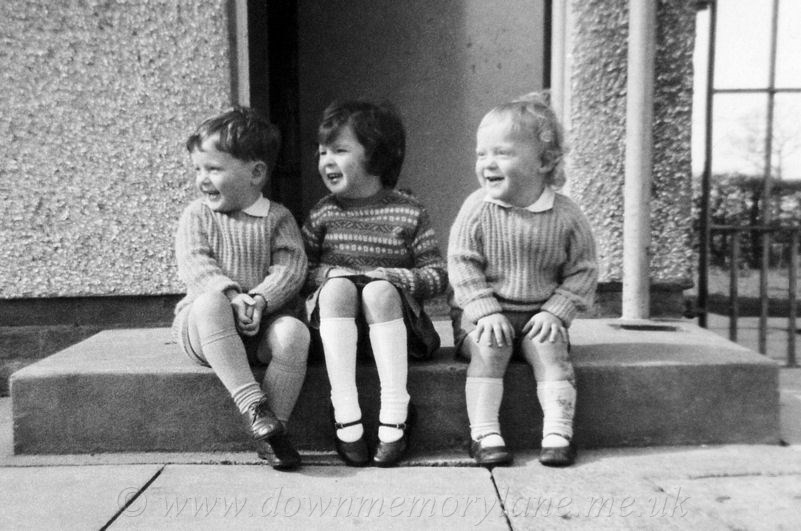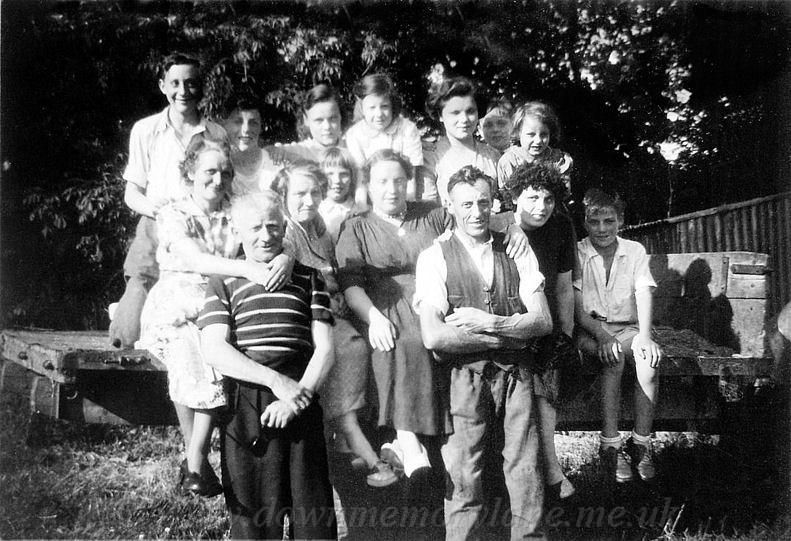 ICE-CREAM 2106
There is one thing that is guaranteed to bring a smile to any child's face and these three are no exception back in 1966.
The reason Gary, Sharon and Norman McQuillan are smiling is because they have just heard the chimes from the ice-cream van!
ISLANDREAGH 1690
Having their photograph taken during a summer break at Islandreagh we have on the back of the trailer George Johnston, Unknown, May McQuillan, Unknown, Doris McQuillan, Jim McQuillan and Elsie McQuillan. In front the lady with her arms round her husband are both unknown,
then Elizabeth McQuillan, Lilian McQuillan, Annie Johnston, Tommy McQuillan, Ann McQuillan and Norman McQuillan.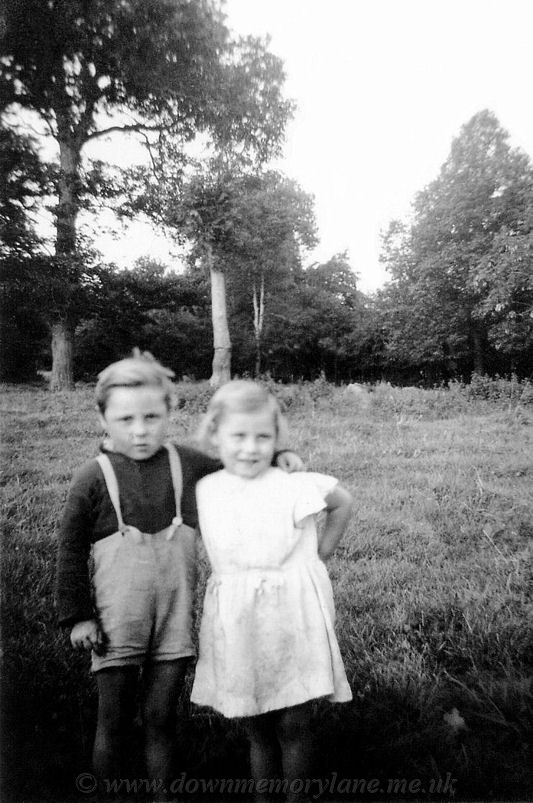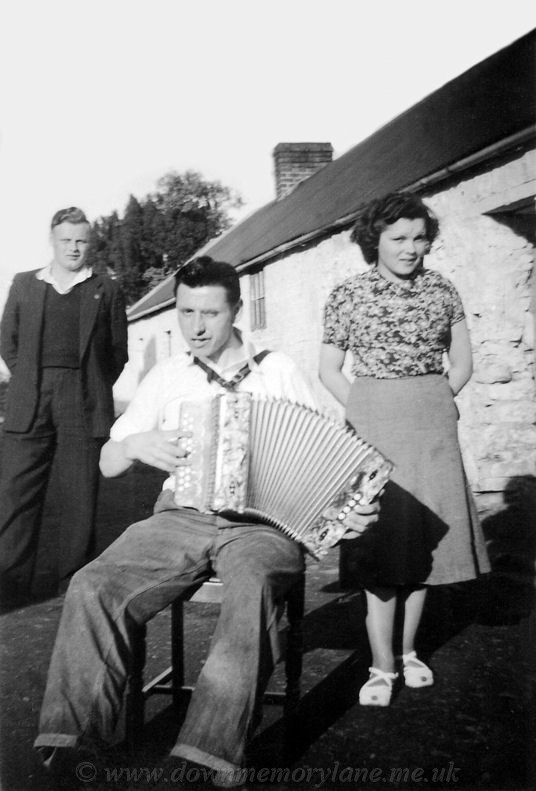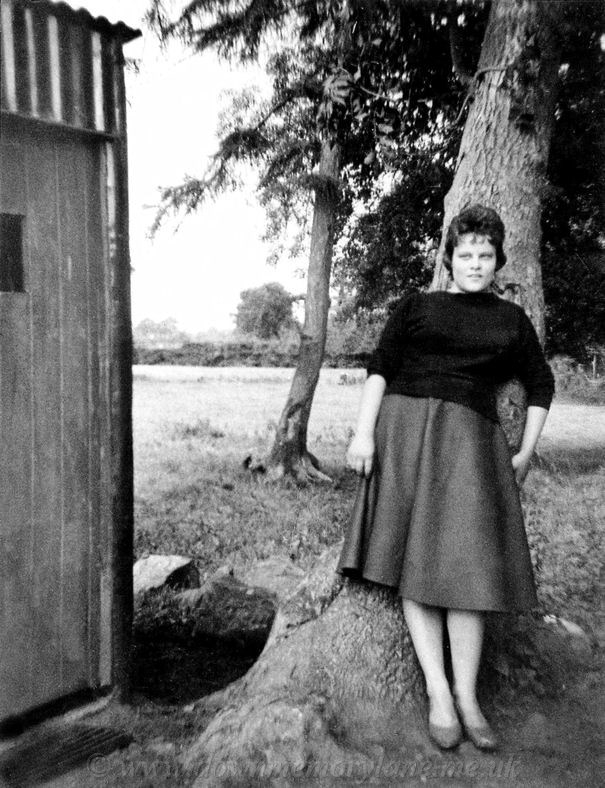 ISLANDREAGH 1695
Outside their house at Islandreagh we have seated and belting out a tune is Tommy McQuillan.
Behind him on the left is his brother Sammy and on the right is his sister Doris.
ISLANDREAGH 1696
Getting photographed after out playing in the fields around Islandreagh we have Elsie McQuillan. Jim her brother who has his arm around her protectively is telling his mum that it was his fault Elsie got her dress dirty.
ISLANDREAGH 1728
Standing outside the McQuillan family home at Islandreagh is Doris McQuillan.
I wonder did Doris know that wearing a flower over your right ear meant you were single and available!!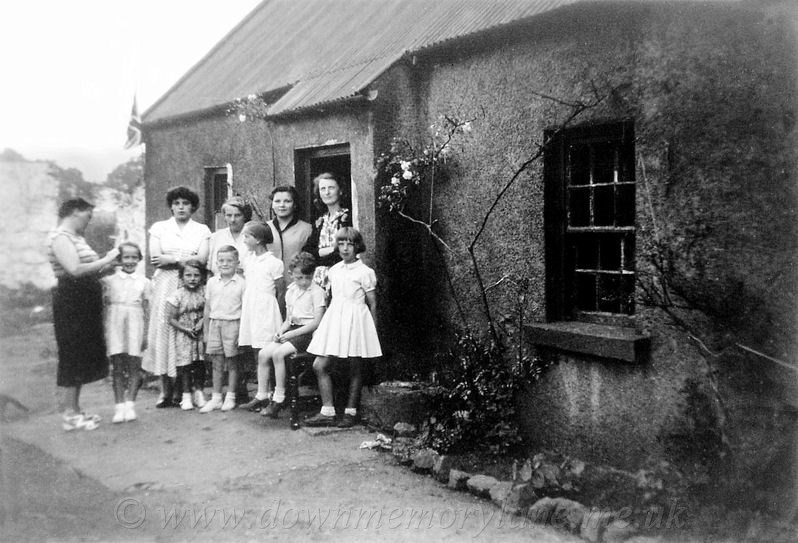 ISLANDREAGH 1697
Standing outside the home of the McQuillan family as Islandreagh we have on the left Mrs Gordon fixing her daughter May's hair,
then next is Ann McQuillan, Elizabeth McQuillan, Doris McQuillan and Sadie McQuillan. In front are Elsie McQuillan, Unknown, Eileen Gordon, Lauren McQuillan and lastly Lilian McQuillan.
ISLANDREAGH 1726
Ann McQuillan back in 1960 is not posing for this photograph behind their home at Islandreagh. She is more likely saying to herself " How much longer, can I hold out?" for Ann is waiting to use the outside loo!
Remember those times running out in the rain or the snow and in my day no toilet paper just squares of old newspaper.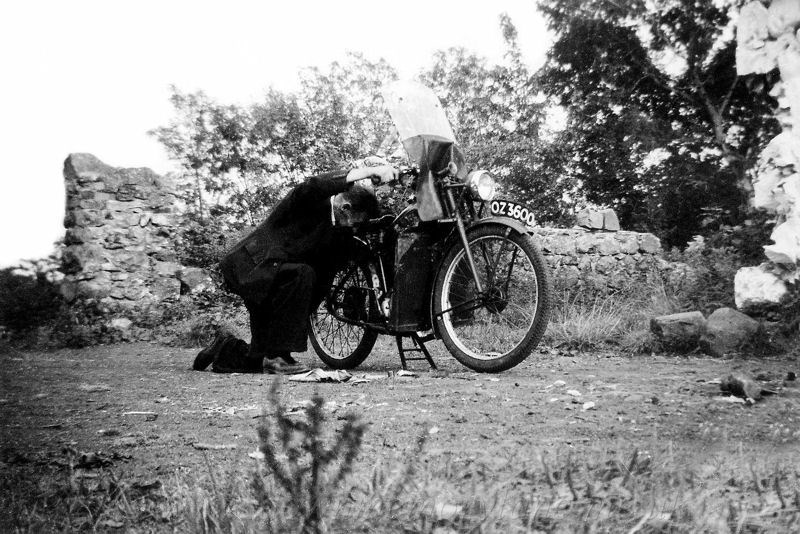 ISLANDREAGH 1704
Too busy concentrating that the moped is running smoothly is Thomas McQuillan at his home at Islandreagh in 1957.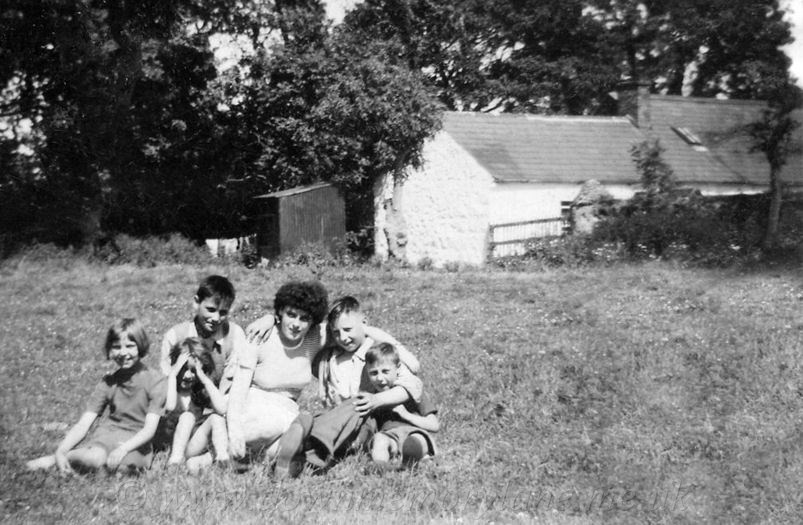 ISLANDREAGH 1725
Out enjoying the sunny day in the field at the back of their house at Islandreagh are some of the McQuillan family. At the back on the left is Billy Connor
then Ann McQuillan, her brother Norman is next who in turn has his arm round Jim McQuillan. The two girls on the left are Lilian and Elsie McQuillan.
In the background you can see that their mum has hung out the washing on the line beside the corrugated tin hut which is the outside toilet.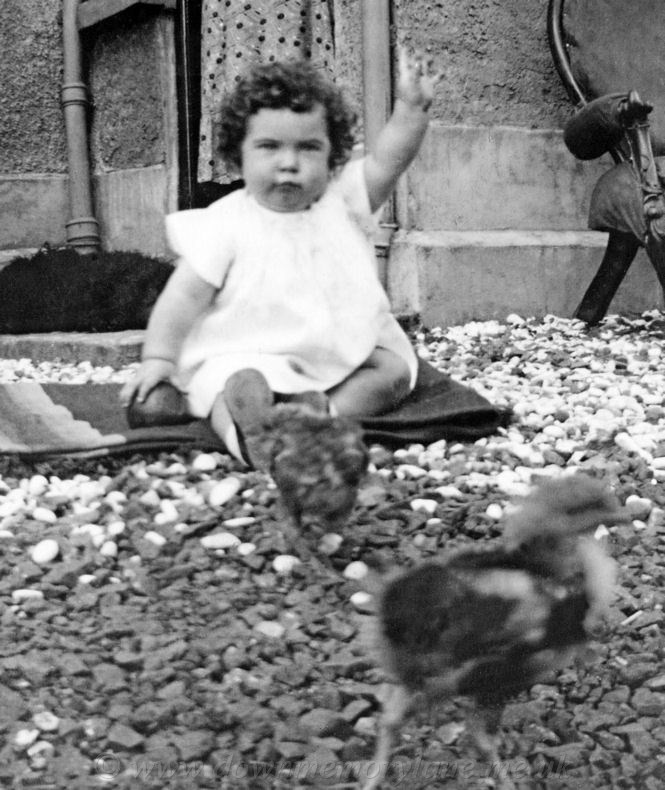 LILIAN McQUILLAN 1710
Seen here at Islandreagh getting the Sunday Dinner ready is Lilian McQuillan.
Lilian is taking off all the chicken's feathers before cleaning it out ready for the oven.
Nothing ready made here all fresh and Spot the dog is hoping something eatable will drop.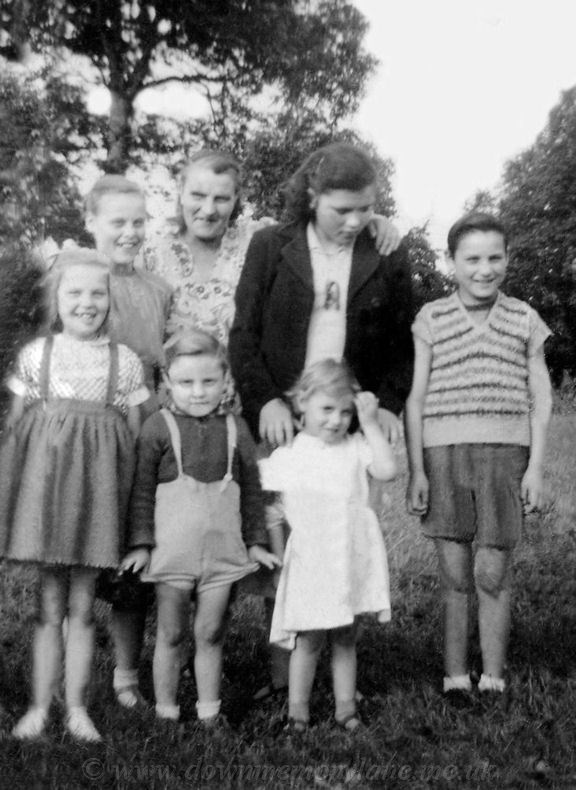 ISLANDREAGH 1729
Out for a walk in the fields around Islandreagh we have the McQuillan family in 1950. At the back are May, her mum Elizabeth, sister Doris and brother Norman.
In front are Lilian, Jim and Elsie.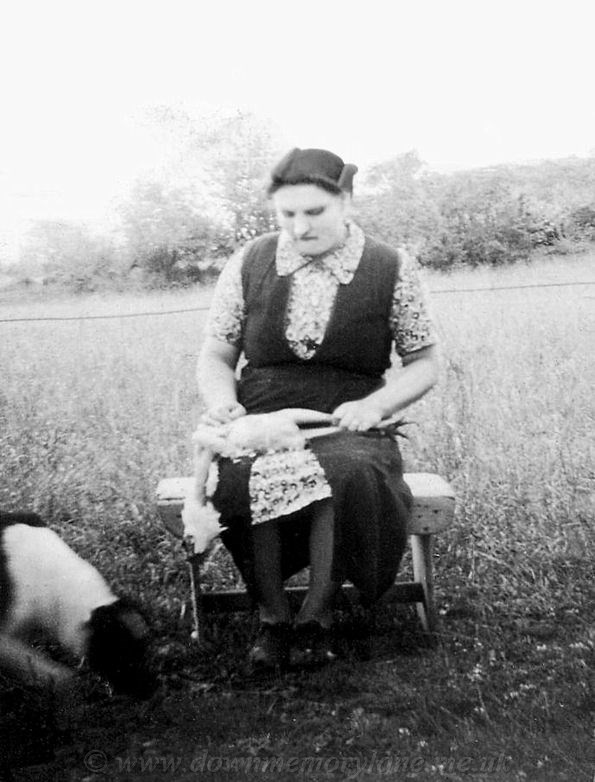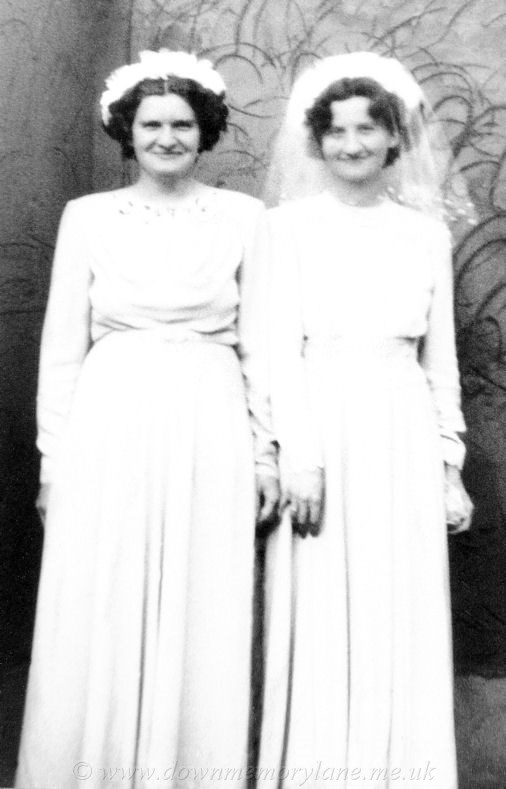 TILLIE'S WEDDING DAY 1164
Taken outside the farmhouse at Niblock we have on the right the Bride Tillie McClenaghan and her sister Margaret before setting off to the church in the 50's.
McELREA 784
CLEAR OFF !!
Says Joan McElrea at just under a year in 1935. Those hens were not getting near Joan's ball up at the Folly.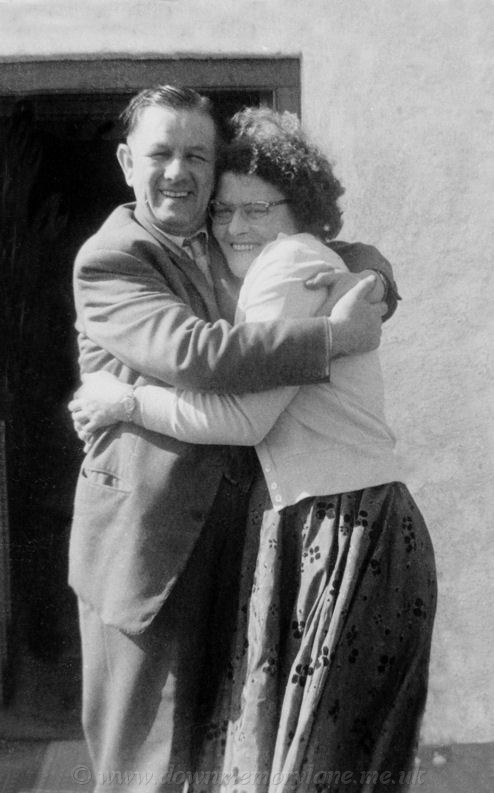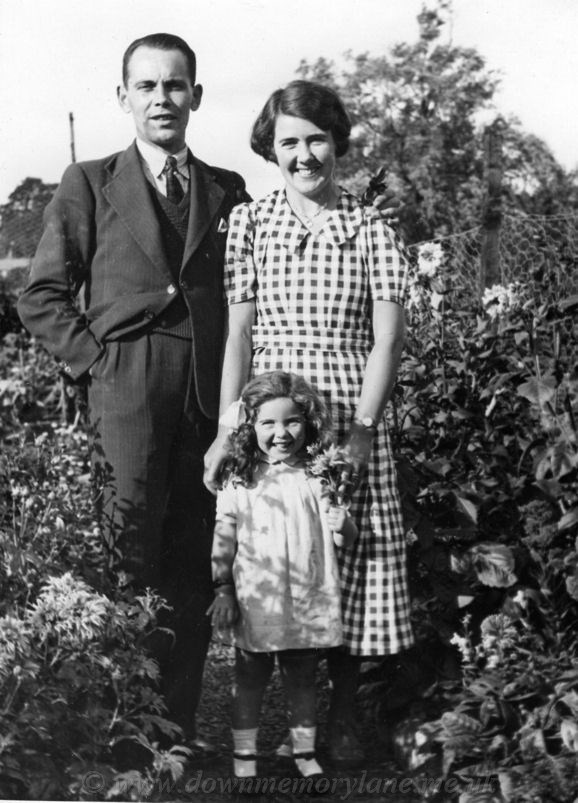 McQUILLAN & FRIEND 3415
Having had a cup of tea and a bit of a craic with Mary and her Husband John McQuillan, Dickie shares a hug with Mary while John takes their photograph.
McELREA 800
In the back garden in 1937 is Jack and Agnes McElrea with their
daughter Joan who is proudly showing off the Chrysanthemum she picked.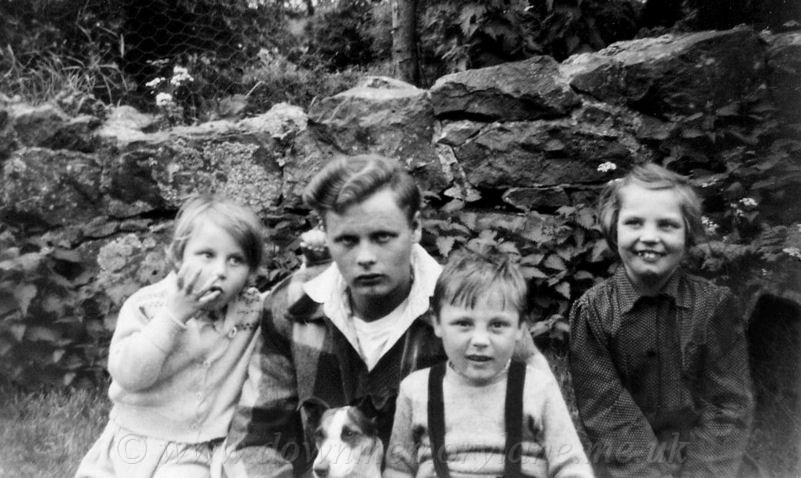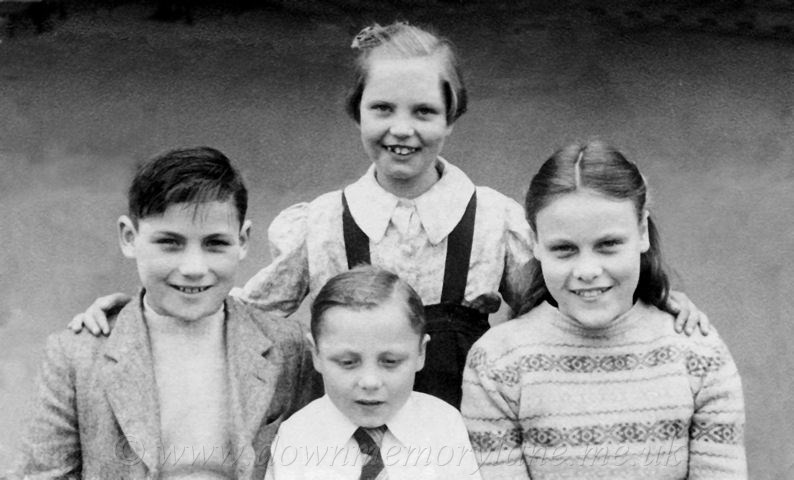 McQUILLAN CHILDREN 1700
This is the McQuillan children having their school photograph taken at Massereene National School, the year is unknown.
Left is Doris McQuillan then her brother Norman McQuillan and finally her sister May McQuillan.
McQUILLAN CHILDREN 1703
All smiles for their school photograph are the McQuillan children in March 1954.
At the back is Lilian McQuillan in front on her left is brother Norman on the other side is May.
While at the very front with his hair all combed tidy is Lilian's other brother Jim.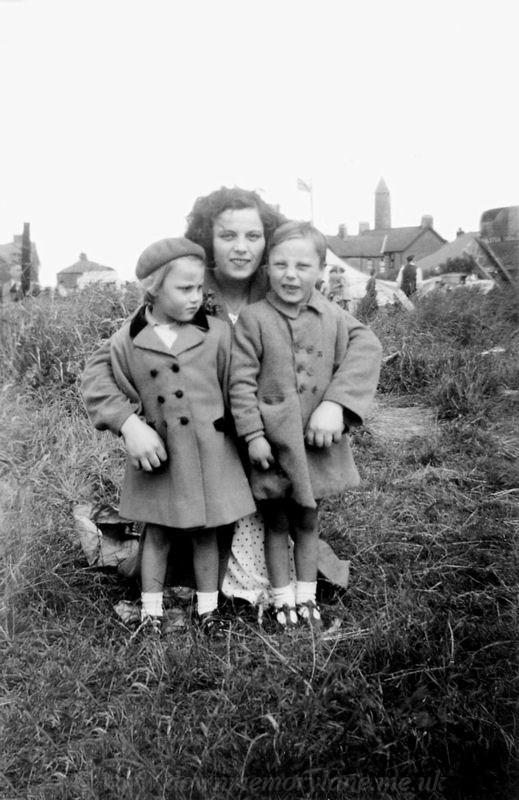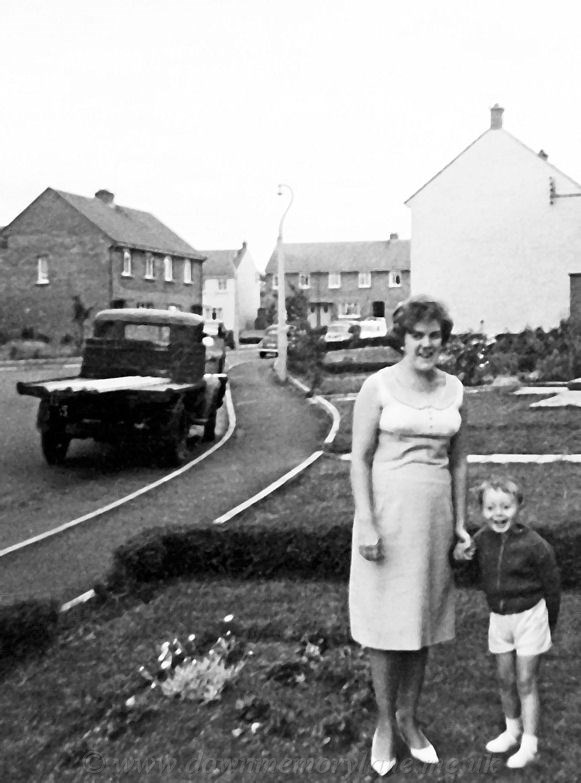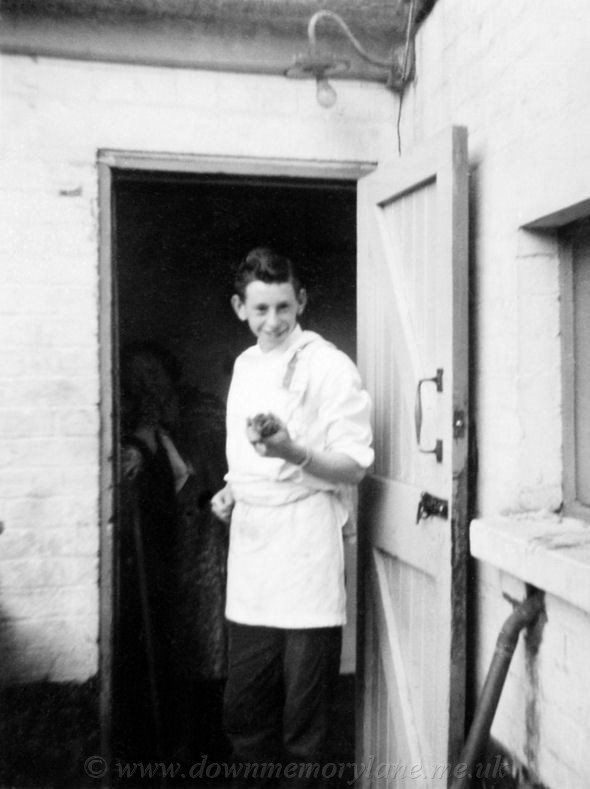 McQUILLAN 1693
It's 1954 and it is the 12th July and Ann and Jim McQuillan are getting their photograph taken with their big sister Elsie.
This is the 'Field', which that year was where Antrim Grammar is now. Behind them is a tent then houses and then the Round Tower at the Steeple
McQUILLAN 2099
This is Templeton Park and standing in her garden is Doricus McQuillan with her son Stephen.
The lorry in the background a lot of you would remember belonged to Sandy Cameron.
KENNETH McQUILLAN 3405
Here at the back door of his place of work is Kenneth McQuillan showing a freshly caught Trout which he is getting ready to cook.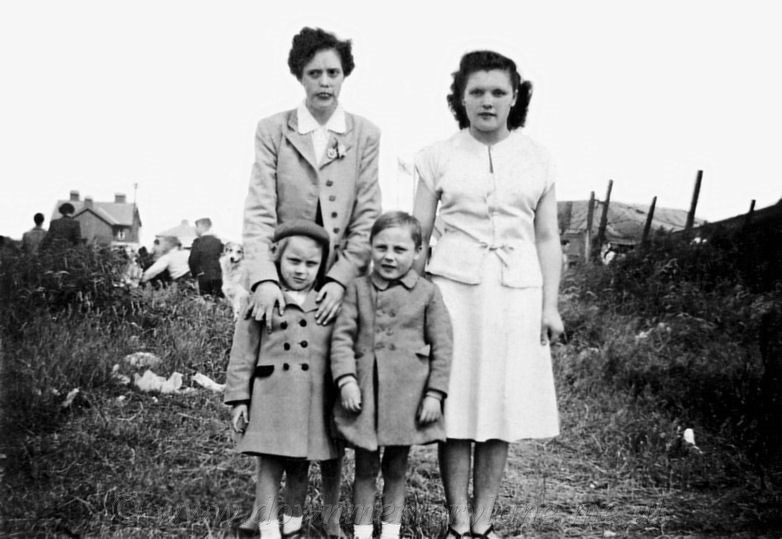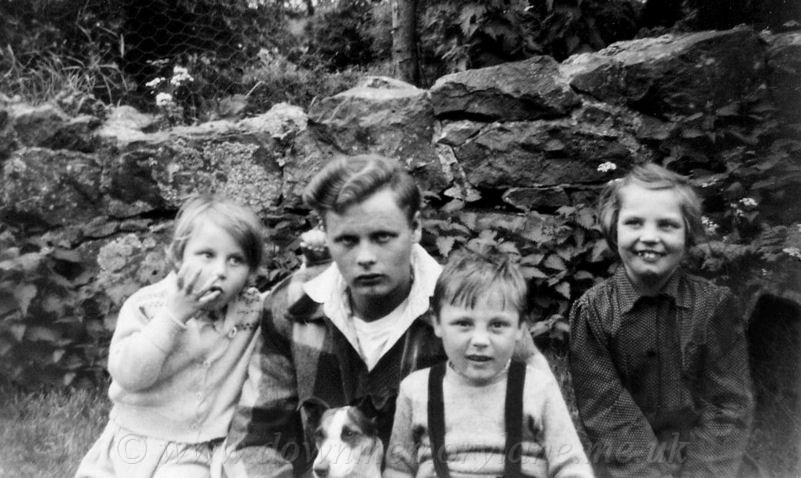 McQUILLAN 1694
Enjoying themselves at the 'Field' on the 12th July 1954 we have Lily Kane and Doris McQuillan. In front are Ann with her brother Jim McQuillan.
McQUILLAN GANG 1691
Out for a walk the McQuillan gang stop to have their photograph taken.
On the left licking her fingers is Elsie then Sammy who became well known as a barman in Fox's, next Lillian and in front Jim along with his faithful dog Spot.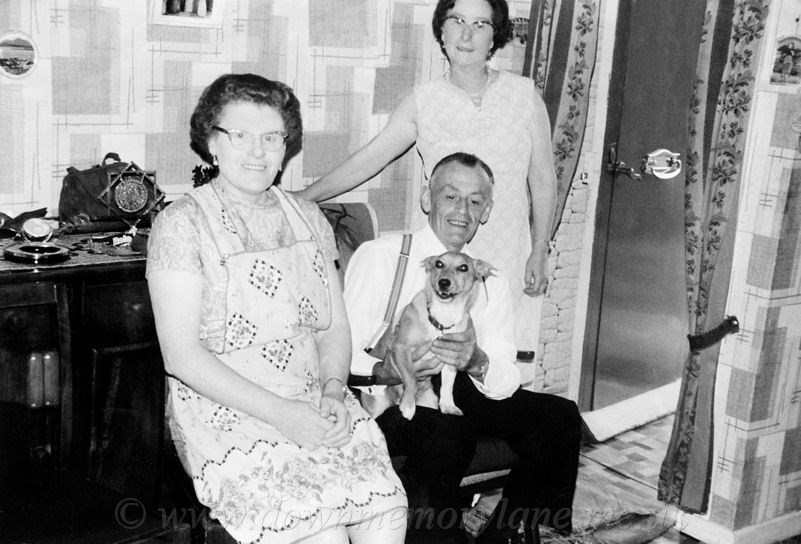 McQUILLAN HOME 3414
Here in their own home we have Mary McQuillan with her husband John McQuillan. The dog and the visitor are Unknown at the moment.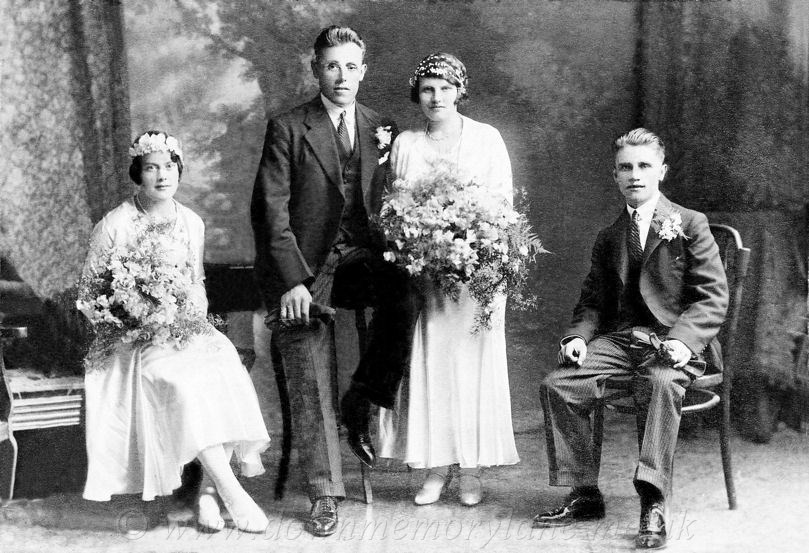 McQUILLAN WEDDING 1724
Now this wedding in 1932 is a wedding with a difference for these four people had been friends all their lives and so the wedding day became special.
In the middle we have the groom Thomas McQuillan and his bride Elizabeth Kerr, now on his left is his sister Elizabeth McQuillan as bridesmaid and on the
bride's right is her brother Harry Kerr as best man. You may say what's different about that, well after this photograph was taken the roles were reversed.
The best man and bridesmaid became the bride and groom and the newlyweds became best man and bridesmaid at a different church.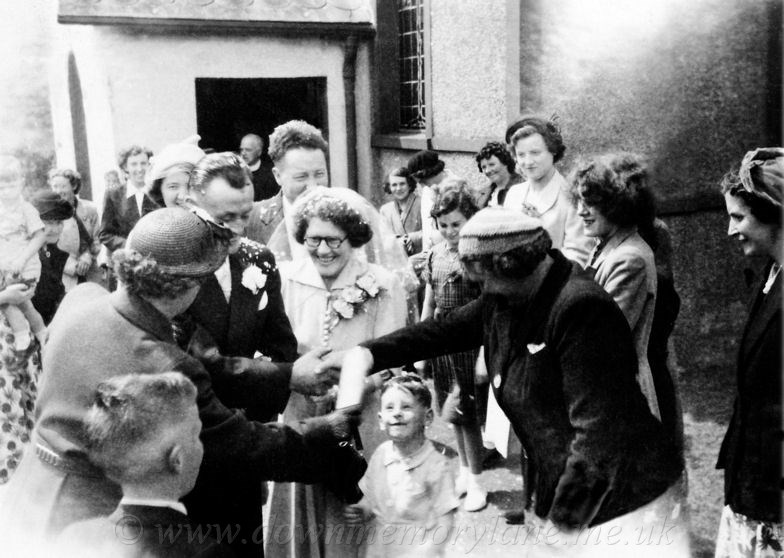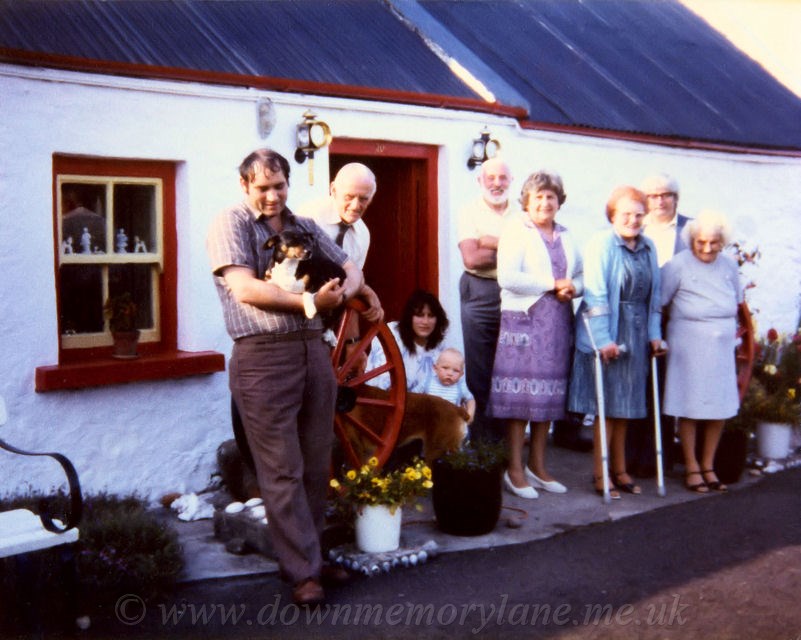 THE McQUILLANS 3349
Out for the day visiting John McQuillan at his home in Islandreagh are some of his relatives.
On the left is Norman McQuillan holding his dog, then John McQuillan, Elsie Ferguson holding on to her son Colin Ferguson, Bertie McQuillan in front of Bertie is Kathleen McQuillan, beside her Mary McQuillan, Lee McQuillan and finally Tillie McQuillan.
McQUILLAN WEDDING 3406
It's a sunny day and here the wedding couple are being congratulated by one and all. The Groom is John McQuillan and his lovely bride is Mary McQuillan
nee Herron and behind her is one of the guests Robert Cairn. The rest of the guests are unknown but if you known them please let me know.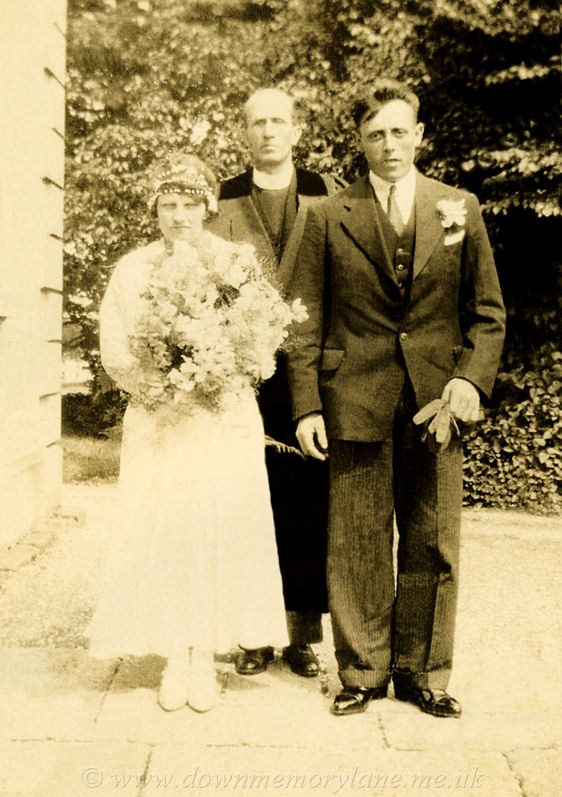 McQUILLAN WEDDING 1702
It's 1932 and here we are at Templepatrick with the Rev Blair having just married Thomas McQuillan to his lovely bride Elizabeth Kerr. Just look at the massive bouquet of flowers that Elizabeth has it covers the top half of her dress and in her hair two little rows of flowers.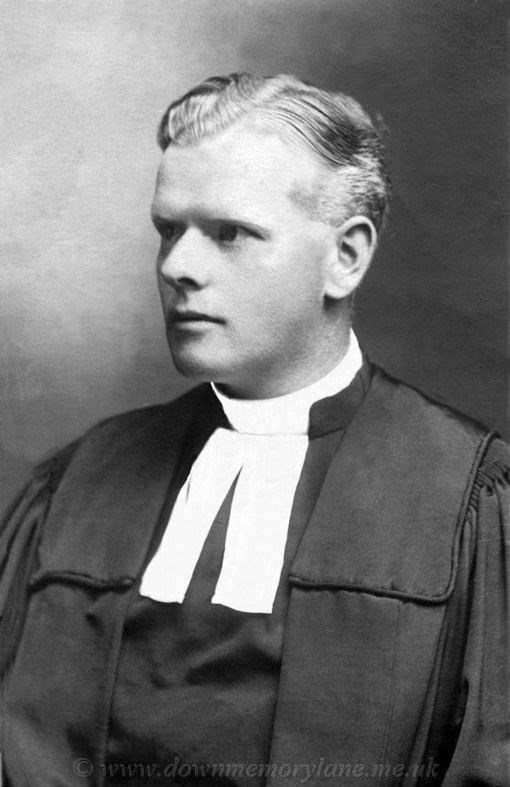 REV. McJURY 427
Rev. MCJury of 1st Antrim Presbyterian Church. The year is unknown.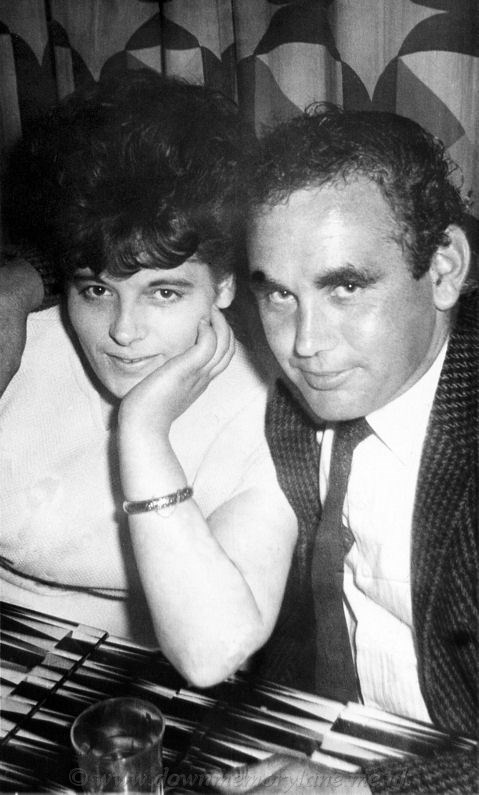 SWEETHEART 2110
Seen here enjoying a quiet night out is Peter McMahon with his sweetheart and her back-combed hairstyle is our Ann McQuillan.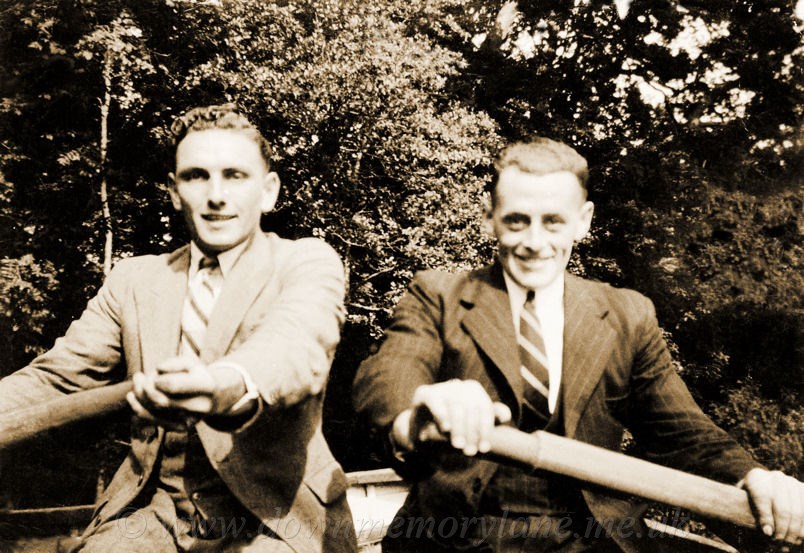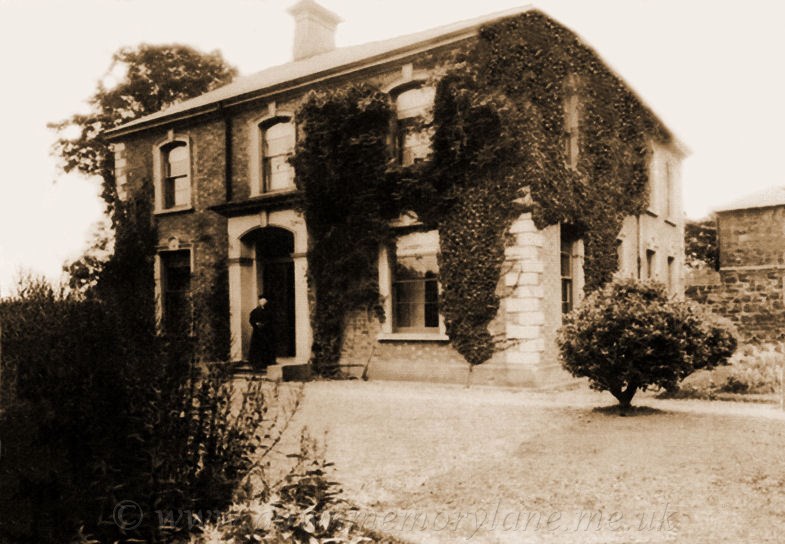 PAROCHIAL HOUSE 2749
It's 1920 and standing on the doorsteps of the Parochial House at St.Comgall's Chapel Antrim is Father Thomas McCotter.
ON THE SIXMILE 3407
Here on a hired boat on the Sixmilewater River is on the right John McQuillan with his friend who is Unknown.
The boys better watch out instead of smiling at the camera they should be watching where they are going.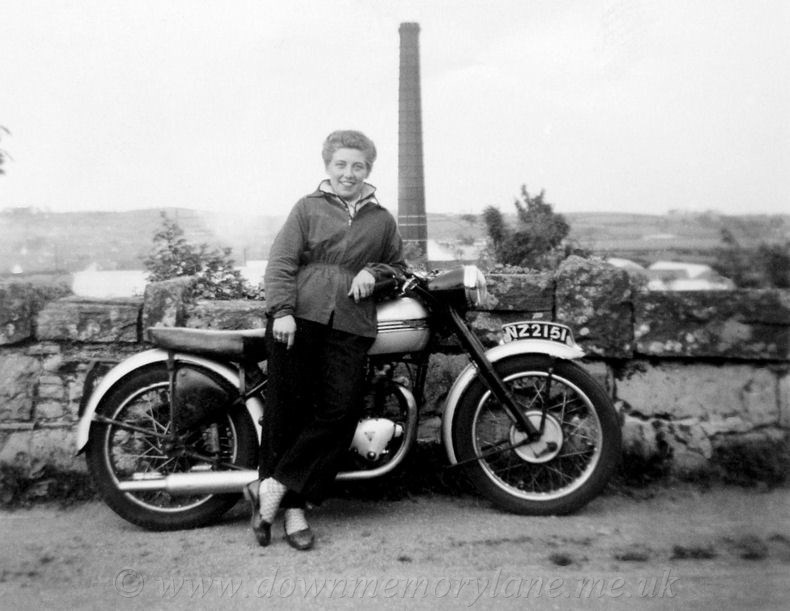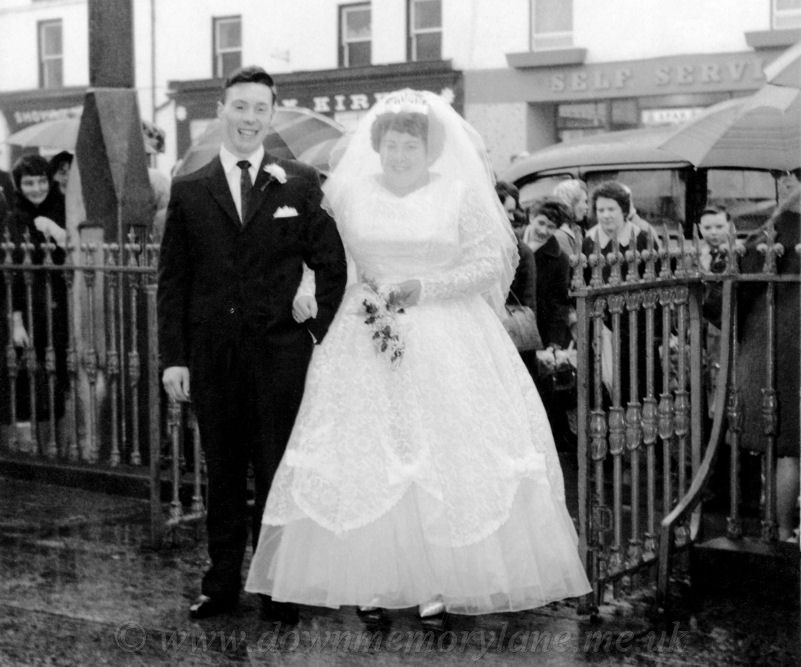 THE BRIDE 3218
Outside High Street Presbyterian Church in High Street is our radient Bride Edith McCullough and her brother Jim McCullough who was giving her away.
Even though it was raining they had great smiles for the camera and in the background a well known shop name Kirks.
SALLY McMEEKIN 2382
Having her photograph taken at the side of the road by her husband David McMeekin is Sally McMeekin.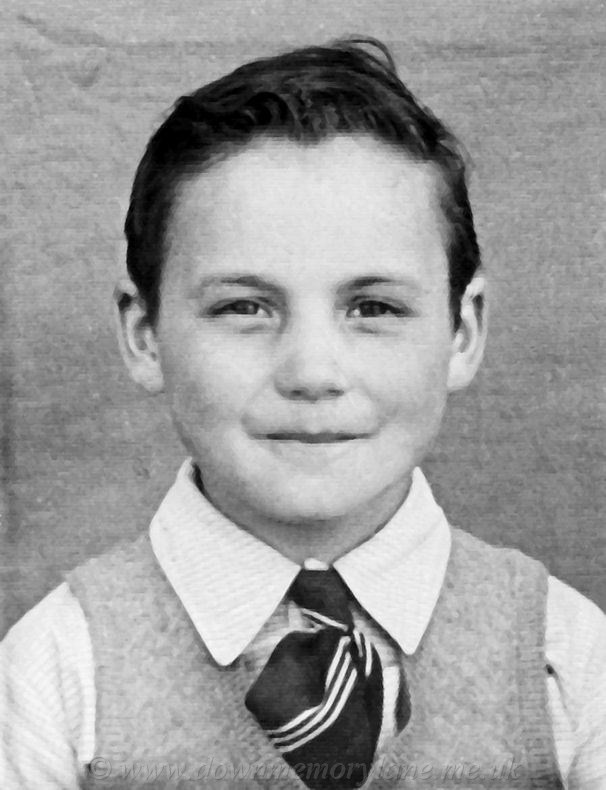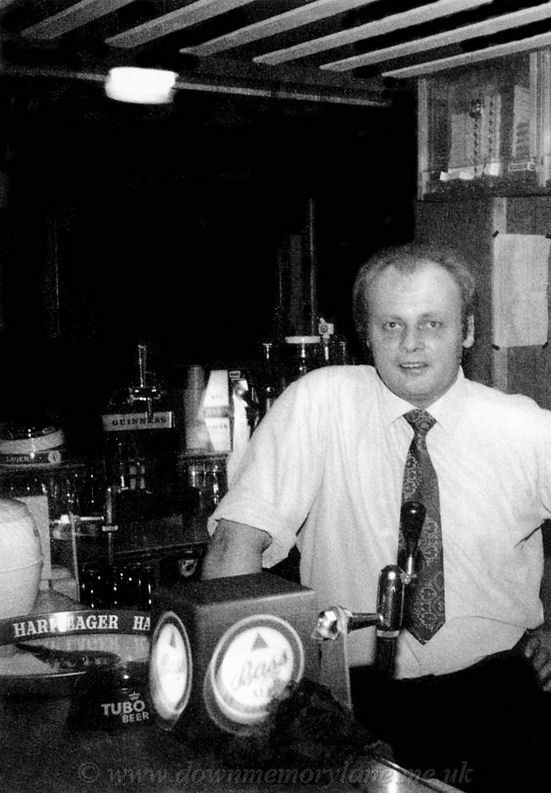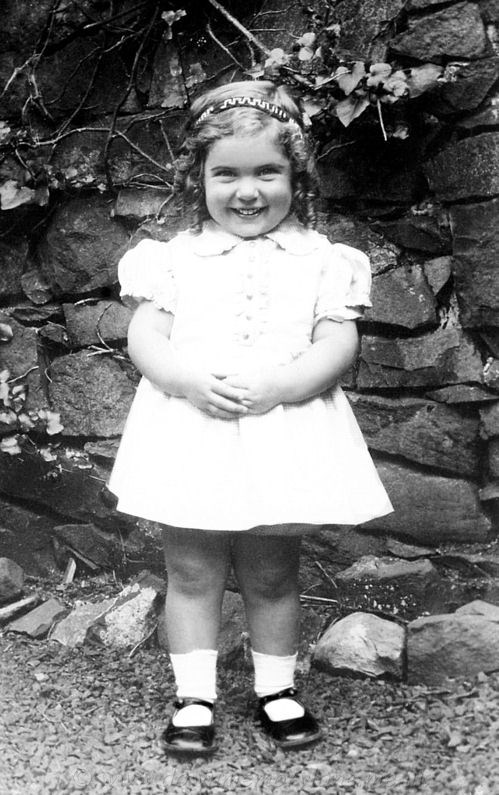 NORMAN McQUILLAN 1709
Proudly getting his school photograph taken back in 1949 is Jim McQuillan.
SAMMY McQUILLAN 1698
Standing behind the bar at Fox's pub we have Sammy McQuillan.
JOAN McELERA 790
Antrim's own Shirley Temple alias Joan McElrea at 3 years in 1937 with a smile and eyes to melt your heart. I bet she got what ever she wanted.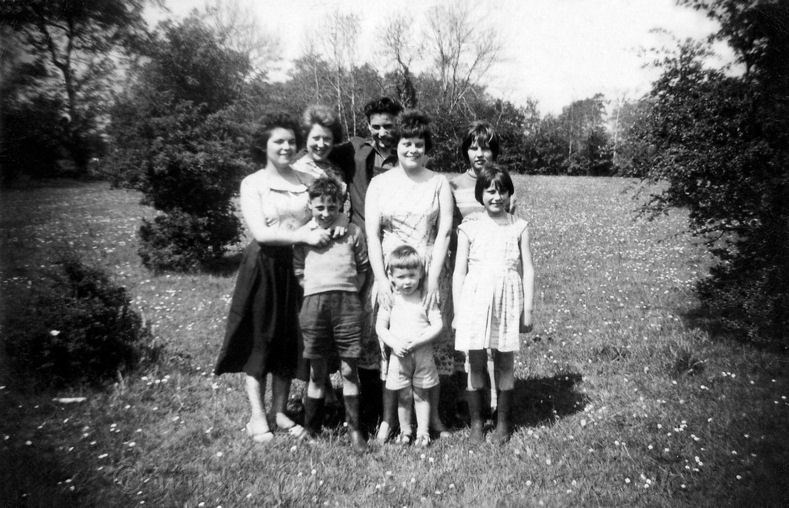 STEEPLE GROUNDS 1681
Out for a walk on one of those sunny days we have the McQuillan clan in the daisy covered fields in the Steeple grounds in 1958.
At the back we have Rose and Norman. In the middle are Doris, May and Lilian. In front is Jim, Perry and Elsie.
SPOT 1708
Hi, I'm Spot the dog and I live with the McQuillan family up here at Islandreagh.
I'm getting my photograph taken with Tommy McQuillan while out for a walk, but I'm eager to get on than sitting here.