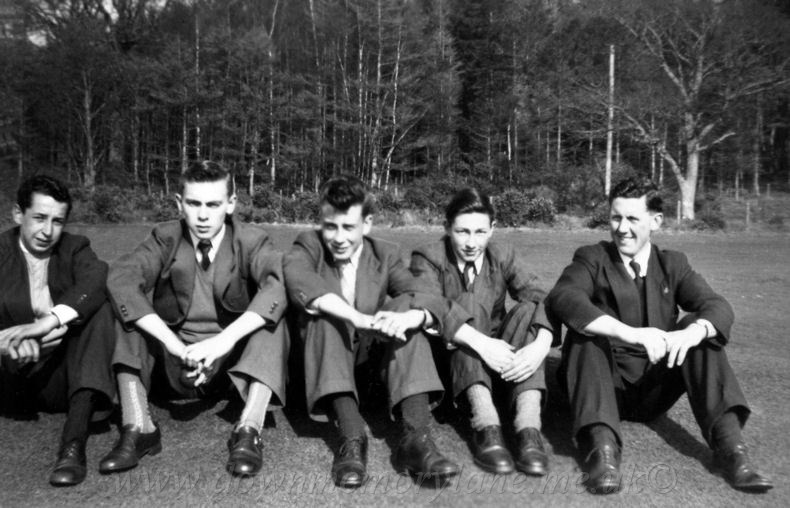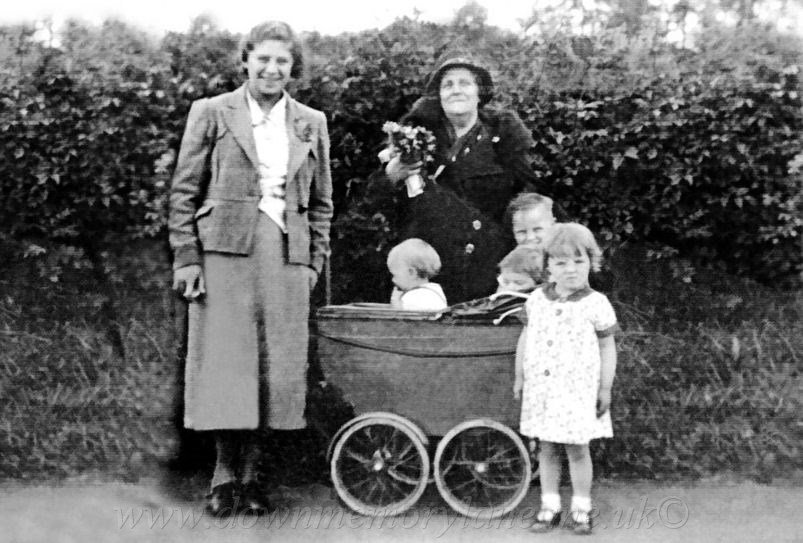 OUT FOR FRESH AIR 1005
Taking a walk for fresh air along the Belfast to Antrim Road on the 5th October 1938, we have May McCalmont. Behind the pram is dear Granny Rachel Agnew with her bunch of flowers and at her side is Jack Agnew her grandson. Her other grandchildren are in the pram the twins - Maudie and Ann, while standing in front with an inquisitive look on her face is Rita Agnew.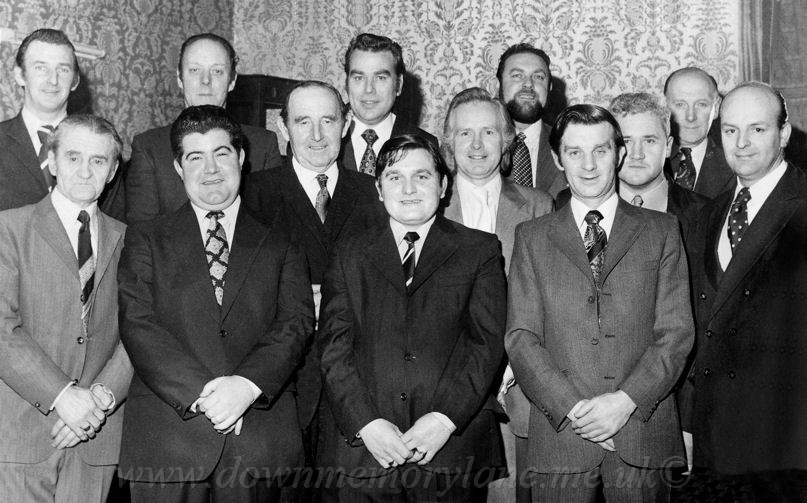 THORNHILL LODGE 2713
Here we are in Hall's Hotel back in 1970 for the annual Thornhill Lodge dinner for its members.
At the back from the left are Billy Williamson, T Strange, E Smith, H McDonald and J McCaig.
The middle has T Fleming, Paddy Marks, D McClure and B McVeigh.
In the front row are A Fleming, S Campbell, W Kyles and Norman McCaig.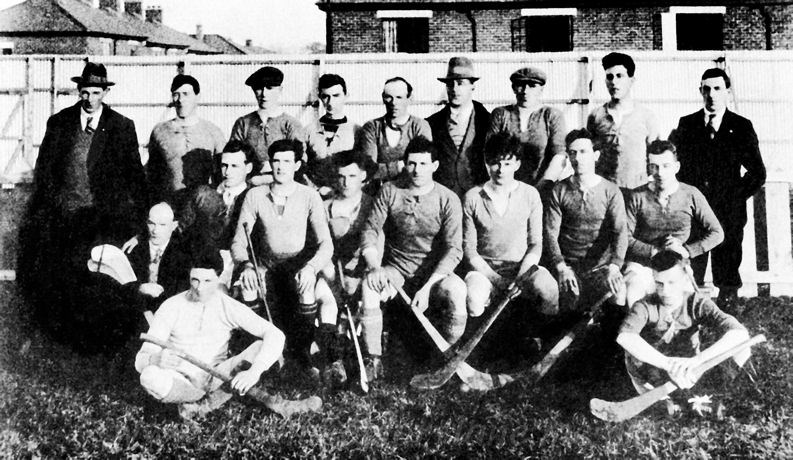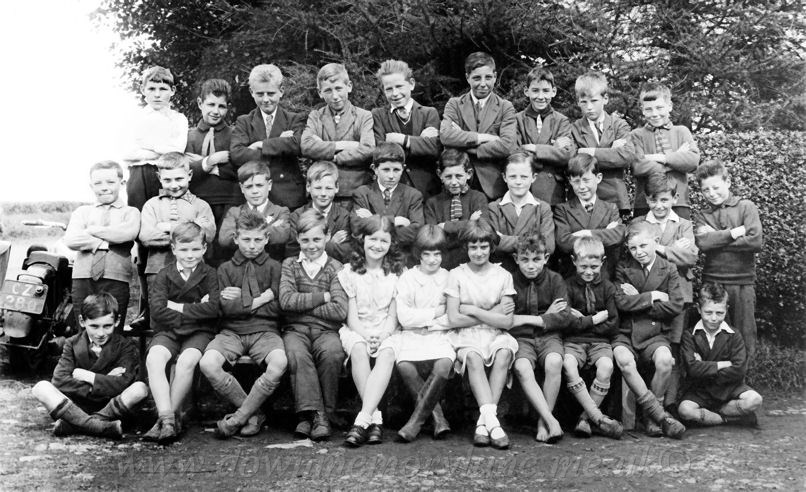 TIR-NA-NOG HURLING TEAM 1913
Here we are with Tir-na-nOg Hurling Team in 1926 who were the Co. Antrim Champions.
Back row: has T. Martin, A. Martin, D. McNaughton, J. Dean, J. Gallagher, H. Dowd, J. McCann, J. Dowd and P. Cunning Referee.
Seated: are P. Dornan, J. Best, J. Black, A. Heffron, P. McCann, J. O'Boyle, S. McKeown and T. Carabine.
On the ground: are J McNally and H Hill.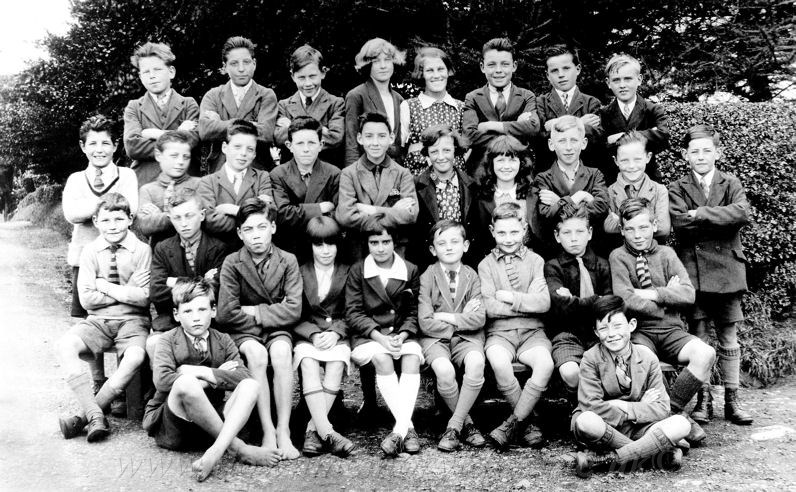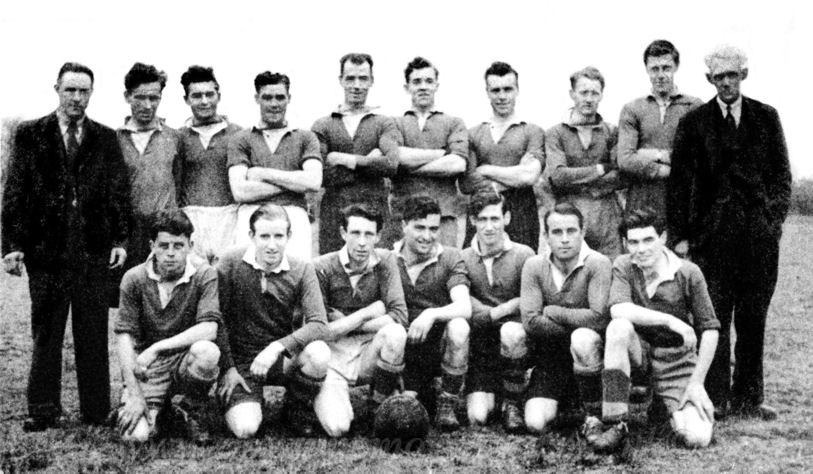 TIR-NA-NOG HURLING TEAM 1677
Proudly getting their pgotograph taken is the Tir-na-nOg Team, Antrim Junior Hurling Champions of 1960.
At the back: we have S. Kerr, D. Letters, R. Dornan, F. Robb and V. Dobbin. The middle: has R. Robinson, S. Martin, H. Kerr, N. McKillen V. Kerr and B. Kerr.
Seated: are B. Robinson, S. O'Boyle, S. Martin, D. Martin, R. Heatley, V. McVeigh and A. O'Kane.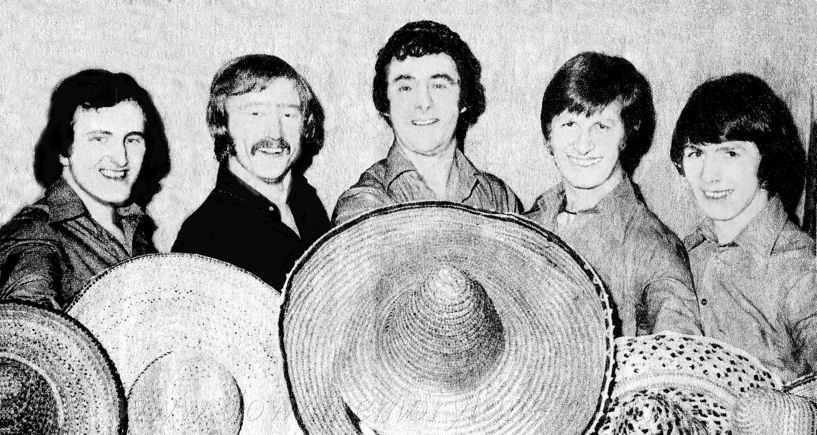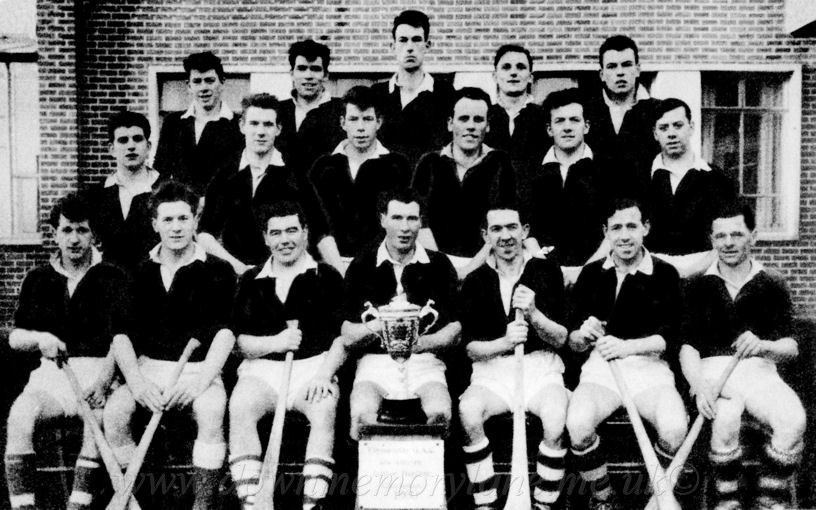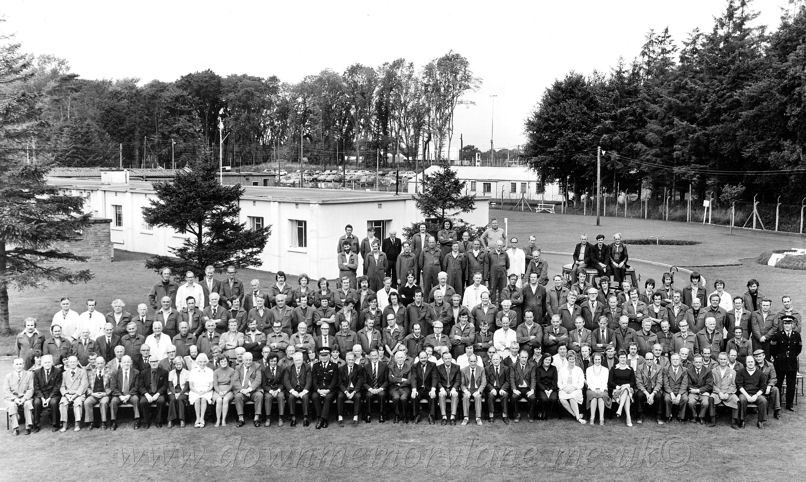 THE ILLUSIONS 1748
When ever this local group appeared on stage Antrim folk were under no illusion who they were. Called ' The Illusions ' this is them in 1975 from the left Crawford McClintock, Jerry Caughfield, Jimmy Campbell, Liam Gillan & Brendan Gillan.
TOWN COMMISSIONERS 1414
These gentlemen were the town's commissioners who looked after the well being of the town back then.
In the back row we have J. McCabe, Mr. McKay, T. Cooper and J.L. Clarke. In front are J. Carson, T. Coulter, Unknown, Unknown and J. Beggs.
They are standing outside Garron Tower Hotel which was along the Antrim Coast road about 24 miles from Larne. Now the man that took this photograph is on the extreme right in the photograph below (172) and is Unknown and so is the date.
TORPEDO FACTORY 1665
Taken at the Royal Naval Armament Depot or locally called the Torpedo Factory on the Randalstown road in Antrim we have some the names of the people who worked there.
Back row: (From the left) we have George Marcus, John Hamilton and the rest are unknown.- - Sitting on the landrover's roof: are Gary Wilson, Unknown and Fred Currie. `- - -- - - - - - - - -5th row: has Unknown, Unknown, Unknown, Unknown, Unknown, Ronnie, Unknown, Unknown, Unknown, Unknown, Unknown, Unknown, Unknown, Unknown, Paddy Campbell, Erskine Campbell and the rest unknown. - - - - - - - - - - - - - - - - - - - - - - - - - - - - - - - - - - - - - - - 4th row: Raymond Cadbury at the far right is the only person known. - - - - - - - - - - - - - - - - 3rd row: are firstly 10 unknowns, then Harry Allen, then 15 unknowns, Arthur Evans and finally 5 unknowns.
2nd row: has 5 unknowns, Desmond Jardine, Dessie Tuff, then 10 unknowns, Alma McCullough, Leslie McCullough, Bobby, 5 unknowns, Jimmy Blackadder and then 5 unknowns. - - - - - - - -Front row: are Mr Magee then 4 unknowns, Phyllis Burrows, Nurse Kielty, Betty Patterson, Sandy Powel, Sam McMinnen, Bill Andrews, Unknown, Ron Ludlow, Desmond Fell, Bill Mitchel, John Murdoch, Unknown, Mr Surgenor, D.Shuker, Des Whylie, Mrs Murdoch, Frances, Violet Smyth, Mrs Ludlow, Gordon McCloud, Sammy Buick, Derek Watters and Mr Blackadder.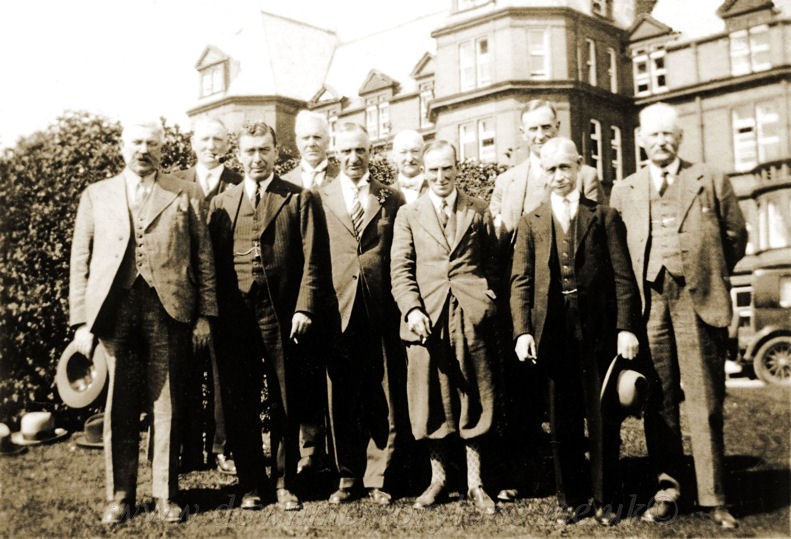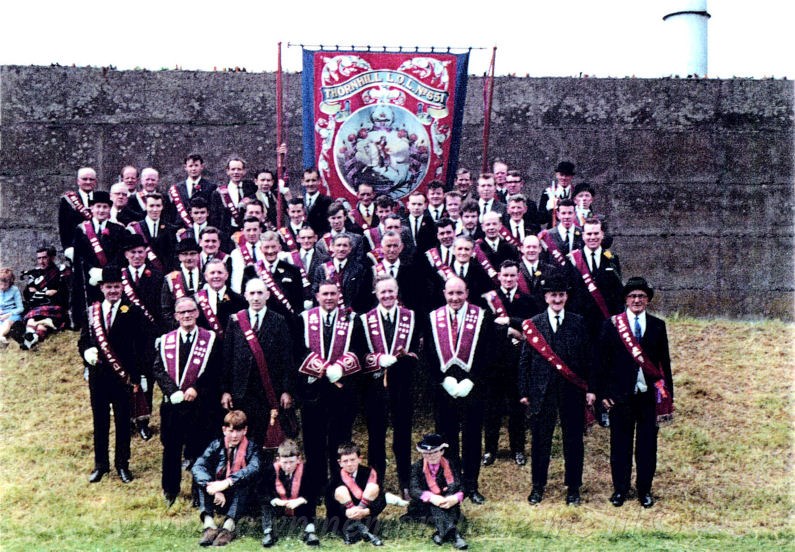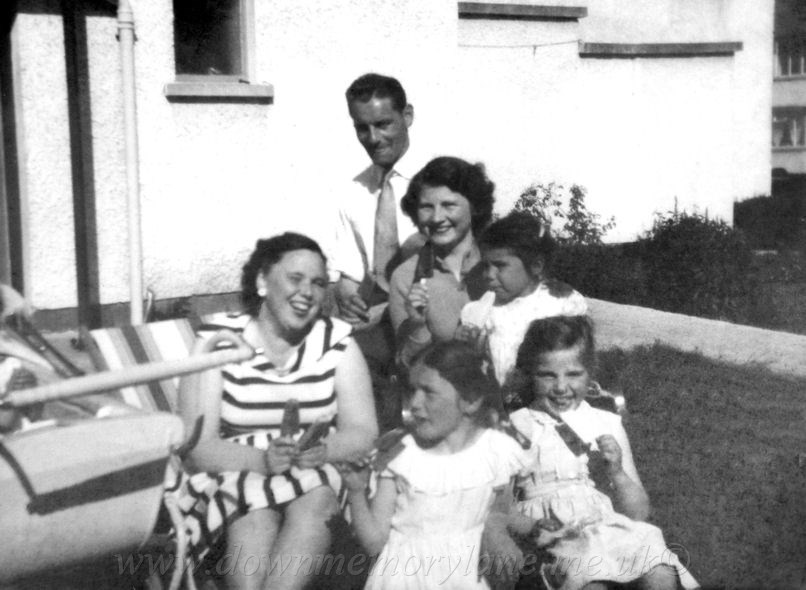 THOSE WERE THE DAYS 2332
Ah, those were the days back in 1956 when you were told summer had arrived and instead of it lasting 6 days it was usually 6 weeks or more! So here we are at number 10 Carnanmore Park on one of those summer days and enjoying not only the sun but an ice lolly. At the back in his shirt and tie is Daddy, mummy and on her knee is Helen Tomen. On the left is MrsTomen and in front are Patrica Tomen and Len.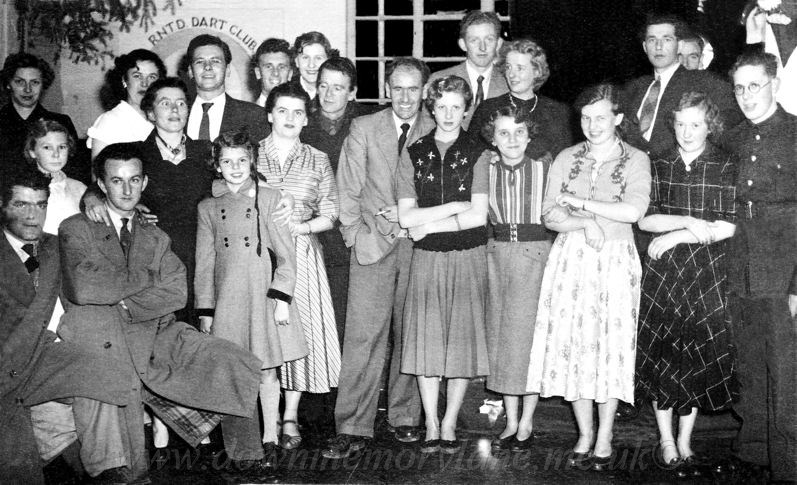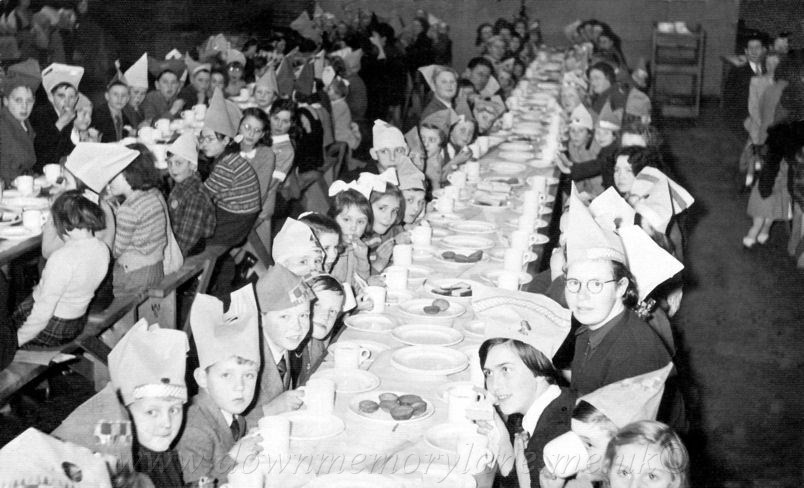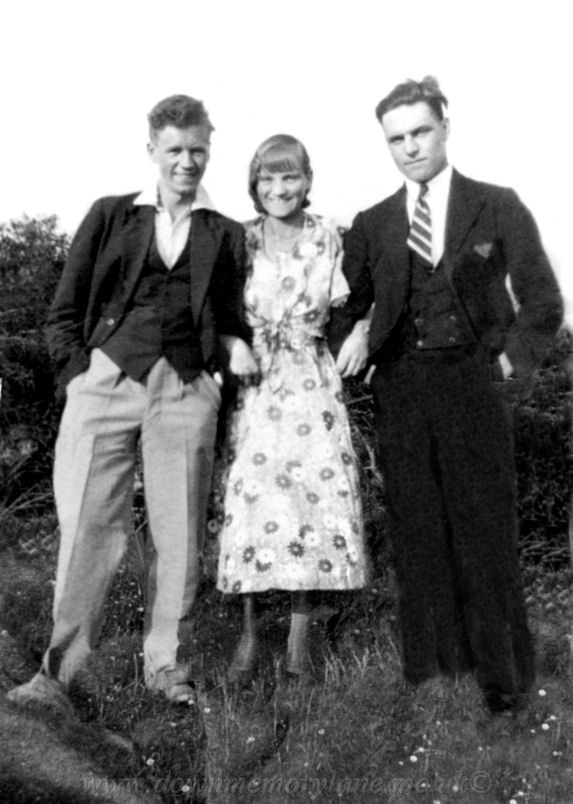 TOWN COMMISSIONERS 51
This photograph of the Town's Commissioners was taken in 1911. Standing are I.Wallace, E. McCabe, C.McMaster (Vice-Chairman), A.McKay (Clerk).
Seated in front we have J. Nutt, R.G. Kirk G.P. (Chairman), E.C.Smith (Chemist). Edward McCabe was one of the town's butchers and was known locally as Ned. He is mentioned in Alexander Irvine's book 'The Souls of Poor Folk' with the line "Ned McCabe butchered John Conlon's pig."
TORPEDO FACTORY 471
This was the Children's Christmas Party in the 1950's and was held in the canteen of the Torpedo factory, the only child known at the moment is David Boyd, second boy on your left in the foreground.
TORPEDO FACTORY 1043
Enjoying a night out at the Torpedo Factory on the Randalstown road in 1954.
We have kneeling at the front Unknown then Joe Pollick, behind Joe and from the left are Annie Rankin, May Gaynor, Elsie Boyd, Eve Deneny, Ronald Luldow, Beth King, Miss King, Helen Brown, Emily Rankin and Mr. McNeill. All the people in background are unknown.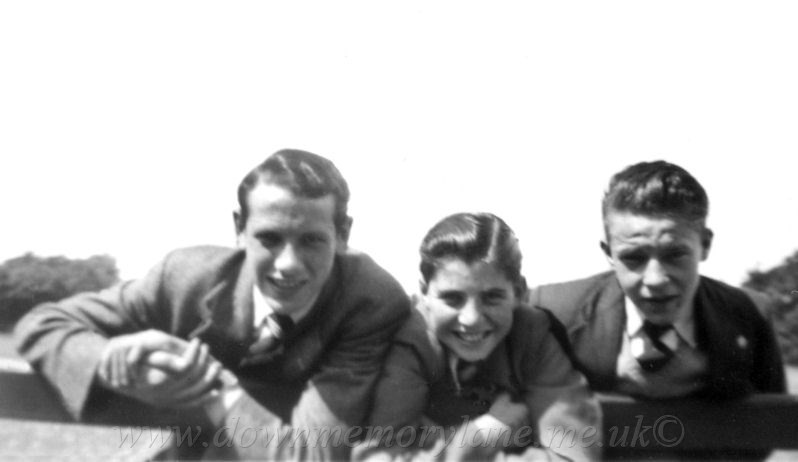 THREESOME 1002
Out for a walk in 1932 along the Antrim Road at Dunadry we have Jack McCalmont, his sister Sadie McCalmont with future brother-in-law Alex Agnew.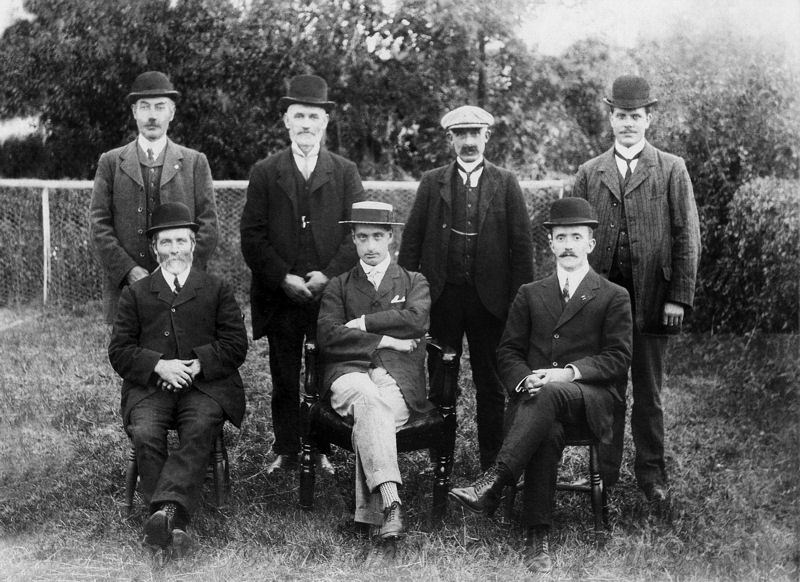 THREE MUSKETEERS 1080
These three lively lads leaning over the gate are Patterson Craig, Archie Campbell and Victor Ashe. They were off work for the July Holidays in 1955.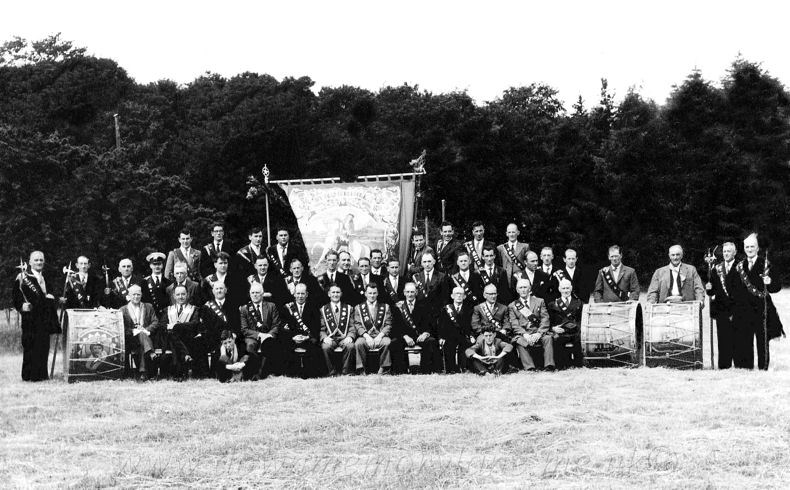 THORNHILL LODGE 486
This is Thornhill L.O.L. 651 taken at the ' Field ' the members and the year are unknown.
THORNHILL L.O.L. 651 488
Photographed at Larne we have Thornhill L.o.L. 651.
The members and the year are unknown.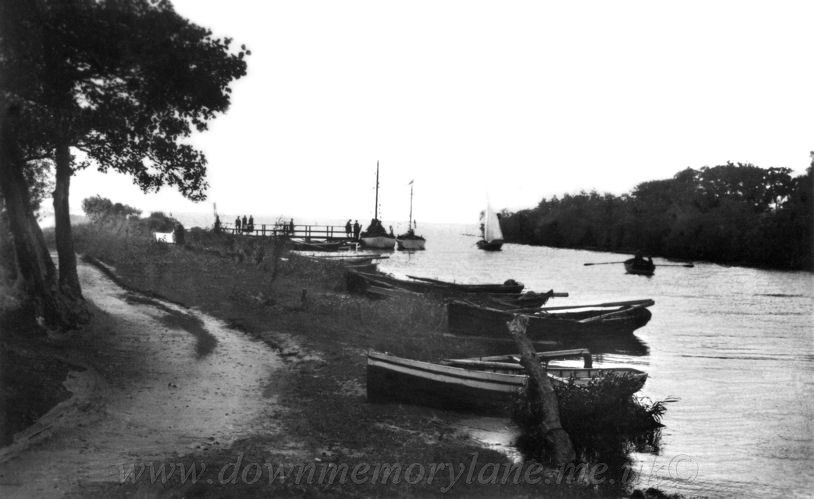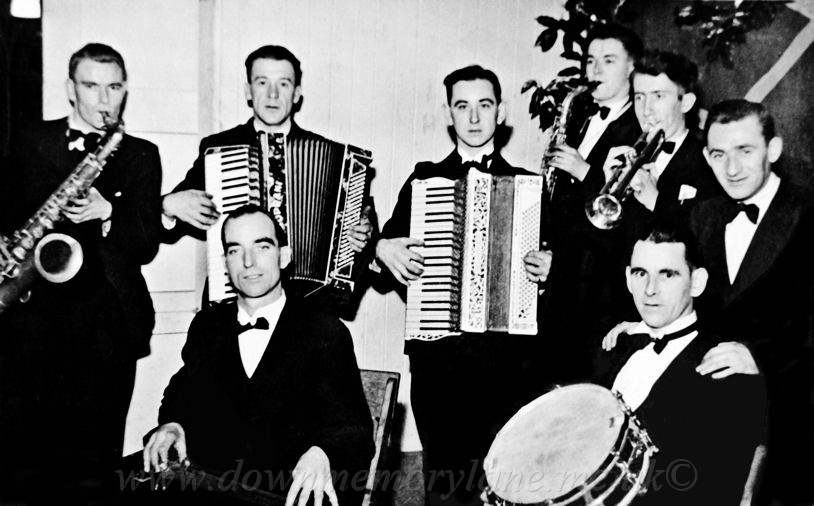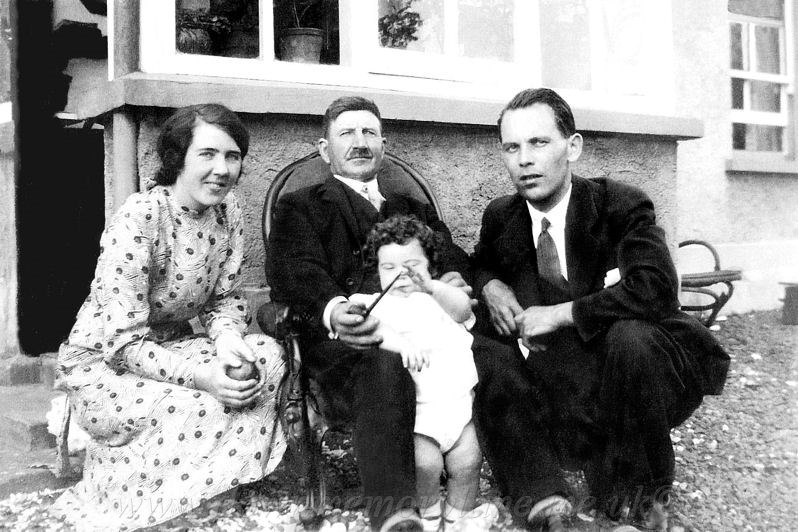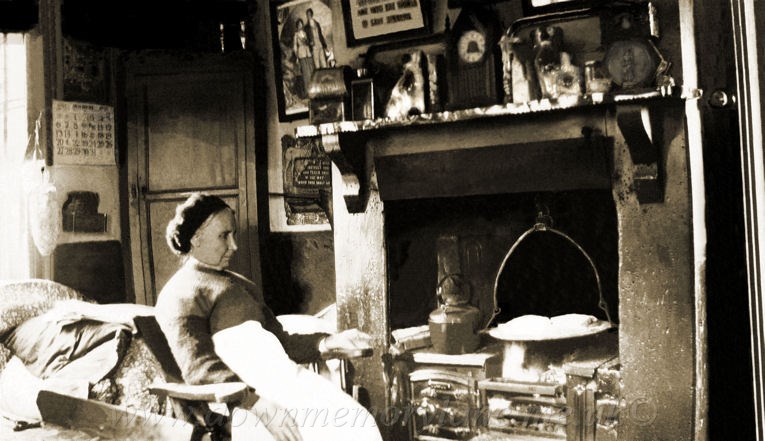 THE FOLLY 781
This is the Scott's house in 1935 and visiting Frank Scott is baby Joan McElrea who is interested in Frank's pipe. Beside Joan is her daddy Jack McElrea and on the other side is her mummy Agnes McElrea.
MRS TOM THURSBY 2654
What a wonderful photograph showing peace & harmoney in a home, the year is unknown, the month March and the time is 7.20am.
This is a Mrs Tom Thursby who lived at number 6 Firgrove Muckamore and the house is still there! Mrs Thursby is sitting in front of her range where all the cooking would have been done and also is keeping herself warm, this morning she is baking our favourite, soda farls on a griddle. The kettle to the left keeping the water warm for a nice cup of tea and perhaps more sodas are keeping warm in the oven. On the left of the fireplace wall is a print of a wife in a long dress and wide sleeves, her arm is linked with her husband who is holding hands with their child. Next to it is a reading in a frame from Timothy 1:15 "Christ Jesus came into the world to save sinners." Below the framed couple is another plaque with a man brushing a horse and a Bible text Psalm 32:8 "I will instruct thee and teach thee in the way which thou shalt go." On the mantelpiece which has been trimmed with aluminium foil to the left is a china cottage, an outdoor oil lamp, then flanking either side of the clock are the Spaniel dogs. Behind the right dog is a tray and at the end is a bicuit tin on its side so you can see the lady in a crinoline dress on the lid.
Mrs Thursby went home in 1927.
THE FOLLY 782
Here we have Joan McElrea in 1935 sitting on Mrs.Scott's Knee with her daddy Jack McElrea on her right, next to Jack is Joe Scott the bookworm.
On the left is Sam Scott with a kilt and on his lapel is a badge of a guitar, next with the shotgun is Frank Scott and the faithful dog is unknown.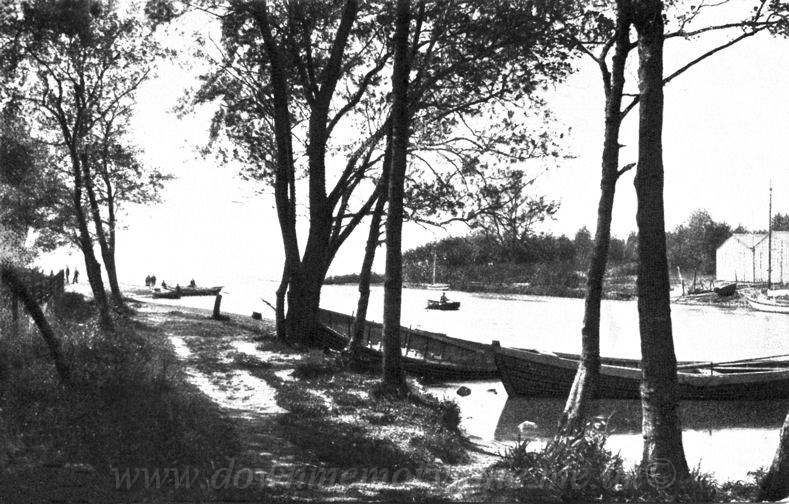 THE CUTTS 446
This area was called the Cutts and in the background is Lough Neagh.
The river to your right is the Sixmilewater river and you can also see the Yatch club. Taken in the 1920's.
THE CUTTS 551
This photograph was coloured in by hand and turned into a postcard the year is unknown.
Instead of it being called ' The Cutts ' it was called ' The River Promenade ', Antrim.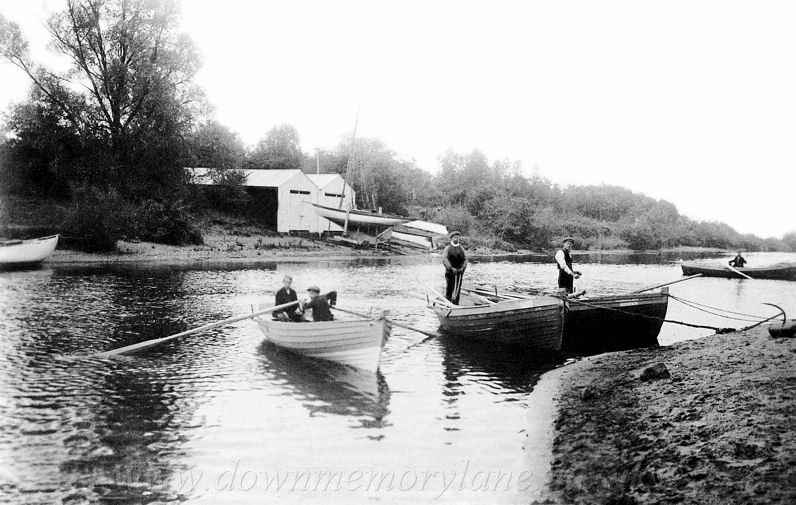 THE MELODY MAKERS 2544
Well here they are all ready to entertain the people and guaranteed to get their feet tapping we have The Melody Makers, who were at every dance venue there was.
There was not a tune or melody that they didn't know and during the 1940's & 50's they were in great demand. Here you could dance to tunes you heard on the radio for there were no CD's or Ipod's then.
At the back:we have John Nutt, Jimmy McCluney, George Mahon, Billy Moore, James Clark and Les Allen.
In front: we have Alfie Rowan who is playing what we called a Hawian guitar and finally on drums Robert Wylie. Alfie & Robert worked in Holywell Hospital.
John Nutt lived in the Old Court House, the reason being was his mother was the caretaker. John went on to set up his own band called "John Nutt and the Rhythm Rascals".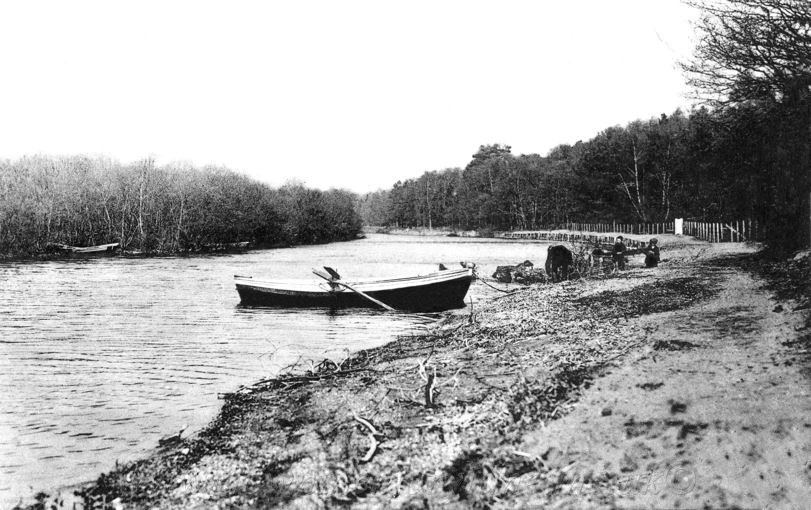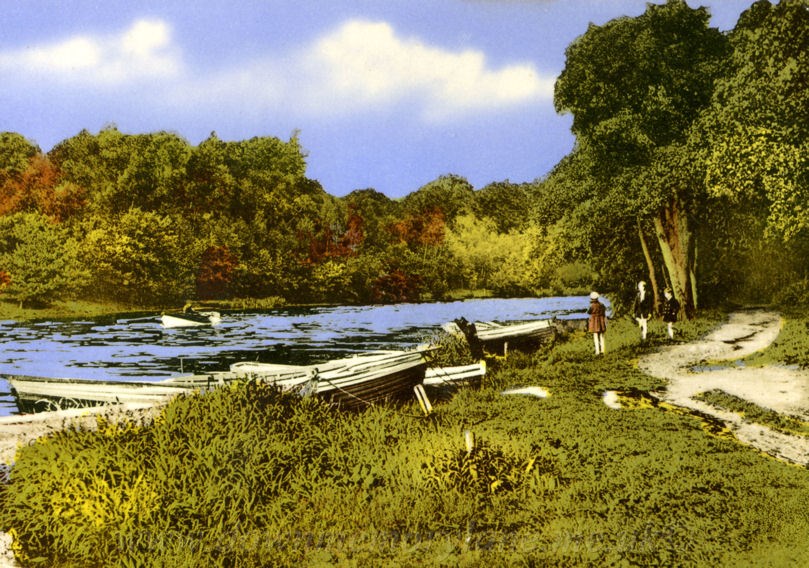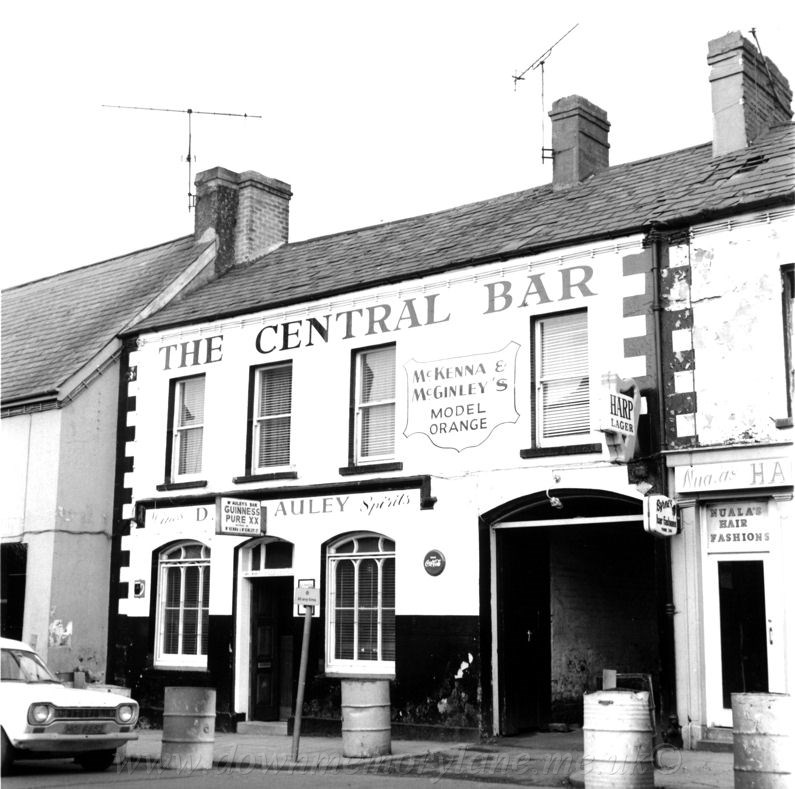 THE CUTTS 734
Here you can see the start of the Yacht club on the Sixmilewater river as it enters Lough Neagh.
The postcard is stamped: Antrim July year is unknown. To: Miss L. Walker, Co'op Society, Yelshing Dept; Anniesland, Glasgow.
Reads: Having a great time Lizzie.even better than I expected. Was away a drive on Saturday. A sail on Sunday. Going on a pic - nic today. Will give you all news when I come home. Too good to write on P.C. Jeannie.
THE CUTTS 86
This photograph taken from the Cutts shows you all the fishermen's boats all tied up on the banks of the Sixmilewater river. In the distance you can see the pier with most likely tourists waiting to get on one of the two pleasure boats to have a trip on Lough Neagh. The year is unknown.
THE CENTRAL BAR 733
Owned by D. McAuley, The Central Bar was situated in Church Street. The photo was taken in the mid 70's.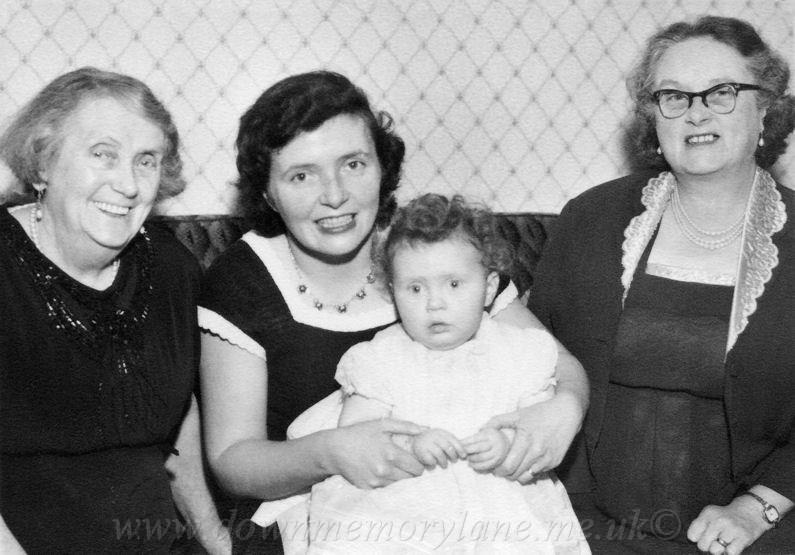 TAKING A BREAK 2109
We are at a local dance hall and the band is having a break. This gives Davis Hannan who is in the band a chance to talk to his sweetheart May McQuillan. Now back then when you stated going steady a boy would buy the girl a watch, now whether this was so the girl would be on time or not I don't know. The next thing he would buy would be the engagement ring and finally the Wedding ring and this is exactly what Davis did!
THREE GENERATIONS 2146
Here we have three generations, from the left.Gran Annie Hamilton, Josephine Wallace with daughter Marie and finally Gran Helen McMullan in 1958.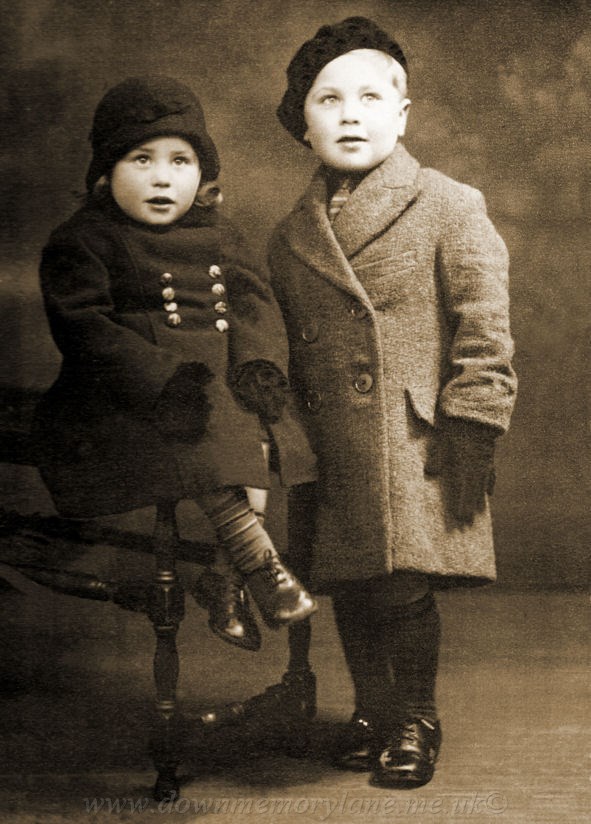 TAYLOR CHILDREN 2911
This young chap is local man Roy Taylor along with his sister Gwen Taylor back in 1936, unfortunately when this picture was about to be taken Roy discovered that he forgot his gloves, so someone kindly lent him a pair.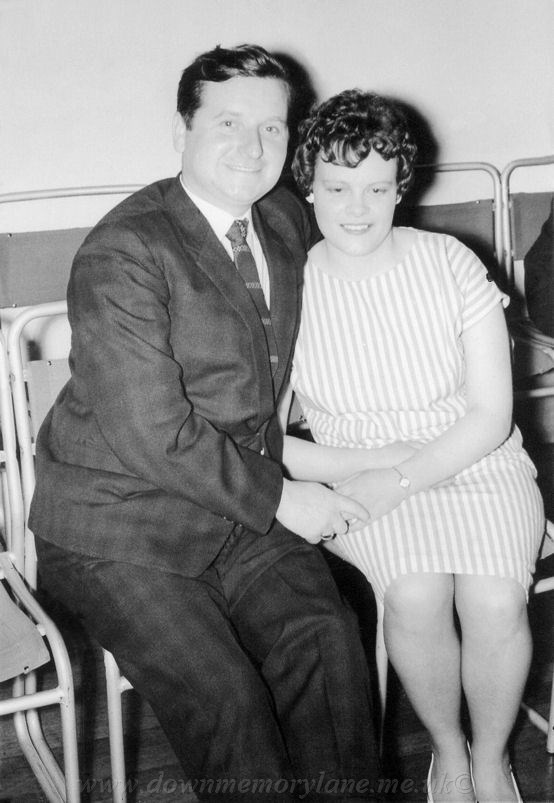 TAKING A REST 820
Sitting having a rest in 1957 on the Massereene Golf course before heading off to the Lough Shore are Jim Alexander,Charlie Clarke, John Kennedy,Albert Whiteside & Tommy Rainey.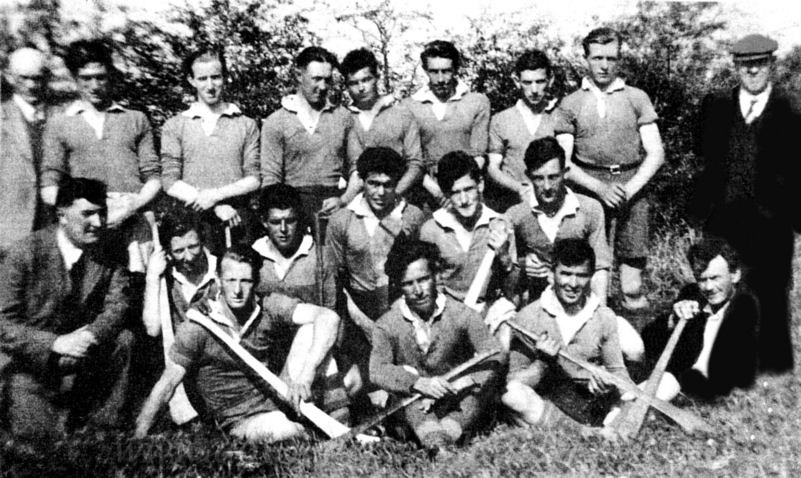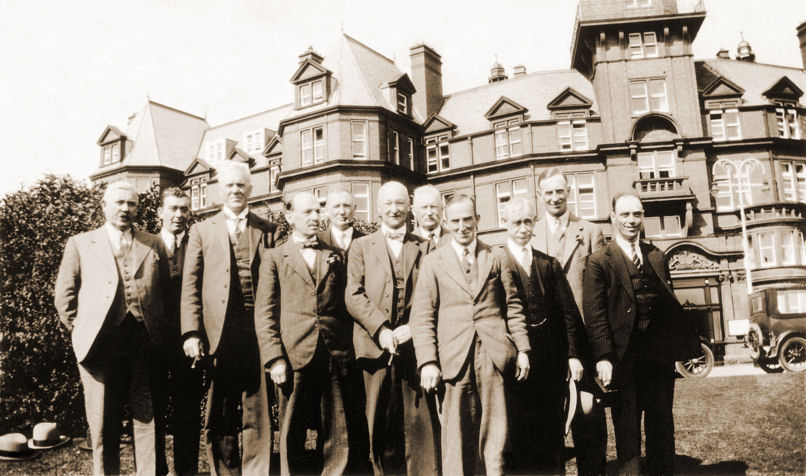 TOWN COMMISSIONERS 172
- - - - These gentlemen were Antrim town's commissioners who looked after the well being of the town back then. - - -- In the back row we have J. McCabe, Mr. McKay, T. Cooper and J.L. Clarke. In front are J. Carson, T. Coulter, Unknown, Unknown and Unknown.
They are standing outside Garron Tower Hotel which was along the Antrim Coast road about 24 miles from Larne. Now the man that took this photograph is J.Beggs, far right in the photograph above (1414) and the date is unknown.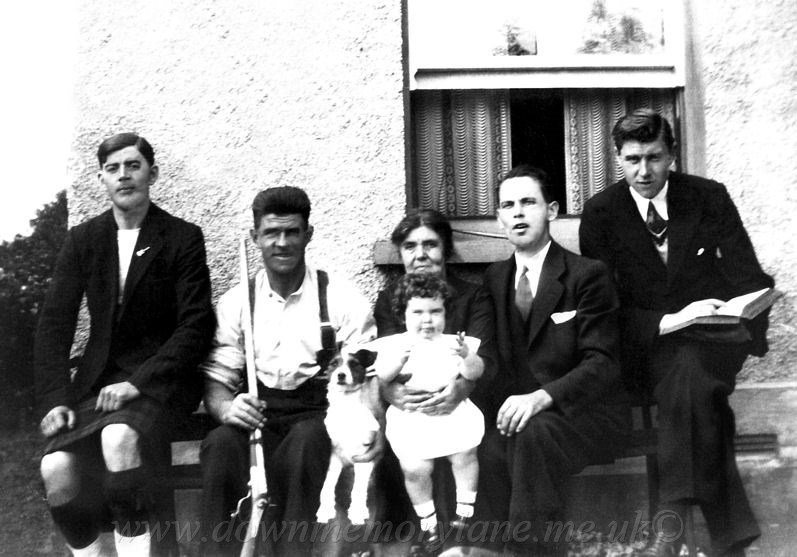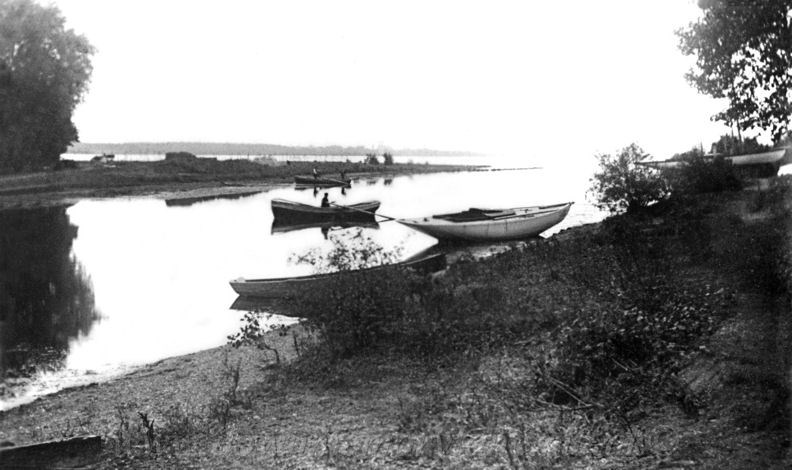 THE CUTTS 735
Beachcombing on the banks of the Sixmilewater river is an old man and three boys in 1907,
The postcard is stamped Jan 1908. To: Miss Corry, Donacloney, Lurgan.
Reads: My Dear Ruby, I wish you could come and see Antrim it is a lovely place. I hope you had a merry Xmas.
Love and kisses to Annie, Lily Aggie and yourself. XXX Milly.
TAGGARTS 1867
This is Mr & Mrs Taggart having their photograph taken in their back garden, they were Anna McCabe's grandparents.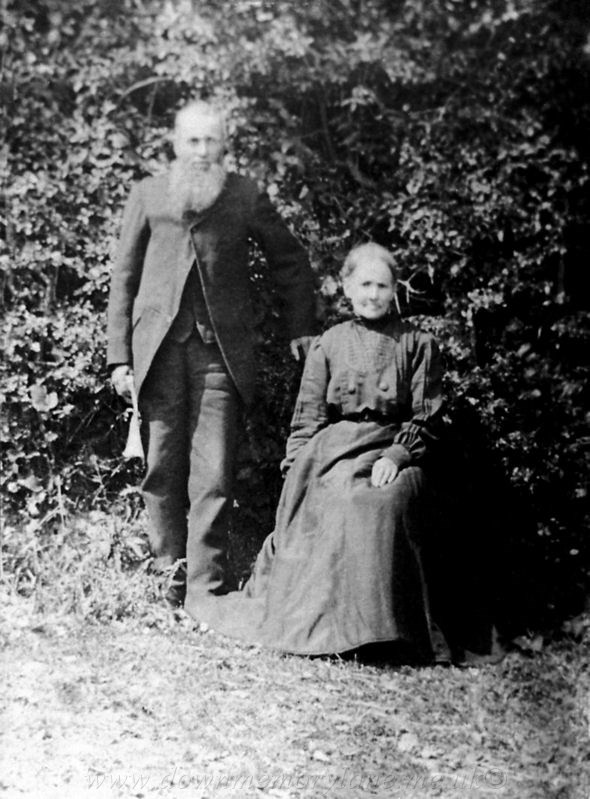 THE CUTTS 133
This photograph was taken in 1911 and this area of the Sixmilewater river was known as ' The Cutts ' or ' Corrigan's Cutts ' .
The Corrigans who operated the boats came from the Randalstown Road. Close to this spot out on the Lough Kay Don practised with his speedboat "Miss England" before making an attempt on the waterspeed record in 1931.
Pages: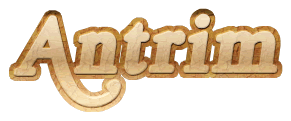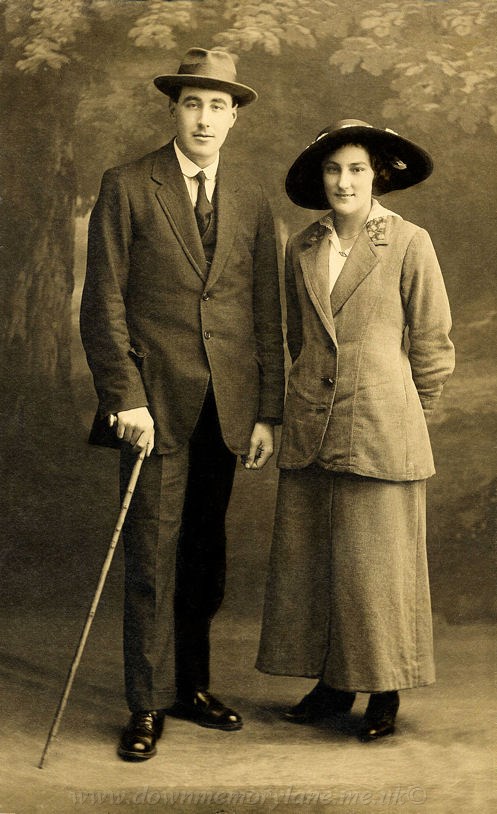 TAGGART 3044
This is Abernety's Studios at 29 High Street Belfast where William Taggart and his twin sister Elizabeth (Lily) Kelly from Parkhall had come to have the photograph taken to send to Winnie Clarke, they are Winnie's Aunt and Uncle.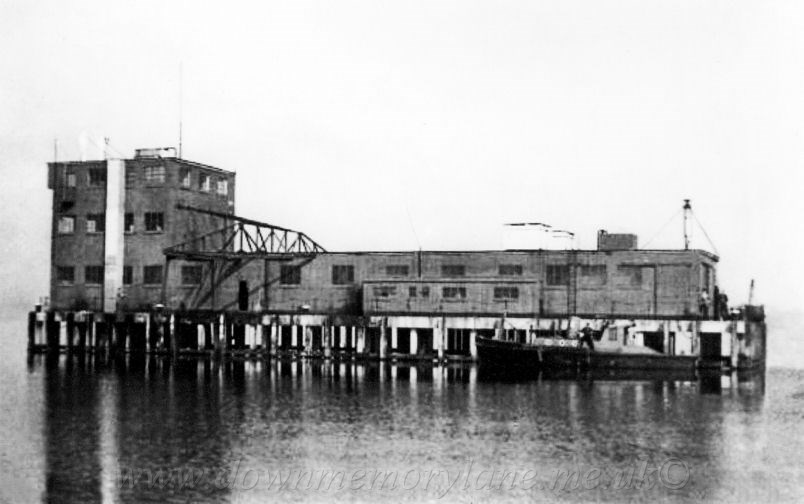 My Thanks to Kelly Cook for the above information.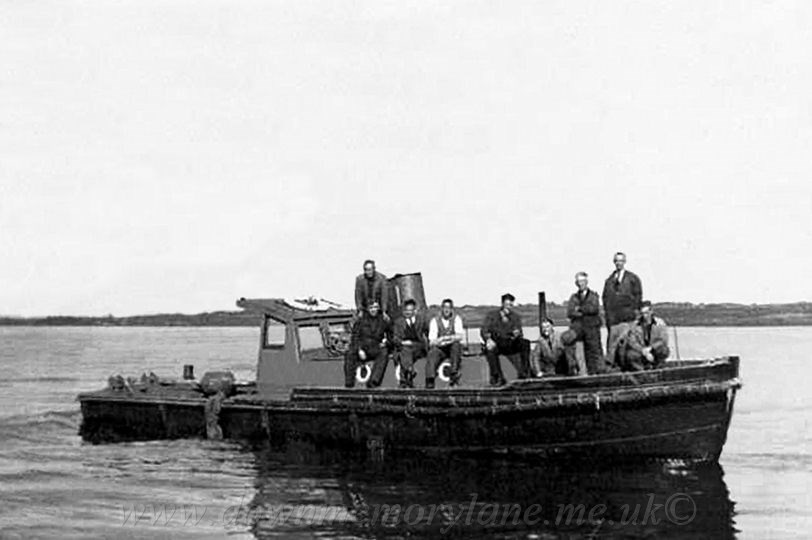 TENDER BOAT 3127
It's 1941, we are in the grip of WWII and these men are doing their bit in the fight against Nazism.
This Tender boat is one of two here on Lough Neagh and their job was to collect the torpedoes after they had been tested in the lough.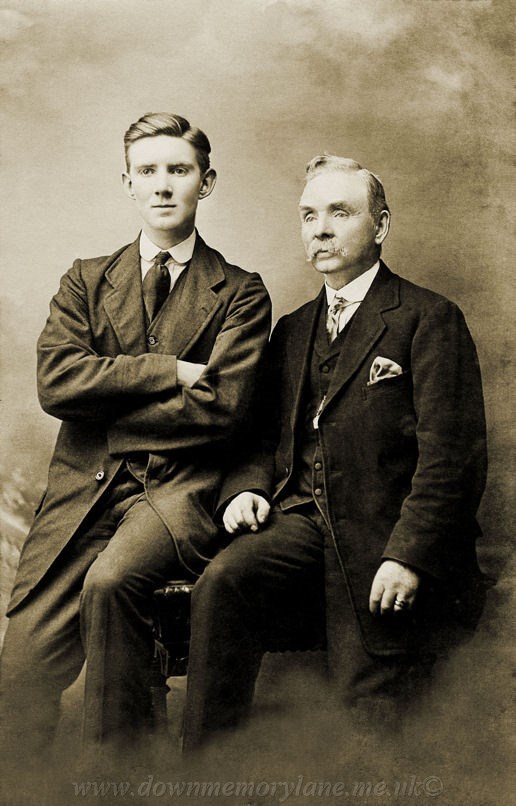 THOMPSONS 3662
Sitting on a table having their photograph taken are father and son in July 1916. The son on the left is called James A. Thompson and his father is called S. Wellington Thompson. I do not know what they own or do but they seem to be very prosperous at it.
The photograph which was made into a postcard was taken at J. Thompson. Photo Artist, Groverenor House, Wellington Place, Belfast, ( Immediately opposite Y,M.C.A.)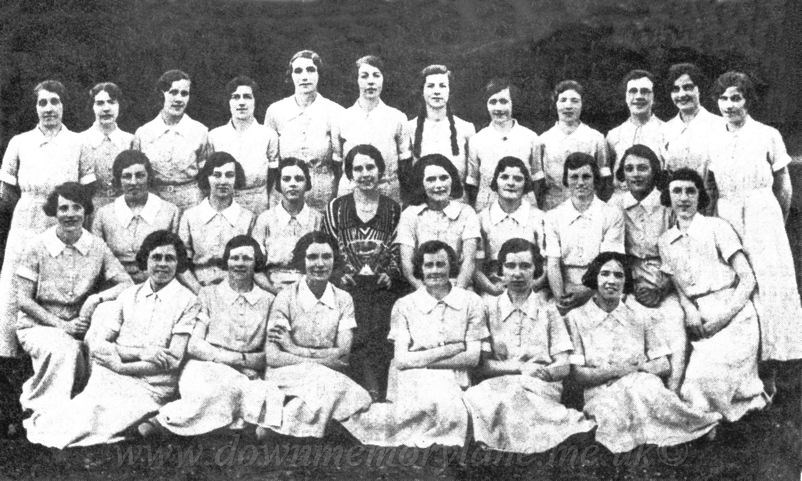 THE ANTRIM WEAVING Co.Ltd. 230
These are the factory's choir girls pictured in the Castle Grounds in 1933 celebrating winning a cup at the Choir Festival.
Back row: are Nina Wallace, Neta Wallace, Agnes Hannan, Mary Rodgers, Mary McCavley,Liz Fleming and rest are unknown.
Middle row: are Peg McBurney, Miss D. Clarke, Tilly Hannan, Jeannie Baird and Lily Knox, rest are unknown.
Front row: are Liz Wallace, Liz Beggs, Anna Wallace, rest are unknown.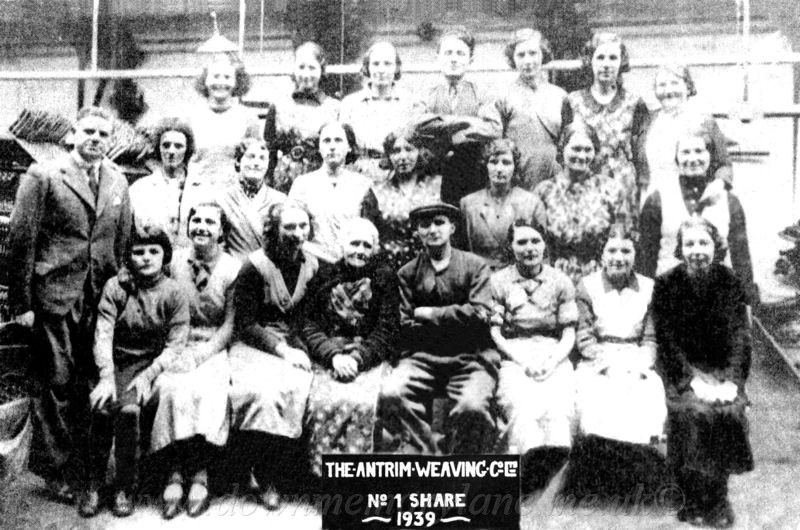 THE ANTRIM WEAVING Co.Ltd. 229
The people in this photograph which was taken on the 2nd June 1939 are weavers except for one who was the tinter.
It was taken in the winding room as the weavers room was too small, they are celebrating getting a bonus for the work they had achieved thus the title No.4 Share.
Back Row: Barbra Brown, Elizabeth Hannon, Meta Wallace, Unknown, Nora Hannon, Tommy Hannon and Unknown.
Front Row: Elizabeth Law, Sarah McCraight, Edie Hannon, Billy Adams, Martha Knox nee Cain, Mrs. Killen, Rosie Delaney, Unknown and Tommy Fields the Manager.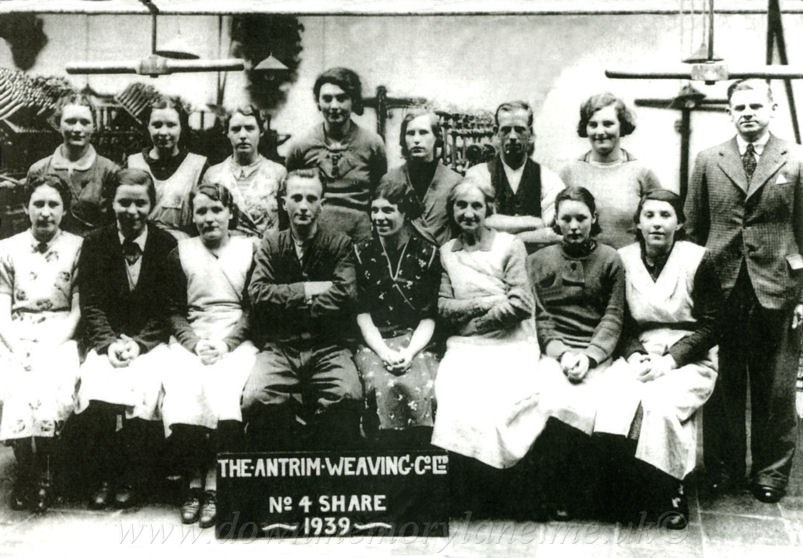 THE ANTRIM WEAVING Co.Ltd. 588
This was taken in the winding room in 1939 as the weavers room was too small, and the workers - - - - - -are celebrating getting a bonus for the work they had managed to get through hence - - - - -- - - - - - - - - - - - - - - - - - - - -the title 'No. 1 Share'. - - - - - - - - - - - - -- - - - - - - - - -Back row: (from left) you can see Margaret Peel, Tilly Luke, Elizabeth Fletcher, Alec Fleming, - - - -- - - - - - - -- - -- - - - -Tilly Fletcher, Sarah Wallace and Rachel Cameron. - - - - -- - - --- -Middle row: has Tommy Field (Manager), Maggie Fletcher, Annie Fleming, Ellen Hume, Agnes - - - - - - - - - - - - - - - -Annesley, May Clarke, Kathy Graham and Mary Hamill. -- - - - - - - - -Seated: are Rachel Mawhinney, Letita Fleming, Margaret Rankin, Mrs. Richie, Jimmy Cameron, Tilly Hannan, Beanie Ritchie and Kathleen Millar.

THORNHILL LODGE 467
This is Thornhill Lodge outside the Protestant Hall, in Railway Street on the 12th July 1947.
The litte girl along with the members names are unknown.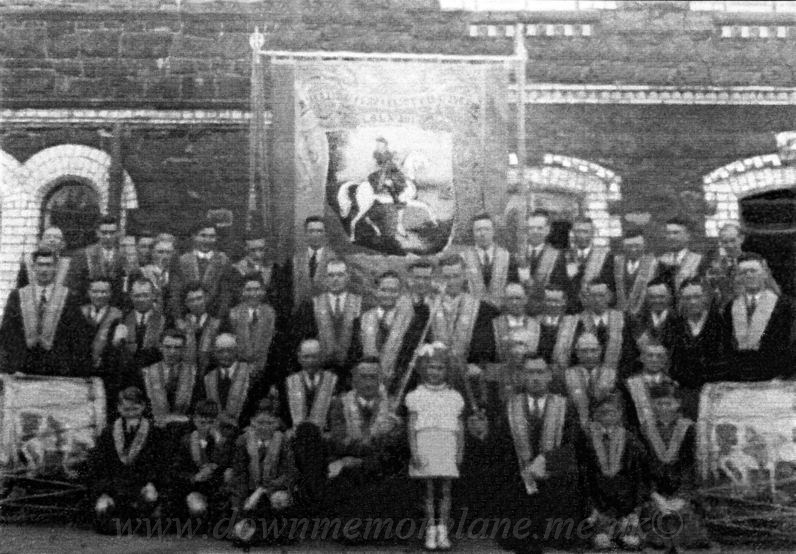 TORPEDO FIRING RANGE 3126
This is the torpedo firing range with a tender along side in Lough Neagh close to Antrim town during WWII back in 1941. It is now a bird sanctuary for Gulls and Terns and you can see it today but the buildings are all gone. The torpedoes were made in a factory just up the Randalstown Road where the Massereene Barracks used to be. The torpedos were brought here to the firing range to be tested on running distances between 1,000 and 3,000 yards. When the torpedo had gone the distance it was designed for the motor would cut out and with a buoyancy tank fitted to the front the torpedo would then float to the surface so they could check the distance and then tender boats would go and retrive the torpedo.
Now it was an English man who came over with his wife and young son to take charge of building the factory, the firing range and the Admiralty houses. The son who was 12 at the time, his dad took him to the firing range and allowed him to fire off a torpedo on the quiet, what excitement it must have been.
TAYLORSTOWN NORTH PRIMARY SCHOOL 1803
These are the pupils of Taylorstown North Primary School back in 1931 in the summer for most are wearing sandals.
Back row: from the left we have W. McMulholland, Unknown, Unknown, A. McCullough, H. Montgomery, W. Jenkins, Unknown, B. McCammond & R. Gault.
Middle Row: is Unknown, Unknown, Unknown, Unknown, Gordon Neeson, Unknown, Unknown, Unknown, J. Jenkins & W. McDowell.
Seated: B. Rainey, J. Bates, R. Henry, D. Johnston, L. McKee, M. McCullough, S. McCarty (has no shoes) and the rest are Unknown. - - - - - - - - - -- - - - - -- - - - -- - - - - - - - - - - - - - - - - - - On the ground: the two boys are Unknown.
Now to the left of the pupils is a motorbike and sidecar, was this used by one of the teachers or was it the photographer's?
TAYLORSTOWN NORTH PRIMARY SCHOOL 1804
It's now 1933 and here we have the pupils of Taylorstown North Primary getting their school photograph taken. You can see a lot of the pupils are still at the school from two years ago and some more have joined.
Back row: B. McCammond, W.Jenkins, H. Montgomery, P. Rainey, Nellie Shaw, R. Gault, W. Mulholland and A. McCullough.
Middle row: has J. Jenkins, W. McDowell, A. Barclay, Gordon Neeson, W. Kelly, J. McKee & the rest are Unknown.
Seated: are B. Rainey, T. Rainey, S. McCartney, L. McKee, M. McCullough, J. Barclay, D. Johnston, J. Bates and R. Henry.
Seated on the ground: are on the left J. Kennedy and on the right H. Nicholl.
As you can see, two of the lads who while well dressed they are in their bare feet, for shoes were an expensive item back then.
Some families who did buy shoes, because they were so expensive they were only worn on a Sunday to go to Church.
TIR-NA-NOG HURLINGTEAM 1679
This is the Tir-na-nOg Team of 1947 getting their photograph taken.

Back row: are J McNally, J Heffron, D McKeown, P McLaughlin, J O'Hara, P Shannon, T Shannon, R McGuigan, J Millar and J Logan.
Front row: is H McCormack,C Close,S Letters,J P Shannon,A McCollum, J McAuley and S Martin.
TIR-NA-NOG HURLING TEAM 1793
Here we are at Ballycran with the Tir-na-nOg hurling team of 1947.

Back row: from the left are P. Doran, A. McCollum, C. Close, J. McNally, D. McKeown, S. Letters, S. McVeigh, S. O'Kane and A. Martin.
Middle row: are Hugo McCormack, Harry McCormack, S. Martin, H. McCollum and A. McVeigh.
On the ground: are P. O'kane, R. McGuigan, J. Heffron, H. Shannon and J. O'Boyle.
THE ANTRIM WEAVING COMPANY 1947
- - This is the Winding department of The Antrim Weaving Company getting their photograph - - - - - - - - - - - - - - - - - - - - - - - taken in 1939 for making their targets. -- - - - - - - - - - - - -Back row: we have Bella Hannan, Annie Craig, M Adams, Lizzie Barr, A O'Neill, S Cochran and - - -- - - - - - - - - - - - - - - - - - - -- - - - - - - Peg McBurney. - -- - - - - - - - - - - - - - - - - - - Middle row: has Joe Scott (Clerk of Works), Marty Kane, Ena Fleming, K Bates, Marjorie Law, J - - - -- - Curry, Rowan Fleming, Agnes Hannan, Tilly Hannan and Tommy Fields (Manager)- - - Seated: are Alice Scott, M Coyles, B Kennedy, Bob Reid (Winding Manager), Unknown, Mrs - - - - - - - - - - - - - - - - - - - - - -Coyles, Annie Wallace and Emily Barr.- - - - - - - - - - - - - - - --Kneeling: we have M Kane, J Hannan, L Fee and Unknown.