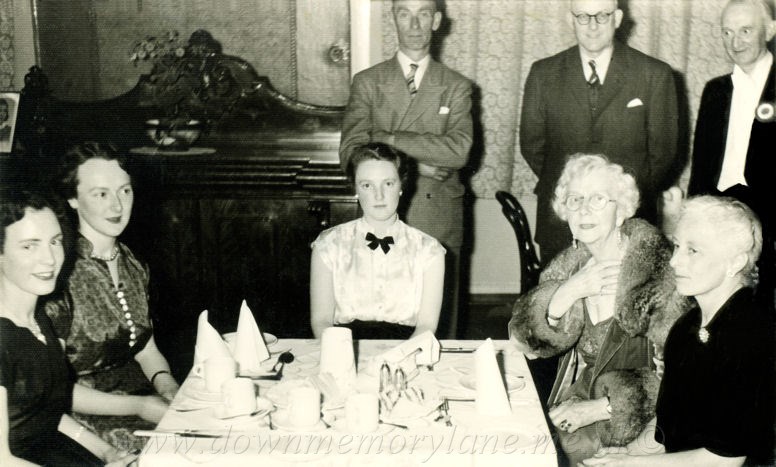 PICKING of the "QUEEN " 164
Seated at the table from the left are, Ena Fleming, Norma McCabe, Anna McCabe, Lady Massereene and Mrs. Coyle. Standing is John Rodger, Warren Beggs and Willie Burrowes.
The photograph was taken 1953 in the Massereene Arms Hotel.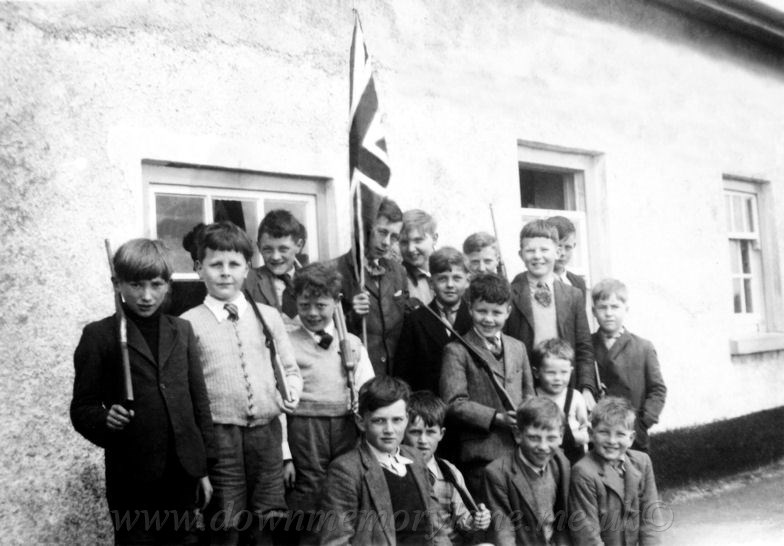 PLAYING SOLDIERS 128
This group of boys standing beside Taylorstown School are playing Soldiers in 1952.
Back row: has Bertie Chensney, George Chesney, Roy Nesbitt, Samuel McNeice and half - - - -hidden Mathew McMullan. Next row are Sandy Hamill, John Nesbitt, Vincent Graham, - - - - - - - - - - - - - - - - - - Unknown, Desmond Allison and Bobby McMullan. - - - - - - - - - - - - - - -Middle row: we have all smiles is Ronald Joe Beckington and the small boy is unknown. Front row: Roy Cauldwin, William McNeely, James Dickson and Unknown.
PENSIONERS DAY OUT 2245
Gathered here in High Street for their day out are these Antrim pensioners back in 1963.
The only one known is Annie McCaul in her red cardigan and in front is her grand daughter Bernie Morgan.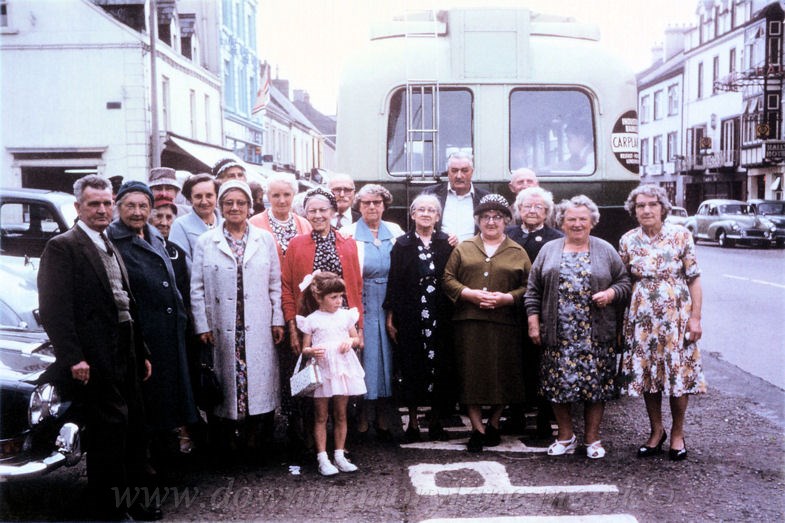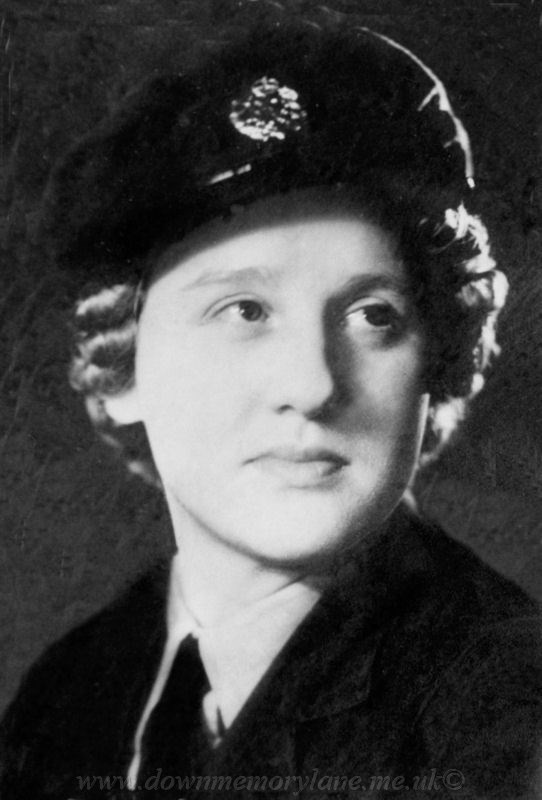 JENNY PARKS 2320
This Jenny Parks nee McComb doing her bit for her country by serving with the WRAF during World War II.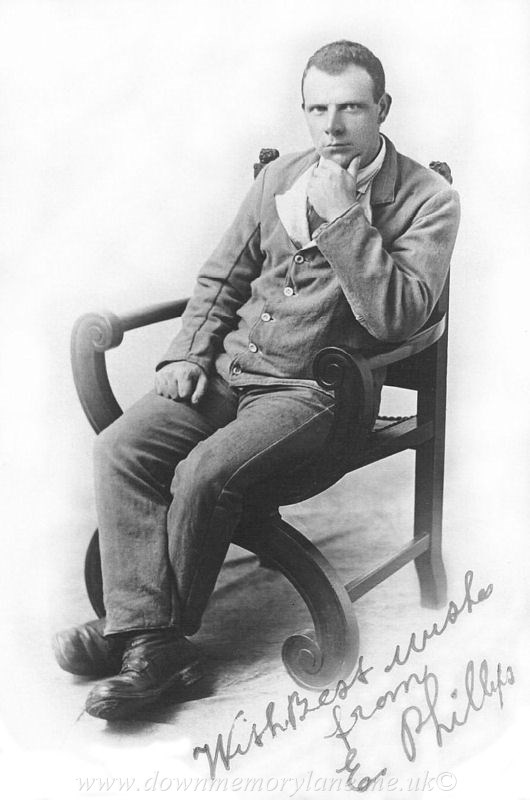 E. PHILLIPS 2343
This studio photograph of E. Phillips is a bit of a mystery for it is not often that you would see working class people in a studio simply because their money was precious to them. But this young man did not seem to mind, he has the look of a determined person who was going to go far. Now what did he work at? was he left-handed or did he use both hands in his job for his sleeve is worn. He has a shirt on with what looks like a tie so he was not a labourer. Who was he spending his hard-earned money on? It wasn't for his mother so was it the start of a romance? Perhaps someone can tell us.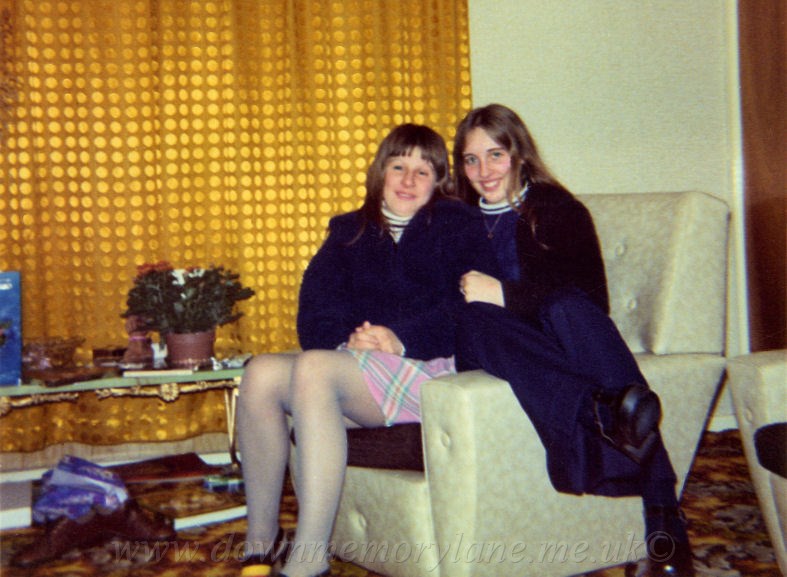 BEST OF PALS 2709
Getting ready to head out for a night on the tiles are pals Hilary Porter and Susan Rodgers and 45 years later they are still the best of pals.
PARKHALL PRIMARY SCHOOL FOOTBALL TEAM 2191
These lads along with their manager back in 1974 are Parkhall Primary School's football team and very proud of being in the team. As you can see they were not only the winners of the 1973 - 1974 League but also won the Cup!
Back row: has the goalkeeper Colin McCormick then Alan McCombe, Stephen Houston, Neil Woods, Phil Fouller, Robert Kitson and manager Roy Dickson.
Seated: are Adrian Weir, Timothy Clarke, Michael Smith, Alan Cummings and Denver Lynn.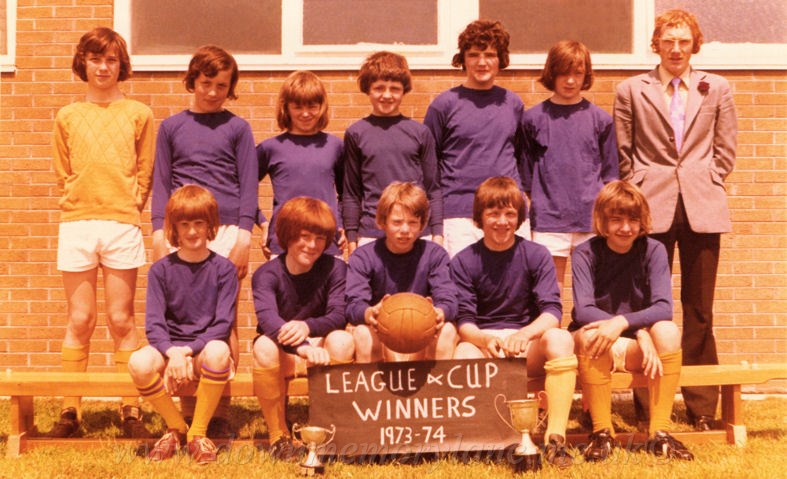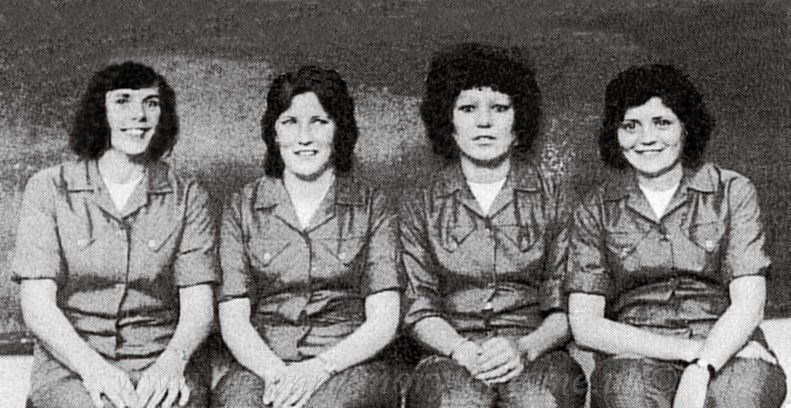 PROCESS GIRLS 1497
These are the first female 3 shift Warping process operators to start in Enkalon in 1976.
They are from the left Mary Fullerton, Tresa Kelly, Anne Hutchinson and Gloria Mowbray.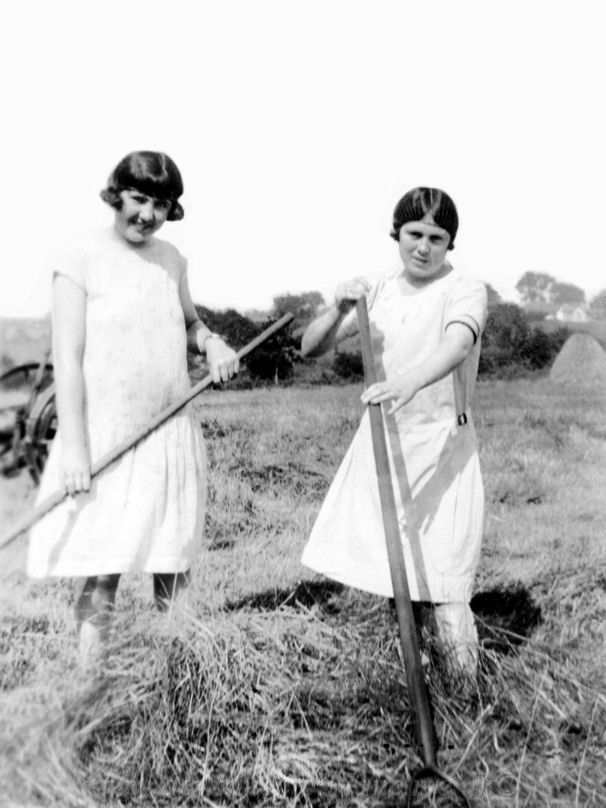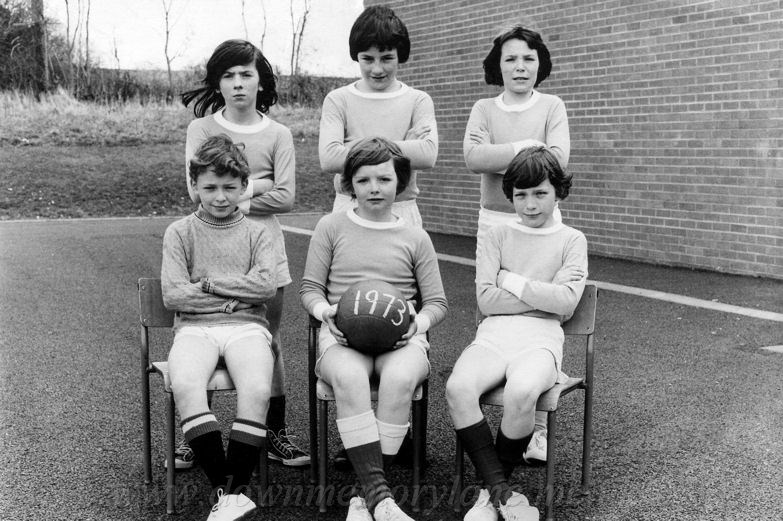 PITCHIN' IN 1323
Helping get the hay sorted for stacking in the summer of 1920 are Min Scott and Susan Humphries.
PARKHALL PRIMARY SCHOOL SIX-A-SIDE FOOTBALL TEAM 1615
It's 1973 and here are the Six-a-Side football team of Parkhall Primary School.
Standing we have from the left Thomas McClenaghan, Sam Porter and Gordon Moore. Seated are Nigel Gallagher, Stephen Dunbar and David Moore.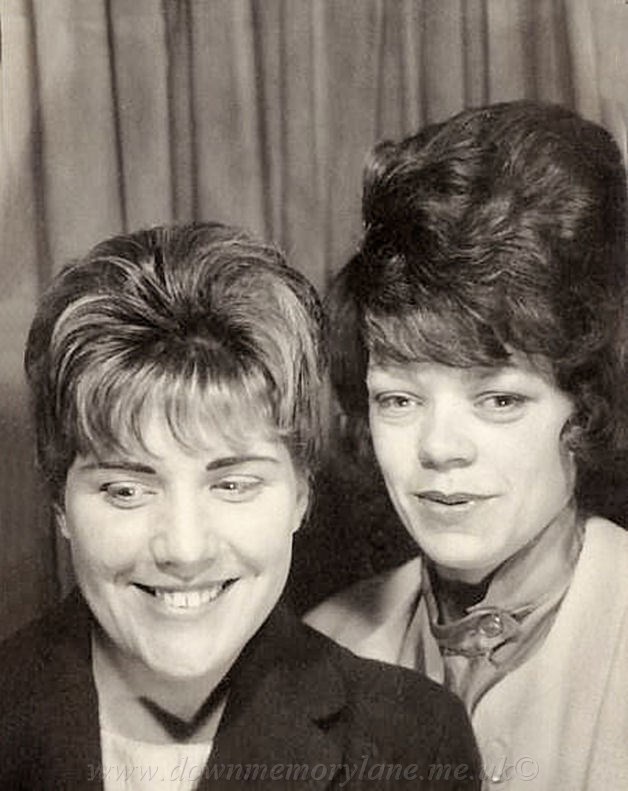 PHOTO BOOTH 1493
Having their photograph taken in a photo booth in Antrim in 1962 we have Molly Rainey and Anne Knox.
Take a look at the hairstyles especially Anne's, it took a lot of back combing to get it to that hight, then when you washed it you had to untangle it first!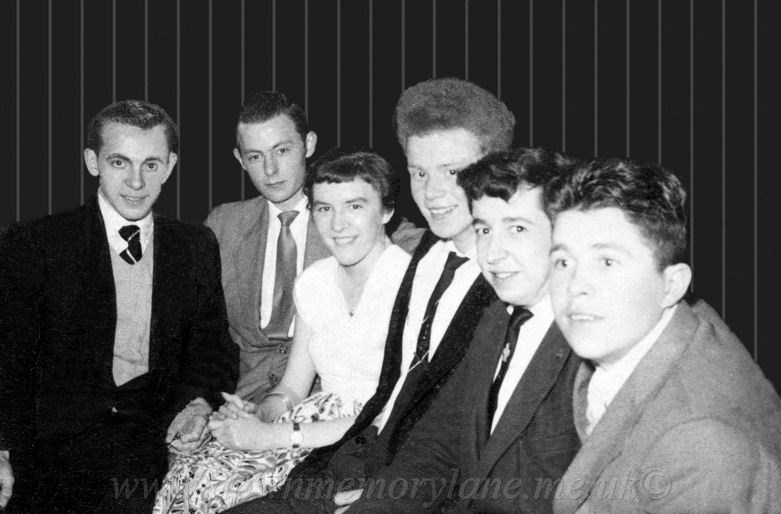 PROTESTANT HALL 824
Sitting waiting for the dancing to start in 1958 is Charlie Clarke, Dennis King, Helen Nicholl, Andy Blair, ,Jim Alexander and George Mawhinney.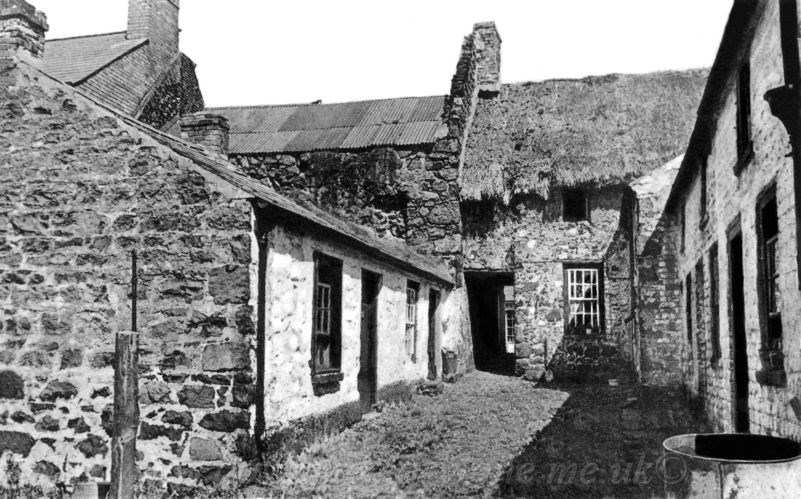 POGUE'S ENTRY 580
This photograph of Pogues Entry is taken on Church Street and shows the front of the thatched house. The entrance is where the man on the right is leaning against it and above is a sign saying 'Poguge's Entry'. Next door on the right is a bicycle shop. The year is unknown.
POGUE'S ENTRY 715
The 18th century cottage to your left is where Alexander Irvine lived and grew up. The book he wrote called " My Lady of the Chimney Corner " it tells of his childhood days and describes life during the post famine days of Irish folk. This photograph was taken in 1939, eight years after the famous Pogues Entry photo. You can see how the thatched roof is starting to fall down, but if you look through the alleyway you can see a shop window across the street. By the way the black object on the top of the tin roof is a black and white cat.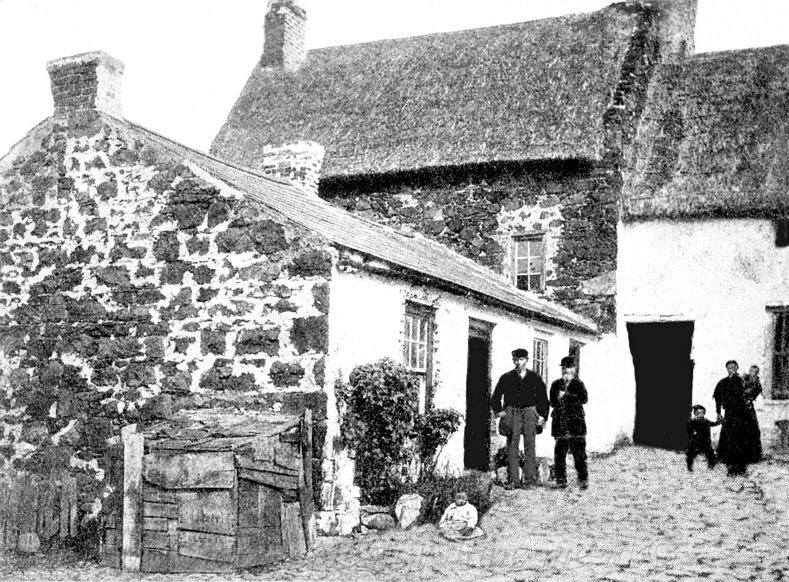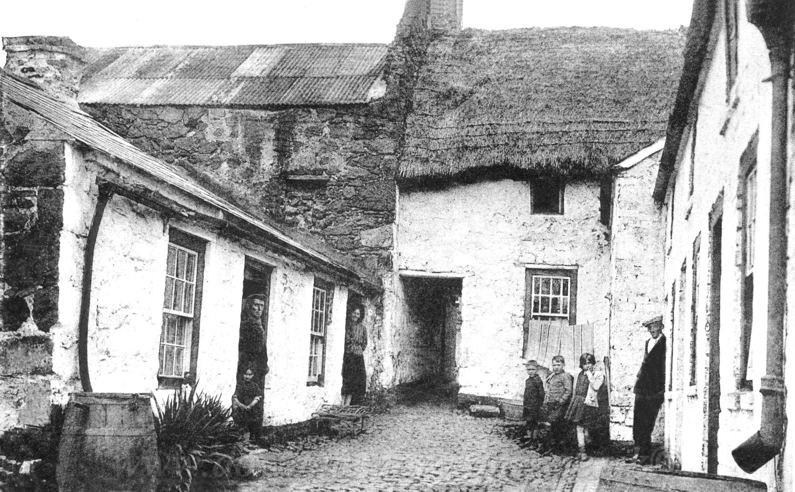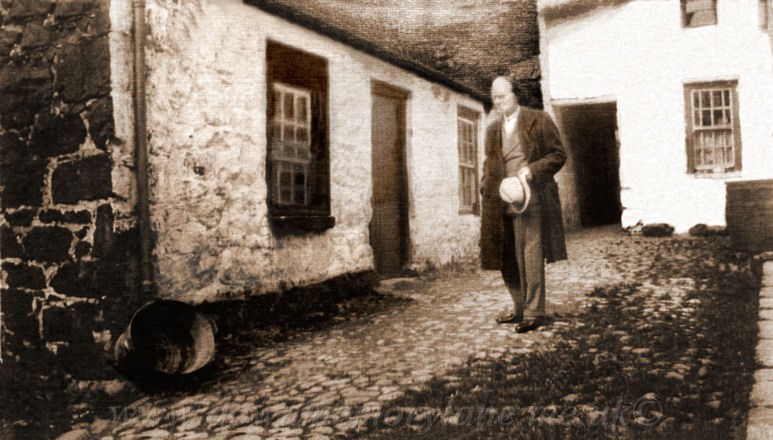 POGUE'S ENTRY 140
The 18th century cottage to your left is where Alexander Irvine lived and grew up. The book he wrote called " My Lady of the Chimney Corner " tells of his childhood days and describes life during the post famine days of Irish folk. He became the Pastor of The Church of Ascension in New York. In 1946 they brought back his ashes and buried them with his parents.
To your left in the picture the little girl in 1931 in the doorway her name was Rosanna McVeigh. Behind her stands Mr.Guigley, the lady in the next doorway is Mary Deany. Now moving to the right is Rosanna's brothers and sister and their names are Richard, Billy and Ruby. Along side them is their father William, Ruby is the only one still alive in this photograph and she is living in Florida (2020). Now unseen but upstairs is William's wife Sarah with their newly born son Bobby who is still alive and well and living in Antrim (2020). That's how I know the year was 1931.
POGUE'S ENTRY 260
Standing in Pogue's entry in 1938 and next to the cottage where he lived is Alexander Irvine author and Pastor who wrote among many books My Lady Of The Chimney Corner. He had returned to visit his home roots and was ill at the time.
He then went back to America where he died in 1941. In 1946 they brought back his ashes to Pogues Entry and from there they were taken and buried with his parents.
Among his friends were Jack London, George Russell, Einstein, Madame Curie, J.M.Barrie and Mark Twain.
POGUE'S ENTRY 85
This is Pogue's Entry back in 1925 where Alexander Irvine used to live which makes this photograph older than the famous one that is always used.
The people and the children are all unknown including the baby in front of them, at the end of the cottage you can see a pieced together small lean-to. This was known as the pig-sty although no pig was ever kept in it and it is mentioned in one of Alexander Irvine's books!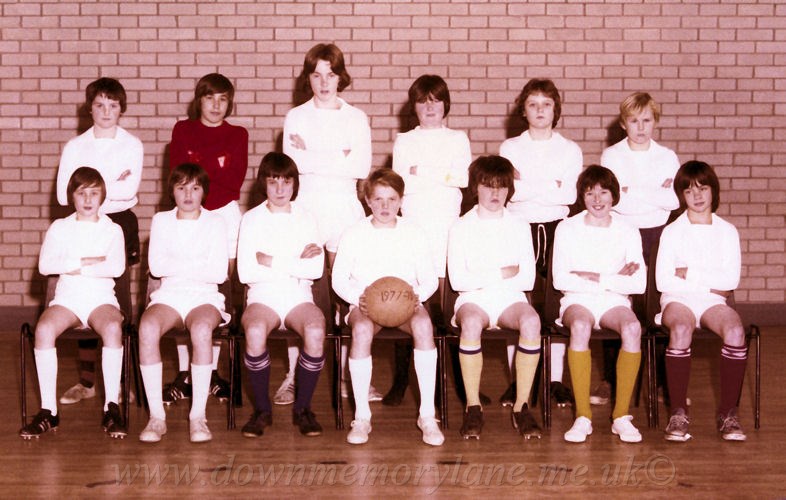 PARKHALL HIGH SCHOOL FOOTBALL TEAM 1929
This is the 1977-78 Parkhall High School football team having their photograph in 1978.
At the back we have Adrian McElvenna, Alister Douglas, Unknown, Unknown, Unknown and Raymond Borland.
Seated are Unknown, Unknown, George Rankin, Sydney Burrowes, Nigel McCurry, Sammy Smiley and Culbert Downey.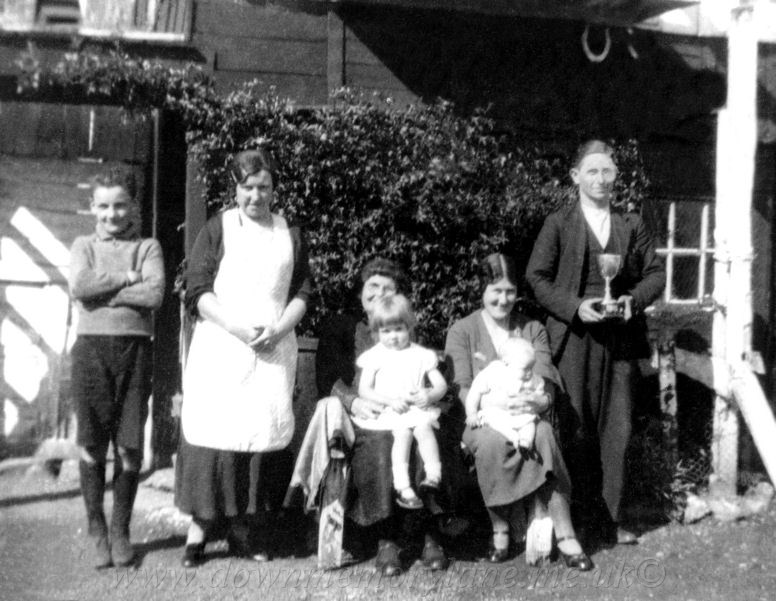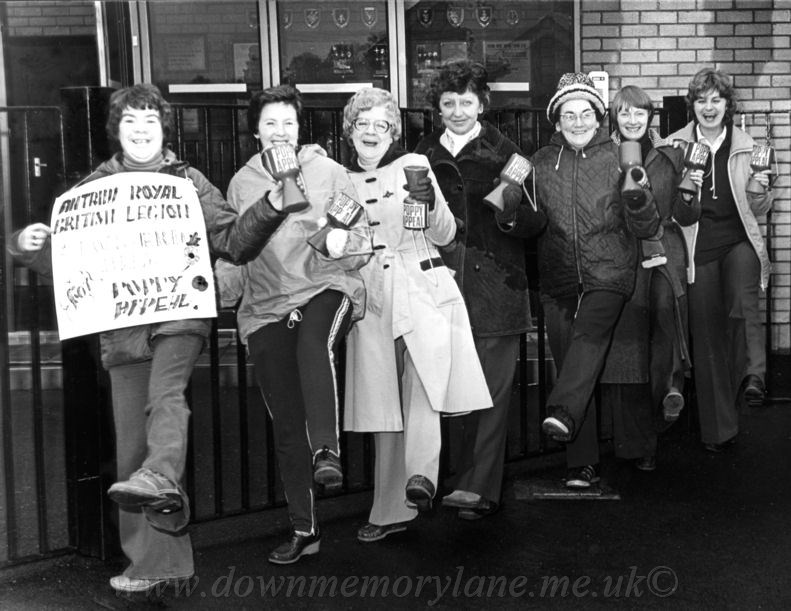 PIGEON FANCIER 921
Standing proudly showing off his cup for his prize winning pigeons is Tommy Whiteside - next to hime the lady and the baby are unknown, then we have Granny Whiteside with an unknown little girl on her knee. Followed by Sarah Whiteside and finally David Laughlin in 1940.
POPPY GIRLS 231
Here we have some engergetic local ladies getting ready for their sponsored walk for Poppy Day in 1985.
Pictured are (from left) Mary Peacock, May Stewart, Anne McCaig, Marie Allen, Eveline Dobbin, Jean Wilson and Nora Wier.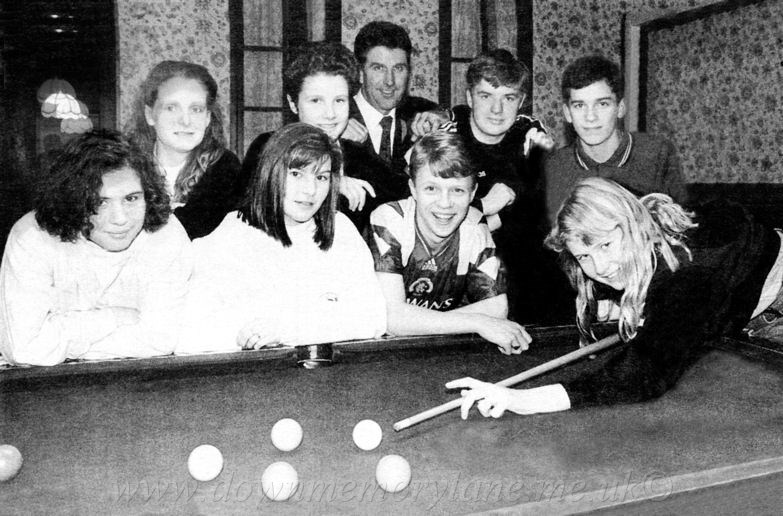 PARKHALL YOUTH CLUB 2331
These are some of the members of Parkhall Youth Club and right on cue on the table is Samantha Colhoun back in the 80's.Leaning on the table from the left are Katrina Braddow, Jennifer Logan and Sandra Dunbar. At the back we have Ellen McComb, Jonathan Wells, the Club's youth tutor, Andrew Kennedy and finally Glen Allen.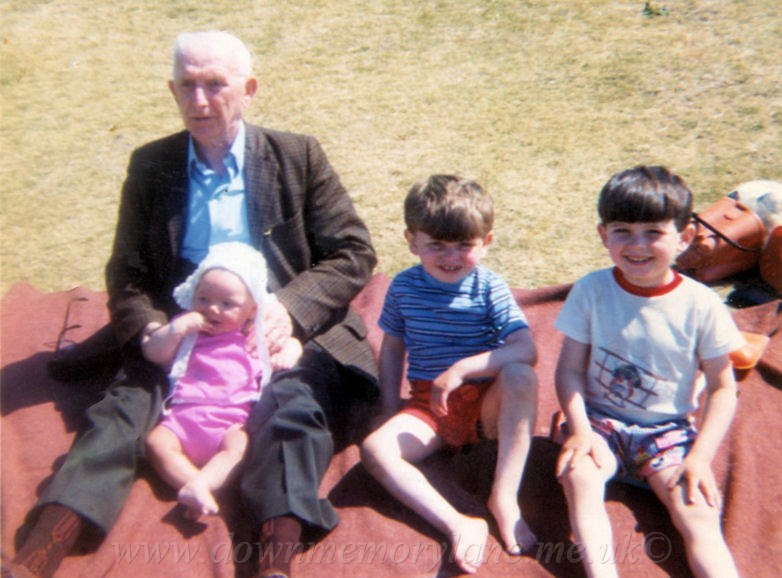 PICNIC 2185
Out having a picnic and having a great time is on the right Raymond Davis with his brother Eddie Davis. On the left is their dad Billy Davis proudly nursing his granddaughter Jackie Selfridge back in 1974.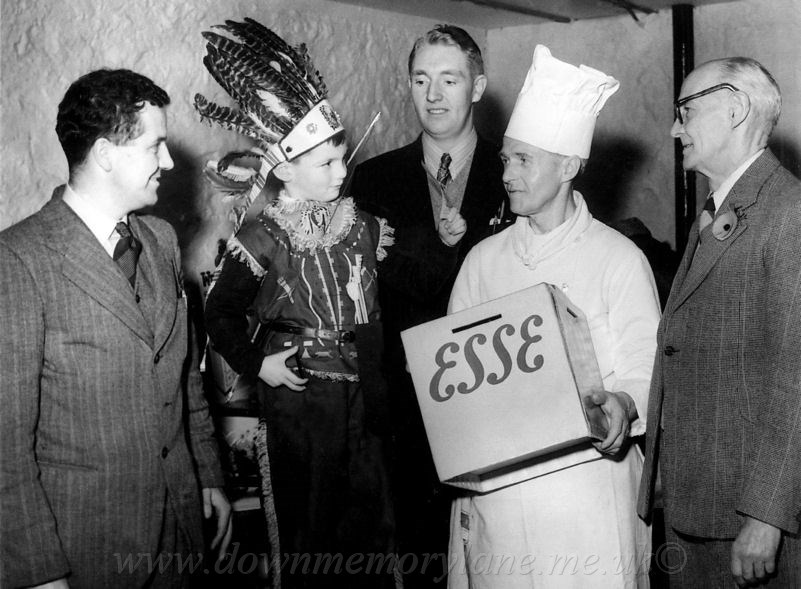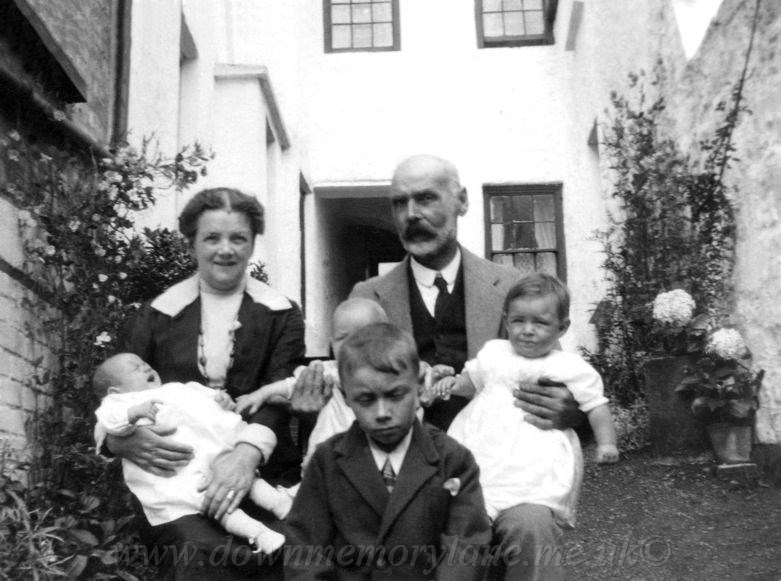 PRIZE DRAW 1120
Here we have a draw being made and the prize was a meal for two at the Grand Central Hotel, York Street, Belfast in September the late 50's.
On the left we have Joseph Blair and then his grandson is drawing the winning ticket. In the middle is Andrew Beresford who was selling the Esse cookers, next is Chef Smith and finally Norman Kirk.
PROUD GRANDPARENTS 908
Sitting left holding the babies in the back garden of their shop in High Street ( doesn't that sound familiar today) are proud Grandfather and Grandmother Renton. In her arms she has Bobby Brown and in her husband's arms are Isobell and Evelyn Brown. In front is Jack Holyrod.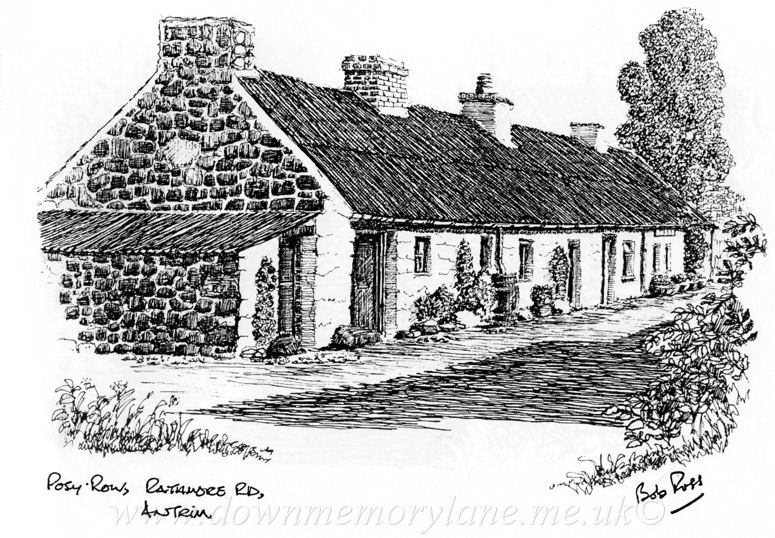 POSY ROW 716
These beautiful cottages are called Posy Row on the Rathmore Road in Antrim.
At the moment I only have this drawing by Bob Ross, so if anyone has old photos of Posy Row I would love to see them.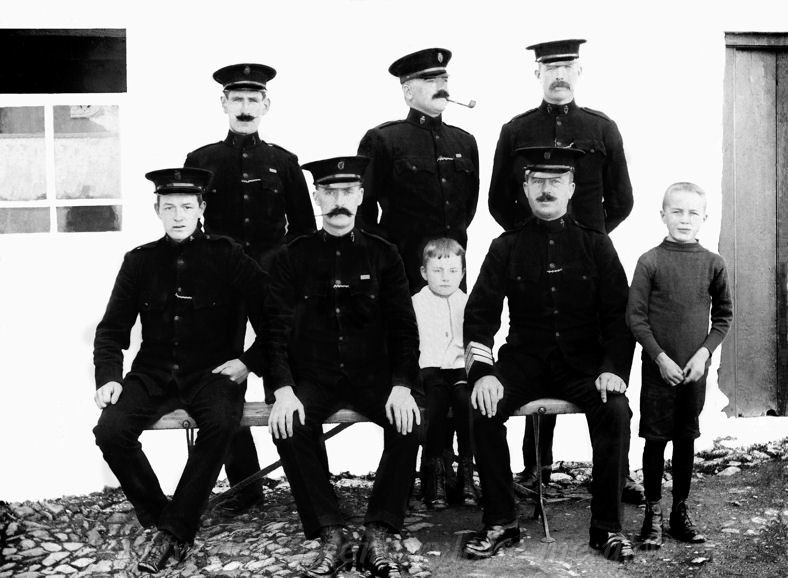 POLICE 1616
Getting their photograph taken outside the barracks are these police officers along with two children.
At the moment only the officer with the pipe is known and he is Robert Patterson. I'm wondering do the children belong to any of the policemen for their boots are well polished.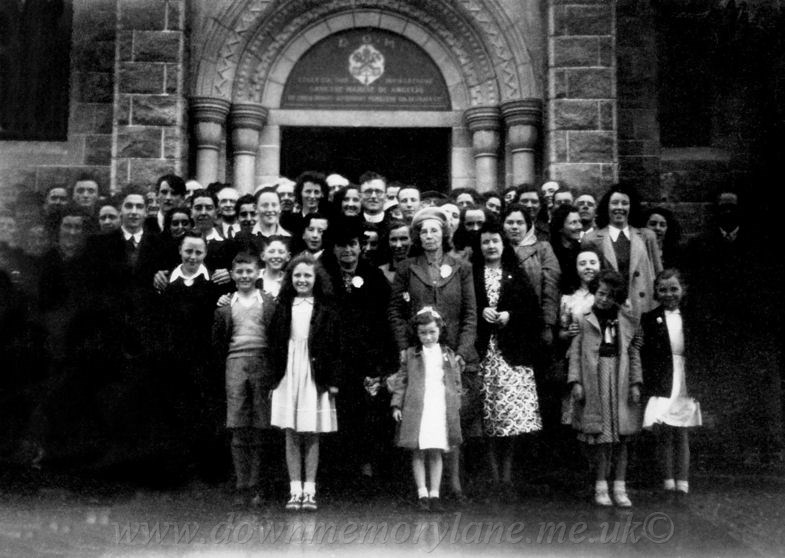 PARISHES JOINT OUTING 2448
Having their photograph taken are some of the parishioners of St. Comgall's and St. Macnissiuss before they all headed off on a joint outing.
In the middle is Father Denvir and here are the names of some of the people that went on that trip, but where they are in the photograph I do not know. Elish Magee, Anne Kearney, Josephine Gaynor, Paschal Kearney, Kathleen Mackle, John Long, Eamond Kearney and Bella McHenry.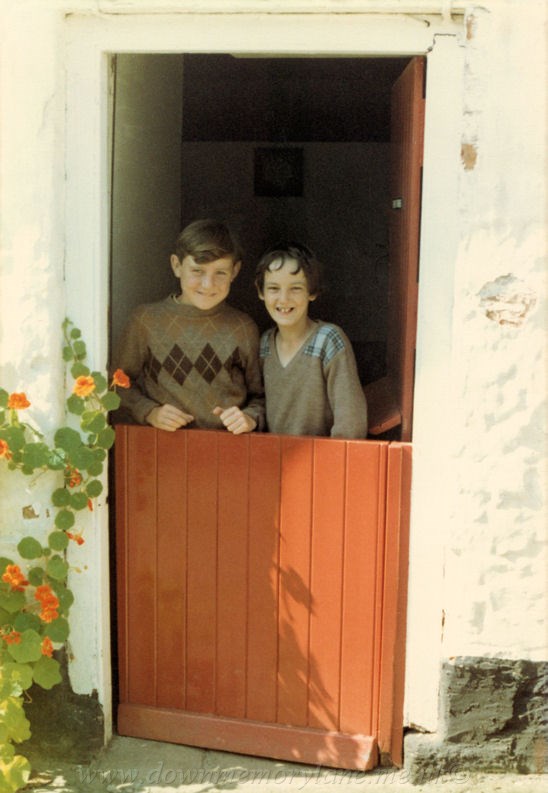 POGUES ENTRY 1942
Standing in the doorway of the cottage where the famous author Alexander Irvine lived. We have on the left William Richards and John Young in 1979 in Pogue's Entry.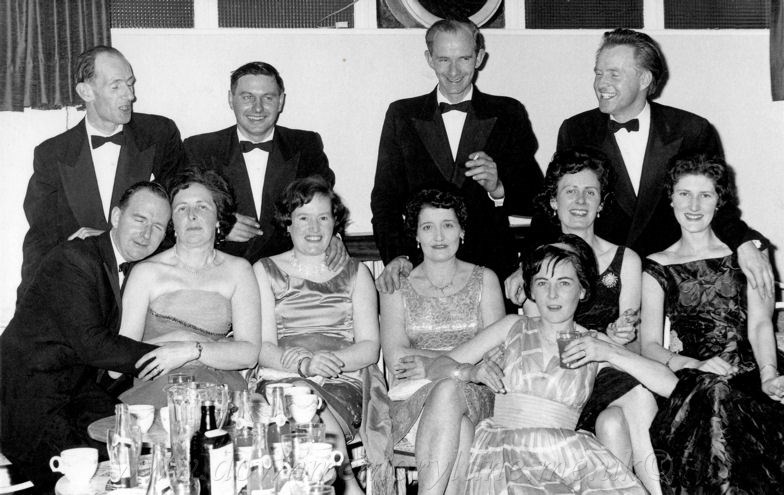 PARTYTIME 1828
Seen here enjoying themselves on a night out we have on the right Paddy Marks and Betty Marks, then Ernie Bryson and his wife. At the moment the rest are unknown.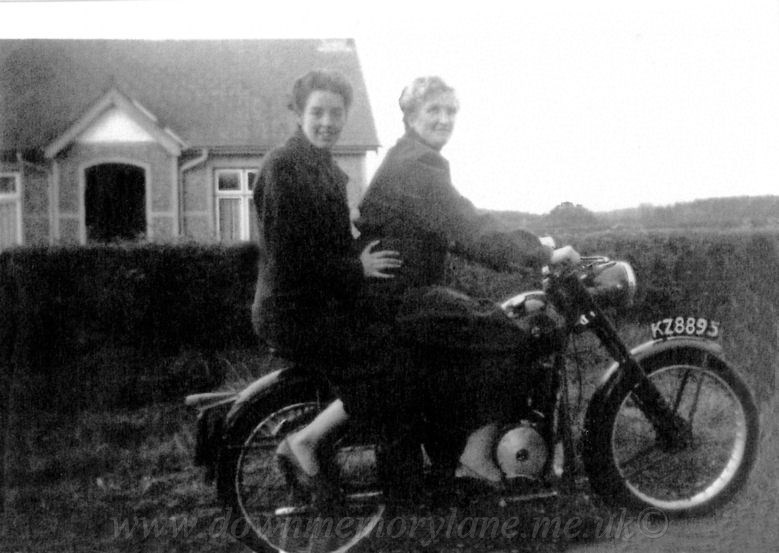 ERIC PADDEN 2976
Having gone to Belfast to have his photograph taken by Henri is Eric Padden who was in the supply core.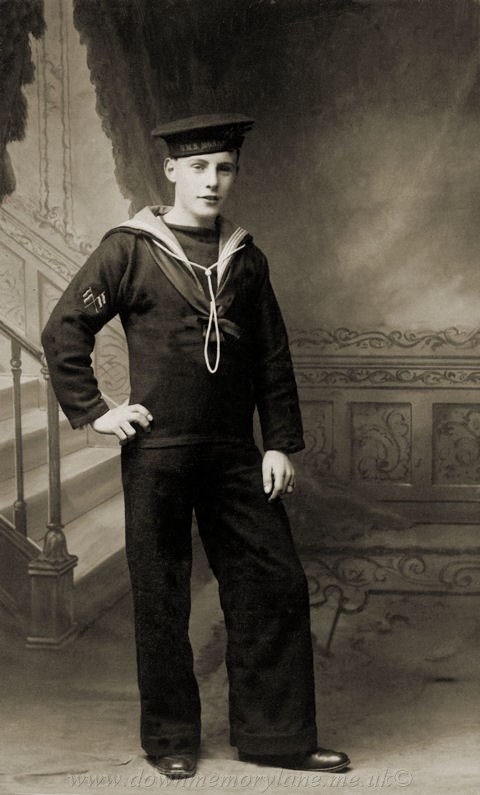 S. DESMOND PINKERTON 2981
This is S.Desmond Pinkerton who has just signed up and was in the Signals Core aged 17.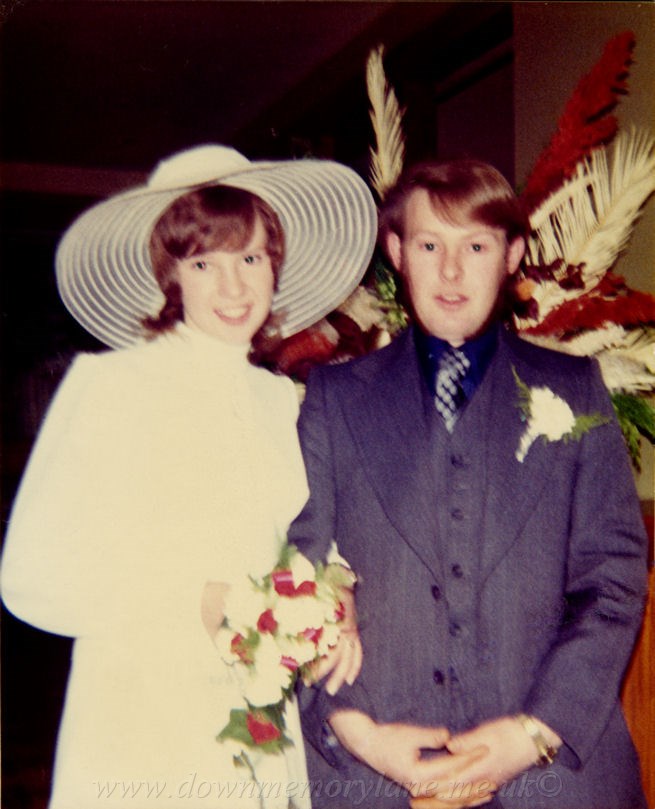 PRESTON WEDDING 3226
After their wedding at St. Judes Church on the 12th December 1972 the couple who look so much in love and still are. For this Wednesday they will be 40 years married (2012), the beautiful bride is Carol Preston nee Moore and her handsome husband is Howard Preston.
The British No1 in December was Jimmy Osmond singing 'Long haired Lover from Liverpool'.
Now the No1 record in August 1972 would be appropriately for this 40th Anniversary and that was Rod Stewart singing 'You wear it well'.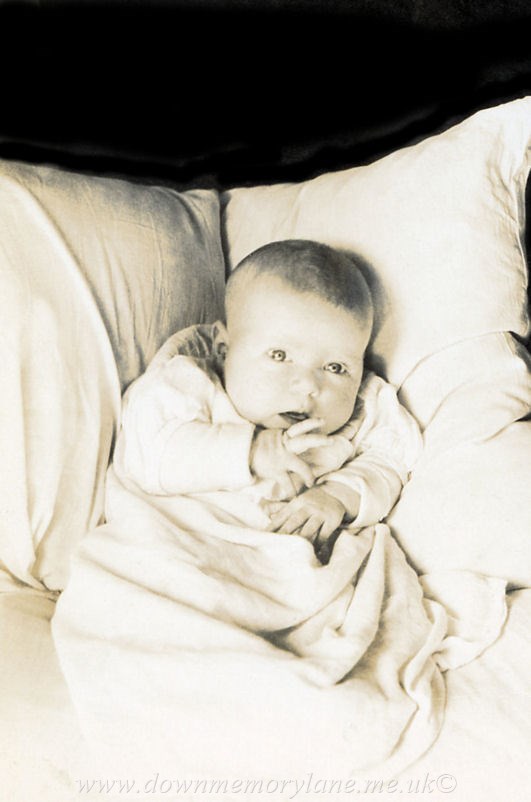 ELLEEN PORTER 3246
This lovely little baby girl is seven weeks old and her name is Elleen Lois Porter. Elleen was born on the 5th of May 1915 while war was raging in Europe.
Her proud parents D C Samuel Porter sent the photograph on the 2nd July 1915 to his mum Mrs Samuel Porter who lived at Shanrod House in Banbridge.
PEGGIE 3665
Well although the play pen is very small Peggie seems quite happy in it.
Written on the back of the postcard photograph and these are the exact words
" Wishing you a very Happ Xmus. From Peggie ".
WISHING I COULD DRIVE 3626
At the side of the road outside their home posing on Joan Rina's motorbike is Sue Beattie and Emmie Prichard back in 1935.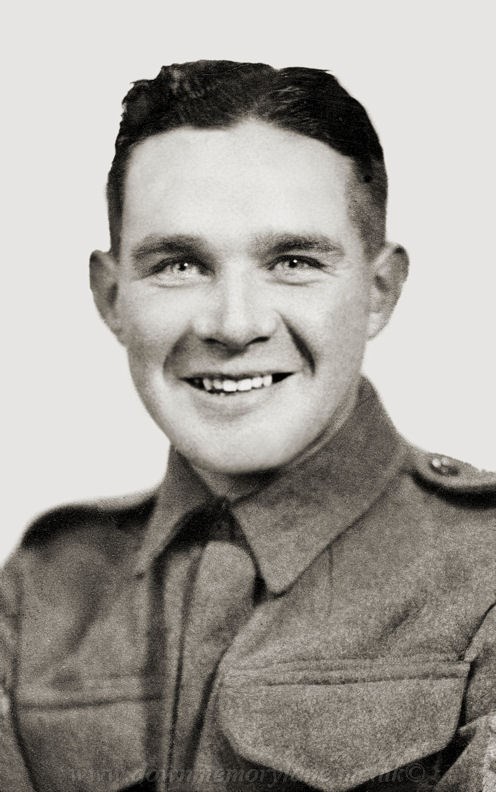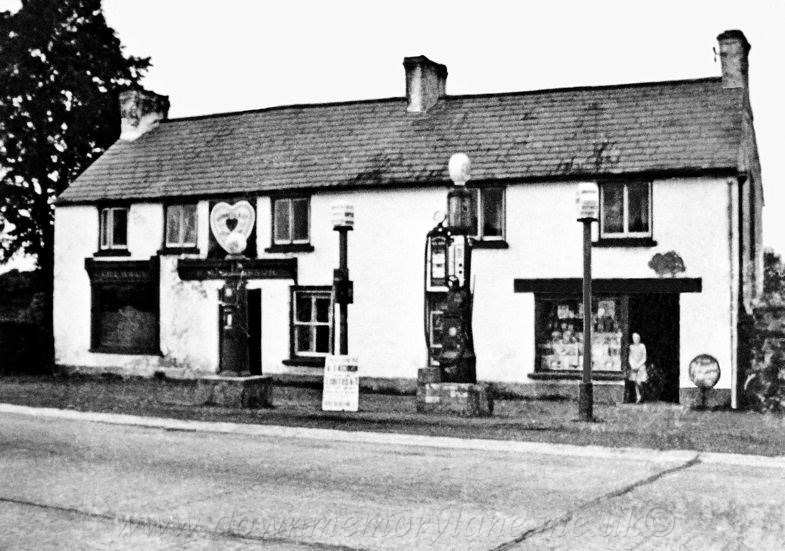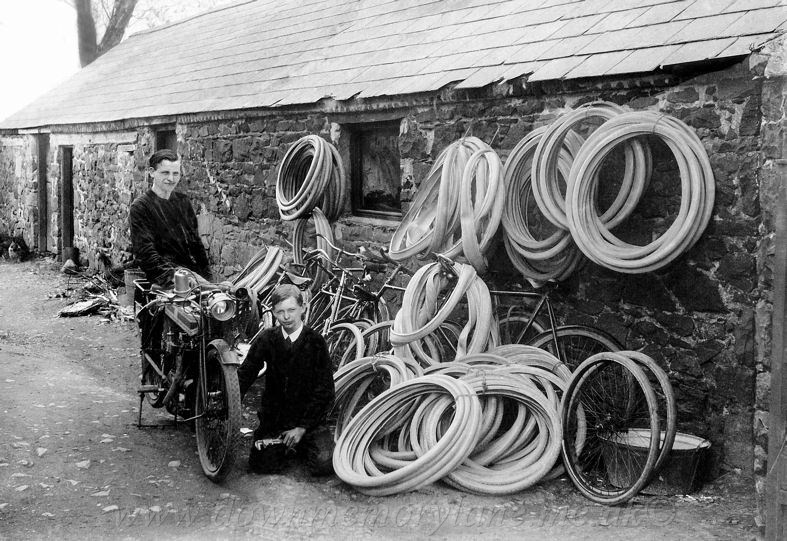 THE HALT 1614
This is the side building at the Halt in Dunadry in 1918. By the amount of tyres hanging up they must have done a good business with bicycles.
But today Bob Patterson and his brother John Patterson are working on a motorbike.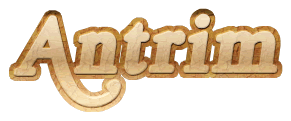 THE HALT 1627
This is the Halt at Dundary and was not only a petrol station but also a pub on the left and on the right a confectioners with Nellie Patterson at the door.
To get to the upstairs where they lived there was a flight a stairs either end of the building.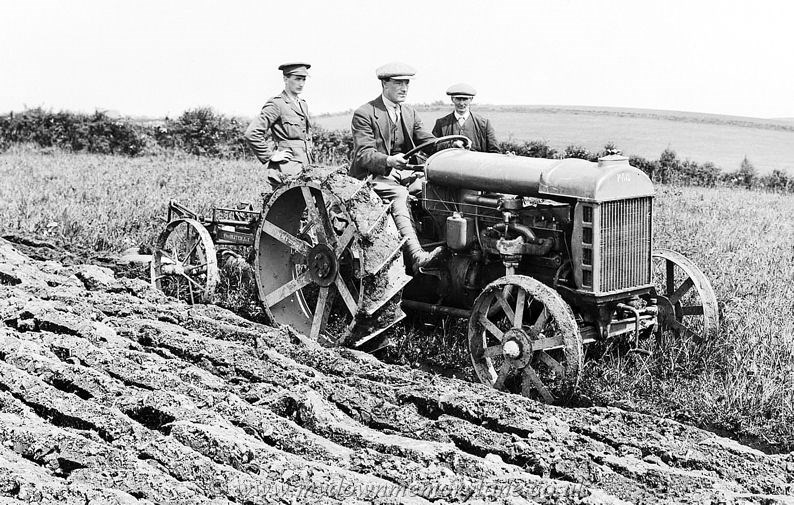 PLOUGHING 3544
This farmer is trying out the new Fordson tractor number P612 by ploughing his field over watched by a Army officer to see that it was reliable. The goverment had purchased 5,000 Fordson Tractors in 1917 to help with the food shortages during World War One. Sadly none of the people are known.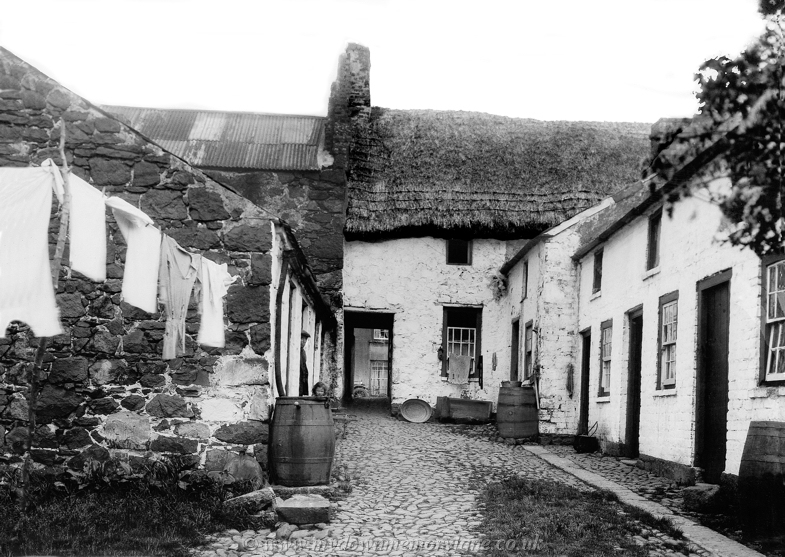 POGUE'S ENTRY 3823
It's the 1930's and here we are in Pogues Entry and somebody has been busy with the washing on the line. Standing in the doorway of his home is Mr Quigley this is were Alexander Irvine used to live. Peeping over the water barrel is Rosanna McVeigh who lived opposite. Through the entrance you can see part of a car and shop on Church Street