Y.M.C.A. 599
Standing outside the Y.M.C.A. building in the Services camp at the Showgrounds in Antrim in 1944.
The four American soldiers sadly are unknown, the first girl on the left is Minnie Baird..Next to her is Elizabeth Stewart, then Lily Baird and finally.May Stewart.
May wanted me to know that the girls were all unmarried at the time and nothing improper was going on.
Y.M.C.A. 600
Outside the Y.M.C.A. building inside the Services camp at the Showgrounds in Antrim in 1944.
The three American soldiers are sadly unknown, the first girl on the left is Minnie Baird, next to her is Elizabeth Stewart, then Lily Baird, then May Stewart and the girl kneeling down is Louise Gordon.
Y.M.C.A. 601
Here we have happy smiling face of the Navy and Army boys whose names are unknown.
Sitting down is Elizabeth Stewart and Lily Baird. Standing is May Stewart behing her the girl and the old lady are unknown.
May with her two sisters used to go and help out, they did two Sunday afternoons and one Sunday afternoon off.
The year was 1944.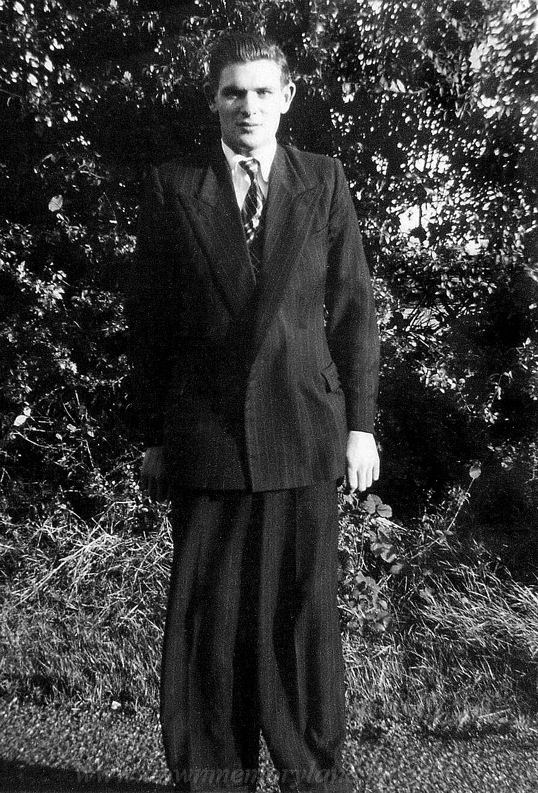 JOE YOUNG 2196
This is our Joe Young looking apprehensive while getting his photograph taken.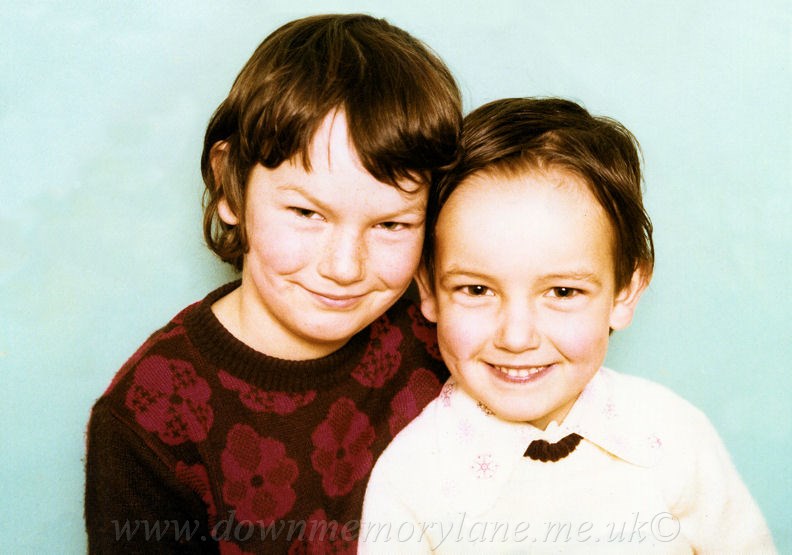 YOUNG CHILDREN 1818
Having their school photograph taken in 1973 are Anna and John Young.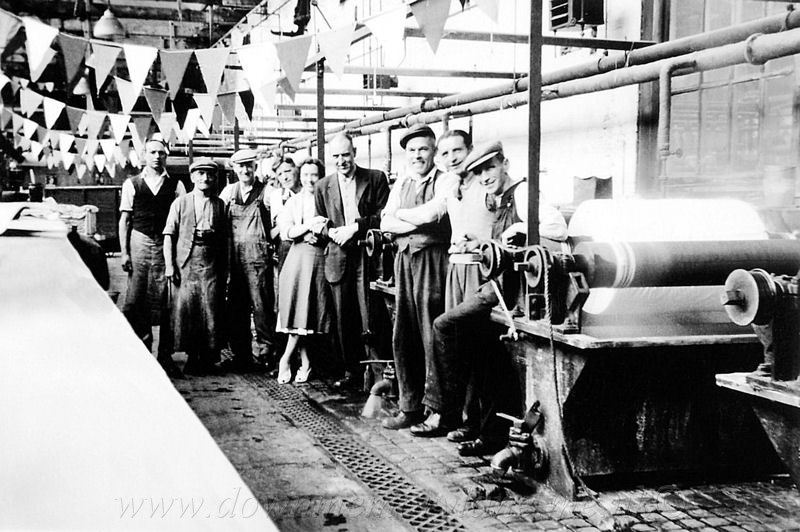 YORK STREET FLAX AND SPINNING CO LTD 1737
It's the 2nd June 1953 and we are inside York Street Flax Spinning Co.Ltd mill at Muckamore. In the foreground of the photograph is James Fleming Senior, the girl with her arm linked to George Walker is his daughter Ena Fleming. A McAteer and a Law are two of the names amongst the rest of the men, where they are in the photo and the rest of the men are unknown. The bunting is there to celebrate the forthcoming coronation of Queen Elizabeth.
What this department did is unknown but could they have been rinsing the roll of linen through the tanks behind them.
If you look closely beside the feet of the third man on the right you will see liquid pouring out of a tap. Also take a look at the pipes above and behind them they are coated in thick dust which sadly was inhaled by the workers.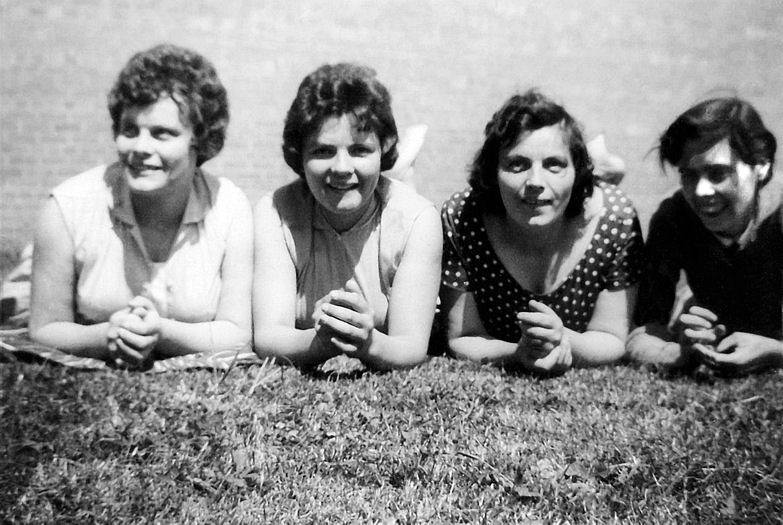 YORK STREET FLAX AND SPINNING CO LTD 1707
Enjoying the sunshine during their 1hr lunch break and wishing it was longer at York Street Flax and Spinning mill out at Muckamore we have from the left May McQuillen, Doris McQuillen, Ann McQuillen and Lily Kane.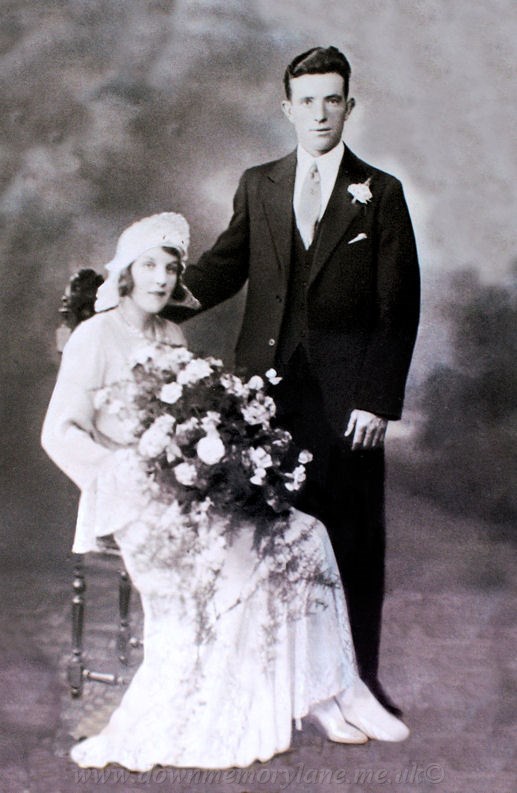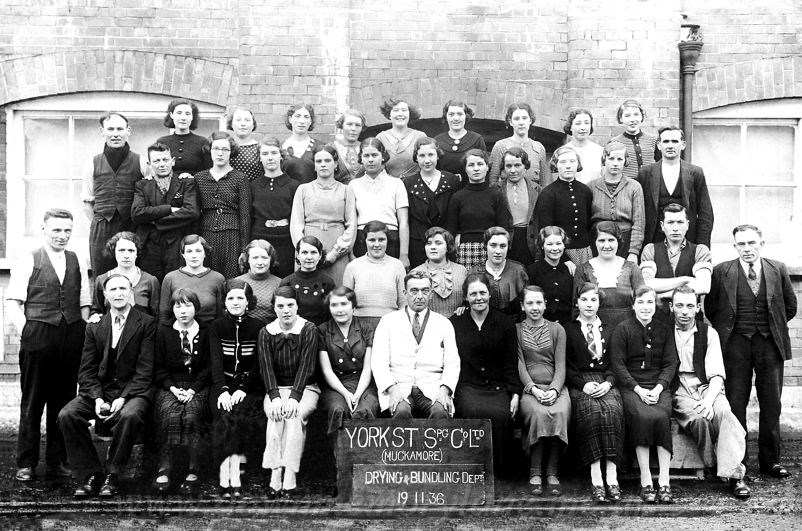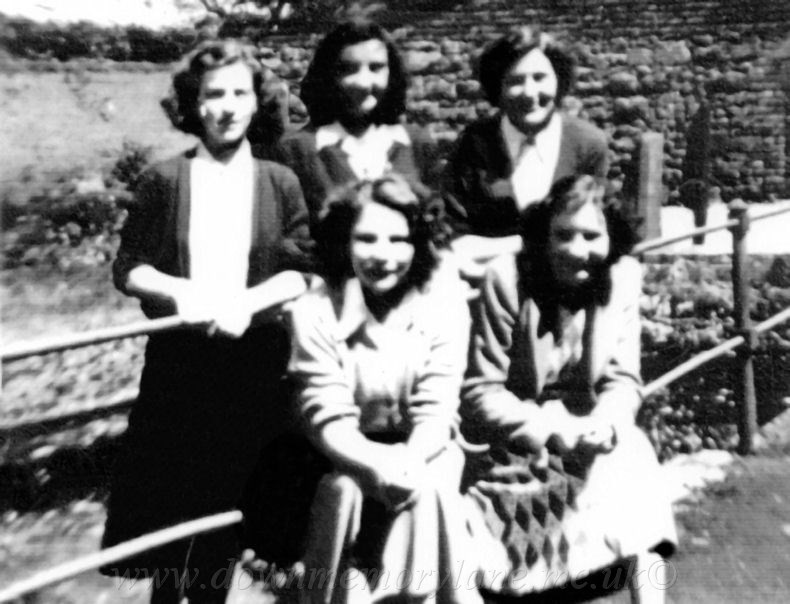 YMCA 545
This is the troops camp stationed at the Antrim Showgrounds during the First World War, the year was 1914.
YOUNG WEDDING 1270
This lovely Wedding photograph which has been slightly tinted was taken back in 1932. It is of the Groom James Barnett Young aged 30 and his beautiful Bride Mary Agnes Young nee Anderson aged 29.
YORK STREET FLAX AND SPINNING CO LTD 1277
Although slightly out of focus these girls who worked at York Street Flax and Spinning Co Ltd at Muckamore still had a smile for the camera. Taken at the mill in 1951 at the back are Maud Wallace, Sadie McCaig, Susan Shannon and in front Margaret Young and Mable McKee.
YORK FLAX SPINNING Co.Ltd. 738
These are the workers of the 'Drying and Bundling' department of York Street Flax Spinning Company out at Muckamore, Antrim in November 1936.
Judging by the style of the ladies dresses it wasn't dirty work. In the back row: (from left) are E.Holmes, M.Hogg, M.Doole, T.McKelvey, J.White, M.Logan, L.Judge, J.Morrow, Evelyn Doole and E.Beresford. The second row: we have J.McKee, A.Flecher, ?.Beresford,? Boyd, S.McBurney, A.McKelvey, L.McIlroy, L.Mulholland, M.Smith, I.King and J.McGrath. Front Row: P.McCormick, R.McKelvey,Jean Judge, M.Craig, A.McIlroy, M.Thursby, Kathleen Logan, H.Beresford, E.Preston, A.McCormick, R.McKelvey and D.Stirling. Seated: we have J.Hamill, P.Gregg, ?.Hogg, K.Adams, M.White, T.Coulter, C.Ashe, E.Gillespie, E.Gregg, Ruby McVeigh and J.Mulholland.
In 1943 Jean Judge, Kathleen Logan and Evelyn Doole moved to England on contract for two years, to work at Accles & Pollock, Broadwell Road, Oldbury, West Midlands on war production work making parts for Spitfires and bombers. Their passage by boat cost 5 shillings paid for by the company. They had to find and pay for their own lodgings but Jean Judge was lucky for the minister at Muckamore Church wrote to the vicar at St.Paul's church in Smethwick who arranged lodgings for Jean with one of the managers of Accles & Pollock. Later on Evelyn emigrated to Canada, Kathleen married and moved away while Jean married and remained in Oldbury. Also we have Ruby McVeigh of Pogues Entry who moved to Florida.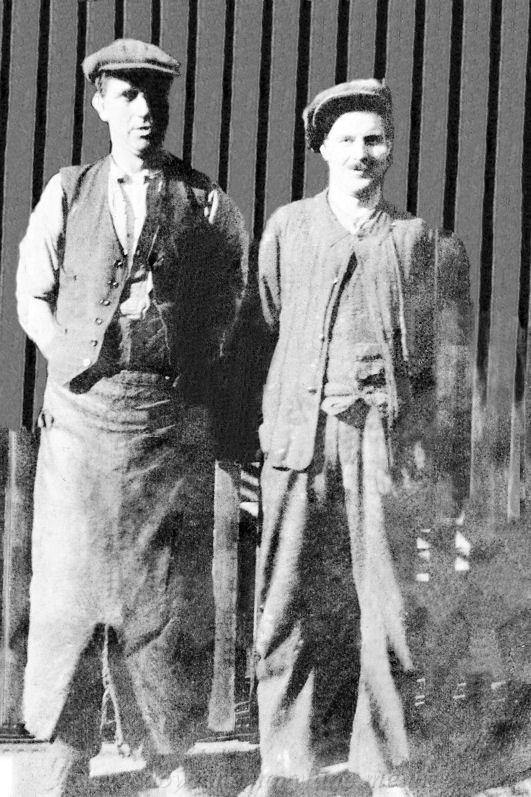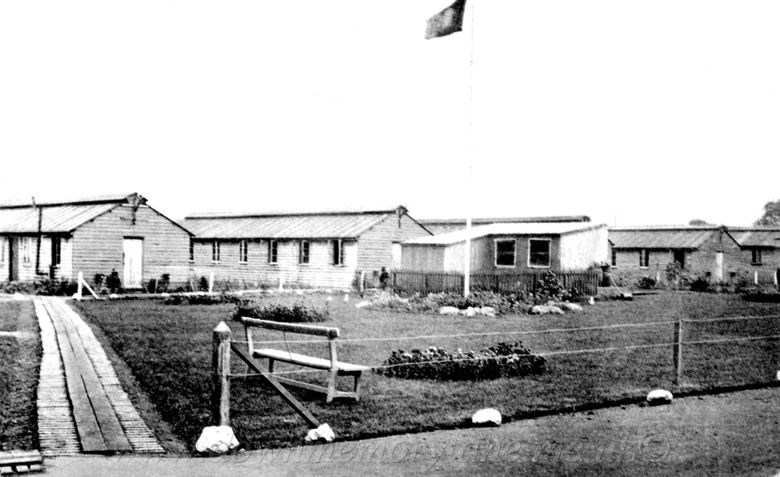 YORK STREET FLAX SPINNING Co.Ltd. 1079
This Archie McQuilken and Ernest Campbell at work down at the Green Muckamore for York Street Flax Spinning Co. The year was 1945.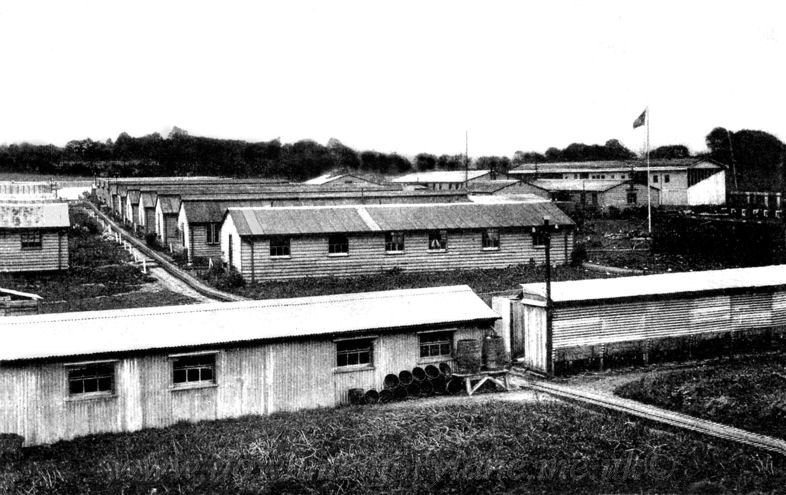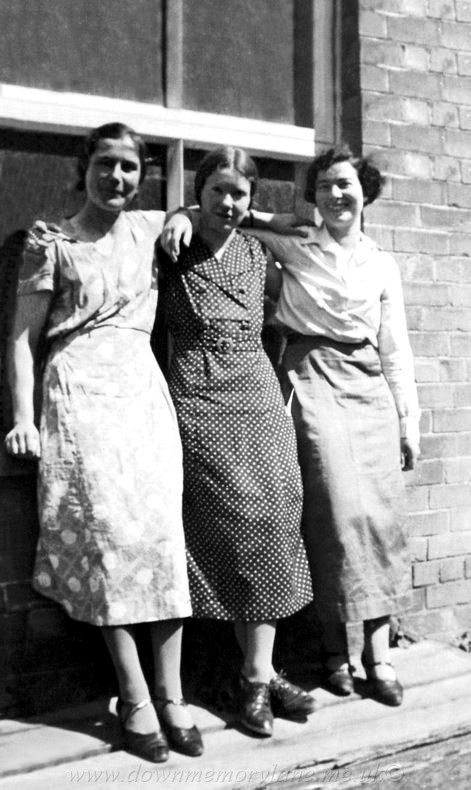 YMCA 544
The camp at the Antrim showgrounds was also used by the troops during the Great War of 1914-18. It is pictured here in 1914, where the YMCA gave comfort to the men
and this picture clearly shows that it offered temporary accommodation for scores of troops. At various times the army, the Royal Navy and the American forces stopped off at the camp en route to France.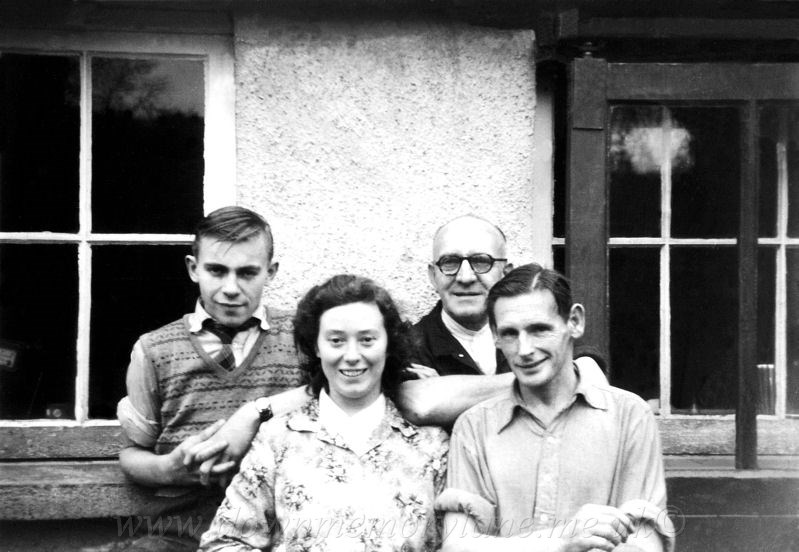 NORMAN YOUNG 1464
This is Norman Young from Antrim having his photo taken up at Portrush in 1960.
Now Norman is either going to or has been at a wedding going by the flower in his lapel, who's we don't know.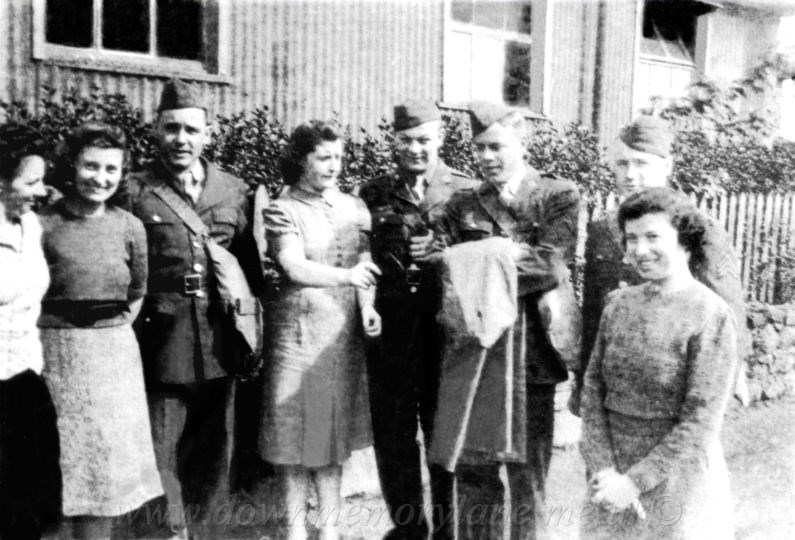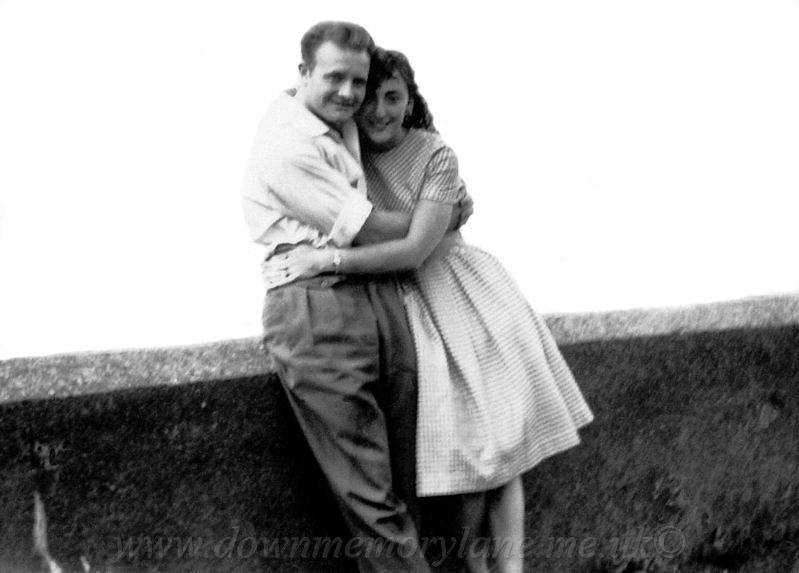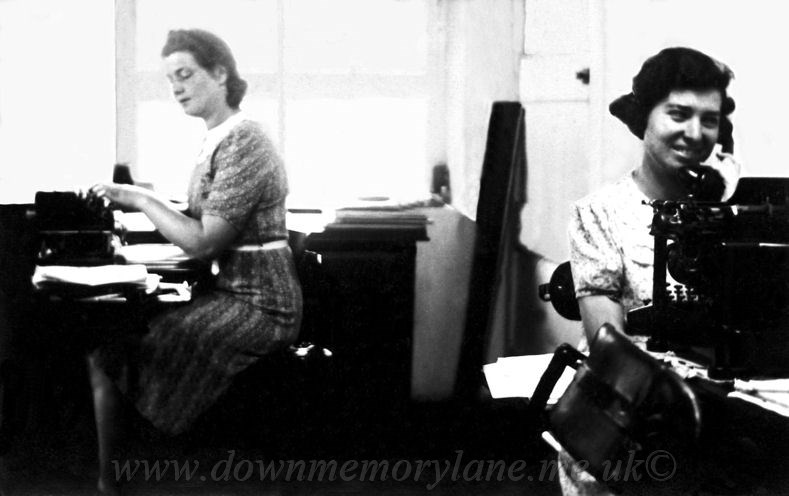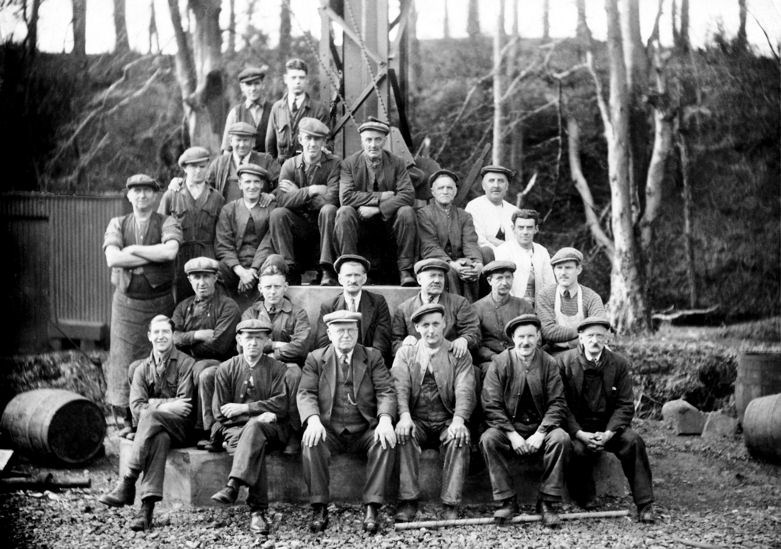 YOUNG LOVE 2539
Out along the coast on a summers day back in 1954 we have this couple so in love then.
It's Hugh Dunn with Madeline Mitchell who I see is wearing a watch. Now if Hugh bought Madeline the watch, back then that was the first stage to getting engaged, which of course we know they did. Sadly Hugh has gone Home.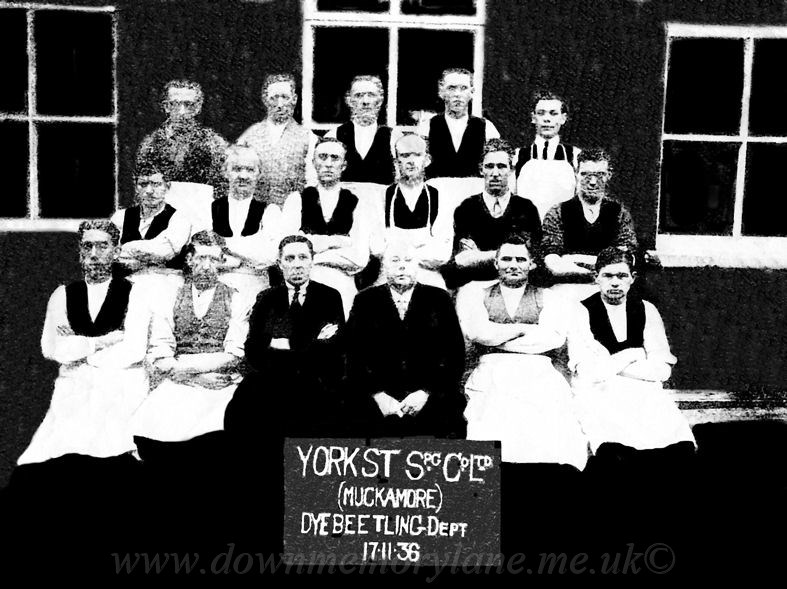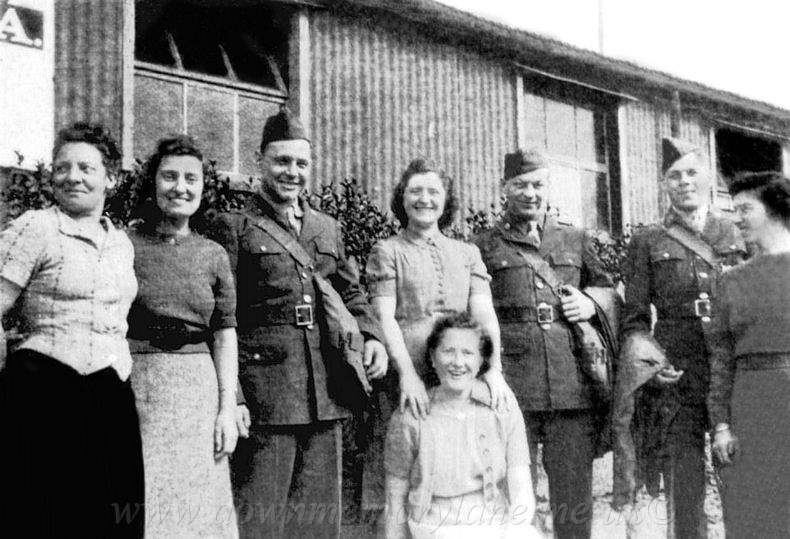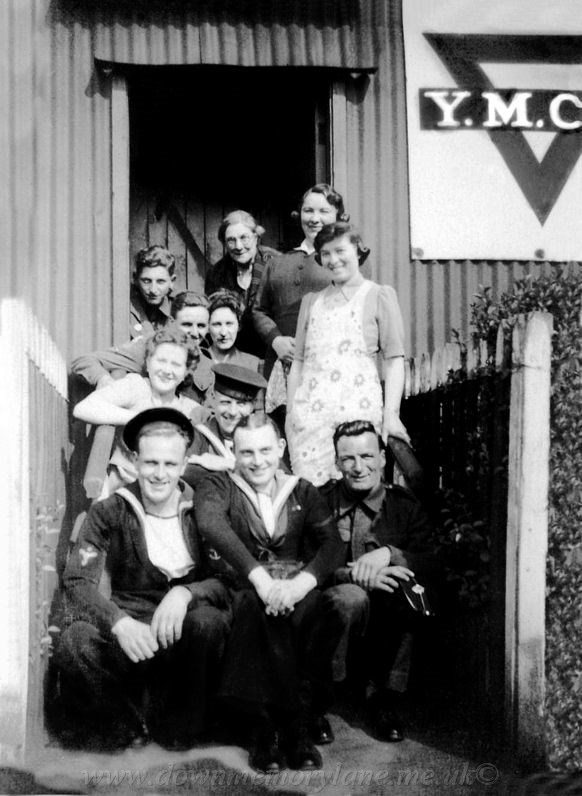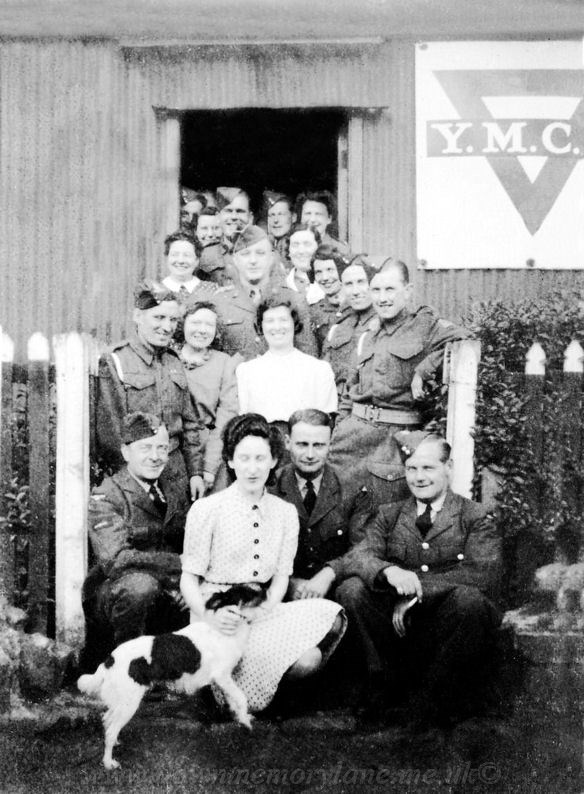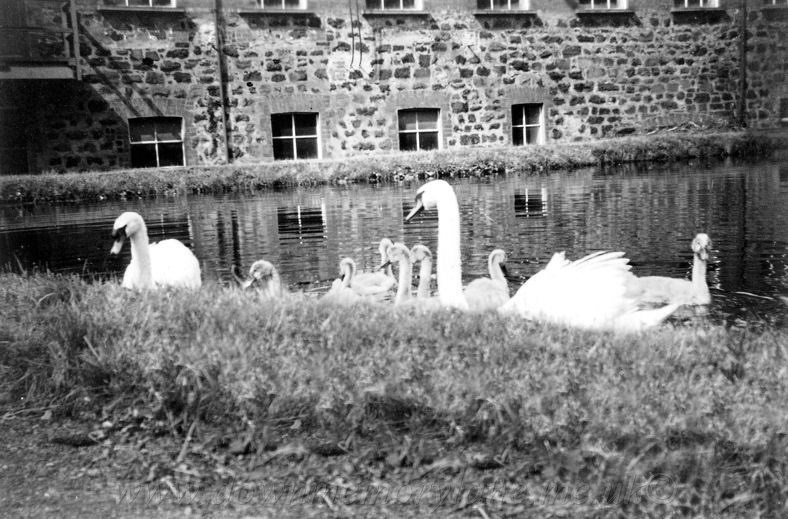 YORK STREET FLAX SPINNING Co.Ltd. 612
This lovely picture of the swans with their cygnets in one of the dams at the York Street Flax Spinning Company was taken back in 1938. The mill, which dominated the Muckamore skyline for decades, was demolished after a mysterious blaze tore through the derelict building in the early 1990's.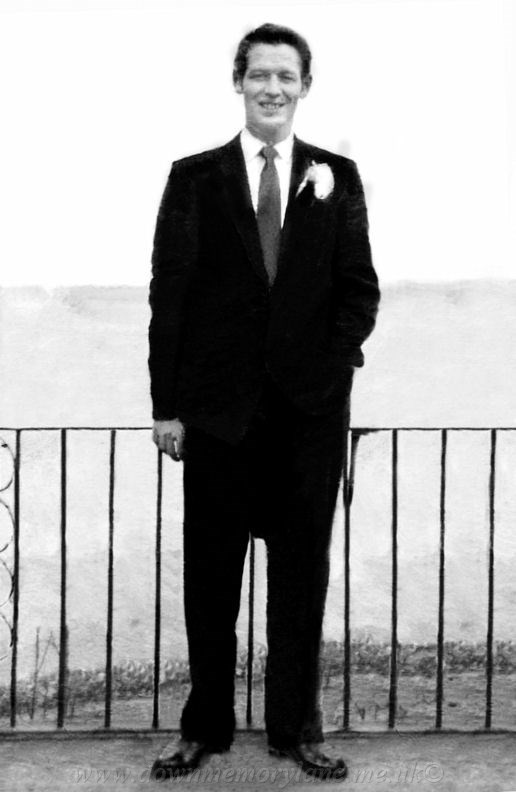 Pages:
Y.M.C.A. 602
It is 1944 and in this group photograph we have the Royal Air Force, the Army and an American soldier.
Kneeling down with the dog who is unknown and so is the Girl. Behind her is May Stewart and Lily Baird.The other ladies are unknown.
YORK STREET FLAX SPINNING Co.Ltd. 607
Working away in the office in 1942 we have on the phone May Stewart and typing away is Patsy Lavery. Pasty used to work in the Lapping room in the mill but she went to night classes at the Tec and got the job in the office.
YORK STREET FLAX SPINNING Co.Ltd. 611
Taking advantage of the sunshine during their lunch break in 1935 are Madge Mailey, Rennie McIlwaine and May Stewart.
YORK STREET FLAX SPINNING Co.Ltd. 819
Taking a break from work outsite the Dye department in 1953 we have Charlie Clarke and Bob Fletcher, in front is Nancy Finlay and Leslie Bones. Charlie remembers a Sammy O'Neill who also worked there was always up to something when one day they saw Sammy walking along in the mill with a piece of string in his hand leading down to the ground and it was moving! When he got up to them they could see a mouse running along with the string around its body. They looked at Sammy who said " It's me pet and I'm taking it for a walk". The mouse of course came to no harm and Sammy let it go.
YORK STREET FLAX SPINNING Co.Ltd. 525
This is the Dye Beetling Dept on the 17th November 1936 at Muckamore.
Back row: Willie Craig, Robert Higgins, Carl Preston, Tommy Huston and the young lad Forsythe.
Middle row: Sam McQuillan, Charlie Witherspoon, Unknown, Billy McGrath, James McNeill and Alec Wright.
Front row: James Higgins, Matt Tarter, Crow, Dean (Manager), John McGuillan and William McQuillan.
Footnote: Willie Craig in the back row his nickname was " Oul Queen " for every now and then he would say " I'll go and get the Oul Queen out" and apparently it was a drum ! "
YORK STREET FLAX SPINNING Co.Ltd. 527
This wonderful picture shows some of the men who toiled in the Green Yard of York Street Flax Spinning Co. Ltd. at Muckamore on the banks of the Sixmilewater river.
They are from the back row: Matt Quigley, Silvey Mateland, Jimmy Johnston, Tommy Millar, David Steel, Erskine Campbell, Johnny Hanna, Bob Shaw, Willy Allen, Harry Allen (Painter), Jamie Elder (Painter), Johnny Kilpatrick, John King, Jimmy Gaston, Tommy Harkness, Willy Mayers, Bobby Reilly, Victor Hamill, Tommy Williamson, Tom Baxter, Willie King, Archie McQuilken and Archie Forest.
The year is unknown.