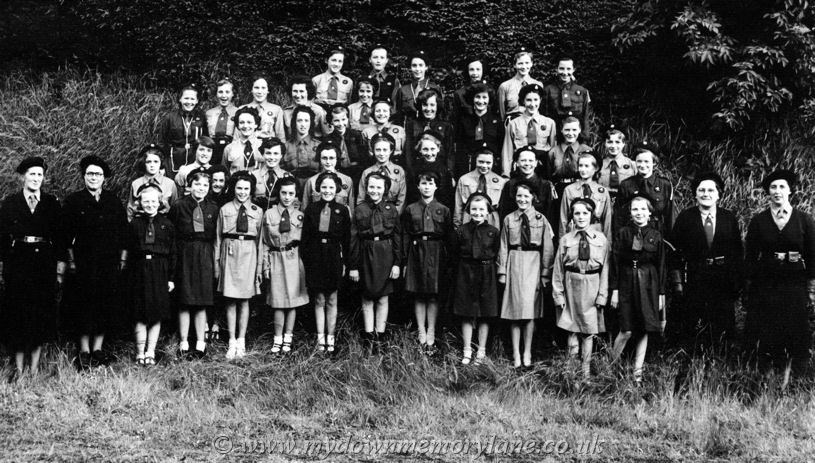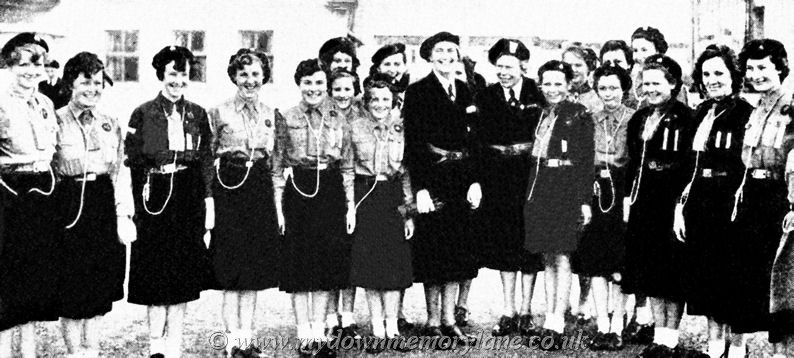 GIRL GUIDES 455
This group photograph was taken at Nutt's Corner Airport on the 6th May 1955.
It is of 1st Antrim ( B ) Company meeting Lady Baden-Powell who was the World Chief Guide.
Mave Harrison, Elsie Hamil, Patrica McClure, Rossaleen McGill, Sally Forsythe, Sentor Mrs. W.E.Greeves.M.B.E. Ulster Chief Commissioner, Lady Baden-Powell, Mary Heming, Lila Jaminson, Isabell Francy, Myra McMaster, Margaret Mills & Lily McCormick.
Back row: has from the left 5 Unknowns, Olive Fleming and Rita Craig.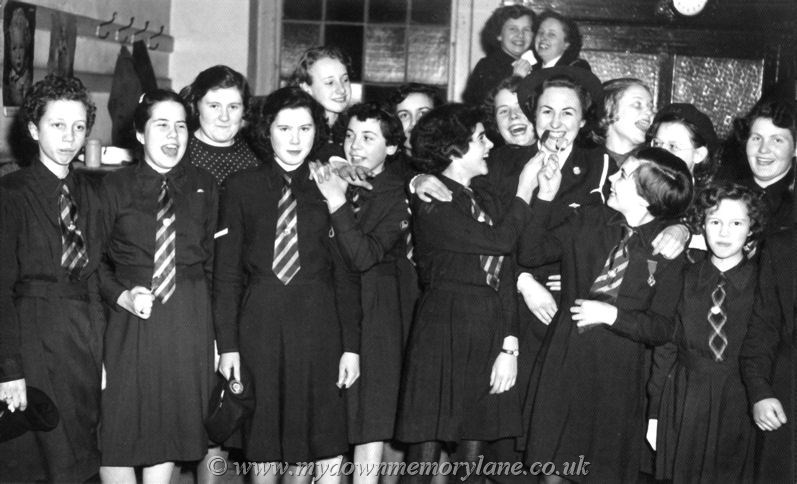 GIRL BRIGADE 404
Having a great time are these girls of the Antrim Girls Brigade. Phylis Nicholl, Unknown, Unknown, Lily Nicholl, Francis McKnight, Unknown, Marie Sharp, Unknown, Unknown, Unknown, Hazel Chambers, Unknown, Unknown, Unknown, Unknown and Florence McNeilley.
Also in the picture are Tilly Borris, Jeannie Surgenor, Liffy Reid.and Mrs Fleming. Date is around 1953.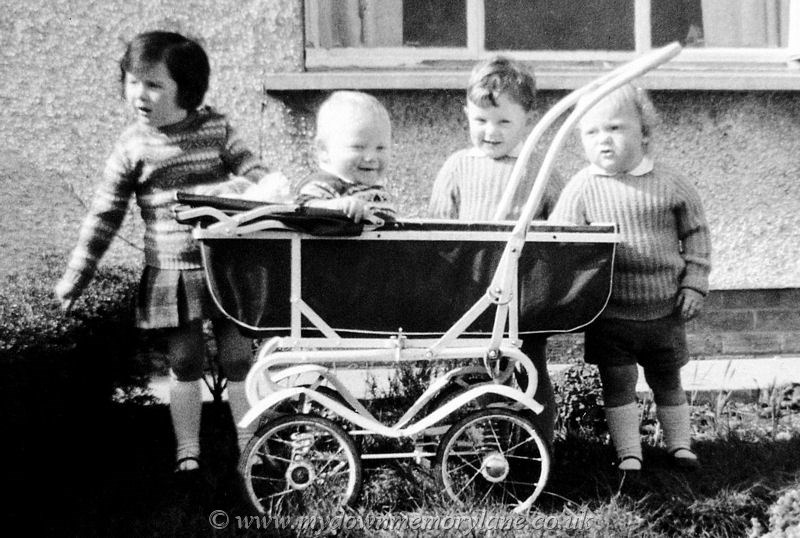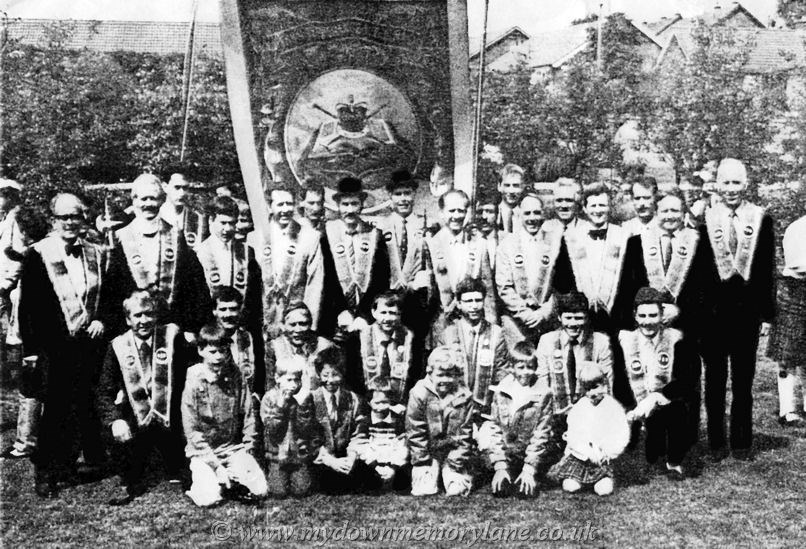 GWYNNS TEMPERANCE LOL 419 2279
This is Gwynns Temperance LOL 419 at Antrim and kneeling in front we have
R Preston, E Nicholl, R Lynn, W Williamson (Jnr), E Kelso, M W and D Robinson.
Behind are S Clarke, N Young, D Lynn, R Ward, F Logan, J Robinson, Ian Johnston, K White, J Hume, E Shaw, W Young, G Law and finally W Johnston.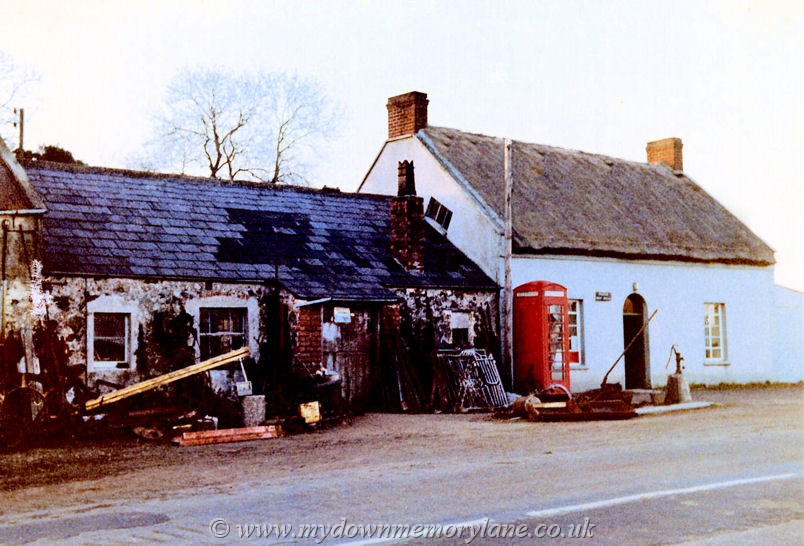 GRAHAM'S BLACKSMITH SHOP 2725
This is Graham's Blacksmith Shop which was torn down to make way for the roundabout leading to Belfast International Airport. I wonder what the building next to it was used for?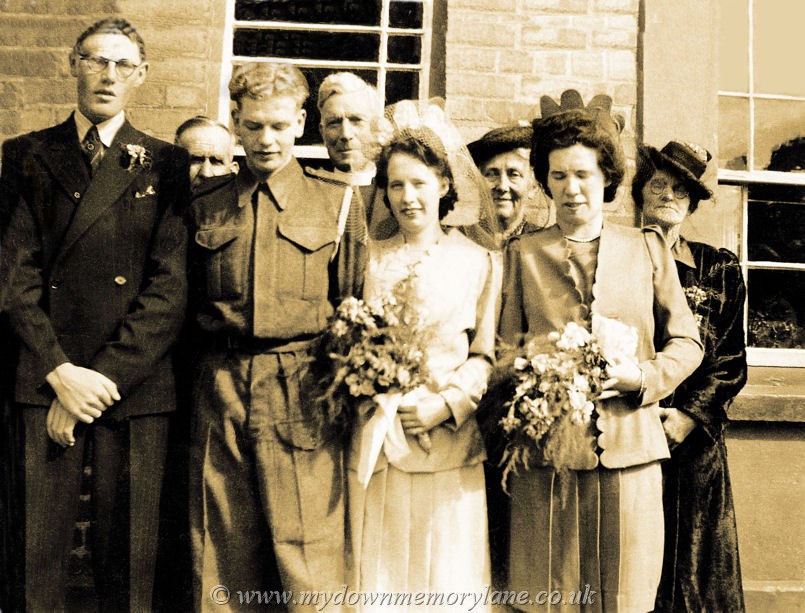 GRAHAM WEDDING 2744
Here we are during WWII when this wedding photograph was taken at High Street Presbyterain Church in High Street Antrim.
Back row: you can just see Davey Quigley, then the minister Rev William Mitchell, Elizabeth Quigley and Mrs Graham.
Front Row: The Best man is Unknown, the Groom is Mr Graham, the Bride is Lilian Quigley of 59 Fountain Street and the Bridesmaid is her sister Francis Quigley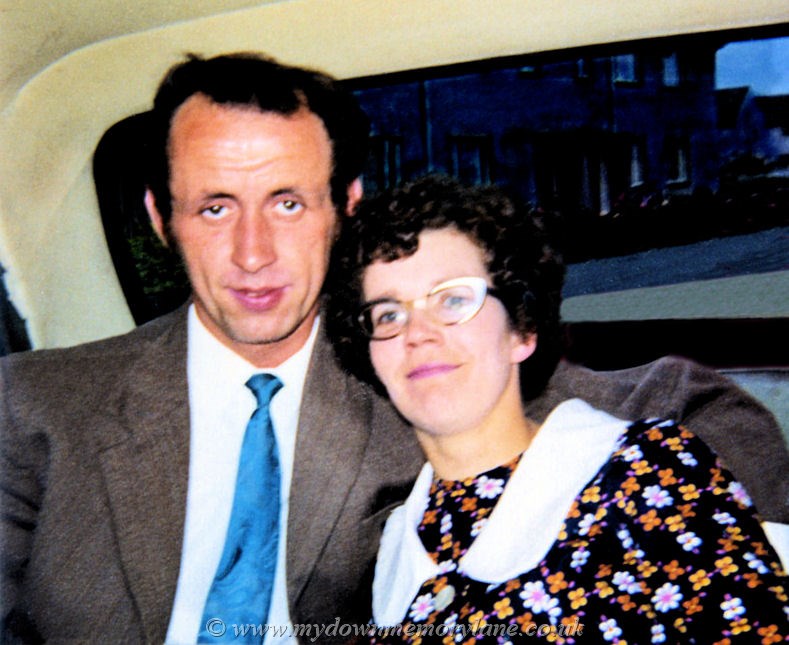 GIFFEN WEDDING 1851
This is Roy Giffen the Groom with his Bride Elizabeth Giffen going off on honeymoon after their wedding 1972.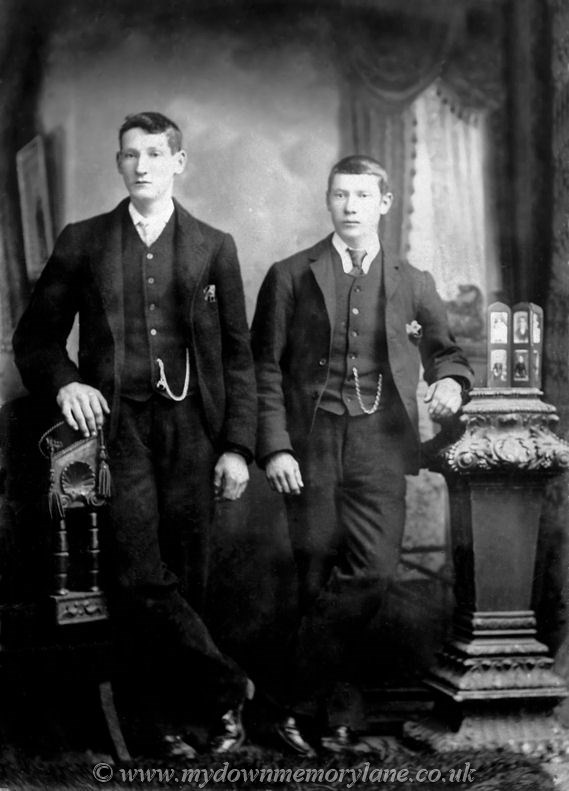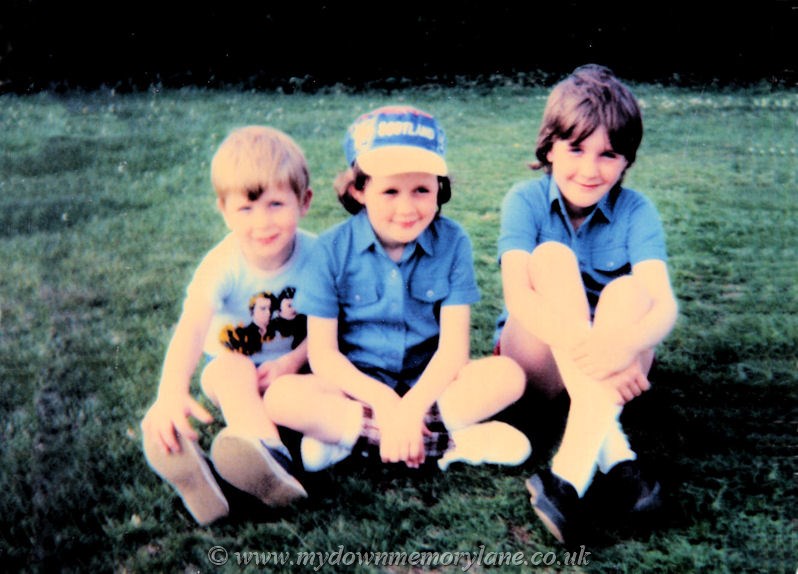 GIFFEN CHILDREN 1852
Just back from holidays and you tell where they were by Charmaine's cap in 1975.
On her left is her brother Dean, and her sister Elizabeth is on her right.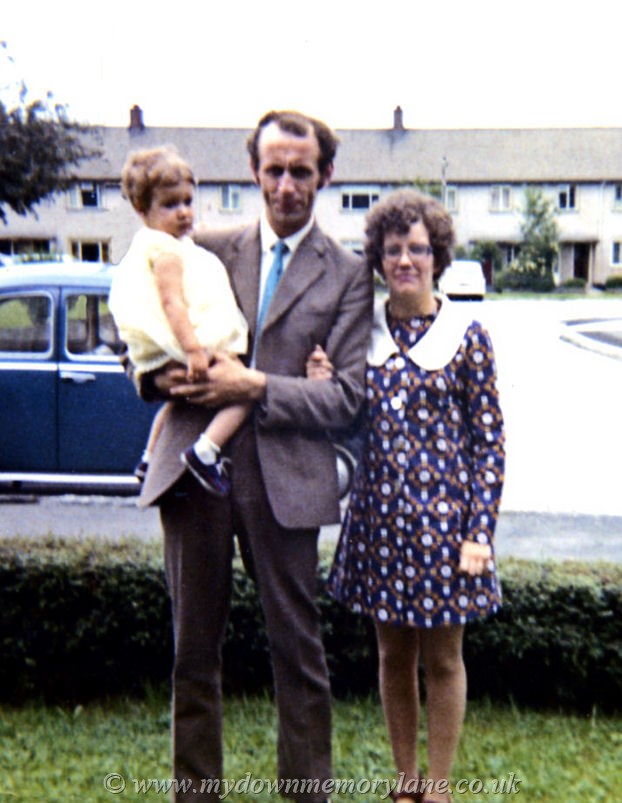 GIFFEN FAMILY 1846
Proudly standing with his daughter Agnes in his arms is Roy Griffen along with his wife Elizabeth in 1974.
Taken standing in their garden at and behind them a true Volkswagen Beetle.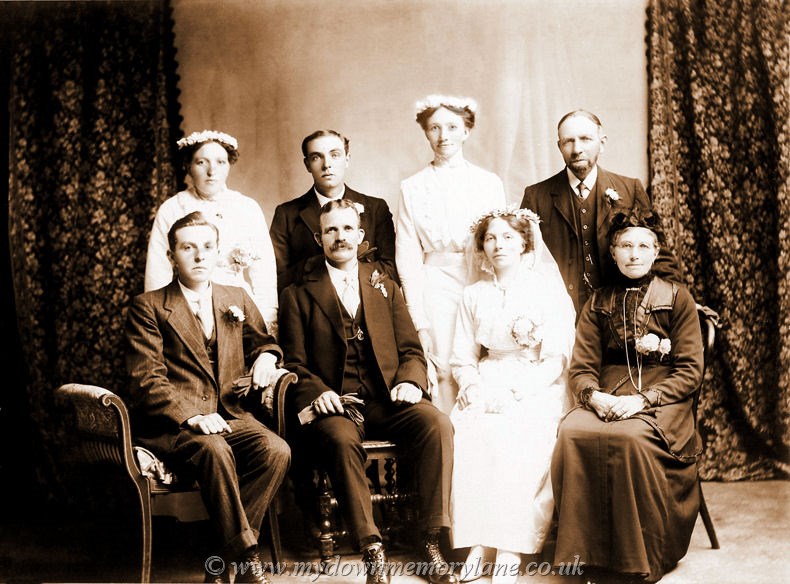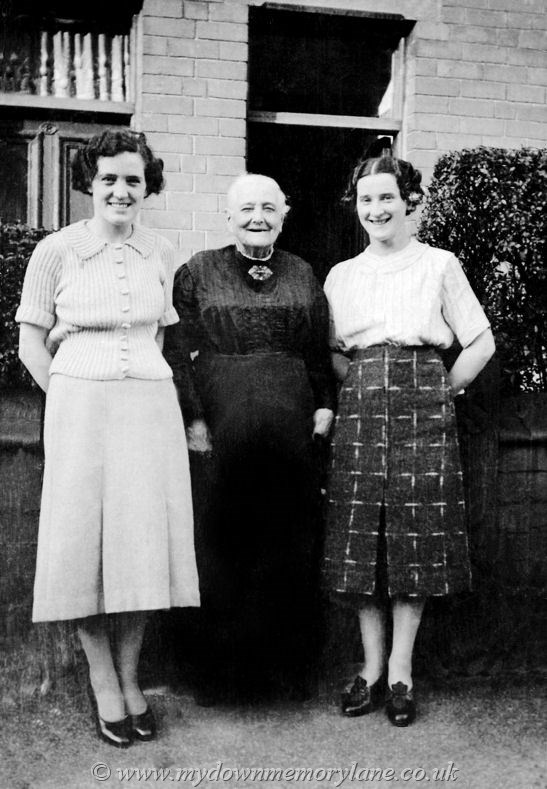 GRANDDAUGHTERS 2084
Seen here visiting their Grandmother Adelade Kinzett who is standing outside her home in 1936.
We have on the left Moria Mackreth and on the right her sister Kay Mackreth.
GORDON WEDDING 1919
This wedding photograph was taken in 1914 and the Groom was Tom Gordon and the Bride Margaret Nesbitt.
At the back on the left is Unknown, then her brother James Nesbitt, Miss Burnside and the Father James Nesbitt. Seated are her brother Robert Nesbitt, her husband Tom Gordon, herself Margaret Nesbitt and finally her mother Margaret Jane Nesbitt.
Margaret's parents were not happy about the wedding as they belived their daughter was marrying beneath her station.
They emigrated to New Zealand and lived a very happy life and ironically Tom became a very rich man in his own right.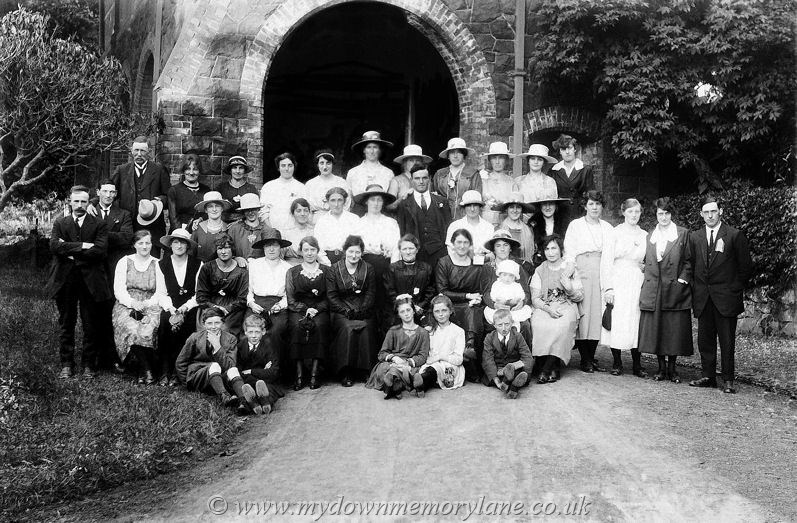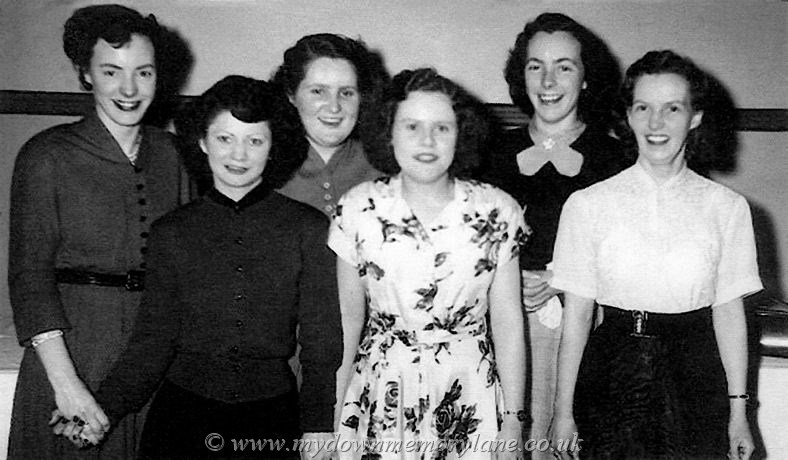 GROUP 1629
This group of people are at the moment are unknown to me although some of the faces are familar and the building behind them is also unknown.
The photograph was taken in the 1920's the style of dress dictates it as the lady seated third from the left is dressed in a Charleston dress with a headband.
GIRLS NIGHT OUT 1735
Being photographed on a girls night out we have from the left. Ena Fleming, Julia Hannan, Nellie Hannan, Kake Reford, Mary Fleming and Kathleen Beggs.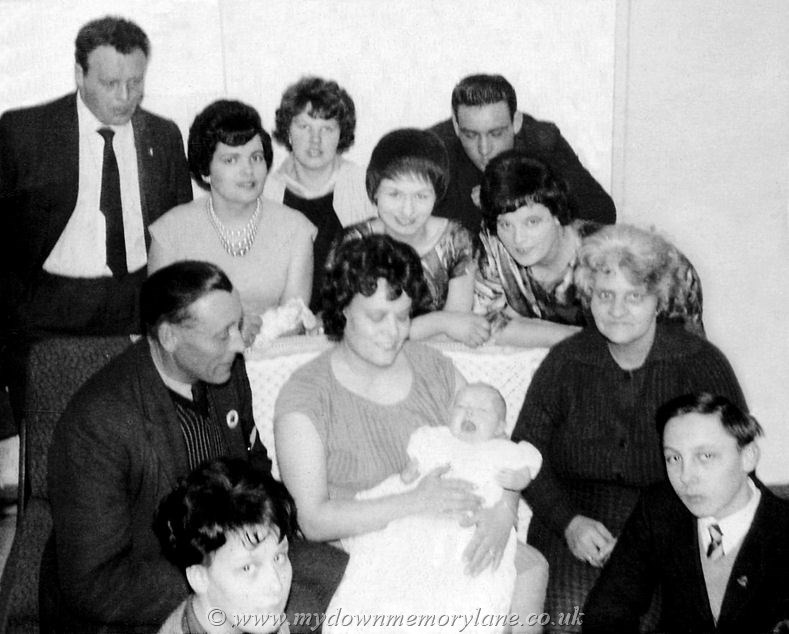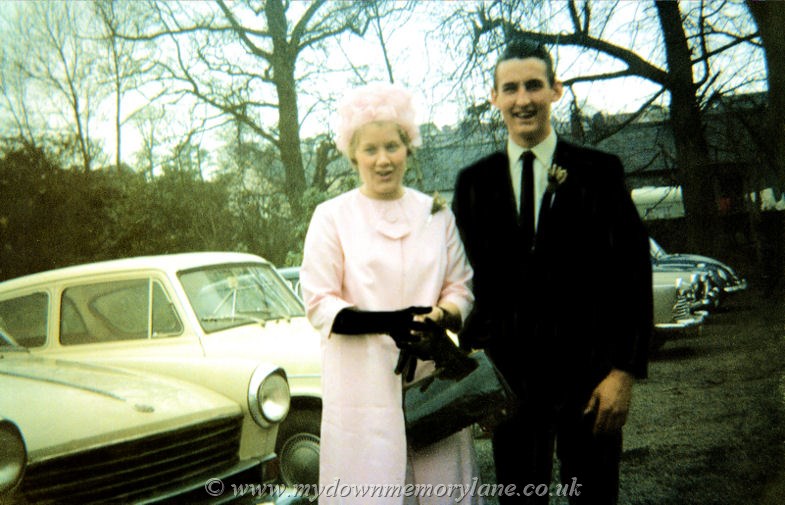 GUESTS 1499
This is Bobby Wylie and Alice Cubritt going to a neighbours wedding in 1967.
GARY'S CHRISTENING 1749
Family gatherings are usually for special occasions and so is this one for it was for Gary Hannan was three months old and had just been Christened.
Back Row: is Sammy McQuillan, Doris McQuillan, Lilian McQuillan, Carol McMurtry, Norman McQuillan and Ann McQuillan.
Middle Row: are Thomas McQuillan, May Hannan holding her newly Christened son Gary and then Elizabeth McQuillan.
Front Row: we have Elsie and Jim McQuillan.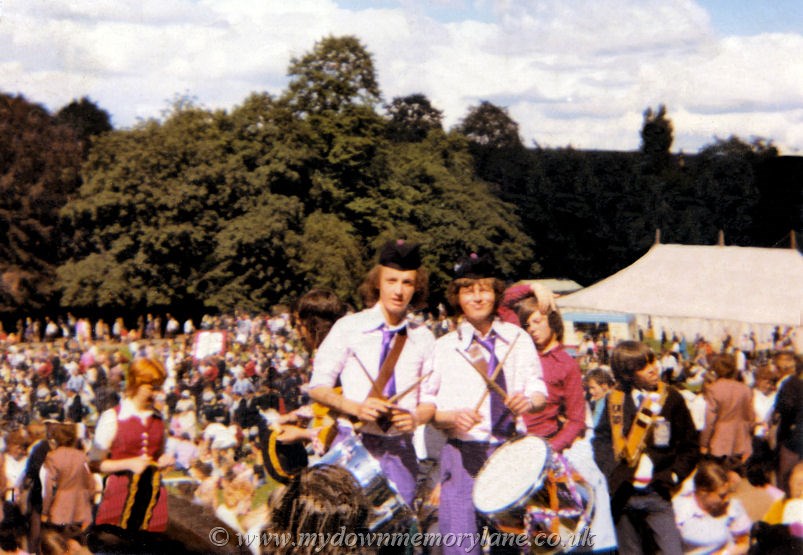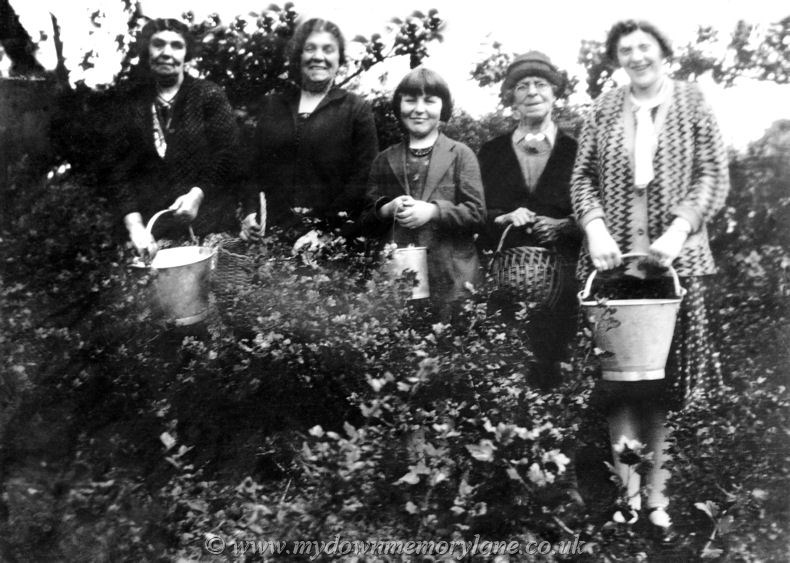 GLASGOW GREEN 1461
The year is 1973 and here in Scotland they are at the field on the 12th July.
The two drummers are William Baird and Nigel Crossey who have come over from Antrim with the Ballycraigy band.
GOOSEBERRIES 1324
All hands at the ready to start picking the gooseberries in the back garden at the Folly in 1923.
On the left is Agnes Scott, Ellen McElrea and the other three are unknown.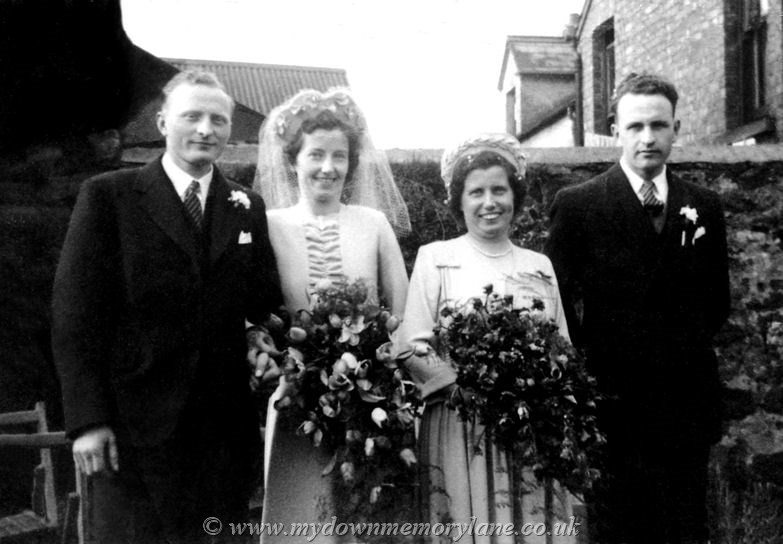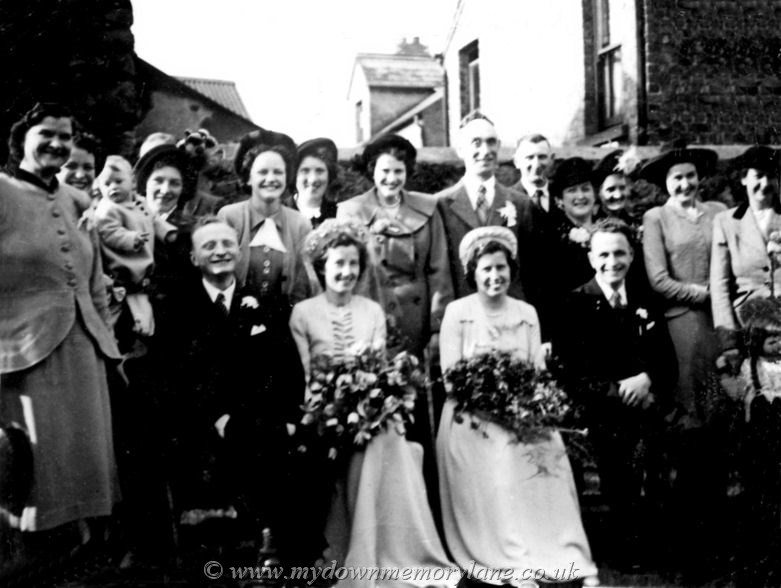 GILLESPIE WEDDING 1408
All smiles for the camera in this group photograph of Ivan Gillespie's Wedding Day,
In the group is Mr Rodgers and his wife, the rest including the Bride, Bridesmaid, Best man and year are unknown.
GILLESPIE WEDDING 1407
Here we have Ivan Gillespie with his charming wife on their Wedding Day.
The bridesmaid and the Best man along with the date are unknown.
GOOD MATES 1261
Getting their photograph taken at J. Phillips Studio of Royal Avenue Belfast in 1896.
On the left is John McCabe and his good friend Hugh Jackson both from Antrim. Later on they both got married, had families and ended up grandfathers, John to Anna McCabe and Hugh to Betty Steele.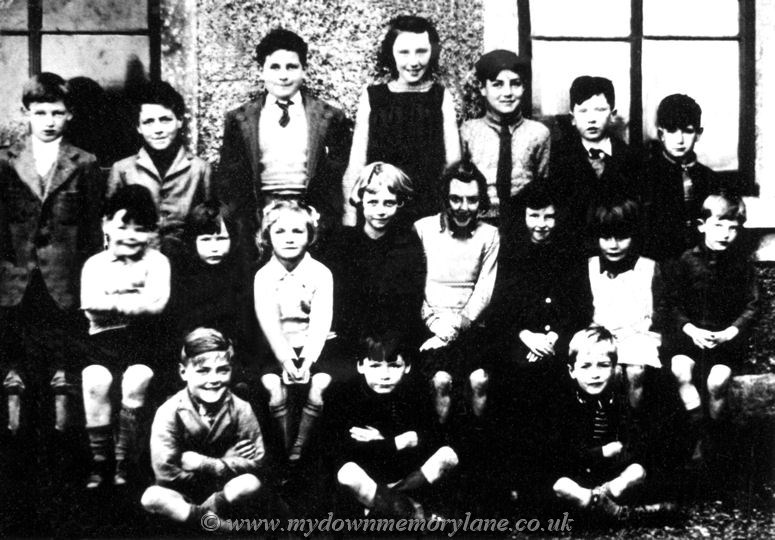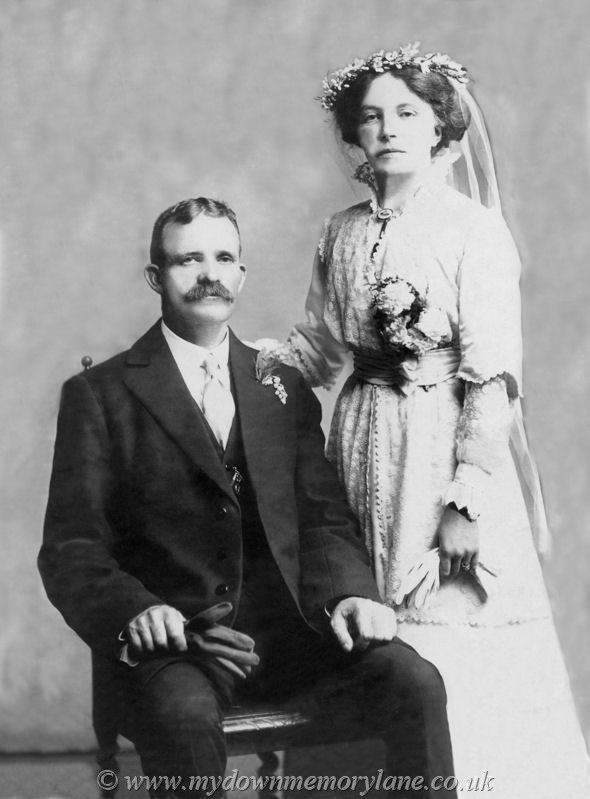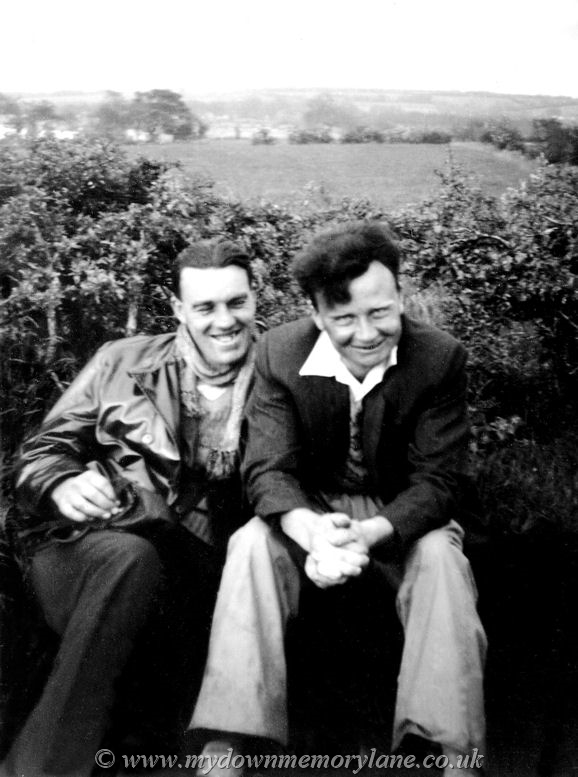 GORTAGALLON PRIMARY SCHOOL 1039
This is the class of 1939 outside their school which is Gortagallon near Crumlin. Standing at the back are George Duncan, Victor Henry, Bob Duncan,
Rosaline Addis, Kenneth Henry, Billy Addis and Roy Courtney. In Front seated are David Hamilton, Eileen Rankin, Jean Duncan, Muriel McCartney, Clarisse McCartney, Elizabeth Logan, Betty Courtney and Jim Logan. Seated on the ground are Herbert Henry, Frank Courtney and Alan McCartney.
WEDDING DAY 1061
This is Tom Gordon and his Bride Margaret Nesbitt on their wedding day 1914 in New Zealand.
First we rewind time to when Tom and Margaret fell in love and starting courting, Margaret's family objected due to Tom being of a lower station, Tom then left and emigreated to New Zealand. Margaret however was not going to be parted from her true love and so she joined Tom in New Zealand six weeks later. They then got married six weeks after that and lived a very happy life and ironically Tom became a very rich man in his own right.
Now that's what I call a "Love Story".
GREAT PALS 79
This portraiture is of Alexander Irvine and his great pal Jack London back in 1906.
Jack London was the instigator of getting Alexander Irvine to write and earn money from it.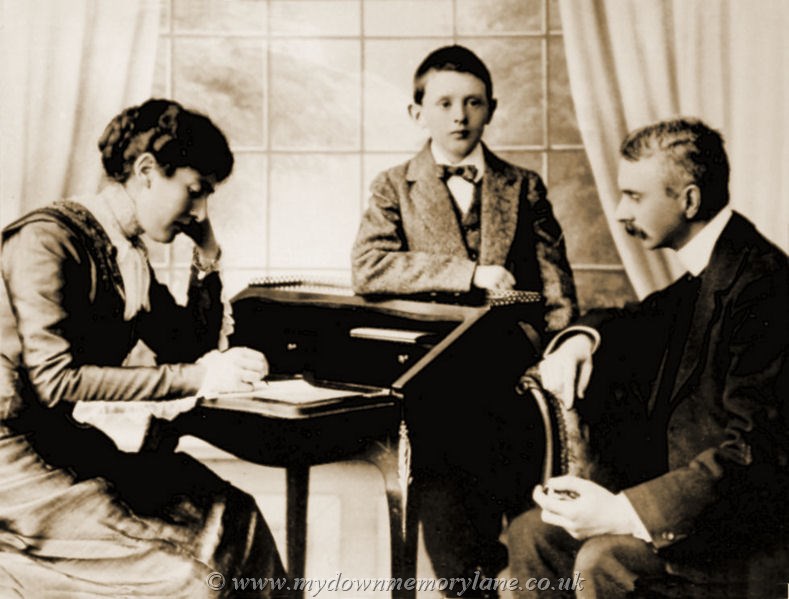 GREEN FAMILY 462
This beautifully composed shot is of renowned photographer William Alfred Green and his wife Mary 9nee Shemeld) and their son Foster. It was taken back in 1914, just before Alfred took up residence at the Belfast Road in Antrim. His decision to relocate to the town was lucky for local historians, for his pictures from this period have become valuable historical documents. Sadly he died in 1958 at the age of 88, but his work lives on. His former home also bears a plaque commemorating his enduring contribution both to local life and the art of photography.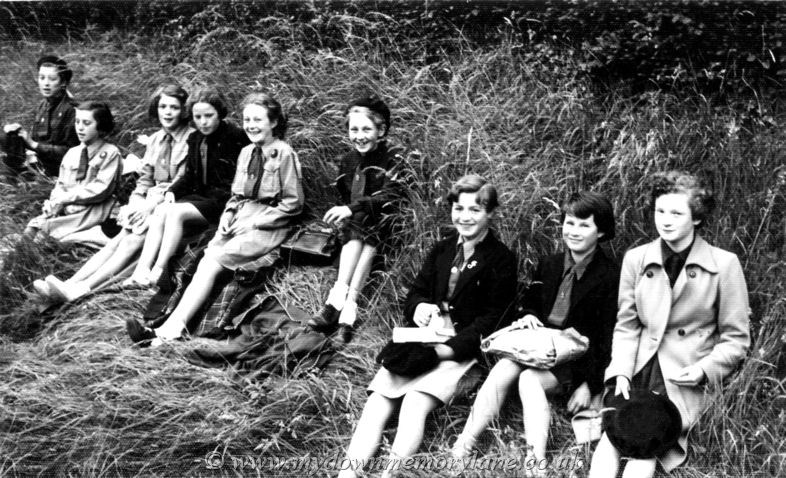 GIRL GUIDES 585
Here we have a relaxed shot of 1st Antrim Girl Guides takin in the Castle Grounds in the summer of 1954. The young ladies are actually taking a bit if a rest after scaling the Motte. Starting from the left we have, Sadie Stevenson, Marie O'Neill, Margaret Wilson, Edith Blair,
Joan Russell, Annie McCormick, Isobel Coulter, Alice Kirkwood and May Francey.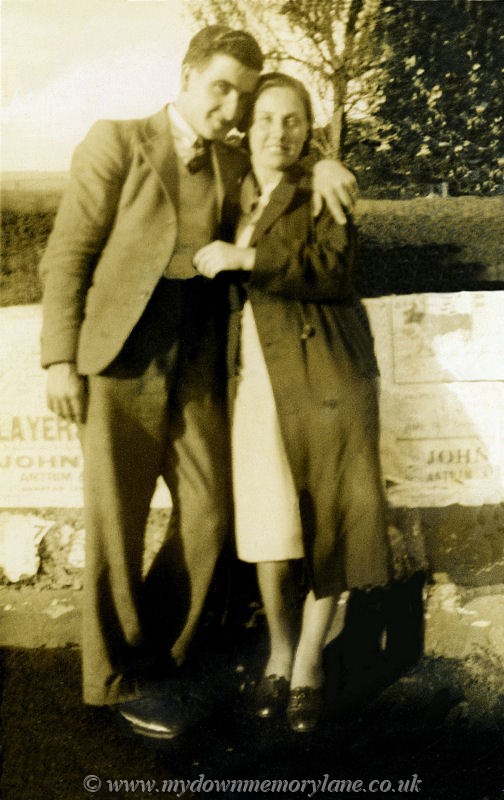 ANTRIM TOURIST ADVISOR 2406
Here we are back in the time when Antrim's Hotels were full of visitors eager to see and visit the sights.
Some did not have to go very far to enjoy a tour round Antrim with their very own Antrim Tourist Adviser.
Davy Gaynor was one of these advisors and made sure they went home with wonderful memories, but back then everything was prim and proper.
The girl was from Lancashire and was called Flo Buxom.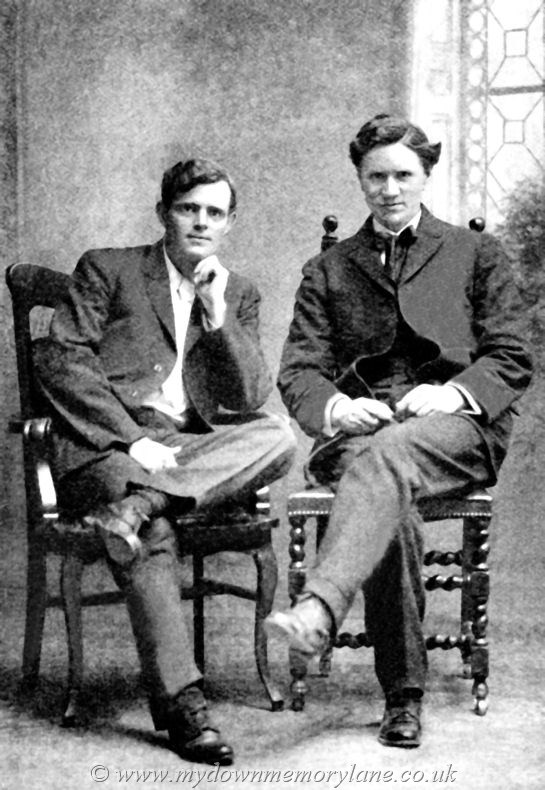 GOOD MATES 1144
Sitting on the bunker which was the usual meeting place on the Steeple Road waiting for their mates to appear to enjoy a good nights craic we have William McClenaghan and Sammy Fletcher. The year is unknown.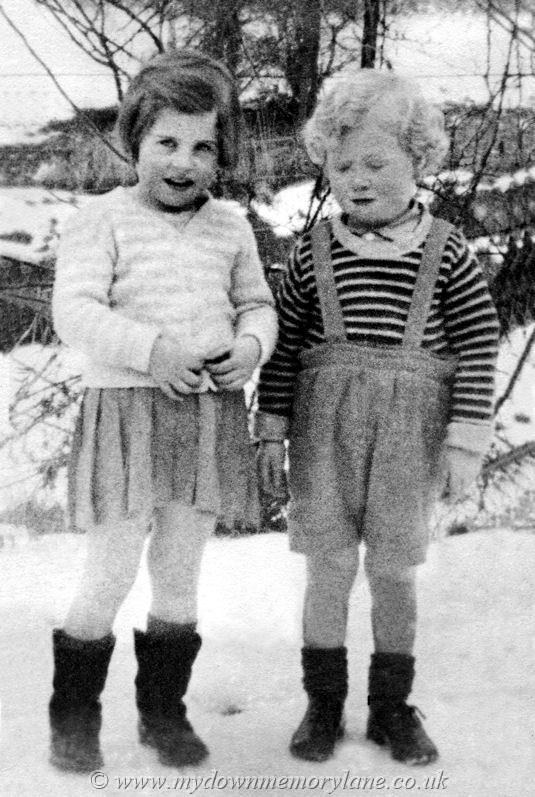 GIRL MEETS BOY 1075
Hello I'm Hazel the Ladle Campbell and this shy boy is my best friend James the Moley Craig.
We love playing in the snow here at Muckamore Village and it's 1953.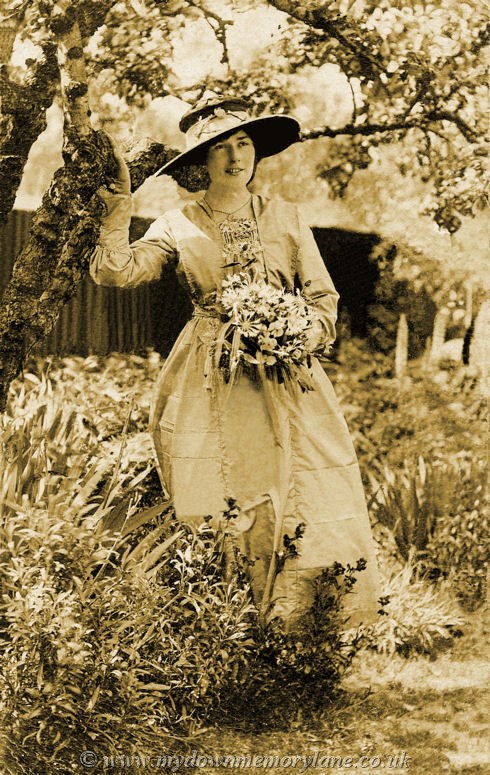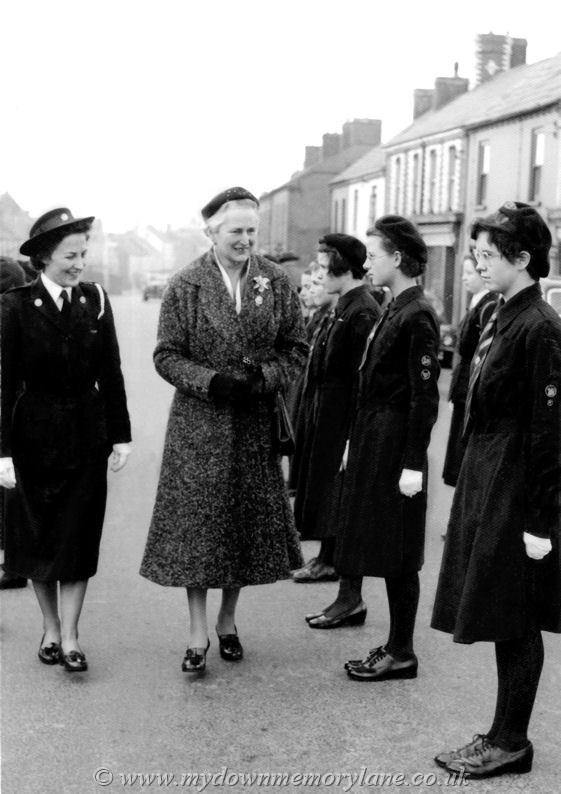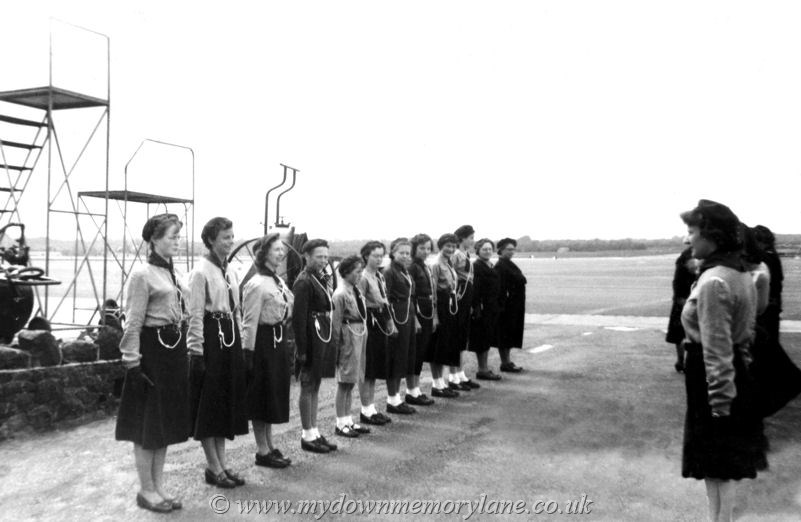 GIRL GUIDES 524
This photograph of the Guides was taken at Nutt's Corner Airport on the 6th May 1955. It is of 1st Antrim ( B ) Company who were waiting to meet Lady Baden-Powell who was the World Chief Guide.
The guide on the right is Lila Jamison and some of the rest of the Guides there are called Mave Harrison, Sentor Mrs. W.E.Greeves.M.B.E. Ulster Chief Commissioner, Moria McMaster, Margaret Mills, Fleming and Lily McCormick.
GRACE GARDNER 2213
Here we have a lovely photograph of a young lady standing in a garden holding a beautiful bouquet of flowers. As you can see she is wearing leather gloves with a single button to close them and the chain around her neck has a moon shaped pendant with it.
- - - -On the back of the photograph was the words - - ---"Yours Sincerely Grace Gardner. May 1918".
GIRLS BRIGADE 408
The Inspection of the Girls Brigade is taking place in Church Streeet in 1950.
Hazel Campbell the Antrim brigade leader is with Lady McDermont who has just passed Doris Blackbourne
and is approaching Elizabeth Green.

Pages: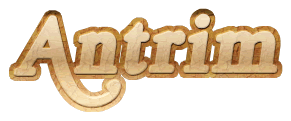 GIVE US A PUSH 2104
All strapped in and ready to go is Philip Hannan for he has asked his brother Norman at the end for a push.Now Norman's not too sure and Gary his other brother is doubtful as well while on the left is Sharon McQuillan being a good girl.
Known in my day (50's) as goosegabs.
GREENMOUNT HOUSE 186
Robert Thompson rebuilt the manor house in 1820 at Greenmount and it was surrounded by 200 acres of estate. By the 18th century the family had Bleach mills on the estate and other businesses not only in Ireland burt as far away as the West Indies. This made them powerful enough in the area to challenge the local aristocraties, the Massereene family by standing for election. In 1910 the estate was purchased from the family by the Department of Agriculture, fitted out as an Agricultural College and opened its doors in 1912 with eleven students. Students still study here today. Dated 1952.
GIRL GUIDES 413
This photograph was taken at the Motte in the Castle grounds during the Summer of 1954.
Few places in Antrim served as a backdrop to so many pictures as the town's lovely castle grounds! Here we have the girl guides taking advantage of the leafy glades of the Motte for - - - - - - - - - - - - - - - - - - - -this portrait taken in the summer of 1954.- - - - - - - - - - - - - - - - - --Back row: has Jean Jenkins, Jean McClung, Madeline Fleming, Pasty McClure, Maeve Harrison and Sadie Stevenson. Myra McMaster, Rosalind Magill, Eileen Leitch, Frances Coulter and Pearl - - - - - - - - - - - - - - - - - Hanlon are perched immediately in front of them. - - - - - - - - - - - - - - - - Third row: we have Margaret Mayberry, Pamela Fleming, Elizabeth Ferguson, Lila Jamison, - - - - - - - - Margaret Myles, Lily McCormick, Olive Fleming, Sadie Magill and Isobel Coulter.- - - - - - Second Row: are Margaret Nilson, Agnes McBride, Ethel McKee, Sally Forsythe, Isobel Francey, Jean Russell, Annie McCormick, Ann Knox, Marie Hemings, Doris McIlveen and May Francey.
Front row: are Mrs.Burrows, Mrs. Surgenor, Doreen Hamill, Miss McFadden, Joyce Hanlon, Betty O'Neill, Edith Blair, Ruby McBride, Alice Kirkwood, Georgie Tosh, Mary Trimble, Jacqueline Trimble, Patricia Donaldson, Liffie Reid and Joy Fleming.