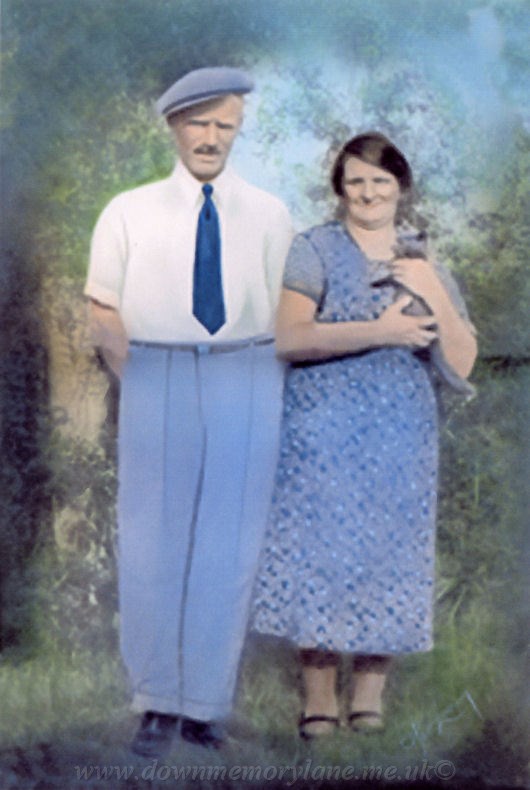 STEELE FAMILY 2067
This is Samuel Steele with his wife Georgina Jackson Steele who is holding their family cat. This photograph has been coloured in by the photographer at the time. You just told the photographer what the colours were and they filled it in.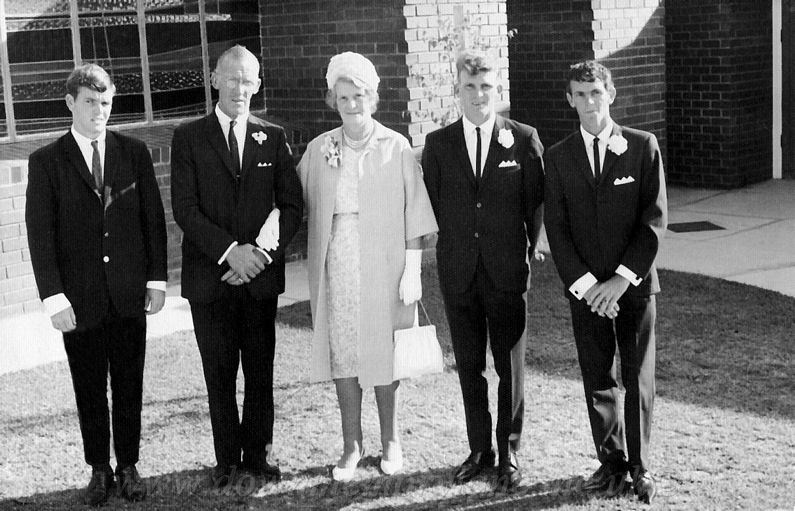 STEELE FAMILY 2074
Photographed going to a wedding we have the Steele family.
On the left is son George Steele, Dad Samuel James Steele, Mum Jean Steele, son Bobby Steele and son Samuel Steele. Samuel's shoes in my day were called ' Winkle Pickers'.
Take a look at the men's handkerchiefs, see how neat they are. Well I will let you into a secret, what you see is sewn onto a piece of cardboard!
SIMPSON 2585
Sitting enjoying a well earned break outside their home is Mrs Hanna Simpson nee Crawford with her hairnet on to keep her hair tidy.
While husband Robert G Simpson with his fob and watch chain showing is enjoying the break too.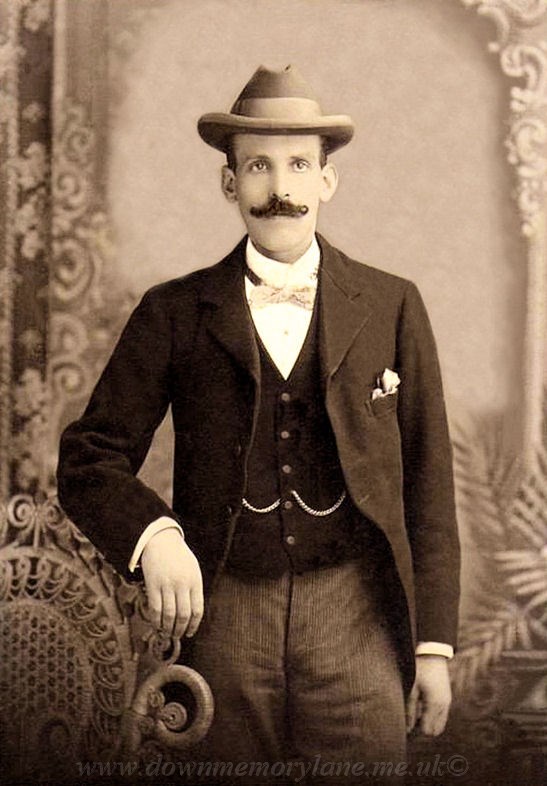 NATHANIEL SIMPSON 2586
This is Nathaniel Simpson very smart looking who came from Antrim and was having his photograph taken by a lady photographer. Her name was Mrs. K. Bryant who had a ground floor studio at 88 S. Illindis Street, Indiannapolis.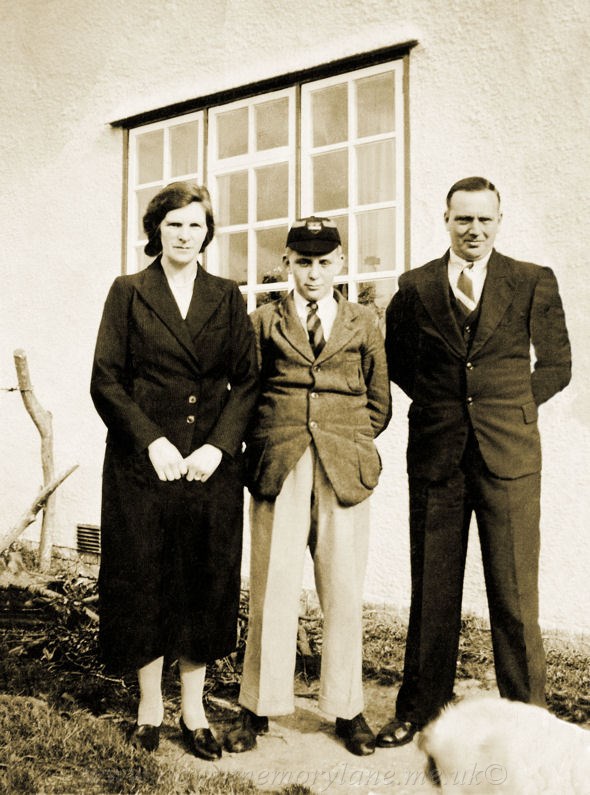 SADIE'S FAMILY 2693
This family photograph taken outside their home in the early 1900's only the mothers first name is known. For on the back of the photograph was written, 'Sadie, Her son Eddie and her husband.'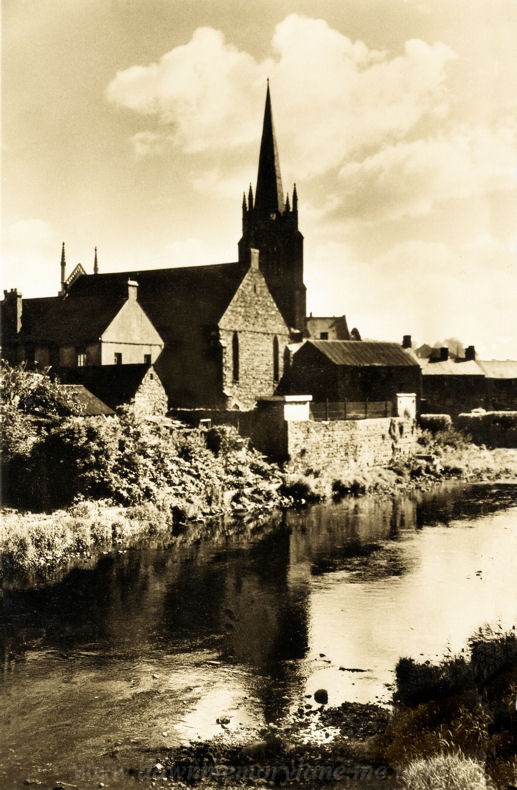 SIXMILEWATER RIVER 2731
This is the Sixmilewater River as it slowly meanders its way through Antrim town in the summertime. In the background and towering over Antrim town is All Saints' Parish Church, then High Street Presbyterian and finally Orr School.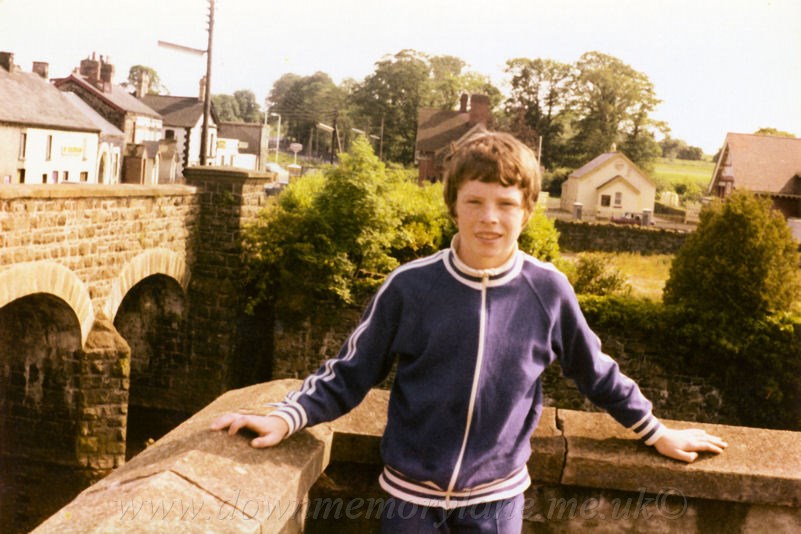 DAVID SMITH 2752
It's 1975 and this is David Smith standing at the back the old Eason shop that used to be in High Street. Behind David to the left is the Massereene Bridge, you can see the Horseshoe shop. On the right is the Massereene School which was demolished to make way for the British Legion. David loved exploring that he got to know Antrim so well that he became a postman.
St. COMGALL'S GIRLS' SCHOOL 2194
These are the girls of St. Comgall's girls' School getting their official photograph taken back in 1936.
Back row: are Sheila Canning, Margaret Rogan, Agnes O'Hagan, May Kennedy, Peggy Brown, Cecilia McCormick. Maggie Roberts and Bridgette O'Hagan.
Middle row: has the Teacher Miss O'Haire, Eileen O'Neil, Bridget Dobbin, Rosella Canning, Eileen Canavan, Evelyn Laverty, Irene McGreevy, Peggy McErlaine, Mary Crossey, Unknown and Sister Mary.
In the front: we have Mary McCaffery, Elsie May, Cecilia O'Neill, Kathleen Allen, Rosaleen Long, Sadie Gaynor, Sally Long, Unknown, Isobella Wallace, Kathleen Bradley, Rosie Delaney, Peggy May, Annie Staunton, Mary Brady, Vera O'Connor and finally the dog who wandered in and refused to leave.
On the official photograph is printed "St. Congall's", I thought this was strange to have misprinted the name. Perhaps the photographer saw the name on the iron pillars that support the gates going into St.Comgall's. What happened was the foundry that cast the pillars spelt the name wrong! It would have cost too much money to have replaced them and so they left them as they are with the name "St. Congall". I wonder how many worshippers know this?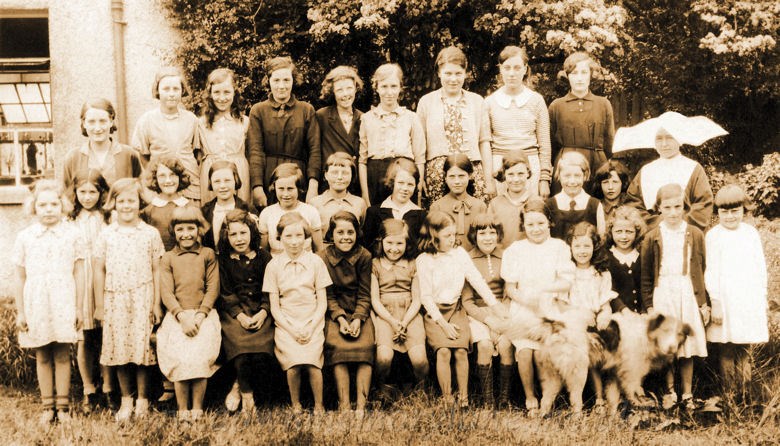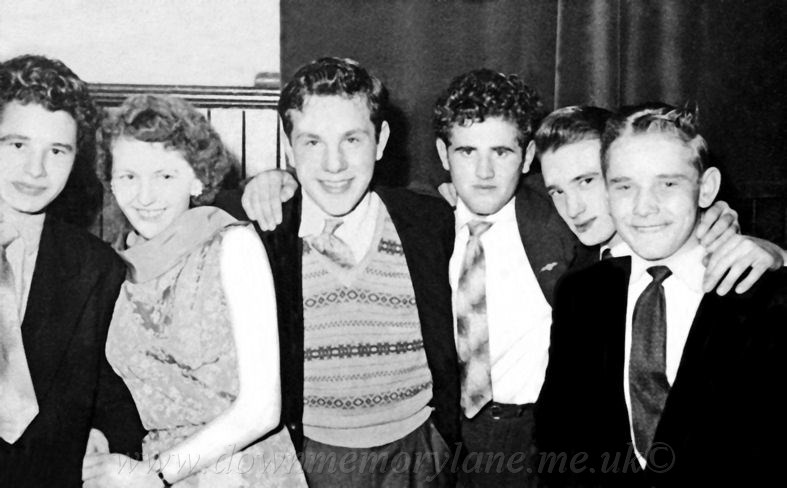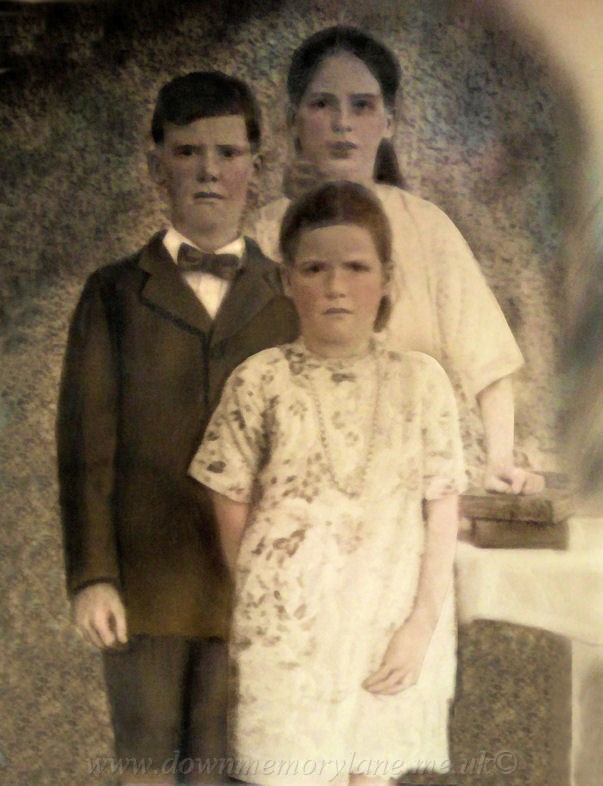 SATURDAY NIGHT 1764
Seen here at one of the weekly dances in the Protestant Hall in Railway Street we have on the left, Robin McCabe, Hazel Neill, Jimmy Irwin, John O'Hagan, Jimmy and Raymond Lynn.
STEELE CHILDREN 2068
This protrait photograpgh of the Steele children was developed on a sheet of cardboard and colour tinted as back then it was only black and white photographs. At the back is Ethel, then Jim and finally Katherine Jackson Steele.. They look a bit frightened but that was because they had to stand perfectly still for the long exposure which then put on to cardboard!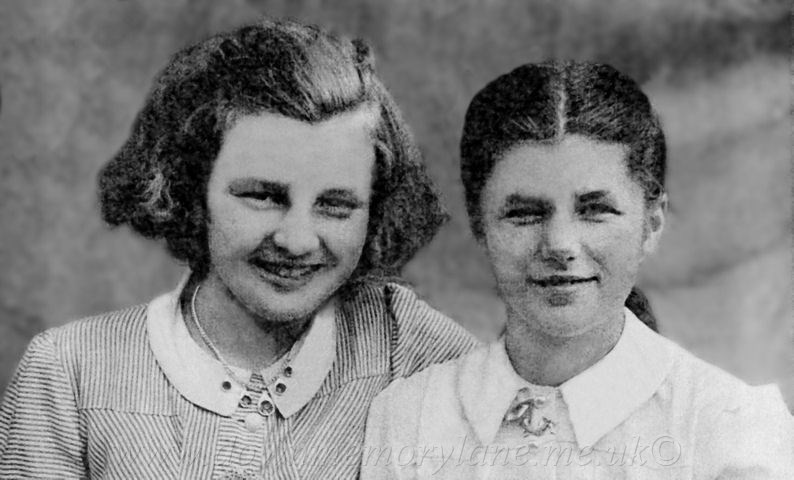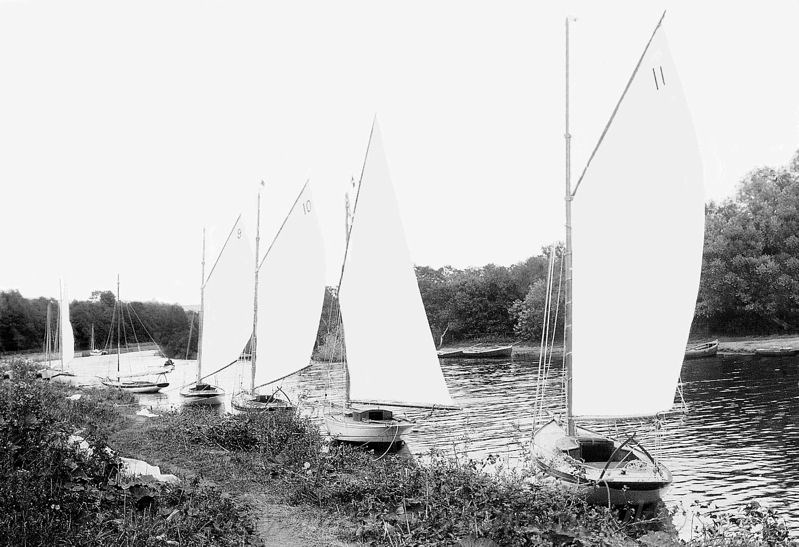 SCHOOL CHUMS 1550
All dressed up to get their photograph taken in 1950 are school chums May Gaynor and Margaret Rose Kyle.
A sheet was held behind them to make the photo look good.
SIXMILEWATER RIVER 1580
Taken in the 1900's at the Sixmilewater River we are on the Antrim Yacht Club side looking upriver towards Antrim town.
The yatchs except for the second one on the right are all racing yatchs. On the far side which is the Antrim Loughshore you can see the boats that the Wallace's took the tourists out on to Lough Neagh for a day trip. In fact if you look closely up the river you will see someone in a rowing boat.
SPA TERRACE 294
The people and the date are unknown but take a look at the old lady's laced up boots.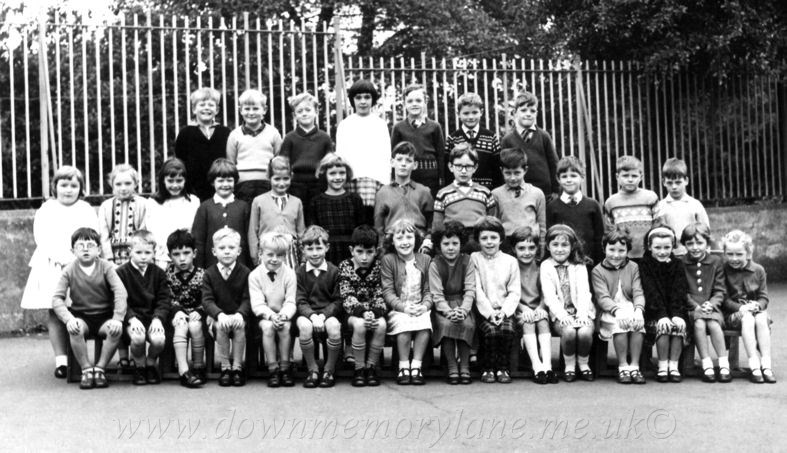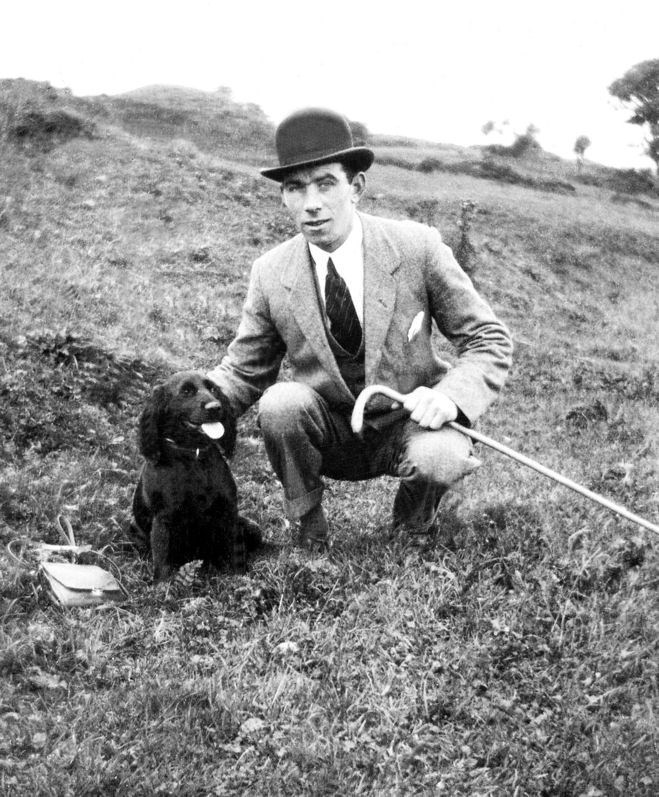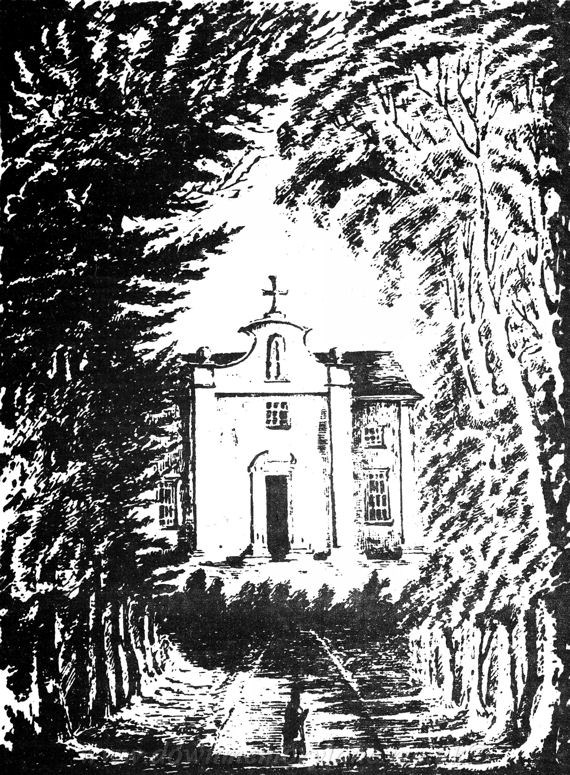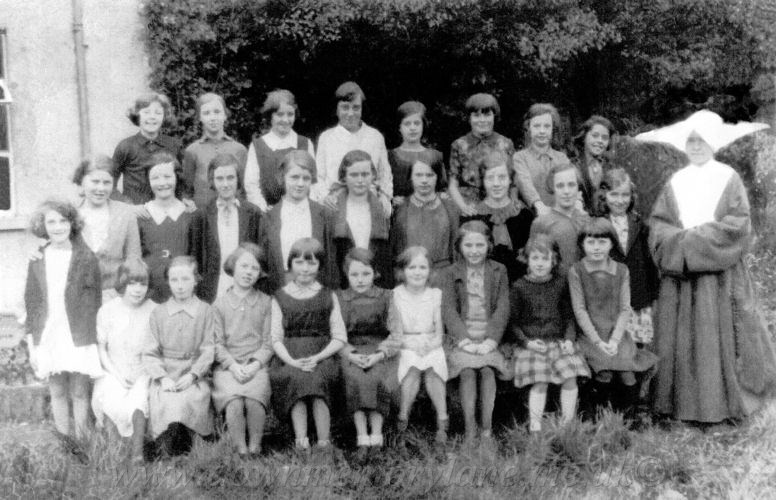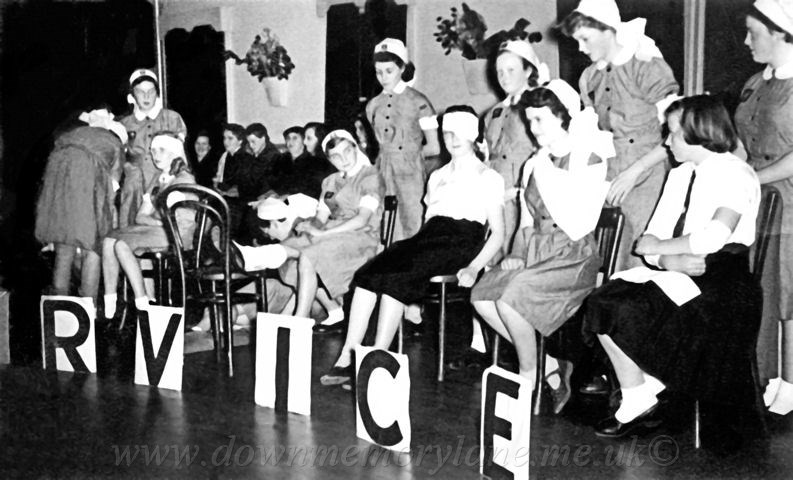 St. COMGALLS CONVENT SCHOOL 1426
Getting their photograph taken in the grounds of St. Comgalls Convent School we have the class of 1933.
Back row: has May Kennedy, Peggy Brown, Teresa O'Connor, Maigt Roberts, Anna Wallace, Marry Duffin, Peggy McErlane and Sally Long.
Middle row: has Eileen O'Neill, Celia McCormick, Eileen Canavan, Maigt Gillan, Pasty Lavery, - - - - - - - - - - Kathleen Duffin, Nan McNulty, Lily Sawyer, Sadie O'Neill and Maigt Rogan. - - - -Seated: are Kathleen Bradley, Sadie Gaynor, Evelyn Lavery, Anna Canavan, Rose Delaney, Maureen Bradley, Sadie Lemon, Isobel Wallace and Vera O'Connor. Standing beside them is their teacher Sister Mary.
St. COMGALL'S CHAPEL 424
Antrim Chapel Sketched and Drawn by James Boyle
St. JOHN'S AMBULANCE SERVICE 1260
Here we are in Hall's Hotel, High Street Antrim in 1957 and the St. John's Ambulance Service are putting on a display showing off their various skills.
Standing we have Mildred Allen, Pearl Halnlon, Doreen Hamill, Ma Harrison and Elsie Hamill.
Seated are Miss Bradley, Stella Lynn, Marie Hemming, Joyce Hanlon and Ruby McBride.
SUNDAY WALK 1300
Holding on to his dog for the photograph is John Scott who was out for a Sunday walk with his lady friend in 1928 who is unknown.
His lady friend took the photo for her handbag is lying next to the dog.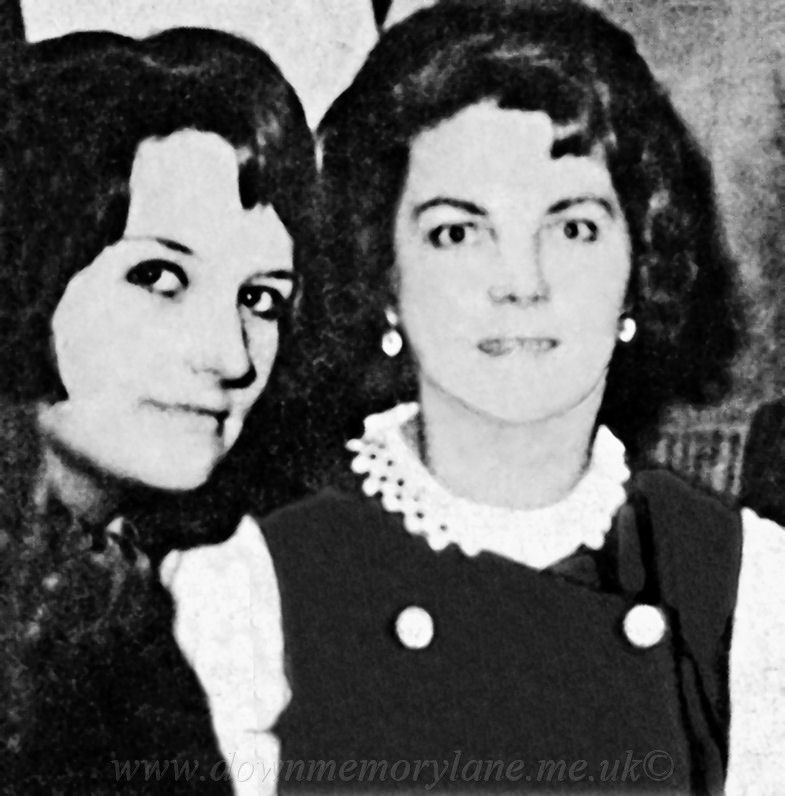 SIXTIES 1284
It's the swinging Sixties and here at Hall's Hotel in Antrim hoping for a dance is Ann O'Brian and Margaret Young. Look at Ann's heavy mascara copying the singer Dusty Springfield.
Judging by the expression on Margaret's face she does not fancy the fellow coming to ask her for a dance, back then you were not allowed to refuse.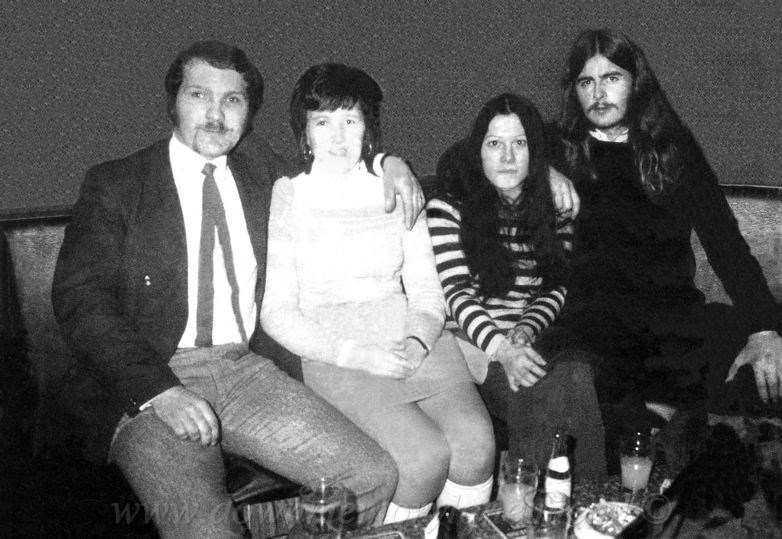 SLOAN'S BAR 1406
Sitting having a quiet drink in Sloan's Bar in 1971 we have Sammy Wells with Kate Wells, Liz O'Connor and Joe O'Connor. Now if you are wondering where Sloan's Bar is, it's gone and in its place is the Arcade. Does Joe still have his long hair or is it like mine a distant memory?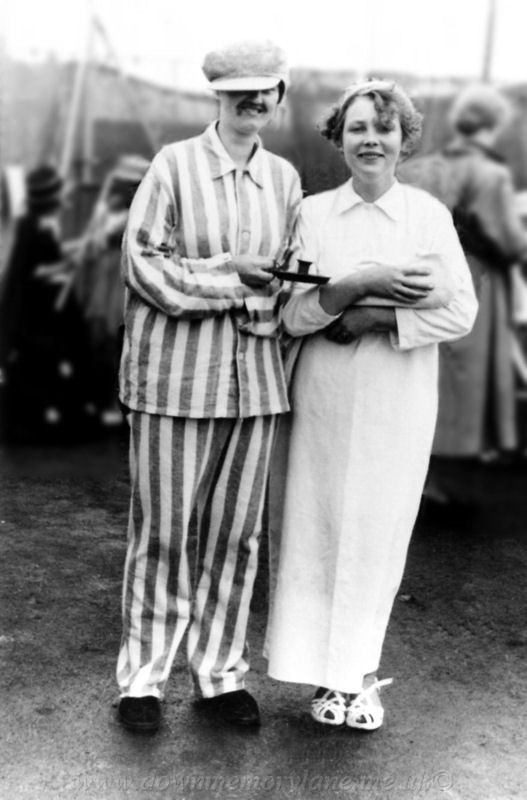 SLEEPLESS NIGHTS 1274
Dressed as a man in the striped pyjamas and holding a Candlestick holder is Margaret Johnston from Randalstown and beside her holding the "Baby" is Margaret Young from Antrim. They won First prize as "Sleepless Nights" at Portrush in 1953 and their Landlady helped them out with the clothes.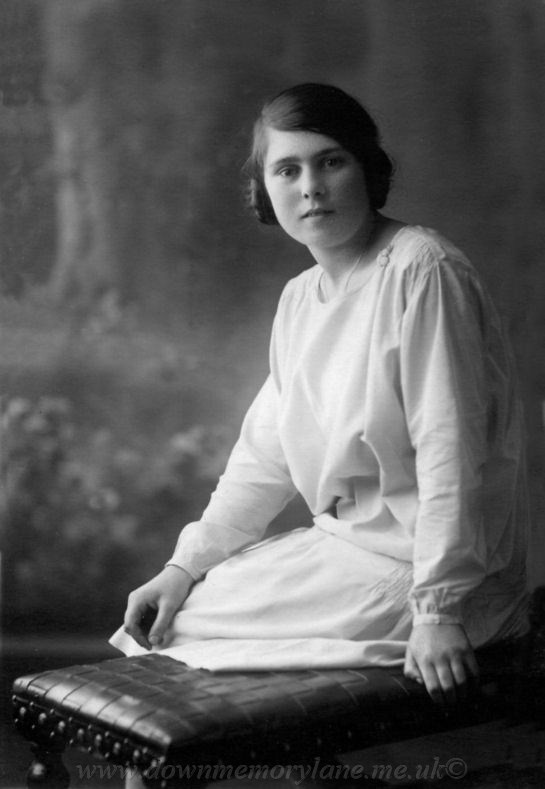 SCOTT PORTRAIT 1298
Here we have Agnes Scott posing back in 1928.
SIMPSON 2512
This photograph taken on the 10th May 1918 of Simpson's in High Street which sold newspapers, local produce but also tourist items such as souvenirs and postcards of Antrim
Sarah had the newsagents shop in Antrim and her twins Willie Simpson and Agnes Simpson then carried on in the shop until around the late sixties, early seventies.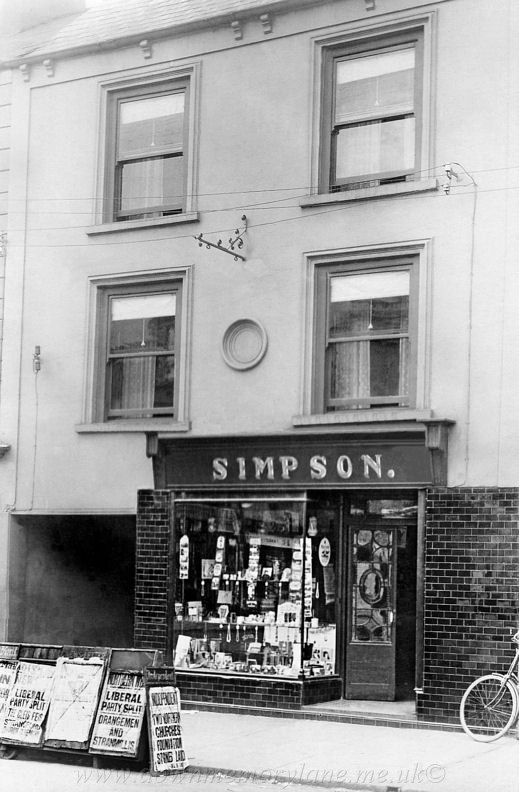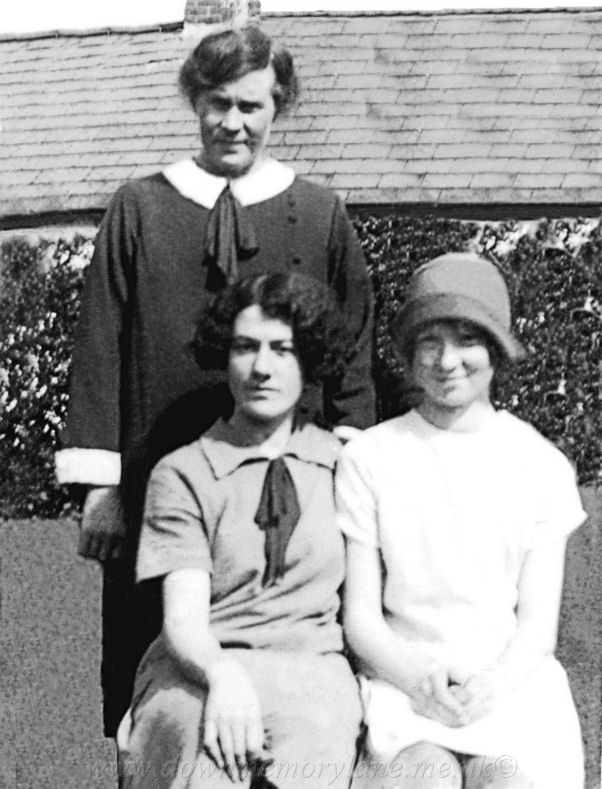 SPA TERRACE 278
Standing at the back is Rachel Baird, seated is Jeannie McKee and Anna Baird. Date of the photograph is unknown.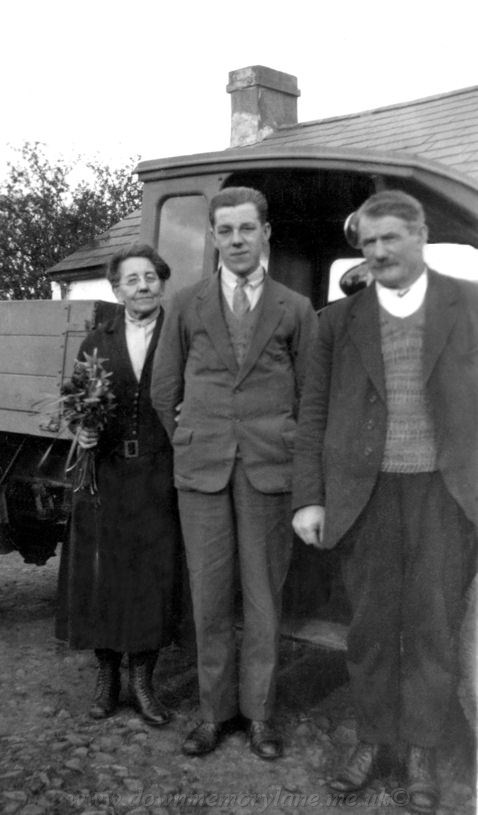 SLEMISH 903
Here on top of the world at Slemish this presumably mother and daughter enjoy the view. Take a look at the shoes and ankle socks of the late 1930's.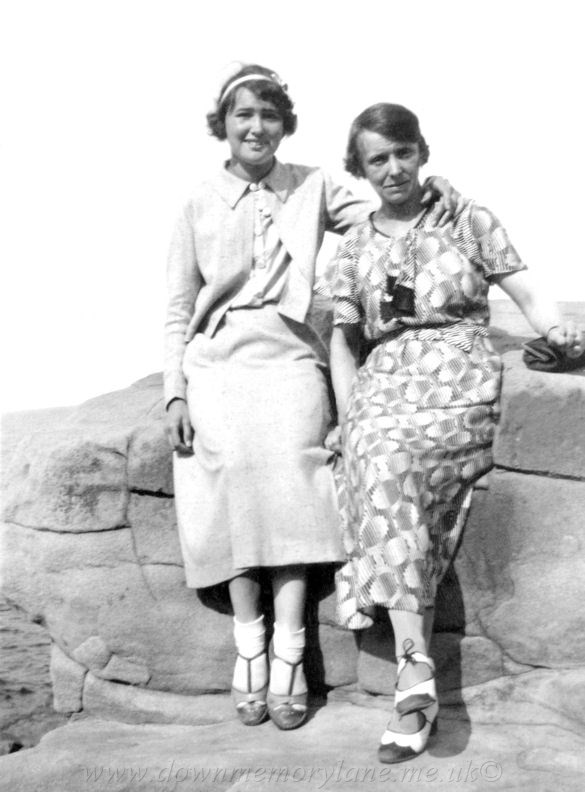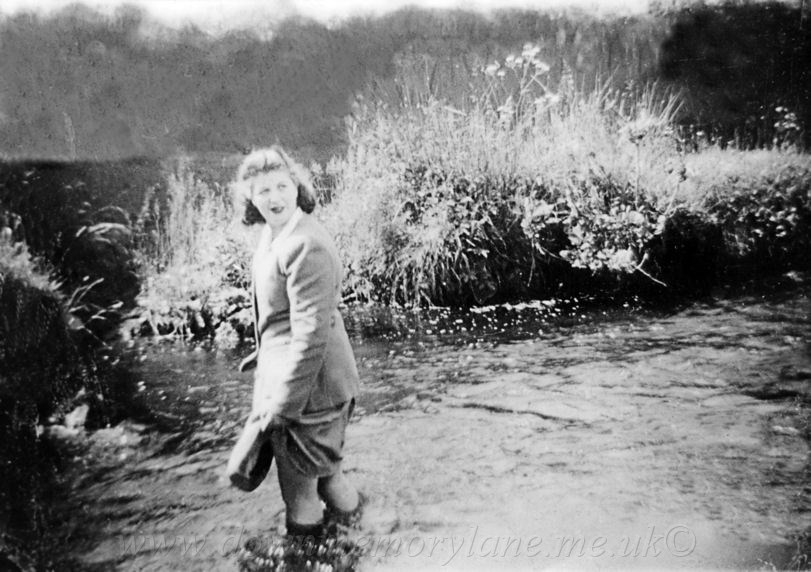 SNOOKER TEAM 834
Here we have members of a local snooker team pictured after they pocketed what appears to be very pretty prestigious wins including a Shield and a Cup.
Back row: we have Sidney George, George McBurney, George McMaster, Andy Millar, Billy Ludlow, Sam Hannan, Unknown, Jimmy Baird, Tom Simpson, Tommy Hannan and Peter Hannon. Seated: in the front are Leslie Allen, Norman Wallace, Unknown, Jimmy George and Leslie George.
SIXMILEWATER RIVER 915
Taken at the back of Renton's shop on the banks of the Sixmilewater River, the girl and the cat are unknown. In the background is Massereene Bridge then Massereene Hotel and Halls in High Street.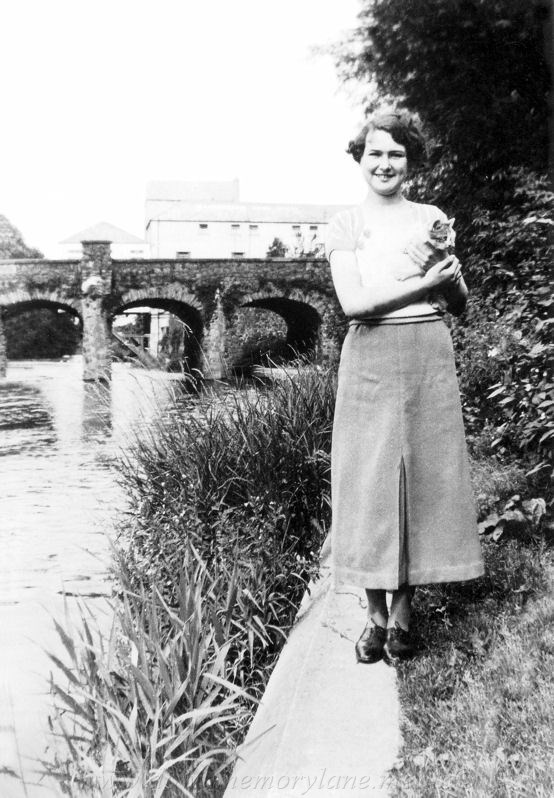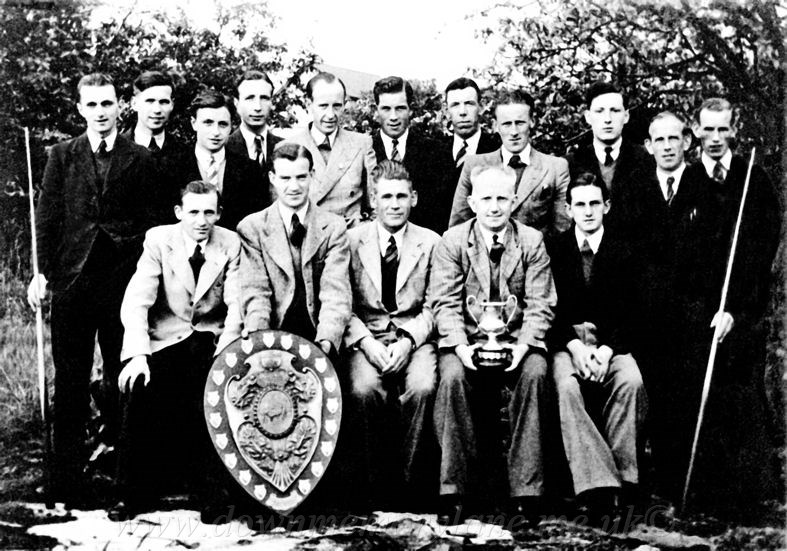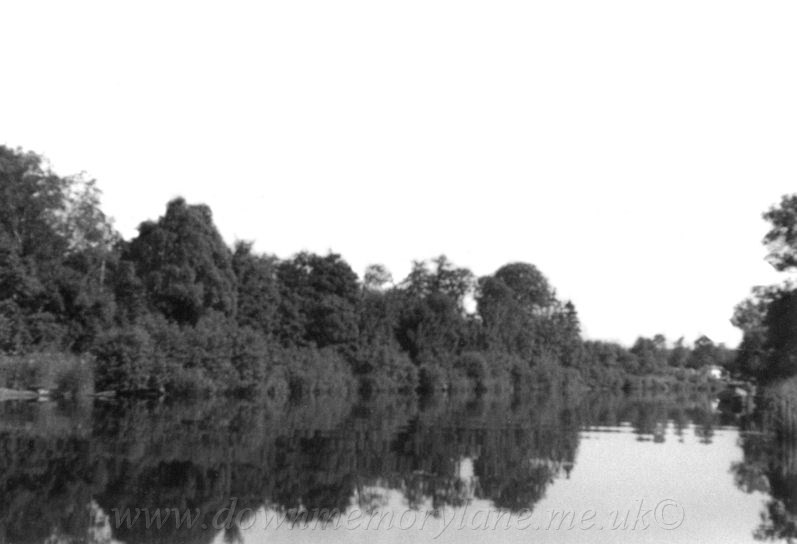 SIXMILEWATER RIVER 497
This is the Sixmilewater River before Antrim Yacht Club was formed as there are no berths to be seen. The white building in the distance is Ernie Gibson's house he was the water Bailiff. The year is unknown.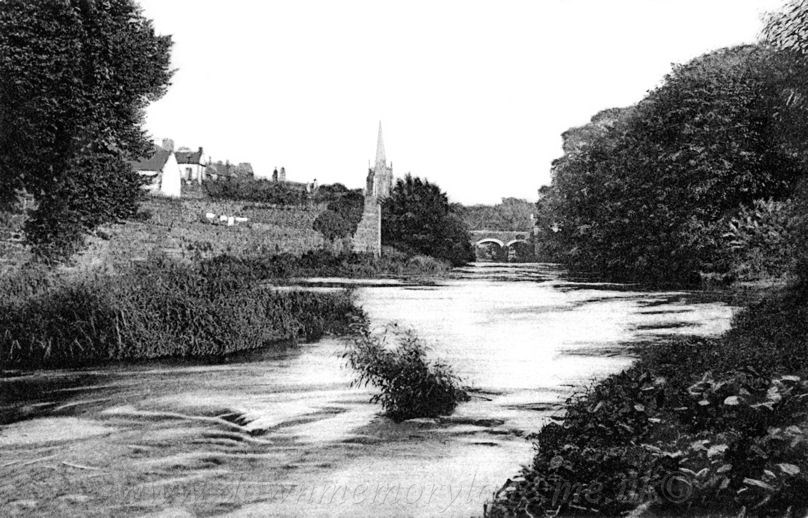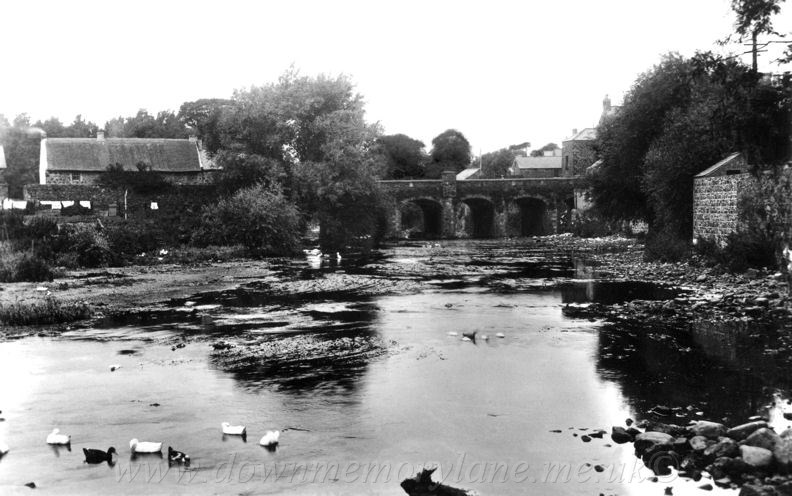 SIXMILEWATER RIVER 729
The river flowing peacefully under the Massereene Bridge and on down to the Lough. In the background is All Saints' Parish Church and High Street Presbyterain Church. To the left the houses are part of High Street also you can see the washing out on the line with a door leading to the river. The year is unknown.
SIXMILEWATER RIVER 727
Here we have the river flowing under the Massereene Bridge which is in Bridge Street, to your left the roofs of the houses are thatched with the washing out on the line. Plenty of ducks around then and even in the distance, although at the right hand side of the bridge you can see white dots, these are not ducks. This is rubbish dumped in the river, so even back in 1920 we had flytipping.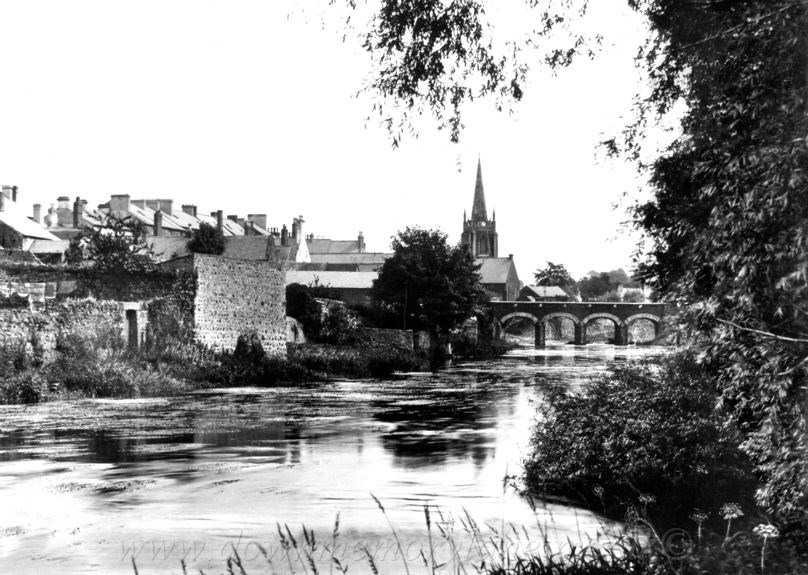 SELFRIDGE WEDDING 2891
It's the 22nd May 1972 and having been married earlier at Trinity Presbyterian Church in Ahoghill David Selfridge and his lovely bride Betty Selfridge nee Wilson are here cutting the cake at their reception at the Chimney Corner Inn.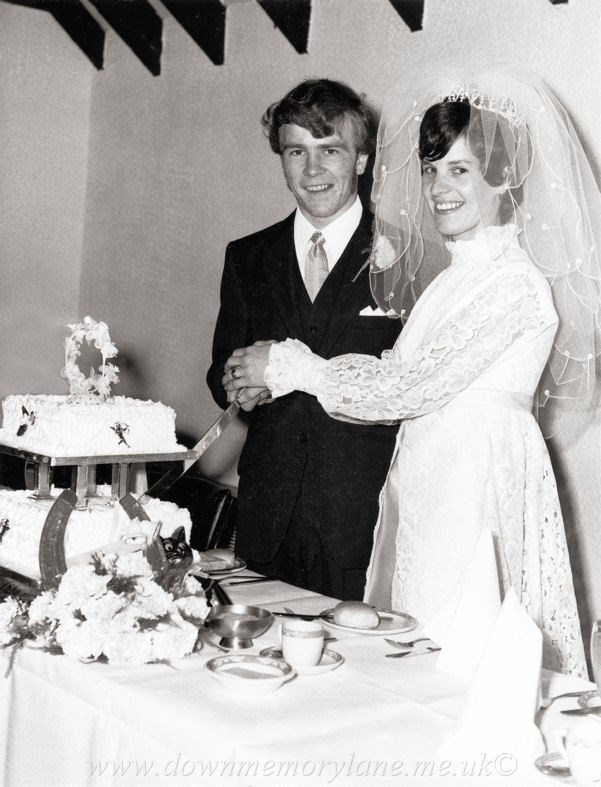 .SIXMILEWATER RIVER 134
This photo was taken around 1898 about 40 yards from the present marina. As you can see even back then feeding the swans was a favourite pastime.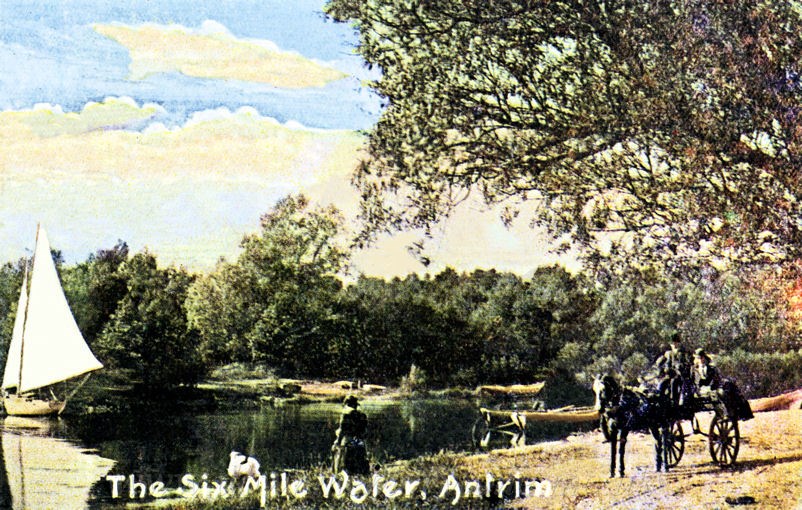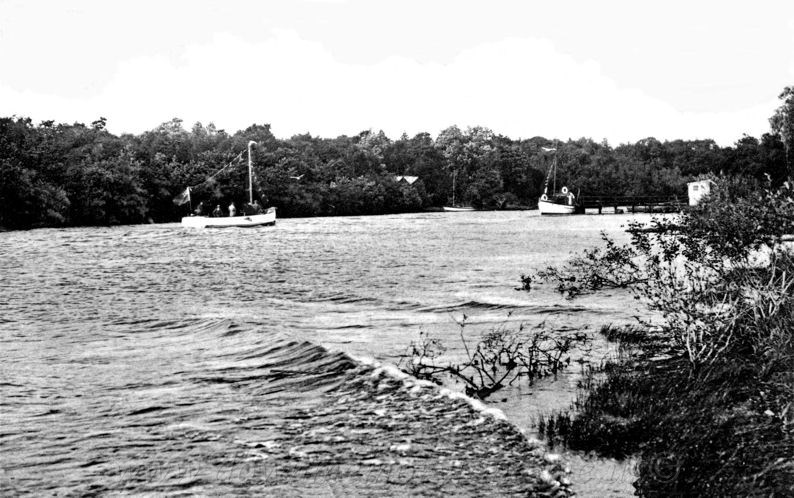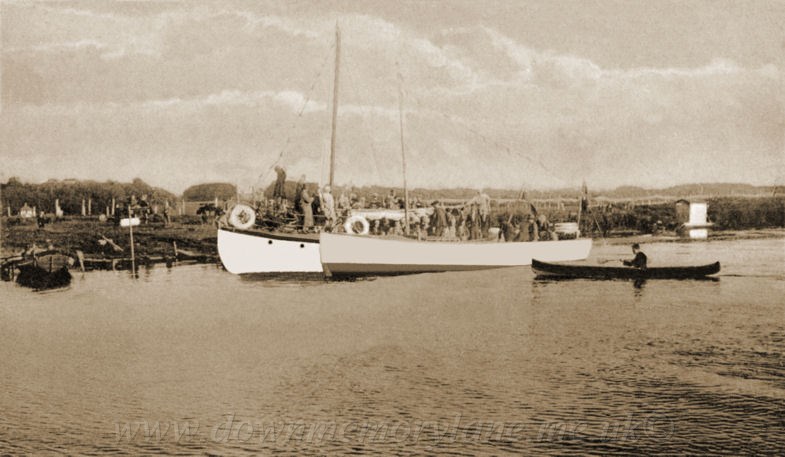 SIXMILEWATER RIVER 208
Here you can see one of the motor launches coming back in from Lough Neagh and another one tied up at the pier. -On the far embankment you can see a solitary yacht and the roof of buildings, the start of Antrim Yacht Club. - -Date of the photograph is unknown.
SIXMILEWATER RIVER 873
Sitting on the banks of the Sixmilewater river at the end of the backyard to Renton's shop in July 1930 we have Bell Renton and her niece Evelyn Brown
who does not look too happy. Perhaps she would rather have poke in her hand instead of a leaf!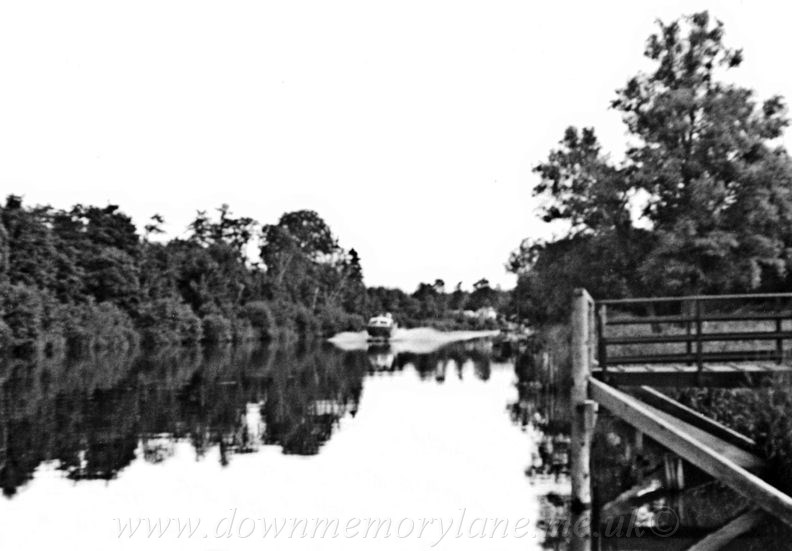 SIXMILEWATER RIVER 476
This is the Sixmilewater River and heading for the Lough is the Water Bailiff's boat.
The year is unknown.
SIXMILEWATER RIVER 198
Here are two of the motor launches that took tourists out on to the Lough for a cruise.This is a postcard that was printed exclusively for Mrs.Simpson, Newsagent and Stationer in High Street Antrim. On the left of the photograph there is a white building, that is Antrim Golf Club.
Postage back then was 1/2d Inland and 1d Foreign.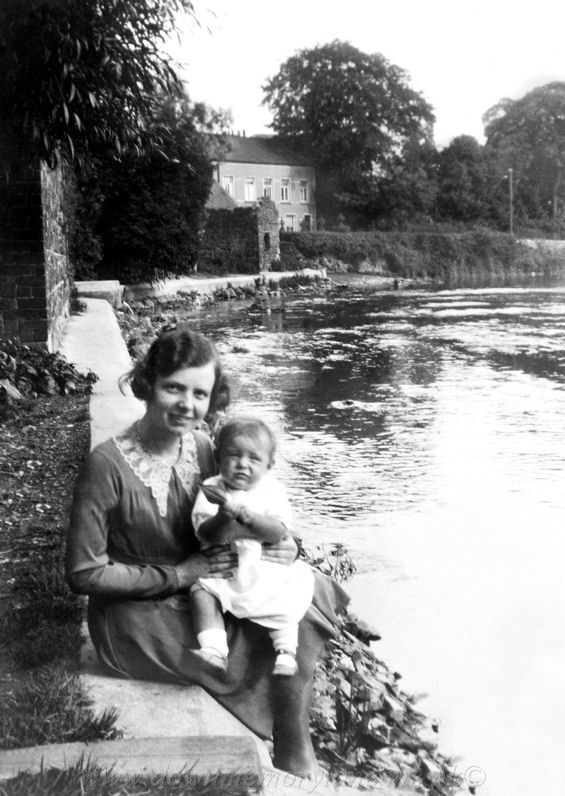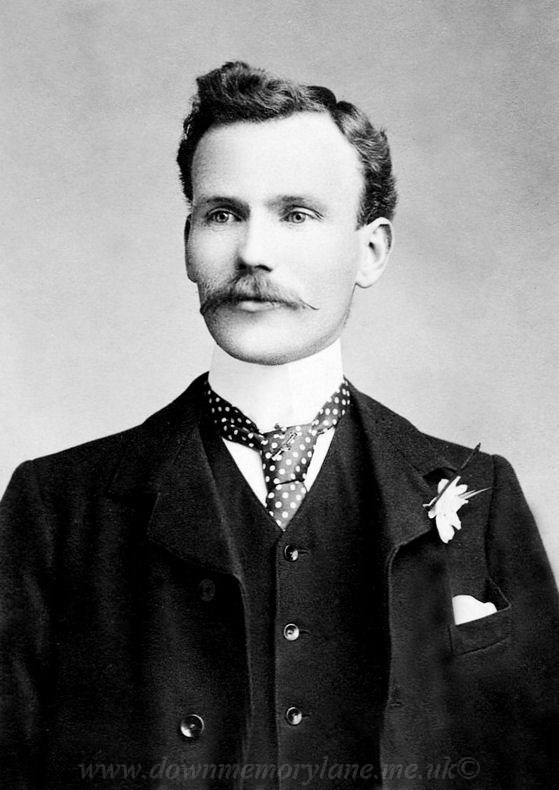 NATHANIEL SIMPSON 2766
This properous looking gentleman with a flower in his buttonhole and his high collar was well known round Antrim for it was Nathaniel Simpson.
Wearing that collar would have been very uncomfortable for the collar would have been starched to make it stiff and retain it's shape.
Pages: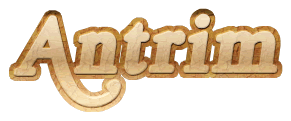 St. JOSEPH'S PRIMARY SCHOOL 1058
This is a class from St Joseph's Primary School. At the moment I do not have any names nor do I know the year it was taken. If you know then please let me know.
EVELYN SLAVIN 340
Here is Evelyn Slavin nee Kennedy is wading in the Sixmilewater river in the 1950's, but she better watch out for the water is near the top of her wellies!
SIXMILEWATER RIVER 728
This photograph of the river was taken opposite High Street in 1912.
The postcard is stamped Antrim October 1913. To: Miss Jamison, Straidnahanna, Ballynure, Co. Antrim.
Reads; Dear Aggie, May is home again she came on Saturday last. Write and say when Miss Logan and you can come. You must stop a night or two Cousin Tilda.