BERESFORD FAMILY 443
This photograph was taken on the steps at the front of Steeple House in 1926 and the photographer at that time touched up the faces.
Here we have the parents Samuel and Sarah Beresford and their children Andrew, Edgar, Norman, Samuel, Peggy, Lily and Jeannie.
The family lived in what was called the Back lodge, this is the one that leads to the Steeple House, the Front lodge is at the entrance to the Round Tower, the father was the caretaker of the Tower.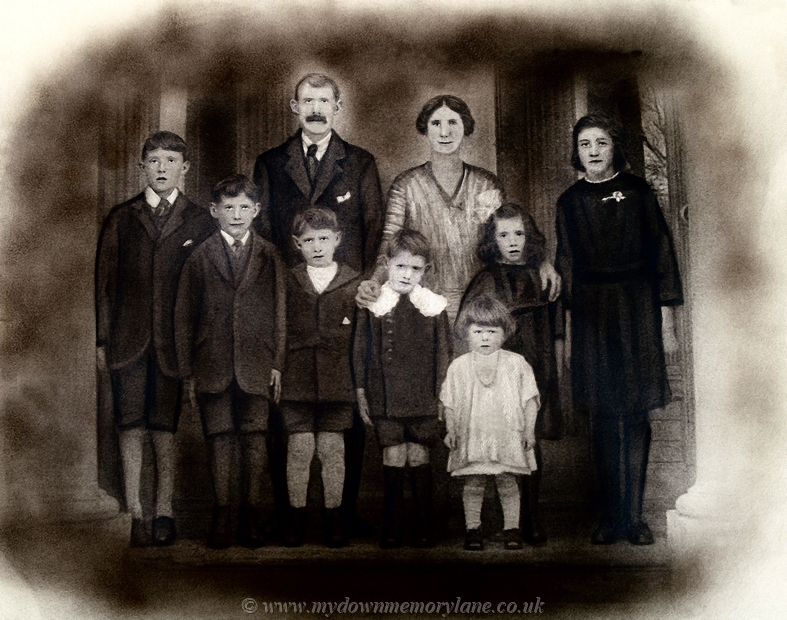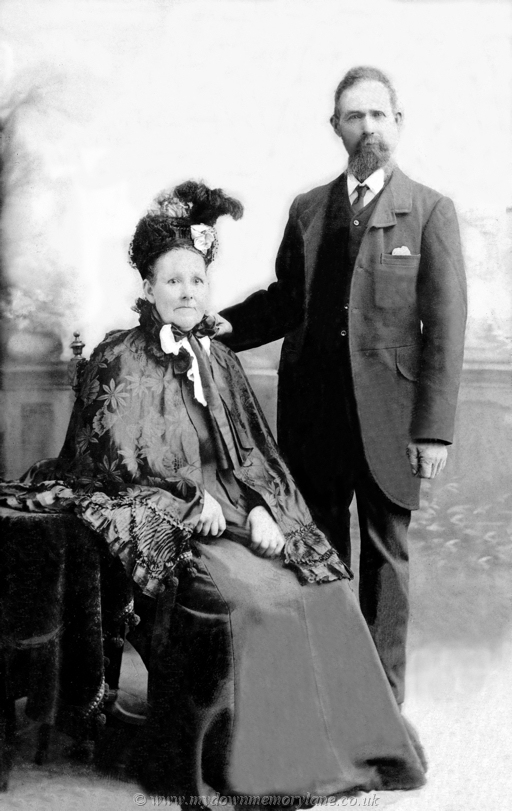 BERESFORD WEDDING 437
This is Lily Beresford and Bob Murdock cutting their Wedding cake in the back garden of Rose Cottage, Steeple Road in 1941.
The Bride's dress was pale blue with dark blue suede shoes.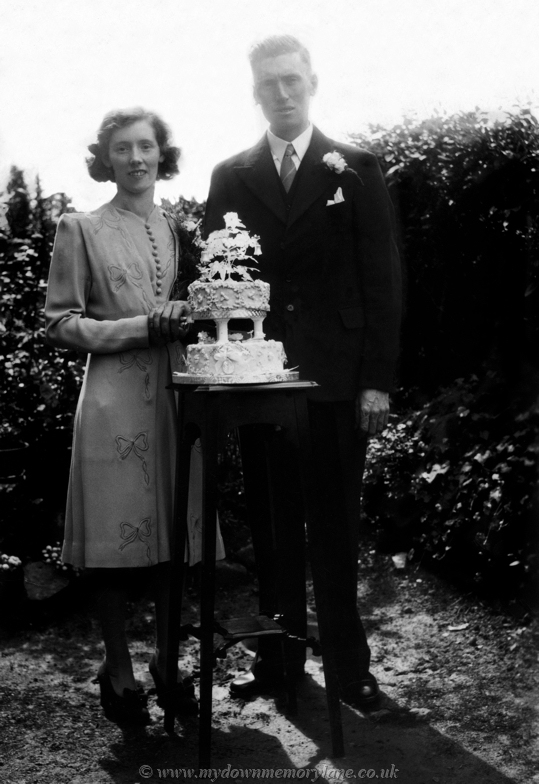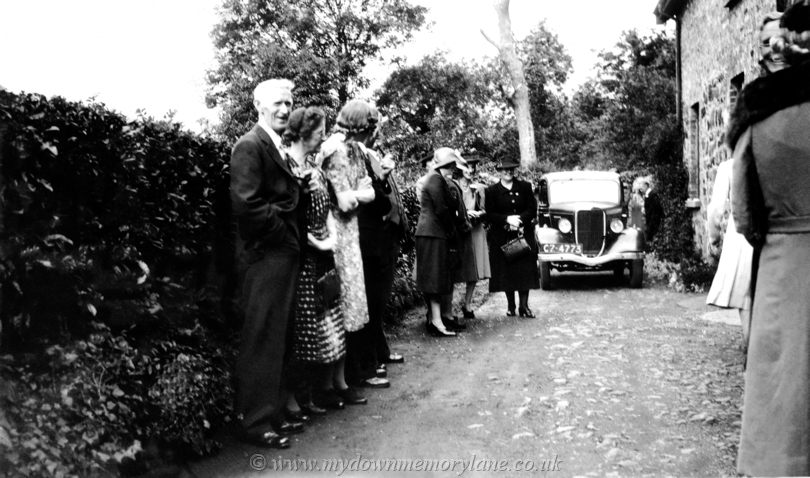 BOYS NIGHT OUT 2108
Now we back in time for it's Friday night and these local lads are having a quick drink in Paul McKenna's bar before heading to the dance in Hall's Hotel.
On the left we have Mervin McQuillan, Ivan Acheston, Kenneth McQuillan, finally Billy Murdock.
The year it was taken is unknown but take a look at Ivan's hairstyle, that might give you a clue.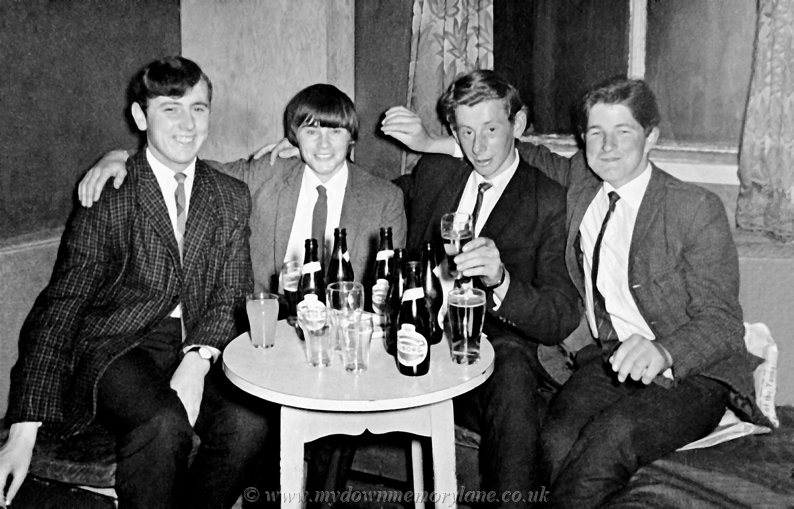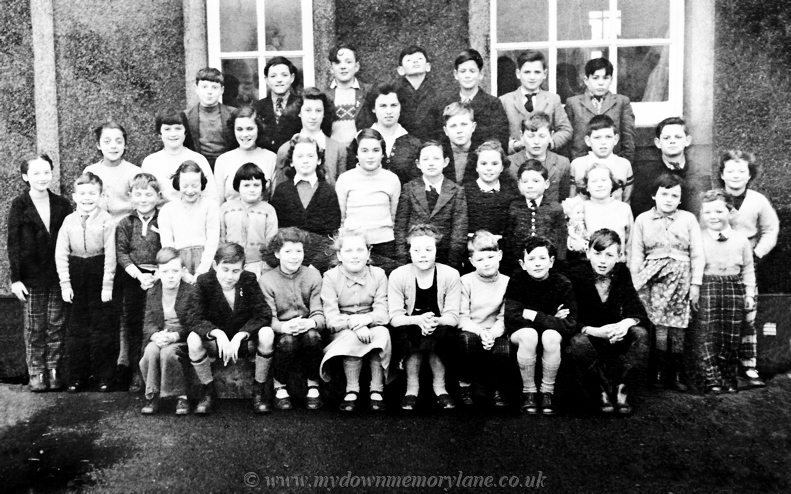 BALLYROBIN PUBLIC ELEMENTARY SCHOOL 2313
All smiles for the camera are the pupils of Ballyrobin Public Elementary School out at Muckamore back in 1956.
Back row: are R Harkness, H McBrien, Ian Kirkpatrick, E Glover, F Kennedy, B Woods and L Bell.
Third row: has M Bickerstaff, S Woods, F Kennedy, M Judge, J King, Sam McComb, cBeatie, - - - - - - - - - - - - - - - - - - - - - - - - - -Davey Ceasar and M McBrien. - - - - - - - - - - - - - - - - -- - -- Second row: are Unknown, N Moore, E McFadden, Miss Woods, M Reid, R Gill, A McBrien, N Irvine, E Irvine, R Judge, Miss Woods, Unknown and Unknown.
Seated: are J McFadden, A Russel, H Gilliland, I McComb, Unknown, Master Gill, R Davis and T Holmes.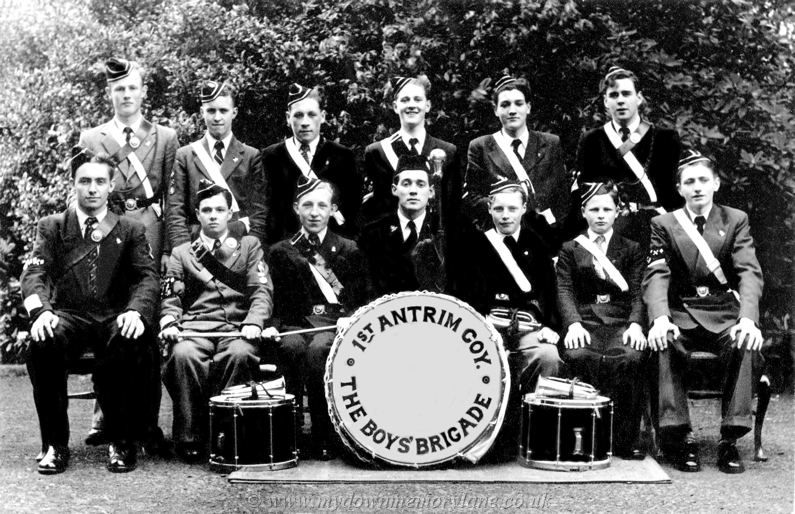 BOYS BRIGADE 587
This is the Bugle Band of the 1st Antrim Company of the Boy's Brigade caught on camera back - - - - - - - - - - - - - - - - - - - - - - - - -- - - - - in 1956.- - - - - - - - - - - - - - - - - - - - - - - - - - - --At the back: we have (from left) Walter Chambers, Harry Clarke, John Creighton, Bobby Paisley, Norman Purdy and Scott McIlrea.
Seated: are Jim Beresford, George Nicholl, Jim Baird, Jim Purdy, Sammy Wallace, Lyndsey Peacock and Alfie Beresford.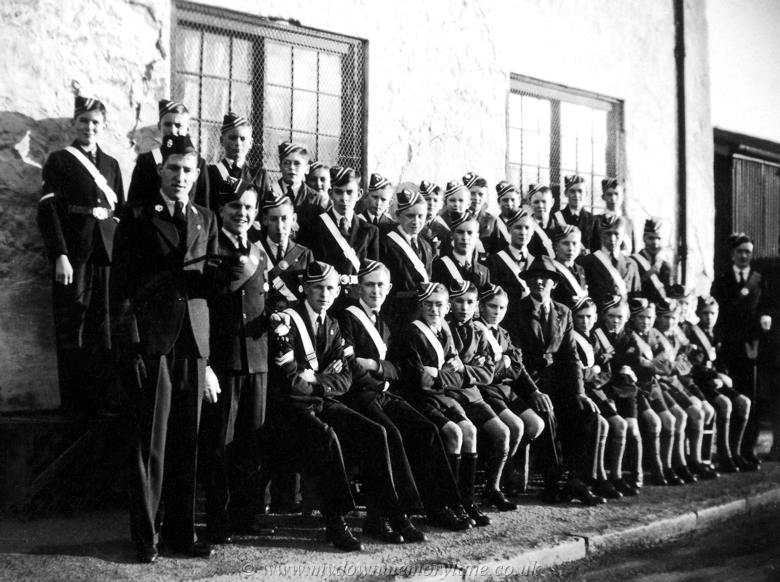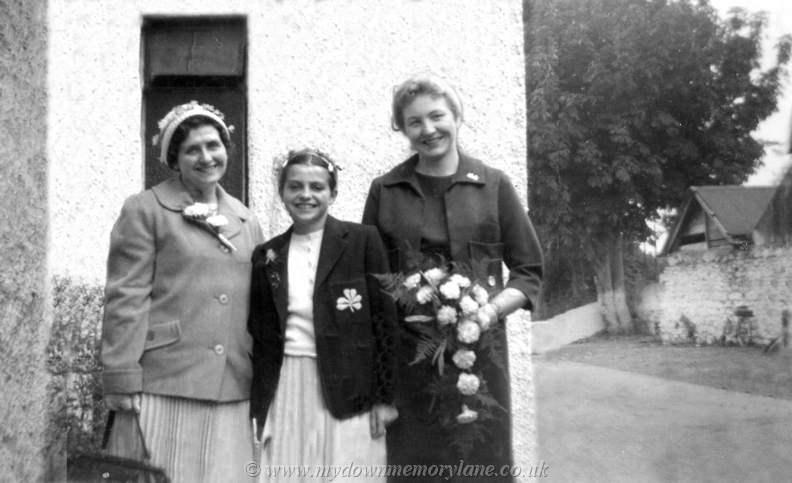 BOYS BRIGADE 792
Here we have the Boys' Brigade pictured at Castle Street in Antrim - and the bare legs and shiny boots put this in the middle years of the 20th century!
Sadly at the moment I have been unable to put names to faces yet.
BRIDESMAID 119
Waiting for her sister who was the Bride we have Bridesmaid Joan Neeson then Kathleen Nesbitt and finally her mum Mrs Annie Neeson.
This was in 1959 and was at the back of Lough Neagh Hotel in Antrim town.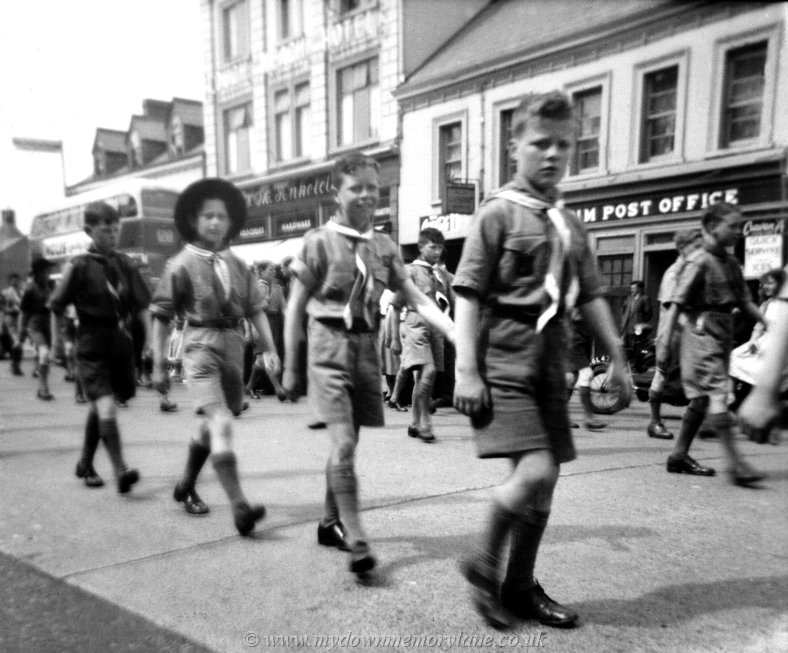 BOY SCOUTS 495
Boy Scouts on the march through the streets of Antrim in 1953. The young man second from the right is none other than John Boyd, but the rest of his
friends are unknown. The parade is moving along High Street towards Church Street, and behind the boys you can see the Post Office and Anketell'sshop which sold everything from groceries to hardware and cigarettes. In front of the Post Office is a motorbike with the registration GL47 - above Anketell's shop is the Lough Neagh Hotel. The 'double decker' U.T.A. bus has an advert on its side for Inglis bread.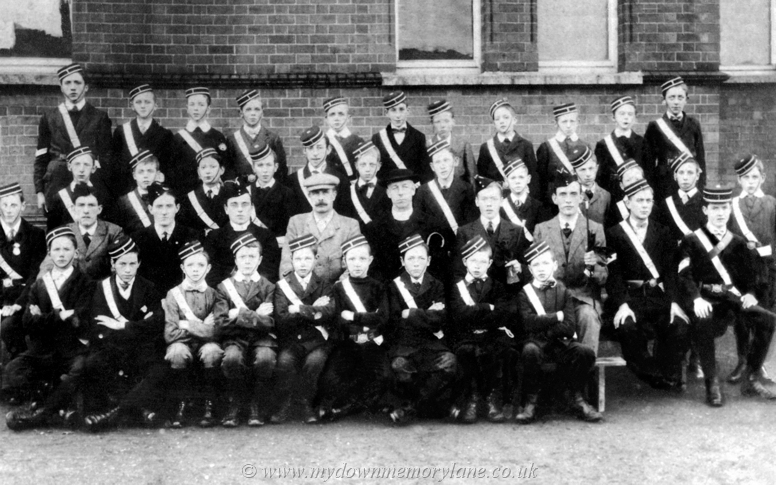 BOYS BRIGADE 861
This photograph taken at Massereene School is of Antrim No.1 Company of the Boys Brigade in 1912.
Seated in the centre we have the 12th Viscount of Massereene, next to him is the Rev. Cannon Collis and then Joseph Tuff. The rest of the company are all unknown.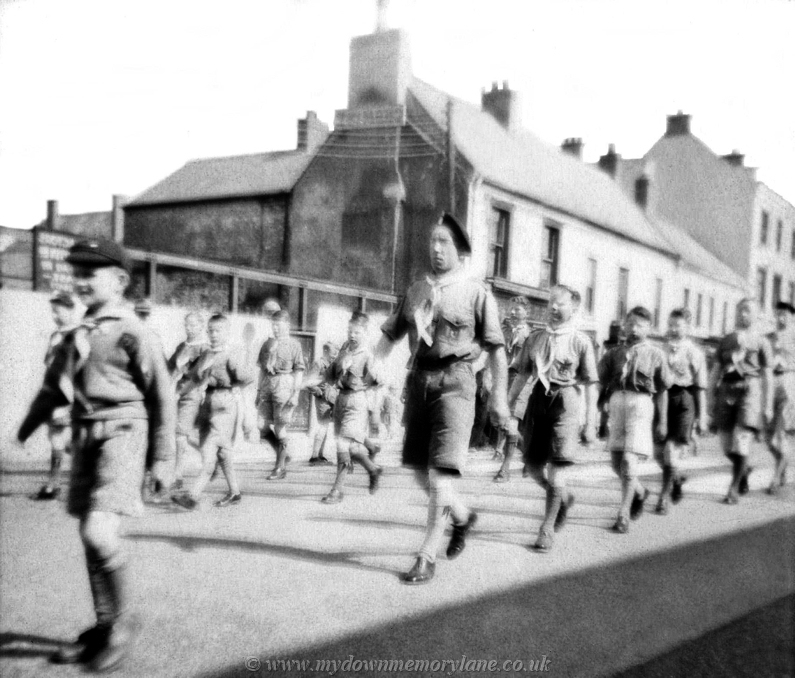 BOY SCOUTS 496
Here the Scouts are in High Street just opposite where the Allied Irish Bank was going to be built then close in the 2020's.. The scouts and the year are unknown.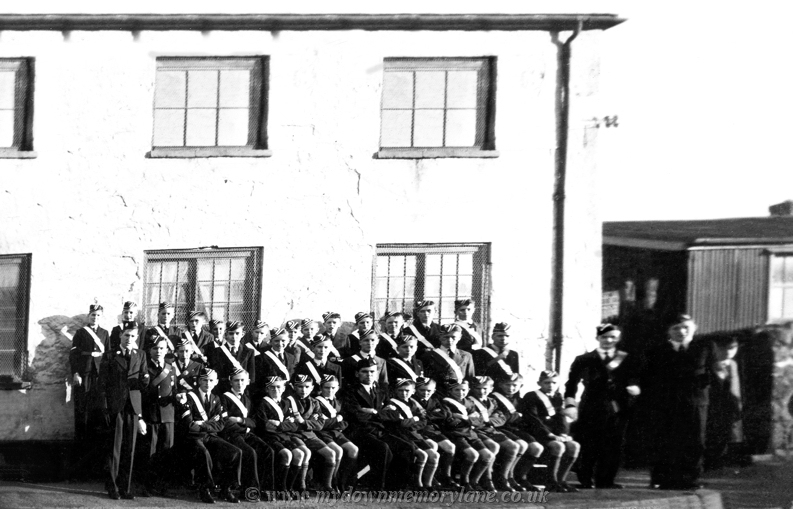 BOYS BRIGADE 793
Here we have the Boys Brigade in Castle Street. At the moment the year and they are all unknown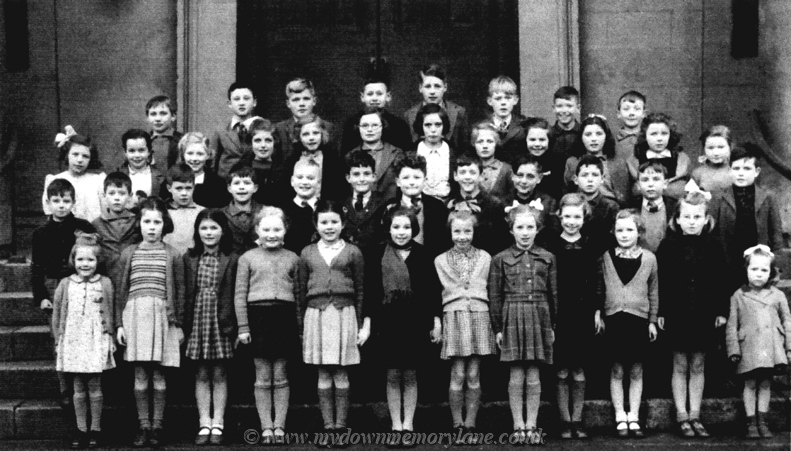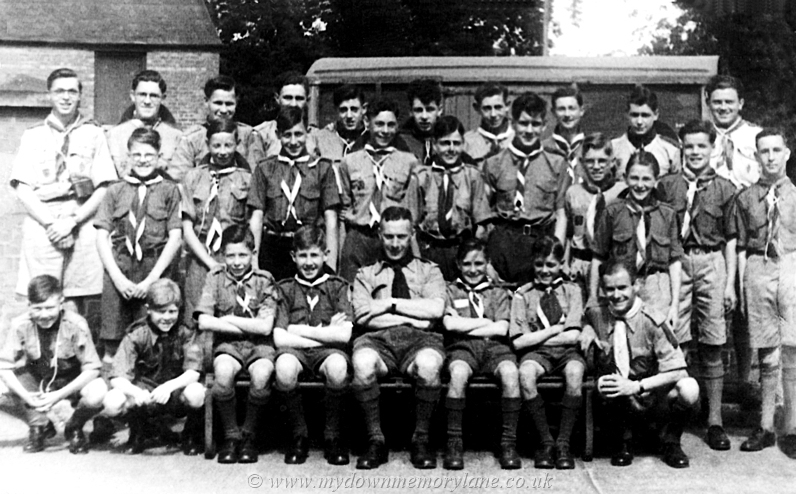 BOY SCOUTS 816
Here we have 1st Antrim Boy Scouts - their numbers bolstered by members from Muckamore and Randalstown - back in 1949. Though it is difficult to tell from this angle, this picture was actually taken at one of the sidings at Antrim Railway Station - and it was a very special day for the boys and their leaders. They were embarking on a long journey to South Corydon for a - - - - - - camping holiday, and it was the first time the local scouts had ventured out of Northern Ireland. - - - Back row: has N.Mawhinney, L.Graham, R.Watt, P.Moles, Jimmy Steele, Tommy McClure, - - - - - - -- - - - - - - - - - - -- - - -Alan Meekin, Sammy Kyle, J.Reid and J.Clarke. - - - - - - - - - - - - - - Middle row: you can see G. Curry, Elmer Bates, Bobby McCormick, Noel Bain, C.Ferguson, - - - - - - - Unknown, Joe McCormick, Unknown, Unknown, Sidney Scott and Unknown. - - - - - - - - - -Seated and kneeling: are Unknown, Archie McQuillen, Billy McMaster, D.Little, Scout Master - - - - - - - -Bobby Millar, Johnny Hemming, O.Ferguson and Assistant Scoutmaster Malachy Gorman.
Billy McMaster went on to become a King Scout', while Archie McQuilken brought glory to Antrim by playing cricket for Ireland.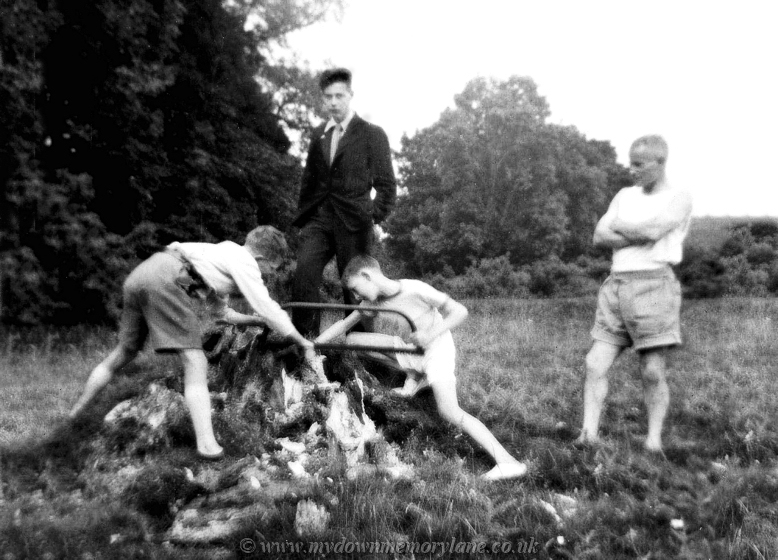 BOY SCOUTS 482
Here we have Mr. Gormon the Scout Leader with his arms folded watching the two scouts sawing away. The boy in the middle is Gordon Boyd. the place and the year are unknown.
BOY SCOUTS 815
Here the scouts are loading up the train in one of the sidings at Antrim station with their gear for a trip to South Croyden to camp.
The only scout known is on the right, it is Noel Bain in 1949.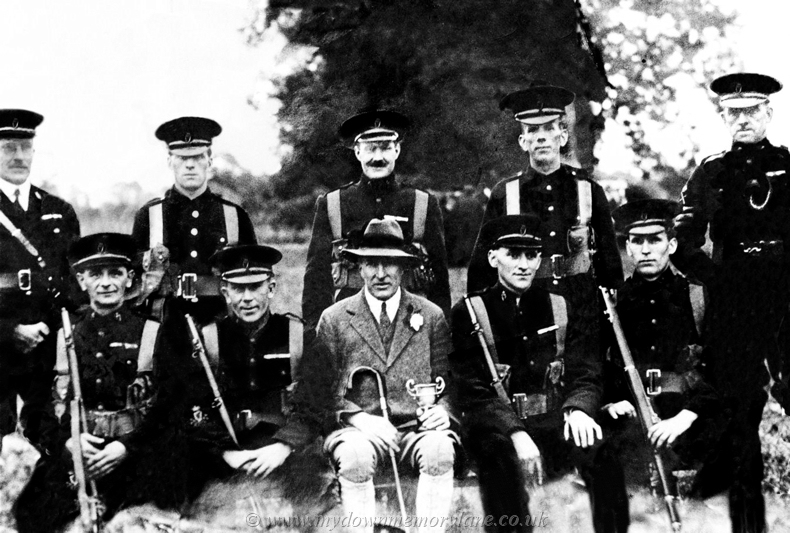 B. SPECIALS 2327
Front row on the left Frank Reford.
BEST FRIENDS 1003
Sitting at the hedgerow in June 1950 arm in arm are best freinds Mary Duffin and Rita Agnew.
Behind them is Mary's house which was 972 Antrim Road, Dunadry, sadly no longer there.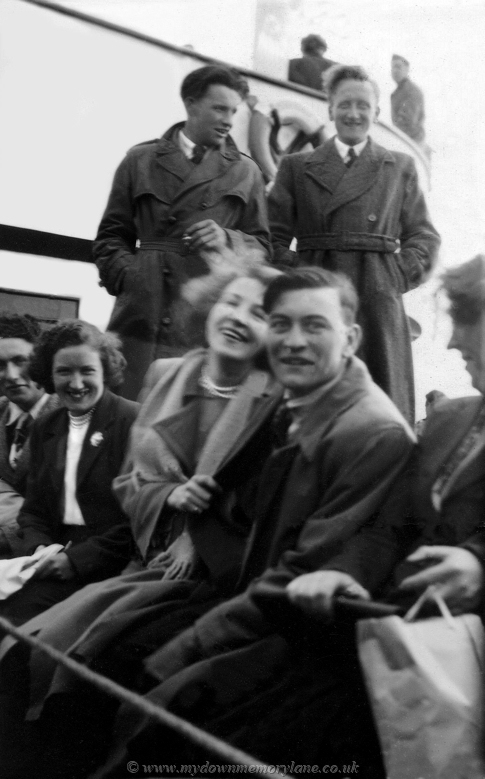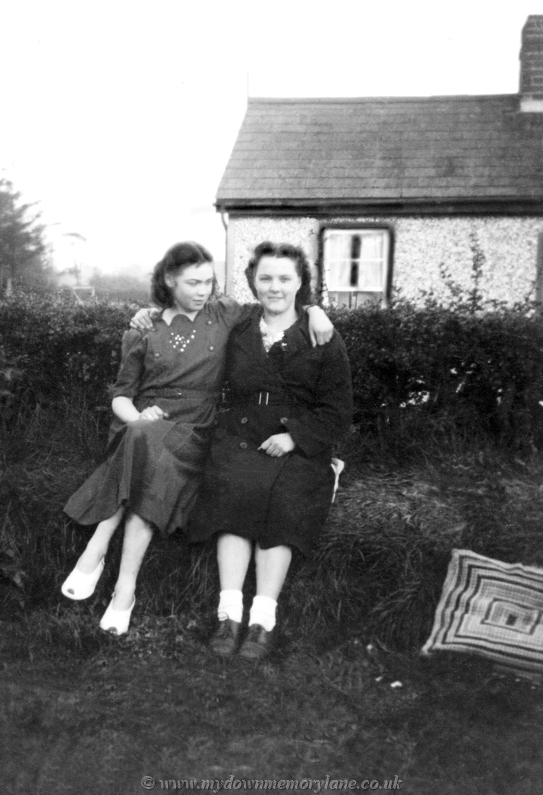 BOAT TRIP 1142
Sammy McClenaghan with his friend Kirk on a boat trip to the Isle of Man. The year is unknown.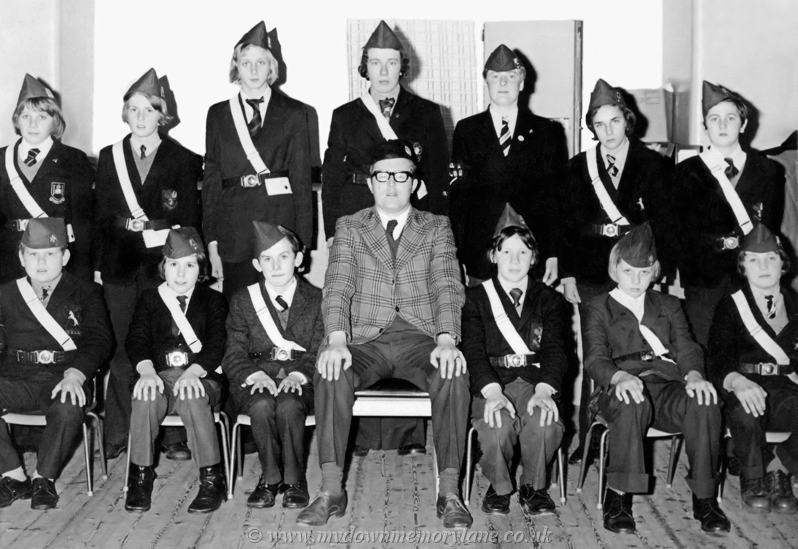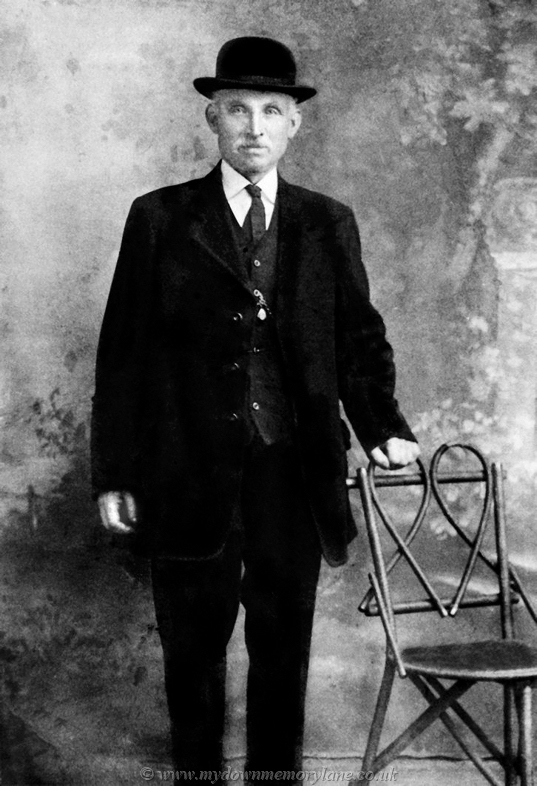 BOYS BRIGADE 2417
Proudly having their photograph taken are these lads and leader of the Boys Brigade.
The only one known at the moment is Garath Millar in the back row.
DANIEL BLACKLEY 2427
Looking very immaculate in his three piece suit, bowler hat and showing his fob watch chain is Daniel Blackley who was Nellie McComb's grandfather.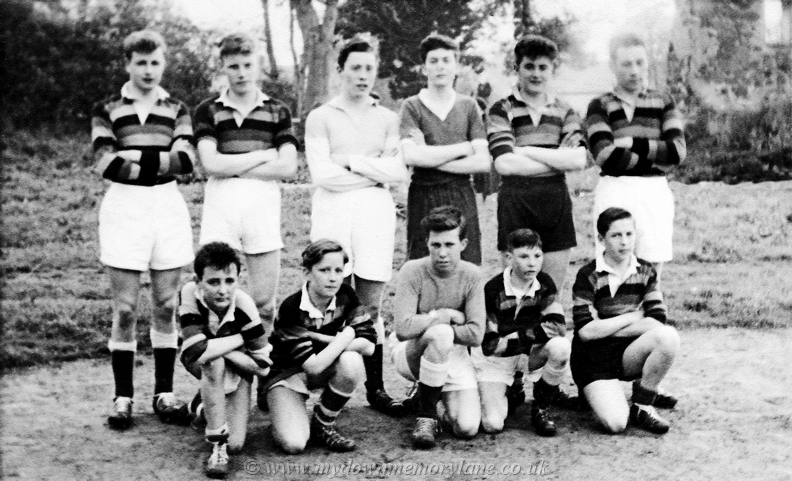 BOYS BRIGADE FOOTBALL TEAM 2351
It's 1959 and these fresh-faced lads belong to 1st Antrim Boys Brigade.
Now they are either just posing for the photograph or getting ready to play, reason? their kit is clean! Standing we have on the left Jim Francey, Sammy Wallace, Jim McCullough, Stanley Molloy, Robert Carson and John Crighton. Kneeling in front are Trevor Carson, Alvin Carson, Ronnie Nicholl, Freddie Millar and Robin Topping.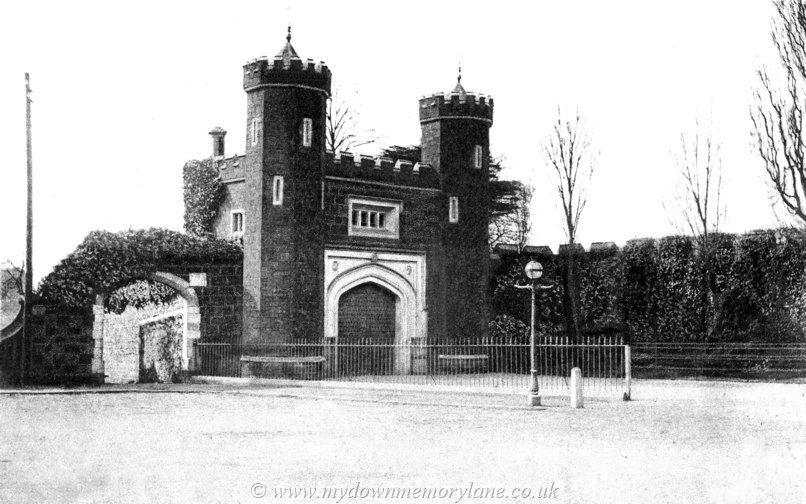 BARBICAN GATE 655
This was the main entrance to Antrim Castle and this photo was taken in 1911 to be used as a postcard.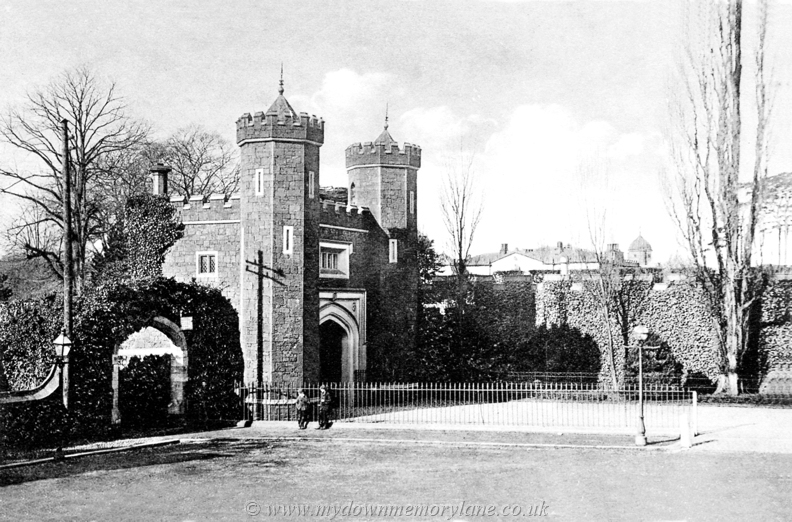 BARBICAN GATE 534
This used to be the main entrance to Antrim Castle which you can see quite clearly in the background of this photo taken in 1911.
It was called the Barbican Gate, the archway next to it led down to the river where you could water your horse.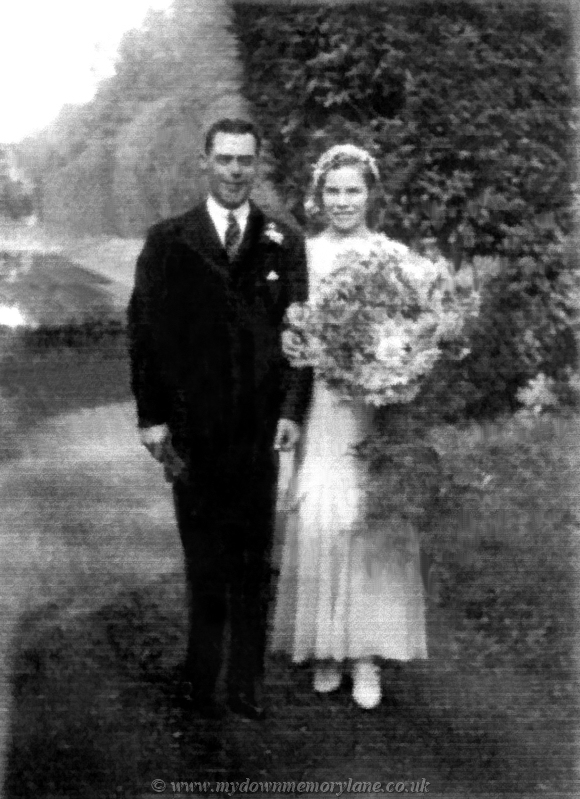 BAIN WEDDING 967
Taken in the Castle Grounds, in front of the Long Canal on their Wedding Day 3rd October 1932 we have Sadie Bain nee McElrea and her husband Jock Bain. Sadie's massive bouquet of Chrysanthemums came from Antrim Castle Gardens by kind permission of Lord Massereene.
Sadie said it was one of the Happiest days of her life, the rest of her happy days days were spent with her darling husband Jock.Well Sadie has now gone home to be with her beloved Jack.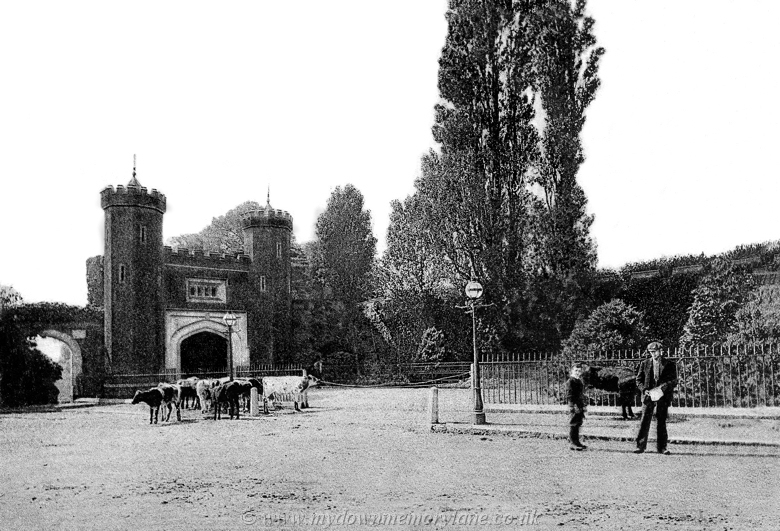 BARBICAN GATE 656
This was the main entrance to Antrim Castle and this postcard photo was taken in 1911.
It must been market day by the cattle on the street. The card is To: Miss S. Murray, Lombard Cafe, Lombard Street, Belfast. Postmarked - Ballymena, 6th October 1911.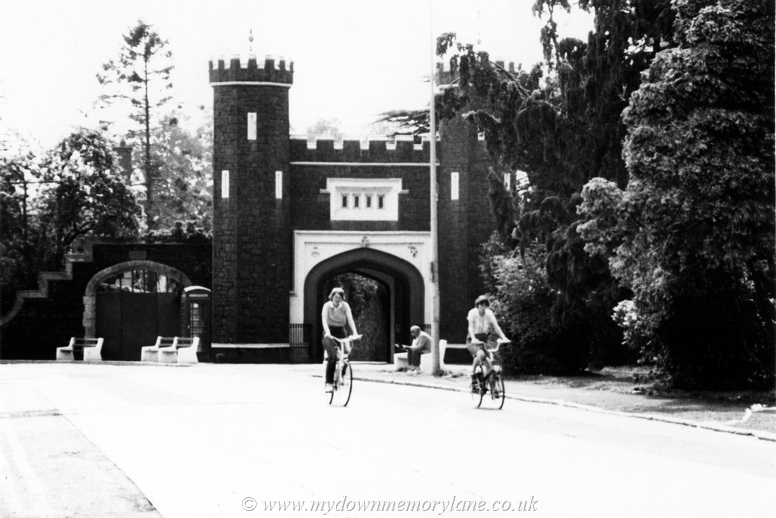 BARBICAN GATE 660
Taken in 1961 from Castle Street with two ladies out for a gentle cycle and in the background the Barbican Gate.A man sitting reading the paper and beside the Barbican Gate on the left is an old telephone box.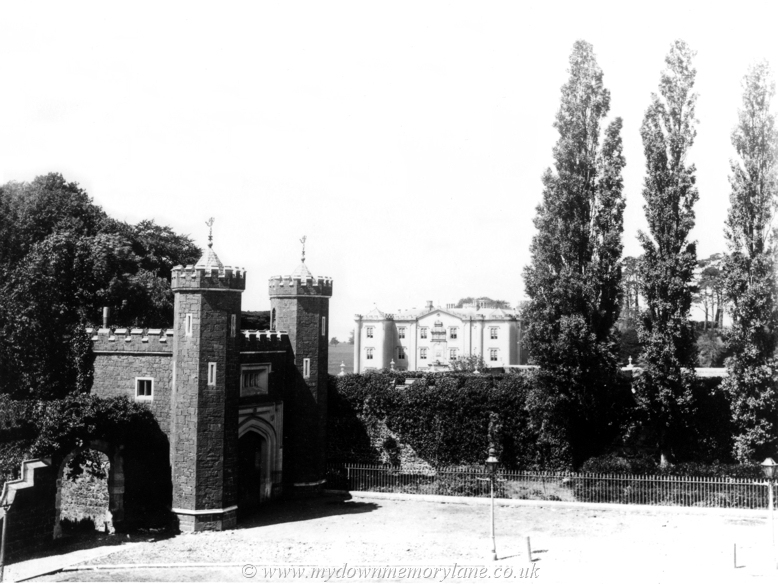 BARBICAN GATE 628
This view of the Barbican Gate which was the entrance to Antrim Castle
which can be seen quite clearly in the background. The year was 1911.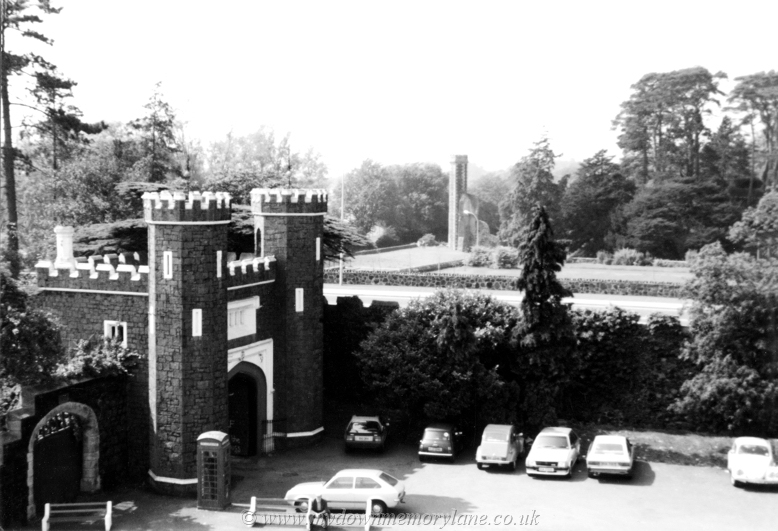 BARBICAN GATE 661
This photo of the Barbican gate was taken from the Court House in 1961
by our very own Jackie Peacocke. The cars parked include Volkswagen Beetle,Austin Mini, Citroen, Ford and Vauxhall.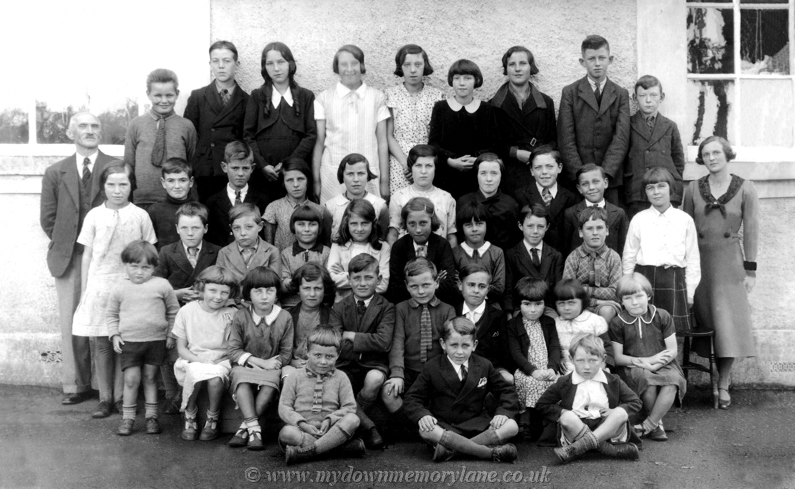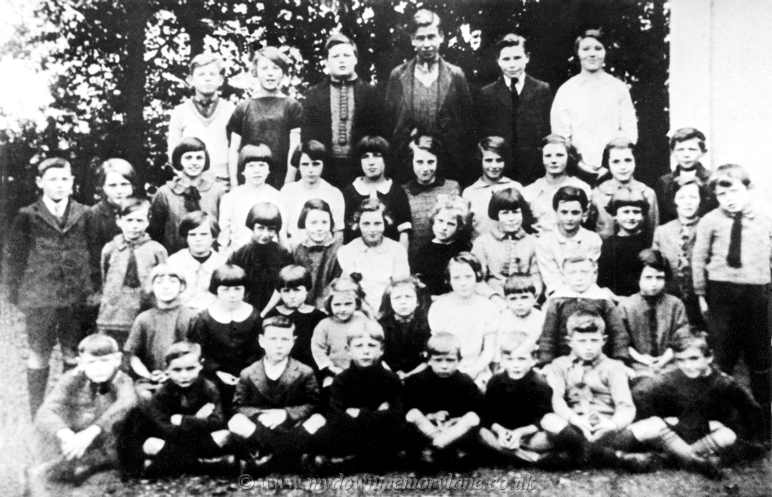 BALLYROBIN PUBLIC ELEMENTARY SCHOOL 1116
This is Class 1931 and the pupils are from Ballyrobin Public Elementary School.
Back Row: we have George Arbuckle, his sister Lily Arbuckle, Johnnie McQuillen, William - -----Arbuckle, Sam McCombe and Angie Finley.
-3rd Row: are Billy Carson, Aggie Milliken, Eunice Scott, Annie Hendron, Ellen McCartney, - - - - - -Maggie Kirkpatrick, Martha Hamill, May Boyd, Maggie Lough, Annie Cunningham & Bobby Scott. Second Row: has William Boyd, Madge Boyd, Annie White, Olive Fleming, Mary Lewis, Lily Beattie, - - - - - Lissie Kirkpatrick, Isa Clyde, Ria Scott, Minnie Cunningham and John Craig. - - - - - -Seated: we have Florence Fleming, May Lyle, Cissie Cunningham, Ena Ceaser, Lizzie Ceaser, - - - -- - - - - - - - - Maisie Hamill, John Hendron, Thamie Taylor and Lizzie Cunningham.- - - - - - - - On the ground: with their legs crossed we have Sammy Carson, Thannie White, Billy Cunningham, Albert Arbuckle, Johnny Boyd, Matt Boyd, Tommy Graham and Harry Loughlin.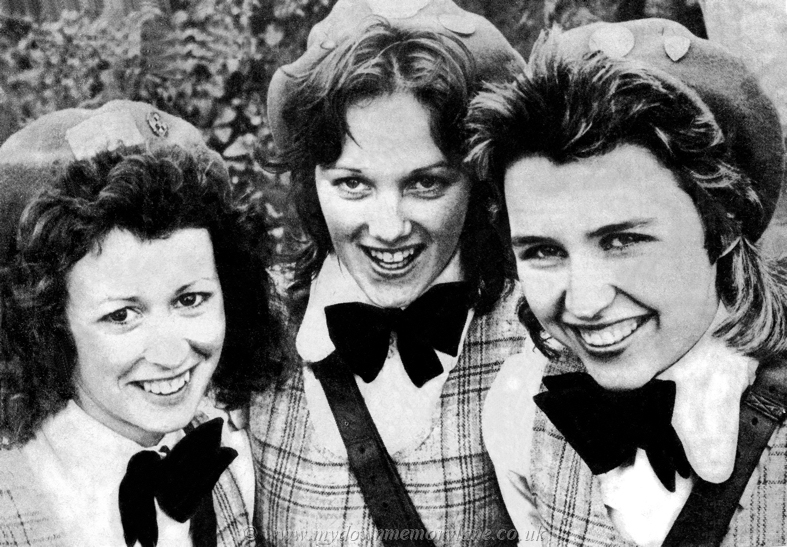 BAND GIRLS 929
Such cheerful smiling faces from these girls of the Steeple Flute Band.
From the left we have Lendnim, Kate Rainey and Elizabeth Smyth - they refuse to reveal their ages so I can't tell the year.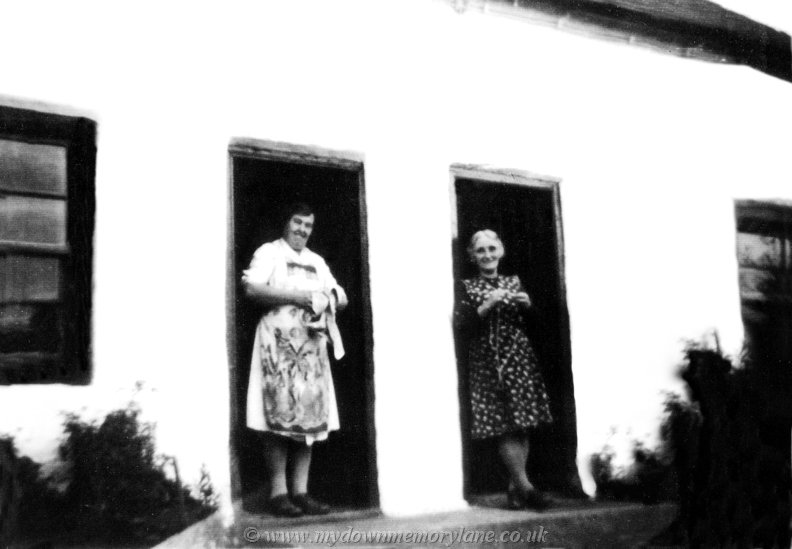 BALLYBENTRA ROAD 1015
Here we have Maggie Smyth just finishing off washing the dishes and looking forward to a well earned break of which there wasn't many back in 1938.
Her next door neighbour Rachel Agnew was waiting for her to finish and so bided her time crocheting or knitting which is what she was doing here.
They lived out at Templepatrick on the Ballybentra road.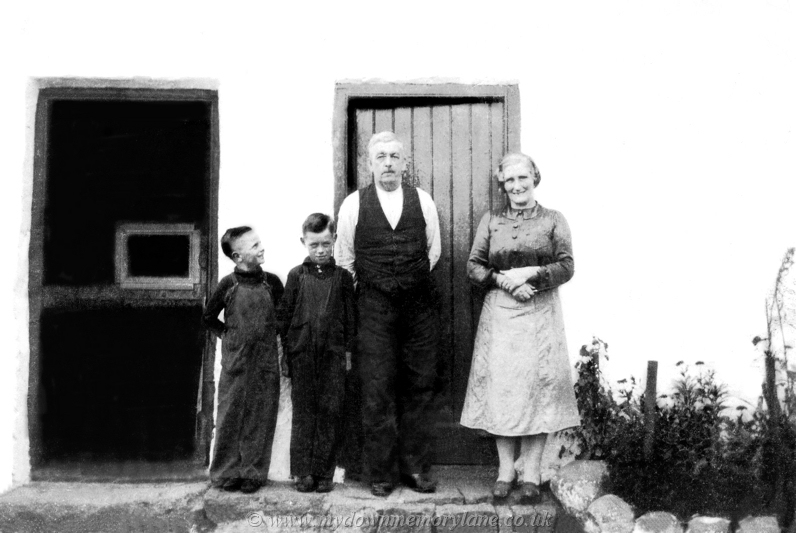 BALLYBENTRA ROAD 996
Standing at their front door in 1940 is Jack's grandparents William and Rachel Agnew. Jack is standing next to them and beside him is his chum Ernie Smyth. The two houses stood on the corner of Ballybentra Road, Templepatrick.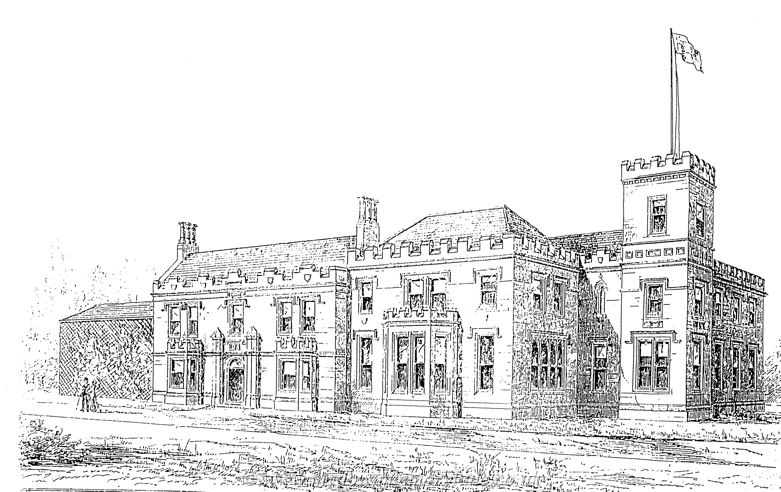 BALLYCRAIGY MANOR 653
This drawing Ballycraighy House, was owned in 1800's by William Chaine who it is said became Ireland's greatest Bleaching Magnate overnight.
What happen was in 1823 a Joseph Redford an Exeter Bleacher who was experiencing a cash-flow problem was invited up to Ballycraigy House for a game of cards. William Chaine planted a professional card player in the game and the result was Joseph Redford lost and William Chaine won an empire consisting of Bleach works and greens, Beetling Mills, Workers homes, farms at Moylinny and Spring Farm ect.
Our very own David Alexander Irvine was at one time a stable lad here.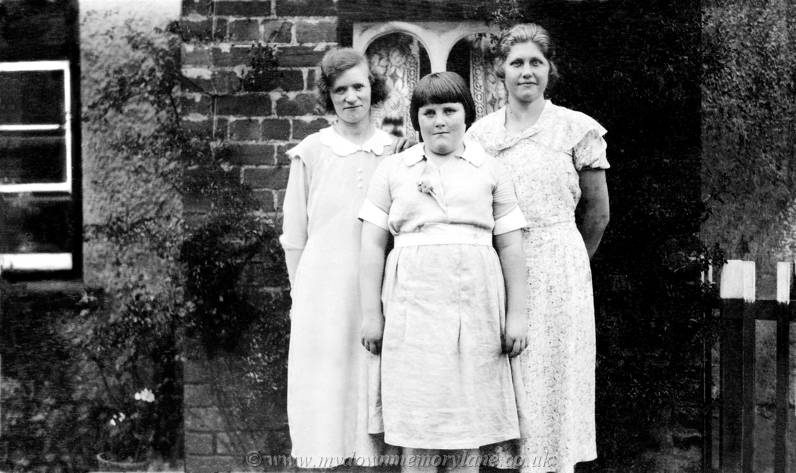 BALLOO 1141
Standing outside their house at Balloo we have Sadie and Mary Jackson along with Jean McDonald. The year is unknown.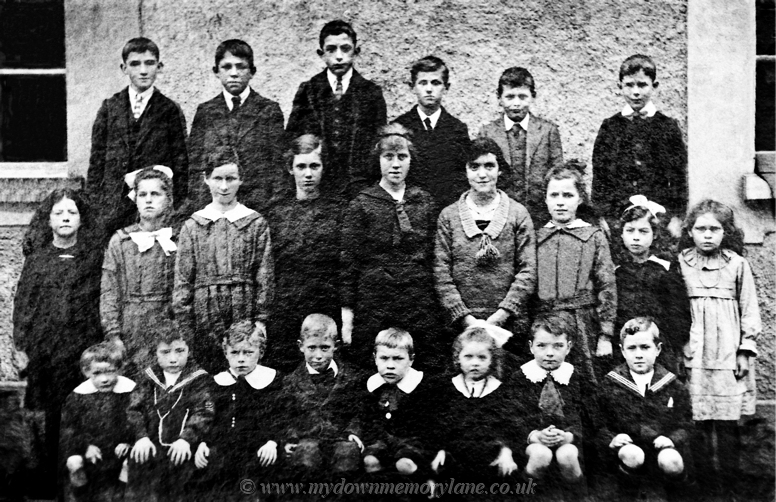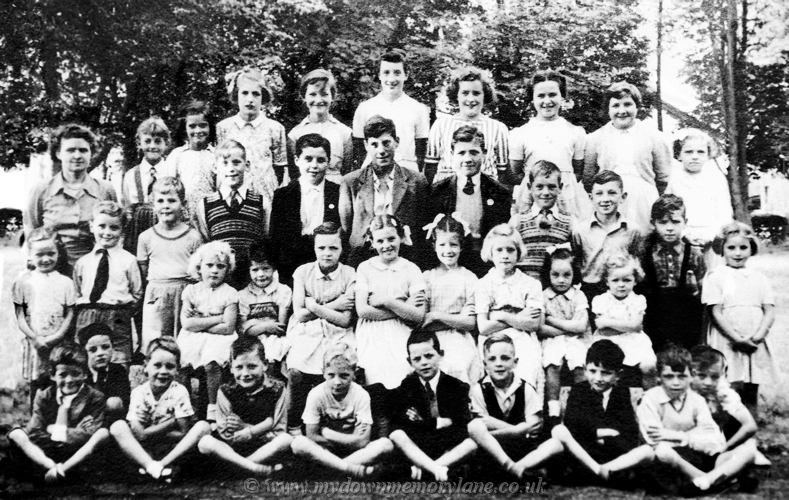 BALLYROBIN PUBLIC ELEMENTARY SCHOOL 2315
It's 1954 and having their photograph taken are the pupils and teacher of Ballyrobin Public Elementary School.
Back row: are Mrs Minnis (Teacher), F Gartell, F Kennedy, K Beattie, L Rea, P Cassidy, A Beattie, J Kink, A Kirkpatrick and Unknown.
Third row: has M Reid, A Minnis, S Millar, N McFadden, I Russel, H Storey, J McComb, S McFadden, T Kirkpatrick, Timothy Lyle and Unknown.
Second row: seated are I McComb, H Gilliland, Michelle Lyle, J Holmes, V Gilliland, H Irvine, J Letson and Penny Lyle.
Front row: on the ground with their arms folded are F Kennedy, H McBrien, J Millar, C Beattie, S Mccomb, M McBrien, I Kirkpatrick, E Glover, Davey Ceasor and Unknown.
BALLYROBIN PUBLIC ELEMENTARY SCHOOL 2314
The reason these children of Ballyrobin Public Elementary School look very solemn is that back in 1922 you had to stand or sit very still if you didn't you would be blurred like the boy left in front row.
Back row: are John B Gilliland, Willie Rankin, Master Gilliland, B J Graham, Unknown and Unknown.
Middle row: are Aggie Gilliland, Sarah Carson, Lizzie Jenkins, Jeannie Graham, Miss Miadam, Meta Craig, Miss Kirkpatrick, Myra Martin and Catherine McComb.
Front row: seated are Unknown, Forde Gilliland, Unknown, Tommy Graham, Sam McComb, Mary Lewis, Tony Martin and finally John Craig (Dr).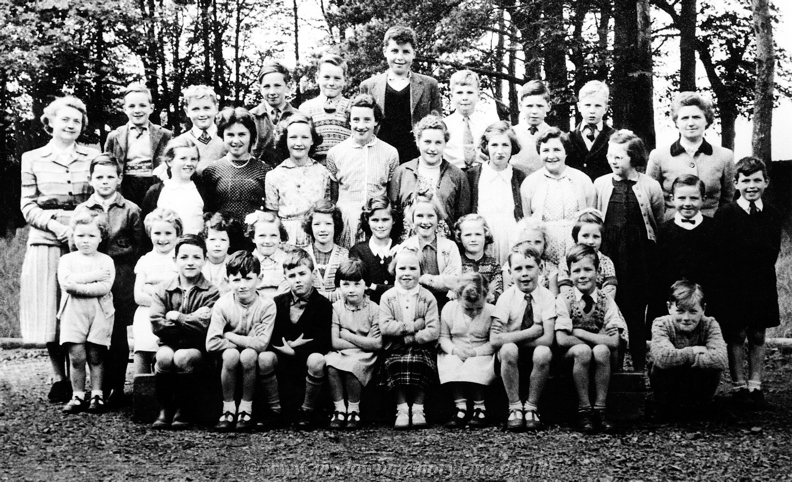 BALLYROBIN PUBLIC ELEMENTARY SCHOOL 2316
All smiles for their school photograph in 1956 are the pupils of Ballyrobin Public Elementary School.
Back Row: Mrs Reid, I Kirkpatrick, A Minnis, T Kirkpatrick, S McFadden, I Russel, S Millar, T Lyle, S McComb and Mrs Minnis.
3rd has M McBrien, J Holmes, J King, L Rea, P Cassidy, A Beattie, H Beattie, A Kirkpatrick, M Lyle, R Beachall and Davy Ceasar.
In the 2nd Row we have Unknown, C McClenaghan, H Gilliland, Mallory Beardshall, V Gilliland, F Kennedy, H Irvine, M Reid, I McComb and A McBrien.
At the front are H McBrien, E Glover, A Russel, J Letson, N Irvine, Penny Lyle, J Millar, F Kennedy and finally C Beattie.
Now apparently Penny Lyle should not have been in the photograph as she had not yet started school, but she lived in the house next to the school. Whenever her mother could not find her she knew immediately where she was, she'd be sitting in the classroom!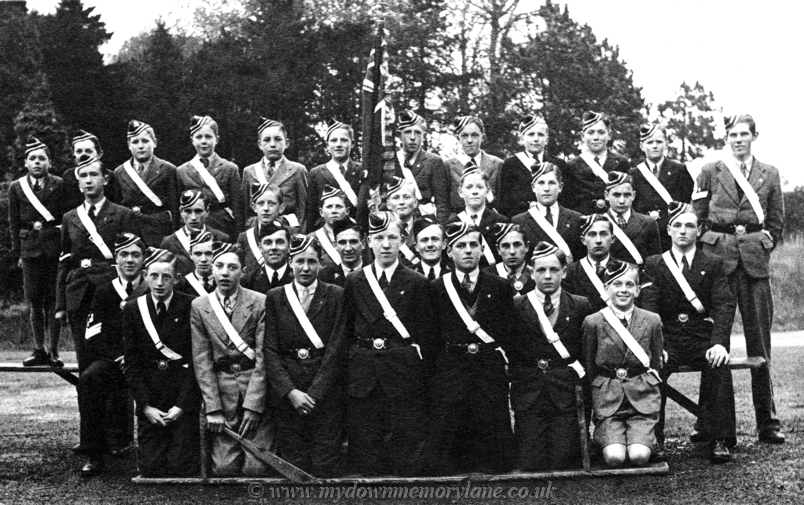 BOYS BRIGADE 453
This is 1st Antrim Boys Brigade in Antrim Castle Grounds in 1945.
B.Row: Cecil ( Bud ) Hannon, Unknown, Unknown, Unknown, Unknown, Unknown, Cecil Pogue, Ricy Craig, Unknown, Jim Purdy, Herbie McCabe and Mervyn Wilson.
3rd Row: J.Killough, Bobby McVeigh, Tommy George, Unknown, Unknown, Desmond Adams, Unknown and Unknown.
2nd Row: Huston Wilson, Unknown, W.E.Charles, Albert Anderson, Cecil Johnston, Jim ( Cookie ) Carson, Tom Carson and Unknown.
1st Row: T.George, W. Beattie, H. Moore, L. Johnston, ..C. Donald, Moore Scott and Kenneth McKittrick.
Footnote: W.E.Charles was the headmaster of Massereene School. Herbie McCabe used to work in McCabe's Butchers on Church Street. Tom and Jim Carson were twins and John Killough's father was also once the Headmaster of Orr School.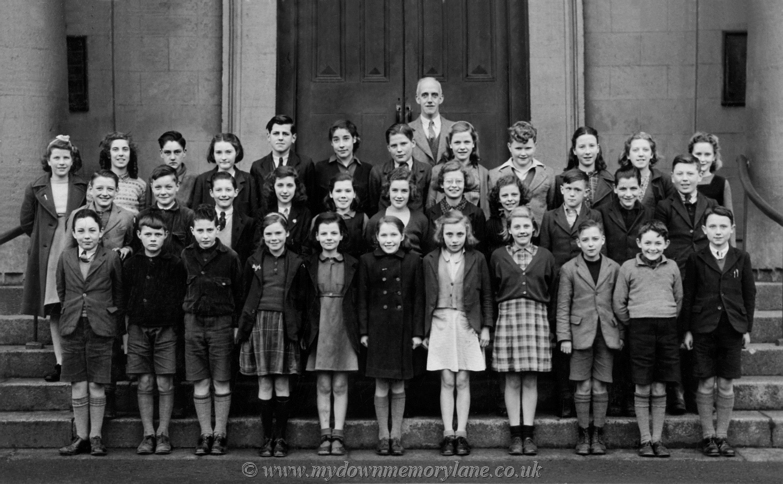 BERESFORD WEDDING 436
Getting ready for their honeymoon the Bride and Groom are at the back of the car putting away their luggage.
The man to the left in the wedding party is the Bride's father Samuel Beresford and the year was 1941.
This photograph was taken in the lane next to Rose Cottage at the Steeple.
BERESFORD PORTRAIT 444
Jane and Andrew Beresford in 1910.
Aged 61 and 64
BRUCE MEMORIAL SCHOOL 341
This is Bruce Memorial School in 1945 and was taken on the steps of 1st Antrim Presbyterian Church.
Front Row: Myra McMaster, Francis Coulter, Margaret Kyle, Jennifer Reid, Moria Coulter, Florie McVeigh,
....................Olive McMaster, Betty Thompson, Phylis Harkness, Maud Harkness, May Gainor and Marie Hemings.
2nd Row: George Nicholl, Michael Allen, John Anderson, George Mahwinney, Francis Baird, David McMeekin, Eric Rainey,.Scott McElrea, Albert Hemings, Norman Spence, Unknown and Sam Spence.
3rd Row: Unknown, Marlene Alexander, June McCormick, Mary O'Neill, Unknown, Stella Harkness, Lily Kane, Mary Scott,.Muriel Bane, Irene Clarise, Moveen Gilespie, Thelma Reid.
Back Row: George Clarke, Desie McClure, Usher Hood, Matt Quigley, Vic Balmer, Unknown, - - - - - - - - - - - - - - - - - - - - - - - - -Unknown and Matt McCormick - -- - - - - - - - - - - - - - -- - - - --Footnote: Marie Hemings from she was born until she was 8 years old lived with the rest of her family in the Barbican Gate.
BALLYROBIN PUBLIC ELEMENTARY SCHOOL 1115
These are the pupils of Ballyrobin Public Elementary School and this is the class of 1932.
Back row: are Thonie White, Jack Eakin, Essie Steel, Maisie Hamill, May Lyle, Josie Steel, Agnes Kirkpatrick, Tommy Graham and Thonie Taylor.
4th Row: we have the Master Mr Craig, Ena Kirkpatrick, Harry Loughlin, Stanley Graham, Lizzie Ceaser, Essie Kirkpatrick, Lizzie Cunningham, Cissie Cunningham, Sammy Lyle, Sammy Stewart, Jean Jenkins and the teacher Eileen Brown.
3rd Row: are Ronnie Mintford, John Jenkins, Jean McCourt, Ena Ceaser, Sarah Storey, Annie Rodgers, Mack Fleming and Bertie Major.
Seated: are Leckie Rodgers, Maud Mintford, Jean Rodgers, Bell Kirkpatrick, Sammy Kirkpatrick, Hugh White, Bertie Rodgers, Eileen Loughlin, Betty Rodgers and Betty Hamill.
On the ground: we have Samuel McCourt, Vincent Stewart and Jackie Rea.
If you know any names do please email them to len.kinley@hotmail.com and I will send you the photo without the watermark thank you.
BRUCE MEMORIAL SCHOOL 3884
Here on the steps of of 1st Antrim Presbyterain Church we have the Headmaster and the pupils - - - - - - - - - - - - - - - - -of Bruce Memorial School back in 1947.-
Mr. McDonald - Head Master.
Top Row: ? Adams, Joan McElrea, ? Loughlin, Unknown, Johnny McClure or ? McDonald, Menella - - -- - - - -- Smith, Andy Hunter, Jean Simpson, Robin Adair, Maud Adams, Ruth Hanna or Lila - -- - - -- -- - ---Adams, Ann Harrison or Maeve ?. -
Middle Row: Andy Hemmings, Unknown, Unknown, Elsie Jackson, Unknown, Jean McClure, - - - - - - - - - ------Unknown,-Ria Craig ,Unknown, ? Loughlin, Unknown.
Bottom Row: Ricardo Craig, Andrew Hood, Unknown, Unknown, Elizabeth Loughlin, Jean - - - - - - - - - - -- - McNeilly, Grace Clark, Ella Scott, Johnny Hemming, Norman McCabe, Norman Taylor.
My thanks to Jean Macewan for some of the names.
The rows of children are from left to right.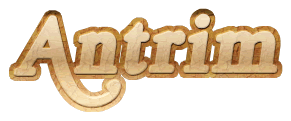 Pages: