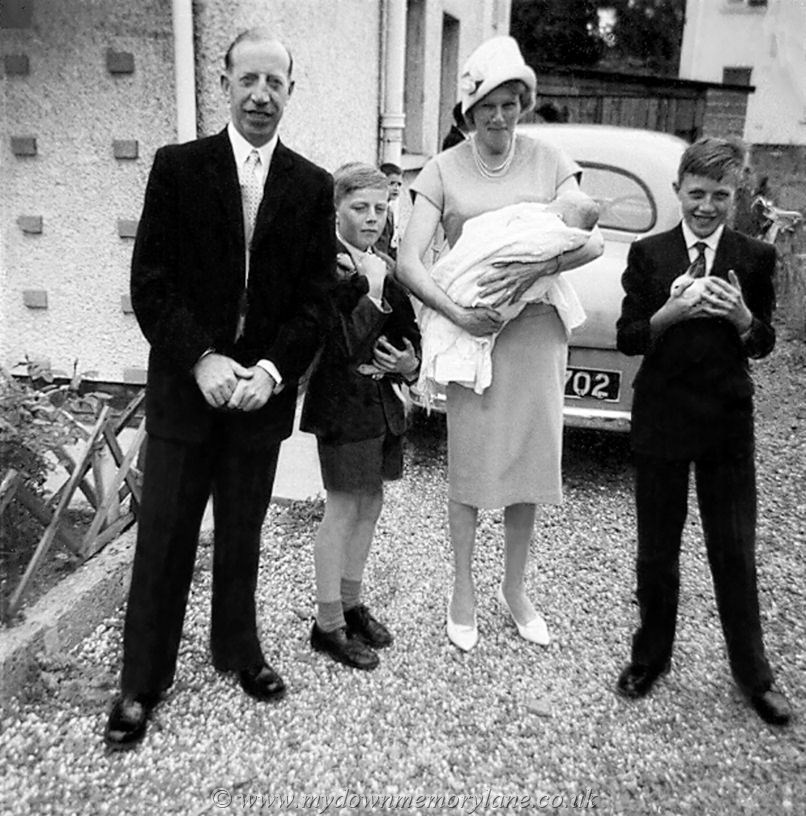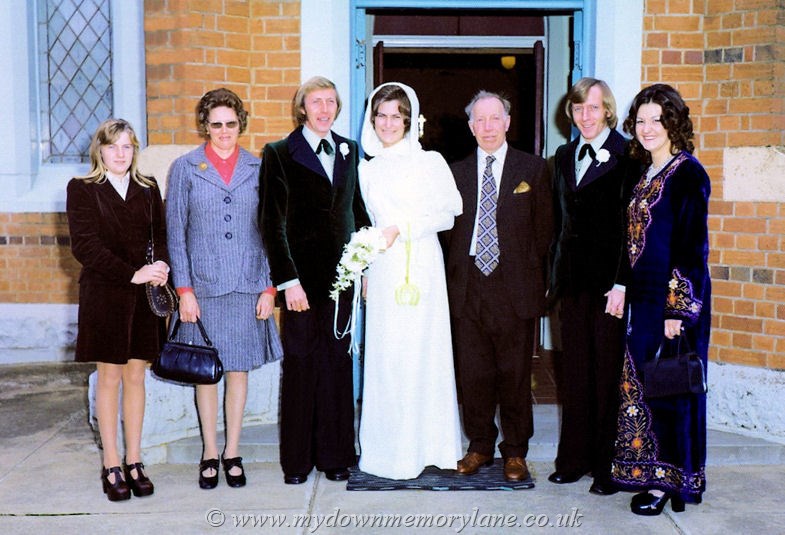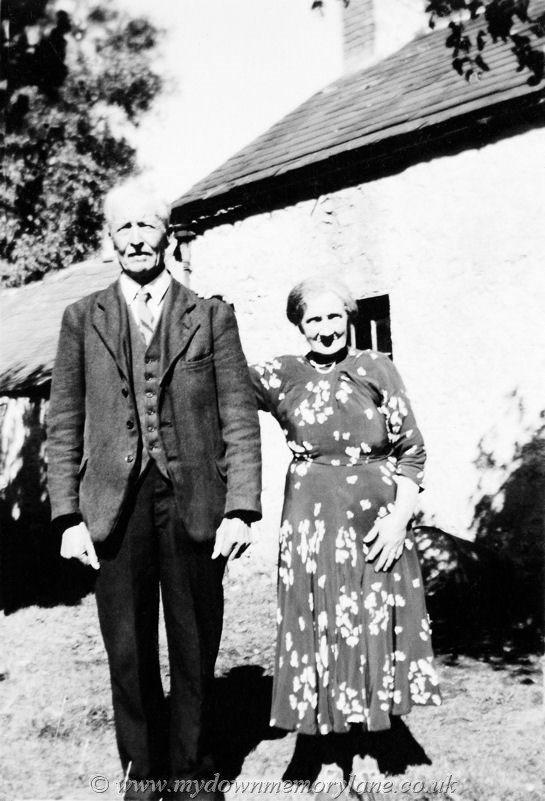 MR & MRS LYLE 3205
Standing in the back garden are Jame's Lyle in his 3 piece suit along with Mrs Lyle.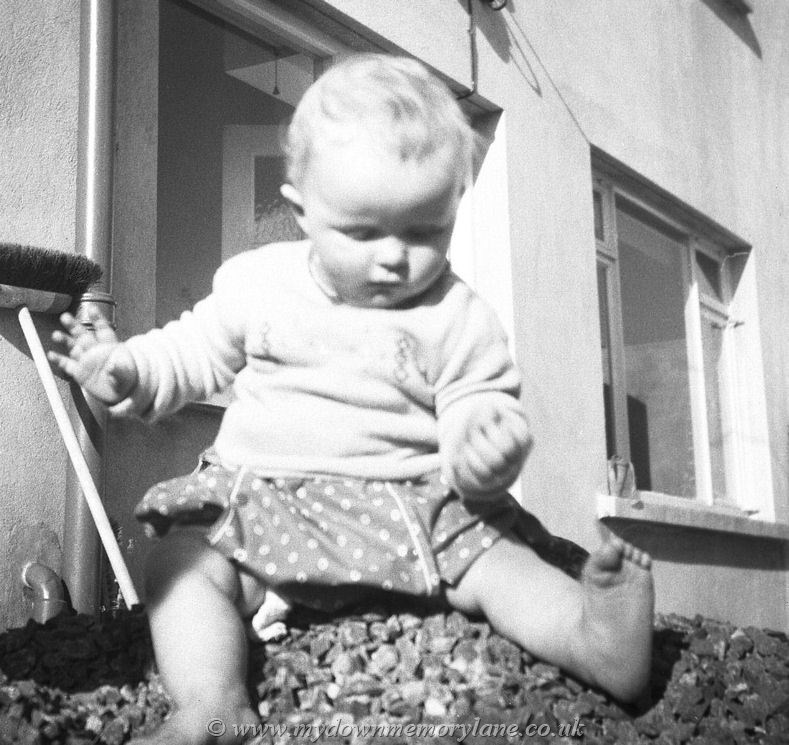 PAUL LANGTRY 3267
This is Paul Langtry aged 6 months in the back yard of his home in Wellington Gardens in September 1960 very carefully studying a stone.
Paul when he grew up moved to England where he became a Doctor.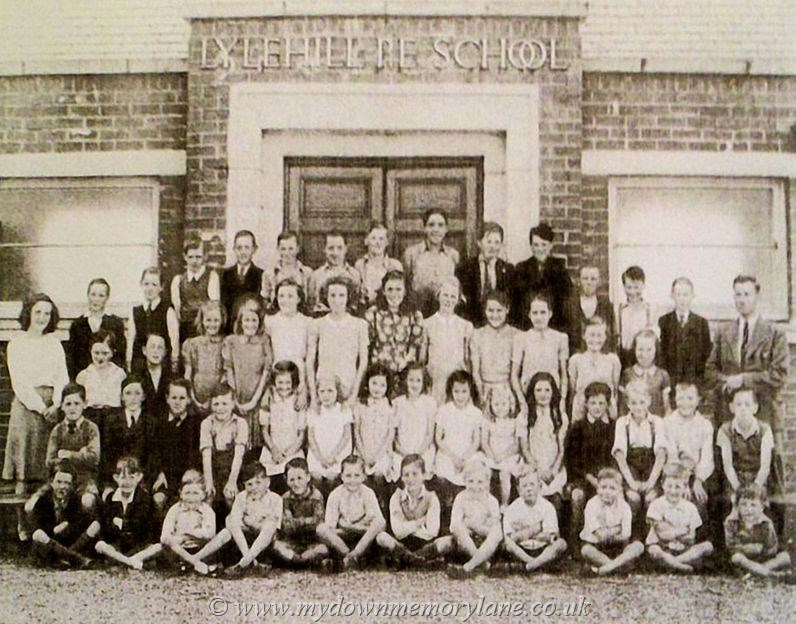 LYLEHILL SCHOOL 3289
Back row from the left are Miss McKelvely (Teacher), J. McTrusty, H. Ashcroft, T. Cummings, D. Hall, J. McMurray, S. Barron, B. McMurray. R. McCaughey, Jim Barron, G. Linsday, J. Coulter, R. Johnston, D. Hall and Mr. B. Hoey (Headmaster).
2nd row has G. Bell, G. Fleming, E. McMurray, N. McMurray, M. Rea, M. Whiteside, A. Cummings, M. Magill, M. Boston, M. Barron, E. Carisle and M. Linsday.
1st row has D. Ogibly, J. Moore, G. Ogilby, A. McBride, M. McCrea, M. Barron, K. Moore, M. Hall, M. Watt, F. Rea, L. Moore, D. Johnston, J. Coulter and V. McBride.
On the ground are F. Coulter, S. Linsday, S. Carisle, R. Cummings, A. Ogilby, G. Johnston, G. Watt, N. Rea, S. McCrea, C. Cummings, J. McCrea and J. McKendry.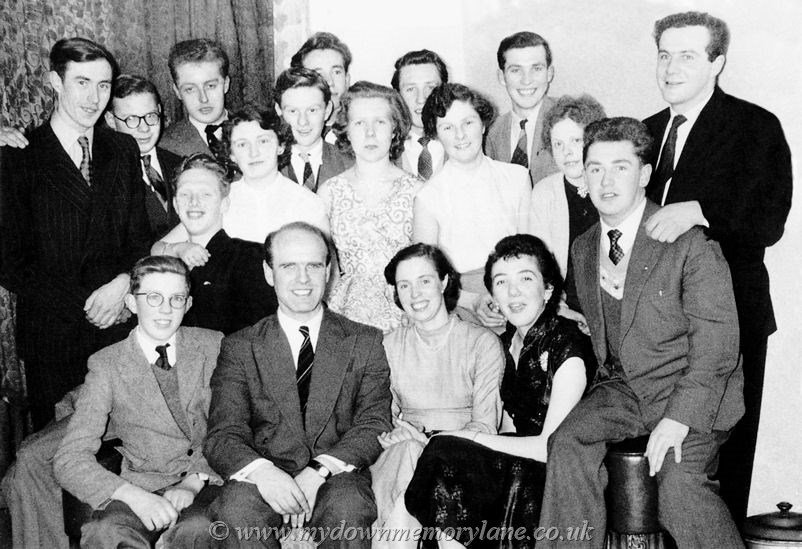 LOANENDS YOUTH CLUB 3458
Here we are at the famous Loanends Youth Club back in 1956.
Back row has from the left are Herbert Nutt, Davy McCartney, Alistair McCourt, Jim White, Wilson Kirkpatrick, Hubert Rankin, Wilbert Rankin and finally Hubert White.
Middle row has Leslie Rankin, Molly Price, Netta Scott, May White, Lily Law and Ed Cunningham.
Front row seated on the setee are Norman White, Rev. Derek Allen, Mrs Alice Allen and Kathleen Kirkpatrick.
My thanks to Ed Cunningham who has now gone home of Ontario, Canada for this photograph.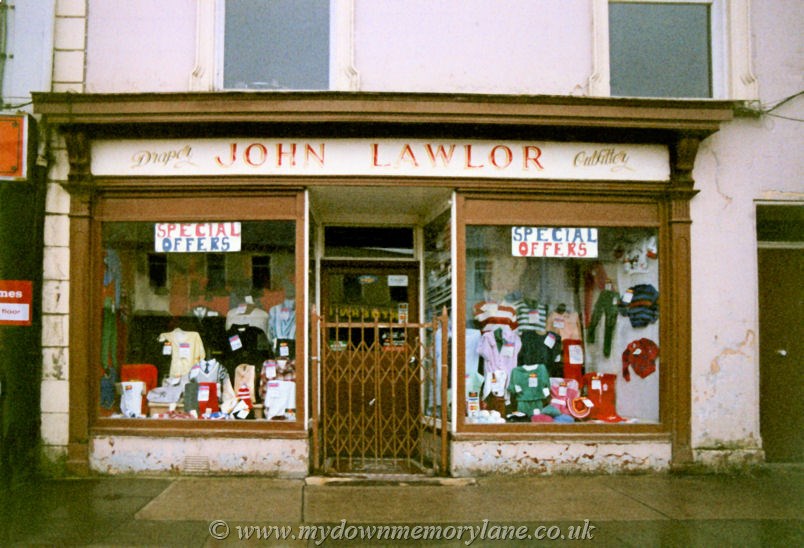 JOHN LAWLOR 3841
Now who doesn't remember John Lawlor's shop in High Street, why there wasn't an article of clothing you couldn't get. Yet this photograph was taken only 28 odd years ago, (now 2021) and the special offers.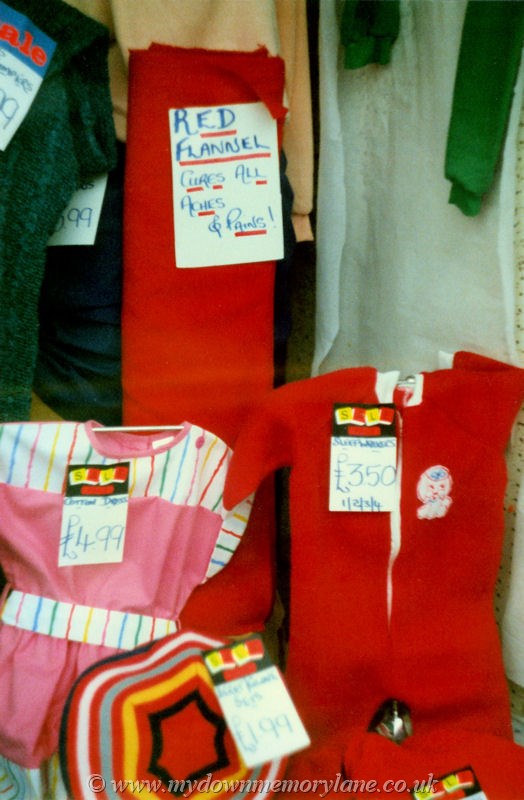 JOHN LAWLOR 3842
This is a close up of John Lawlor's from last weeks photograph in which they are having a sale.
What caught my eye is the Red Flannel which has no sale price on it, but who cares what the price was when the ticket says 'Cures all aches & Pains!'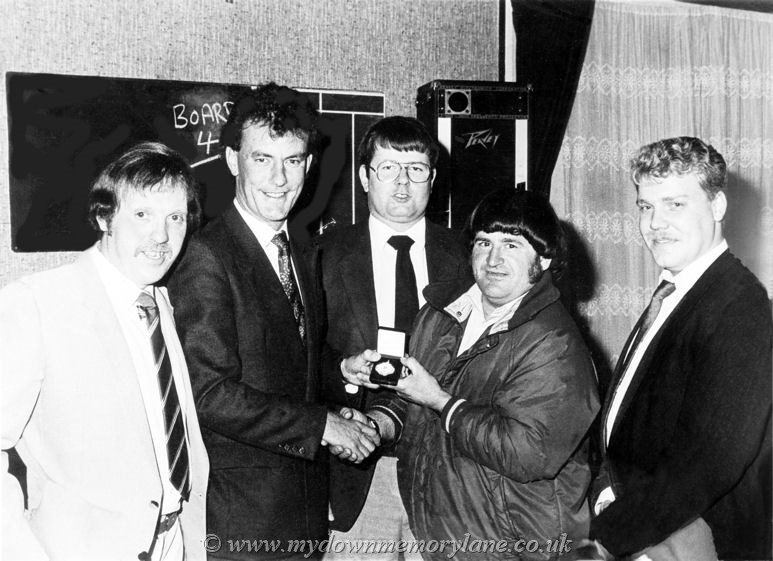 ANTRIM LINFIELD SUPPORTERS CLUB 3562
Here been given a special presentation by Colin Hughes and Billy Coulter to Mike Nesbitt when he was at UTV by Antrim Linfield Supporters Club.
On the left of Mike Nesbitt is Lawrence Hutchins and on his far right is Dinker Bell.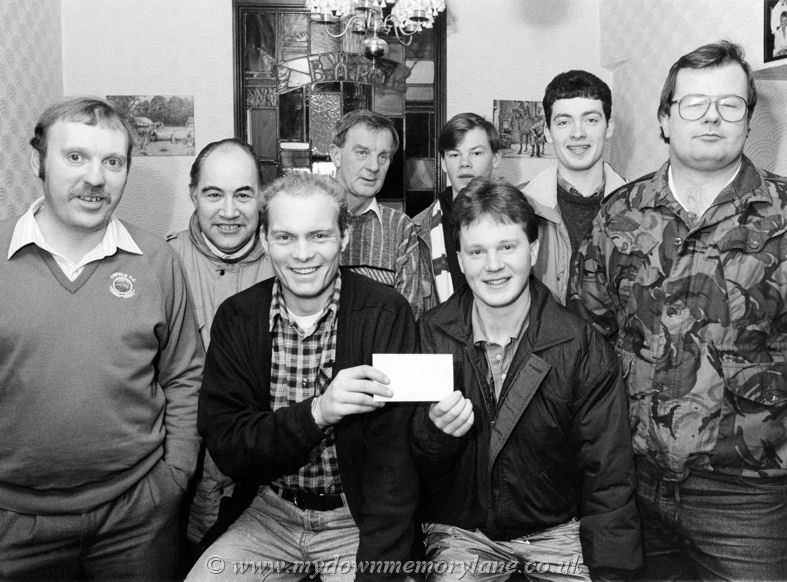 ANTRIM LINFIELD SUPPORTERS CLUB 3564
These are some of the Antrim Linfield Supporters Club making a donation to the great David Jeffery, I only have some of the members names and they are Lawrence Hutchins, Tommy Coulter, Norman Mc Kena, Derek Mc Kena and Colin Hughes.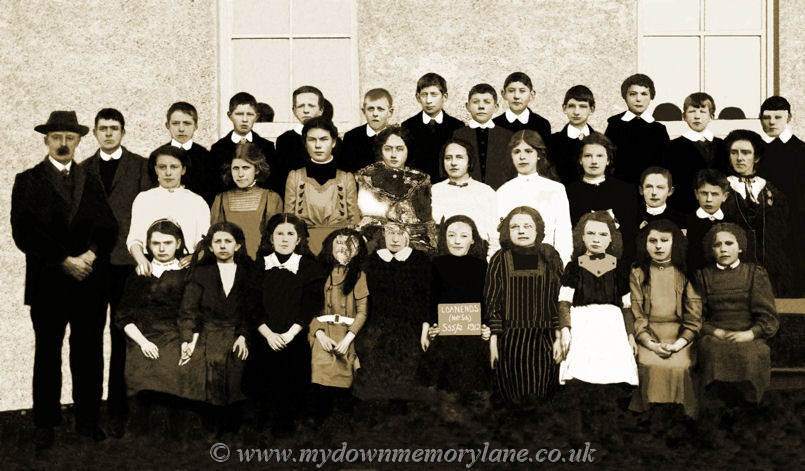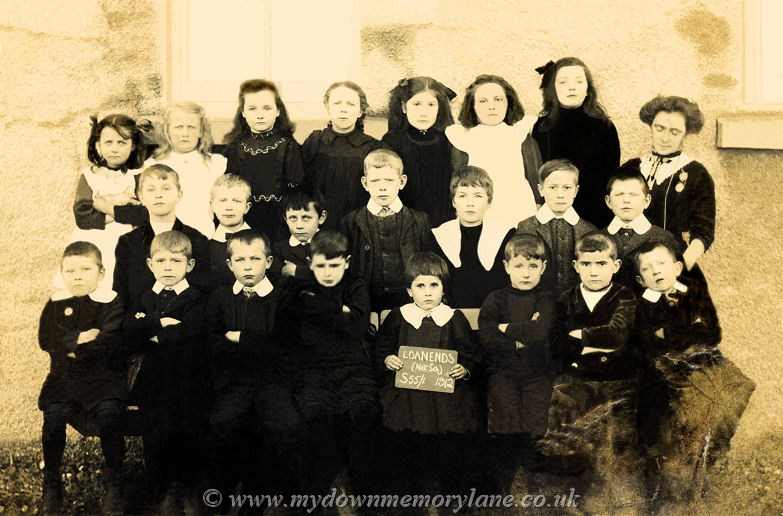 LOANENDS NATIONAL SCHOOL 3705
It's 1912 and this is the class of S55/1 at Loanends National School. Sadly once more none of the pupils names are known including the teacher who is looking down and seem to holding on to the boy pupil who is sitting at an angle. I have not finished cleaning him up as it would be my interpretation and that would not be true. If anyone out there has a complete photograph, I would love to borrow it to scan it to make it fairer for anyone looking at it also of course anyone who knows any of the pupils names, please let me know, I will send you as many copies as you would like without a watermark and also your own photograph back to you.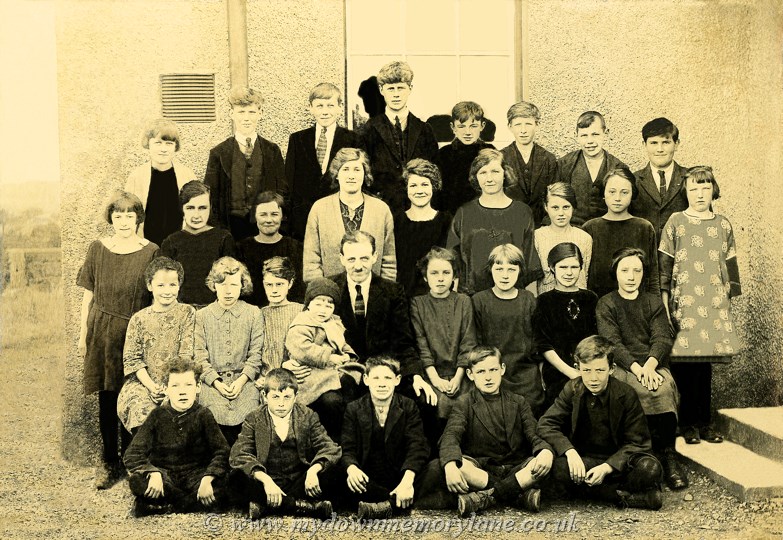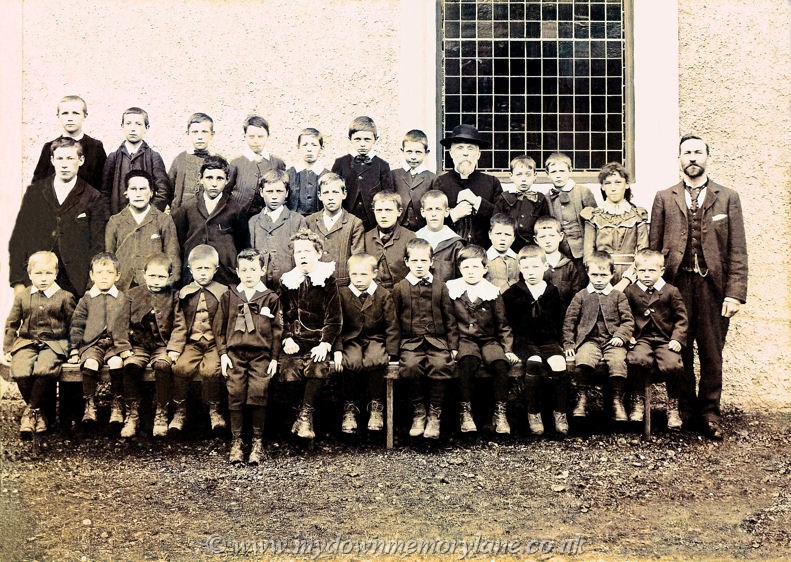 LOANENDS PRIMARY SCHOOL 3706
The year is unknown and also the pupils and Master at this annual photographic session at Loanends Primary School.
Of course anyone who knows any of the pupils names or Master, please let me know, I will send you as many copies as you would like without a watermark to you.
LOANENDS PRIMARY SCHOOL 3707
Here we are at Loanends Primary School the year is unknown and the pupils and the Master along with the Minister the Rev William Salmon are having their photographtaken. But once more I know none of the pupils or Master names, so I you do please let me know and I will send you as many copies as you would like without a watermark to you.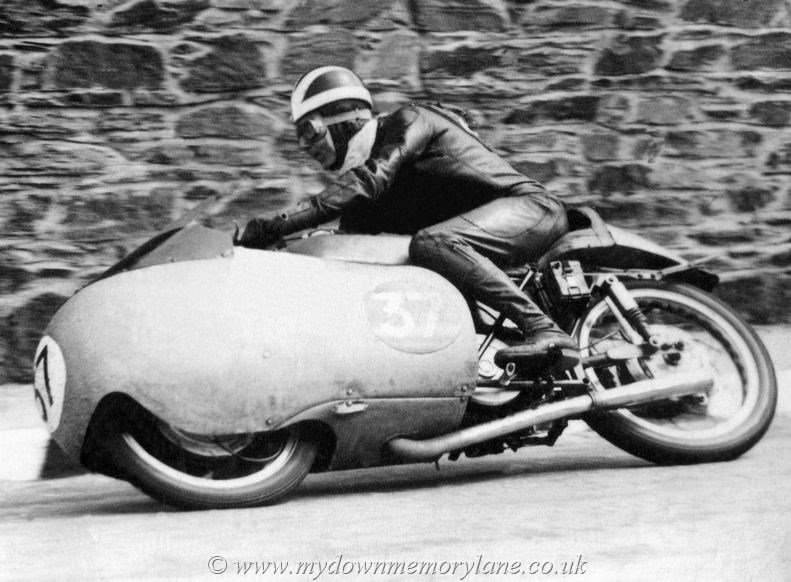 W. A. LOMAS 2281
Hurtling round the bend on his 500cc Guzzi is W. A. Lomas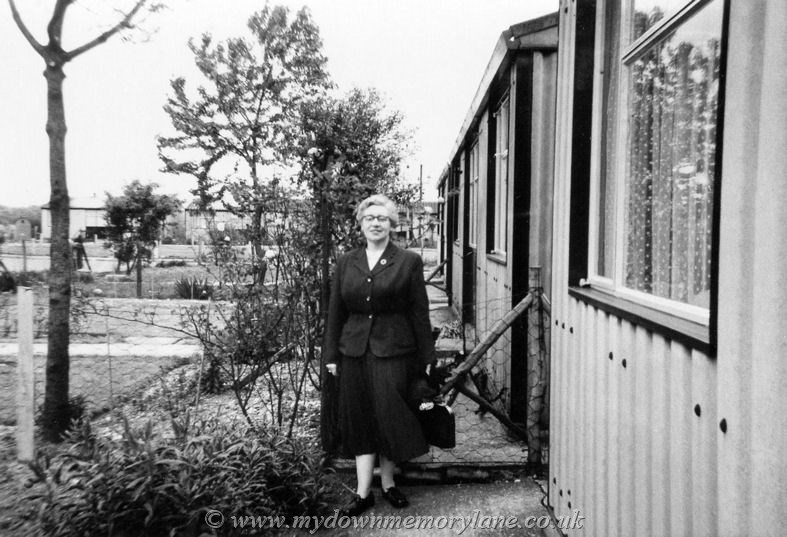 RIVERSIDE 2368
Here is Hettie Lennon outside her home in Riverside.
Hettie was just on her way to work in High Street at F.T. Smith's Chemist shop.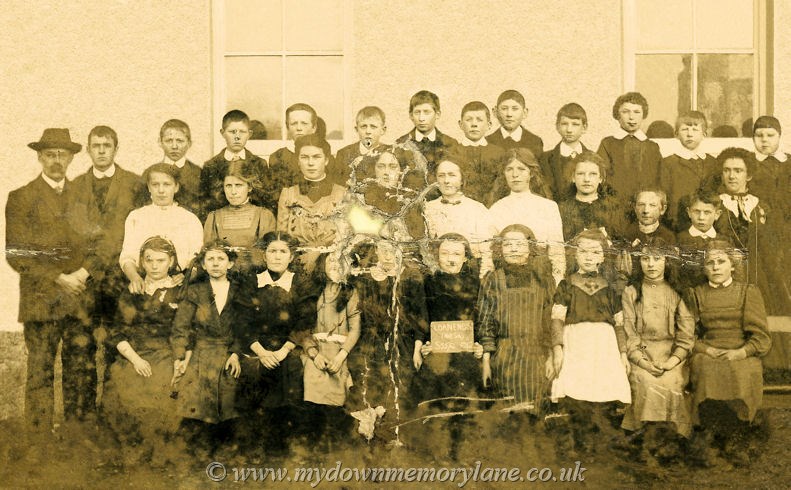 LOANENDS NATIONAL SCHOOL 3704
This is the original photograph and I have done my best with it, but if you have one with no damage please get in touch with me.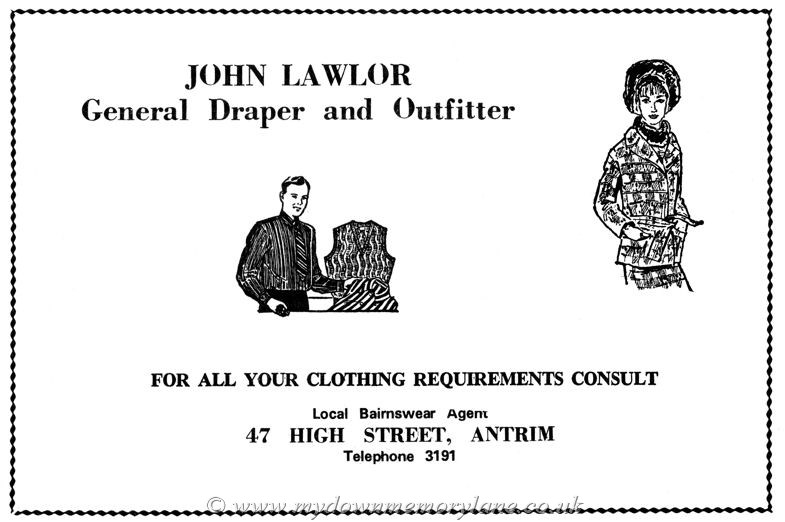 JOHN LAWLOR 3843
This is a advertisement from a local newspaper for John Lawor's shop.
LOUGH NEAGH 3539
Here on the shores of Lough Neagh is this lone elderly fisherman mending his nets after a day's fishing. He has to make sure his nets are perfect for they are his livelihood.
LEEBURN WEDDING 3099
Outside the church after their wedding on the 31st May 1975 is this family group photograph.
From the left we have sister Carol Leeburn, mum Letty Leeburn, Groom Robin Leeburn with his lovely bride Helen Leeburn.
Then dad Robert Leeburn, brother Eric Leeburn and his wife Pamela Leeburn.
LEEBURN FAMILY 3097
It's 1963 and we are in the driveway of the Leeburn family home at Ballycraigy Drive. It's a special occasion for there are two mothers and two babies in
the photograph but only one has been Christened! That would be Carol who is in her mother's arms and her mum is called Letty Leburn.
Proud father Robert on the left, worked at Muckamore then son Eric who is holding the other mother and his brother Robin is holding the baby, Rabbits !
LOANENDS NATIONAL SCHOOL 3704
This is Loanends National School in 1922 and the class is S55/2 and the Headmaster was Mr. McLoughlin the lady Teacher is Unknown as well as the pupils.
The photograph came to me in a terrible state not only badly creased , scratched but also a hole in the middle! I have not made up any of the faces because that would not be fair, One girl in the front row has no face and next to her is a boy who was badly damaged. Now if anyone out there has a better copy I would love to borrow it to scan it to make it fairer for anyone looking and also the girls have gone to great lengths to dress up really nice.
I will send you as many copies as you would like without a watermark and also your own photograph back to you.
-They tell the tale in silence "A Catch" some got away and still keep dancing, darting in lovely - - - - - - - -- - - - - -- - - - - - - - - - - -Old Lough Neagh - - - - - - -- -- - - - - - - - - - - - - - - - -by Jennie Carnsey.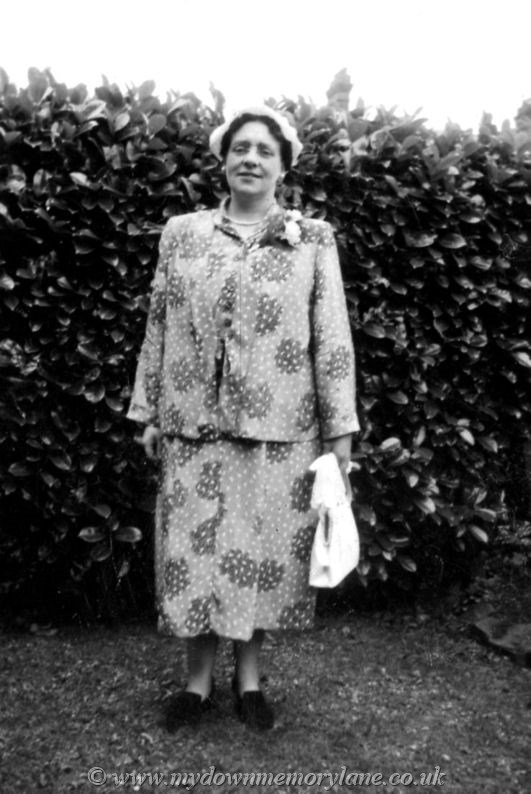 HETTY LENNON 931
Getting ready to go off to a wedding is Hetty Lennon who lived in Oriel Road and was the local Registrar and also worked in F.T.Smith's the chemist in High Street. The year is unknown.
LOUGH ROAD 839
A group of friends out for a summer stroll along the Lough Road in Antrim in 1958. Pictured at the back are Charlie 'Chuckie' and Norman McCaig.
They are accompanied by Dennis King, Gillian Beattie, Andy 'Biffo' Blair, George McLaughlin and Betty Davis.
The baby's name is Irene Meehan - but do you remember those cute little harnesses with the bells on them?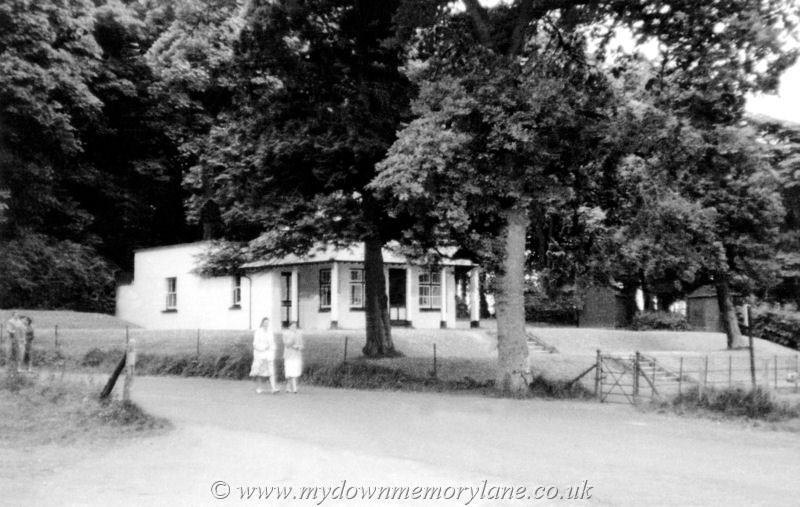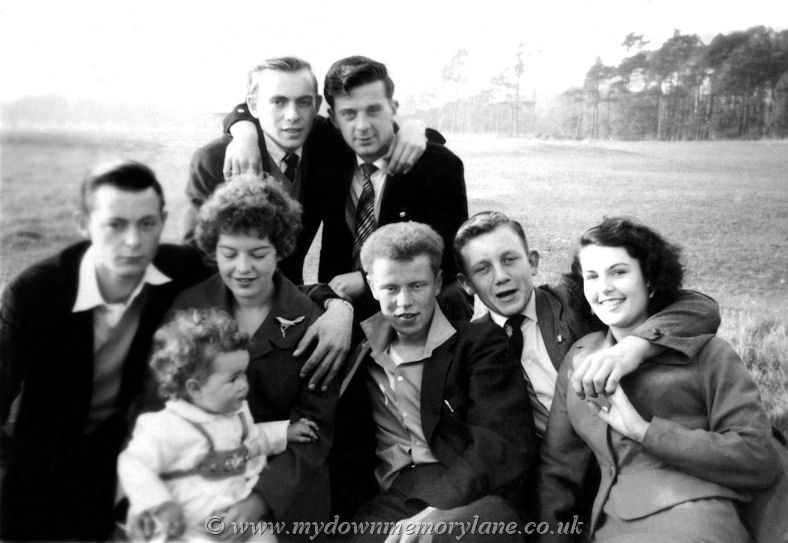 LOUGH ROAD 1060
Out for an afternoon walk these ladies are strolling along the Lough Road towards the shore in 1959. In the background you can see Massereene Golf Club house.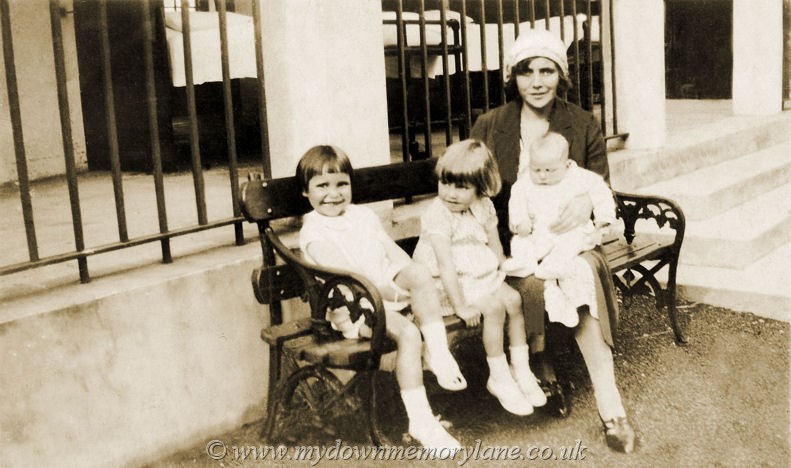 VISITING 2722
Seated here all smiles we have Irene Kitts, Pauline Bennet, Ria Clarke and Annie Clarke, back in the 1930's.
LOWDEN WEDDING 1084
This beautiful photograph taken in a studio in 19 , was of the marriage of Thomas French and Jeannie Lowden.
Standing on the left is David Lowden, then the groom Thomas French the other man is unknown.
Seated on the left is Jeannie French, then the Bride Jeannie French nee Lowden and the last lady is unknown.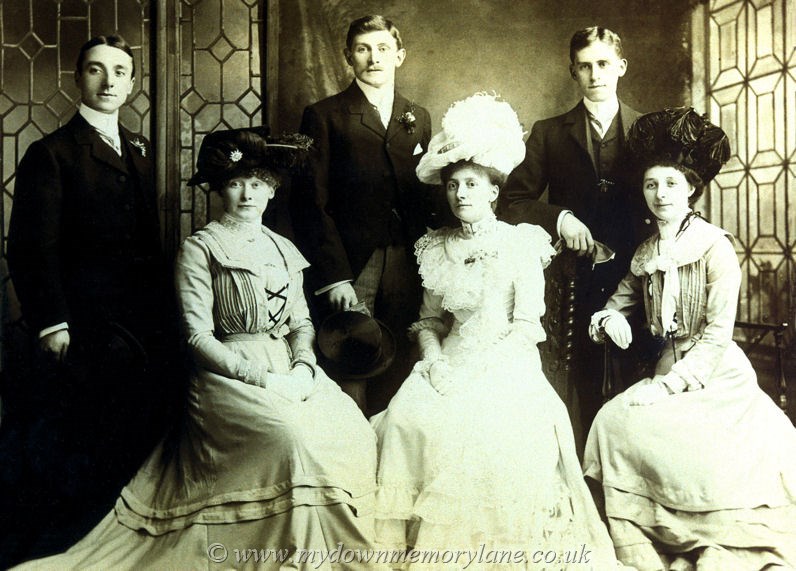 KILYN ENTRY 878
This is Kilyn Entry off Church Street in 1960 just before they started to pull it down. This is David Laughlin and his sister Alice Laughlin standing outside the home that they grew up in. The local townspeople had to tell the demolition workers to stop as they didn't know that the town well was there in case they fell in!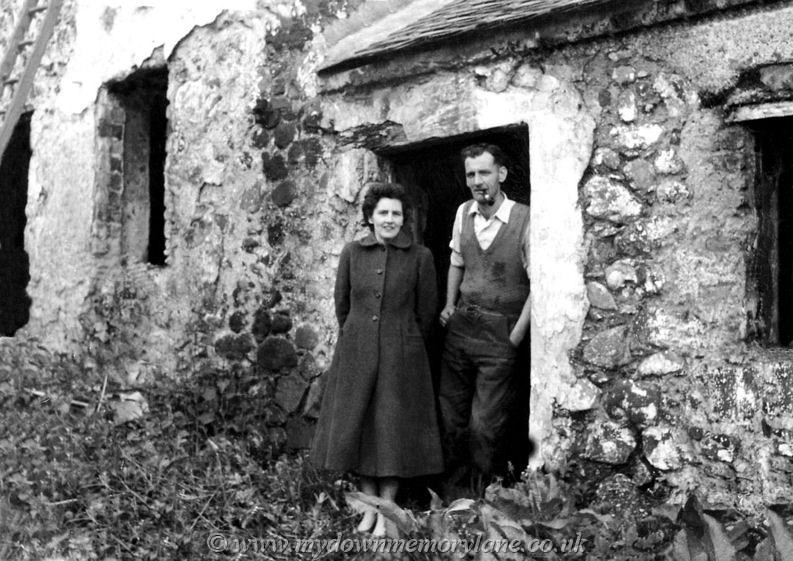 KILYN ENTRY 1463
Standing in Kilyn Entry getting their photograph taken with Alexander Irvine in 1938.
On his right we have David Laughlin known to his chums as Dogger and in front of him one of his sisters The lady and the rest of the children are unknown.
Pages: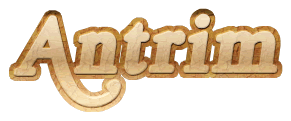 Pages: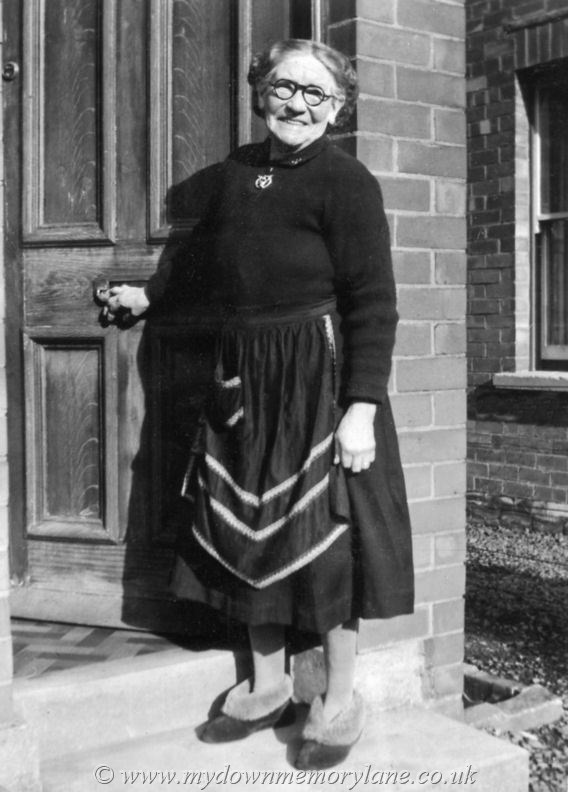 GRANNY LENNON 937
I don't think that there is anything more wonderful than a Grannys' smile - especially if you're a child for you know it's full of love and tenderness. The same goes for Granny Lennon outside her house in Oriel road - you just want to rush into her arms and get a big hug. The year is unknown.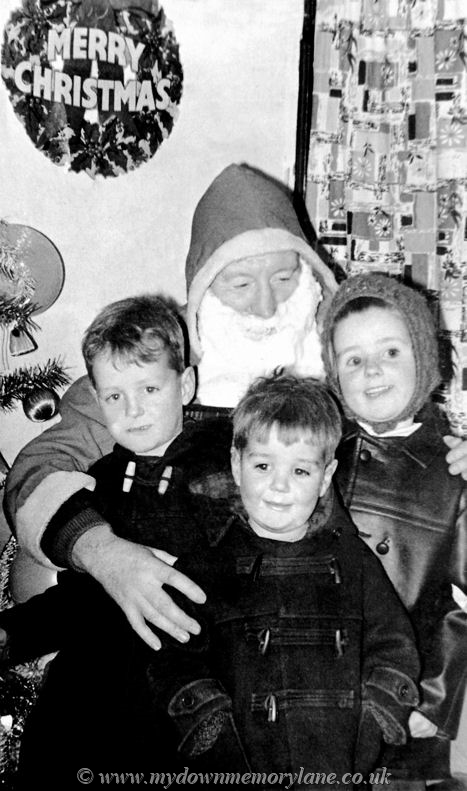 BELLEVUE ZOO 2441
Here on the right we have Betty Lowe with her sister Rosemary who was 14 years younger than her back in 1959.
Now Betty was known for spoiling her little sister by taking her out all the time. In this picture they are getting ready to go into one of the most famous places in Northern Ireland. It's Bellevue Zoo, for they are standing where the car park is today and to the right behind them is where Rathcoole estate will be.
FATHER CHRISTMAS 1869
Here we are in Hemming's Shop in Castle Street. It was such a great occasion for it was the first time Santa back in 1968 had called at their shop.
Now getting their photograph taken with Santa in the front is Benny Lynn. Behind him to his left is his brother Paddy Lynn who became a local D.J.
Over to his right is his charming sister Margaret Lynn.