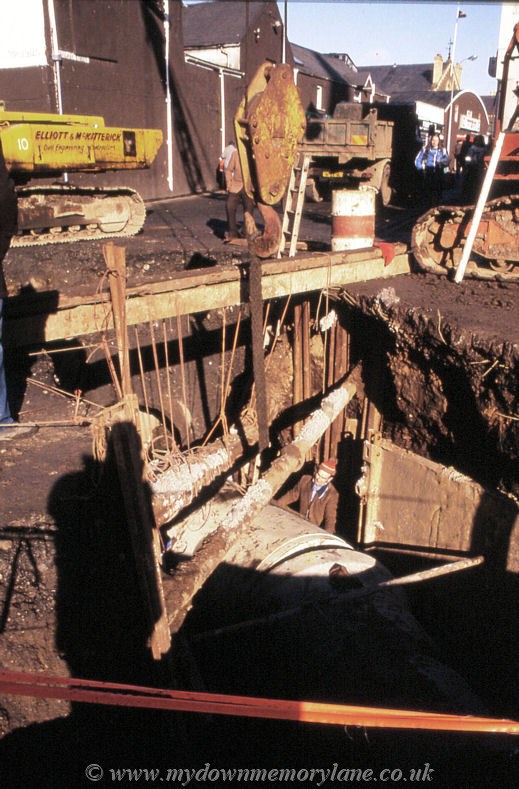 HIGH STREET 3655
Here we are in Hight Street Antrim in July 1990 on a sad day for this is when Palmer's shop closed. It had a grocery business and also sold sweets along with cigarettes and tobbacco, but it waa also a good place to hear the latest news. On the left was Delargy's bookies and the right hand side you had Avril's the florists which was run by two sweet ladies whose names I do not know. Now you young ones see if you can find where it used to be.
HIGH STREET 3693
Do you remember that song by Bernard Cribbins 'Hole in the Ground' well here in High Street in 1980 we had one they were putting in larger pipes to accommodate the growing community and you can see up Railway Street.
HIGH STREET 3696
This photograph was taken a very long time ago for the 'Lough Neagh Hotel has not been built, it would have been the second building on the left, which would have made five hotels in the one street. The first building on the left wa R. Anderson a hardware shop selling all domestic household goods tea, sugar, China ect. He was also a Provision Curer. Outside the shop three ladies are lookig at a baby in a pram.The third building was McKewons sweet shop and then Sloan's the butchers, futher down at the white flagpole was the 'Antrim Arms Hotel'. Over on the right the first building with a man sitting outside is 'Adair Temperance Arms Hotel' with a small boy beside him. Then Hall's hotel with a lady sitting outside and finally the Massereene Arms Hotel, next to the Hotel was The Castle an icecream parlor and also home bakery as well. Then the Belfast Savings bank followed by John Ortons and the corner shop at Railway street sold boots and shoes. In the distant on the left are two horse carts making deliveries while futher up from them lies a dog in the road, it wouldn't get doing that now. And as always the towering spire of All Saints' Presbyterian Church can be seen from everywhere.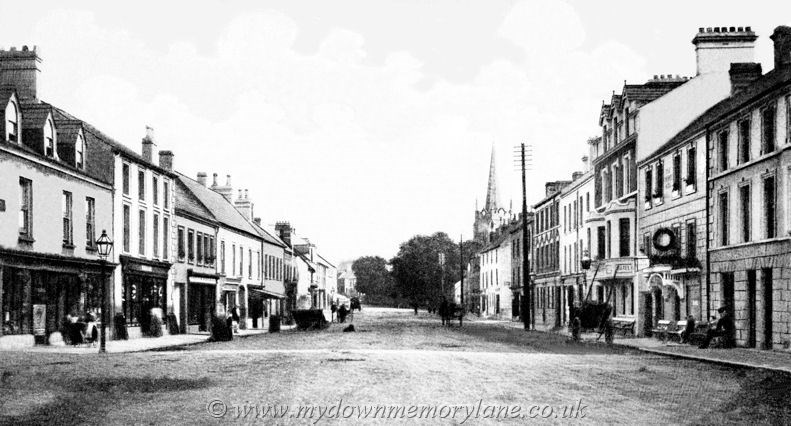 HIGH STREET 3711
Here's another picture of Antrim town centre taken around 1980, and while the buildings remain much the same, the shop fronts tell their own story of how much things had changed. The Antrim Tavern, Antrim Wine Market, the Trustees Savings Bank, Lee's Chemist, Gulliver's Travel, the Ulster Bar and Billy's Café are all but just a distance memory.
WILLIAM HARKNESS 3371
William Harkness, ploughing with his horses at his farm 'Seacash' which is on the Randox Road. The photograph was taken during the 1920's, by the farm's feed supplier who was an amateur photographer. William Harkness was a champion ploughman and for many years was a competition judge. The Harkness family still own and farm 'Seacash'.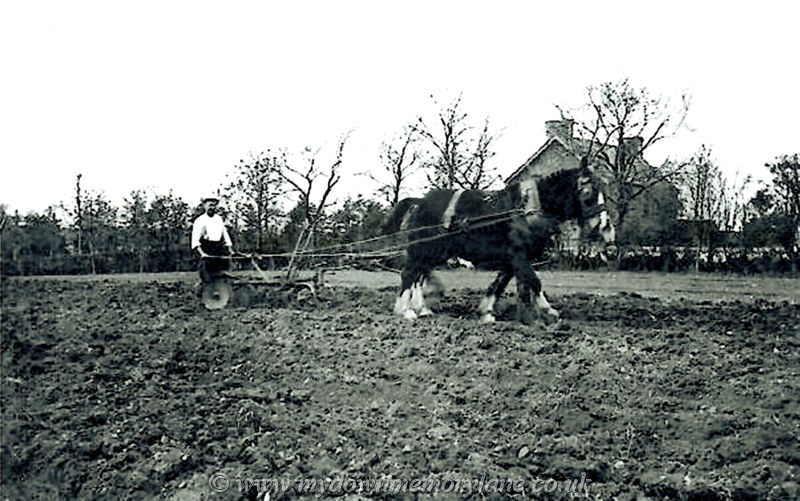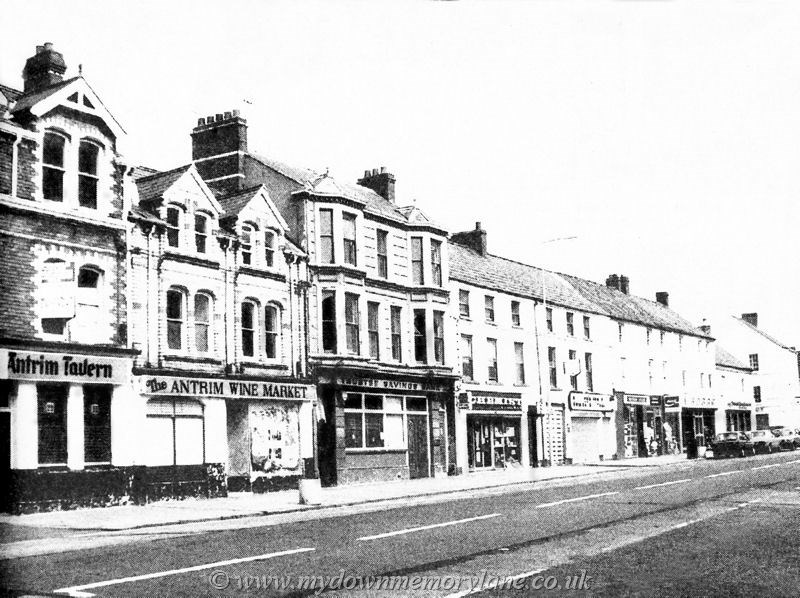 HOCKEY SUPPORTERS 2669
Here are a few local men on the sidelines enjoying the match.
From left to right we have Leslie Allen, Billy Allen, Jimmy Creighton, Billy Rodgers, Jack Allen, Joey Wallace and Bobby Peacocke
WAGE PACKET 1449
This is a Mr. Hamilton's week's wage packet from Short Brothers & Harland Ltd. What he worked at is unknown, the date is 28th August 1949.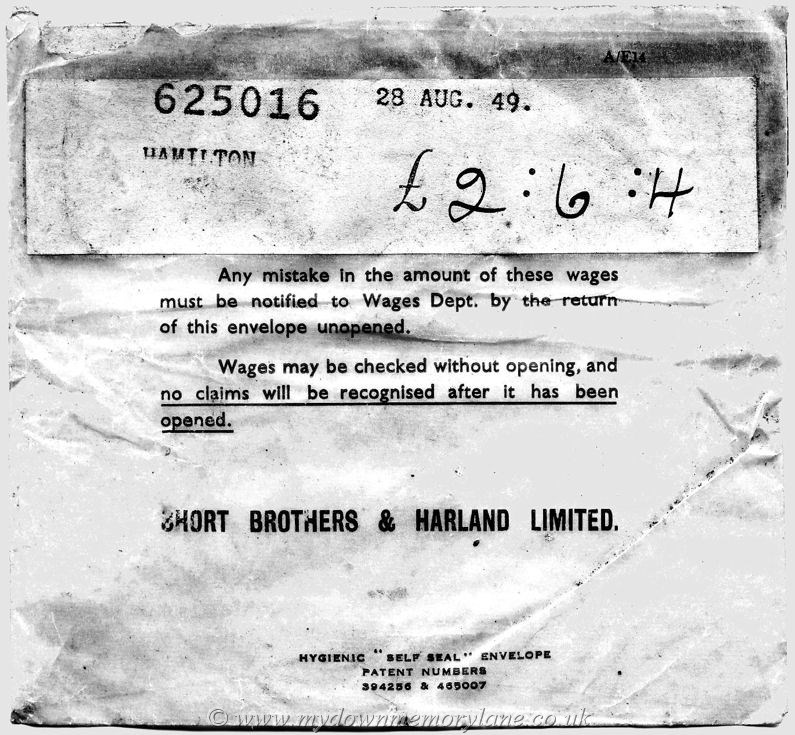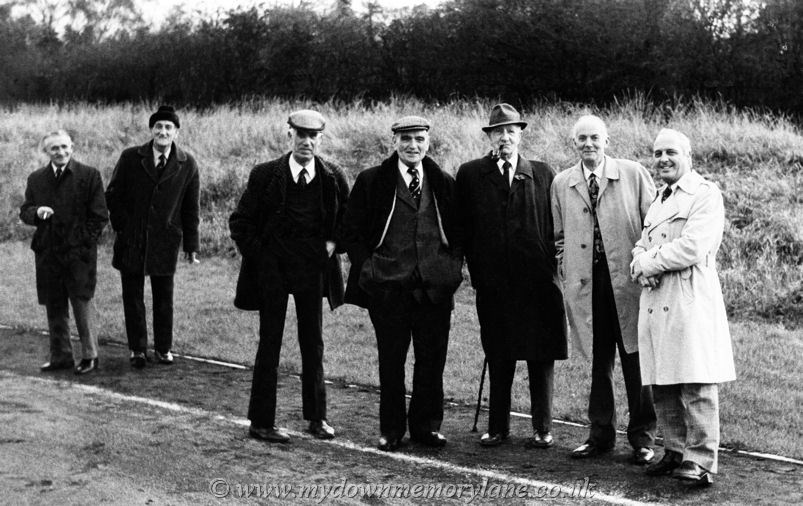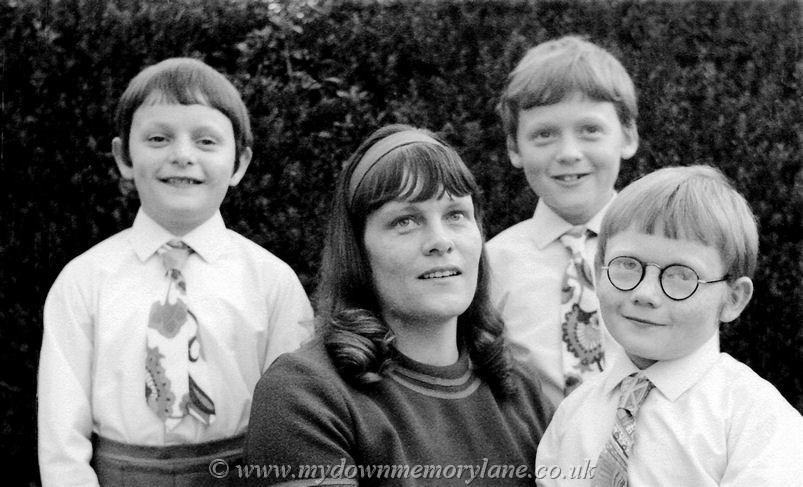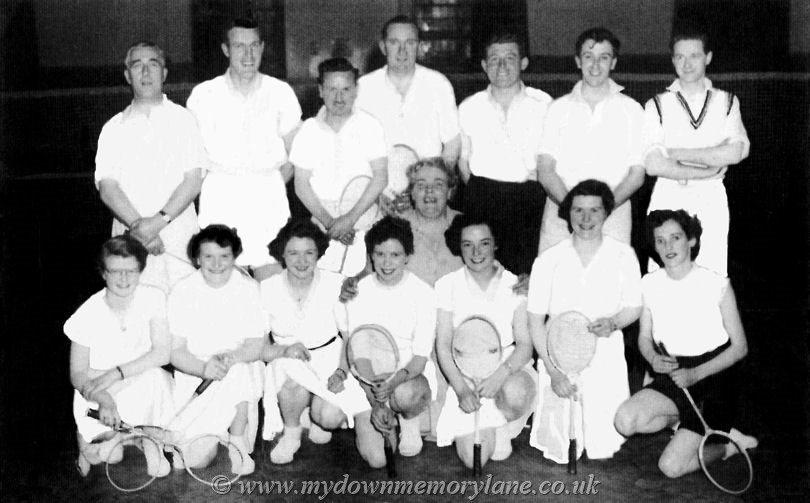 RIVERSIDE 917
These two lassies are enjoying a break from work and loving the sunshine.
They work in The Antrim Weaving Company down Riverside and they are Grace Clark and Ruth Hamill in the 50's.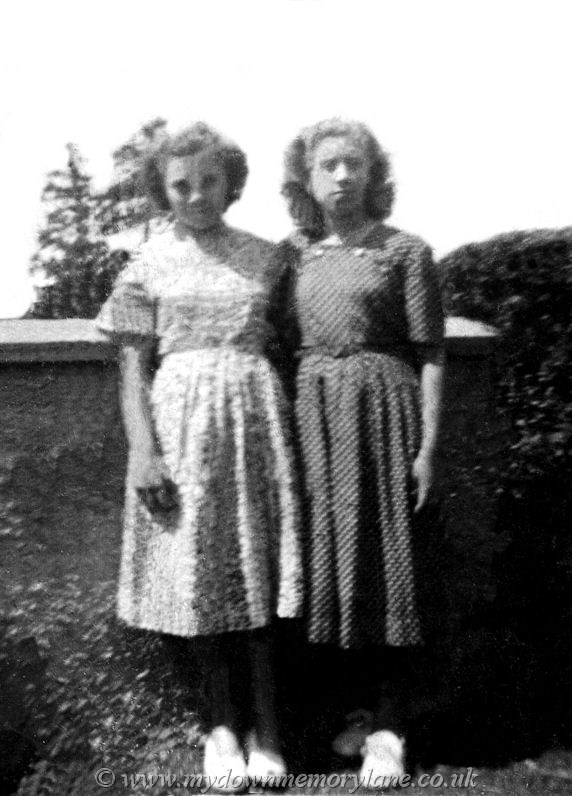 MY MUM 1705
Having their photograph taken in 1973 with their mum May Hannan we have her three sons Gary, Norman and Philip.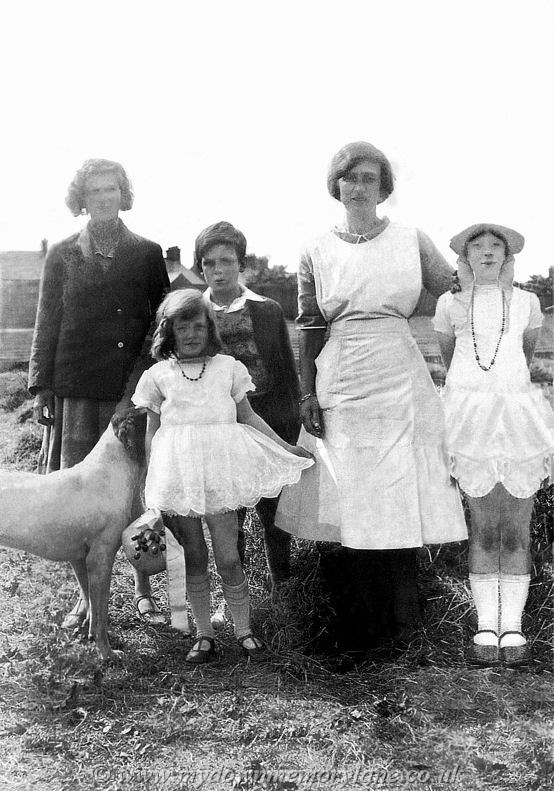 MISS HOWS 1608
The lady with the white apron on is Miss Hows, who she was or what she did is unknown to me at the moment. On her right all dressed up is Aggie Beatty and the other little girl is Billie Beatty. Were they dressed for Easter or May day as they both have bonnets. The other lady and the boy are unknown. Behind the group are lengths of linen lying in the field to get bleached by the sun and beyond that are some houses. The photograph could have been taken at the Green at Muckamore.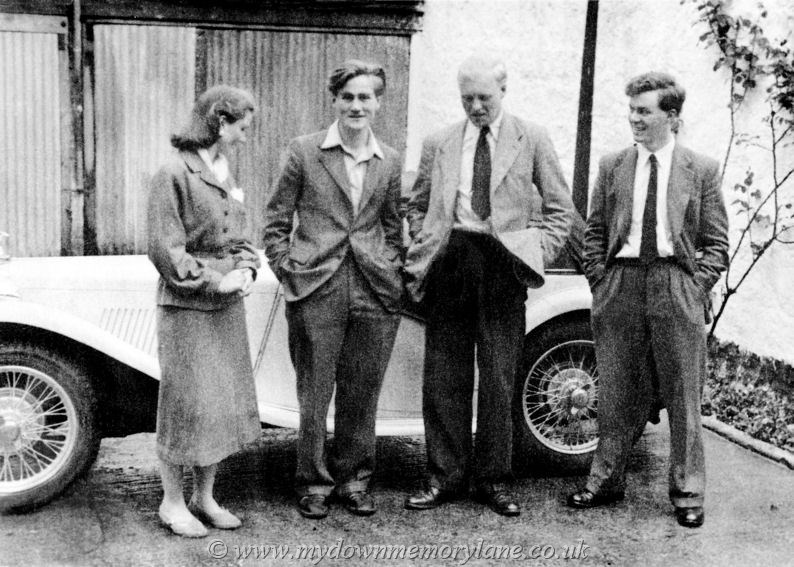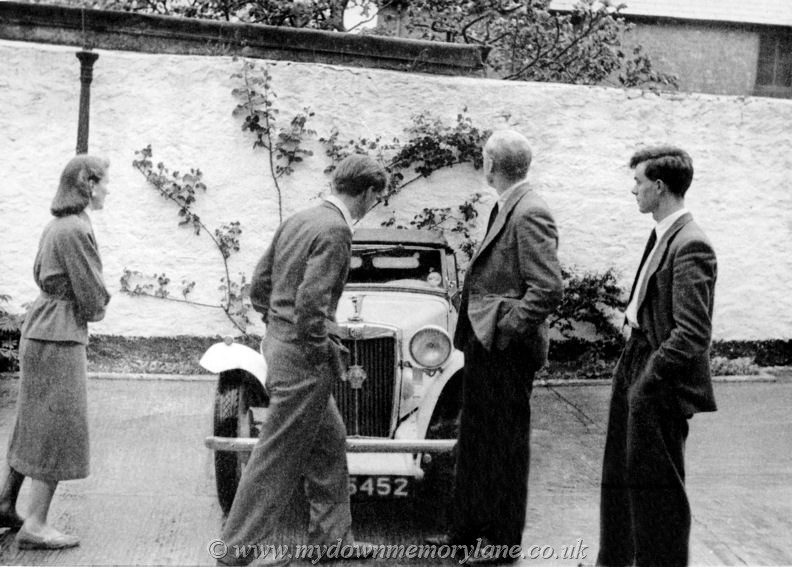 MIKE HAWTHORN 224
Racing legend Mike Hawthorn, a Formula One driver and World Champion in 1958, pictured that very year in Antrim. He is pictured at the rear of Hall's Hotel with Marie Wilson, Derek McCrea and Robert Wilson. Given his pedigree on the track, it's perhaps unsurprising that Mike was keen to see the nippy white sports car that Robert had recently acquired!
MIKE HAWTHORN 225
Here is a casual photo of Mike Hawthorn with Marie Wilson, Derek Macrae, Robert Wilson and at the back of Hall's Hotel in 1958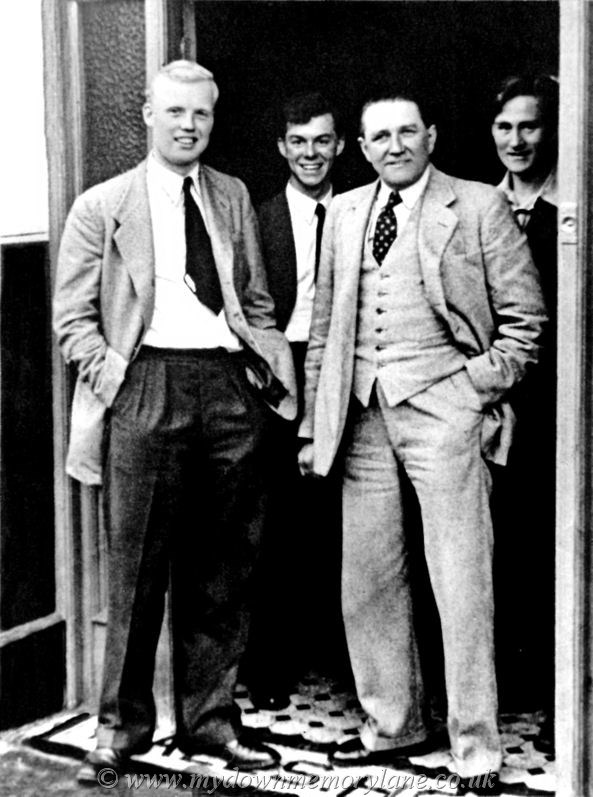 MIKE HAWTHORN 42
This Mike Hawthorn who was a Formula One driver and was World Champion in 1958 when this photograph was taken.
He is standing at the front door of Hall's Hotel with the then owner Bob Wilson. The two young men are Derek Macrae and Robert Wilson, Bob Wilson's son who later became the proprietor. Mike was one of the many famous personalities from Radio, Television, Stage and the Policital arena that have stayed here.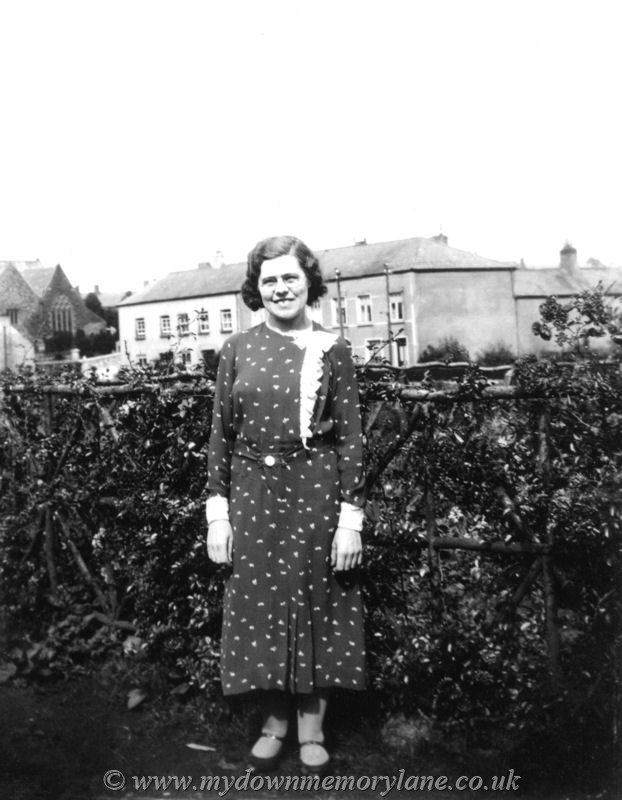 MASSEREENE STREET 332
This is Maggie Hannan in the back gardens of Massereene Street and in the background you can see Riverside.To the left is the back of High Street Presbyterain Church and Orr's School.
The date is unknown.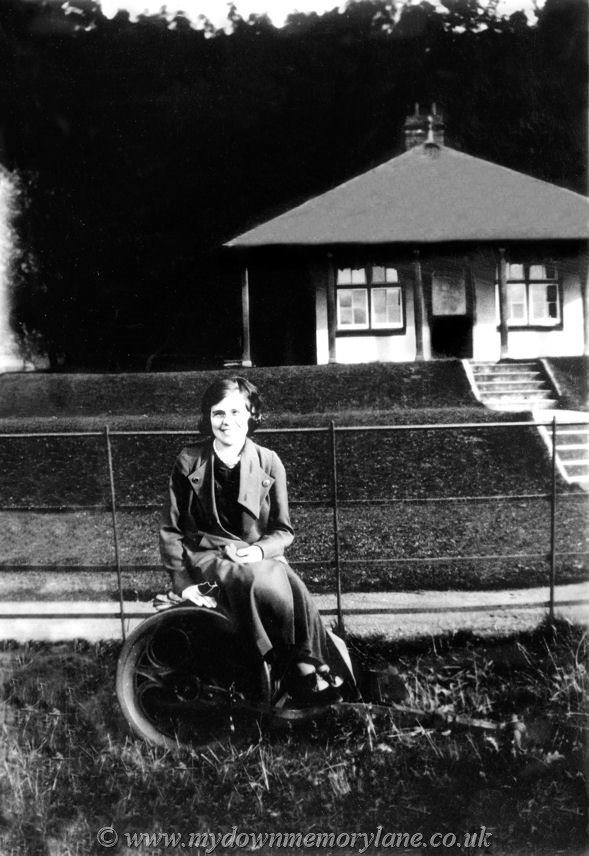 MASSEREENE GOLF CLUB 335
Sitting on the roller in front of Massereene Golf Club is Maggie Hannan. The date is unknown.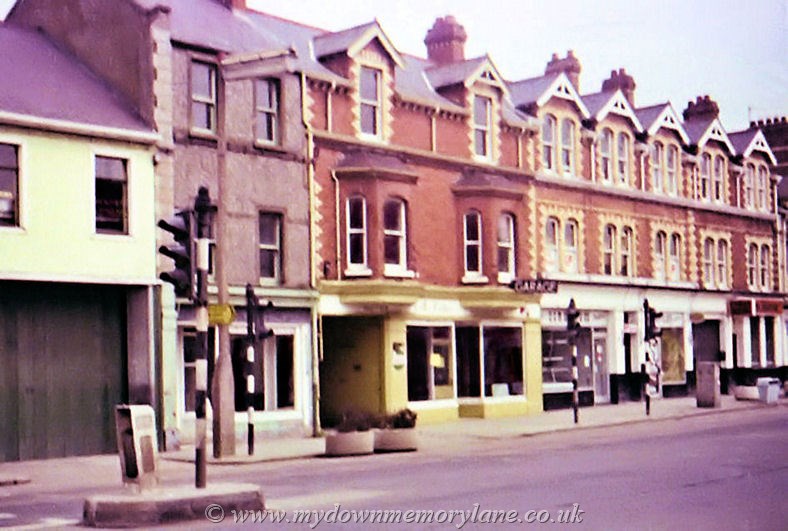 HIGH STREET 3825
It's the 1980's and as it's Sunday there is nothing open, note the traffic lights and the garage. Here are some of the shop owners: Molly Wilson Ladies Drapery, Pat and Joe Barr Motor Car and bikes accessory shop, Steve Sloan's butchers , Josey Sloan confectionery and cigarettes and Pat Sloan Publican.
Pages: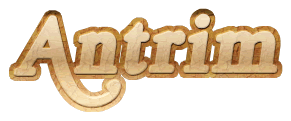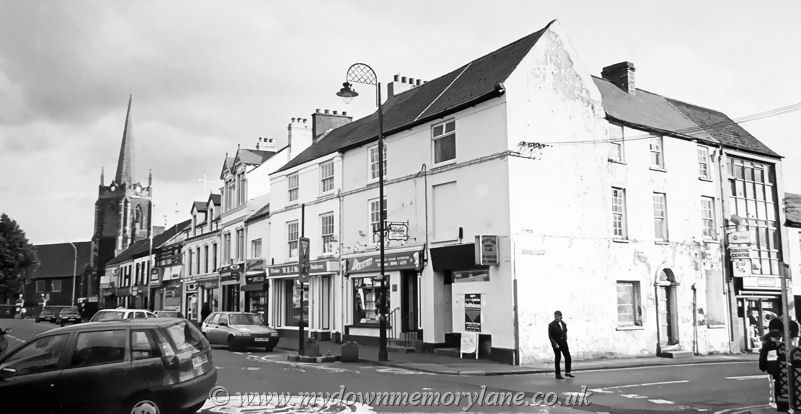 HIGH STREET 3826
I'ts 4.25pm about 20 years ago and we are in High Street looking across to 'Scottie's Corner'. As well as Scottie's video library and club we have Irwin's Estate agents,McCabes the butchers, Bank of Ireland and the tree in All Saints' church grounds all gone.
Also in Bridge Street to your right you can just see Getty's Electrical store also long gone.
My thanks to Drew Francey for these names.
HOLYWELL HOSPITAL 2440
Standing on the steps at Holywell Hospital having their photograph taken by a colleague who's shadow you can see are Joseph Gaynor and James Neeson who were nurses in the Hospital.
HOLYWELL HOSPITAL 2439
Here standing in the gardens at Holywell Hospital back in 1921 we have Susan Haslam who was a nurse. Susan went on to marry Tom Fleming who owned Flemming's Butcher shop in Market Square.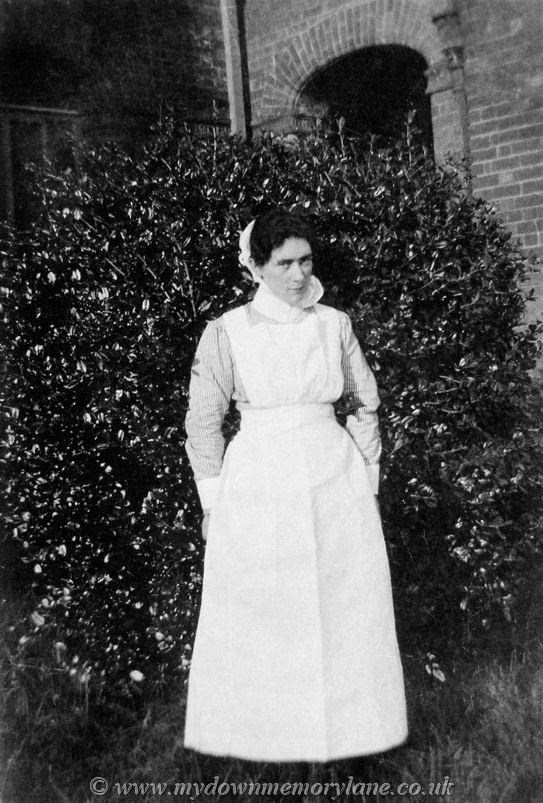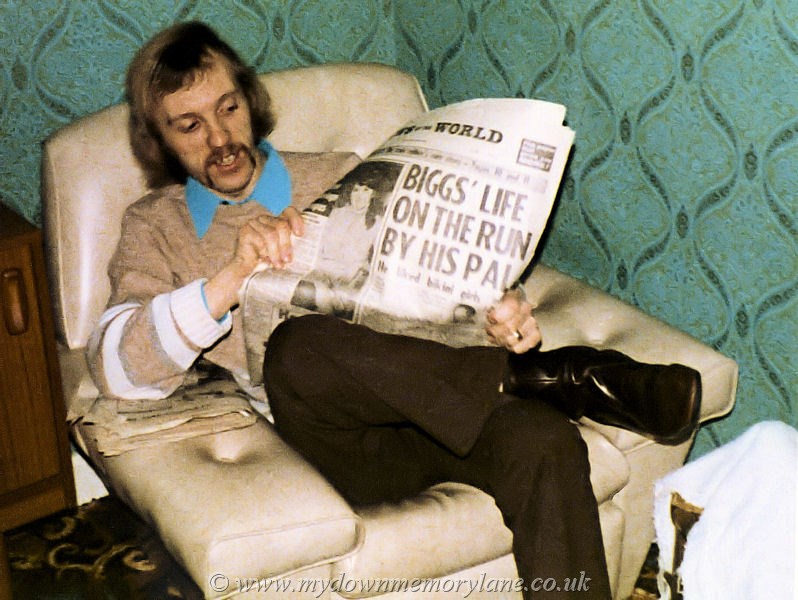 LAWRENCE HUTCHINS 2700
Seen here relaxing at home on a Sunday back in 1965 is Lawrence Hutchins wearing his Chelsea boots while reading about Biggs on the run from prison in the News of the World.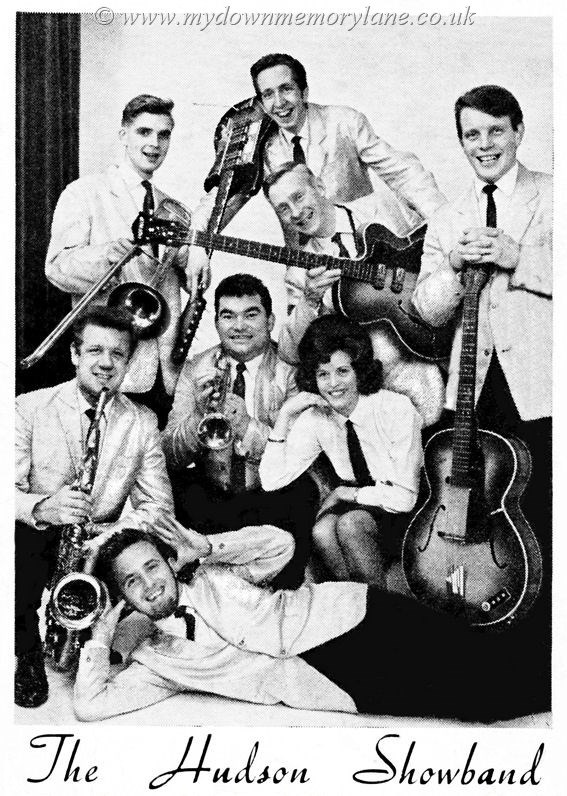 THE HUDSON SHOWBAND 2328
Here we have locally The Hudson Showband back in 1965 posing for a publicity photograph. This was then made into a card photo to be handed out at all the dances they performed at to boost their popularity, not that they needed it. As a showband they would travel far and wide to play not only their own music but also all the top hits of that era. Remember back then showbands were what you would call a mobile showband and they had to learn all the latest songs to bring in the crowds. At the back on the left we have Angus Moore who played a mighty mean trombone and Winston McKelvey on Lead guitar and vocals. In the middle row is Jackie Wright, he played Tenor Sax, along with Joe Hamilton on Rhythm guitar and vocals. Kneeling are Norman Craig the drummer, on bass guitar was Jim Lockhart and with the bouffant hairstyle is Sandra Hudson vocalist. Finally lying on the ground we have Kenny Sparks who played the trumpet.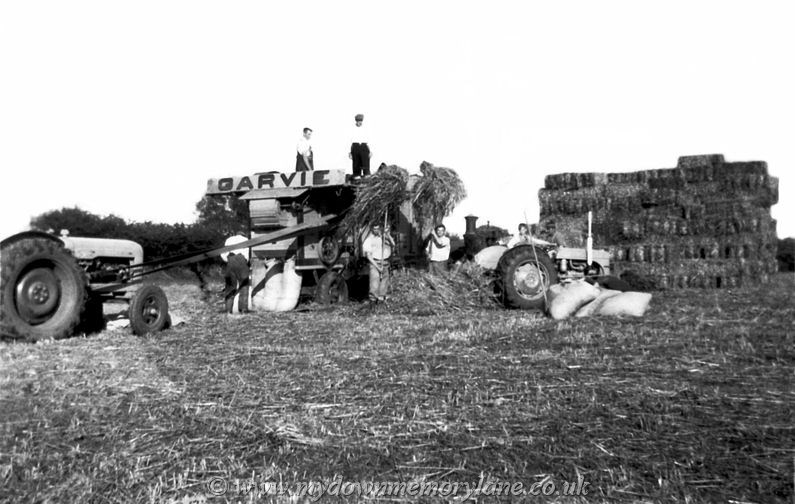 JUST FRIENDS 2698
Having just got off his bike Dennis Leitch stood in the back garden with Della Heath to have their photograph taken.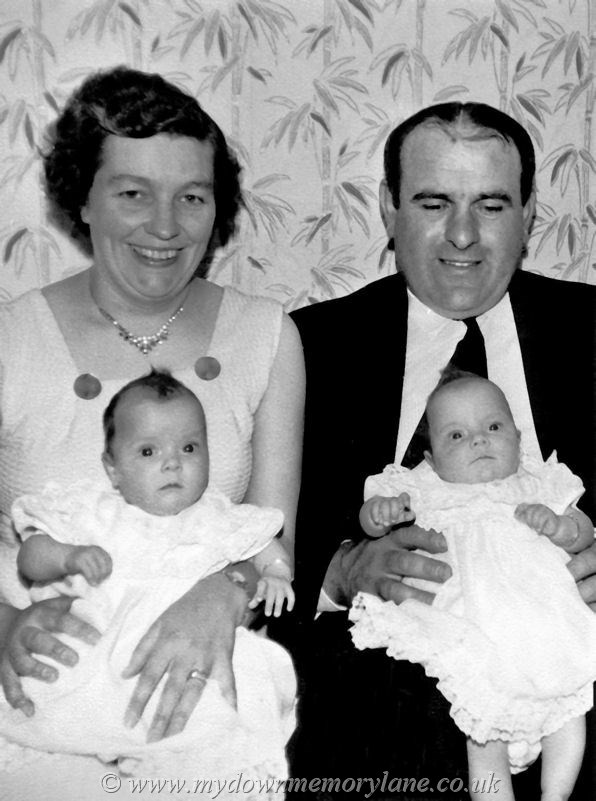 TWINS 2571
Proud parents Nessie and William Harkness have just returned home in Killead after having their twins baptized on the 4th July 1965.
Now the twins names are from the left Francis and Wilma or is it Wilma and Francis for they are identical twins.
The bonny babies as they were back then are still the same only now they are Bonny Babes! Dear help the teachers and God help the boyfriends when they swop!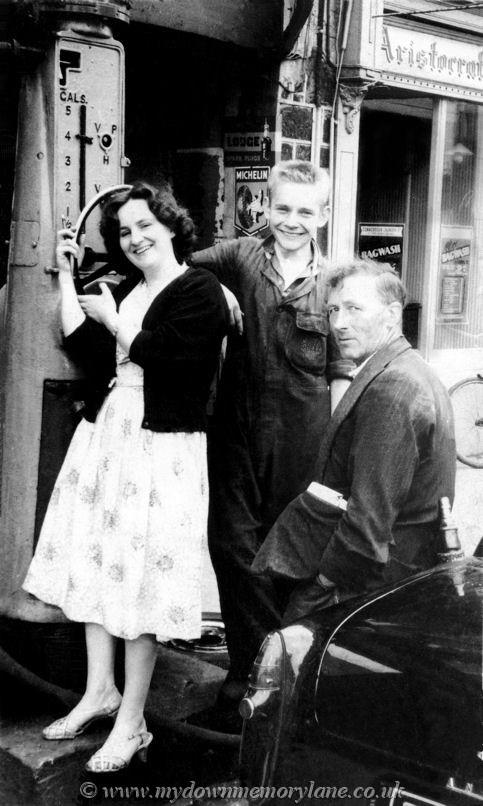 HIGH STREET 1032
High Street, July 1958 and outside Franklin Young's old Garage we have in the centre apprentice Raymond Lynn. Leaning against the petrol pump, yes it is a petrol pump is Sue Thompson who worked in the garage office and left in June 1961. To get petrol into your car you had to turn the large handle Sue is holding on to and the gauge would then move up telling you how much petrol you got. The man leaning against his Ford Anglia is unknown and behind him was the dry cleaners Aristocratic where a bag of washing cost 2 shillings!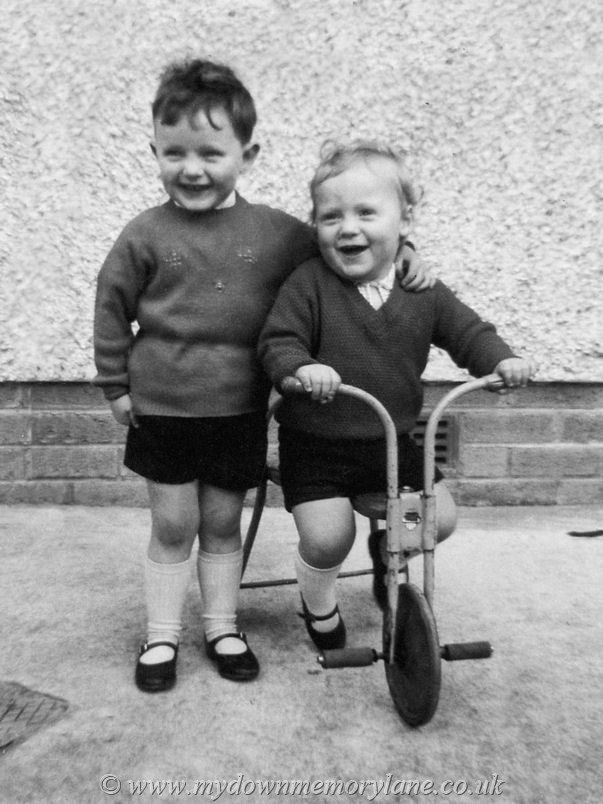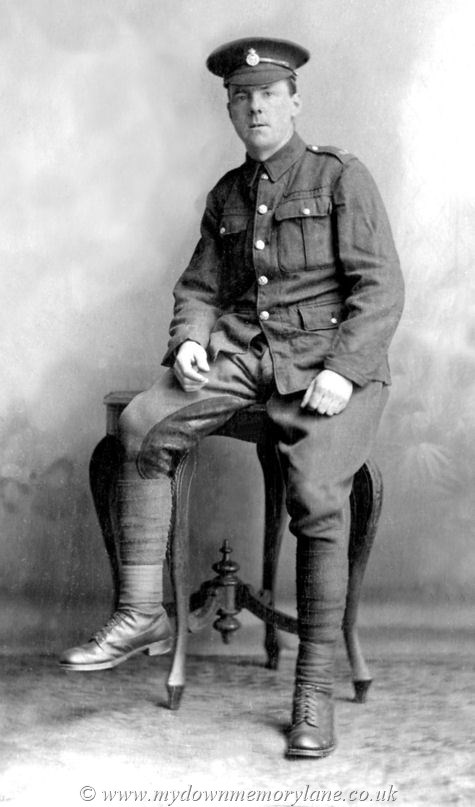 JACK HOLYORD 890
This Jack Holyord in his service uniform who married Alice Renton of Dunadry and Alice's family had a shop in High Street - Antrim.
HANNAN BROTHERS 2103
It's all smiles for Gary and Norman Hannan way back in February 1966.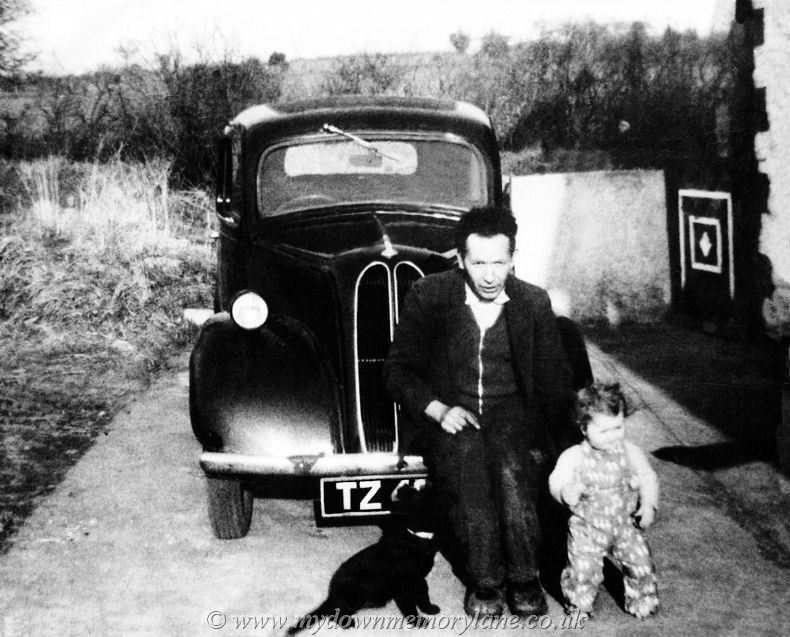 JOSEPH HUNTER 2754
Here we are in the Niblock Road in Antrim outside Joseph Hunter's house who is sitting on the bumper of his car. With him is Julie Ann Hunter and the pup who's name is Unknown.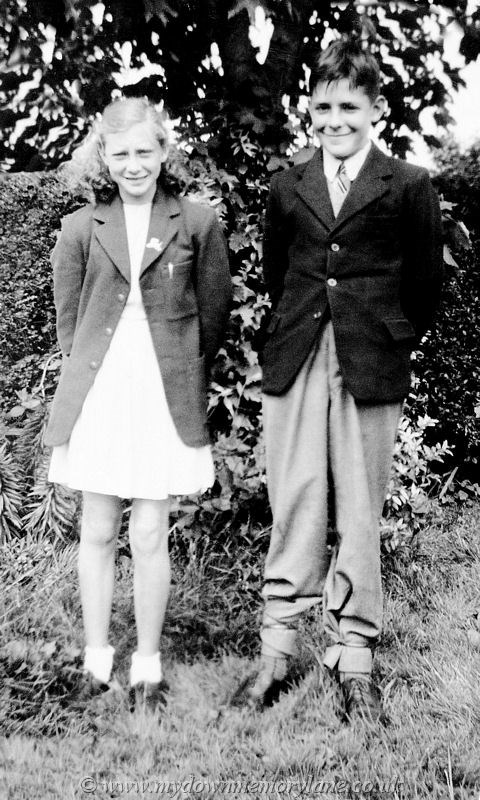 HARVEST TIME 2912
Hard at work bringing in the hay these men at the moment are all unknown. As you can see time is marching on, no haystacks now in the background a steam tractor while in front two new tractors.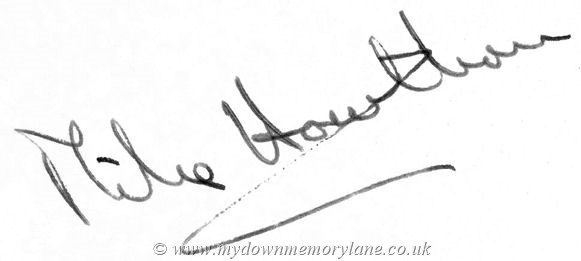 MIKE HAWTHORN 226
This is a copy of Mike Hawthorn's Signature.
Dated 1958.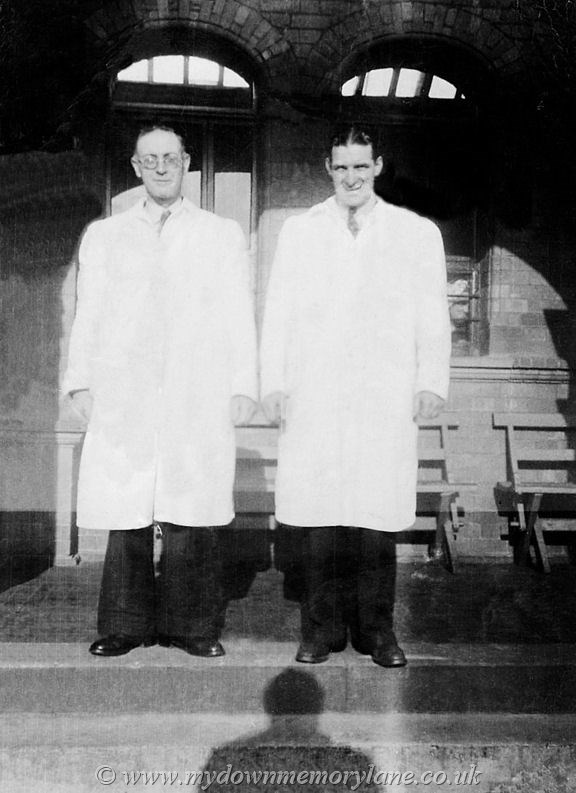 HOLYWELL HOSPITAL BADMINTON TEAM 3627
Here we are at Holywell Hospital in Antrim and this is the Holywell Hospital Badminton team back in 1955. At the moment only one of them is known
and that is Joan Mailey who is first on the left of the ladies. Now if you know anymore of them please let me know and I will send you a copy.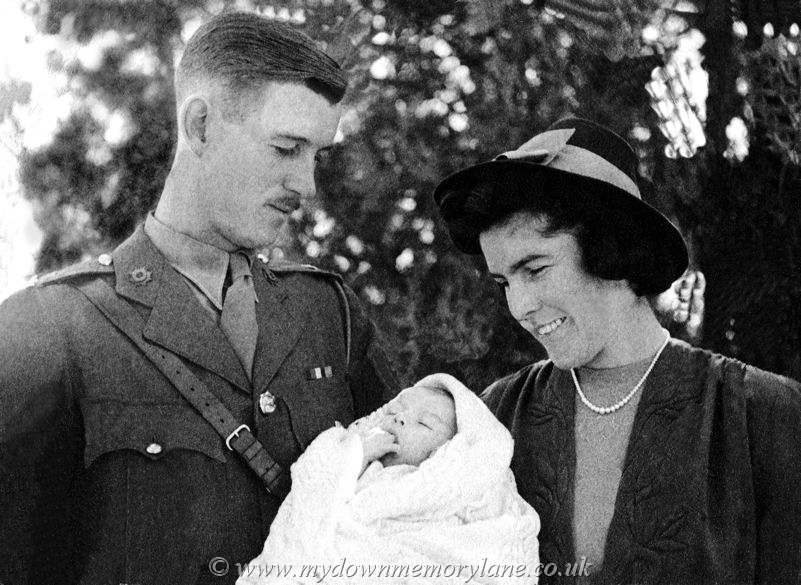 FIELD OF DREAMS 795
Sadly you would not see this scene around Antrim now as the fields have disappeared under so called progress.
This is Stella Harkness picking a lovely bunch of daises for her mother. The year is unknown.
FIRST BORN 808
The Second World War brought hardship to people living across the Untied Kingdom, and Antrim was no Exception. But the end of hostilities brought with it a new optimism - and what could epitomise those hopes for the future better that this charming picture of Georgia Hughes nee McElrea of Antrim and David from England in 1945 with their first born Christopher in India.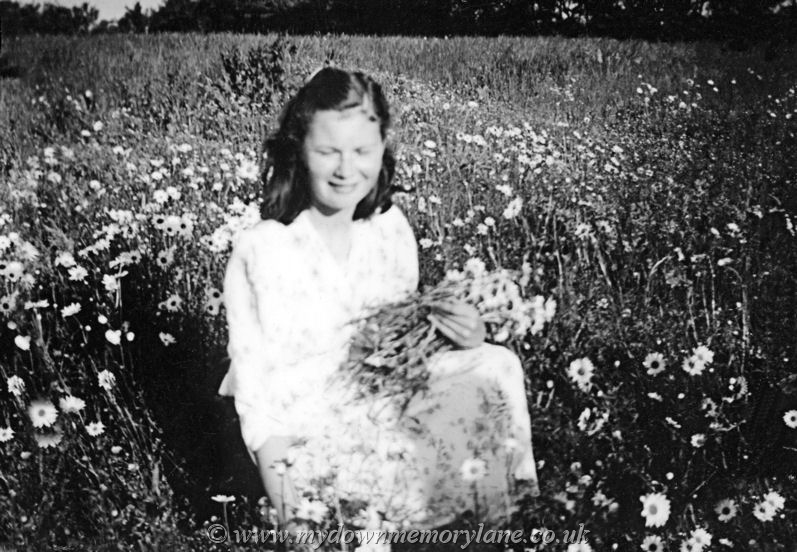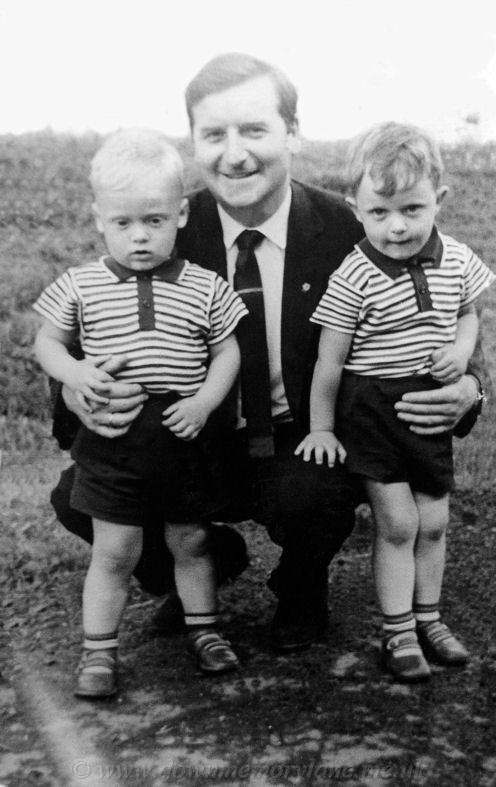 ANTRIM SHOWGROUNDS 1701
This happy family photo was taken at the Antrim Showgrounds in 1966.
Here we have Davis Hannan with his arms round his two sons Gary on the left and Norman on the right.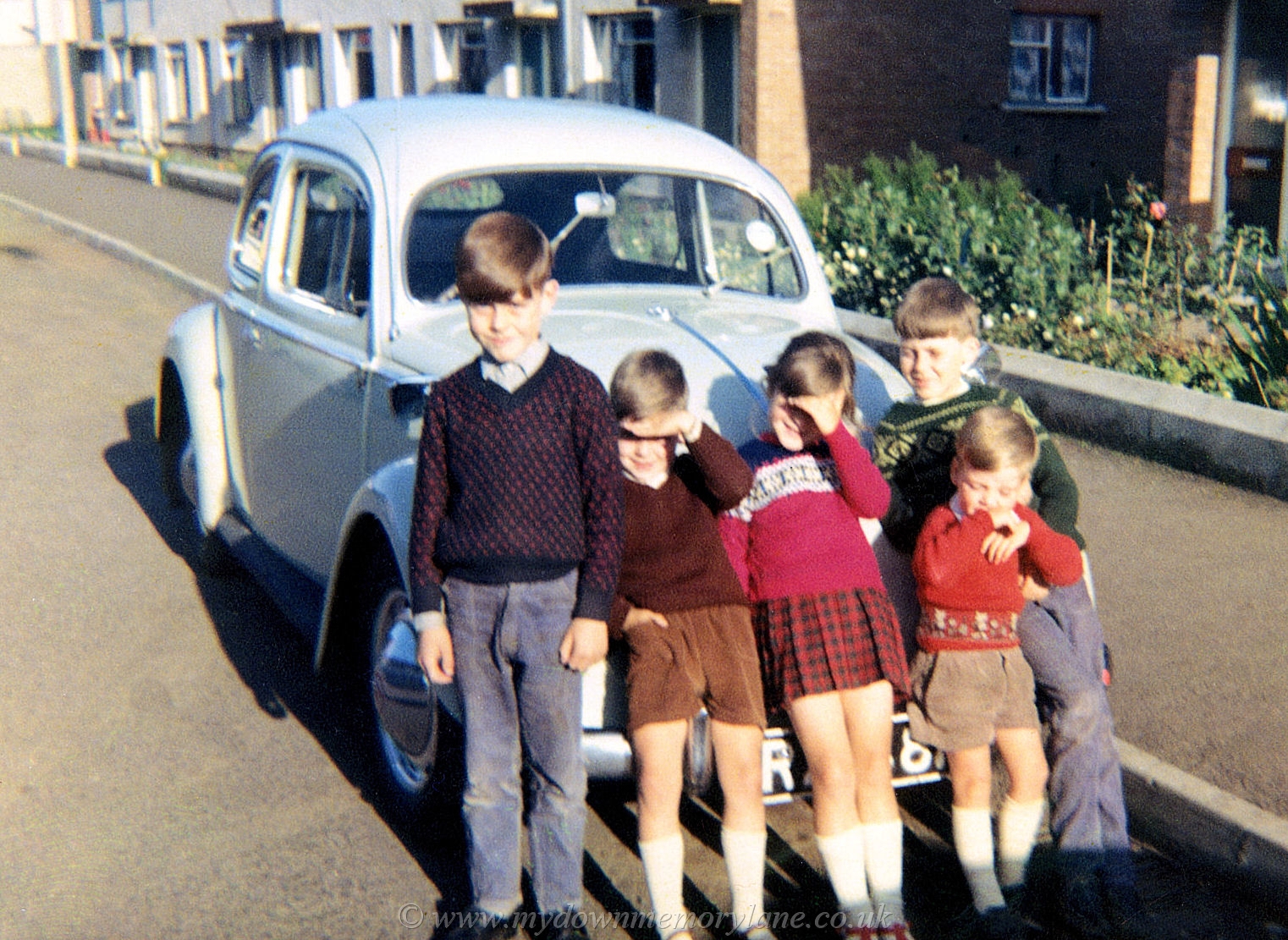 BALLYCRAIGY 2374
It's the sixties and standing in front of a beautiful Volkswagan are the following children.
On the left is Robin, his brother Alan, his sister Jeanette, her brother Ivan and his brother Kenneth Hamilton.