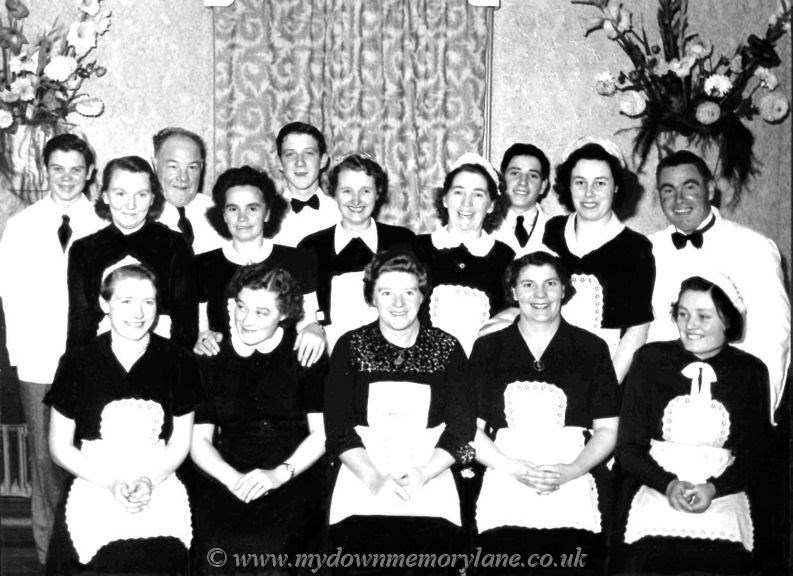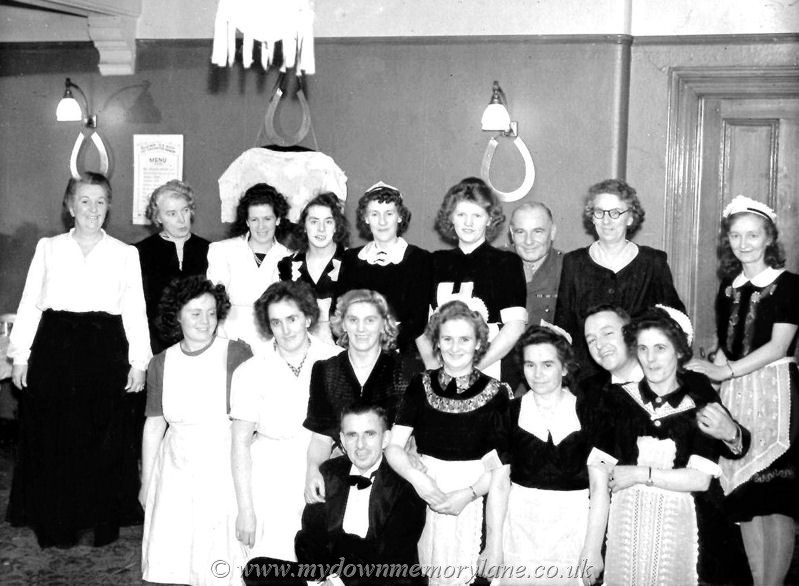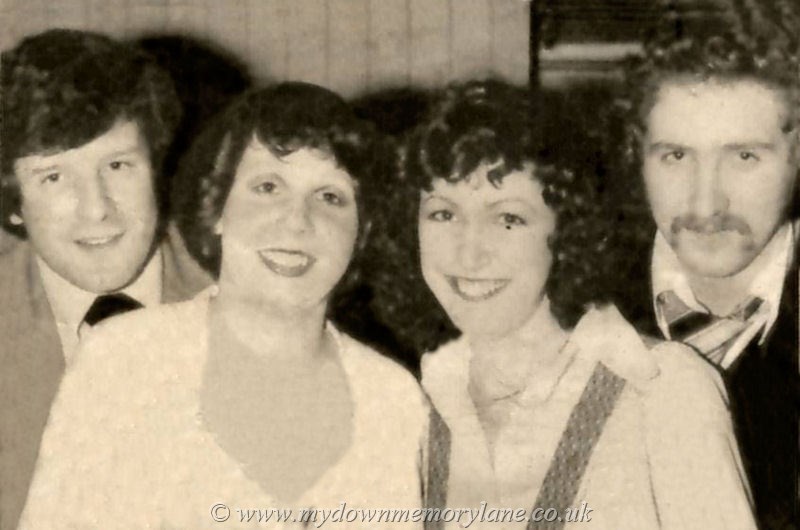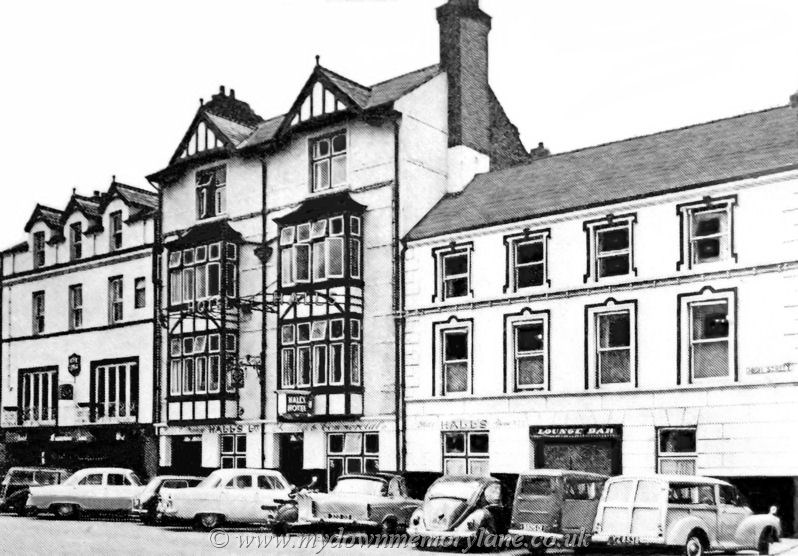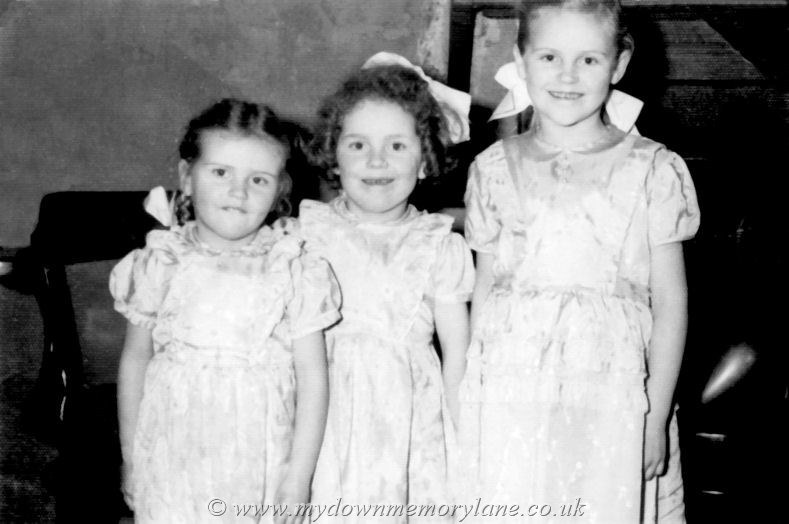 HOLYWELL HOSPITAL 1845
It's 1954 and we are at Holywell Hopital Staff Christmas Party and three sisters are having a great time. They are from the left Mage, Sadie & Betty McIllwaine.
HITCHIN' A RIDE 2111
Seen here hitchin' a ride are from the left May Hannan, Ann McMahon, Mary Hamil, Davis Hannan, Deborah McMahon, Peter McMahon, Mrs McQuillan, Brian McMahon, Elsie Ferguson and Colin Ferguson.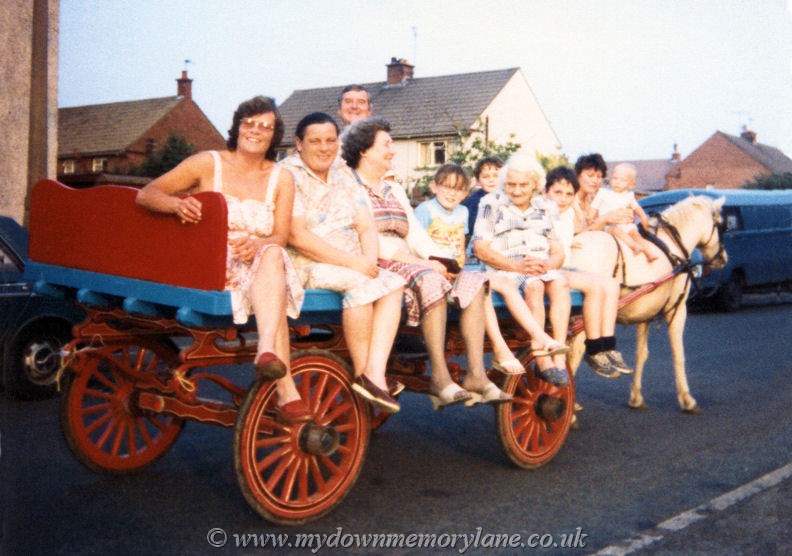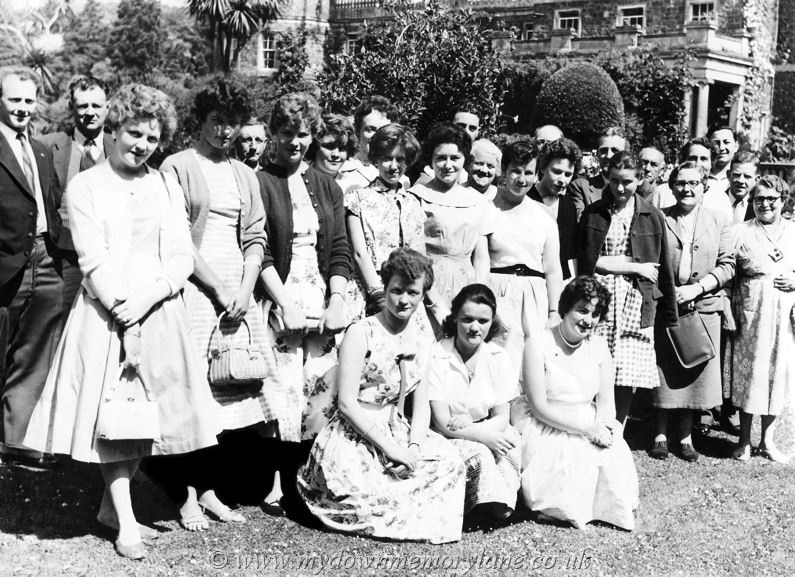 HIGH STREET PRESBYTERIAN CHURCH CHOIR 1987
This is High Street Presbyterian Chuch Choir out for a days outing in June 1957.
At the back we have Billy Cameron, Frank Taylor, Davey Graham, Min McCabe, Bob Wilson, Sam Clarke, William Coulter, Tom Moore and John Cameron.
The front row has Margaret Cummings, Christine Dyhes, Elizabeth Ferguson, Margaret Wilson, Gloria Reeves, Muriel Allen, Minnie Taylor, Pearl Catherwood, Audrey Craig, Pasty Fleming, Min Reid, Mrs Logan, Billy Craig and Mrs Moore.
Kneeling down are May Francey, Maureen Fleming and Anne Logan.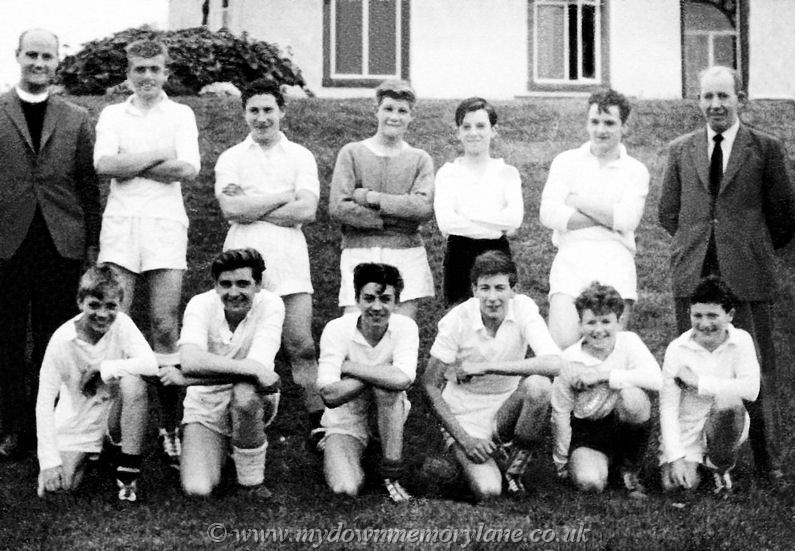 HIGH STREET PRESBYTERIAN CHURCH YOUTH CLUB FOOTBALL TEAM 1984
This is High St Presbyterian Church youth club football team photographed at Holywell Hospital Football ground in 1962.
At the back: we have Rev W.A.Finlay, Brian Steele, Leslie McCullough, Francis Jackson, Terry Jackson, Jimmy Miles and Dan Witherspoon.
In front: are John Coulter, Raymond Gaynor, Stanley Coulter, John Knox, John Palmer and John Witherspoon.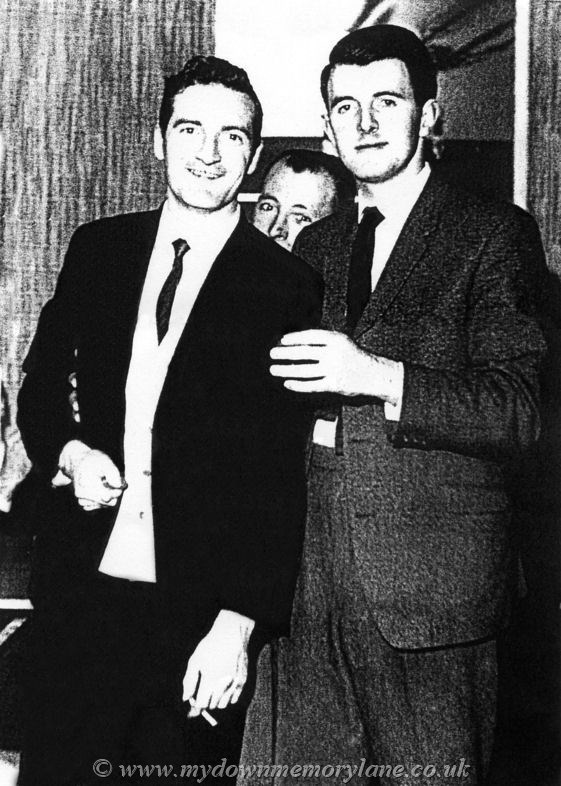 HALL'S HOTEL 1466
Enjoying a night out at Halls Hotel in 1969 we have Andy Kincaid and Maurice Cullen. Hiding behind them is Jimmy Carson.
HALL'S HOTEL 55
This photograph was taken to celebrate Hall's Hotel's first Hunt Ball.
From the left, Back Row: Maud Wilson, Miss Connelly, Kathleen Black, Jean Black, Marian Carmody, Mary McKeown, Captain Clarke (resident), Miss Evelen Harten and Sarah Hannon.
Middle Row: Unknown, Molly McBreen (Head Cook), Kathleen George, Maureen Shannon, Margaret McGuirk, Unknown (hotel guest), and Sadie Wade.
Front Row: Mr.Nye (resident)
Date is Unknown.
HALL'S HOTEL 54
From the left, Back Row: Chris Mullan, Norman McCaigue, Hugh Wilson, rest of the row Unknown.
Middle Row: Susan Conway, Margaret McGuirk, Mrs.Molly Gillisbie, Unknown, Unknown and Adam Gillispie.
Front Row: Agnes McMeekin, Unknown, Unknown, Mrs.Mary McGleenon, Agatha Hurrel.
Date is Unknown.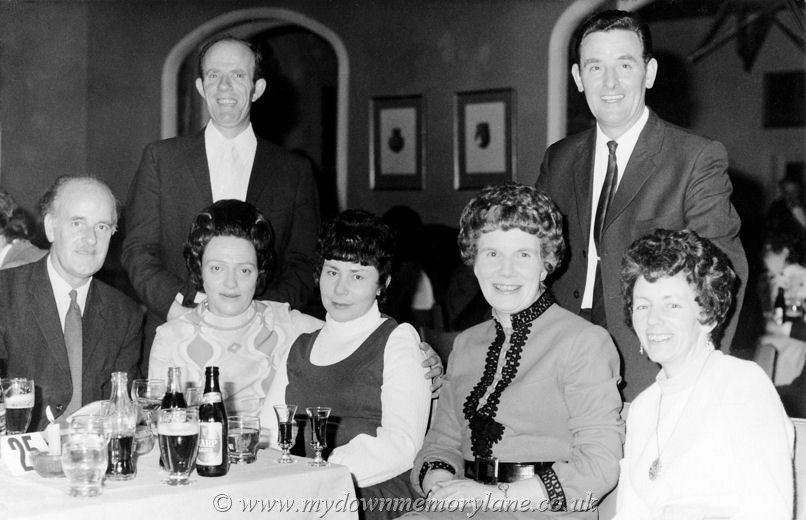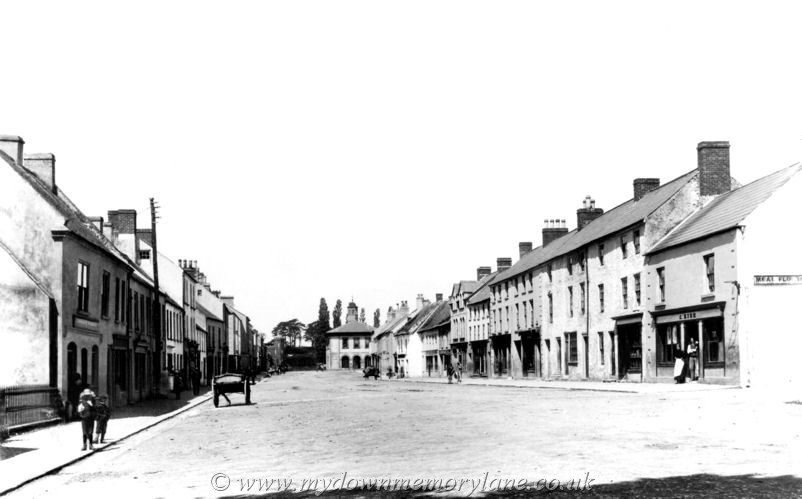 HOLYWELL 2242
Here we are in Holywell in the 70's for one of the many dinner dances that were held here.
Standing are from the left Bobby Fullerton and John Beers.
Seated we have Unknown, Unknown, Unknown, Elsie Beers and Margaret Morgan.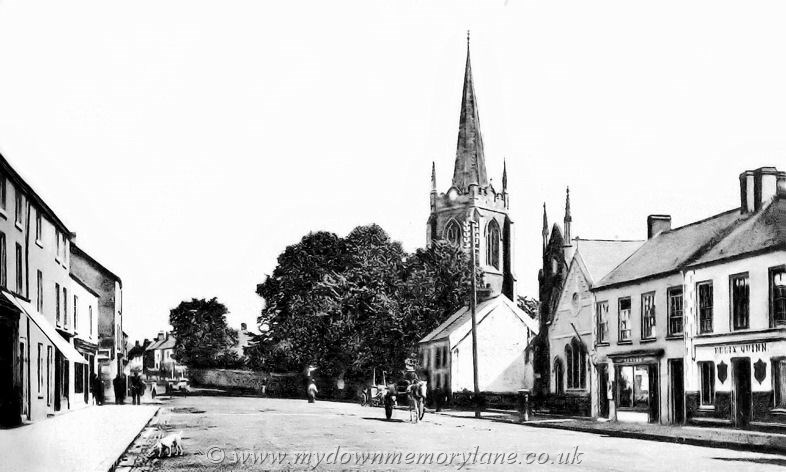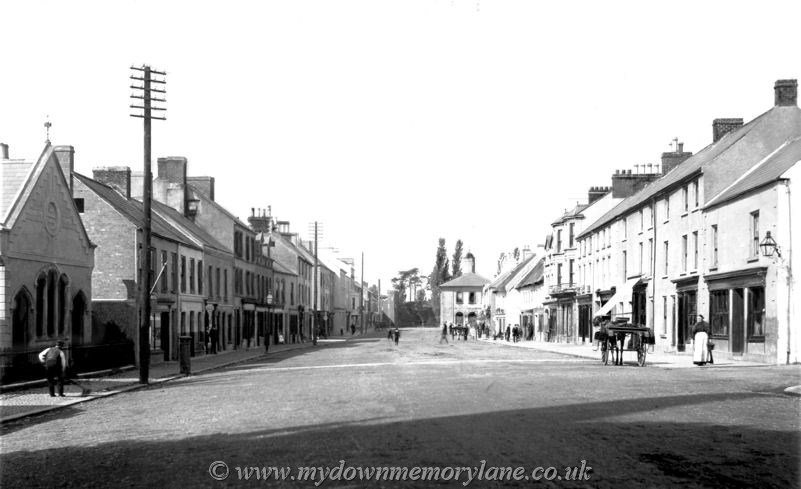 HIGH STREET 269
This photograph was taken either on a Saturday or School holidays because of the children running around, the date is 1903.
Also the time it was taken would have been around 9.30pm due to the shadow being cast from the spire of All Saints' Parish Church.To the left is a man outside Orr's School brushing the pavement which is cobbled, next is the Barber shop with his pole outside.Then you have the pillar box for posting letters, next is Quinn's Pub while next door are a lady and man watching the photographer. In the distance you can see Hall's Hotel and outside it is an open carriage with two horses side by side. Further on is the Barbican Gate with the iron railings around it. On the right is the CourtHouse, coming up High Street we have a man sitting on a bench outside these premises which have thatched roofs and the next building has a flag pole outside it which is the Antrim Arms Hotel with a balcony. In the foreground on the right is a pony and trap then an old lady with bags of shopping in her hands after coming out of the shop on the corner next to Pats lane which became Railway Street.
HIGH STREET 5
You are looking towards Church street and the three men to your left are standing on the corner of Railway street. Over to your right is Felix Quinn's bar which now is the Steeple Inn. Moving on up you can see Orr's School, then High Street Presbyterian Church, next the house was pulled down to widen the road into Riverside. Then with its towering steeple is All Saints' Parish Church. Date is unknown.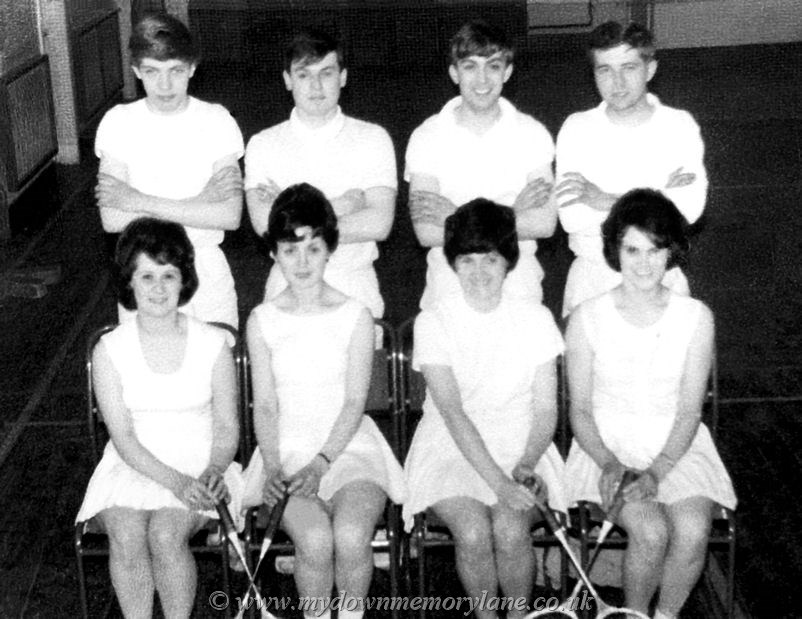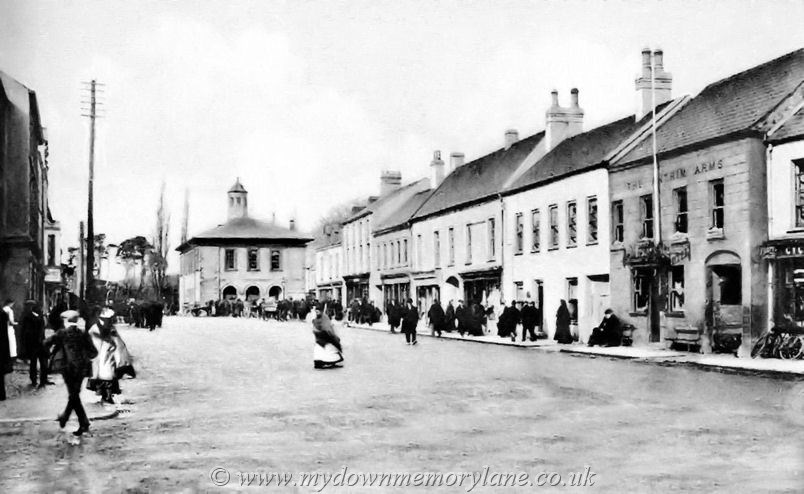 HIGH STREET 06
To the right of the picture you can see quite a number of bikes, it's no wonder because as you can see no cars. Next is the Antrim Arms which was the bar for Thompson's Hotel. Later the hotel extended and was renamed The Antrim Arms. The second building up you can see a butcher's shop with the meat hanging on hooks outside the shop, no hygiene back then. Up at the Court House is a large crowd which makes you think that it must be market day The lady crossing the street her name is unknown but she was the local midwife. Date is unknown.
HIGH STREET PRESBYTERIAN CHURCH BADMINTON CLUB 586
Smiles all round from the members of the High Street Presbyterian Church Badminton Club 'A' team. This light-hearted portrait was taken in 1966 at
Orr Memorial School, where the squad used to pratice in the days before the Antrim Forum! The men are (from left) John Coulter, Ronald Creighton, Stanley Coulter and Dia Stevenson. Seated at the front are Alice Kirkwood, Isobel Coulter, Connie Rankin and Pamela Hanlon.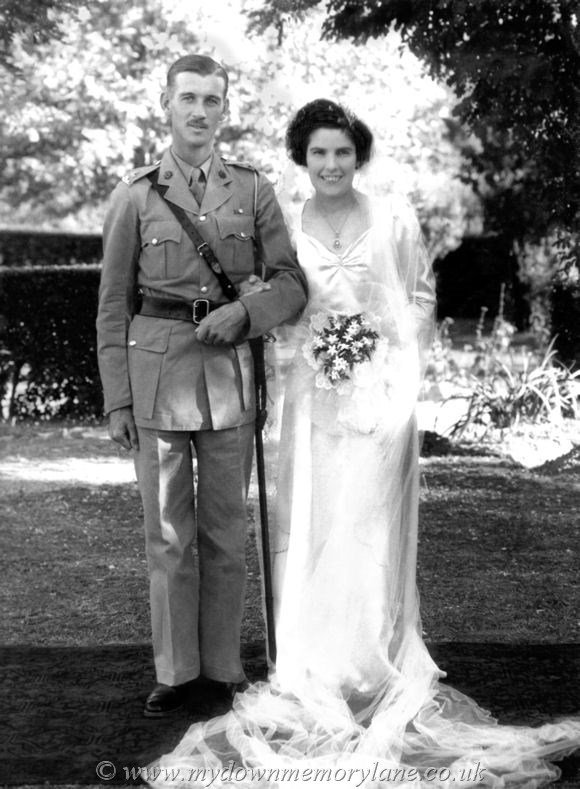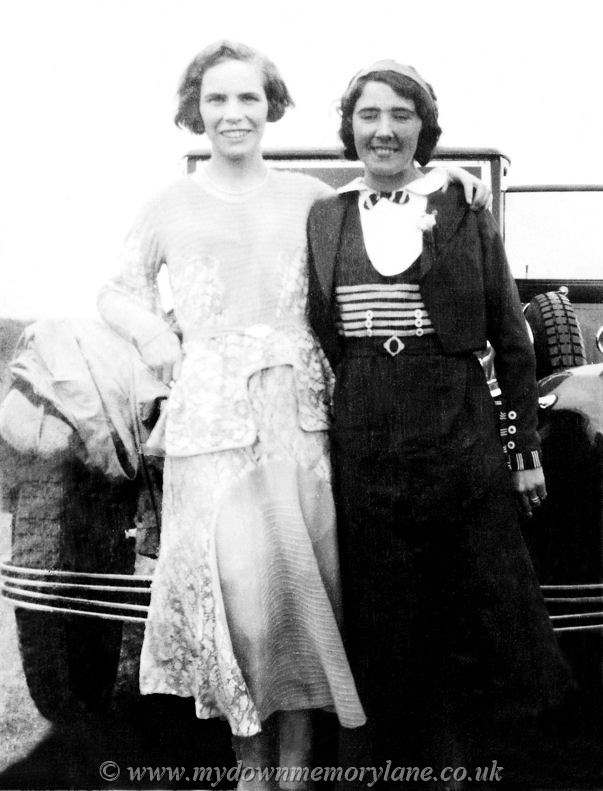 HUGHES WEDDING 806
Here we have Georgie McElrea and David Hughes on their wedding day on the 1st November 1944. Georgie looks beautiful in her silk dress, while her husband's immaculate attire betrays his military background! The picture was actually taken at Quetta in India which was worlds away from Georgie's early days living in the Frenchman's Cottage at Castle Street in Antrim. She lived there with her brother and sisters, including Sadie Bain. Georgie trained as a nurse with the Queen Alexander Society and, at the outbreak of war, went to the military Hospital in 'British India' to a city called Quetta, which is now in Pakistan. It was there that she met David, who was an army officer serving on the staff of Lord Louis Mountbatten as an interpreter.
HIGHLAND LASSIE 791
This bonnie lassie was far from the Highlands when this picture was taken in Antrim back in 1938!
Four-year-old Joan McElrea was smiling for the camera during an unscheduled pit stop while out riding her bike.
HONEYMOON 778
This is Sadie McElra and Agnes McElrea on the 7th September 1932. It was Agnes's Wedding Day, she had wed Sadie's brother Jack, Sadie andAgnes's brother Joe Scott did Bridesmaid and Best Man. Agnes's outfit is for her Honeymoon and they were going to Portstewart.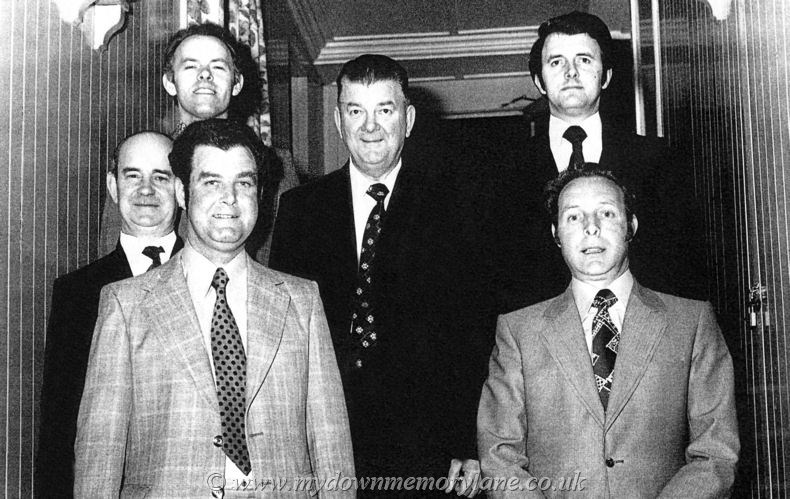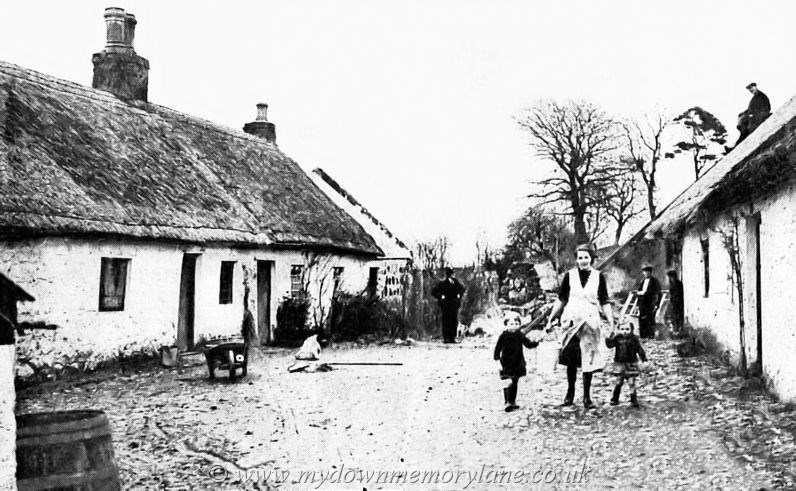 HALL'S HOTEL 1465
Enjoying a night out in Hall Hotel in 1976 we have at the back John Quinn, Donald Dawson and Maurice Cullen.
In front are Charlie McLughlin, Tommy Crighton and Bertie Strange.
HILL HEAD 1271
Here we are out at Hill head in 1938 and up on the roof working is Johnny Bell but known locally as Johnny Thatcher. Below him outside their house are Mr & Mrs John Kennedy and across from them with his hands at his waist is Johnny Burns the postman. Carrying the bucket to get water is Mary Young with her daughters Margaret on the left and Dorothy on the right.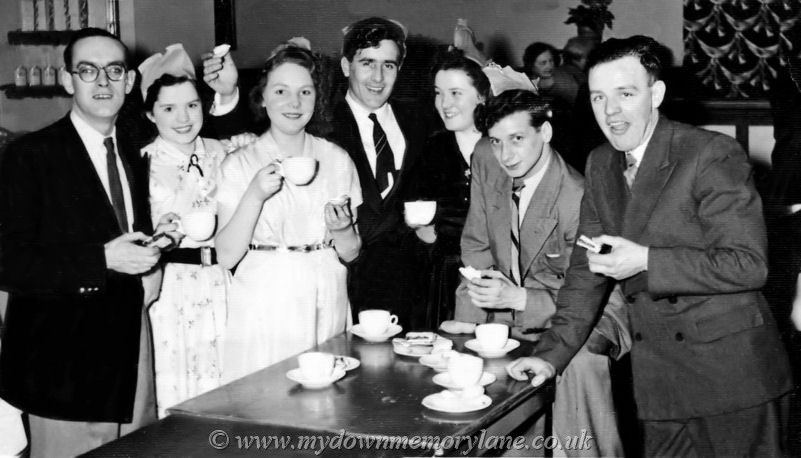 HOLYWELL HOSPITAL 1279
Taking a break from the dancing at the Holywell Christmas Dance in 1953 and enjoying a nice cup of tea with mince pies and current squares ( used to be known as a bluebottle sandwich). We have from left Charlie Stewart, Maud Agnew, Margaret Young, Brian O'Neill, Rita Agnew, David McIlroy and Jim Wilson. Doesn't Brian O'Neill look like a young Gordon Brown.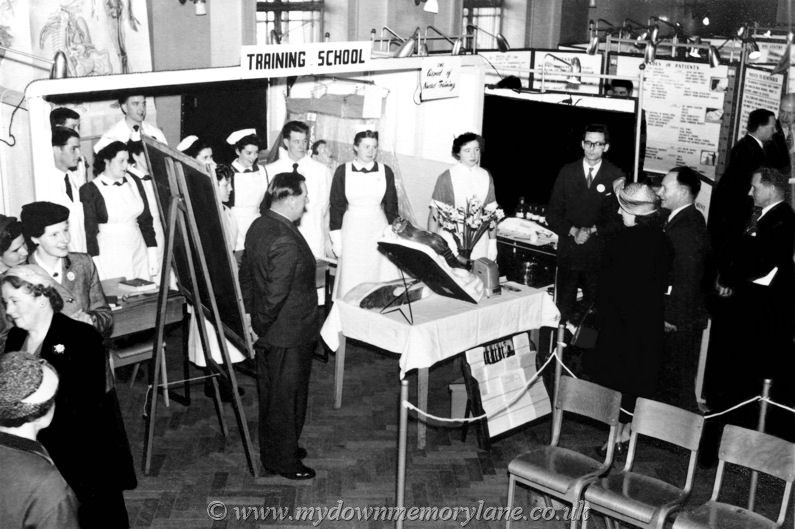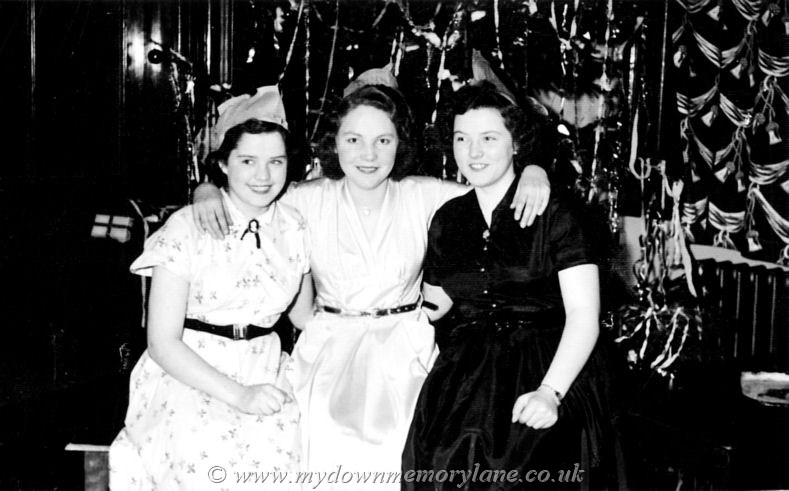 HOLYWELL HOSPITAL 1278
This is the Holywell Hospital Christmas Dance in 1953 and sitting in front of the Christmas Tree we have three lovely Christmas presents. They are Maud Agnew, Margaret Young and Rita Agnew.
HOLYWELL HOSPITAL 969
Here we have the students of Holywell Hospital proudly standing for the visitors in 1955.
Starting off on the left at the back are Unknown and Ken McKittrick, in front Unknown, Mary Spears, Unknown, Unknown, Divana Harper, Sue Beatty, Unknown, Gladys Frew and in front of the blackboard is their tutor Sam Jackson.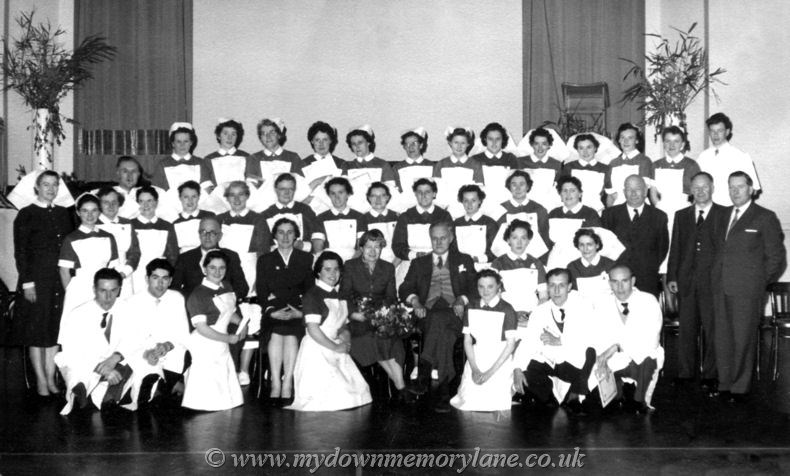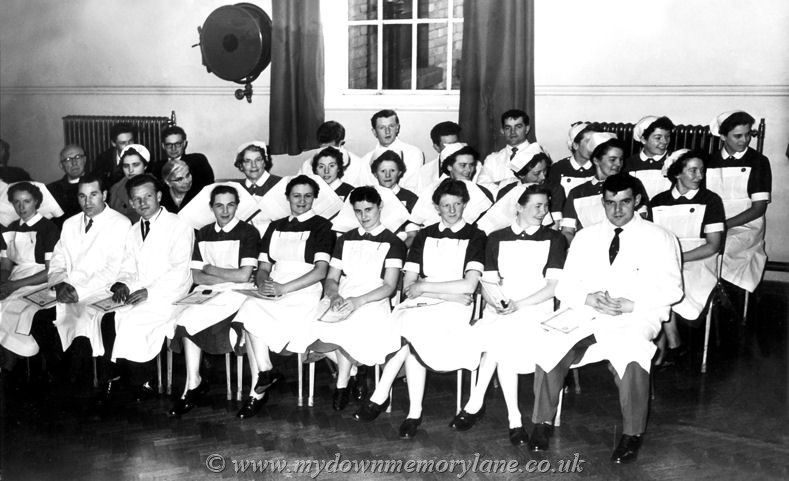 HOLYWELL HOSPITAL 959
All smiles not only for the camera but it was prize day at Holywell Hospital in 1961.
At the back we have (from left) Unknown, Unknown, Violet Fleming, Elizabeth Ferguson, Betsy Fleming, Jean Hanlow, Lizzie Jackson, Phyllis Harkness, Mary Spiers, Sue Meehan, Sally Forsythe, Meta Simpson, Winnie Haiguley and Mr Dessie McBride. Next are Mrs McDowell 'Tutor', SR Betty Paul, SR Sadie McClenghan, SR Elizabeth Kettle, SR McCallum, SR Hilda Hanley, S/N McKeown, S/N Stella Smith,
SR Margaret Whylie, SR Margaret Gumlex, Unknown, Blanche Neeson, Mr Gilchrist (Pharmacy), Dr.Smythe, Sam Jackson (Tudor).
Standing next to the ones seated is Hillary Moffett, seated are Unknown, Miss Martha Dennison, (Matron), Unknown, Mr Reid (secetary), Edith McCaughey and Madge Blair. In the front are Larry McKay, Paddy Cusherain, Sheela Kearney, Unknown, Sally Dawson, Danny Kaye and Basil Kinnen.
HOLYWELL HOSPITAL 1024
All Smiles from these trainee Nurses and Doctors for they have received their passes on Prize Day 1960.
Amongst the happy bunch we have Madeline Fleming, Sally O'Hagan, Norma Kirkpatrick, Sydney Quinn, Phyllis Harkness and Betty Quigley.
Well done!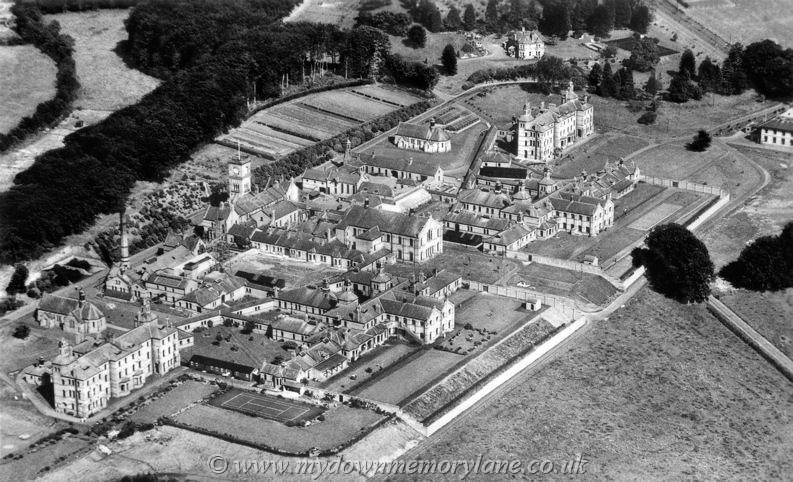 HOLYWELL HOSPITAL 860
This aerial photograph of Holywell Hospital taken in the early 1900's shows not only the size of it but the grandeur of the buildings.
There are plenty of people walking around but not one car or vehicle could I find in the photograph.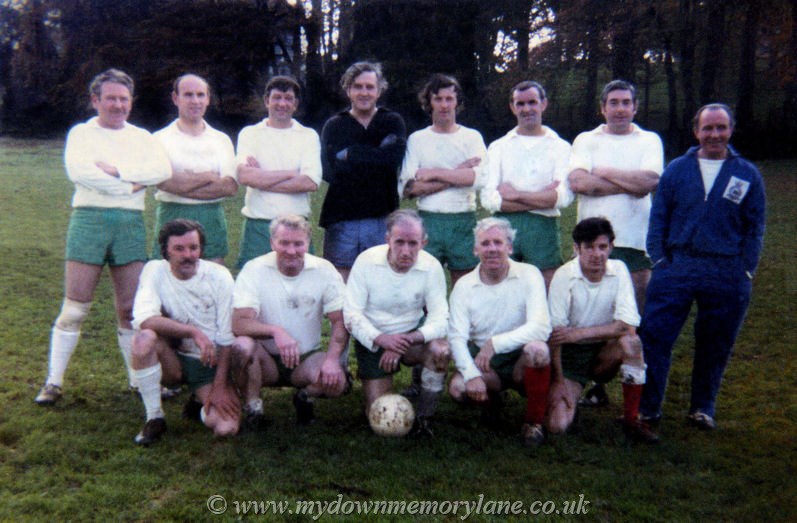 HONEYMOON TIME 1431
The reason for this family gathering in 1957 of the Jenkins and the McCabes is a marriage that is still in the Honeymoon period.
At the back we have Eleanor Wilson nee McCabe, and Mary McCabe. In the middle are Sam Jenkins, Bridget Jenkins the grooms mother, Sadie Jenkins nee McCabe the bride, BeresfordMcCabe,sitting on his knee is Susie Mayres, then the bride's parents Sammie and Elizabeth McCabe. In the front we have the groom John Jenkins with his father Jack Jenkins.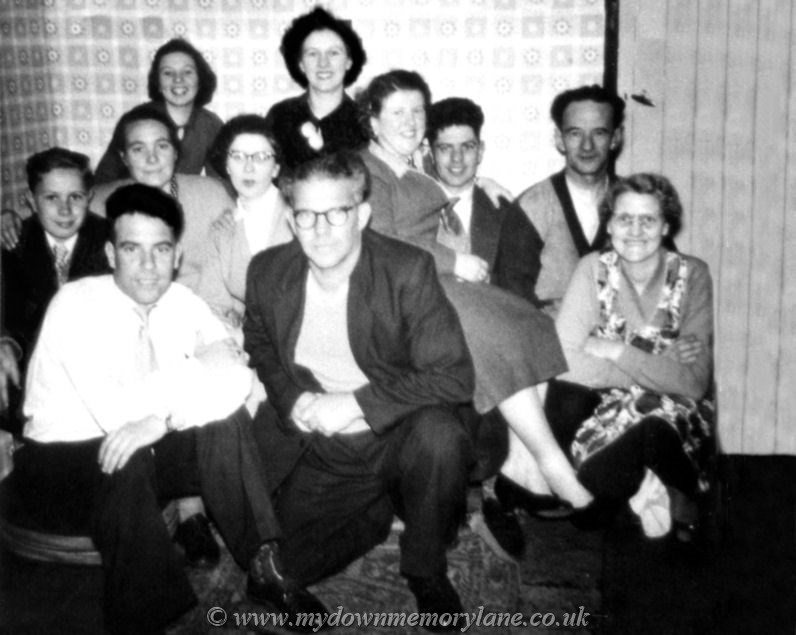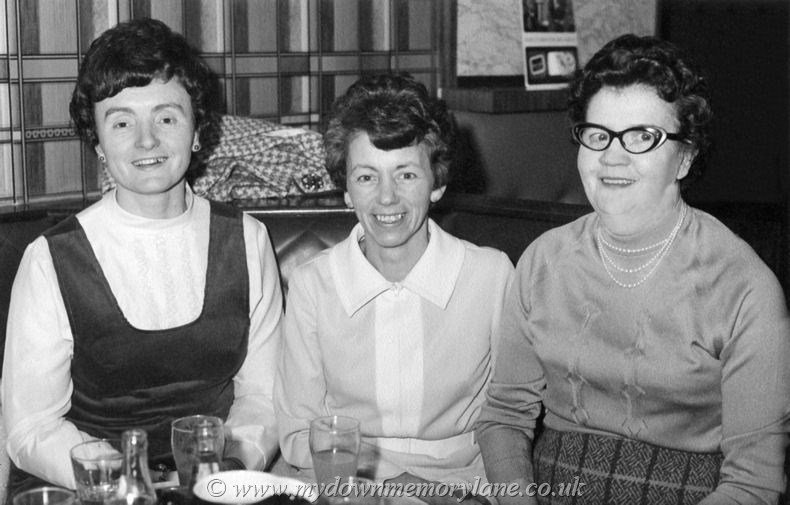 HALL'S HOTEL OVER 35's FOOTBALL TEAM 1871
This Hall's Hotel over 35's football team, and they're all smiles for they beat Mahaffey's football team 4 - 1 at Chimney Corner Football ground in 1972.
At the back: are Cecil Doole, Johnny Kinnen, Sam Smylie, Cedric Blackbourne, Irwin Kilpatrick, Unknown, Robin Steele and Bertie Patton.
In front: are John Fleming, Bobby McVeigh, Dan Fisher, Jack McCaig and Norman McCaig.
HALL'S HOTEL 2239
These ladies out enjoying a quiet night out are some of the Hall's Hotel Staff back in the early 60's.
From the left we have Maureen Gaynor, Margaret Morgan and Josie Allen.
Now Margaret who originally from Coothill came up and was working in Portrush when a vacancy became available in Hall's Hotel. Margaret applied for the post as Head Cook and was taken on, for it was here that she met a man who was also working in the hotel.
That man was Harry Morgan who knew a good woman when he seen her and they got married.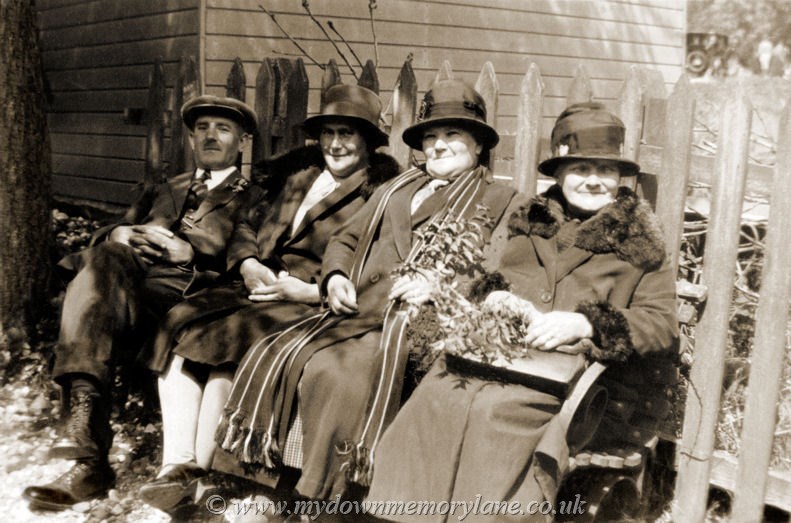 HAVING A REST 251
Having a rest are three ladies who look like sisters along with a gentleman, their names are unknown to me.
Two of the ladies are holding what looks like branches, there are no flowers on them, perhaps someone can tell me.
This was taken down at the Lough Shore, in the background top right you can see a motor car so there must be a road near by. Date of the photograph is unknown.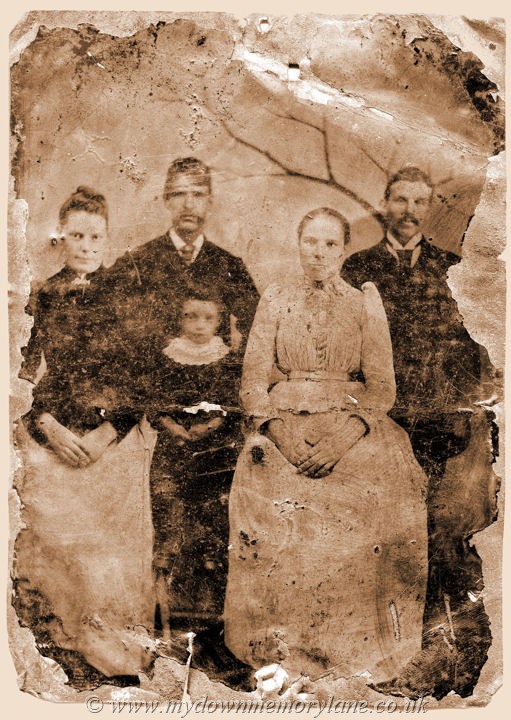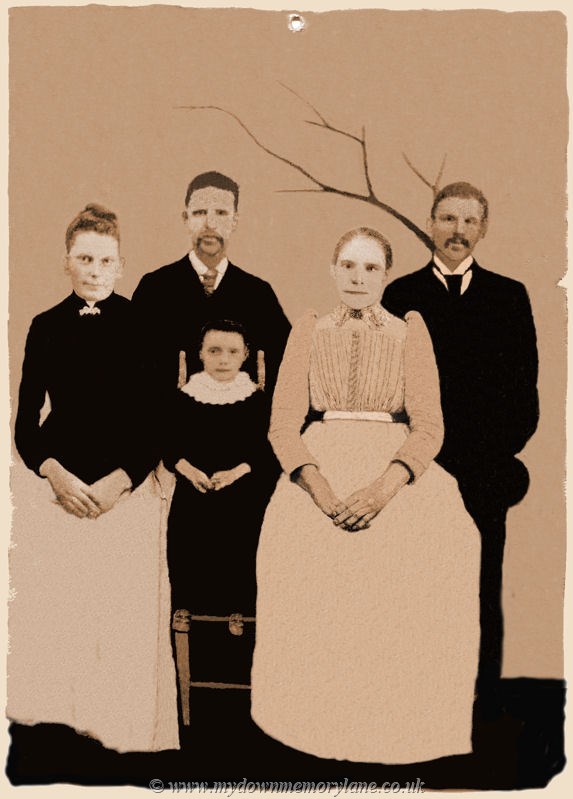 HARPENSON WEDDING 430
This is what the photograph could have looked like new.
HARPENSON WEDDING 433
This photograph was taken in a Crumlin Studio and must have cost them a lot of money back then. The Bride was from Antrim.
It is of a Wedding Party and the Bride and Groom are on the right, Their names are as I have been told Granny Harpeson and James Harpeson.
The rest of the party are unknown.
This photograph was on tin ! You can see a couple of holes top and bottom this is where it was nailed to the Grannie's wall in her house.
It was taken in 1898 which makes it today 123 years old! (2021)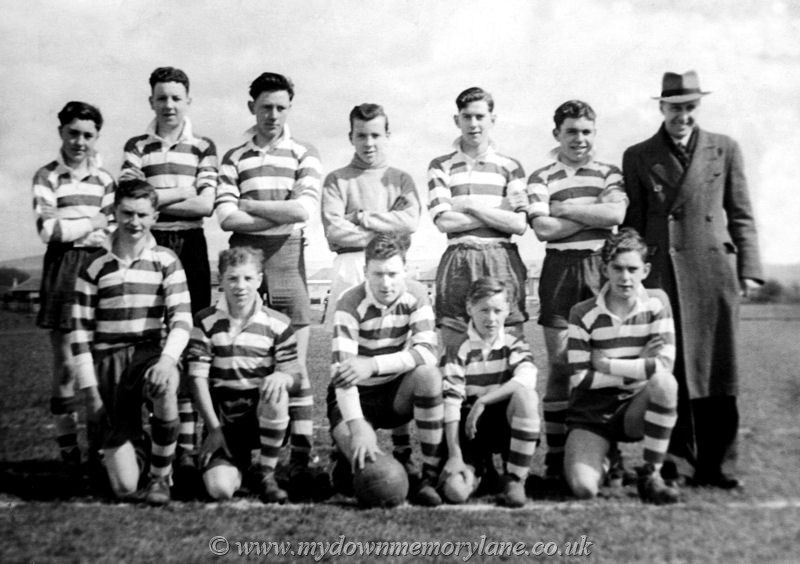 HOLYWELL FOOTBALL TEAM 1063
Ready to put their skills on the line we have this Holywell Football team from the 60's.
At the back: Harry Johnston, Dessie McClure, Samuel McKeown, Johnny Kinnen, Desmond Warwick, Sydney Quinn and Bobby Fulteron.
In front: Hughie Fleming, Mr Millar, Loyd Richie, Aussie Wilson and Jackie McCaig.- - - - -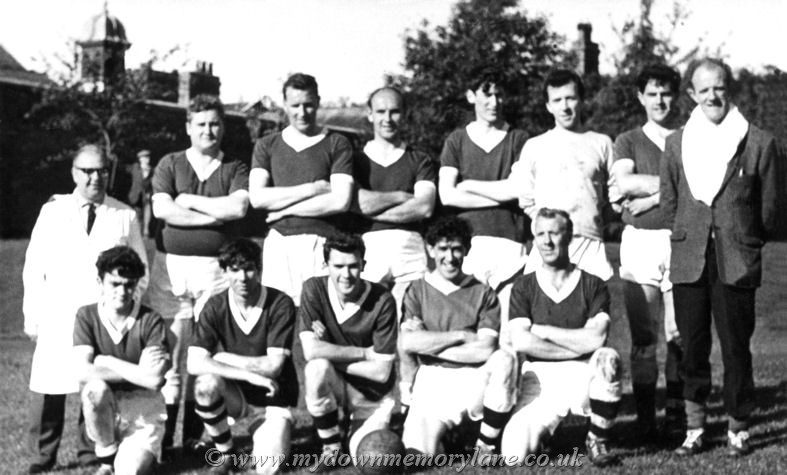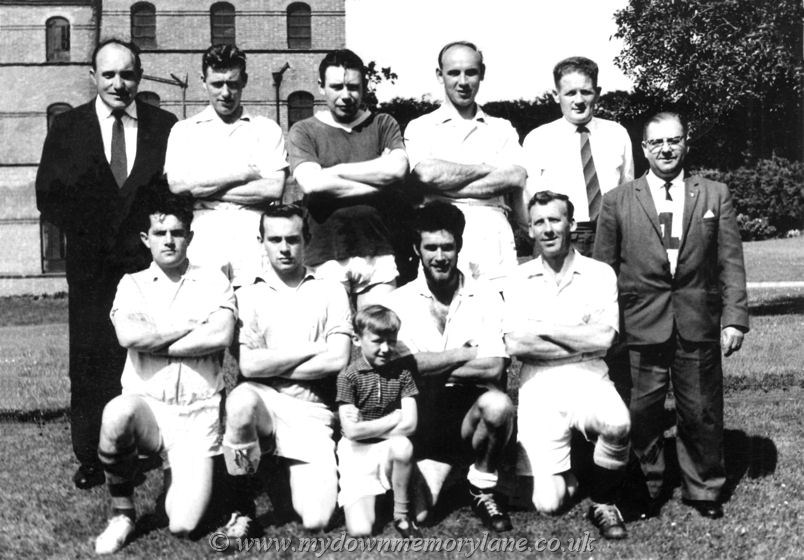 HOLYWELL HOSPITAL FOOTBALL TEAM 964
Here in the grounds of Holywell Hospital we have been photographed their very own seven-a-side football team in 1958.Standing at the back we have James Clarke, Albert Jackson, Thompson Clarke, Johnny Kinnen and Brian Beggs.Kneeling in front are Sidney Quinn, Charlie Clarke, Unknown, Jackie McCaig and Harry Johnston.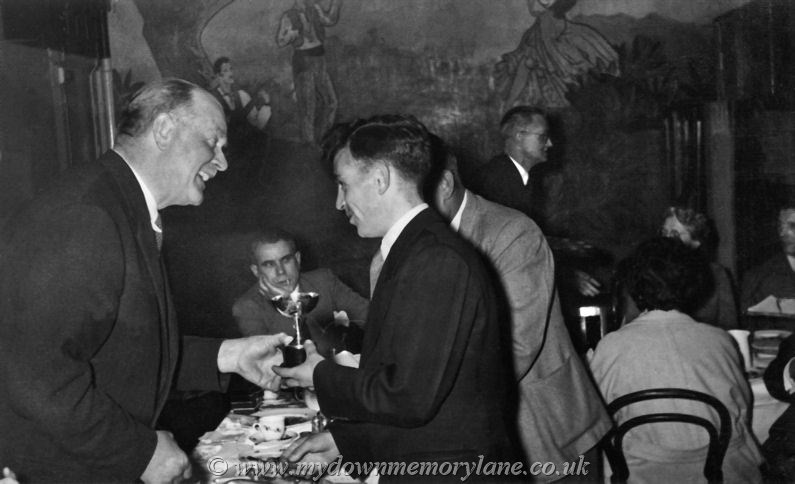 HALL'S HOTEL 1740
This is Harry Fleming receiving a cup for football at presentation in Hall's hotel.
Now who was presenting Harry with the cup and what is was for is unknown as well as the year. Do you know?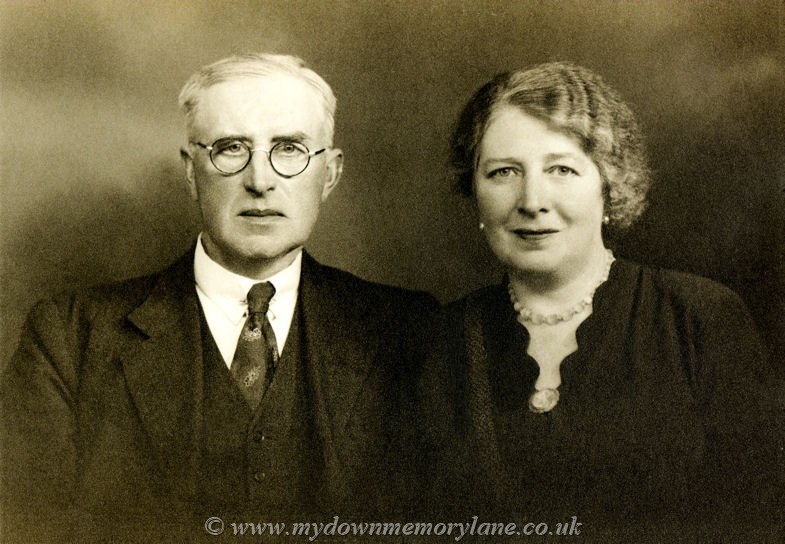 HURRELL PORTRAIT 1468
This lovely portrait was taken 1926 and is of the Hurrells.
It's of William Hurrell and his wife Mary Hurrell nee Sloan who lived then at Castlebawn, Antrim.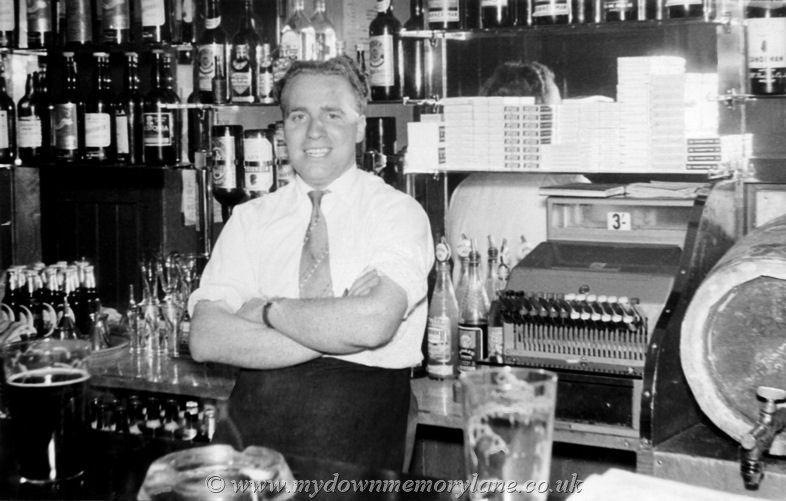 HALL'S HOTEL 2240
Standing behind the bar at Hall's Hotel in the late 50's is Harry Morgan
who always had that smile on his face for all his customers.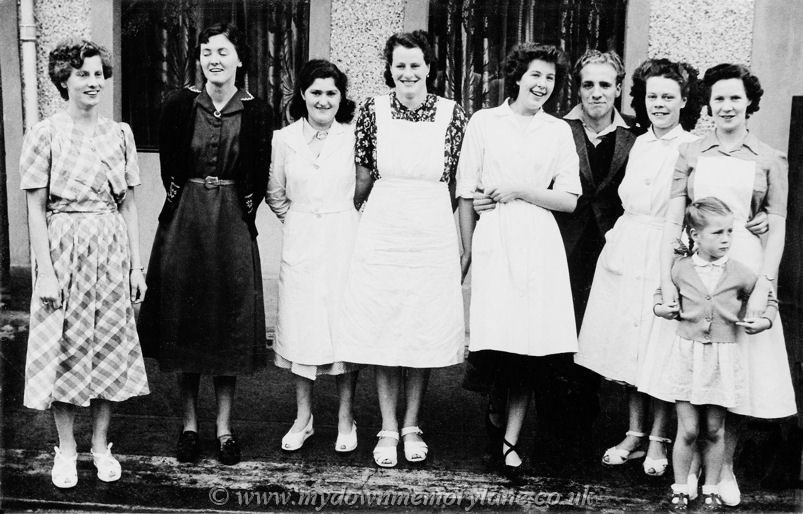 HALL'S HOTEL 2437
Here at the back of Hall's Hotel some of the staff are having their photograph taken.
In the group are Miss Sykes, Maureen Gaynor, Nan Bradley, Harry Morgan, Kathleen Bradley and the little girl is Patricia Wilson.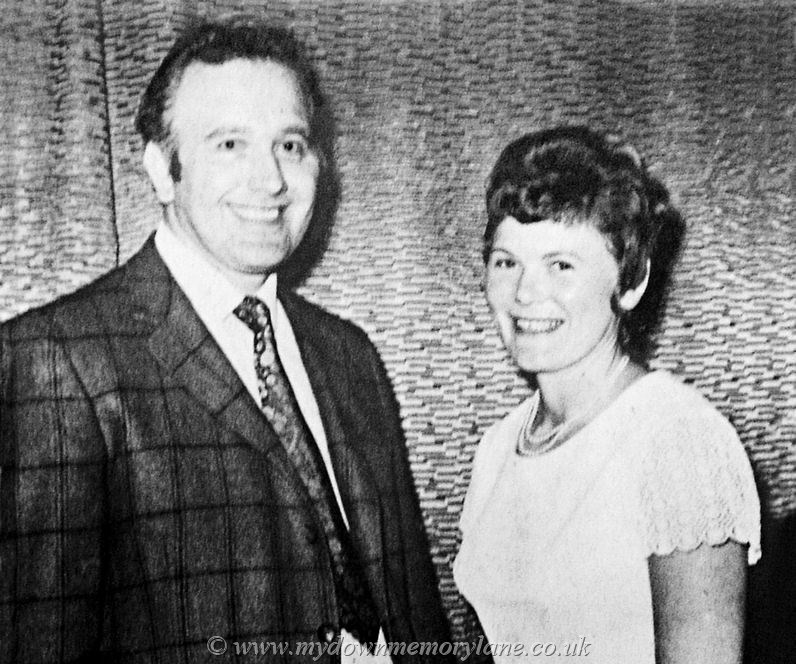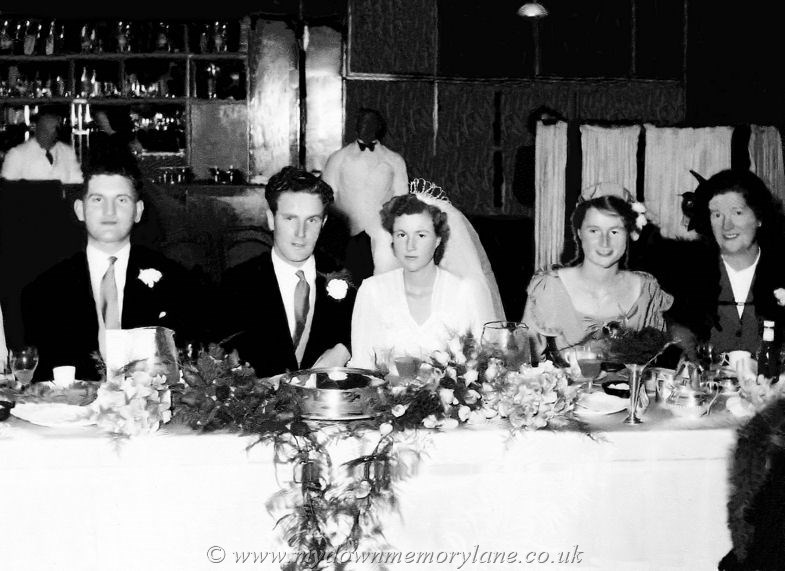 HALL'S HOTEL 2363
Here in Hall's Hotel we are at the Ulster Bar Dart Club's Dinner Dance.
Having a great time as seen in the photograph are Mr. and Mrs. M. McKittrick.
HALLS HOTEL 3308
It's 1952 and here inside Hall's Hotel was a special Wedding reception taking place. The cake has been cut and by the look of the Groom and Best man the speeches must be next. The best man is Unknown, then the Groom Allen Cecil McCready, his lovely bride Joan McCready nee Wilson who's family owned Hall's Hotel, Then comes the charming Bridesmaid Marie Wilson who I was told "turned mens heads when she walked into a room and still does and then her mum Maud Wilson. Behind the bride is Allen Gillespie and behind the bar is Hugh.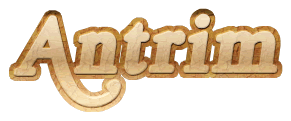 Pages:
HALL'S HOTEL 220
Having a night out at Hall's Hotel dance night is Ruth Millford and Janette Wilson with their then boyfriends Philip Martin and Bobby Banford. Taken in the hotel in the 1960's.
HALL'S HOTEL 44
Taken in the 1960's you can see that by now Hall's Hotel has taken over the Adair hotel, but just look at those cars outside.They would be all collectors items now, Morris Minor Estate, Morris van, Volkswagen Beetle, Ford Zepher, Ford Consul, Austin Mini, two tone Ford Consul and another Morris Minor estate.
HIGH STREET 4
It's the late 1800's here in High Street Antrim at around 8.30am on a Saturday or the school holidays because of the two boys in the foreground beside Orr School. Behind the two boys is a man with a peak cap standing in the shop doorway reading a paper. In shadow next to the cart you can make out that the pavement was made of cobbled stone as was the road. Halfway down on the left is the start of Bridge Street, then at the bottom of the road you can see the Barbican Gates and Antrim Castle walls. To the right the large imposing building was the Courthouse which went on to become the longest running Courthouse in Ireland. Coming back up the road there is a man on the the right unloading goods from his horse and cart next to the white building which was the Antrim Arms hotel and has a thatched roof like the two shops next door. As we move on up the road we pass two men having a bit of a yarn then three more shops we come to the last two shops that belong to John Kirk who is holding one of his children in his arms alongside his wife. On the side wall of his shop he is advertising that he sells meal and flour, this was only two of the many items that he sold the the local farmers. Incidentally that side wall was a road called Pats lane which then became Railway street when the railway station opened up.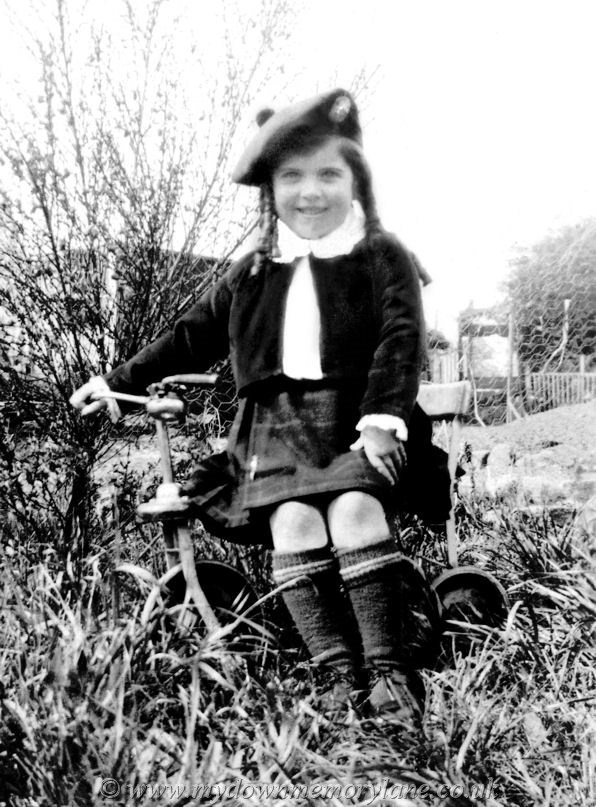 HOLYWELL HOSPITAL FOOTBALL TEAM 116
In the background you can see part of Holywell Hospital and in the foreground from 1966 we -------------------------------------------have their football team. ---------------- - - - - - - - - - -- - - -At the back: Harry Johnston, Dessie McClure, Samuel McKeown, John Kinnen, Derek McQuillan, Desmond Warwick, Sydney Quinn and Bobby Fulterton.
Kneeling down: Hughie Fleming, Mr Millar, Loyd Richie, Aussie Wilson and Jackie McCaig.- - - -