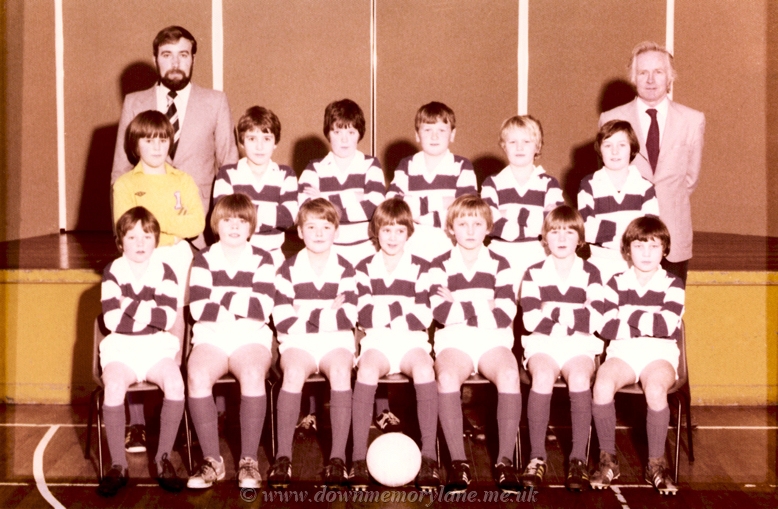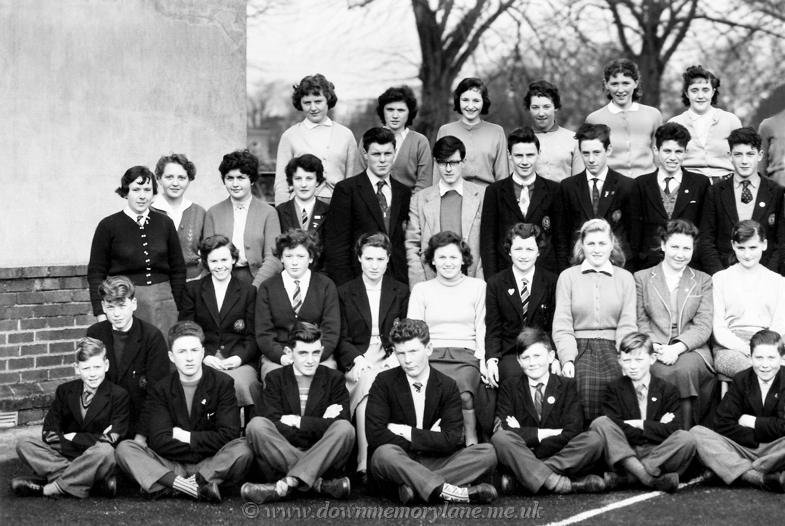 ANTRIM PRIMARY SCHOOL FOOTBALL TEAM 1028
This is the 1979 football team that played for Antrim Primary School, the two teachers are Mr Smylie and Mr. Paddy Marks.
Back Row: (from left) are Campbell Weir, Gary McCrum, Stephen Napier, Colin Rainey, Paul Morgan and Alan Dilworth.
Front Row: we have Derek McCaig, Ian Turner, Stephen Francey, Harris Feeny, Stephen Cochrane, Gary McCaig and Andrew Ferguson.
ANTRIM TECHNICAL SCHOOL 2617
These are the pupils of Antrim Technical School, I have had to do the photograph in 4 sections, as it was a landscape. This is part 1.
At the back are Mairead Quinn, Winifred Maguire, Audrey Graham, dorothy Hogg, Marie Guiney and Barbara Milligan.
Standing are Sarah Knox, Thelma Hopkins, Rosemary McKee, Margaret Curry, Robert French, Hugo McGrogan, Herbie Hewitt, Ivor Fletcher, Ronnie McNeilly and Michael Horan.
Seated are Darwin Campbell, Eva Molloy, Carol Knox, Wilma Warwick, Sadie Wilson, Florence McNeilly, Kathleen White, Unknown and Pasty Fleming.
On the ground are, Sydney Doyle, Bill Heslop, Tom Horner, John Ardbuckle, Danny Marley, Billy Reid and Jim Richardson.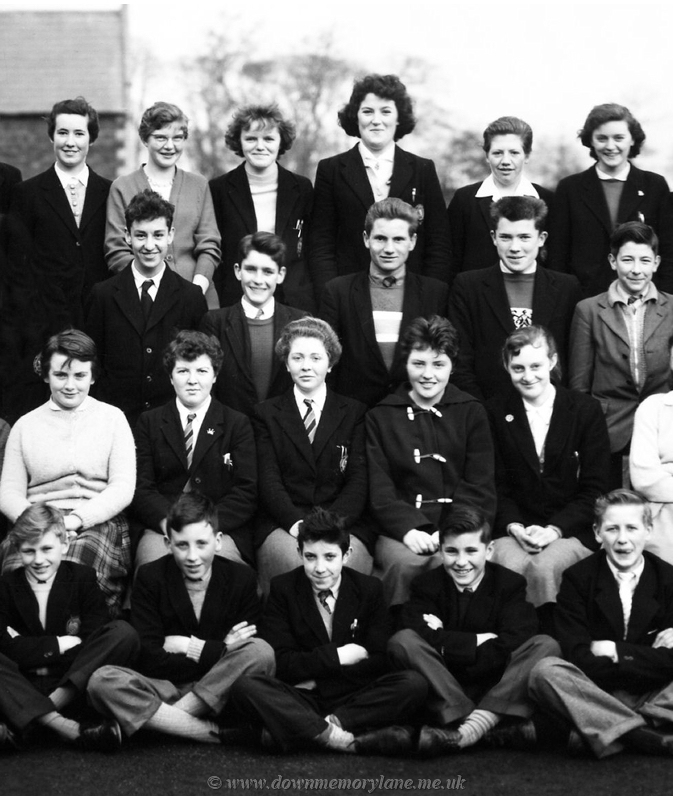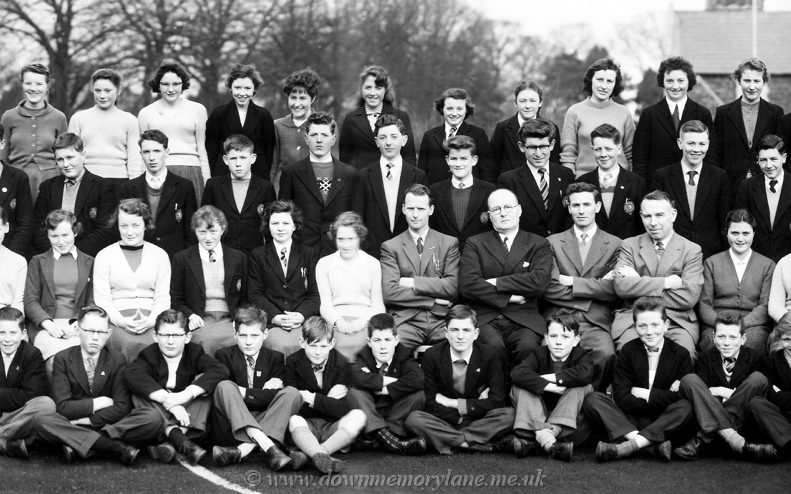 ANTRIM TECHNICAL SCHOOL 2618
These are the pupils of Antrim Technical School, this is part 2.
In the back are Mabel Paisley, Elizabeth McKibben, Isobel Spence, Jacqueline Wallace, Ethna McKay, Mary Duggan, Kathleen Walker,Avis Boyd, Brenda Mullan, Rachel Kingsbury and Elizabeth Wilson.
Standing are David Costello, Ralph Hull, Jim Wilson, John Gamble, Samuel Mulholland, William French, John McQuillan, Raymond McMaster, Sammy Craig and Tommy Ross.
Seated are Unknown, Violet McKinstry, Mary Chivers, Elenor McCabe, Gwen Harper, George McDowell Teacher, Cecil Ramsey Teacher, John Bell Headmaster, John Davinson Woodwork Teacher and Hazel Crawford.
On the ground we have Jim Richardson, William Jones, Stanley McQuillan, David Boyd, Unknown, Ule Campbell, Norman Agnew, Christopher Wright, Jim Lewis and Basil Davies.
ANTRIM TECHNICAL SCHOOL 2619
These are the pupils of Antrim Technical School, this is part 3.
At the back are Margaret Campbell, Patricia Logan, Elizabeth Logan, Lesley McAuley, Nora McGuinness and Muriel Dunlop.
Standing are Hugh McAuley, Davey Orr, Bertie Lewis, Loyd Richie and John Knox.
Seated are Josephine Martin, Doreen Robinson, Ethel Harper, Jaqueline Simpson and Marlene Allen.
On the ground are David Craid, Charlie Curry, Neil Harvey, Brian Murphy and John Shaw.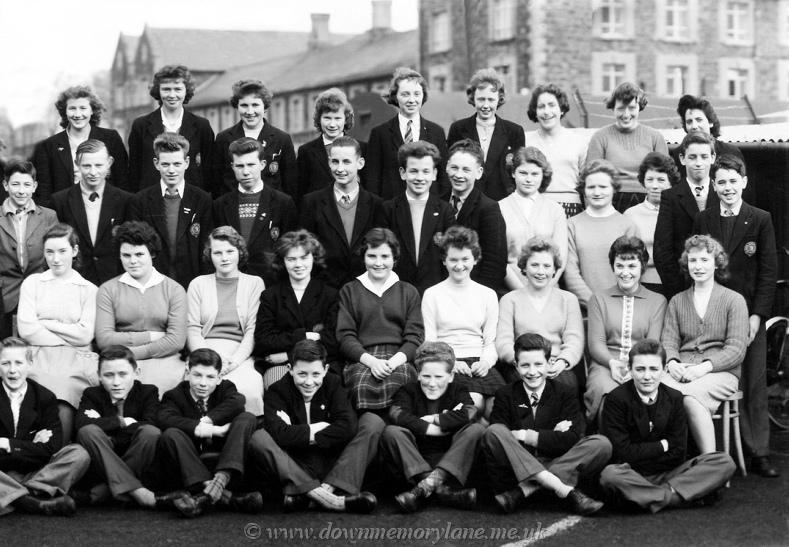 ANTRIM TECHNICAL SCHOOL 2620
These are the pupils of Antrim Technical School this is part 4.
All smiles at the back are Sandra Dobbin, Margaret Weir, Pamela Bushe, Bernadette Mackle, Ruby Taylor, Marion Glover, Hetty Jones, Vivian Crawford, Margaret Nolan.
Standing are John Knox, Hubert Reid, Trevor Campbell, Ronnie Nichol, Bobby Whylie, This lad is from Randalstown and played with "Free & Easy", Geoff Murray, Wilson McDowell plays with the "Irish Rovers" in Canada, Margaret Warwick, Unknown, Florence Neill, Raymond Parker and Raymond Kane.
Seated are Bridie Totten, ? McQuillan, Rosemary Cunningham, Jean O'Hara,Mariad McAteer, Olga Nimmons, Arlene McAllen, Jennifer Allen and Mary Bradley.
On the ground are john Shaw, Raymond Hume, Freddie Millar, Derek Hamill, Gerald Beck, Terry Lavelle and Trevor Carson.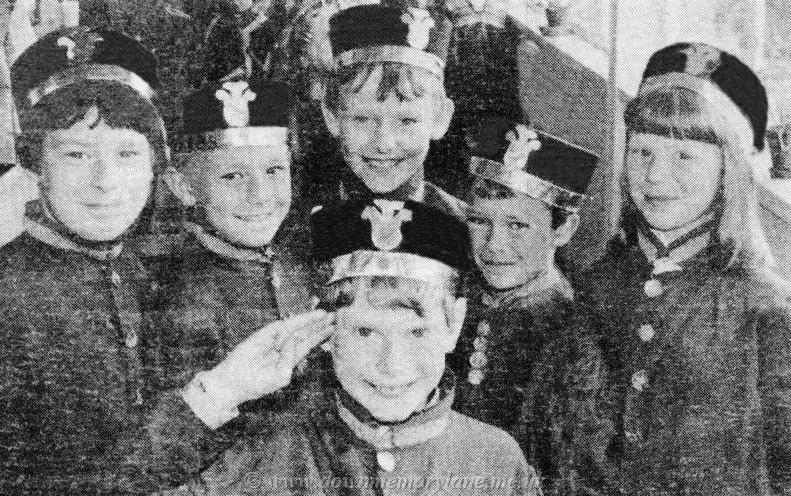 ANTRIM PRIMARY SCHOOL 459
The photo was taken from a newspaper and shows the children are from Antrim primary School, their names, what they where doing and the year are all unknown.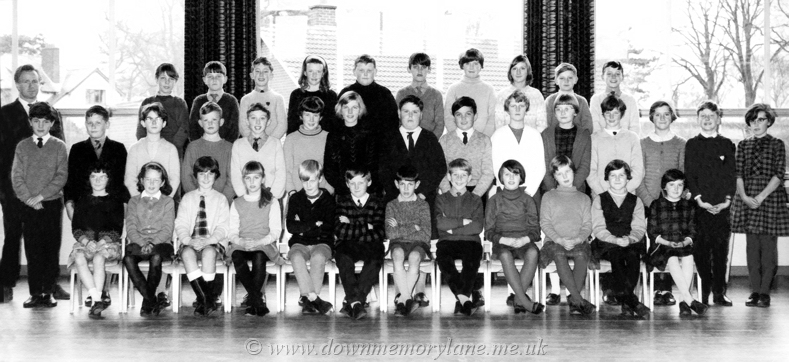 ANTRIM PRIMARY SCHOOL 549
This is Antrim Primary School and the teacher is of course Paddy Marks. The pupils and the year are unknown.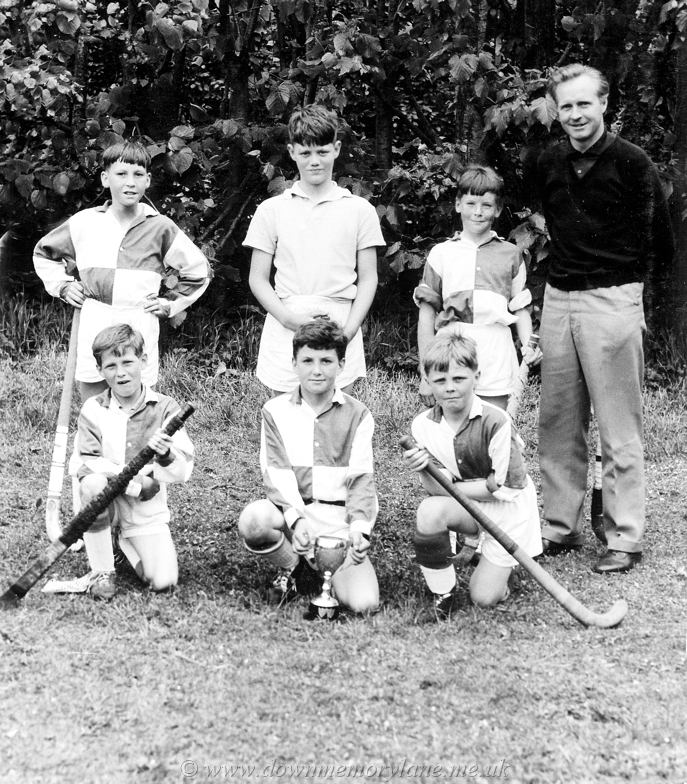 ANTRIM PRIMARY SCHOOL HOCKEY TEAM 518
This is Antrim Primary School Hockey Team who won the School's Cup six-a-side tournament in 1956.
Back Row: B. McCory, A. Gleghorn, I. Quigley and Paddy Marks (teacher and coach)
Front Row: A Peoples, N.Allen and T.Kelly.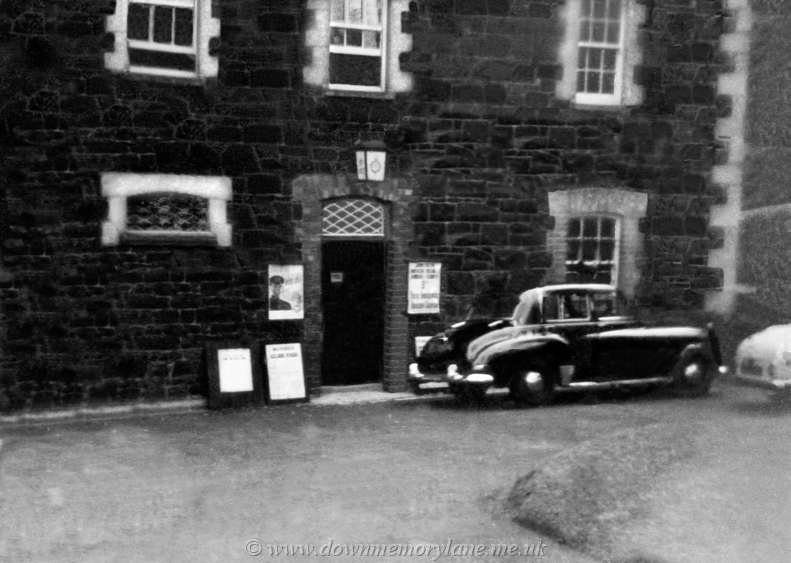 ANTRIM NATIONAL SCHOOL 1126
This is the class of 1894 of Antrim National School which was in Fountain Street.
Look at the stern expression on the Headmaster on the left and the master on the right. No wonder none of the pupils are smiling, sadly none are known.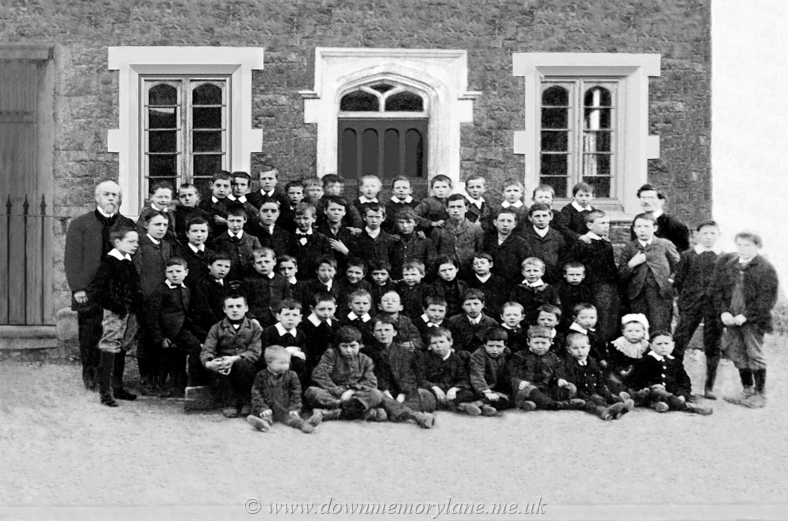 ANTRIM POLICE STATION 2594
This is Antrim Police Station back in the 50's when it was next to the Barbican Gate.
The car is a police car and it was a Wolseley series III.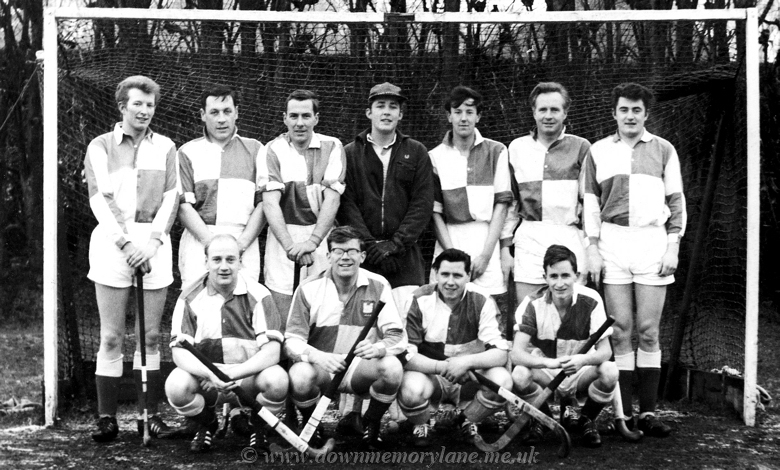 ANTRIM HOCKEY CLUB 512
This is Antrim Hockey Club in 1965.
In the back row are A. Crawford, J. Creighton, D. Duffield, A. Carson, B. McCabe, Paddy Marks and C. Carson. In front we have F. Baird, M. Campbell, J. McKee and B. Harkness.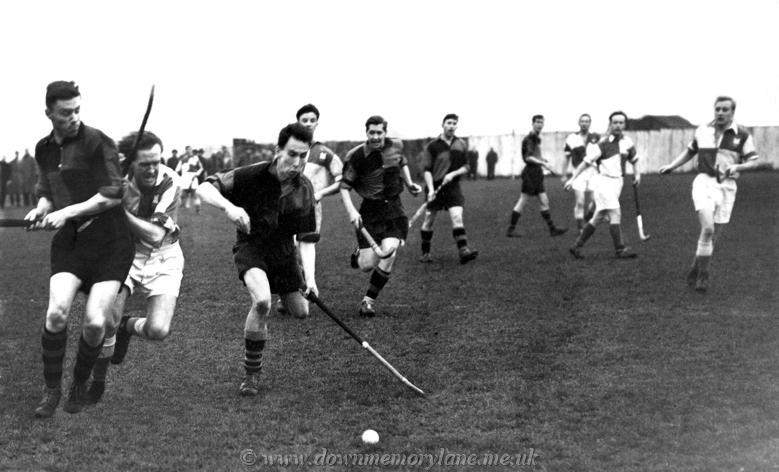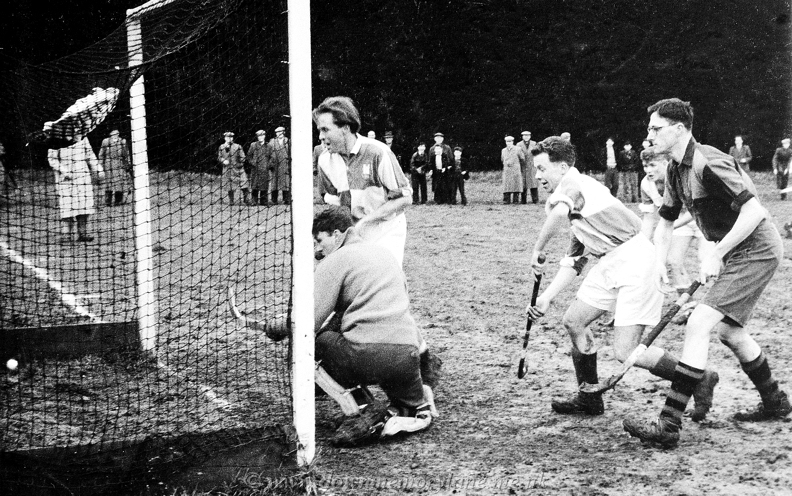 ANTRIM HOCKEY CLUB 514
Antrim has enjoyed peaks and troughs on the sporting field over the years, but they have consistently punched above their weight on the hockey field.There have been many great exponents of the game who have pulled on local colours, such as the late Alvin Carson, but others have made their own indelible niche too. Few would deny former mayor Paddy Marks a place on that list, and to the left of this picture - taken in 1958 - you can see the sort of passion that made him a local legend!
ANTRIM HOCKEY CLUB 515
This Paddy Marks scoring a goal in 1958.
His team mates behind him are Alan Curry and Michael Campbell. It just shows you how good Paddy was for the goalkeeper is GB Olympian Harry Cahill who played for Belfast YMCA.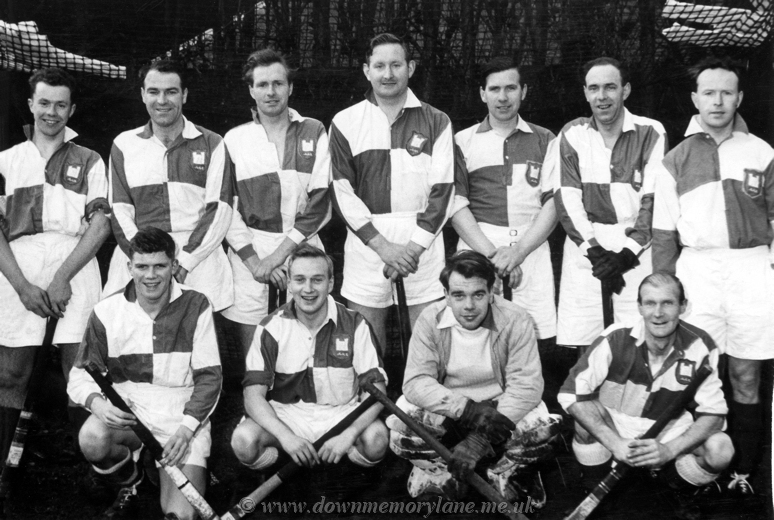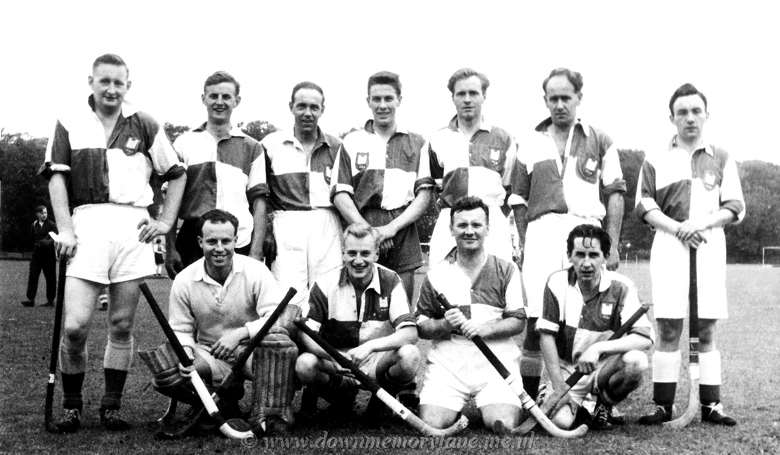 ANTRIM HOCKEY CLUB 503
This is Antrim Hockey Club in 1958.
Back Row: Allen Currie, Derek Cupples, Paddy Marks, R. Fawcett, G. McBurney, Tom Allen and J.Patterson.
Front Row: Michael Campbell, Francis Baird, Robin Fleming and Sammy Wallace.
ANTRIM HOCKEY CLUB 511
This is the Antrim Hockey Team in 1957.
B.Row: Bobby Facwett, Norman Buick, Tom Allen, Dave Dulfield, Paddy Marks, Ronnie Ludlow and Ricky Craig.
F.Row: Francis Baird, Unknown and George Harris.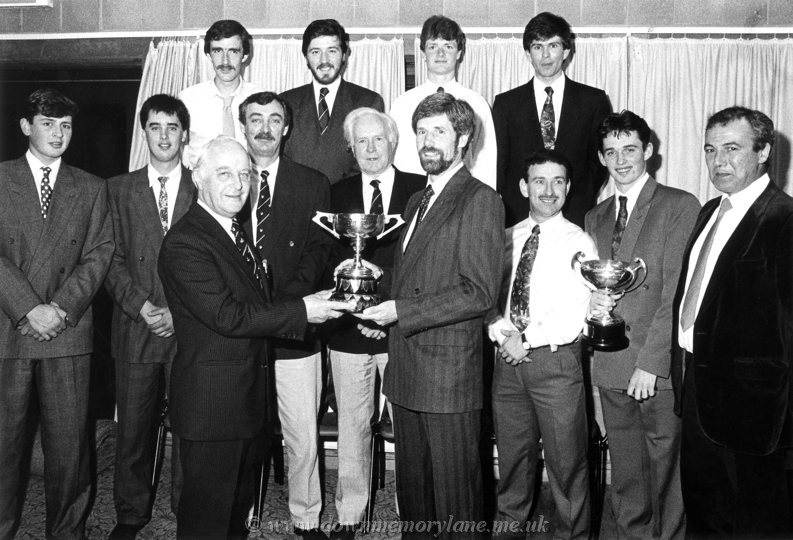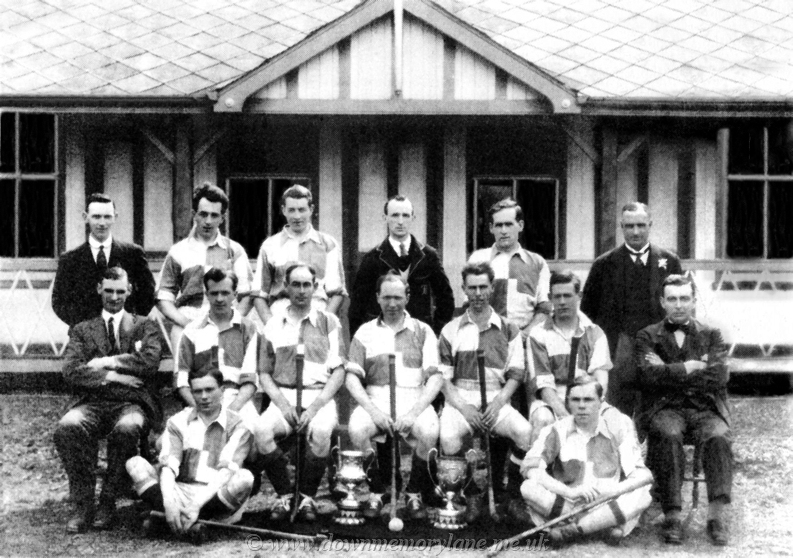 ANTRIM HOCKEY CLUB 506
Here we stroll just back to 1991 and the annual prize distribution at Antrim Hockey Club. Many of - - - these men remain influential figures in the local game though, some are no longer here.- - - Back Row: you can see R. Gibson, Ian Allen, P.Goodrich and S.Mawhinney. - - - - - - - - -- - - -Middle Row:are I.Creighton, M.Kane, T. Carson, Marks, D. Mailey, M.Mailey and J. Witherspoon. Front Row: presenting the cup to D.Haugh is the late Bobby Peacocke, the PRO for the club and for many years a regular contributor to the Guardian.
ANTRIM HOCKEY CLUB 76
Proudly showing off the Kirk Cup and the Irish League Cup for the season of 1928 - 29 we have members and players of Antrim Hockey Club in 1929.
Back row: are T.Thompson, Jack McKillop, W.Morrison, W.Burrows, D.Guigley and R.Clark. - - - - -Front Row: seated are N.Clark, J.McKillop, J.Hannon, H.Curry, J.Wallace, G.Clark and T.Coulter. On the ground we have L.Campbell and A.McKee.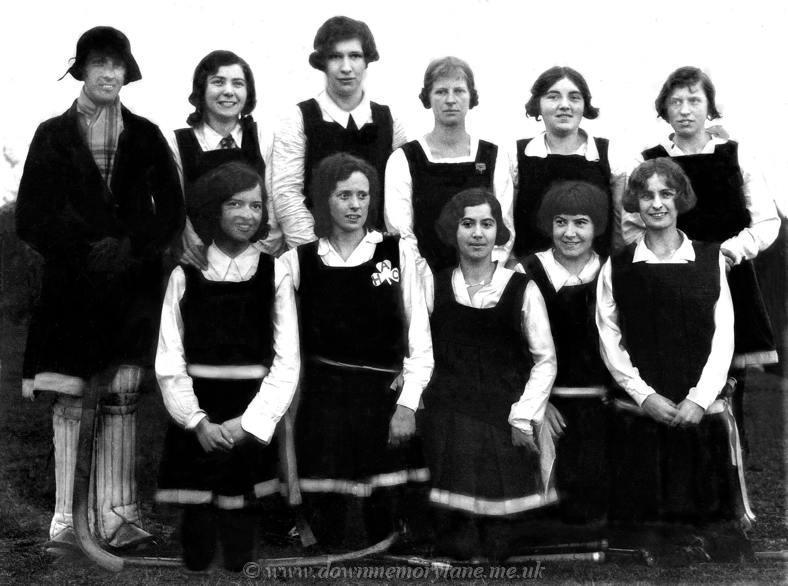 ANTRIM HOCKEY CLUB 508
This fine looking group of women carried the flag for Antrim in the 1930 Ulster Hockey Finals at Coleraine. Clearly taken in a more modest age, they reportedly still played like troopers in their - - - - - - - - - - - - - - - - -- - -bid to wrestle the White Cup from rival Derry.- - - - - - - - - - - - - - --Back Row: are Fran Johnston, Ena Finlay, Unknown, Miss Holmes, Unknown and D. Forsythe - - - - - - - - - - - - - - - - - - - -- - - - - - - - -(nee Campbell).- - - - - - - - - - -- -- -- - - - - - - - - - - Front Row: are K. McKillop, G.Smith (nee Beggs), Eileen Young, Jean Erskine (nee Young) and Miss Gamble. Does anyone know who won?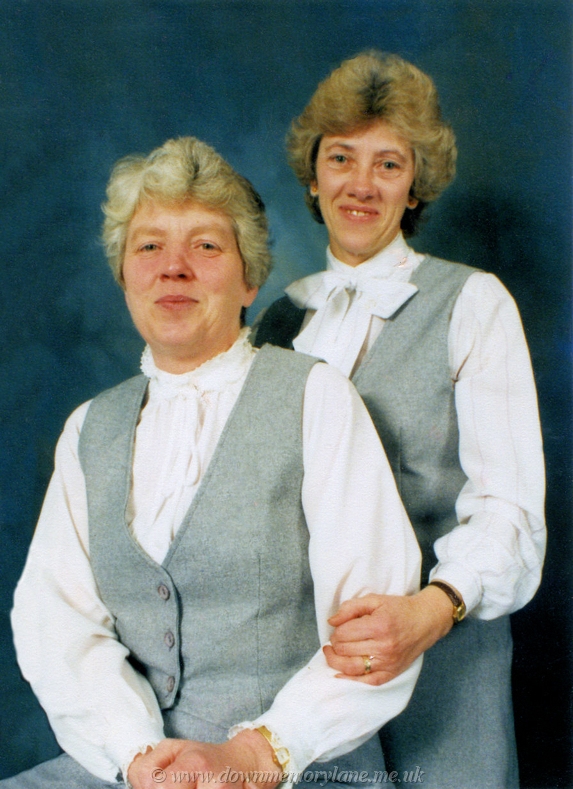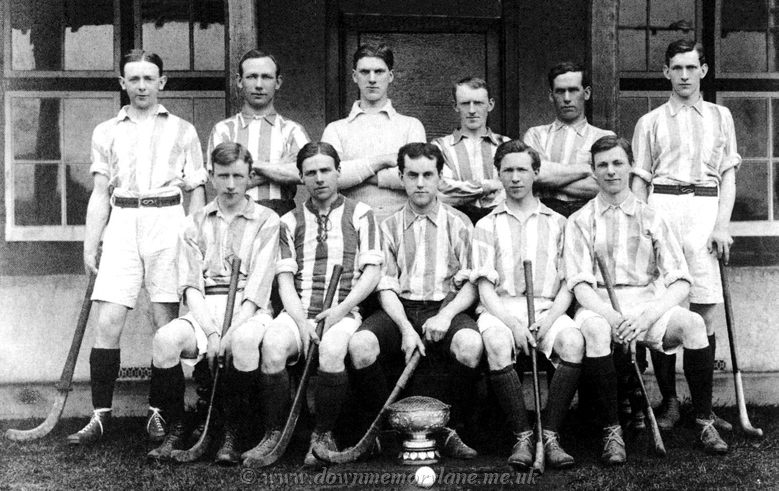 ANTRIM HOCKEY TEAM 654
This vintage picture, taken outside the ever-popular Massereene GC clubhouse in 1913. No prizes for guessing that this yet another all-conquering Antrim Hockey Club squad from yester year, proudly posing with the Junior League - Davison Cup. At the moment the players are unknown.
ANTRIM PRIMARY SCHOOL 2386
As the pupils where getting their school photos taken Madge Creighton and Betty Steele decided to get in on the act.Here they are in the 1980's when they were members of the office staff at Antrim Primary School.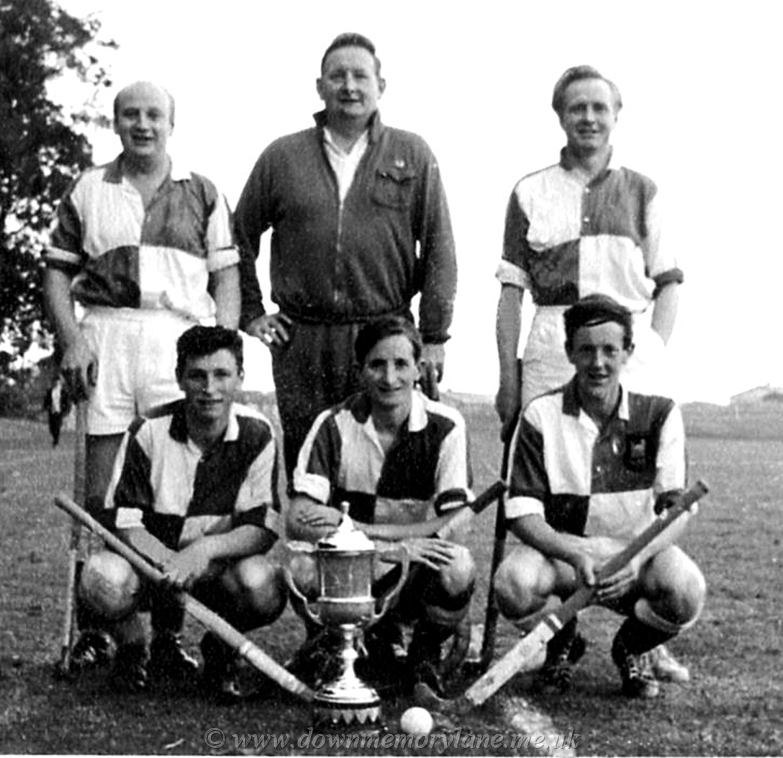 ANTRIM HOCKEY TEAM 556
This Antrim Hockey team after wining the Maxwell Cup in a Bangor six-a-side tournament in 1966.
Back Row: F.Baird, S. Fawcett and Paddy Marks.
Front Row: R. Mailey, B.Harkness and B.McCabe.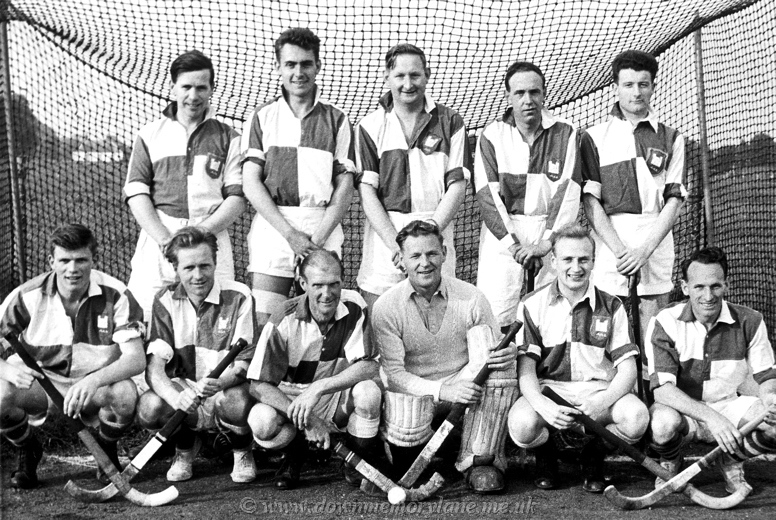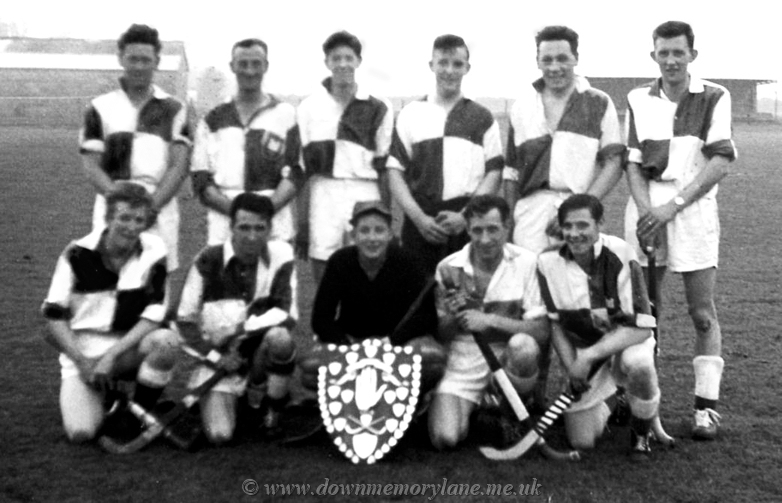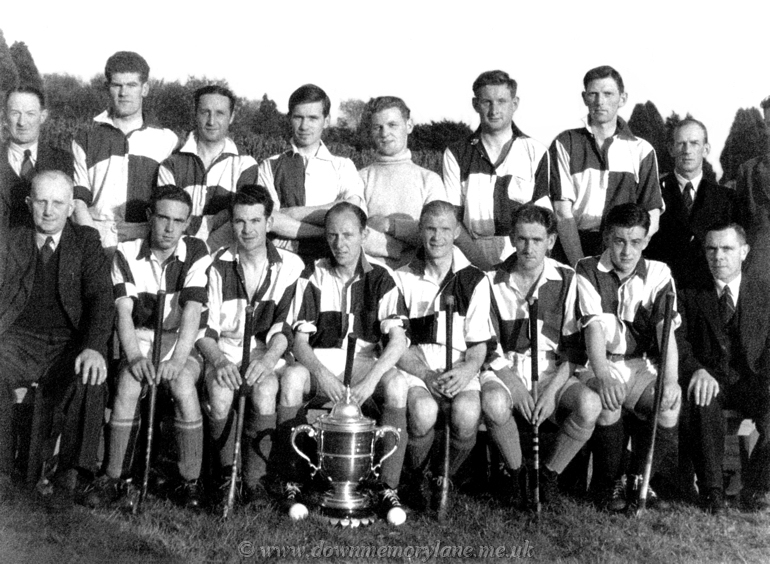 ANTRIM HOCKEY CLUB 504
This is Antrim hockey Club the year is unknown.
Back Row: George.McBurney, Jim Bersford, Bobby Fossett, Tom Allen, and E. Rainey.
Front Row: Michael Campbell, Paddy Marks, Sammy Wallace, Joe Lavery, F. Baird and Chris Quigley.
ANTRIM HOCKEY TEAM 836
This is the Antrim Firsts - Winners of the Anderson Cup - in late 40's or early 50's.
Back Row: Tommy Alexander, Billy Jarden, Percy Collins, George McBurney, Joe Lavery, Bob Fawcett, Johnny Graham and Tommy Hannan.
Front Row: Jimmy George, Tom Allen, Stanley Young, Billy Ludlow, Sammy Wallace, Ronnie Ludlow, Morris Hilland and Alex McKee
ANTRIM HOCKEY TEAM 582
This Antrim 3rds Hockey Team with the winners Braddell Shield in 1962.
B.Row: Tommy Rainey, Gerry Allen, Brain McCabe, Roy Jackson, John Greighton and Victor Fulton.
F.Row: Alan Crawford, Albert Anderson, Alvin Carson, Bobby McCormick and John McKee.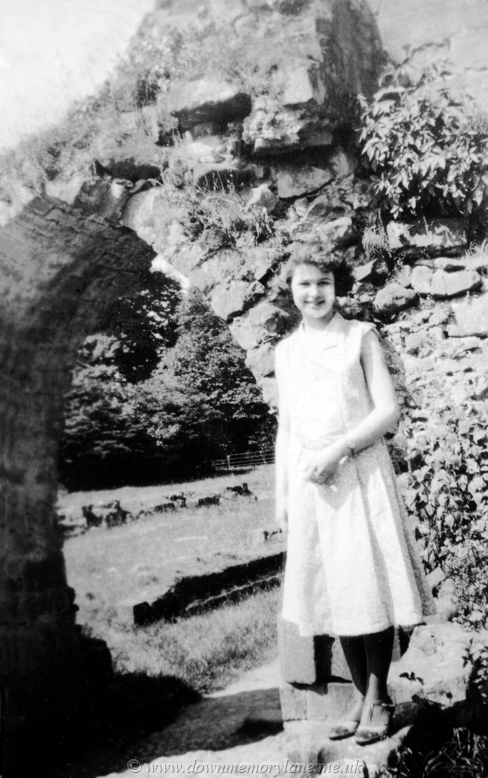 ANTRIM CASTLE GROUNDS 913
The girl standing next to the arch which is no longer there in the castle grounds is unknown and so is the year.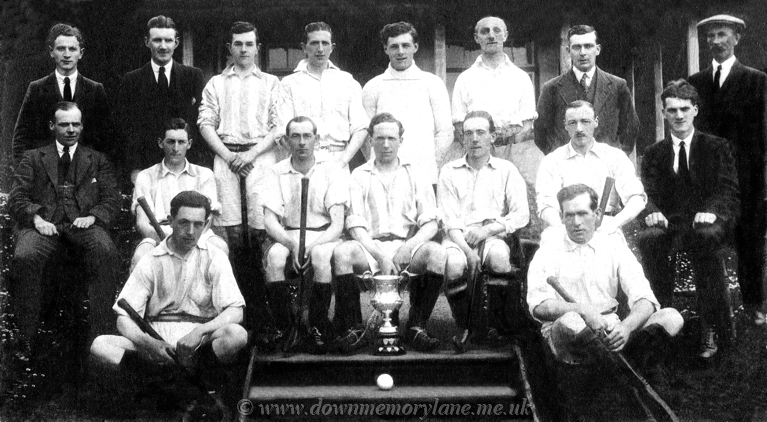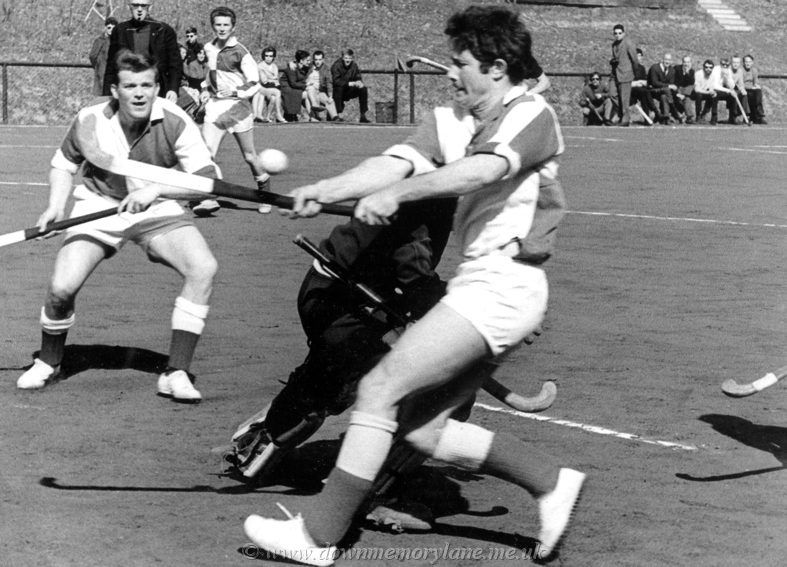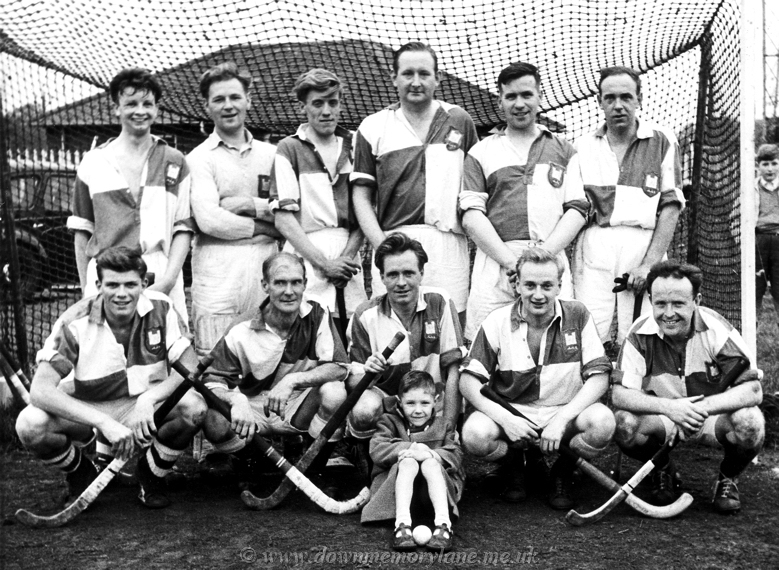 ANTRIM HOCKEY TEAM 519
Here we have Antrim Hockey Team proudly displaying some hard-earned silverware on the steps of the Clubhouse at Massereene. I've been reliably informed that this was taken in the early years of the 20th century, though I've been unable to get the name of the cup on display.
The goalkeeper, third from the left in the back row is Paddy McCormick. Including Sam Henderson in the second row who was a reporter for the Belfast Telegraph and in the front row either side we have Jack McKillop and David Quigley.
ANTRIM HOCKEY TEAM 517
The spectators look on in awe as Michael Campbell and Brian Craig team up to score for Antrim. They were just one of the winning partnerships to have made their mark with the squad during an illustrious spell as one of the most feared teams in the local game. A number of players, including Alvin Carson, went on to international glory.
ANTRIM HOCKEY CLUB 502
This is Antrim Hockey Club team in 1959.
Back Row: W. Ramsey, J. Lavery, H. McGrugan, R. Fawcett, G. McBurney and Tom Allen.
Front Row: M.Campbell, Sammy Wallace, Paddy Marks (Captain), Francey Baird, J.Patterson and the little boy is Brian Wallace.
Can anyone identify the boy on the right behind the goals?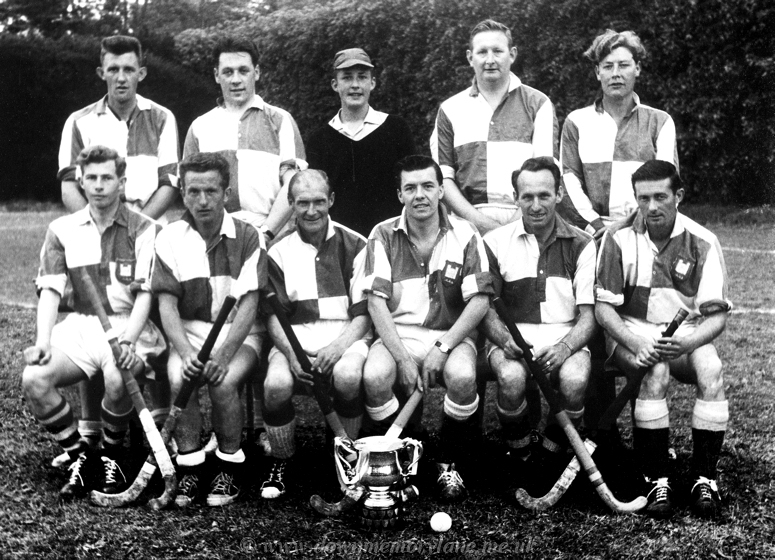 ANTRIM HOCKEY CLUB 548
Antrim Hockey Club proudly displaying more silverware, against the traditional backdrop of - - -- - - - - - - - - - - - - - - - - - - - - - -Antrim-Castle Grounds.- - - - - - - - - - - - - - - - - - - - - --- - - - - Back Row: has V.Fulton, J.Creighton, Alvin Carson, R. Fawcett and Joe Ashe. - - - - - - - - - - - Front row: are Dickie Rowe, J.Brown, Sammy Wallace, W.Williamson captain, C. Quigley and S.Kyle.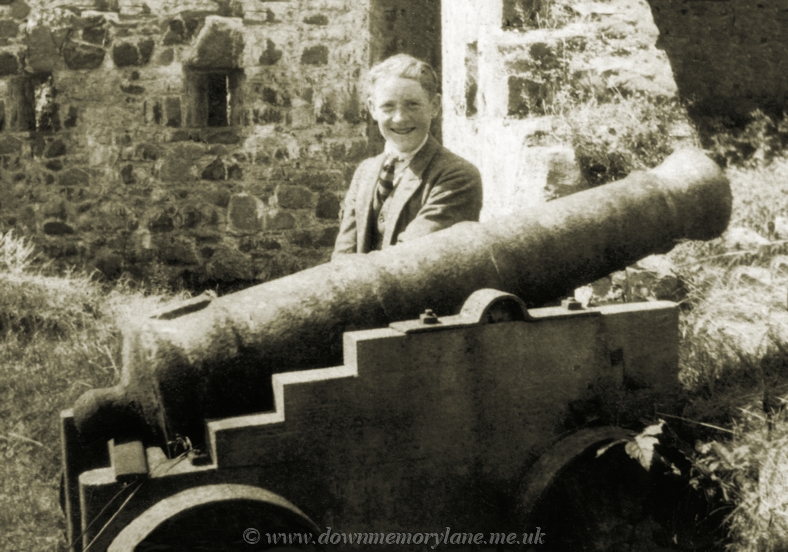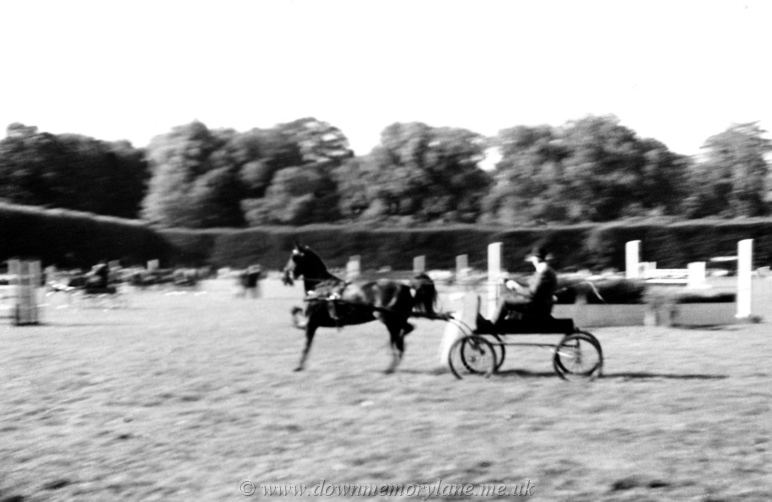 ANTRIM CASTLE GROUNDS 849
This view taken in 1924 from the back wall of the castle and in the background is the Deerpark bridge. The steps to the right lead up to the castle - Sadly the steps have another story to tell and that is that one of the 'Lordies' fell down these steps and broke his neck. Local man Rodney McCullough
remembers there being a tunnel next to the steps, it is still there and it leads to the pump house. The cannon has been found and will be back sometime in the future but sadly not in the Castle grounds due to vandalism. It now stands on the Castle wall in Market Square.
ANTRIM CASTLE GROUNDS 473
This equestrian event took place in the Castle grounds, the man and the year are unknown.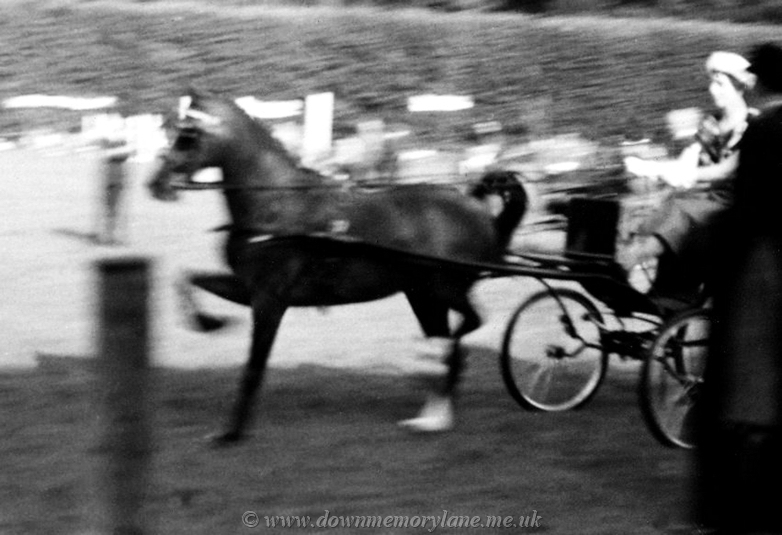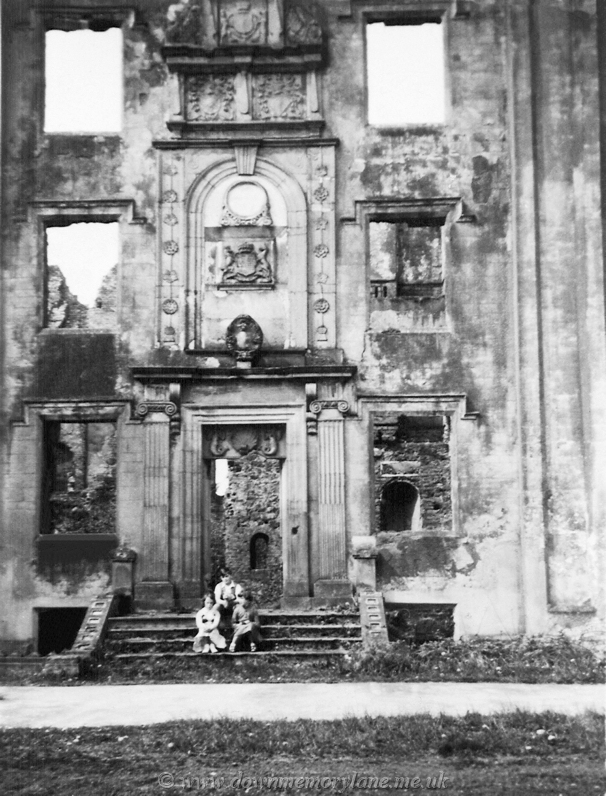 ANTRIM CASTLE 829
This photograph of the front of the Castle in 1953 lets you see some of the details inside.
Seated on the steps is Allen Gillespie in in front of him is Patrica Wilson with her cousin Caroline McCrea. The picture was taken using a wooden 620 Popular box Brownie by Desmond Gillespie who still has the camera.
ANTRIM CASTLE GROUNDS 474
This equestrian event took place in the Castle grounds, the Lady and the year are unknown.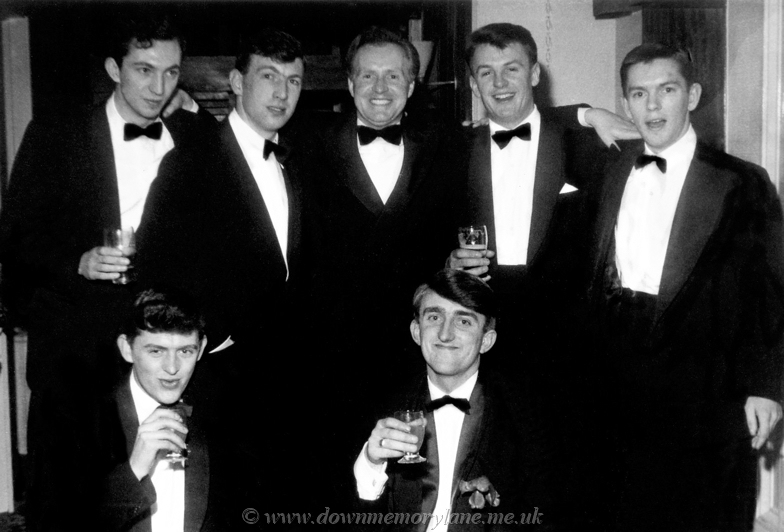 HOCKEY CLUB MEMBERS 1829
Out having a good time off the field are these members of Hockey Clubs at Cliftonville's club dinner in the Wellington Park Hotel in 1965.
Back Row: has Peter Bowen - Cliftonville H.C, Brian Mairs - Friends School Old Boys H.C, Paddy - - - Marks - Antrim H.C, Derek Shaw - Lisnagarvey H.C. and Roy Colvin - Ciftonville H.C. - - - - Front Row: are Billy Hayes - Cliftonville H.C. and Joe Turkington - Cliftonville H.C.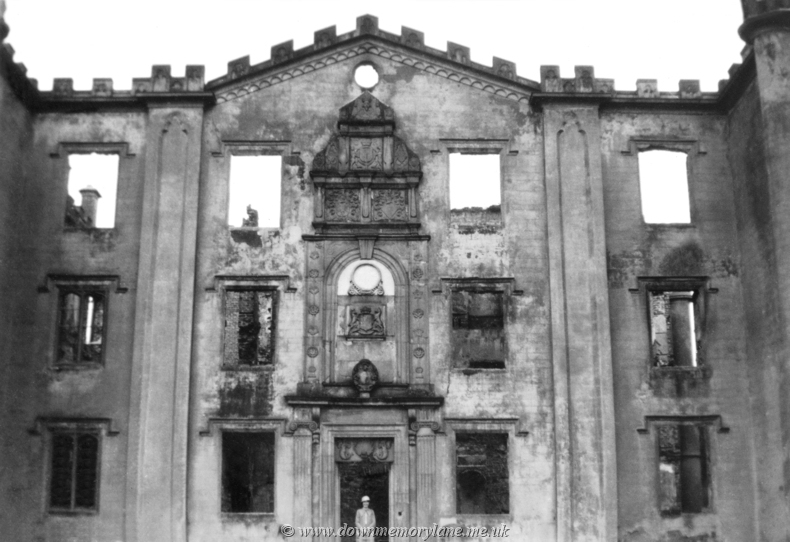 ANTRIM CASTLE 924
This photograph of Antrim Castle in 1932 shows in great detail the Jacobean cut-stone armorial bearings. The lady in the doorway is unknown, the vandals have not started yet as to your left the windows are still intact.
As King Charles I gave land to the Clotworthy family so a carved head of Charles I with the Royal letters underneath; 'C' on one side of the crown and 'R' on the other. Below these are two shields, one shows the coat of arms of Sir Hugh Clotworthy and the other coat of arms is of his wife - Mary Langford, and the date is between them. On the dextor, 'Castrum hoc cond'; and in the centre, 'Decimo maii'; and under the initials 'H. C,' and
M. C.' on the sinister we have 'Anno domino 1613'. Below this is the inscription, 'Reno c. comes Massereene, MDCCIII', this was put there on instructions from Chichester,we have 'Anno domino 1613'. Below this is the inscription, 'Reno c. comes Massereene, MDCCIII', this was put there on instructions from Chichester, 4th Earl of Massereene. Next we have the arms of Clotworthy, 4th Viscount Massereene, with the arms of Chichester impaled. Then on down on the circular slab is the following: 'HOC CASTELLUM AUSPICE JOANNE CLOTWORTHY UNDECIMO VICE COMITE MASSEREENE REFECTUM ET AMPLIFICATUM
EST A.D. MDCCCLXXXIX'.

Now if anyone can put a name to any of the "Unknowns" and if any are wrongly named in the Antrim Tec photos please let me know at len.kinley@hotmail.com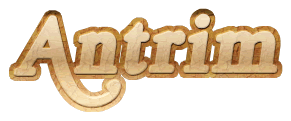 Pages: