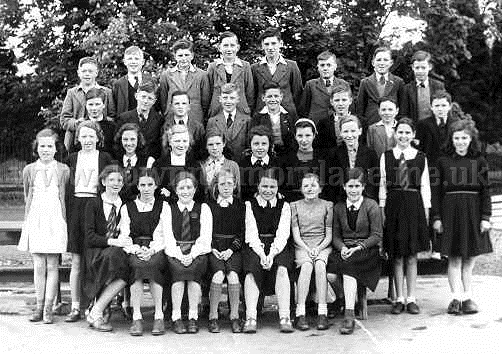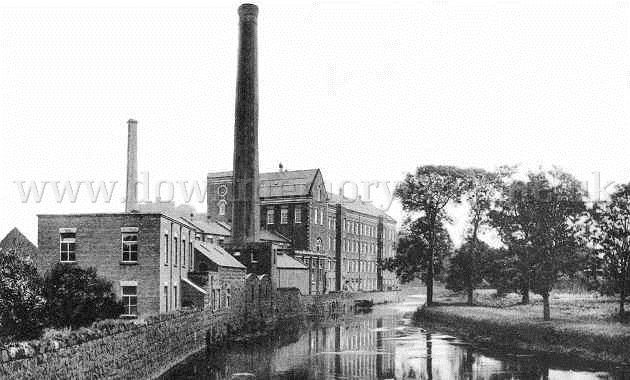 BALLYMENA MODEL SCHOOL 560
This class of 1949 pupils are from Ballymena Model School but as usual a lot came from Antrim as well.
Up at the back we have Tom Reynolds, David McKillen, Harold Dickey, George Campbell, Tom Irwin, John McMillan, Wilfred McVeigh and Ivor Lennox.
. . Next row has Sammy Marcus, Unknown, Jack Robinson, Jim Barr, Dennis Hogg, Sam Murray, Gerald Alexander and Ivor McDowell. Now for the girls Miss Dunlop, June Carson, Betty Adams, Jeanette Lowery, Nan Gardiner, Lila McCory, Noreen Jenkins, Betty McBride, Yvonne McClurg and Rita ?.
Then seated are Margaret Nesbitt, Kathleen McCurdy, Nan Weir, Rosemary Steele, Ann Hilton, Maureen Whylie and Gwyneth Erwin.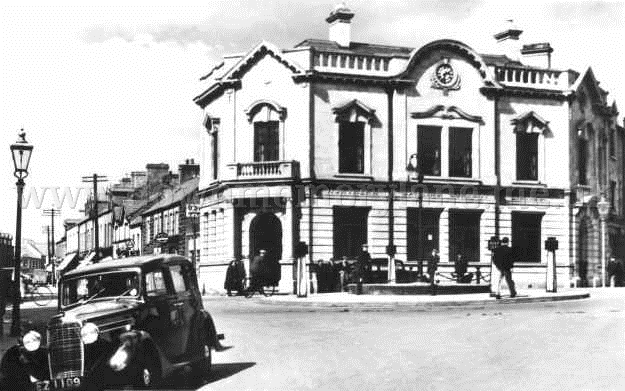 BRAIDWATER SPINNING MILL 746
This is the Braidwater Spinning Mill in Ballymena, the year is unknown.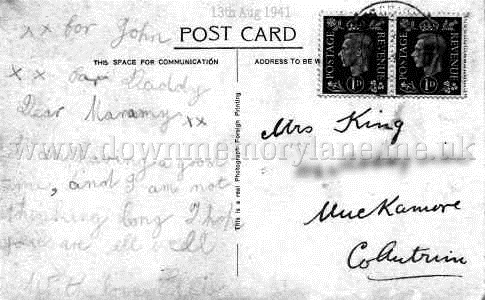 BROADWAY 747
Broadway in Ballymena with the Northen Bank in the background.
The year is 1941 and this was a postcard.
This is back of the above postcard. It reads as follows:
xx for John xx for Daddy
Dear Mammy xx I am having a good time, and I am not thinking long. I hope you are all well. With love Elsie.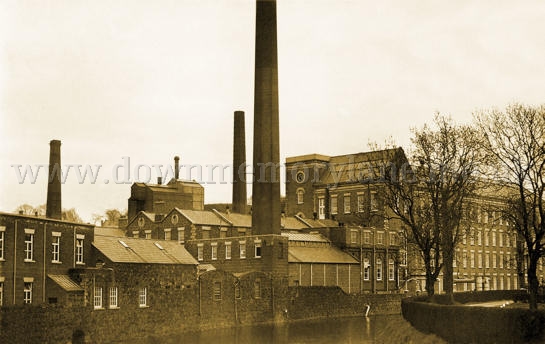 BRAIDWATER SPINNING MILL 2215
Here's a scene that is now long gone, the Braidwater Spinning Mill.
The year this photograph was taken is unknown but it was taken at 3 pm according to the clock on the wall.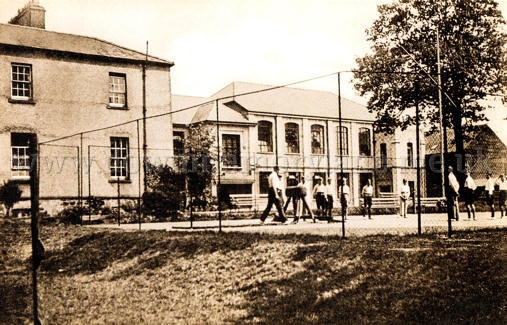 BILLY'S CREW 2017
Standing in front of their Lanscaster bomber being photographed during World War II.
Sadly all I know is what was on the back of the photograph "Billy's Crew".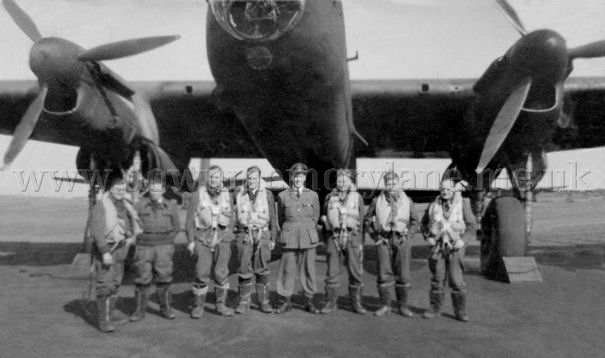 BALLYMENA ACADEMY 2216
This is Ballymena Academy in the 1960's and these poor lads are going to be doing the dredded P.E. As you can see the teacher has just laid down the mat for them to start jumping over the 'Horse'.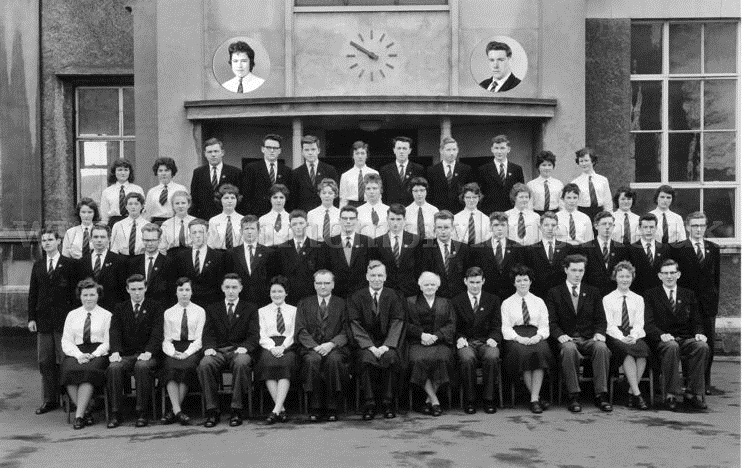 BALLYMENA ACADEMY PREFECTS 2476
This is Ballymena Academy Prefects 1959/60 having their photograph taken, now this was in the days before there was an Antrim Grammar school.
So you will see the quite a number of the pupils are from the Antrim - Randalstown Area.
At the back from the left E McKillen, E Bell, Unknown, G Simpson, Unknown, Unknown, Unknown, M Livingston, J Crawford, B Turtle and B Gaston.
In the 3rd row are M Greer, M McClelland, M Johnston, Moria O'Neill, Unknown, Unknown, Kathleen McCullough, Unknown, Unknown, Unknown, P Catherwood, Jayne McCaughey and M Kirpatrick.
The 2nd row has U Matthews, L McCaughey, J Simpson, JJL Francey, A Jack, J Edmundson, R Craig, Unknown, R McCosh, Unknown, Unknown, R Dickey, M Cairns and R Harris.
The front row consists of Hazel Crawford, T Speers, B Gawn, M Bones, G Jackson, Mr Preston, Mr Mol, Miss Kyle, J Gaston, Unknown, Unkown, D Montgomery and S Coulter.
Finally the two inserts are of A McAteer and H Marcus who became a well known butcher in Antrim.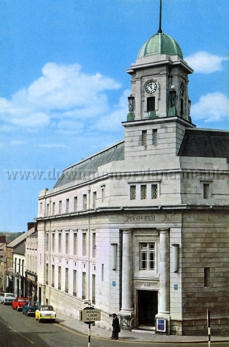 BALLYMENA TOWN HALL 2219
It's seven minutes to twelve and this is the Town Hall in Ballymena in the 60's.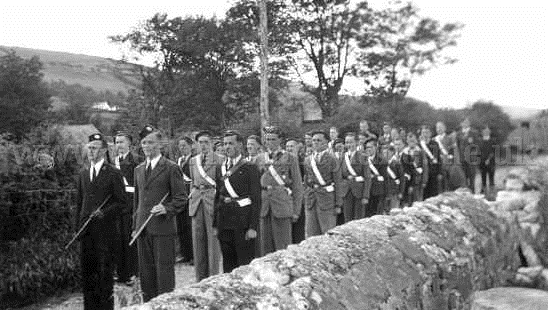 BOYS BRIGADE 1370
Down at Carnlough for summer camp in July of 1946 we have 3rd Ballymena Boys Brigade Company.
It's a Sunday morning and they are just ready to march off to church, at the moment no one is known in the photograph.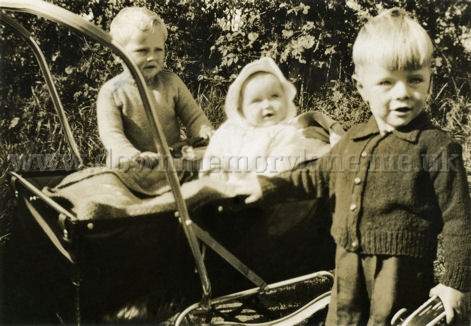 BLACKBOURNE CHILDREN 1591
Looking after their baby sister Marnie at their home called "Lynwood" on the Old Cullybacky Road in October 1939 we have standing at the back Cedric, in front is his older brother Liam Blackbourne who is holding tight to his toy racing car.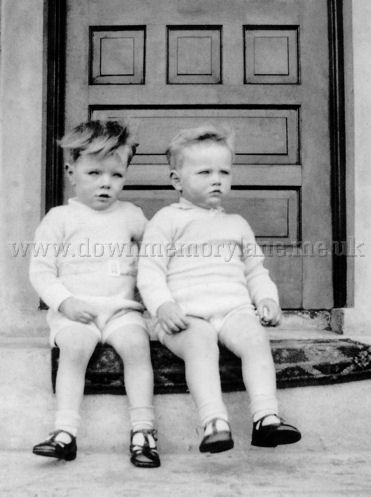 BROTHERS 1595
Getting their photograph taken on the steps of their home on the Old Cullybackey Road in April 1939.
We have William Samuel Blackbourne and his brother George Cedric Blackbourne.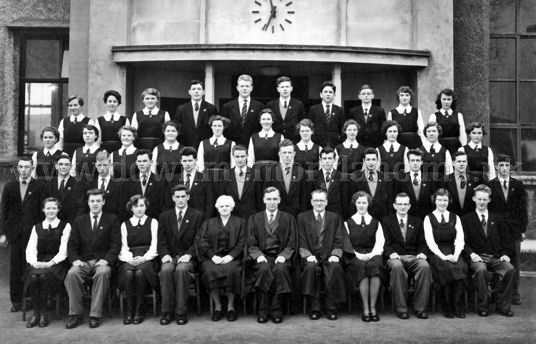 BALLYMENA ACADEMY SCHOOL 1814
It's nearly 11.35am in 1957 and these are the Prefects of Ballymena Academy School getting their photograph taken with the Principal Willie Moll.
In the front row 2nd from the left is Master McKinney who became an estate agent and 9th along is James Irvine who also became an estate agent.
Next to him is his sister Miss Irvine, now in the back row centre is Tom Nicholl who became a teacher.
The following names were on the back of the photograph: James McKeown, R. Anderson, Alye Rankin, A. Chambers, Wallace Allen and James S. Kirk.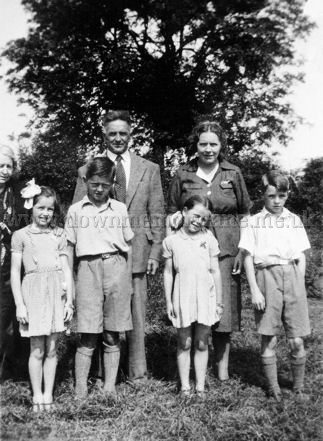 BLACKBOURNE FAMILY 1601
Out for an evening walk we have the Blackbourne family getting their photograph taken in August 1941.
To the left and nearly out of the picture is Granny Mary Blackbourne, then her son William with his wife Annie.
In front on the left are the children Marnie, then Cedric, Doris and finally Liam.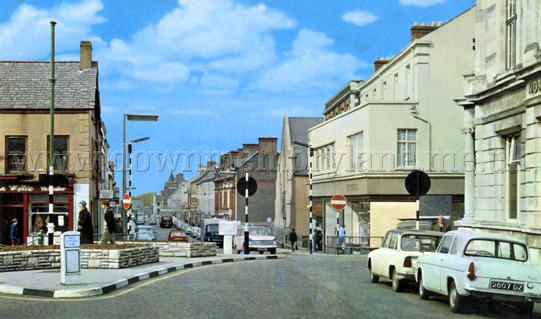 BALLYMENA TOWN 2217
Here we are in Ballymena town at the Broadway in the 60's and you can see Wellington Street and on the left Church Street.
UPPER BUCKNA PRIMARY SCHOOL 3003
Here is a photo of pupils and teachers at Upper Buckna Primary School in 1957 that was four miles east of Broughshane.
At the back from the left we have Miss Agnes Montgomery, Charlie Davison, Drew Davison, Raymond Davison, Andy McKillop, Robert Gibson, Paddy McKendry, Raymond Moore and Mrs Boyle.
In the 3rd row are Moyna McCullough, Anna Kennedy, Mary Smith, Elizabeth Wallace, Jean Davison, Elsie Dickey, Maureen Mills, Margaret Davison, Betty Bamber and Hazel Bamber.
The second row has Hugh Gibson, Margaret McKendry, Clara Gibson, Josephine Graham, Nartha Davison and Willie John Moore.
Seated are Cecil Dickey, John Gibson, Donny Robinson, Drea Robinson, Robert Davison, Moira Davison, James Moore, Billy Mills and James Kennedy.
Sadly the School is no longer in use. Buckna's meaning in Irish is Hilly.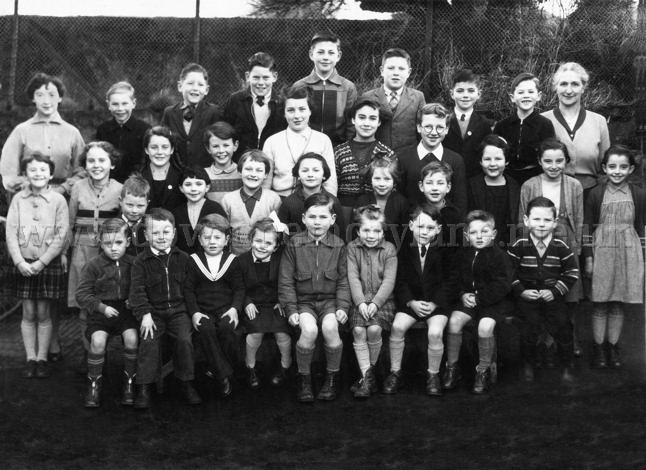 UPPER BUCKNA PRIMARY SCHOOL 3002
Here we are at Buckna Primary School back in 1950 and all the pupils are having their annual school photograph taken.
At the Back from the Left are Jim Mills, Stanley Davison, Kenneth McMullan, Alex McMaster, Robert Moore, Sammy Moore, Maurice McMullan, Willie Moore, Andy Dickey and Jamie Graham.
In the 3rd row we have Jack Robinson, Moira O'Neill, Betty Graham, Mary Gibson, Elizabeth Moore, Dinah Aiken, Helen Montgomery, Margaret Robinson, Bertha Gibson and Gordon Smyth.
The 2nd row has Sam McMaster, Bertie Kennedy, Mary Boyle, Jean Davison, Elsie Dickey, Sally Davison, Rosemary Graham, Mary Wallace, Maureen Mills and Paddy McKendry.
Seated on the ground cross-legged are Joe Smyth, Felix McKendry, Ian Dickey, Andy Mills, Joe Adams, Albert Davison, Sam Wallace and Brian O'Neill.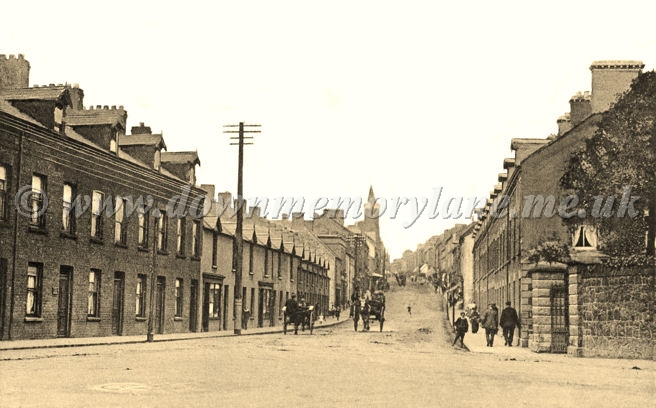 BALLYMENA 3277
Here we are in Ballymena in the early 1900's and as you can see no motor vehicles only horses so the road sweeper was a lot of work to do. Heading up the hill is a pony and trap passing a lovely big cart horse pulling a large cart while halfway up the road a little boy is running across the road. Over to the left the second door up has a plaque outside it, so it could be the local doctor - dentist or solicitor. Right opposite is a young boy who must have spotted the photographer for he is staring straight at them.
BRAIDWATER SPINNING MILL 3284
This is Braidwater Spinning Mill and all is quiet the chimney stacks are not smoking although steam is coming out of a vent.
The reason it is quiet is that the shift has finished work because it is twenty past six in the evening.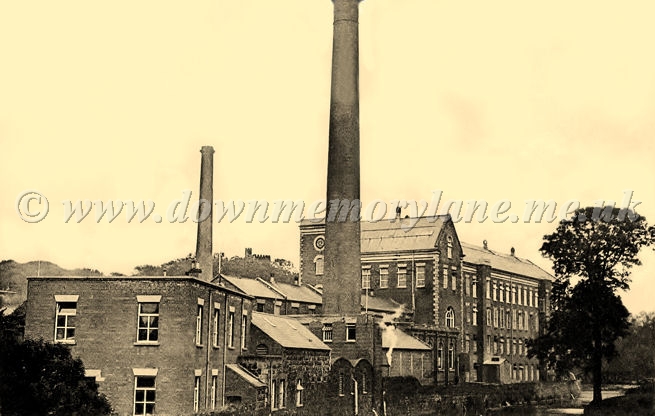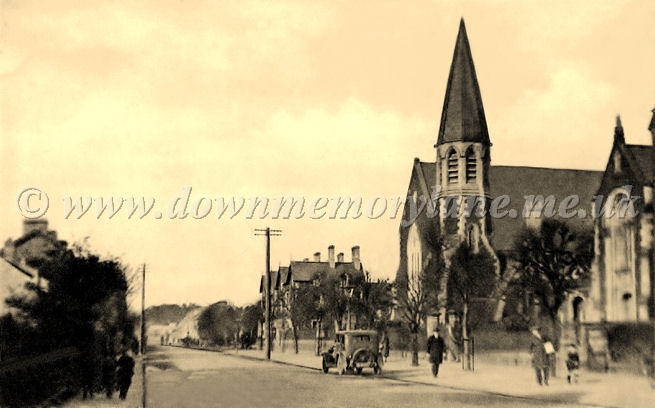 BALLYMONEY ROAD 3285
Here on the Ballymena Road in Ballymena in 1910 there is not too much traffic about only one car outside the churches.
Now it can't have been a Sunday for people back then walked to their places of worship even if it was a mile away!
The church on the right is unknown but the one of the left is is West Church.
Pages: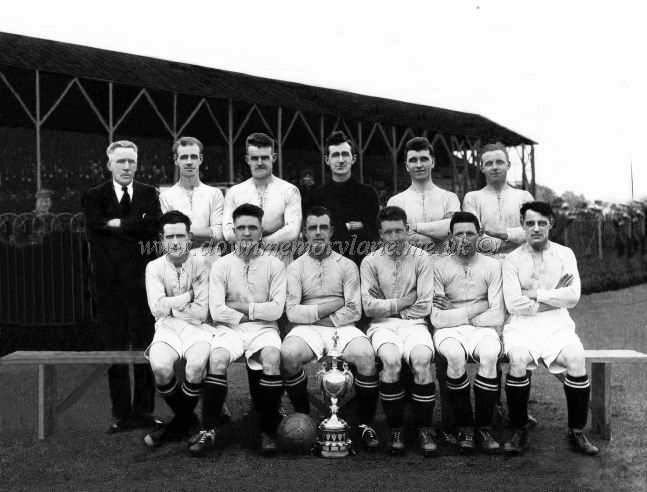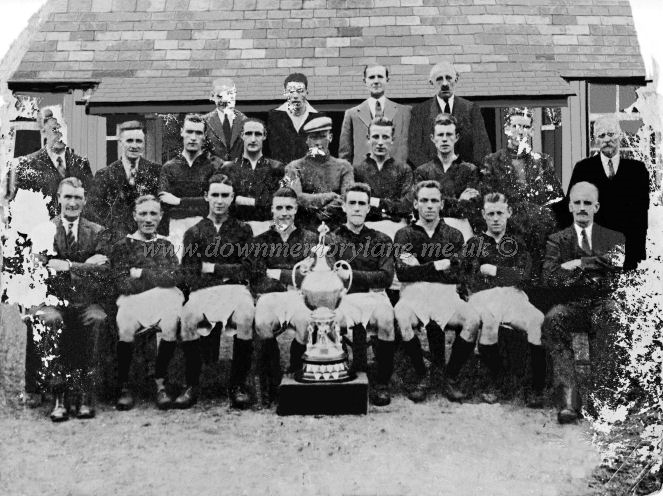 BALLYMENA UNITED 3794
I am told this is Ballymena United players, staff and management having their photograph taken for they had won the Irish Cup.
At the this moment they are all unknown as well as the year, but if you know better please let me know.

BALLYMENA UNITED 3793
This mighty team Ballymena United are mighty proud for they are the winners of the Irish Cup. The players at the moment are unknown if you know please let me know.
My thanks to one of the Prefects in the photograph who then was called Jayne McCaughey now Jayne Patterson from Australia for giving me more names.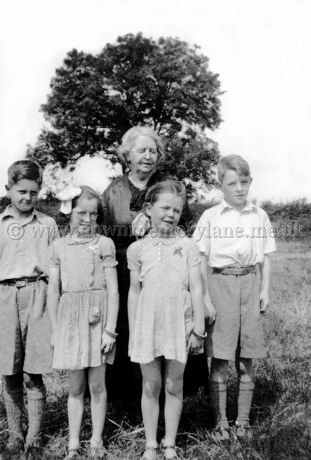 BLACKBOURNES 1598
Out for a walk in the fields with Granny Blackbourne in August 1947 we have Cedric, Marnie, Doris and Liam Blackbourne. Marnie and Doris have different coloured Lamb brooches on.