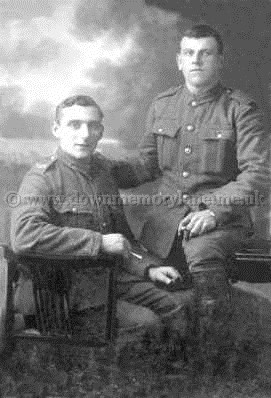 UNKNOWN SOLDIERS 1189
Sadly this portrait of the two young soldiers names are unknown. You can just make out the leather boots with buckles on the soldier on the right so possibly North Irish horse regiment.
Taken at The Ashleigh Studio 112 Royal Ave in Belfast.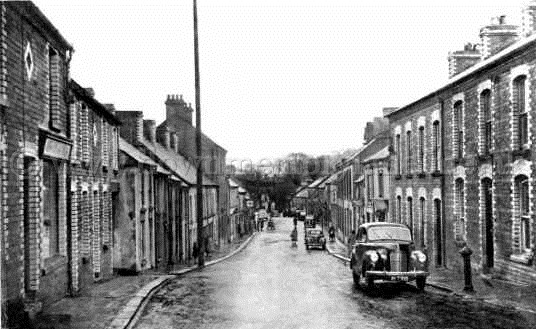 UPPER MAIN STREET 543
This Upper Main Street in Randalstown, over to your right you can see
a water pump from which you could quench your thirst.
The car is an Austin, the model I'm not sure of.
It is around the 1960's.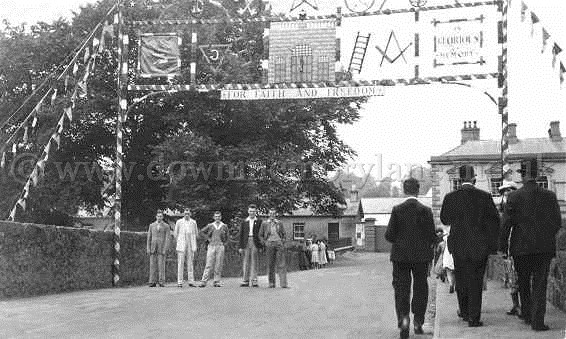 UNDER THE ARCH 1195
Standing underneath the arch at Randalstown these five young men are waiting for the procession to start. Behind them you can see some mothers
with their children waiting as well. The year is unknown but the style of clothes could put it around the late 50's.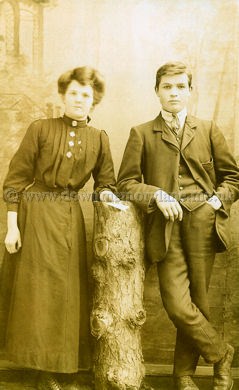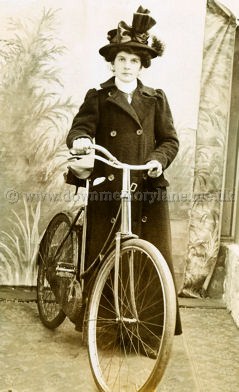 UNKNOWN 1667
Taken at Booth & Milner Photographers Studio's in Randalstown the young lady with the man are unknown and so is the year.
Looking at their faces they look like sister and brother, can anyone tell me who they are?

UNKNOWN 1666
Taken at Booth Photographer Studio's in Randalstown the young lady and the year are unknown.
Here she is posing with a ladies bicycle but surely she didn't wear that hat out cycling. The bike has only one brake, can anyone tell me how it worked?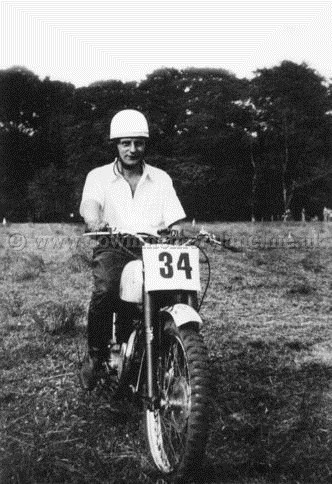 UNKNOWN RIDER 2355
Here in the grounds of Shane's castle during a racing event this rider poses for a photograph.
His name is unknown and also the year.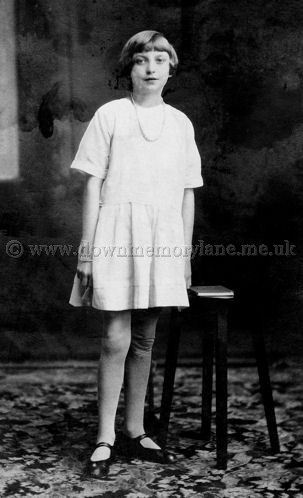 UNKNOWN GIRL 2396
Sadly this lovely young girl in this studio photograph is unknown to me.
All I know is that the photograph was taken at Abernethy's Studios at 29 High Street Belfast, they also had a branch at 115 Albertbridge Road Belfast.

Pages: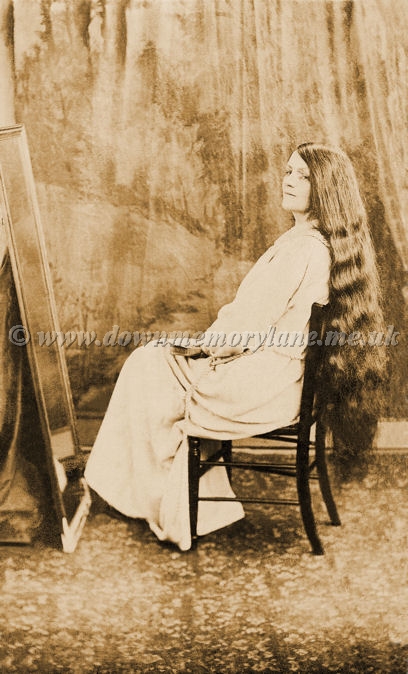 UNKNOWN 3384
Once more taken from a Randalstown photo album this studio photograph of the lady with such long hair and a hair brush in her hand is Unknown.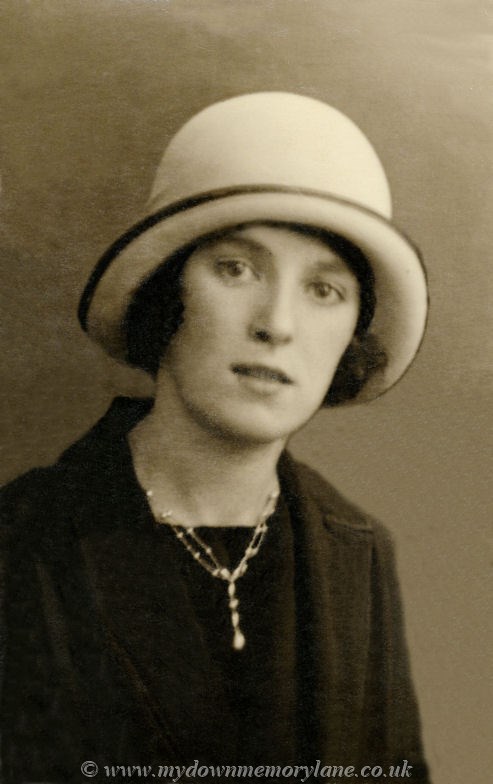 UNKNOWN 3385
This studio photograph which could have been taken in Randalstown the young lady with the 1920's stylish looking hat is sadly Unknown, unless you know better. If you do please let me know.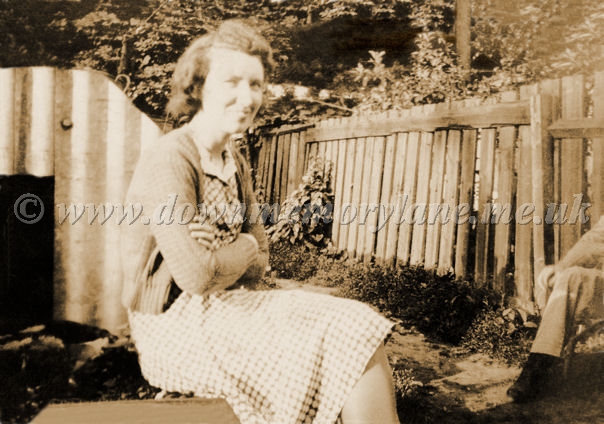 UNKNOWN 3386
Sitting in her back garden all smiles the lady is unknown. Taken sometime in the 1940's as you can tell by the 'Anderson Shelter' which was supposed to protect you from falling bombs. It was dug down into the ground ans as a result when it rained you ended up with a foot of water in it.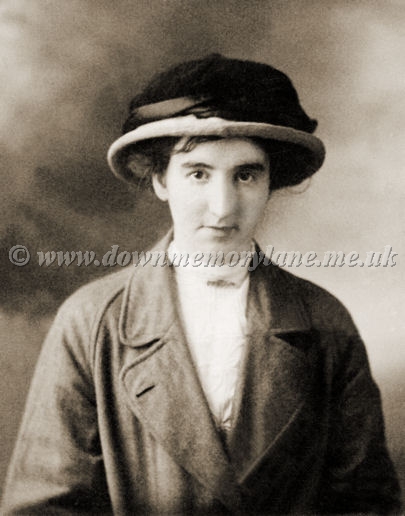 UNKNOWN LADY 3388
The apprehensive lady having her photograph is Unknown but the photograph came out of an Album in Randallstown.
Now if you know this lady please contact me to correct this information.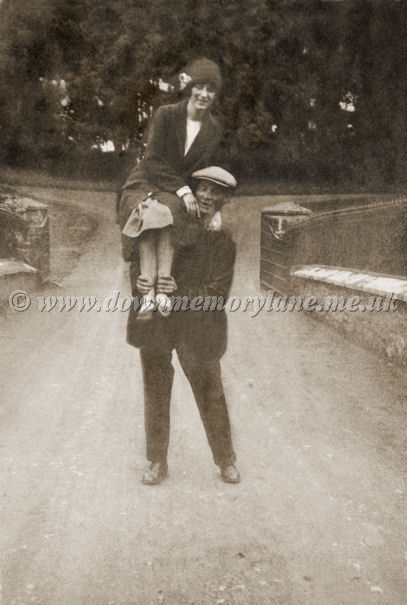 HAVING FUN 3393
Taken in the 1920's this daring couple decided to have some fun for the camera while crossing a bridge.
The girl looks quite relaxed and smiling at the photographer while the young man is smiling too and who wouldn't be back then.
The photograph was taken out of a Randalstown album but sadly no names where written on the back of it or in the album.
Even now with digital cameras, phones ect; a lot of people do not bother with information, but they will regret it in later years.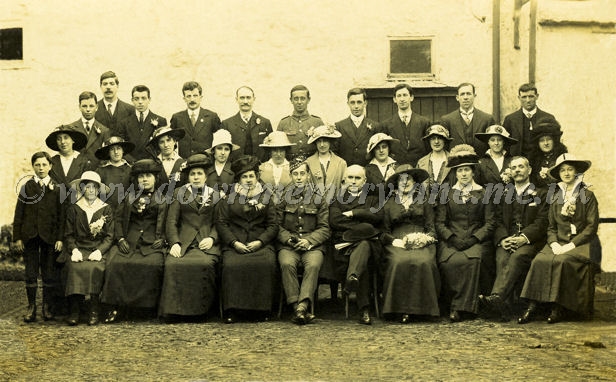 UNKNOWN SOLDIER'S WEDDING
Here we are at a soldier's wedding who is in a Scottish Regiment, I cannot make out his badge to say which regiment. The Scottish regiments did not just come from Scotland but from all over England and there was even one from Ireland! The photograph seems to have been taken at the back of the Church
And the minister was Lutheran and boy he looks like he'd take no nonsense, even sitting between the bride and groom, no holding hands here. If the photo had been in colour I could have said what he was. His cap known as a Glengarry and was made of wool was tilted over the right ear and more on the forehead, this was stopped after WWII and worn straight The trim around his Glengarry was in three sets of colours: the Red, White and blue was worn by the Royal Regiments and the other trim was Red, White and Green for all other regiments. Sadly I do not know anyone in the photograph please let know and I will send you a copy. All I can say is that I hope this photgraph was taken after the Great War so they could have a happy life.