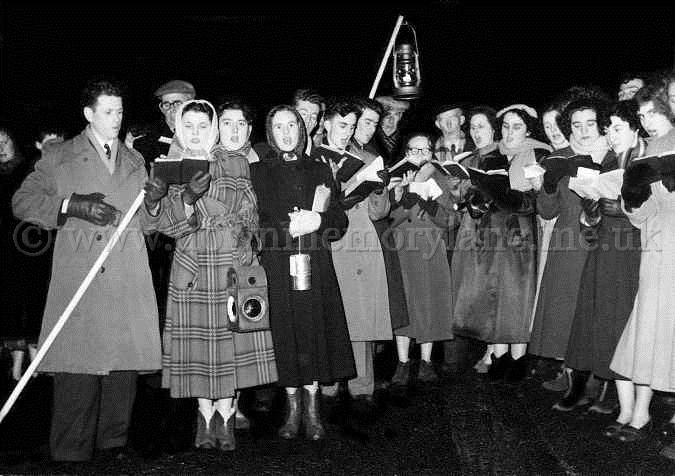 CAROL SINGERS 1237
These brave Randalstown Carol singers all wrapped up against the cold and singing their hearts out, the year is unknown.
David Jaminson is on the left, the small figure in the centre below the lamp is Doreen McIlroy and behind her is Mr Currie the local Optician. Next to Doreen is Betty Mullan then with scarf and beret is Doreen McIlroy and singing her heart out at the end on the right is Margaret Small.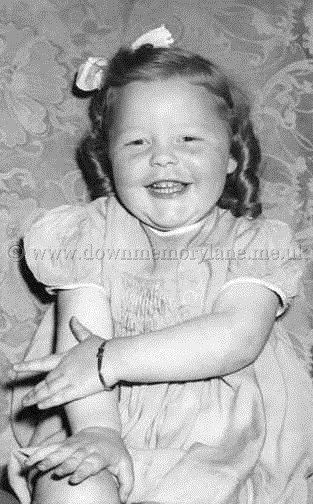 CELIA KIRKWOOD 1216
All smiles for the camera we have Celia Kirkwood aged 6 in 1964.
With that beautiful smile, lovely ringlets and cheeky eyes a lot of hearts are going to be broken.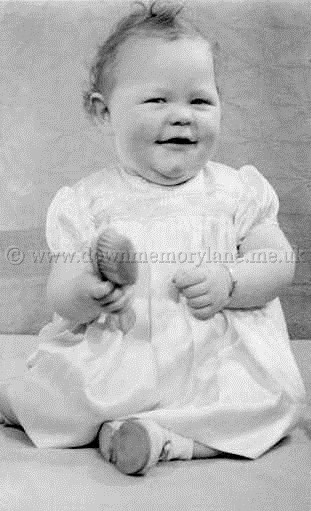 CELIA KIRKWOOD 1217
This bonny baby with her lovely dress and bracelet on has just done her hair with her brush.
Celia Kirkwood in 1958 has no problem smiling for the camera as she knows she's beautiful!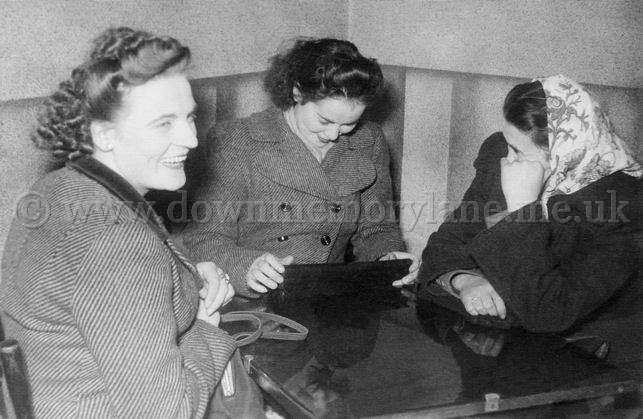 CAULFIELDS 2036
Sitting here in Caulfields wondering who is going to get their money out first when they are caught on camera.
It's Carrie Picken, Nellie McCaughey and Blossom McCaughey.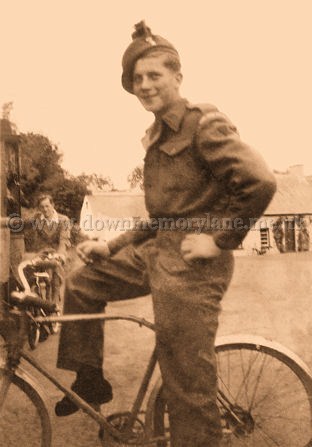 THOMAS CAMPBELL 1993
This young Royal Irish Rifles lad out with his friends for a cycle is Thomas James Campbell from the townland of Mucklerammer on the Portglenone side of Randalstown. Thomas was a farmer's son but preferred a life in the army. Happily Thomas survived the war and eventually emigrated to Australia.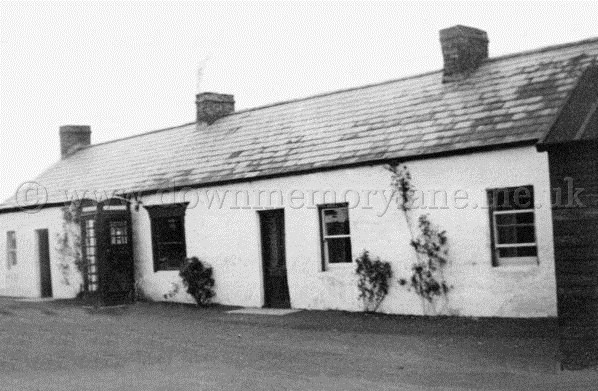 CADDY POST OFFICE 2265
Here we have Caddy Post Office which was about 2.5 miles from Randalstown in the 1950's with the good old red telephone phone.
No mobile phones back then, it was put your pennies in and press button A.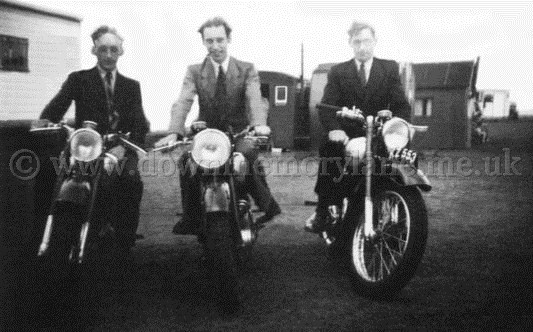 COOL GUYS 2358
Out for a run are these three cool young men from Randalstown on their Royal Enfield motorbikes,where they are I don't know.
On the left is James Drummond with Tommy Reid and William (Billy) Mawhinney. As you can see no crash helmets, didn't have to wear them them for it was the 1940's.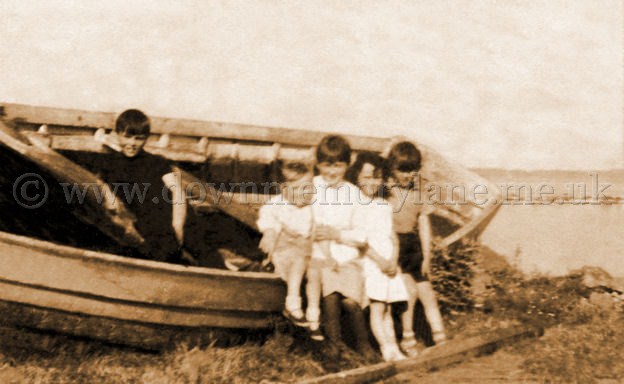 CRANFIELD 1997
Here we are on the shore of Lough Neagh at Cranfield with the McNally children.
On the left is big brother Sean then Stephen, Moreen Sheena and finally Brian.
Moreen remembers that it was 1967 as she had to get her lovely hair cut to go to the Convent school.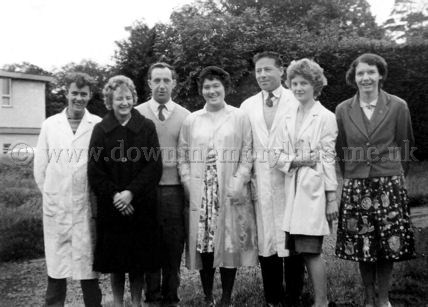 CO-OP 1807
This is the staff of Randalstown's own Co-op back on the 4th September 1962.
From the left we have David Graham, Unknown, Noble Houston, Margaret Crawford, Mr French, Unknown and May Walker.
CRAIGMORE 2008
Here we are at Craimore, Randalstown in the 1940's outside the home of James Dowie. The Geese having already eaten some of James lunch are now having a drink of his tea as well! Standing at the door is his wife Anne, to the right holding the wee dog is her daughter Maggie Mulholland. Seated behind James is her husband Charles Mulholland.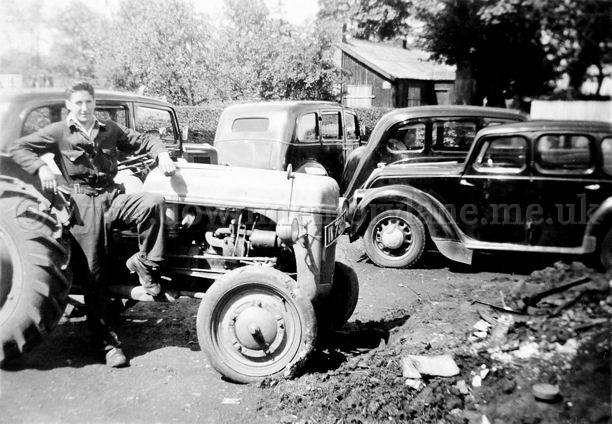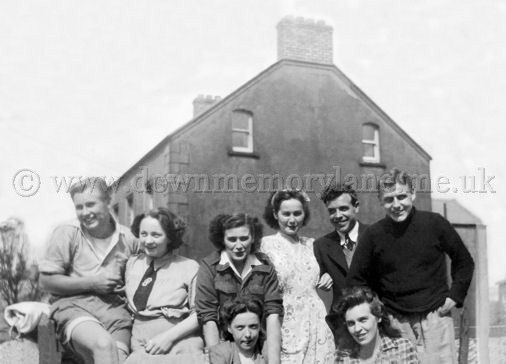 JIMMY CRAWFORD 2477
This is Jimmy Crawford on his dinner break having his photograph taken back in 1955.
Now Jimmy worked for R.J. Moores in Randalstown and these are some of the jems he worked on
CYCLISTS 2053
Out for a weekend cycling from Randalstown to Carnlough we have in the group Nellie McCaughey, Blossom McCaughey, Margaret McCaughey, Ann McLaverty, Margaret Craig, George Wilson and Hugh McKeown.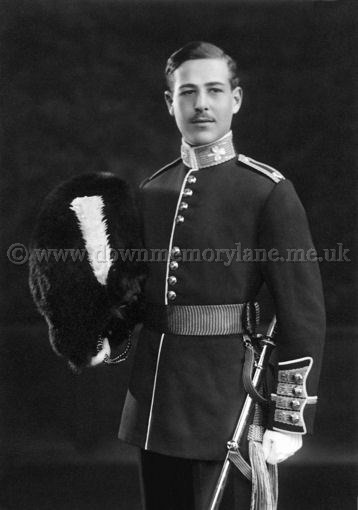 CAPTAIN BRIAN ARTHUR O'NEILL 1525
Standing proudly in his Irish Guards uniform for his photograph is Captain Brian Arthur O'Neill.
Brian was killed in action on the 15th May 1940 in the Norway Expedition.
The ship that was taking them to the landings was hit by bombs and most of the officers were killed.
Brian was 29 when he gave his life for his country.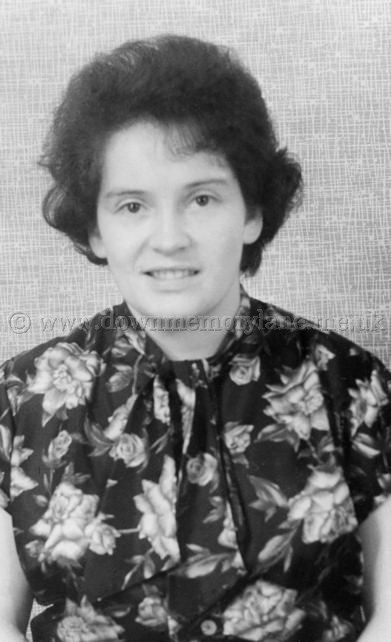 JOY CLARKE 2841
This is Joy Clarke just a few years ago and she hasn't changed a bit!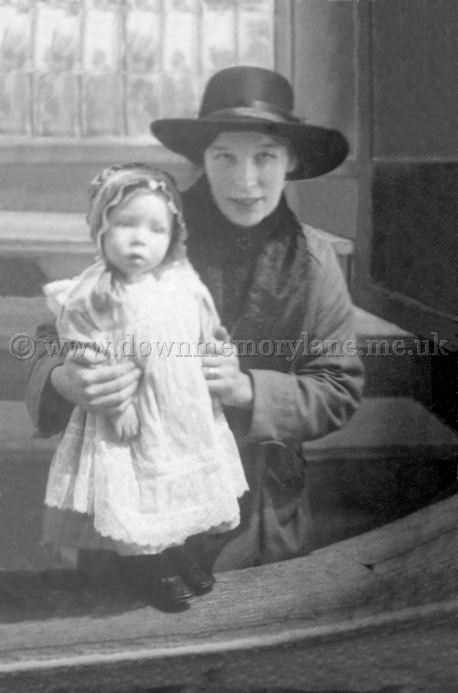 CLOTWORTHY PORTRAIT 2842
Now you could forgiven for thinking this was a modern photograph taken in a shopping mall but you would be wrong.
The little girl is Sarah Clotworthy and holding on to her is Mary Clotworthy and they are wearing their own clothes for the year is 1919.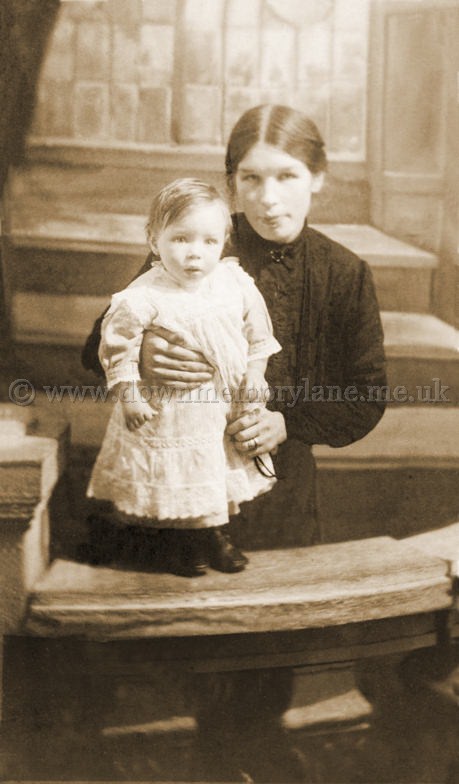 CLOTWORTHY PORTRAIT 2843
Having her photograph taken back in 1919 is this lovely little girl Sarah Clotworthy and her mother Mary Jemima Clotworthy.
CLOTWORTHY PORTRAIT 2844
Here's a proud mother Mrs Mary Clotworthy who took the two daughters to Randalstown for A.Craig of 23 Shane Street to take their photograph.
On the left we have Lizzie and on her mother's knee is Sarah, the girls dresses are hand knit and I love Sarah's button boots, which were the fashion in 1922.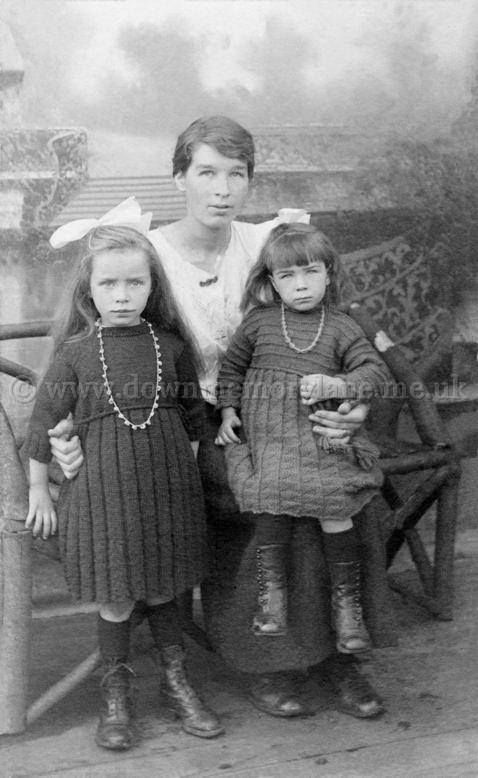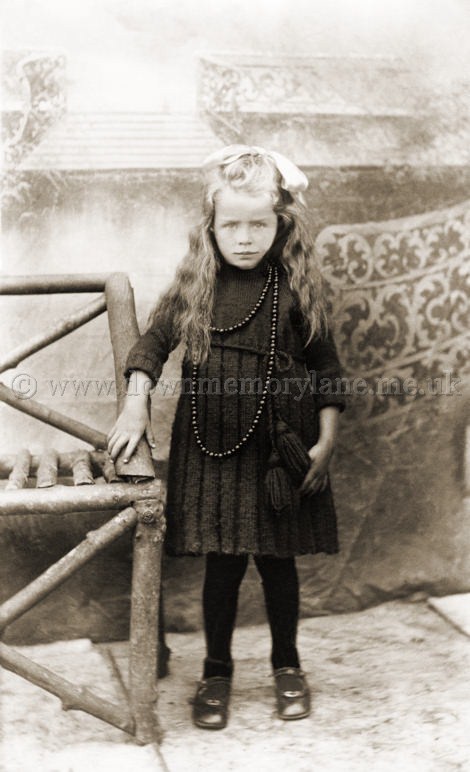 LIZZIE CLOTWORTHY 2845
Having her photograph taken in a studio for prosperity and a little nervous is Lizzie in her woolen dress with tassels.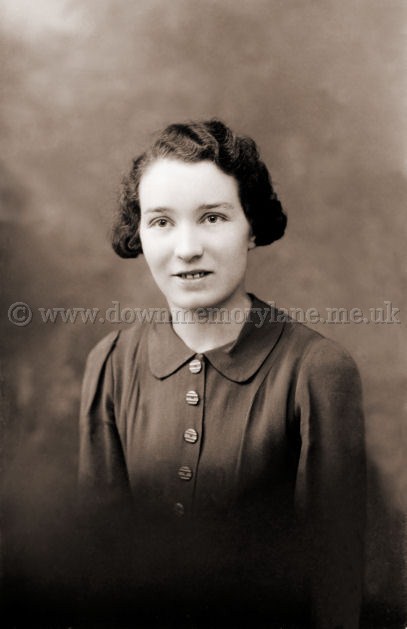 SARAH CLOTWORTHY 2775
What a beautiful photograph this is, it is of Sarah Clotworthy who worked in the Old Bleach Mill in Randalstown. Her job was Lace mounting and also Hand painting which was a very highly skilled job. It was here that she met a Carpet Weaver and he must have weaved a spell over Sarah for William Clarke became the love of her life and later her husband.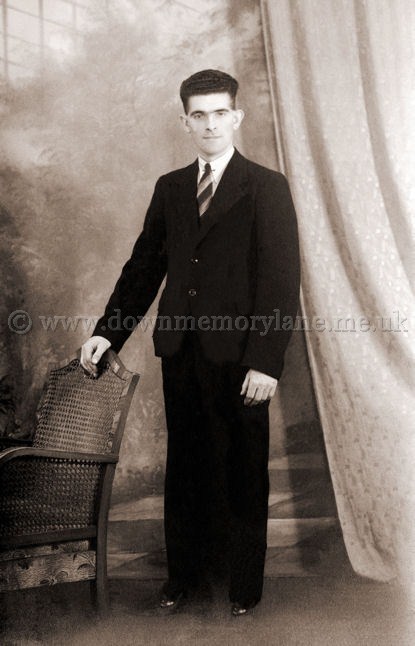 WILLIAM CLARKE 2774
Here is William Clarke having his photograph taken, I wonder was it for his girlfriend/fiance who later on would be at his side in this very studio having their Wedding Day photograph taken.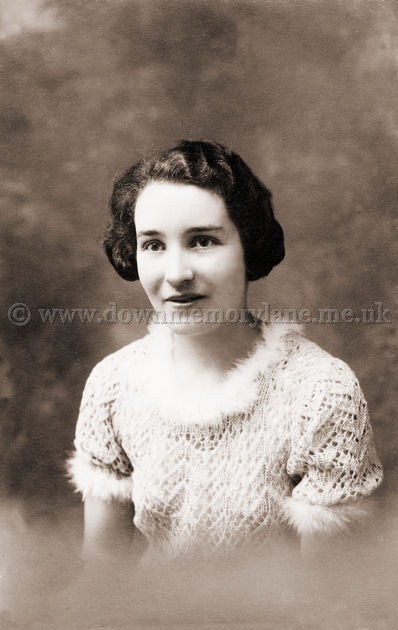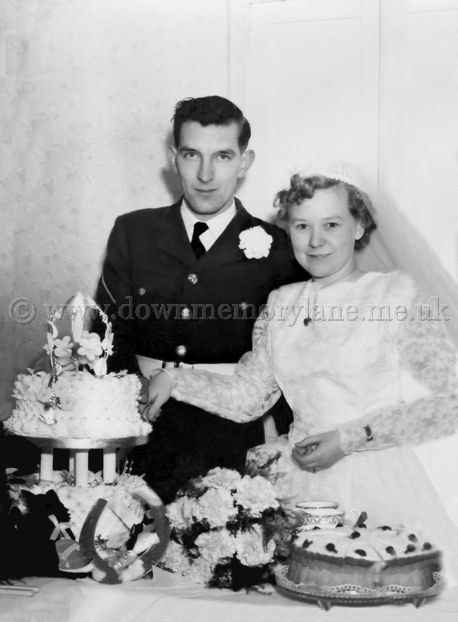 CLOTWORTHY WEDDING 2778
Seen here after their Wedding at All Saints' Parish Church High Street Antrim in 1959 we have Christopher Clotworthy of Ballygrooby Randalstown looking splendid in his R.A.F. uninform. Christopher is getting ready to cut the Wedding cake along with his lovely radient Bride Emily Clothworthy nee Rankin from Antrim.
SARAH CLOTWORTHY 2777
This is a young Sarah Clotworthy from Ballygrooby, Randalstown in 1935 in Thompson's the photographer studio having this beautiful photograph taken.
Her dress was hand crocheted and the sleeves and neck were trimmed with white fur.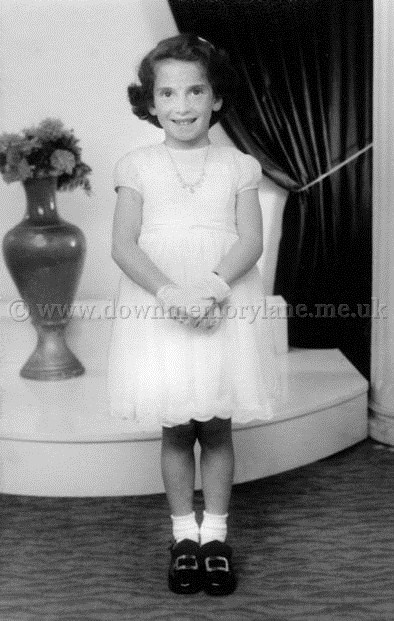 JOY CLARKE 2779
This is Joy Clarke all smiles (and still is to this day) at having her photograph taken in a studio when she was 12 back in 1959.
The reason for the smiles and lovely dress was that she had attended the Wedding of her Uncle Christopher Clotworthy to Emily Rankin.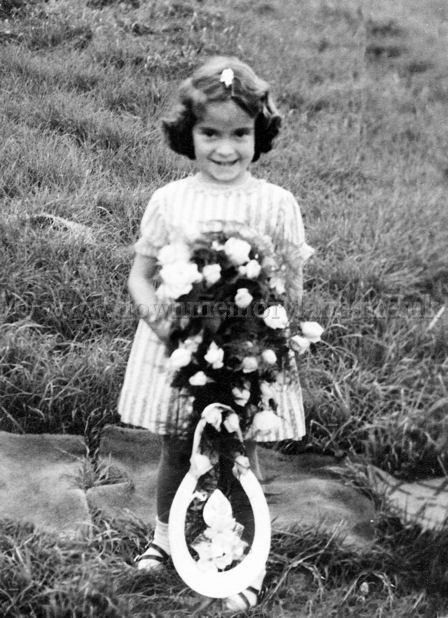 JOY CLARKE 2780
This little cutie was attending her Aunt Agnes's Wedding aged 8 years old back in 1955.and was chuffed to have her photograph taken with her Aunt's Bridal bouquet and horseshoe.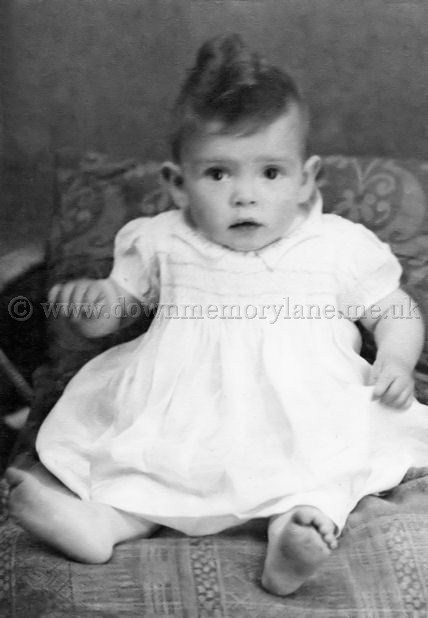 JOY CLARKE 2781
This little bonny baby is none other than our very own Joy Clarke from Randalstown at one year old.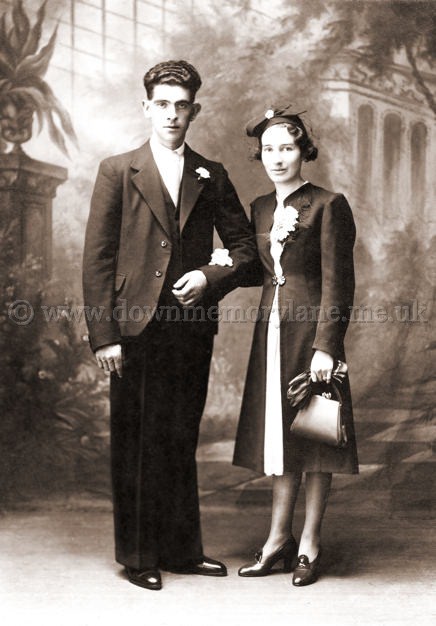 CLARKE WEDDING 2776
Here after their wedding at the OC Presbyterain Church, Portglenone Road, Randalstown on Thursday 22nd August 1940.
William Clarke of Ballytresna Randalstown and his Bride Sarah Clarke nee Clotworthy of Ballgrooby Randalstown, then went to the photographer Thompson of 3 Bryan Street, Ballymena, to have this lovely wedding photograph taken. William wore a Navy blue suit with a white shirt and grey tie.
Sarah was wearing a Blue coat with Navy shoes, handbag, gloves and hat. Her dress was Pink and also the broach on her hat.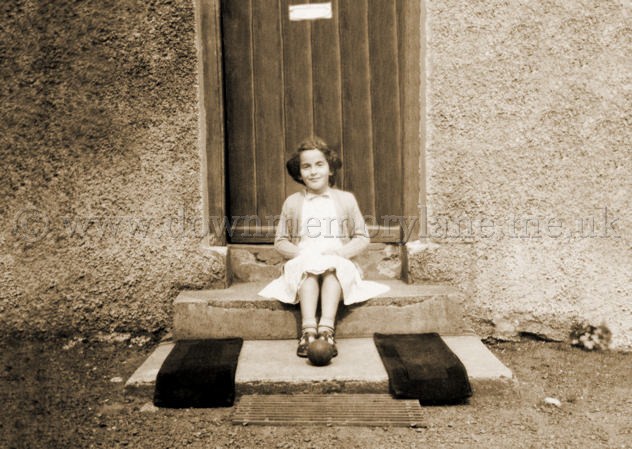 JOY CLARKE 2773
Here Joy Clarke plays with the puppy in the back garden after being at her Aunt Emily's Wedding when she was 12 years old. I hope she doesn't get her dress dirty.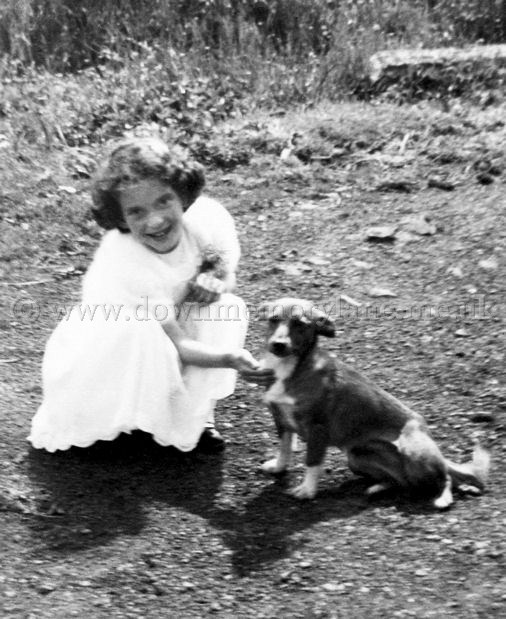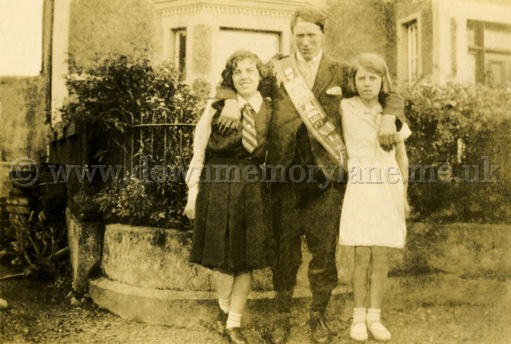 CRAIGMORE 2421
Here we are at Craigmore, Randalstown in 1933 outside Lizzy Gordon's house who is on the left in the photograph.
On the right is Ruth Dowie and standing in the middle with his arms round the girls is Jack (Jock) Kyle who belonged to lodge LOL 473.
Jock must have just arrived for he has forgotten to take off his bicycle clips.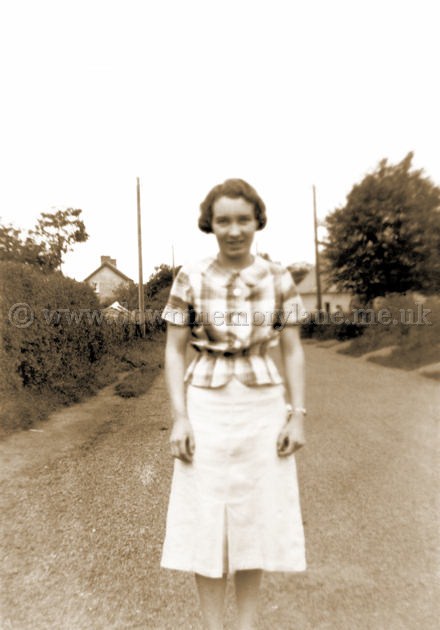 SARAH CLOTWORTHY 2924
This is Sarah Clotworthy giving a great smile to the camera while standing in the middle of the Magherlane Road.
Behind Sarah you can see two different ways of life, on the left is a brick house with a slate roof while across the road is a white-washed thatched cottage.
JOY CLARKE 2925
Sitting here on the front doorstep of her home in Ballytresna is Joy Clarke. Like Joy of today, Joy then was looking for someone to play ball with her.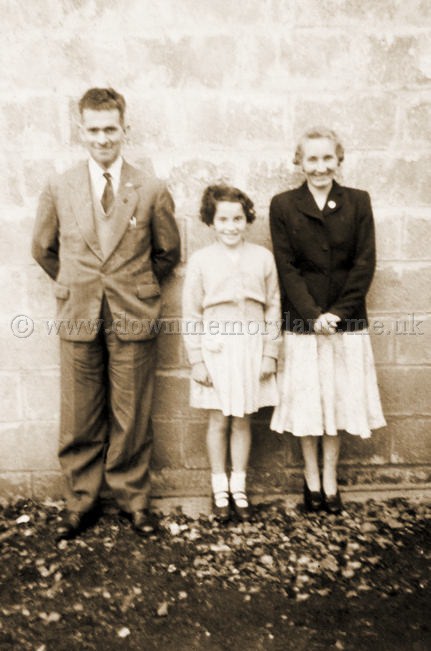 CLARKE FAMILY 2927
This is the Clarke family being photographed out at Ballytresna, back then people were only interested in taking photographs and not the surrounds. From the left we have dad William, then daughter Joy and finally mum Sarah.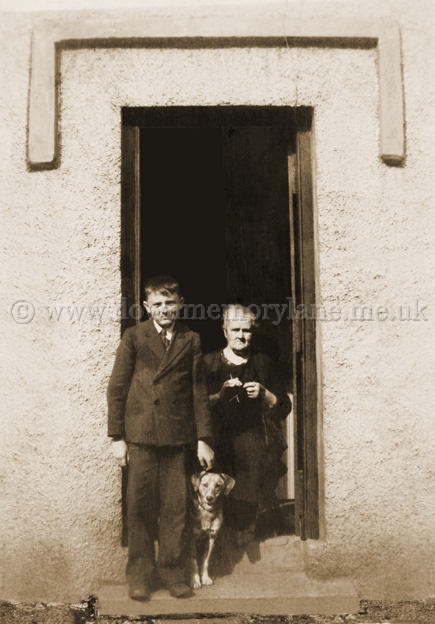 THE CLARKES 2929
Hi I'm Toby Clarke and here we are at the family home out at Ballytresna on a lovely sunny morning. My Gran is behind me who is called Ellen Clarke and is knitting either a sleeve or a sock. Standing next to me is William Clarke but why he is wearing his Sunday best I don't know or care. I just hope he takes me for a walk, yes I'm Toby the dog!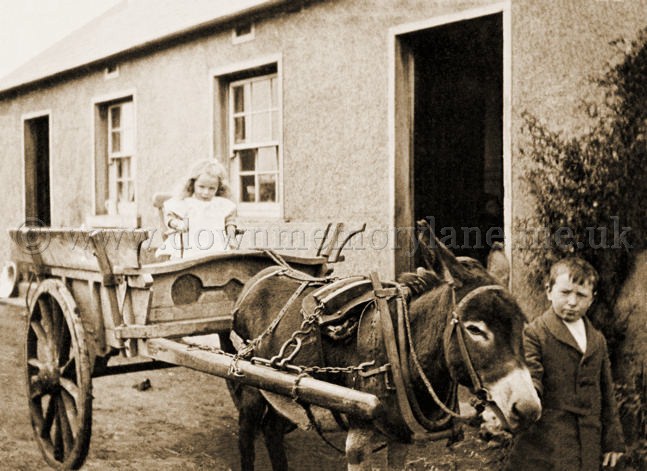 MOVE ON 2931
It's 1922 and young Sara Clotworthy was wanting to go for a ride in the cart with the donkey.
But her mum said No, for the cart was too dirty so Sarah then took her small chair and then sat in the cart and was then ready to move on.
The young lad who is Unknown seems to not want to go anywhere by the look on his face.
CLOTWORTHY FAMILY 2932
Standing at the back door of their home in Ballygrodey we have on the right Mary Clotworthy and beside her is her daughter Sarah Clotworthy.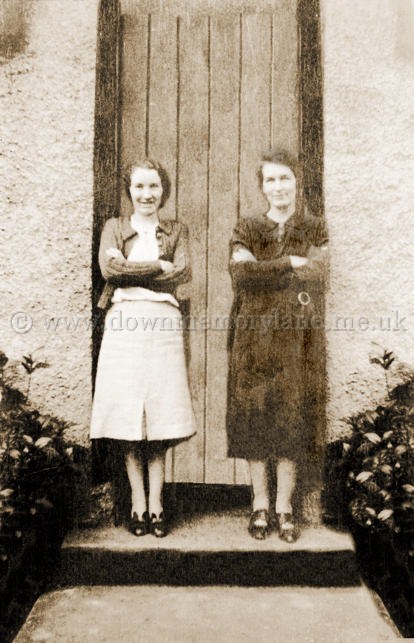 PLAYTIME 2933
It's 1950 and here we are at Ballytresna at the Clarke's home during the schools summer holiday.
Now holding the chicken very tightly is Uncle Christopher and standing next to him and wanting to play with the chicken is his neice Joy Clarke.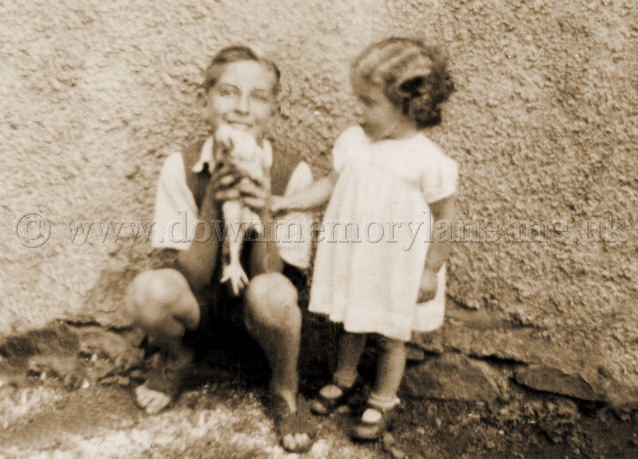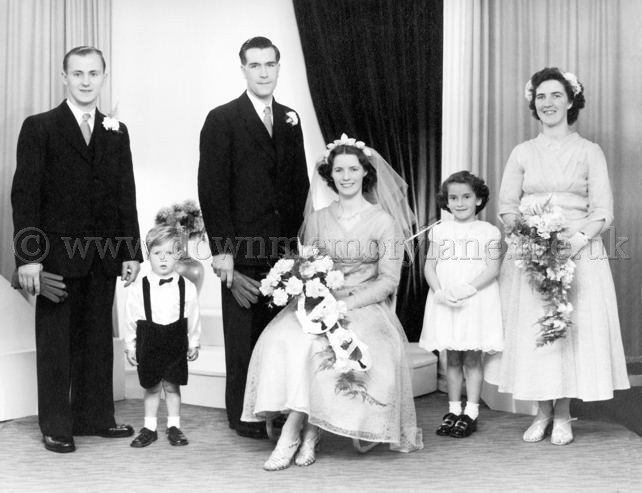 CLOTWORTHY WEDDING 2939
Here at Dunn's studios in Belfast having travelled from Randalstown to have their Wedding photograph taken.
Are from the left Best man Unknown, Pageboy Graham Allison, Groom Gilbert Clotworthy of Magherlane Randalstown, Bride Agnes Clotworthy nee Allison of Fernisky Road, Kells, Pagegirl Joy Clarke and Bridesmaid is Unknown.
SYDNEY CLOTWORTHY 2941
Bursting with pride as he is being photographed is Ten-year-old Sydney Clotworthy holding the cup which he has won for being the 'Best Boy' of the year in 1st Antrim Boy's Brigrade Troupe.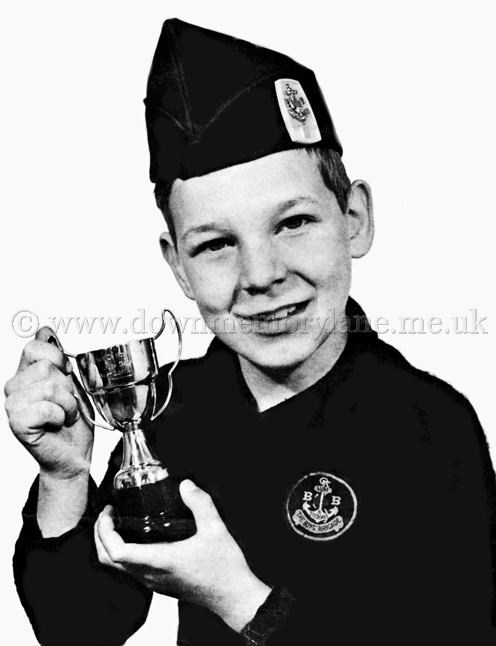 CREGGAN PRIMARY SCHOOL 3256
This is the pupils of Creggan Primary School which was in Randalstown having their school photograph taken back in 1924.
In the back row from the left are P. McNamee (teacher), P. O'Kane, F. McLernon, J. O'Neill, P. McLernon. J. Marrion, C. McAteer, H. Kennedy, D. Kennedy and D. McKeown (teacher).
Next row has M. Glancy, J. Magee, M. McCormack, M. Gormley, S. O'Neill, A. Cushinan, A. Coogan, N. Dowd and J. O'Boyle.
Seated are P. Kennedy, T. McCann, T. McCudden, M. McLarnon, D. Hughes, A. McKeown, M. Magill, M. Colvin and J. McLernon.
Cross-legged on the ground J. McAteer, J. McKeown, B. Magill, F. McCourt, J. Hurl, F. McCann and J. Kelly.


Pages: