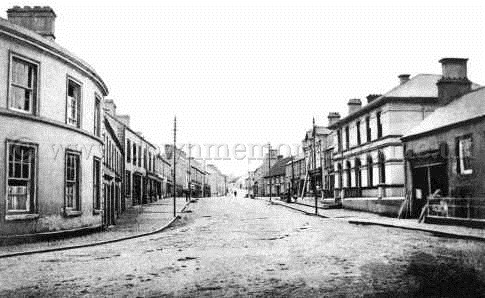 MAIN STREET 756
Main Street, Randalstown in 1910.
MILLAR CHILDREN 1228
Posing for a family photo outside their home in 1954 we have Jim Millar, his brother Maxi and last but not least his sister Eleanor.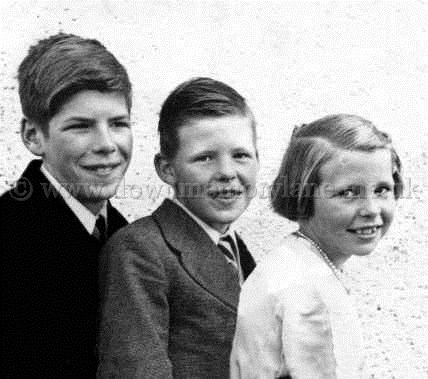 MILLAR CHILDREN 1201
Hello there my name is Elenor Millar, it's 1949 and behind me are my two brothers Maxi and Jim.
Now although they are bigger than me I'M the leader of this gang.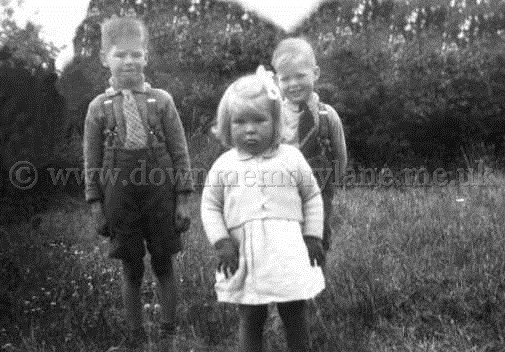 MARKET HOUSE 1387
Here we have the Market House in Randalstown in New Street in 1925 with a young boy looking at the photographer.
It was built in 1831 at a cost of £500 and Lord O'Neill helped by giving £100. The Court House was originally built with a hipped roof but was later changed to the roof you see now probably when they built the two buildings either side. The three arches which are bricked up used to have wooden gates front and rear to give access to the Market Yard. This was when it was a Market House and the locals stored and sold their grain on the ground floor. Also the dispensary was also on the same floor and had two rooms on the left to see customers. Later on the top floor was converted into a courtroom so that local justice could be dispensed. When the door on the right was opened there was a staircase leading up to the Courtroom. Just up from the boy is a milestone and on the right side it says Randalstown 0 Miles the other side is unreadable. Then on up the pillar has written on it " Post No Bills" this is also written on the three blank arches with one word on each of them. The Cupola on the roof with a clock tells me time if it was working is 2.10pm.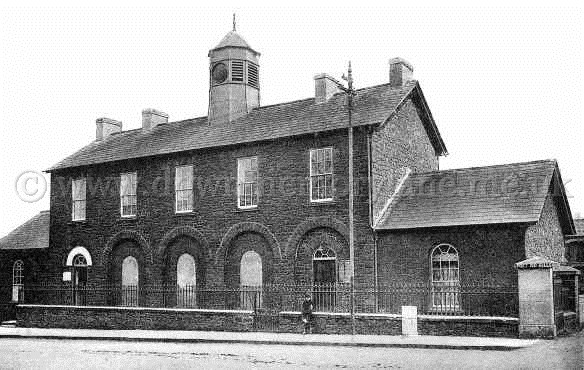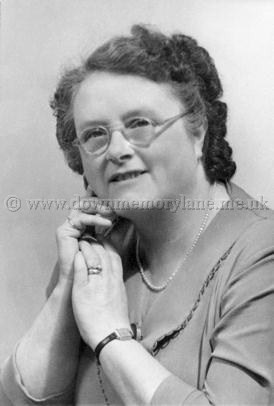 HELEN McMULLAN 2161
This Helen McMullan from Daisyhill Randalstown, having her portrait photograph taken at the Lilian Dunn Studios in Ballymena in 1940.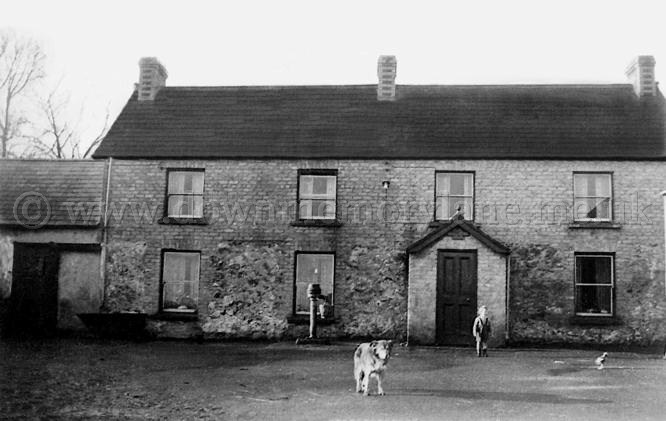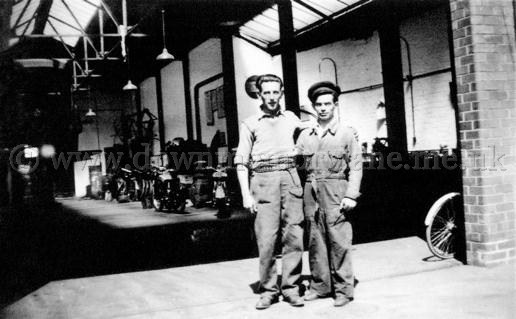 MOORE'S UPPER GARAGE 2266
Here we are at the back Moore's upper Garage in Randalstown in 1945.
Pausing for a break from their work as mechanics to have their photograph we have Jackie Reid and Mickey Totten. Behind them are some motorbikes and to the left up on the ramps you can just make out a car like a model T Ford.
WEDDING GUESTS 2724
All dressed in their best are the McCollum family from Randalstown ready to go to a wedding back in 1957.
In daddy's arms is daughter Ann with her arm on Tony who is all smiles while mum Mary looks lovingly at her daughter.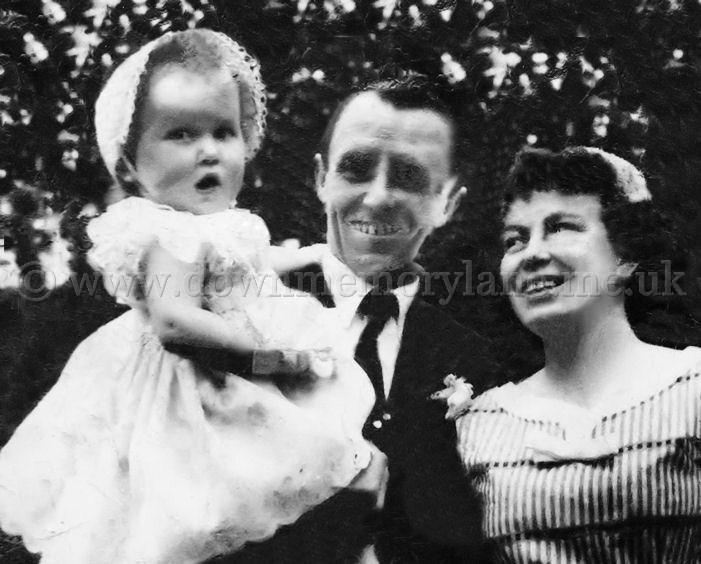 THE OLD WOOD HOME 2234
This was the home of John Millar and his wife Jane Millar nee McGeough in the 1830's in Randalstown.
They were blessed with a son called James and on the 8th July 1864 James married a Ann Bell.
They might have had some electric but no running water as you can see by the pump and bucket and to left what looks like a bath. Now at one time this home was originally three homes by the sections just filled with old stone rather than bricks. Could this little fellow be James or perhaphs James son who is looking at the hen while old faithful stands enjoying the heat from the morning sun. Now John Millar is Karen Grant's Great,Great,Great Grandfather and is very interested in finding out more about her family history, can you help her out?
On the back of this photograph was written the words " The Old Wood Home of John Millar, where your father was born and brought wife."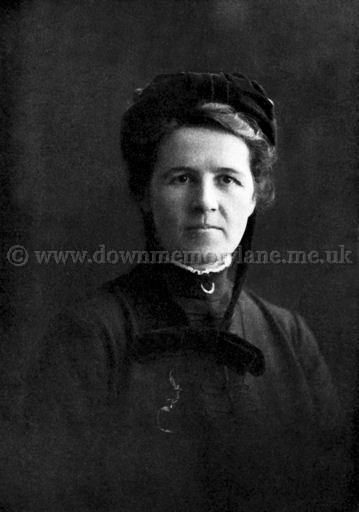 MARGARET LIVINGSTONE 2094
This is Margaret Livingstone in later life still spreading the Word. Margaret eventually retired to Glenada House in Newcastle Co.Down.
When Margaret went Home they layed her to rest at Craigmore Presbyterian Church in Randalstown.
Margaret can be seen also at Randalstown: Index S. Page 2.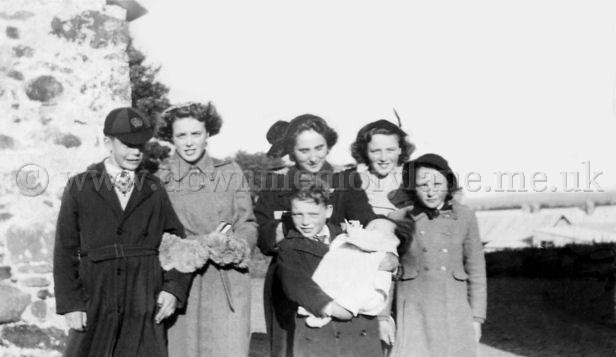 McCAUGHEY FAMILY 2046
It's Sunday morning at Whiteside Corner in Randalstown and the McCaughey like many others are setting off for Sunday worship. Here we have Samuel in his school uniform with his sister Jean linked to his arm. Then Margaret, Phyllis, Moreen and in front Aubrey holding baby Sharon.
Back then even if you owned a motor car you did not use it to go to your place of worship, you walked in the sun, rain or snow, this was God's Day.
MOREEN McCAUGHEY 2048
Outside the family home at Whiteside Corner we have Moreen McCaughey then aged 8.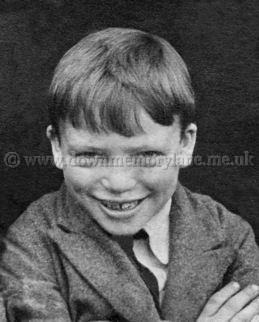 AUBREY McCAUGHEY 2047
Having his school photograph taken is Aubrey McCaghey then age 8.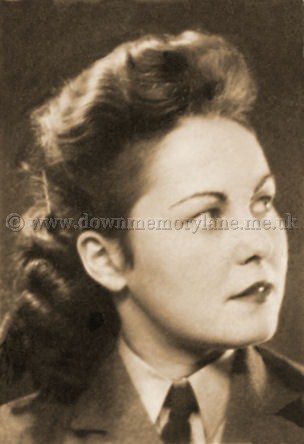 NELLIE McCAUGHEY 2027
This photograph of a Wren in 1947 is of local lass Nellie McCaughey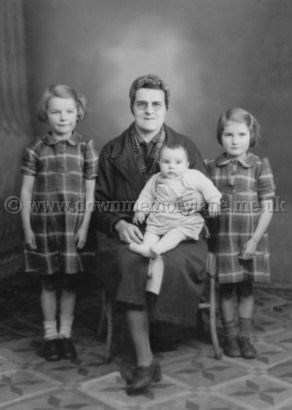 McGUCKIN FAMILY 1918
This part of the McGuckin family getting their photograph taken in 1944.
On the left is Helen then mum Bridget but known as Bridie. Sitting on her knee is Angela and finally Mary.
McFADDEN'S 1672
This is McFadden's shop in the early 1900's. It was a grocery and seed merchants and was run by Hugh McFadden, they also sold confectionary and tobacco.
In the shop window they had for sale Van Houten's Cocoa and also sacks of Sunlight put what was in the sacks I do not know.
Standing in the shop doorway is John's wife who is holding on to their son Sam. On the left is daughter Jeannie and on the right their eldest daughter Helen.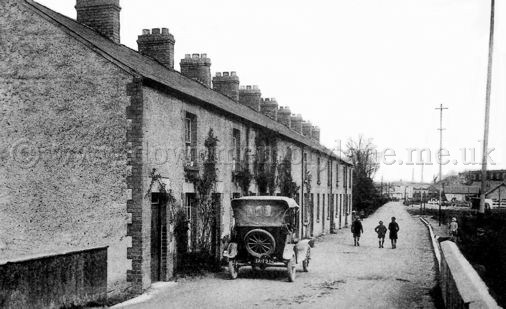 MILL WALK 1673
It is 1923 and this is MilL Walk in Randalstown and is the main route to the Old Bleach Factory.
The row of houses were built in 1901 for the workers of the factory and the river Main and the mill race ran behind the houses.
Three boys are heading off for an adventure and the young girl to the right with a staff and collie dog look on.
The car with the Registration IA 1914 looks like a Ford. Now when you look at the mud on the tyres it lets you know, no tarmac roads back then.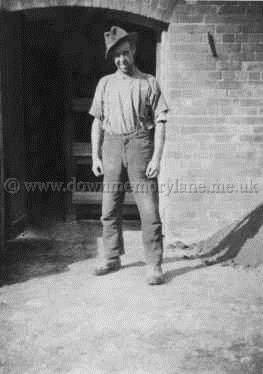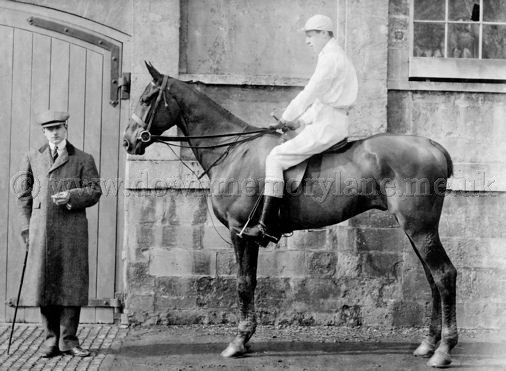 MY RACEHORSE 1521
This Sir Hugh O'Neill getting his photograph taken with his Jockey and splendid racehorse.
MUSHROOM FACTORY 1197
This William Millar at the Mushroom factory in Templepatrick, the year is unknown.
William is standing at the entrance and you can see behind him the shelves where they grow the mushrooms.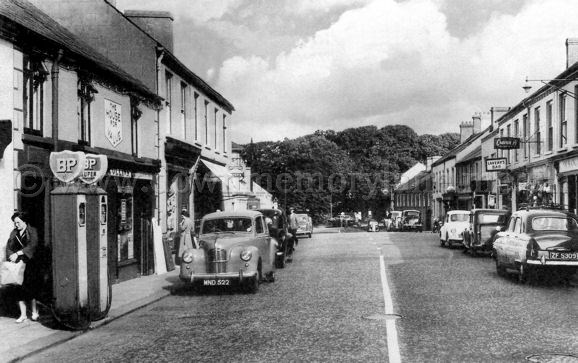 MAIN STREET 1671
It is around the late 1950's and this is Main Street in Randalstown.
On the left you have Collins "The House for Value" and outside an Austin car Reg: MND 522 and opposite is a Ford Popular Reg: ZF 5303.
Does anyone remember who owned these cars? Also on the right you can see McManus's shop and further down Lavery's Bar.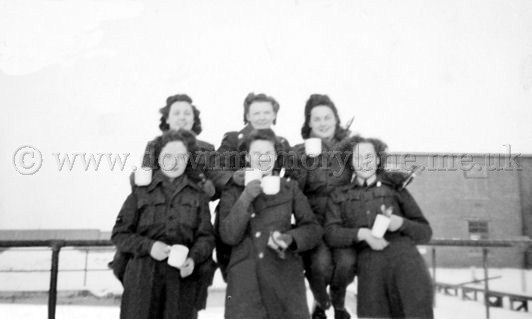 ME AND MY PALS 2020
This is Nellie McCaughey at the back in the middle surrounded by all her pals in the WRAFF during World War II. As you can see they have just had a cup of tea and they did need it, for just look at all that snow.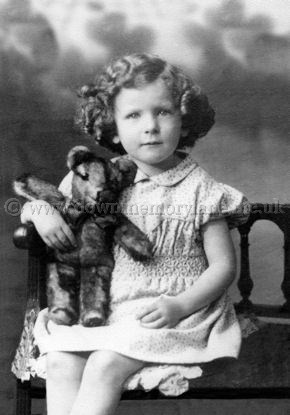 MY TEDDY AND I 1574
Showing how precious teddy was to her young Elizabeth Magowan had to have Teddy in the photograph as well back in 1947.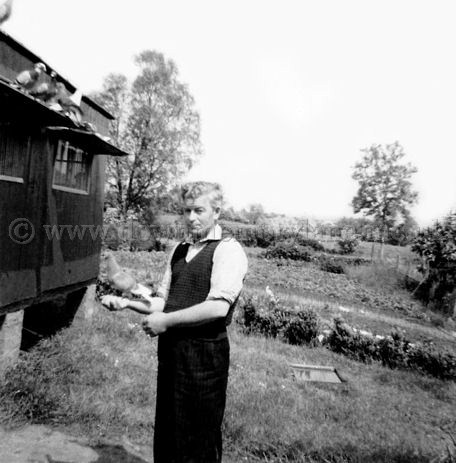 DENNIS McKEOWN 2453
Here we are just off Shane Street in Randalstown in the 1950's and this is Dennis McKeown. Dennis as you can see was a great Bird Fancier and his pigeons were his pride and joy Now a different kind of bird told me Dennis was 92 on Christmas Day 2009.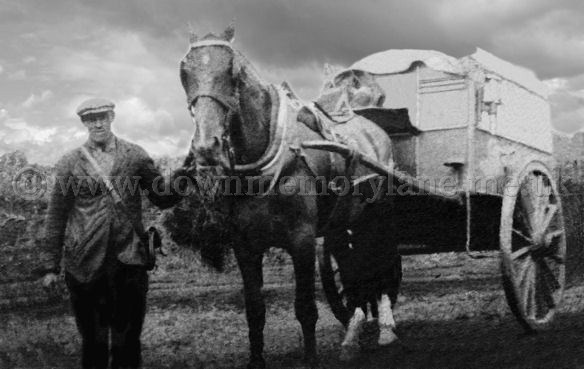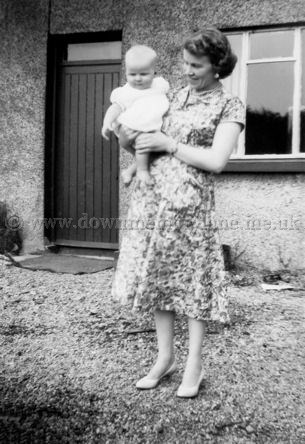 LOCAL BREADMAN 2398
This is Thomas Millar the local Breadman in Randalstown who worked for the Co-op back in 1949. Thomas seen here has just given the horse some straw to eat and by the horse's name was Sam Picken after a man who run a pub in Randalstown.
A MOTHER'S LOVE 2395
Standing outside her home at Groggan Cottage just outside Randalstown.
We have Evelyn Millar nee McNally holding her son Adrian in her arms.
You just have to look at Evelyn's face to see what they call "A Mother's Love"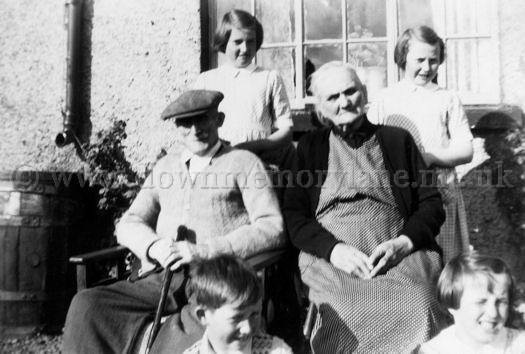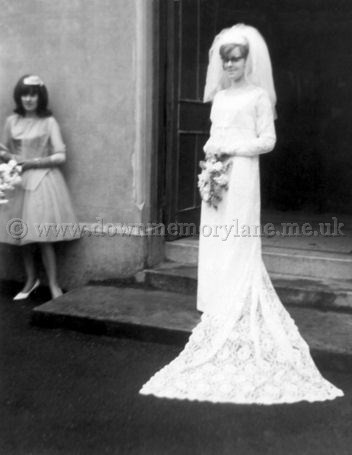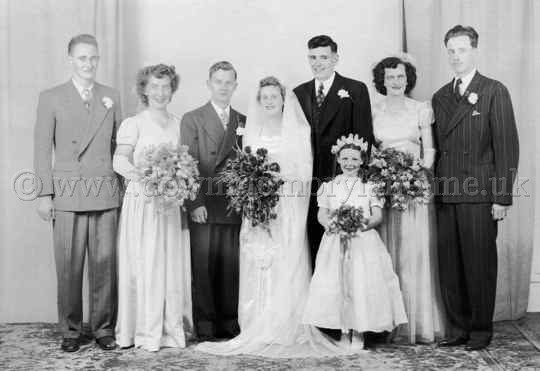 GREAT GRANDPARENTS 2394
Seen here visiting their great grandparents George and Agnes Nicholl at Groggan Cottage outside Randalstown.
We have at the back Agnes and Ruby while in front are Tommy and Rose McBride.
MONA LETTERS 1907
This is Mrs. Mona Walls nee Letters after her marriage to Hughie Walls in 1959 and in the background is Bridesmaid sister Veronica Letters.
Mona looks lovely in her wedding dress and as with all brides they wish they could fit into them now, the Mona of today though has not lost her looks or her bubbly personality.
MINNIE AND DICK'S WEDDING 1889
Here we have the wedding of the Bride Minnie Keen and her Groom Dickie.
This all the information I have at this time.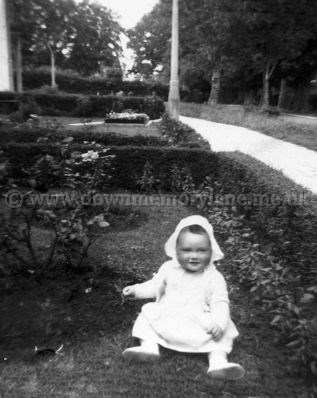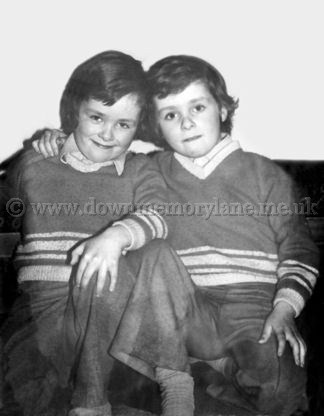 MOREEN McNALLY 1976
Here we have Moreen McNally aged 9 months back in 1956 in the front garden of her Grandfather's home at 19 Clonboy Walk.
Moreen was trying out her gardening skills at which she became very good at!
A GRANNY'S LOVE 2393
Here we are out in the fields in the early 50's just outside Randalstown.
Now standing in front of a haystack and giving their granny Rebbeca McBride a hug are Ruby and Agnes McBride.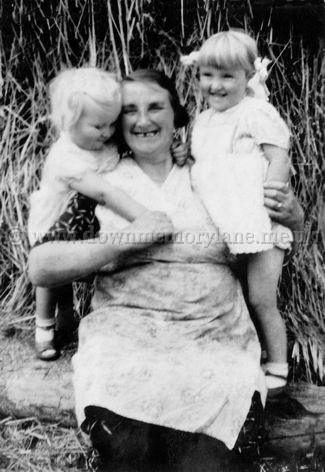 McNALLY TWINS 1982
These are the McNally twins Lawerence and Paul when they were five in 1975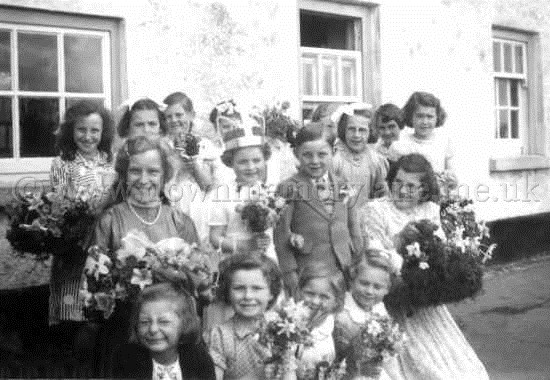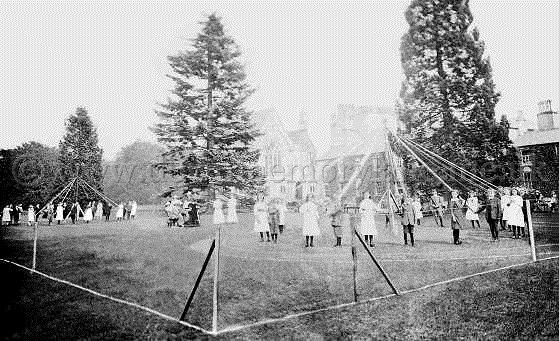 MAY QUEEN 111
Outside Taylorstown School in 1954 we have in the centre the May Queen Cathleen Nesbitt and her handsome escort Robert Gault.
She is surrounded by lovely maidens who in the back row are Margaret McNeice, Unknown, Joan McCullough, Unknown, Unknown, Evelyn McKeown,Yolande Beckington (who was Welsh), and Annie McKee. On the May Queen's left we have Elizabeth McNeice and on her right is Ann Mawhinney.
In the front row with her face in a concentrated smile is Elizabeth Ann Jenkins and the other three girls are unknown.
MAY DAY 1169
Posing for the camera in 1910 on the lawns in front of Shane's Castle are children from Drummaul National School and Drummaul Parish Sunday School.
The children would be collected from the town in the estate's Charabanc and also a bull and cart. As you can see there are two maypoles where they competed against one another with the winners being presented with prizes by Lady O'Neill. In between the Maypoles you can see an organ which played the music for them to dance to.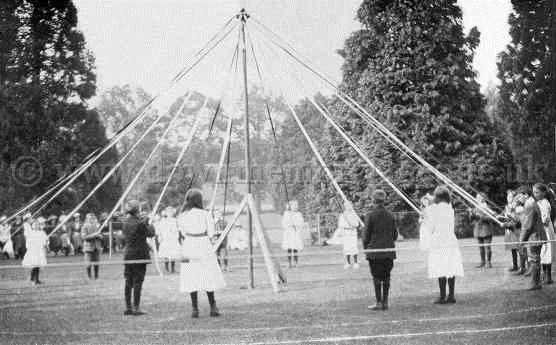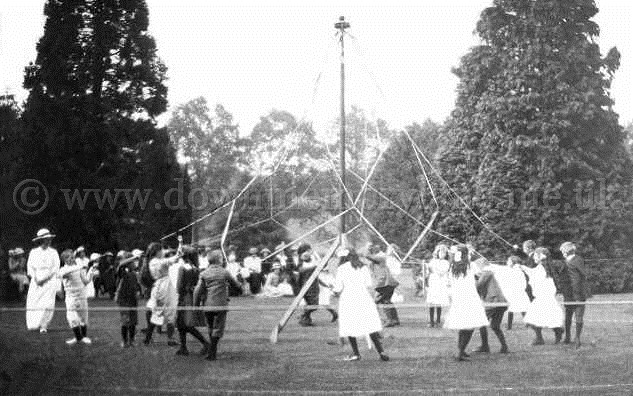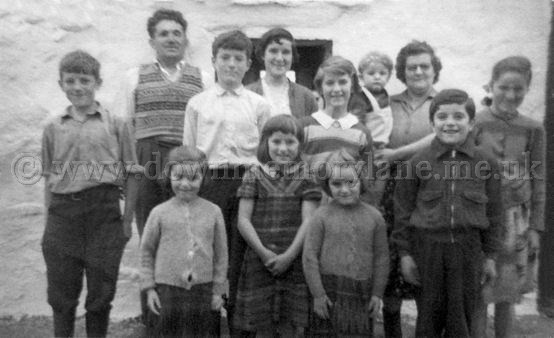 MAY DAY 1167
These children celebrating May Day in 1910 on the lawns of Shane's Castle are all set to dance round the Maypole. Each year the children from Drummaul National School and Drummaul Parish Sunday School would be collected from the town in the estate's Charabanc and also a bull and cart. Here they would also take part in games and the winners were then presented with prizes by Lady O'Neill.
MAY DAY 1168
These children celebrating May Day in 1910 on the lawns of Shane's Castle just look at the ribbons intertwined as they dance around the Maypole.
Each year the children from Drummaul National School and Drummaul Parish Sunday School would be collected from the town in the estate's Charabanc and also a bull and cart. Here they would also take part in games and the winners were then presented with prizes by Lady O'Neill.
McGUCKIN FAMILY 1915
Standing outside the family home at Whitehill in Randalstown are the McGuckin Family in 1962.
From the left we have William, Bridie Angela, Wilfred, Bobby, Ina, William, Bridget, Madaline, Margaret, Teresa, Ernest and finally out in front Bridie.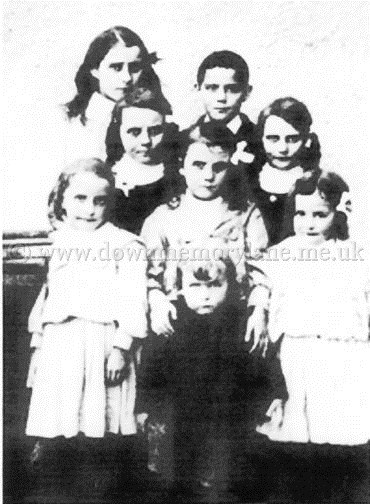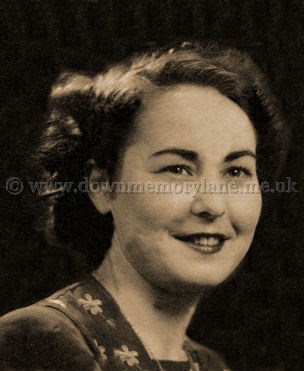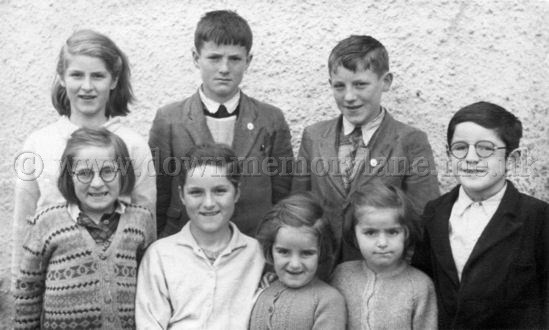 McILROY CHILDREN 2013
.In the back row on the the left is Mary McIlroy and beside her is her brother Hugh.
Next row has Martha and Aggie. In the front row we have Lizzie, Annie with her arms on Bill and finally Meg. Their father was the local postman in Randalstown.
NELLIE McCAUGHEY 2026
This lovely portrait photograph is of Nellie McCaughey.
McGUCKIN FAMILY 1914
Standing outside their home at Whitehill in Randalstown we have the McGuckin family in 1964.
At the back we have Ina, Bobby and Wilfred. In front are Margaret, Bridie.Teresa, Madaline and Ernest.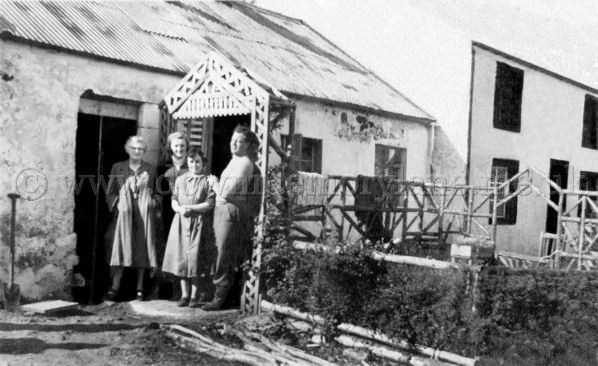 McNALLY HOME 1968
At the front is Sheena McNally and the other people are neighbours just visiting who are unknown in 1956. Now Sheena's home is attached to the main house for it used to be a milking shed before it was converted into a home. In the main house there was a door next to the miking shed which led to a small seceret room. Her husband built the little garden and also made the trestle fencing to go round it to make it more homely.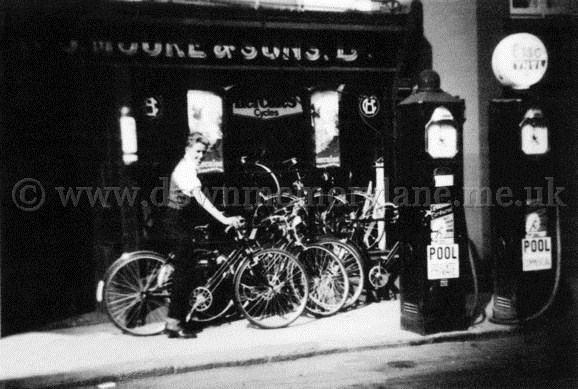 MAIN STREET 2271
Here we have Lesley Young sitting on one of the many cycles that were on sale outside Moors Upper Shop in Main street Randalstown.
On the right are two pumps selling Esso and an poster saying the fuel has Carboost in it.
Below that it says POOL Private which was for cars only while the other pump has POOL Commercial which was for vans, lorries ect.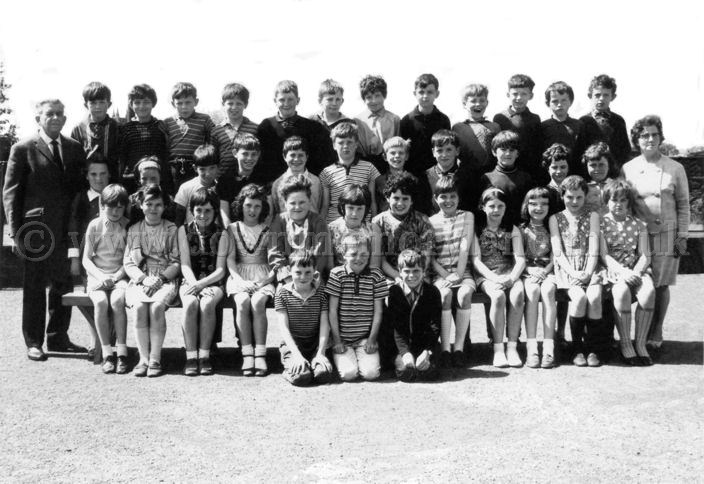 MOUNT ST. MICHAEL'S PRIMARY SCHOOL 2095
These smiling faces belong to the pupils of Mount St.Michael's Primary School in Randalstown in 1969.
Now the boys in the back are from the left Kiven Kelly, Liam McErlane, John Martin, John Brady, John Heatley, Eugene McKeown, Joe Robb, Adrian McCann, Allious Letters, John McKeown, John Pettigrew and Christer Logan.
Starting with the Master Brian Dows in the middle row we then have Sharon O'Neill, Anne Carty, Eugene Allen, John Heffron, Harry McLaughlin, Noel Donnelly, Geard McLarnon, James Marguess, John Corr, Bernadette McCorrmack, Valerie Campbell and finally Teacher Mrs McKeown.
Now the girls seated are Rosaleen McCann, Bernadette Magill, Bernadette Graham, Eileen O'Kane, Alana Dobbin, Anne Dorin, Catherine Robb, Heleena Hurrell, Ceclia Buttler, Margaret McCann, Mary McCann and on the end Helen Magill.
The three lads on their knees in front are Donald McCashion, Kiarn Letters and Martin Totten.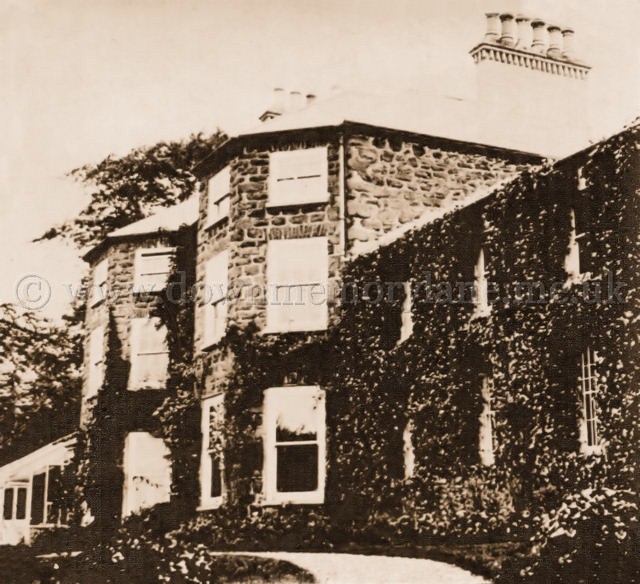 MILLMOUNT 1885
This is Millmount Randalstown the year is unknown. The Parish centre is now in its place.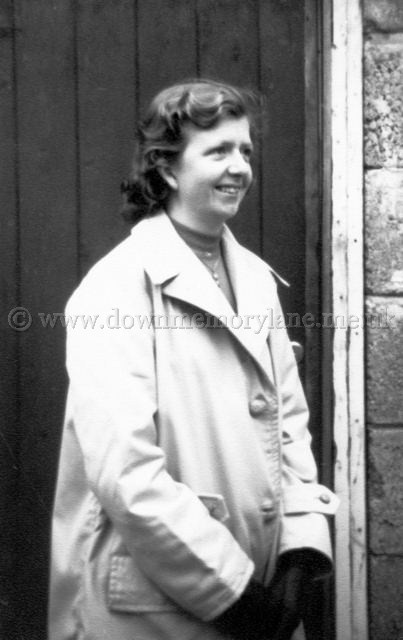 MARGARET McILVENNA 2934
This is Margaret McIlvenna having just closed the back door and heading off with her friends for some retail therapy.
Later in life Margaret married and went of to live in Australia.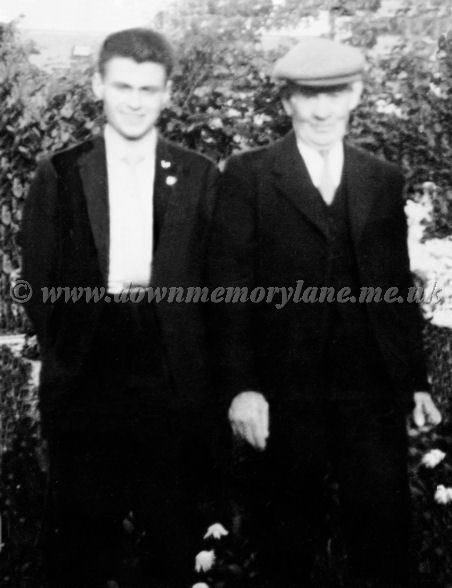 MY GRANDAD 3257
This is Danny Magill's Grandfather Dan Magill back in 1958 whom he loved dearly as you can see for not to many teenagers want to be seen with us old folk.
Now Danny's Grandfather was 80 in this photograph and had been the assistant Station Master at Randalstown until 1940 when he was transferred to Magherafelt where Dan stayed until his retirement in 1945. One of the badges on Danny's lapel is the Pioneer badge to show Danny had taken the pledge not to drink anymore but like many New Year pledges Danny's went the same way.
My thanks to Dorothy for giving me all their names and so bring the photograph back to life.