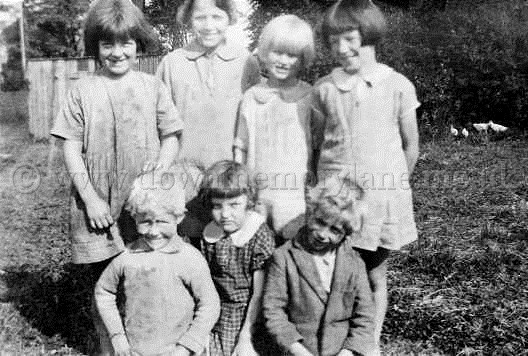 KEMMIL HILL 1172
Looking at the state of the clothes these boys and girls have been having a great time at Kemmil Hill where the ex-servicemen houses were built for the
World War one Veterans. I wonder if they were chasing the chickens in the background? No I don't think that Addie and Molly woods would do that !
KICKHAM'S G.A.C. 1390
It is 1941 and here are the unstoppable Kickham's G.A.C. team from Creggan, Randalstown.
That year they won the McCotter Cup, the McCormick Cup and the South West League Championship of 1940 - 1941.
At the back are B. McKeown, P. McKeown, W. Montague, D. McCann, J. Douglas, S. Byrne, P. Maguire and E. McKeown.
Seated are J. McKeown, J. McAteer, T. McCudden, J. Marrion, B. McKeown, J. McKeown and H. McCudden.
On the ground we have G. McAteer and J. Hurl. One mother had a lot of washing to do and that was Mrs. McKeown!!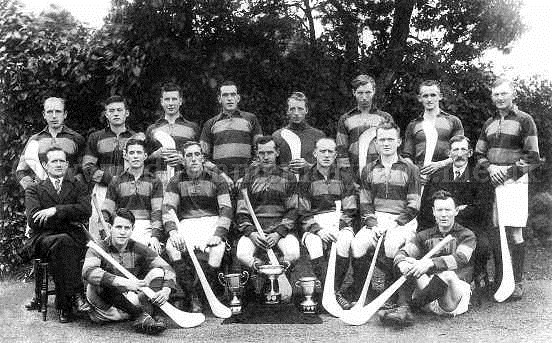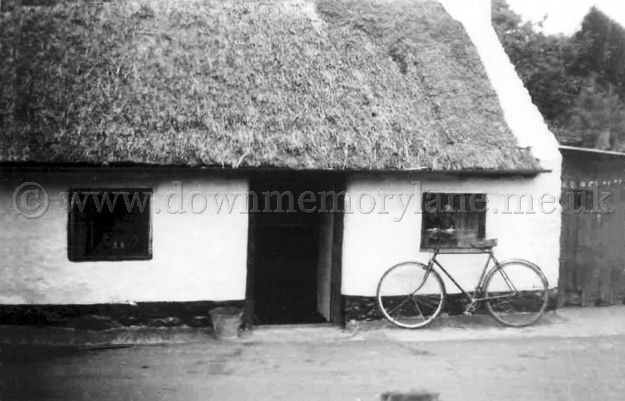 KEMMIL HILL 2128
This thatched cottage was at Kemmil Hill at Randalstown and it was here that Jim Brown lived.
The bike was probable Jim's and the bucket at the door most likely used to bring the water, remember no running water then.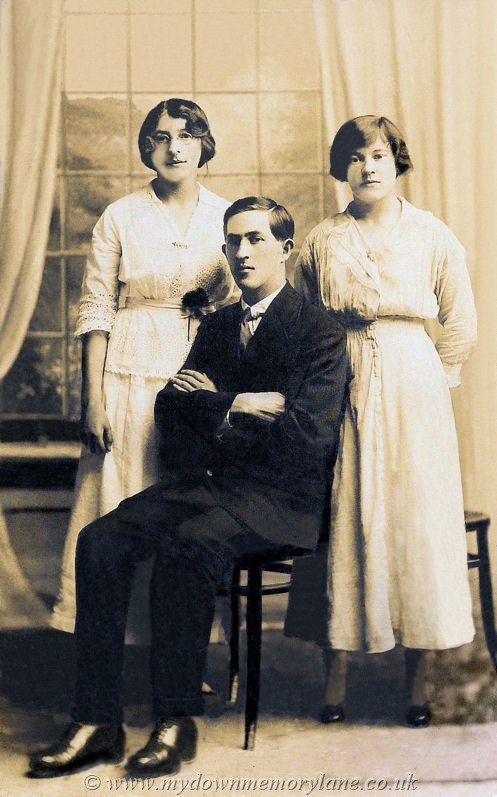 KINKEADS 3851
Here in a studio in 1910 having their photograph taken are the Kinkeads, on the left is Robert's sister Margaret Kinkead and who later on was John McIlroy's Aunt Peg and mother to Helyn. On the right is Adamy (Adelaide Mary) Kinkead Robert's sister who worked at The Old Bleach Mill and later on in life became the wife of Samuel McIlroy and mother to John (Jack) McIlroy who at the age of 20 emigrated to Canada. Finally seated with his arms folded is the girls brother Robert (Bob) Kinkead.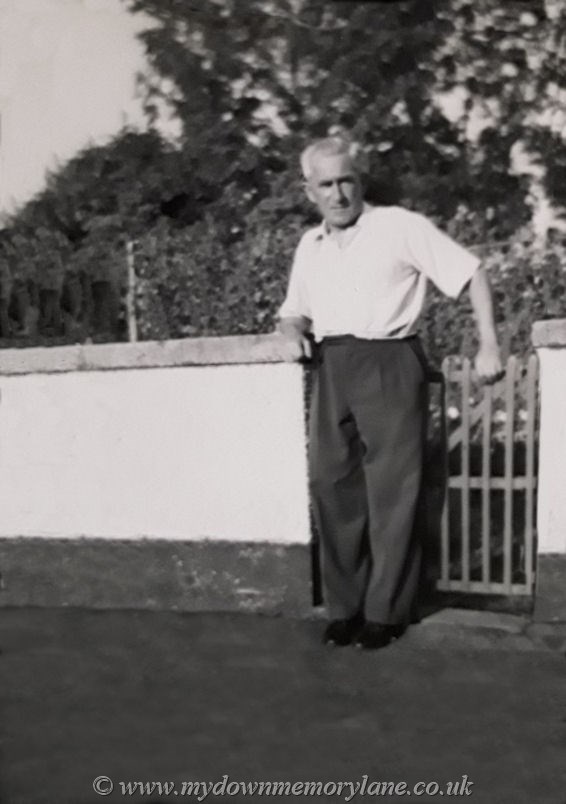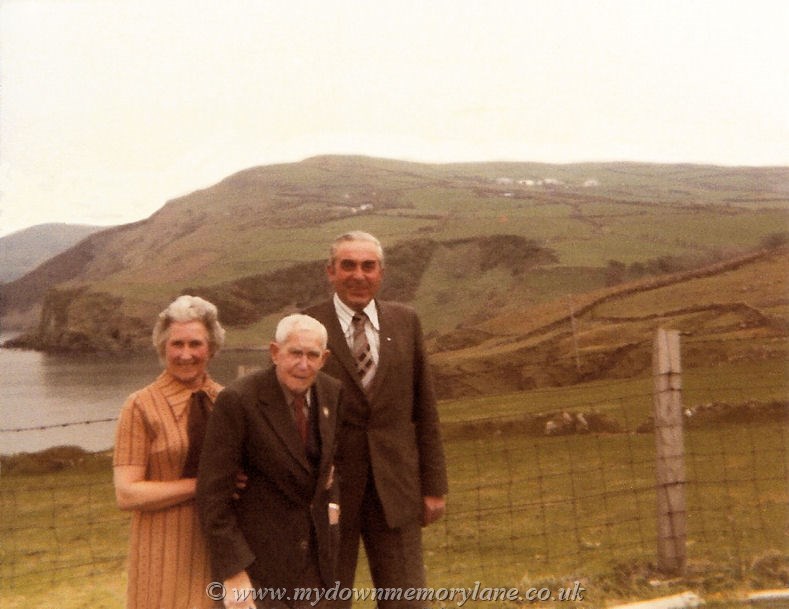 ROBERT KINKEAD 3854
Here is Robert (Bob) Kinkead in the 1960's from Randalstown standing outside his gate and who worked for The Old Bleach Mill in Randalstown.
OUT FOR A DANDER 3854
Heading back from visiting Tor Head near Ballycastle in 1978 is Robert (Bob) Kinead at the back with his friends Elizabeth & Hugh Beattie.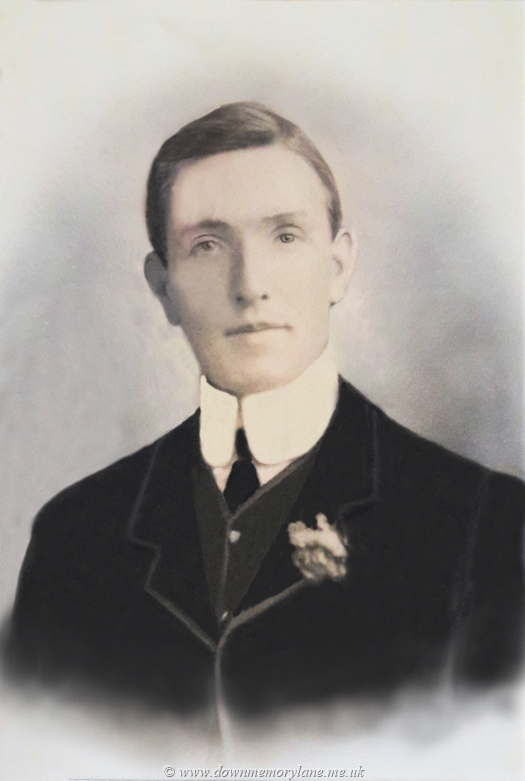 HUGH KING 4019
Having his photograph taken in 1910 is Hugh King who lived at 9f Dunsilly, then moved to Milltown Kilbegs and is the Grandfather of Audrey Brankin.
The reason for the flower in his button hole? He was getting married.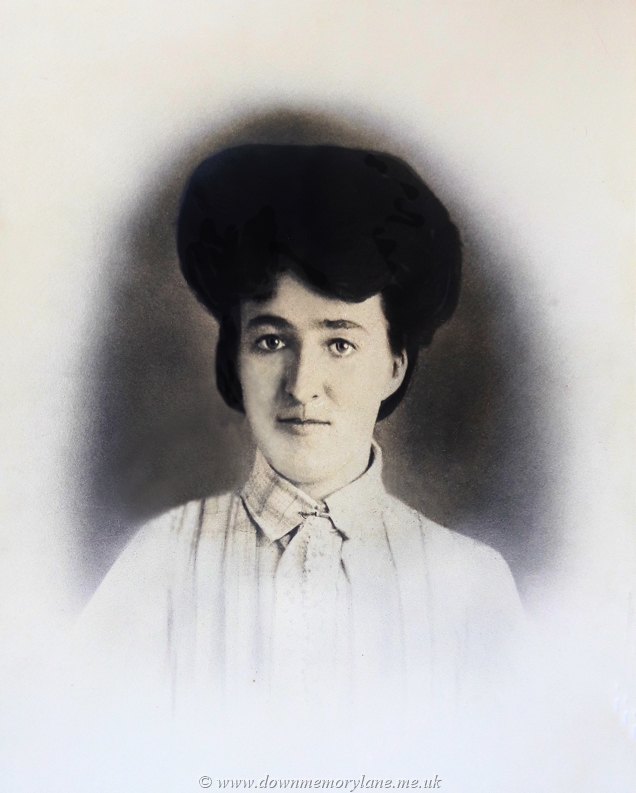 HUGH KING 4020
This is Elizbeth Bell King nee Gourley married to Hugh King and is the Grandmother of Audrey Brankin.