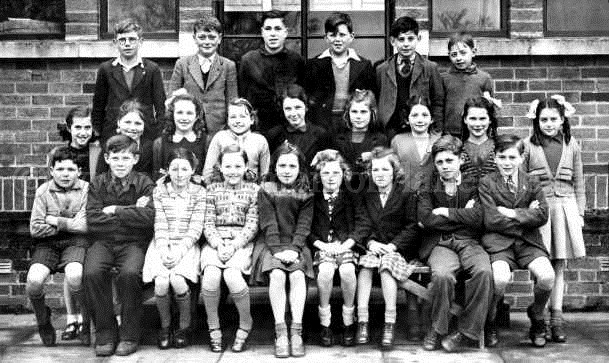 CENTRAL PRIMARY SCHOOL 1100
This is the class of 1946 getting photographed at their school which is Central Primary in Randalstown.
At the back we have Maurice Logan, Jim Hughes, Gilbert Clothworthy, John Weir, Jack Quigley and Hall Huston.
Middle row has Margaret Small, Anne Millar, Lena Hill, Dorothy Hamilton, Audrey Allen, Eileen McFadden, Joan Dean, Jean Foster and Marjorie Ewart.
Seated are Eddie Reid, Jim Weir, Kathleen Davis, June Speedie, Margaret Adair, Joan Fletcher, Wilma McFarland, Rochie Bamford and Dougie Savage.
By the way Maurice Logan and Dougie Savage were in the Randalstown Cubs.
CENTRAL PRIMARY SCHOOL 1054
Standing outside their school which is Randalstown Central Primary we have the class of 1952.
At the back are Joe Bell, Trevor Bell, Karl Thompson, Aubrey McCaughey, George McMullan, Dessie Mulholland, Robert French, Norman Rainey, Ivan McDonald, Marshall Moore, Raymond Quigley, Wesley McGarvey, Alex Woods, John Adair and Eric McWhirter.
In the middle we have John Little, Earl Davison, John Kilpatrick, Alistair McIlroy, Elmer Wolfenden, Margaret Weir, Pauline French, . Nan French, Maud Crawford, Pat Picken, Dorothy Miller, Robert Holmes, Adam Young, Robert Percy, Lloyd Richie and Mrs Speedie. The girls seated are Muriel Dunlop, Lorraine McKee, Arvil Wolfenden, Anna Bovill, Oliva Simpson, Rosemary Fulton, Arlene McAllen, May Hamill and Martha Neil.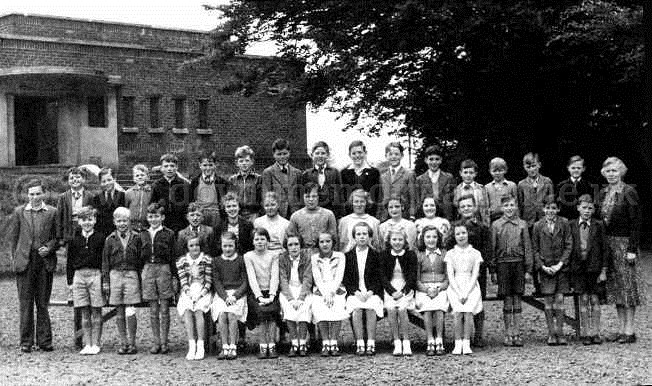 RANDALSTOWN HIGH SCHOOL 1097
Photographed outside Randalstown High School we have the staff of 1972.
Standing are Philip Scott, Eleanor Costello, Florence McMillan, Moyra McCandless, Kathleen Jamison and Nevin Houston.
Seated in front are Isobel Halliday, Cammie Allen, Jim Beresford, Pat Henderson and June Bonar.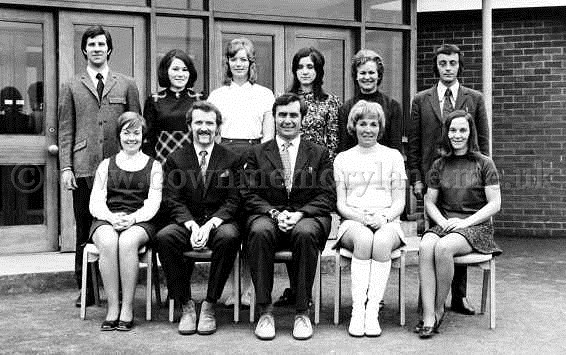 RANDALSTOWN HOCKEY CLUB 1092
This is Randalstown Hockey club having their photograph taken by Miss Booth who not only did a lot of photography but was also the Postmistress of Randalstown. They are at the Tennis Club which was in Shane's Castle Grounds, sadly the year and the people are unknown.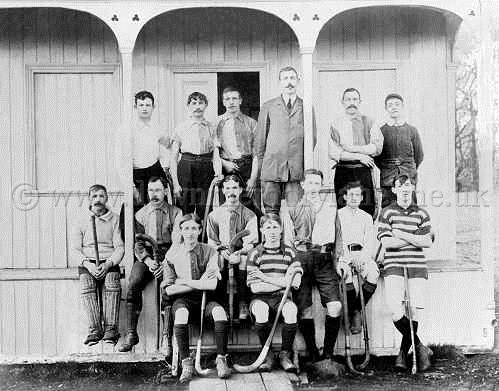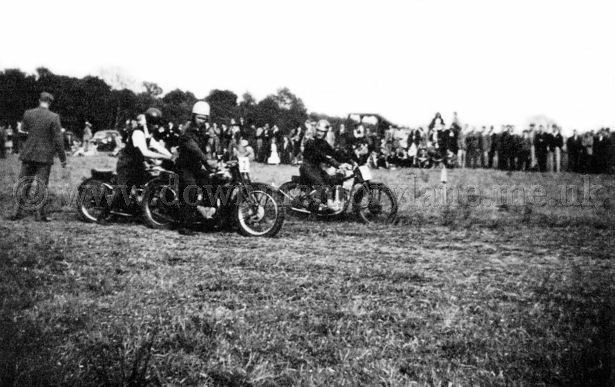 RACE MEETING 2357
On the left is the race marshall getting the riders ready for the next race.
The event was being held in the grounds of Shane's Castle.


RED BAY 2054
Relaxing in the grass beside the shore at Red Bay we have Hugh and Margaret McKeown.
READY FOR WORK 2003
All set for work in his lorry is Brian McNally which was at the side of their home off the Blacklough Road back in 1950.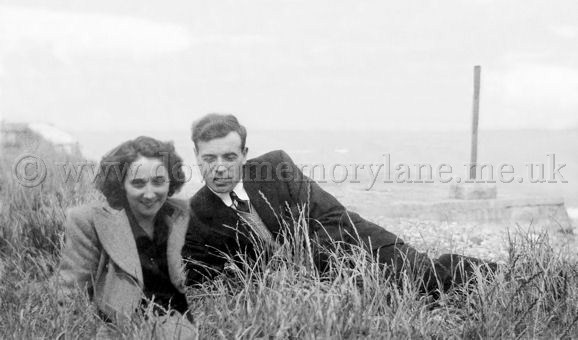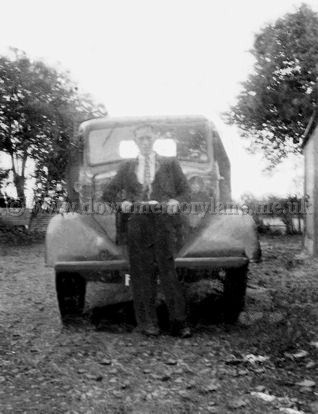 RANDALSTOWN HIGH FOOTBALL TEAM 1990
This is Randalstown High School Under 15 Football Team of 1983 showing that they had winning ways in the game.
At the back we have Tommy Nicholl, Neil Smith, Gary McDowell, Roy Livingston, Noel Drenner, John Galloway, Allen Black and Gary Hunter.
Seated are Noel Kidd, Derek McCrory, Adrain Patton, Willie Beggs Johnston Logan and Roy Leacock.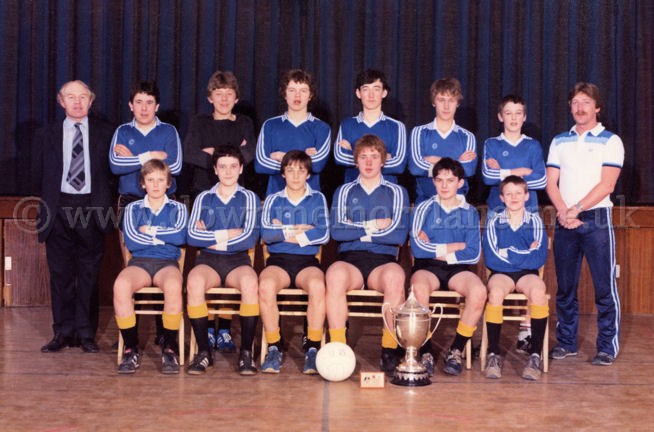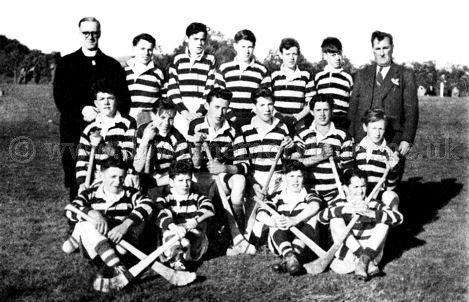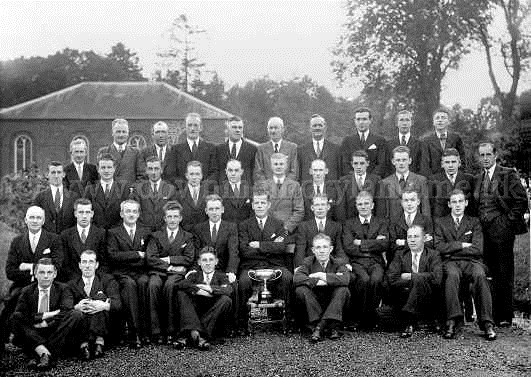 RANDALSTOWN MALE VOICE CHOIR 1091
Standing on the lawn of Drummaul House in 1939 we have Randalstown Male Voice Choir.
At the back we have Eddie Straitt, Jas Hume, Hubert O'Melvenna, Frank Taggart, Mr Keegan, Willie Moore, Johnny Givens, Alwyn Clarke, Sammy Woods and Jimmy Storey. The next row has George Woods, William Sands, Goo Lavendar, Pete McNally, Tom Houston, Herbie Hume, Harvey Shields, Norman Houston, Willie Rainey, Hastings Hill and Alfie Speedie.The men seated are Johnny Nimmons, Jim Ewart, Tom Hamill, Johnny Bell, Irvine Thompson, Jas Lyons, Tommy McBurney, John Hume, Tom McAndrew and Jack Hill.
On the ground are Tommy Fletcher, Jas Small, Billy Neill, Harry Graham and Norman Thompson.

RANDALSTOWN JUVENILE SELECTION 1754
Here is Randalstown Juvenile Selection of 1950 getting their photograph taken.
At the back from the left Fr. Murray, V. Dobbin, F. Letters, S. O'Boyle, F. Robb, B. Kerr and P. O'Kane.
The middle has V. Kerr, D. Dobbin. J. Mulholland, J. McNally, H. Robb and M. Coogan. Seated are J. O'Boyle, R. Robinson, E. O'Boyle and G. Graham.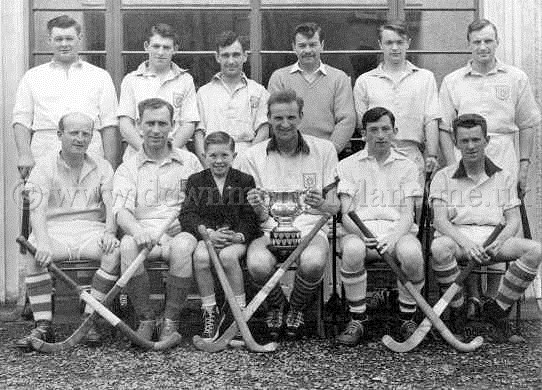 RANDALSTOWN OLD BLEACH HOCKEY CLUB 590
Few would dare to cross hockey sticks, let alone swords, with this fearsome squad of local men during there heyday in the early 1960s! This is the Randalstown Old Bleach hockey team celebrating their win in the intermediate Cup. In the back row you can see Robert Clyde, Brian Bonnar, Tommy Lynch, Wilson Clyde ( in the days before he swapped hockey balls for election halls and becoming a councillor and a local MLA), Michael Webb and Dr Charlie Stewart. Seated at the front are Guy Cullen, Nat Drennan, a young Tommy Surgenor, the aptly named Jackson Speedie, John Wilson and Hal Fleming.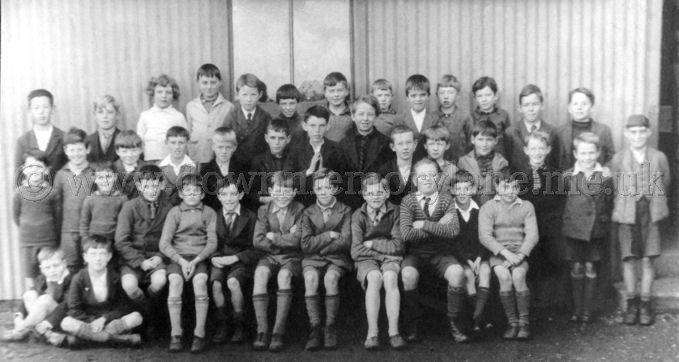 RANDALSTOWN PUBLIC ELEMENTARY SCHOOL 1837
All eager to have their photograph taken are these pupils from Randalstown Public Elementary School in 1935.
At the back are Seamus Gilmore, Unknown, Coil Scott, Unknown, Chris Close, Unknown, Alonsis Shannon, Unknown, Unknown, Sean McVeigh, Unknown, Gerard McAteer and Unknown.
In the middle we have Larry McCormick, John Blackam, Unknown, Leo McCollum, Brian Brady, Tommy McAteer, Danny McAteer, Unknown, Unknown, Unknown, Unknown, Con Close, Unknown and Unknown.
Seated are Unknown, Hugh Robb, Unknown, Barry McCann, Unknown, Danny O'Kane, Unknown, Taig McQuaid, Aloysius McCollum and Frank Shannon.
The two seated on the ground on the left are Unknown.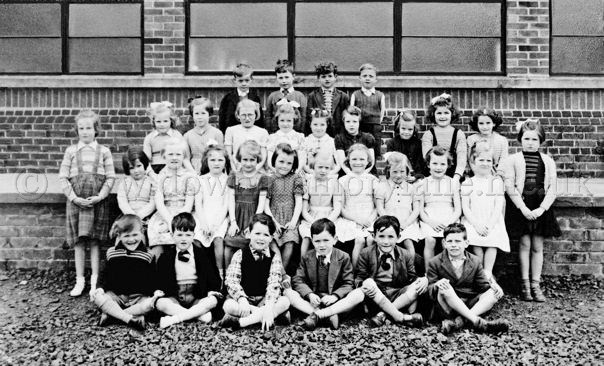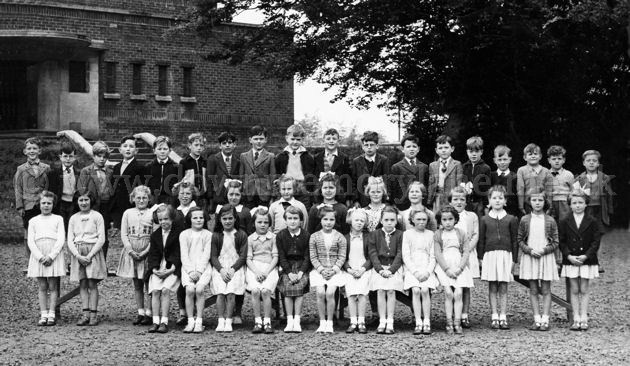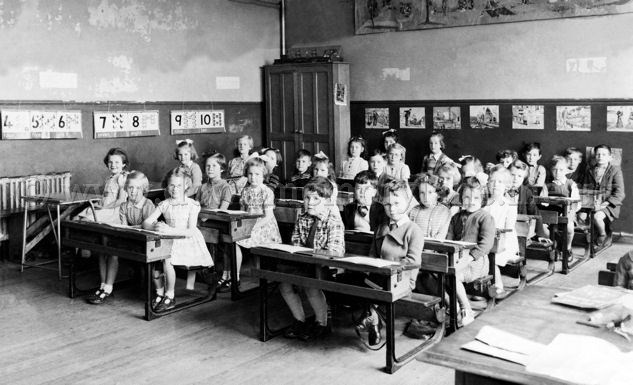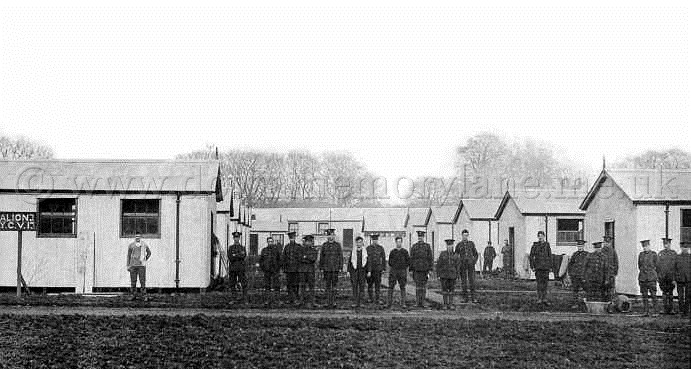 RANDALSTOWN CENTRAL PRIMARY SCHOOL 2771
The year is 1955 and they are the pupils of Randalstown Central Primary School.
The boys at the back are Unknown, Gordon Bell, Phillip Bell and Unknown.
In the next row the girls are Unknown, Elizabeth Hayes, Pat Drawford, Irene Clarke, Meta Craig, Irene Bates, Campbell, Rosemary McKee and Joy Clarke
The third row has Arlene Johnston, Ruth Percy, Unknown, Eileen Fletcher, Margaret Graham, Unknown, Pat Weir, Margaret McNally, Unknown, Phyllis Burrowes,Rosemary Ayre and Ann Percy.
Finally the boys on the ground are George Adair, Ernie Craig, Unknown, Unknown, Wilson Fulton and Willie Young.
RANDALSTOWN CENTRAL PRIMARY SCHOOL 2770
These are the pupils of Randalstown Central Primary School, back in 1956 having their annual school photograph taken.
In the back row are Charlie Mennet, Ernie Craig, Peter French, Wilson Fulton, Victor McFadden, Joey Ewart, Billy Scott, Unknown, Lawerence Law, David Tracey, Willie Young, Adrian Minford, Unknown, Derek Houston, Gordon Bell, George Adair, Philip Bell and Unknown.
In the middle row we have Irene Bates, Ruth Percy, Pat Crawford, Valerie, Unknown, Arlene Johnston, Rosemary McKee, Unknown, Elizabeth Hayes, Lilus Ritchie, Meta Craig, Unknown and Irene Clarke.
The girls seated are Maureen Campbell, Kathleen McWhirter, Lonnie Quigley, Unknown, Margaret Graham, Eileen Fletcher, Pat Weir, Ollvia Kyle, Margaret McNally and Joy Clarke.
RANDALSTOWN CENTRAL PRIMARY SCHOOL 2772
Well here we are at Randalstown Central Primary School in 1952. This is Mrs Millars class and probably Mrs Millar took the photograph.
At the front in the far row is Phillis Burrowes then behind her is Unknown and Unknown.
New next row has Pat Weir, Margaret McNally, Elizabeth Hayes, Eileen Clarke, Ann Percy, Eileen Fletcher,Unknown, Meta Craig, Pat Crawford, Rosemary McKee and Arleen Johnston.
The final row has Hugh Minford, Gordon Bell, Ernest Craig, Joy Clarke (this was her first day), Valerie Mc Quirter, Margaret Graham, Rosemary Ayre, Moreen Cambell, Irene Bates, Philip Bell, Gerald Scott, Wilson Fulton, Unknown and Willie Young.
ROYAL IRISH RIFLES 1382
It's 1915 and these brave soldiers of 14th Battalion of the Royal Irish Rifles are doing their training before going to France and the horrors of the War. This training camp was on Lord O'Neill's estate at Dunmore Park, soon after it became a convalescent camp for the many hundreds of wounded soldiers.In the background is a delivery van leaving off goods.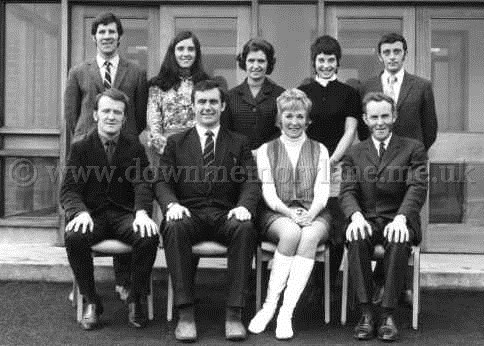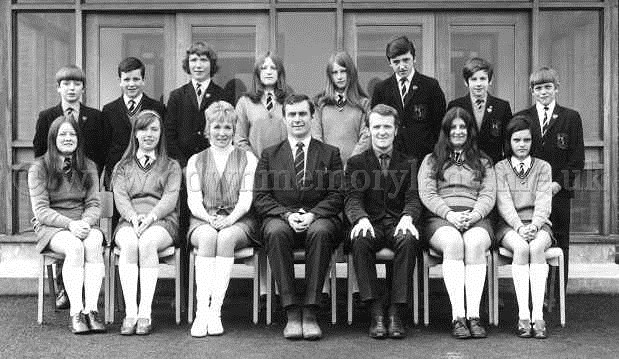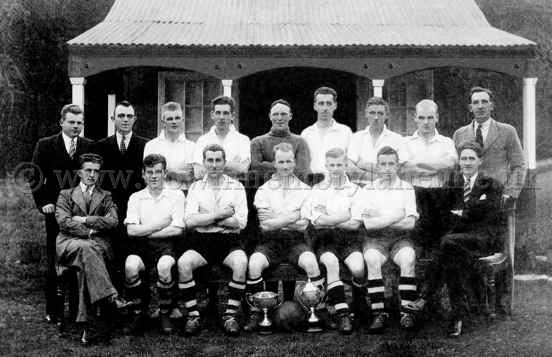 RANDALSTOWN SECONDARY SCHOOL 1456
This is the staff of Randalstown Secondary School all smiles before they went in to the pupils in the 70's.
In the back row on the left is Phillip Scott, the three ladies are unknown and then Nevin Houston.
Seated we have Campbell Allen (Vice Principal), Jim Beresford (Principal), Pat Henderson and James Irvine.
RANDALSTOWN SECONDARY SCHOOL 1455
Seated in the middle is Jim Beresford the Principal of Randalstown Secondary School. On his left is Pat Henderson and on his right is Campbell Allen the Vice Principal. The pupils getting their photograph with them in the 1970's are all Prefects but at the moment I do not know any of their names.
RANDALSTOWN FOOTBALL CLUB 1856
Seen here all smiles for the camera are Randalstown Football Club in 1935 and the reason they're smiling, they have won the Garvin Cup and the Jubilee Cup.
Standing at the back are (from left) A.Jamison, P. McKay, John Hume, Eddie Quigley, R. Blair J. Rainey, P. O'Kane, B. Bush and W. Mawhinney.
In front are J. Bell, J. Magill, A. Rainey, Jason Hume, H. Hume, D. Fisher and G. Spence.
JIM RICHARDSON 1835
Getting his school photograph taken is Jim Richardson.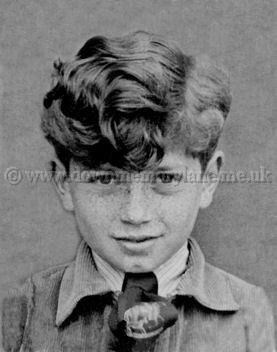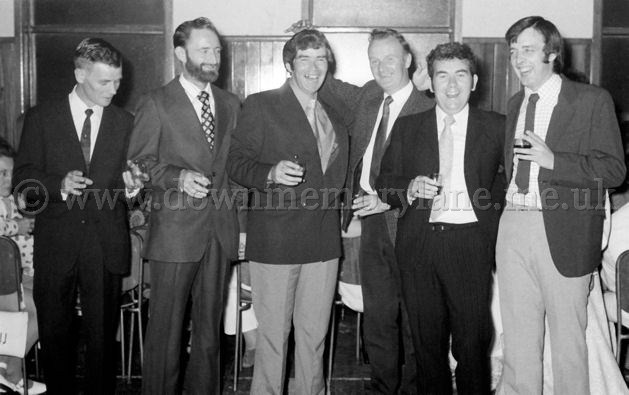 REUNION 1903
It's 1974 and these Antrim men are having a reunion party it was not taking place in Antrim but New Zealand!
From the left we have Billy Craig, Billy McAleese, Brian McWilliams, Danny Letters, Unknown and Paddy McWilliams.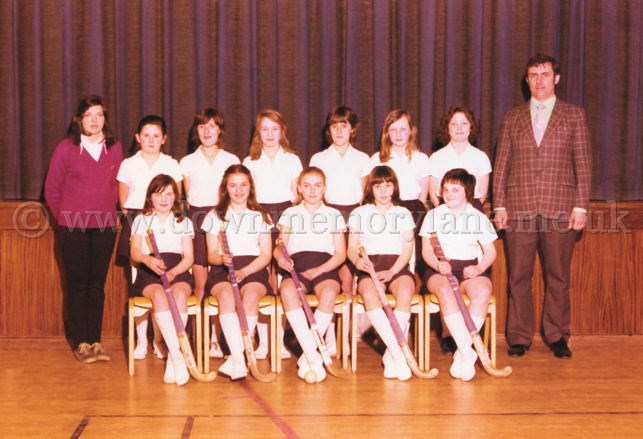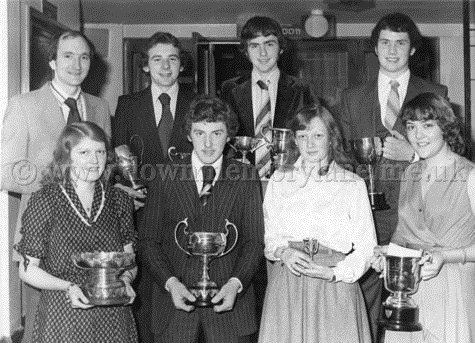 RANDALSTOWN SECONDARY SCHOOL 1812
Playing Prince Charming is Valerie Campbell and the lovely Cinderella is played by Myrtle Greer, pupils of Randalstown Secondary School in the 70's. Kneeling down is Buttons played by Victor Young.
RANDALSTOWN SECONDARY SCHOOL 1960
These fine young hockey players are First Year at Randalstown Secondary School during 1974 - 1975.
Standing at the back is the P.E. teacher Helen Clarke, then Brenda Logan, Winifred Addidle, Janet Drummond, Carol French, Roberta French, Eileen Nesbitt and the Headmaster James Beresford.
Seated we have Valerie Taylor, Annie Beresford, Elizabeth Scott, Bertha Kernohan and Lorna Foster.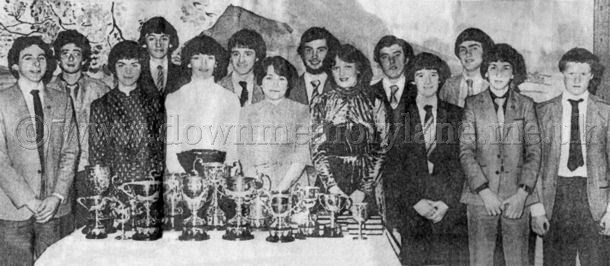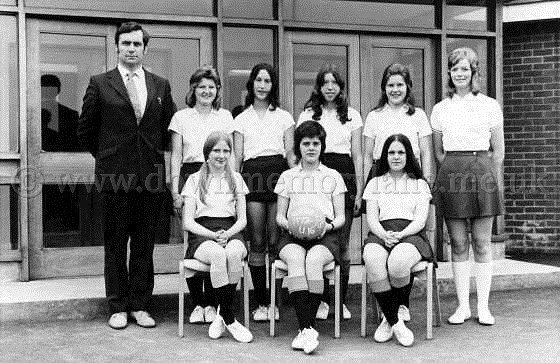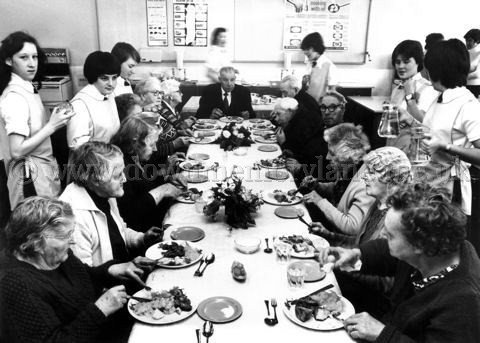 RANDALSTOWN YOUNG FARMERS CLUB 0000
These are the prize winners of Randalstown Young Farmers Club in 1982.
From the left we have Randal McDowell, Andrew Speedie, Dianne Stewart, Norman Sloan, Maree Drummond, Joseph Thompson, Roberta McDowell, Robert Mulholland, Janet Drummond, Henry Thompson, Wallace Thompson, Rooney Sloan, Johnathan Sloan and Alan McAteer.
RANDALSTOWN YOUNG FARMERS CLUB 1961
Here we have the Prize Winners of Randalstown Young Farmers Club in 1979.
At the back are James Walker, Randal McDowell, Rodney Sloan and Brian Montgomery.
Front row has Yvonne Dixon, Henry Thompson, Janet Drummond and Margaret McCosh.
RANDALSTOWN HIGH SCHOOL 1810
The girls serving the people at the table are the pupils of Randalstown High School in the 70's. Now each week they made these meals and enjoyng the meal and the only person known is at the top of the table Arthur Taylor.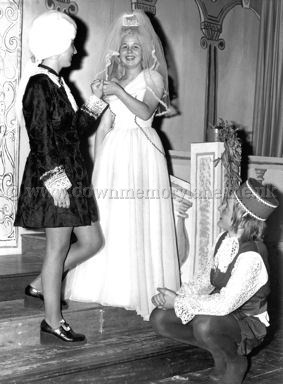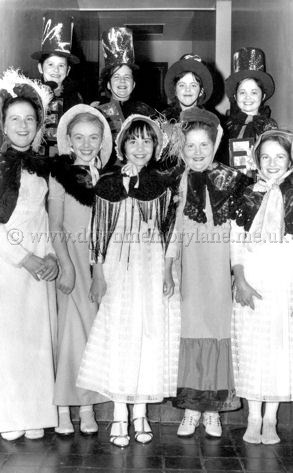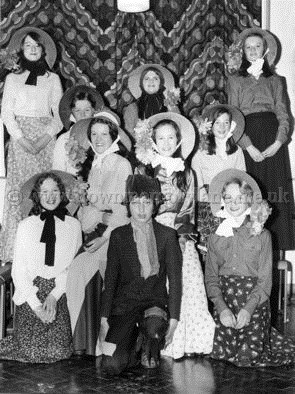 RANDALSTOWN SECONDARY SCHOOL 1813
All smiles for the camera are these pupils of Randalstown Secondary School in the 70's.
The pantomime is unknown and so are the pupils except for the girl in the front row on the right and she is Denise Craig.
RANDALSTOWN SECONDARY SCHOOL NETBALL TEAM 1454
Here we have Randalstown Secondary School Under Sixteens Netball Team in 1973.
Standing either side of them are the Principal Jim Beresford and Pat Henderson. None of the team's names are known.
RANDALSTOWN SECONDARY SCHOOL 1811
Here we have the pupils of Randalstown Secondary School all ready for their school pantomime of Cinderella in 1974.
At the right in the back row is Pauline Lynn. Third from the left in the middle row is Brenda Conaghty
In the centre of the front row is Fiona McCammond and on her right is Sandra McKay, the rest are unknown.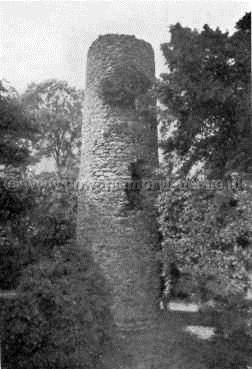 RAM'S ISLAND 202
This is the round tower on Ram's Island in 1897 and in not bad condition then.
As you can see visitors just loved the island even way back then.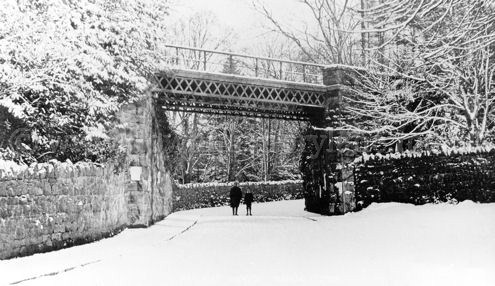 RAILWAY BRIDGE 1558
Standing under the railway bridge at Randalstown in the snow of 1910 is what could be a father and son, both unknown.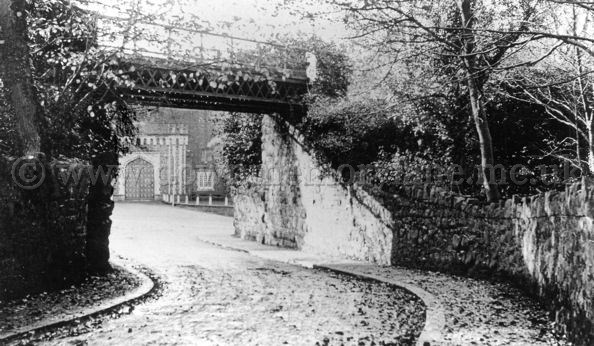 RAILWAY BRIDGE 1559
This is the railway bridge at Randalstown in the early 1900's and in the distance you can see the entrance gate to Shane's Castle. Now what is more interesting about this photograph is if you look closely to the right of the bridge you can see a cloaked figure with their head bowed. Was anyone killed here or on the bridge? let me know if you do.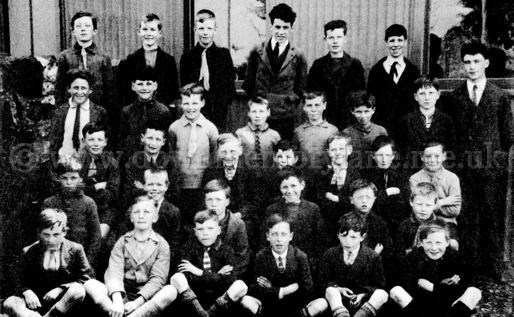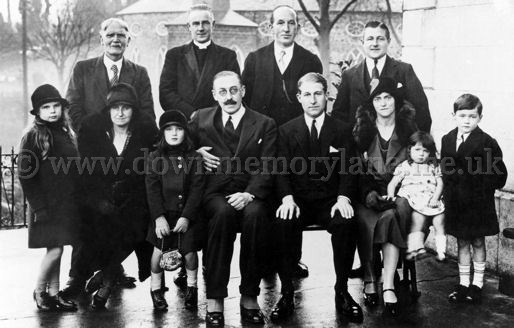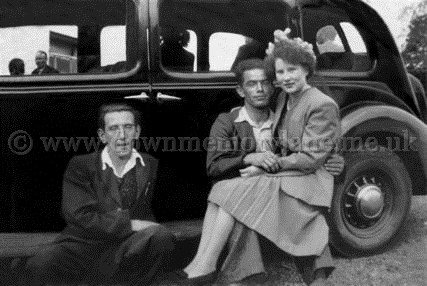 RANDALSTOWN BOYS' SCHOOL 1678
This Randalstown Boys' School and the class of 1928 are getting their photograph taken.
At the back are P McKay, S Shannon, J McLaverty, L Robb, W McTeague and F McLarnon. The 4th row has I Magee, P McLaughlin, H Scott, D O'kane,
T Shannon, J Heffron, V Hurrell and R Storey (Monitor). In the 3rd row are S McKay, S McCormack, G Laverty, S McAteer, B Shannon, P Magee and
M McDowdall. 2nd row has D McKeown, J Brady, J Taylor, P McKay, P Gilmore and T McCormack.
In front are D McAteer, R O'Kane, R McKay, T Berry, T McCormack and W Magee.
RANDALSTOWN 1573
It is November 1930 and getting their photograph taken are the Platform Party at the Bazaar in aid of the renovation fund for their church. The four men at the back are Mr. A. M. PurceJ.P.; Rev. F. G. Bell M.A.; Mr. T. Gillespie and Dr. Hall Stewart.
Seated we have the Hon. Mrs. McClintock with Misses Annette and Ethna McClintock; M.W. H. Webb D.L. J.P. (Chairman); Lord O'Neill who performed the opening ceremony; Mrs. F. G. Bell with Miss Margaret and Master Ewart Bell.
RANDALSTOWN WEDDING 1806
Seated on the step of one of R.G.Moore's taxis of Randalstown we have on the left Jackie Reid. Then Mickey Totten and on his knee is Ina McMullan. Either Ina is going to or has been at a wedding by the way she is dressed.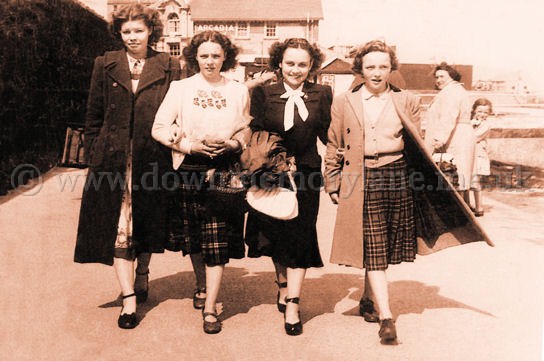 RANDALSTOWN GIRLS 2002
These four lovely from Randalstown have just been snapped at the most photographic spot in Portrush.
It's the 1940's and from the left Maureen Letters, Phyllis McCaughey, Jean McCaughey and Sheena McCaughey are out for the day and by the look in their eyes they are going to enjoy themselves. In the background on the right is a mum with her child. In her hand is carrying a mums magic bag for out of it mums would take your towels, swimwear, change of clothing and of course the sandwiches and a flask of tea!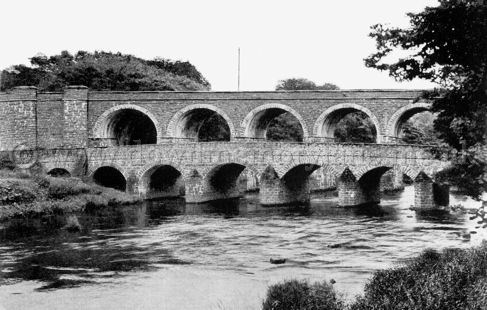 RANDALSTOWN VIADUCT AND BRIDGE 1586
Here you can see the 9 arch stone road bridge which was built in the 18th century was widened in 1864 for the traffic and then renovated in the 1930's.
The stone railway viaduct behind has 7 arches and was not only built by William Dargen but opened by him along with the Earl of Carlisle in 1856.
The trains ran for 103 years before it finally closed in 1959, now it is a walkway for people to enjoy the view.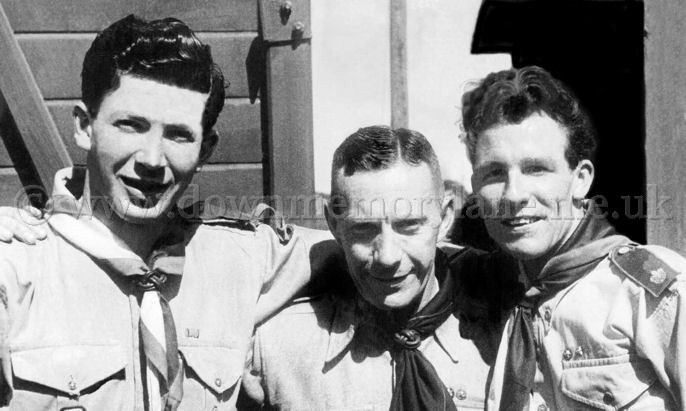 1st RANDALSTOWN SCOUTS 2462
Standing on the platform at the railway station with all their gear packed into the trucks behind them.
We have all smiles and eager to be of to camp are Pat Gardiner, Bobby Millar And Hall Graham back in the 1940's.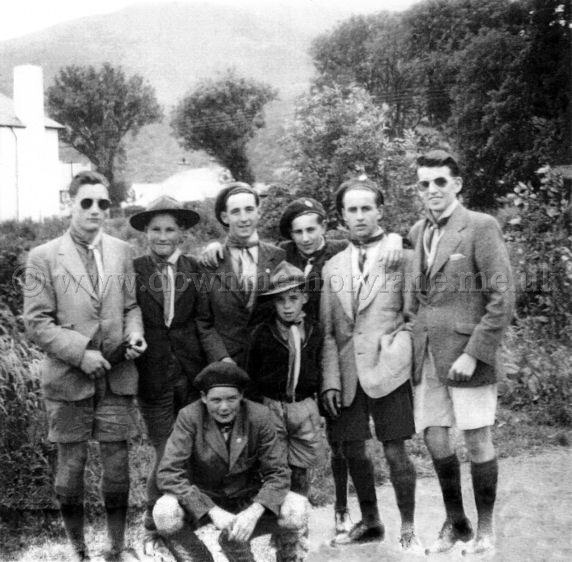 1st RANDALSTOWN SCOUTS 2475
This photograph taken in the 1940's shows 1st Randalstown scouts on a camping trip.
From the left we have Sidney Stewart, John Loughlin, Cyril Scott, Curtis Weir, Tom Smyth and Brian Waddel.
The Wolf cub in front of them is Tom Scott and kneeling down is Eddie Reid.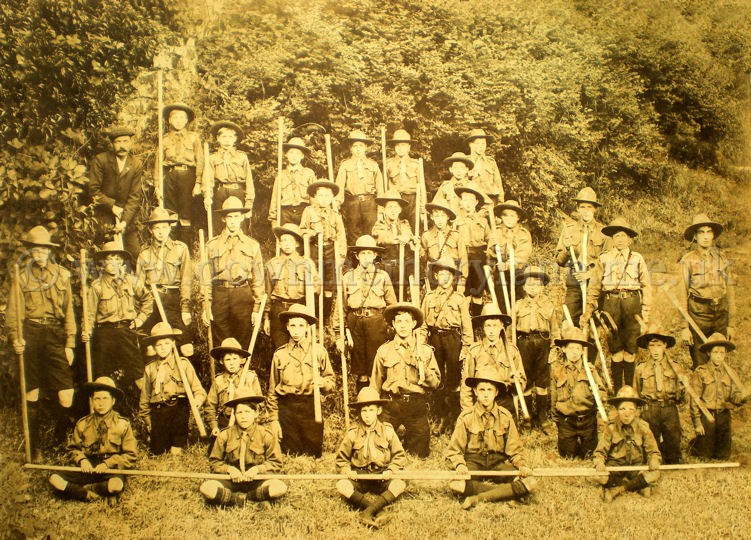 1st RANDALSTOWN BOY SCOUTS 2506
Having their photograph taken is 1st Randalstown Scouts back in 1910, this is the earliest photograph of them known, unless you know better?
At the back are Sam Crowe, David Speedie, Walter Palmer, Sam Houston, Bob Houston, Bob Ewart, James O'Neill and R McKittrick.
The fourth row has Sam McCaughey, Alfie Speedie, William Clarke, David Rainey, George McKittrick and Jose Moore.
In the third row are Frank Sloan, Jim Bell, I Pearson, Willie Moorhead, Jock Houston, Bobbie Kincaid, S Houston, George Hamilton, Sam Woods and David Gourley (Scoutmaster)
Kneeling in the next row are Edward Purce, Ted O'Neill, Hugh Clark, William Moore, Reg Manning, Jack Houston, S Craig and Jim Stewart.
Finally seated on the ground are Matt Quigley, Willie Waddell, Tom Seymour, John French and Willie Wallace.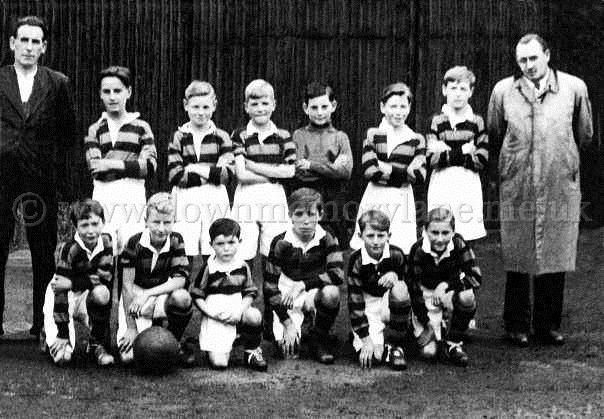 RANDALSTOWN WASPS 1101
Having their photograph taken in 1945 we have the famous Randalstown Wasps.
Although small in stature opposing goalkeepers were terrified of them for when they tried to stop the ball their hands were left stinging!
At the back are Eddie Quigley, Tom Smyth, Victor Wallace, Maurice Logan, Jack Quigley, Billy Mawhinney, Ewart Craig and Billy Huston.
Kneeling are Sean McLaverty, Billy Mullan, Freddie Quigley, Jim Weir, Dessie Bonar and Derek McIlroy.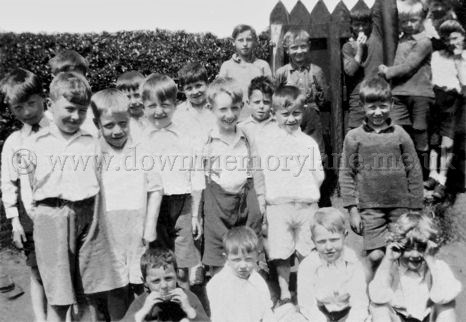 RANDALSTOWN PRIMARY SCHOOL 1619
These are the boys of Randalstown Primary School during their lunch break. You can tell for the in the front on the left is eating a sandwich and so is a boy at the back with his arm up in the air. The only boy known is Harry McCormick and he is behind the boys on the right in the first row. Some of the boys are wearing belts and some braces and their short trousers look rather big, well back then you wore "hand-me-downs" which means they could have been their big brothers. My mum used to cut up my dad's old trousers and make me four pairs of short trousers which I continued to wear until I was thirteen!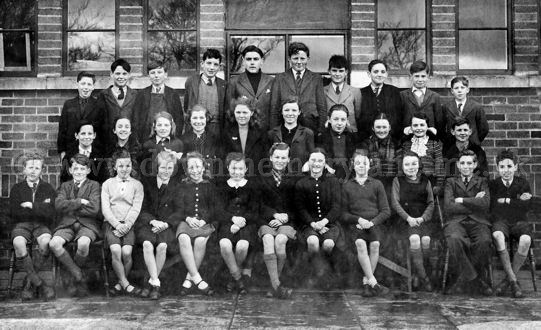 RANDALSTOWN PUBLIC ELEMENTARY SCHOOL 1622
It is 1946 and the smiling faces of these pupils are from Randalstown Public Elementary School.
In the back row from the left are Billy Mawhinney, Jackie McElvenna, Hugh Nicholas, Jack Weir, Ivor Wilson, Jimm Allen, Bobby Logan, Jackie Davis, Jim Logan and Desmond Millar. In the Middle are Cyril Scott, Ethel Wilson, Vina Huston, Helen Dunlop, Beth McMullan, Gladys Clements, Beth Scott,
Pasy Johnston, Ruth Allen and Davy Bell. Seated we have Billy Mullan, Dessie Bonar, Margaret McFarland, Georgina McFadden, Rosemary Nicholl, Betty Richardson, Gertrude Cheshire, Evelyn Laughlin, May Houston, Lena Campbell, Sydney Smith and Kenneth McGonigal.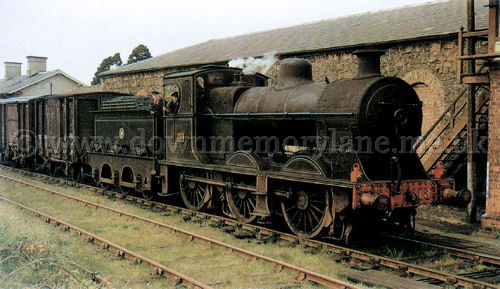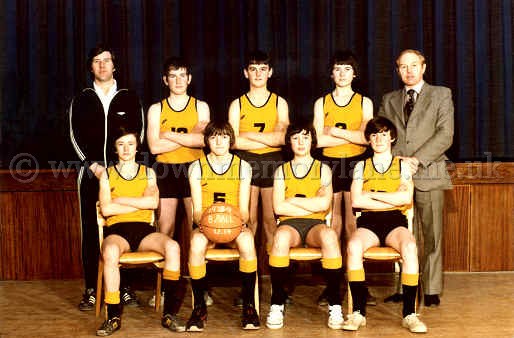 RANDALSTOWN SECONDARY SCHOOL BASKETBALL TEAM 1457
Getting their photograph taken are the Under Fourteen's Basketball team of 1979 from Randalstown Secondary School.
On the left at the back we have Philip Scott the P.E. teacher who went on to become the principal of the Round Tower Integrated School. Then ,Alex Bates, Allister McCleary, Samuel Logan and principal Tom Nicholl.
Seated are Allister McDowell who became a minister, the Captain Stewart Carson, Eril Nesbitt and Aran Bates.
RANDALSTOWN RAILWAY STATION 1805
This is engine No.13 and is a 3V class 0-06s and is ready to move off from Randalstown station hauling materials in the goods wagons to Cookstown
On the platform next to the driver is the local Fireman Tommy Smith eager to be on his way in May 1959.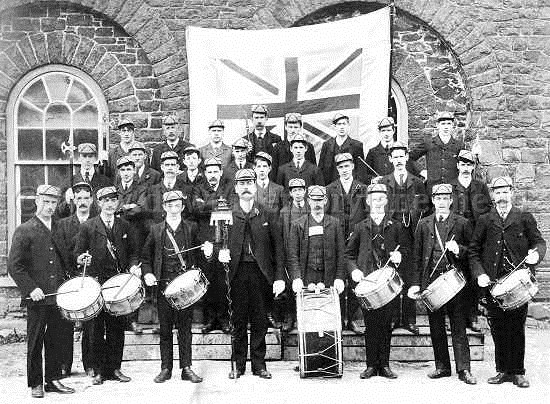 RANDALSTOWN VICTORIA FLUTE BAND 1234
Here we have the thirty members of Randalstown Victoria Flute Band posing for a photograph at the back of Market House in New Street in 1905.
At the back are T. Woods, J. Hume, S. Mulligan, J.McKittrick, A. Anderson, R. Woods, J. Wilson and T. McBurney.
In the Third row we have F. Brown, S. Manning, Unknown, Unknown and Unknown.
Second row consists of W. McFarland, W. Moore, J. Woods, G, Unknown, S.Woods, W. Woods, J. Murdock and Unknown.
The front row has C. French behind him is J. Rea then drummer H. Ewart, D.J. Gourley, W. Armstrong, S.J. Gourley, W. Foster and J. Foster.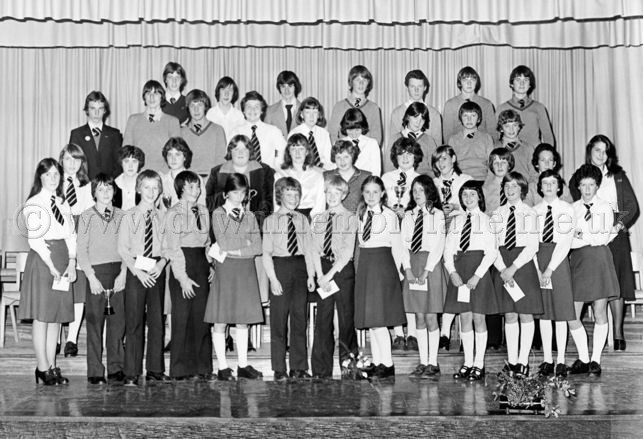 RANDALSTOWN SECONDARY SCHOOL 1959
These are the pupils of Randalstown Secondary School in October 1979 for the Annual Harvest Service and Prize Distribution.
At the back are Tommy George, John McKernan, Garth Beckington, Johnston Doole, Thomas Houston, Stuart Carson and Sammy Logan.
In the 3rd row are Norman Davis, David Downing, Nigel Adair, Heather Black, Mandy McKernan, Rosemary McKee, Lorna Smith,Ian Smith and Unknown.
2nd Row has Jacqueline Woods, Dorren Donaghy, Jeanne McClelland, Lorna Falkender, Janet Drummond, Karen McCrubb, Zara Millar, Avril Warren, Neil McDowell, Alister Hamill and Margaret Bradley.
Finally in the front we have Sharon Shields, Steven Fleming, Unknown, William Wright, Unknown, Stephen McKee, Bill McDowell, Mandy Waddle, Miss McKernan, Joy McNeilly, Cheryl Leacock, Helen Cullen and Cheryl McDowell.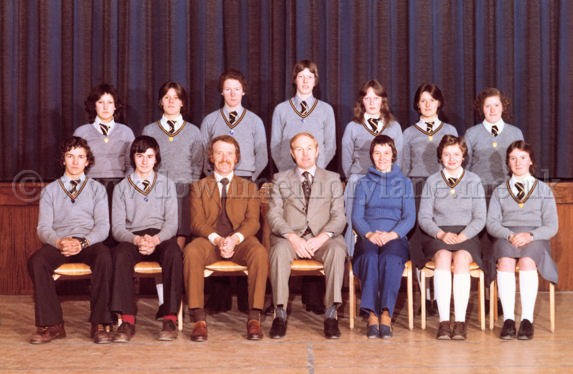 RANDALSTOWN SECONDARY SCHOOL 1963
Here we have the Prefects of Randalstown Secondary School having their pgotograph taken in 1979.
Standing at the back are Dawn Mawhinney, Roberta French, Thomas Houston, Tommy George, Janet Drummond, Carol French and Janet Marks.
Seated are Roy Logan, Gareth Beckington,Vice Principal Campbell Allen, Headmaster Tommy Nicholl, Head Mistress June Bonar, Karen McCrubb and Sharon McKay.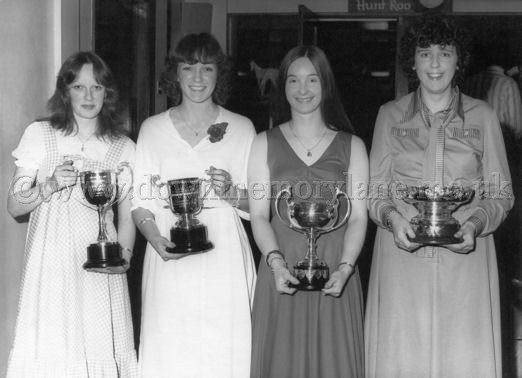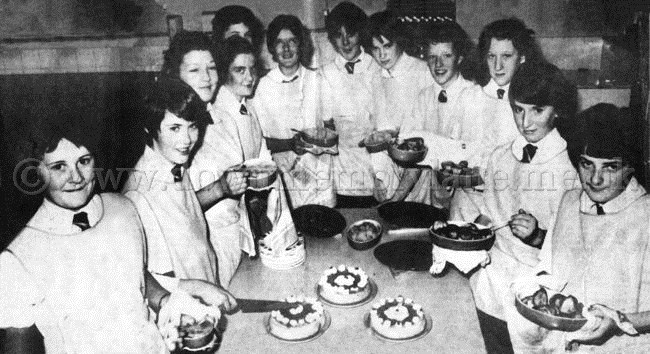 RANDALSTOWN YOUNG FARMERS CLUB 1962
These smiling faces are the Prize Winners in the Ladies section of Randalstown Young Farmers Club of 1978.
Janet Drummond, Maree Drummond, Margaret Turtle and Heather Speedie.
RANDALSTOWN SECONDARY SCHOOL 1964
This is Class 4E2 from Randalstown Secondary School in 1978 preparing the Senior Citizens Lunches.
From the left are Brenda Logan, Doreen Donaghy, Eileen Nesbitt, May Rainey, Jeanne McClelland, Carol French, Roberta French, Winifred Addidle, Eilish O'Kane, Alinda Black, Sharon McKay and Elizabeth Scott.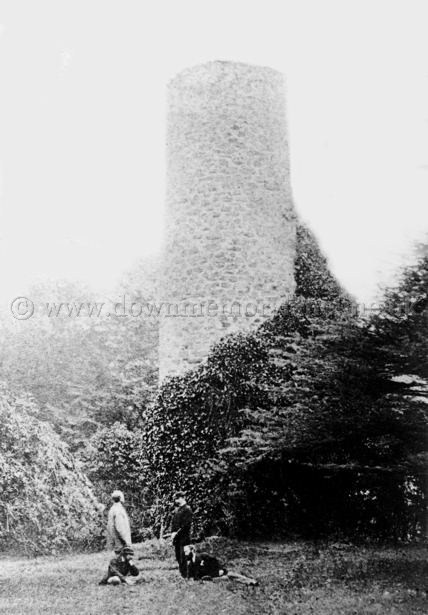 RAM'S ISLAND 1567
This is the round tower on Ram's Island in 1897 and in not bad condition then.
As you can see visitors just loved the island even way back then.
RANDALSTOWN SECONDARY SCHOOL FOOTBALL TEAM 2864
It's 1972 and this is Randalstown Secondary School Football Team 1st year having their photograph taken.
Standing from the left are Teacher Mr Philip Scott, David Crawford, Nigel McNally, David McDowell, John Pennie, Billy Mawhinney, Billy McCormick and Headmaster Mr James Beresford.
Seated we have Nesbit Roy, Robert Galloway, Jackie Craig, David Smith, Paul Talbot and Don Smith.