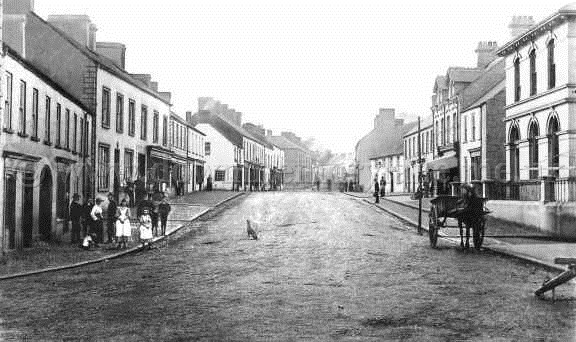 LOWER MAIN STREET 1348
This is Lower Main Street back in 1893 and a few of the townsfolk including a dog are posing for the photographer. The building on the left beside the crowd in the foreground replaced the old Market House where on the 7th of June 1798 the United Irishmen fought a battle with the British Army.
. The next building which has a shop also has the local police station with two policemen standing outside it. Across the road is The Northern Bank which was built in 1868, on up this side you can see a thatched pub which back then was called the 'Black Bull' and is now Lavert's Bar.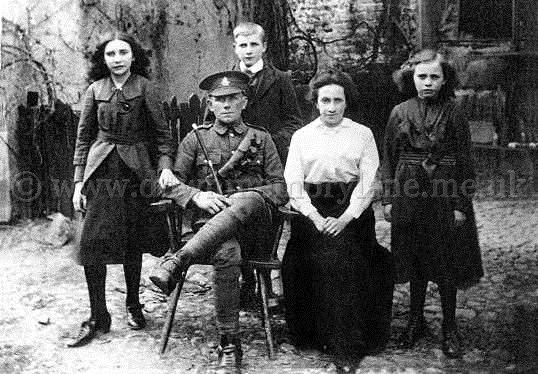 LYNN FAMILY 1477
Getting their photograph taken either at Cranfield or Whiteside Corner in Randalstown we have the Lynn family in 1916.
Standing on the we have Maria Lynn, then her brother Robert Lynn and her sister Annie Lynn.
Seated is her mother Annie Lynn and her father James Lynn who was in the North Irish Horse Regiment and he survived the Great War.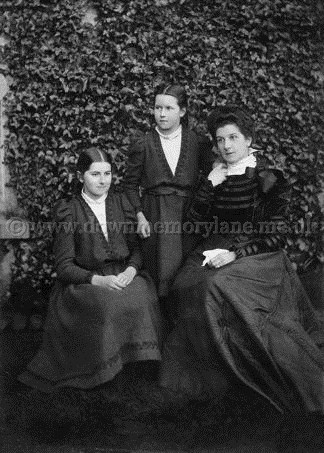 LADY O'NEILL 1516
Posing for their photograph at Shane's Castle in 1886 we have Lady O'Neill with her daughters Rose and Alli.
Getting your photograph taken then was more of an ordeal than pleasure, for you had to stay perfectly still and not look at the camera!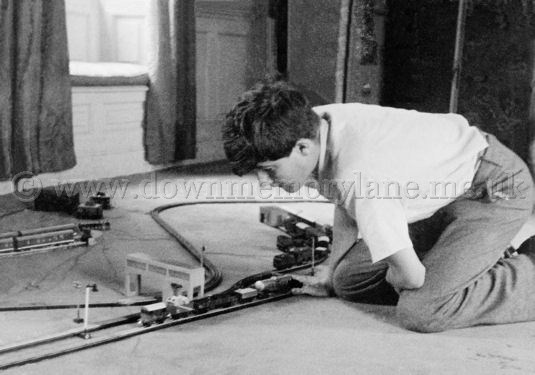 LORD O'NEILL 1566
Playing so intently with his trains in his younger days at Shane's Castle is Lord O'Neill.
Later on in life he would have real one's in the castle grounds until they went to the Antrim Coast where they are still working away.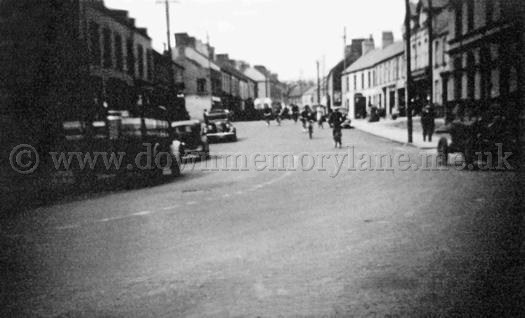 LOWER MAIN STREET 2267
This is Lower Main street in Randalstown in the 1950's and the photograph was taken by a Brownie 127 box camera.
On the right of the picture is a very old car with no roof on it. While over to the left is a milk lorry making deliveries of glass bottles of milk and also churns.
In the centre of the photograph are cyclists coming down the road and this is probably the main reason the picture was taken.

Pages: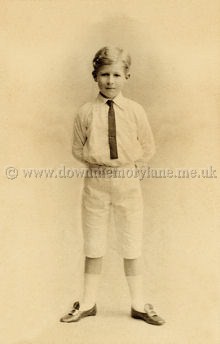 LETTERS WEDDING 1904
This joyfull occassion was the wedding of Jean Duffin to Danny Letters in Randalstown in 1962.
From the left we have parents Joe Duffin, Josephine Letters, Best man Joseph Duffin, Groom Danny Letters, Bride Jean Duffin,
Flower Girl Miss Letters, Bridesmaid Mary Duffin and finally parents Mary Duffin and Dan Letters.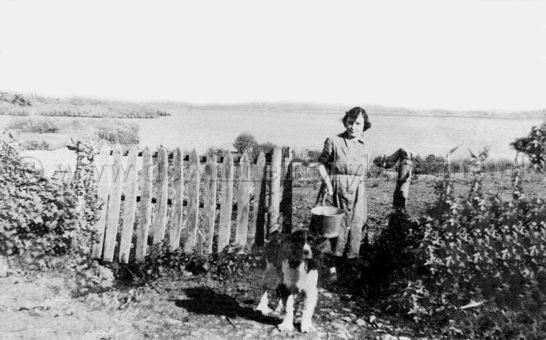 LOUGH SHORE 2001
This is Sheena McNally at back gate of her home on the shores of Lough Neagh via the Blacklough Road in 1956.
With her is their springer spaniel called " 1st Diver" as over the years they had more 'Divers'.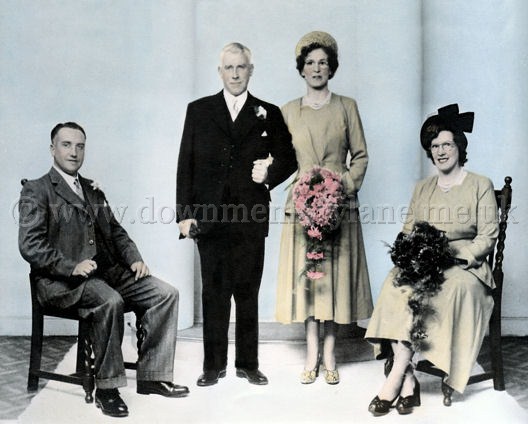 LAWTHER WEDDING 2066
Having their wedding photograph taken in a studio as folks did back in 1950.
On the left is Best man Edward John Lawther, Groom Josha Lawther, the Bride Ethel Steele and Bridesmaid Katherine Jackson Steele
LORD O'NEILL 1530
This is Lord Shane O'Neill standing proudly for his photograph in his younger days. Later on in his life Lord Shane O'Neill became his Majesty's Lieutent for County Antrim and succeeded to Shane's Castle.
War came again to Europe and Shane who was then Lieutenant Col. commanding the North Irish Horse in Italy when on the 24th October 1944 he was killed.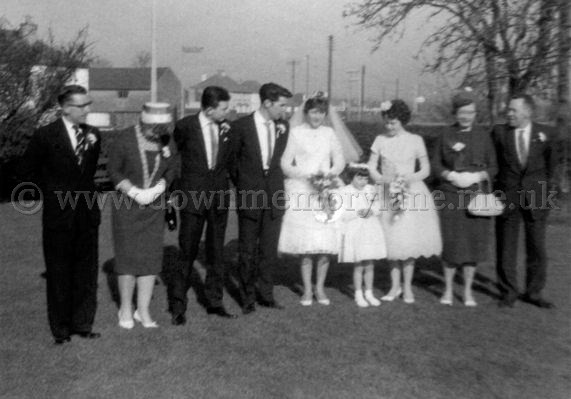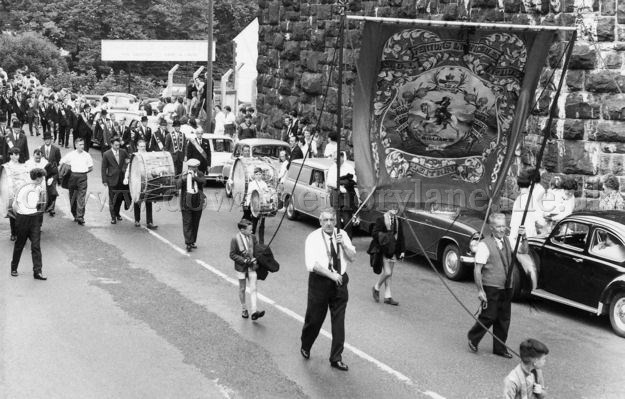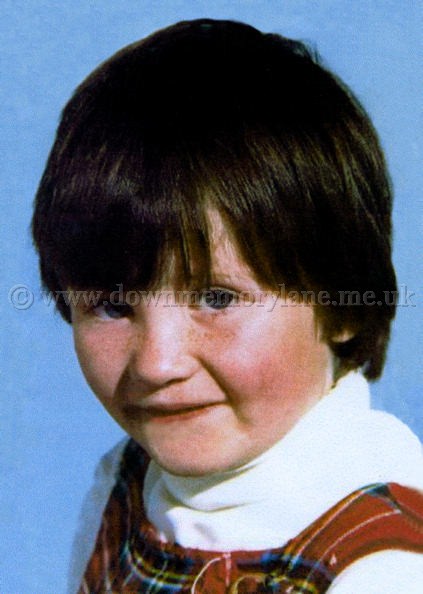 L.O.L. 104 2130
This is L.O.L. 104 passing under the bridge in Randalstown in 1954 and holding the lodge banner on the far right is Harry Brown. The noise with this lodge must have been tremendous for as you can see they had three Lambeg drums!
Also along the side of the road are some memorable cars including minis and a Volkswagen Beetle.
MARY LOUGHRAN 2866
This beautilful little girl back in 1970 having her school photograph taken at St Macnissis Primary School,Randalstown when she was in P1aged 5.
Well to tell the truth the only thing changed about Mary is her maiden name which back then was Loughran, I wonder who her daddy was?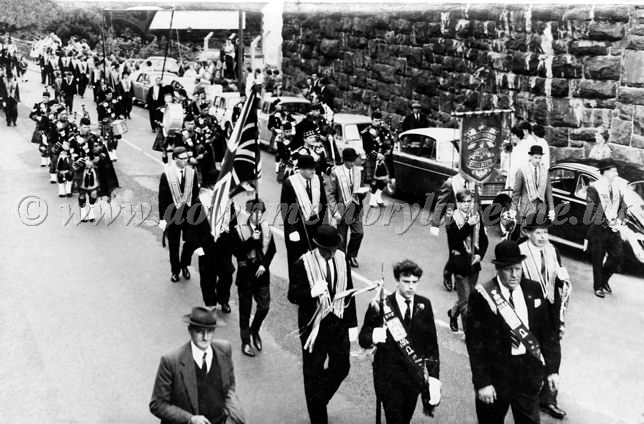 L.O.L. 176 3291
It's 1954 here in Randalstown and these are some of the members of Hillstown LOL 176 passing under the railway bridge, if you know any of the members
please let me know. Behind them is Antrim's famous pipe band A.B.D. Memorial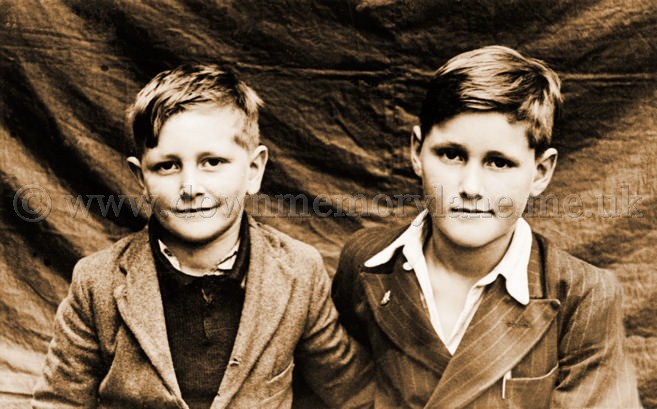 LAUGHLIN BROTHERS 2913
It's 1947 and the war is still in peoples memories but for these two lads all they are concerned about is smiling for the school photographer. I'm sure mum & dad were pleased with the photo for they bought this one of their sons John & Irwin Laughlin from Randalstown.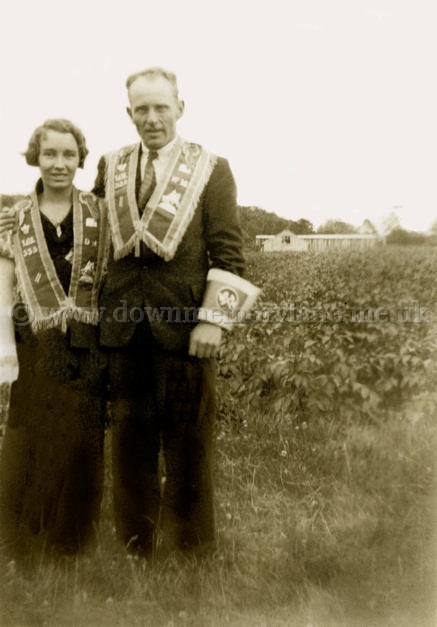 LOL No 335 2923
It's the Twelth morning and all set to go to the 'Field' are members of L.O.L. No.335 Sarah Clarke and David Swann.
Now the field behind them I wouldn't mind having as it's full of good old 'Spuds'.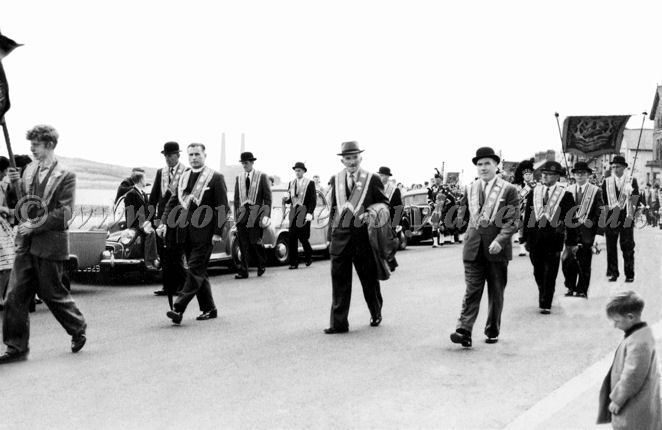 L.O.L. 176 3293
This is Hillstown lodge No.176 are marching near Larne for in the background are the stacks of Ballylumford power station. The elderly gentleman marching in the middle I wonder what he is thinking about as he looks over at the little boy. In the background is A.B.D. Memorial pipe band.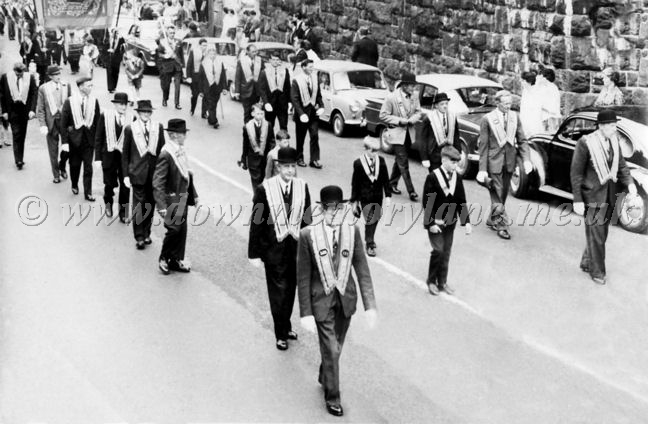 L.O.L. 176 3292
Marching out of Randalstown and under the railway bridge are the members of Hillstown LOL 176 at the minute no names are known.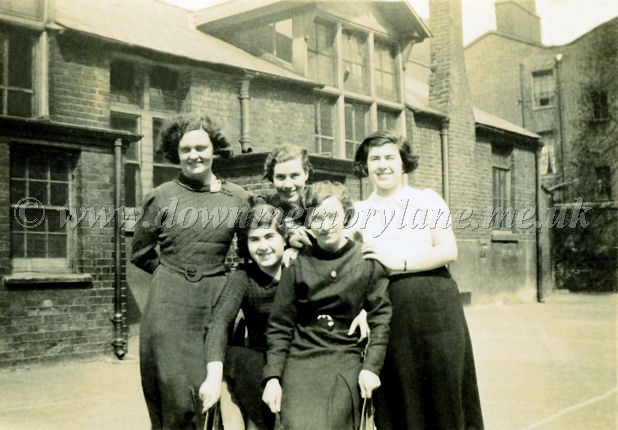 LUNCH BREAK 3390
Enjoying a bit of sunshine during their lunch break outside their place of work we have at the back on the left Mary Elizabeth McTeague, then Kitty and Annie O' Hana. In front are Teresa O' Reilly and G. McCoy. The name Montague derives from the name McTeague which people found hard to say.