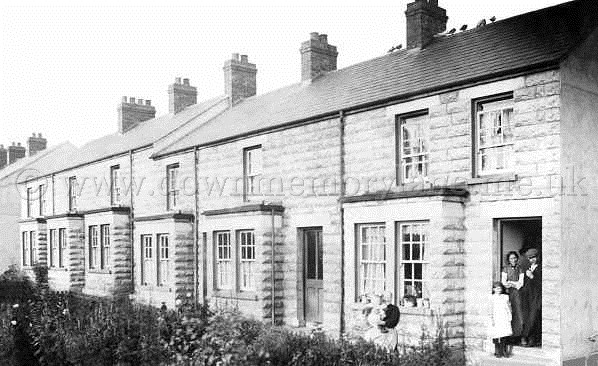 DAISYHILL 1232
Standing in the doorway of their home at Daisyhill on the Ahoghill Road in the 1930's we have husband and wife Johnny and Sarah Woods.
This is part of a row of houses which were built by the Old Bleach Lined Company for their workers.
In front of them is a daughter who is unknown at the moment and in the garden is Granny Woods holding baby Jane Woods.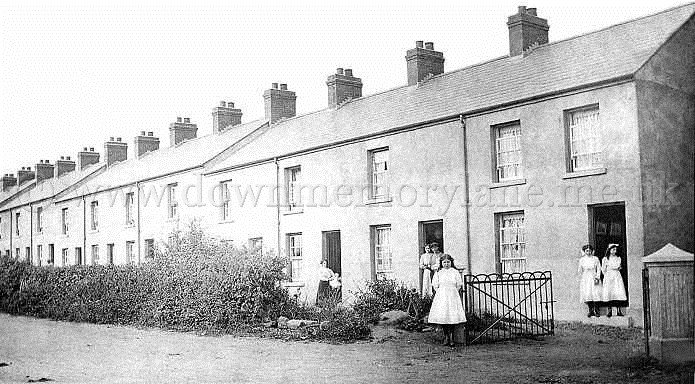 DAISYHILL 1393
Built on the Ahoghill Road by the Old Bleach Linen Company in 1908 at Daisy Hill this row of houses were the workers of the mill. The photograph taken in 1912 only shows houses from number 13 to 26 and a few of the residents at their doors. There was a shortcut to the mill through the fields to a footbridge over the River Main near the weir. In 1942 the bridge was washed away by flood water and was rebuilt only to washed away again, thankfully there were no causalities. Does the name Daisy Hill come from fields that could have been full of daisies?
DOWN THE LANE 1222
Standing getting their photograph in the lane at Shanoguestown are Eleanor Millar, her friend Roselyn Maybin and Eleanor's mum Jean Millar.
Why Eleanor is all smiles is that she is now fifteen and has just got her hair cut back in 1962.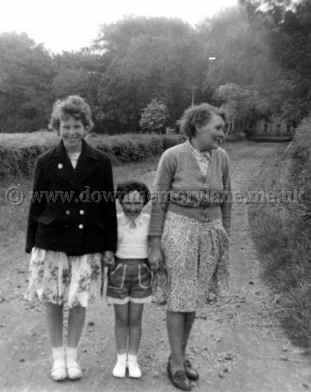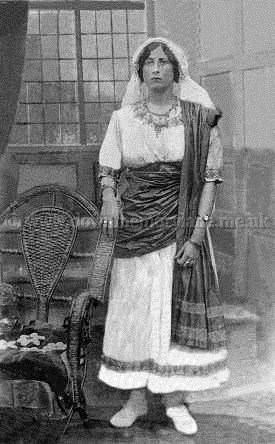 DRESSED UP 1173
This portrait of an Asian girl taken in a studio is not Asian but comes from Antrim It is our very own Rachael Woods.
The year is unknown.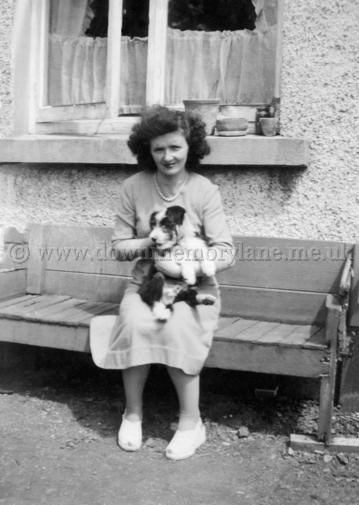 DAISYHILL 2147
Sitting enjoying the sun in May 1949 at Daisyhill is Josephine McMullan with Prince on her knee.
By the way the seat she is sitting on was hand made no flat packs back then.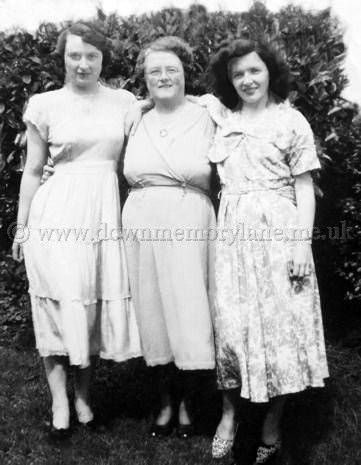 DAISYHILL 2148
Seen here in the back garden of their home at Daisyhill in 1948 we have best friend Audrey Love, Mum Helen McMullan and daughter Josephine McMullan.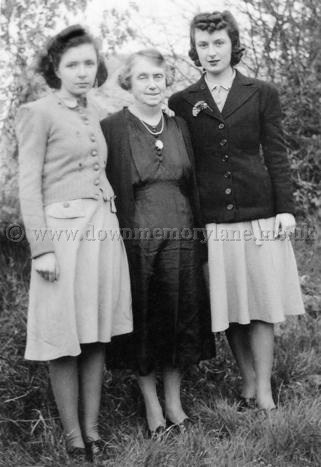 DAISYHILL 2149
Here at Daisyhill in 1942 the year I was born we have on the left Audrey Love, Gran and Josephine Wallace.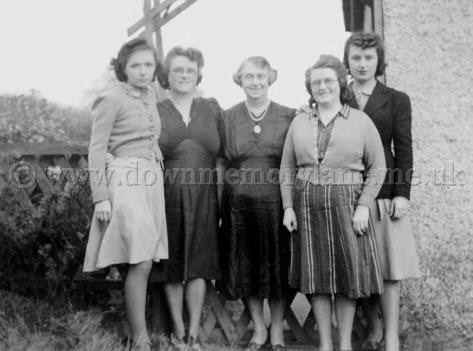 DAISYHILL 2150
It's 1940 and here we are at Daisyhill outside the home of the McMullan Family.
On the left is Audrey Love, Annie Graham, Annie Hamilton, Helen McMullan and Josephine Wallace.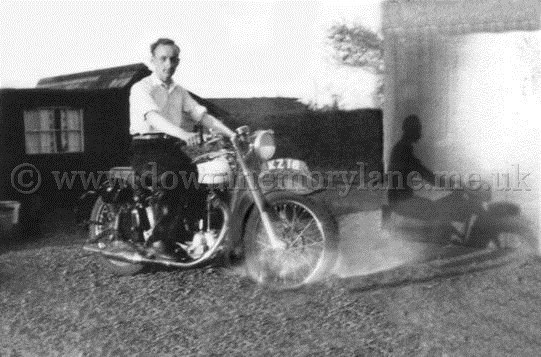 JAMES DRUMMOND 2268
This is Jim Drummond in the 1930's from Randalstown on his beloved Royal Enfield motorbike in his back yard.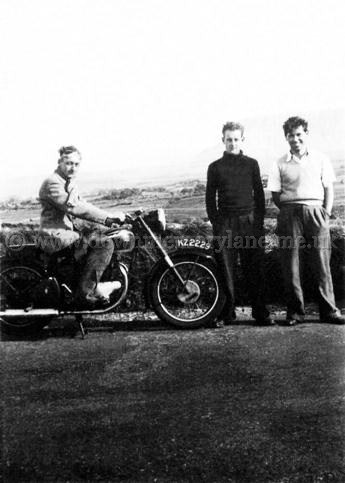 JAMES DRUMMOND 2269
Here we are outside Randalstown with James Drummond, Jim to his friends sittind astride his BSA motorbike in the 1940's.Standing next to hime we have Calvin Smith and Billy Kelly.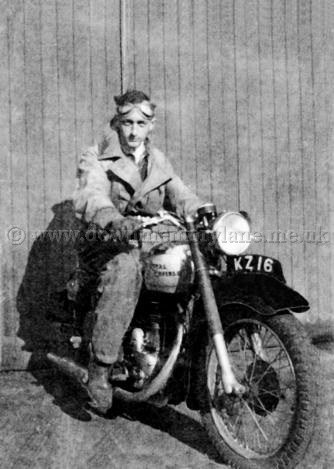 JAMES DRUMMOND 2270
It's the late 1930's and raring to go is James Drummond astride his Royal Enfield motorbike.
No helmets then just a pair of goggles and look at that registration.

DAISYHILL 2153
It's 1938 and this is Josephine McMullan at the side of her house out at Daisyhill.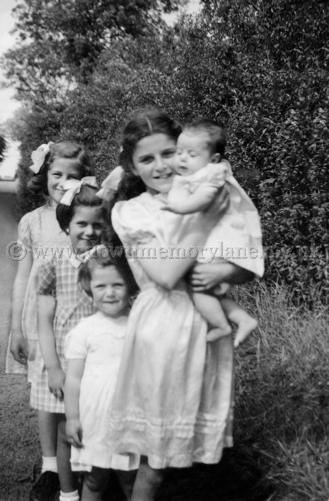 DAVIS GIRLS 2188
It's 1947 and these are the Davis girls from Randalstown. They are Winnie, Ann, Susan, Pat and Carol.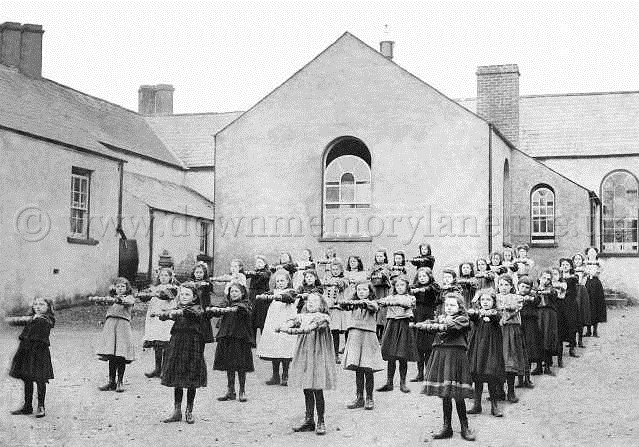 DRUMMAUL NATIONAL SCHOOL 1166
This was originally the Parochial Infant School in New Street, Randalstown and was built in 1853. In 1889 it became a National School and was then called Drummaul National School. Later on it became known to the locals as Armstrong's School. This was because the principal who was there from 1904 to 1935 was called Robert Armstrong. It then closed in June 1937 when the new Central Primary School was opened. Here in the playground which was at the back of the school you can see the girls going through their P.E. lesson and they are holding in each hand small wooden dumbbells.
Behind the girls to the left is the water pump where the children could get a drink during their breaks, the year is unknown.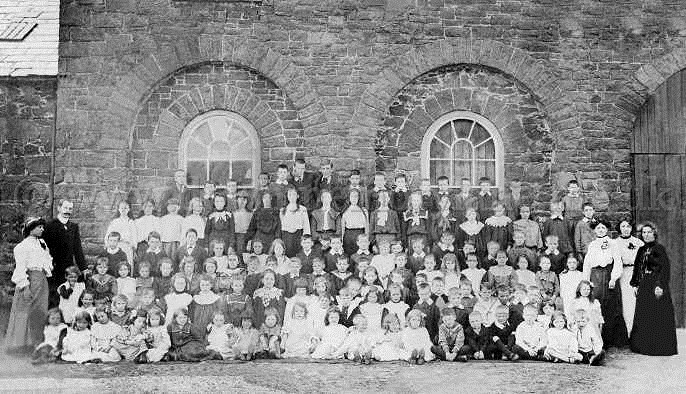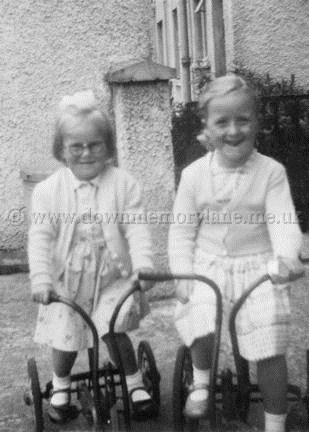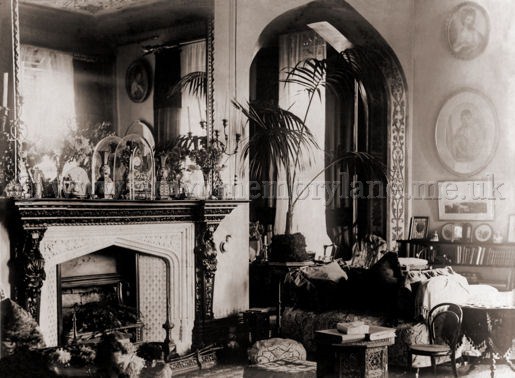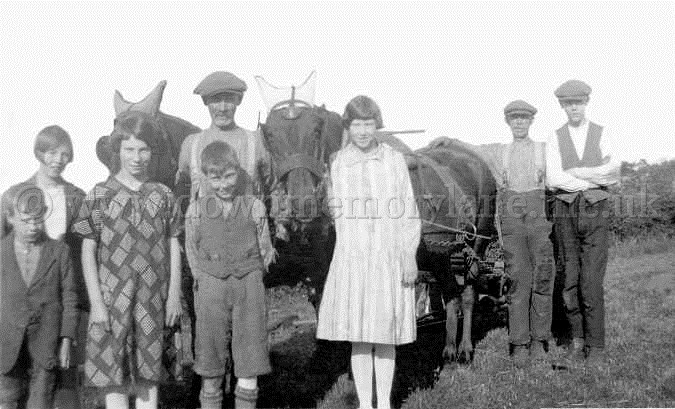 DARE TO RACE US? 2052
All set and waiting for someone to race them on their tricyles are Sharon Butterfield and June Donaghy.
DEERPARK COTTAGE 1526
This is Deerpark Cottage at Randalstown, now who the people are or the year are unknown.
DRUMMAUL NATIONAL SCHOOL 1177
These are the pupils of Drummaul National School, New Street, Randalstown in 1908, the Headmaster who is on the right was called Robert Armstrong.
It was known by the locals as Armstrong's School, the rest of the teachers and pupils are unknown but one lad will be for it when the Headmaster sees this photograph. He is standing at the back in the centre and he has just put his hand over the mouth of the boy on his left!
DOWN ON THE FARM 1185
This kind farmer has stopped " Making Hay while the Sun Shines " to allow the photographer to capture this moment in time out at Randalstown. All the people are unknown at the moment. Take a look at the covers on the horses ears this was to keep the dust from the hay out of them.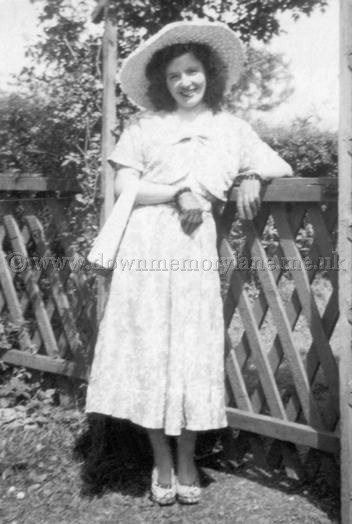 DAISYHILL 2152
This is Josephine McMullan posing outside her home at Daisyhill in June 1940.
As you can see Josephine was dressed to the nines and her handbag over her arm. Was she going to meet someone or was Josephine just going for a walk
to turn a lot of lads heads!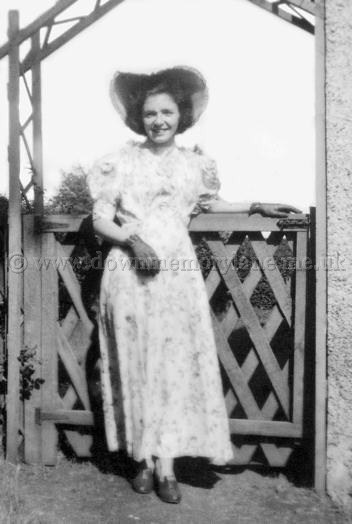 DAISYHILL 2151
This photograph of Josephine McMullan was taken outside her home at Daisyhill in 1940.
Now I reckon this was taken around May to July of that year, can you figure out why? Just look at her dress, lace gloves and her bonnet.
To me it says " Scarlett O'Hara" and the film "Gone with the Wind" was released to the cinemas on the 17th April 1940.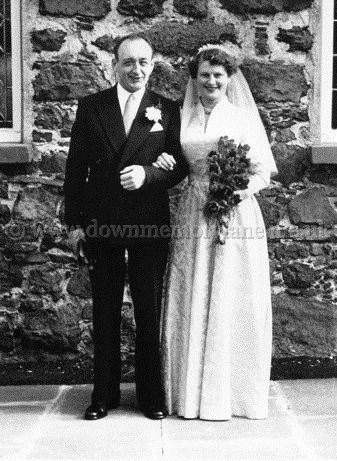 DRAWING ROOM 1523
This is the drawing room of Shane's Castle in 1900 before it was destroyed when the castle was burned by I.R.A. in 1922.Here one could imagine sitting and relaxing in front of the splendid open fire, perhaps to read a book or enjoy good conversation.Things which are sadly missing in this day and age.
DRUMMOND WEDDING 1540
This is James Drummond with his beautiful Bride Elizabeth (Lizzie) Drummond nee Campbell.
They had just got married in the O.C.Presbyterian Church in Randalstown on the 27th March 1957.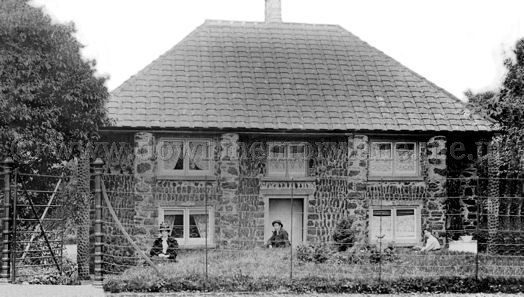 DONKEY DERBY 1646
It is the annual Donkey Derby in Randalstown and these two brave lads are racing each other. At the moment neither of them or the year is known.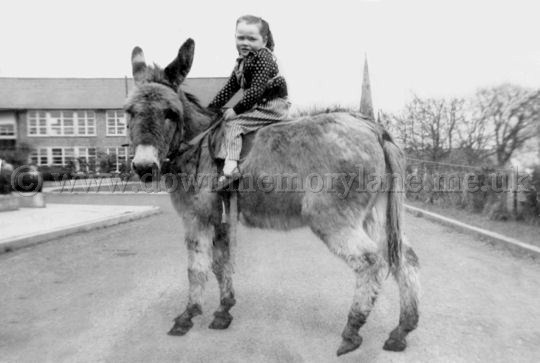 DONKEY RIDE 1972
Sitting astride this lovely donkey is the equally lovely Moreen McNally aged 2 1/2 back in 1957. Now this was 'Logan's Donkey' and the photograph was taken at Church View in Randalstown. In the background on the left is Central School and the spire on the right is of the Church of Ireland.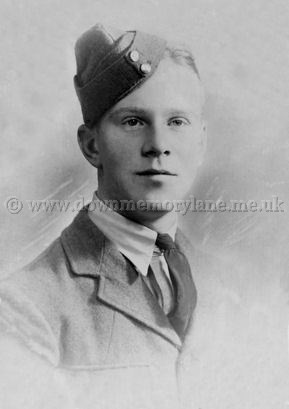 DENNIS BUTTERFIELD 2015
Just aged 19 this is Dennis Butterfield at Hednesford in Crannock Staffordshire on Saturday 23rd September 1939.
He was here for training just 20 days after the outbreak of World War II.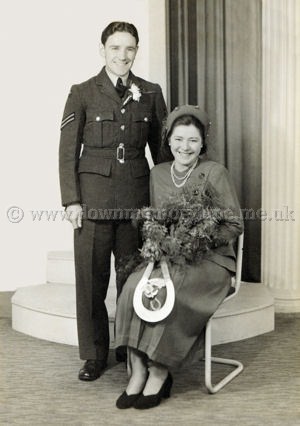 DOUGLAS WEDDING 2011
So happy and so full of love are this couple as they have their Wedding photograph taken.
They are Alex Douglas and his lovely bride Eileen Douglas nee McLoughlin after their wedding.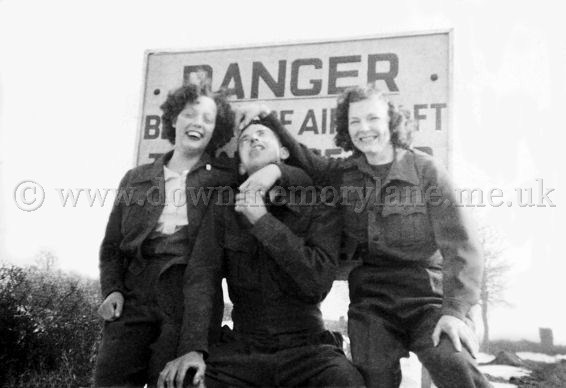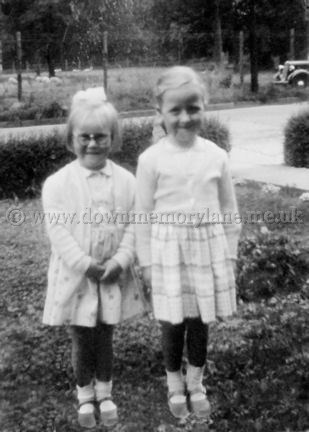 DELIGHFUL PALS 2051
Standing in their front garden all smiles for the camera are delighful pals Sharon Butterfield & June Donaghy.
DANGER 2060
It's 1946 and Lofty the RAF chap in the middle does not care that the sign behind says Danger, Beware of Aircraft.
He's more concerned about the Danger these two WAFF girls Betty and Joey are getting up to, then on the otherhand perhaps he's hoping!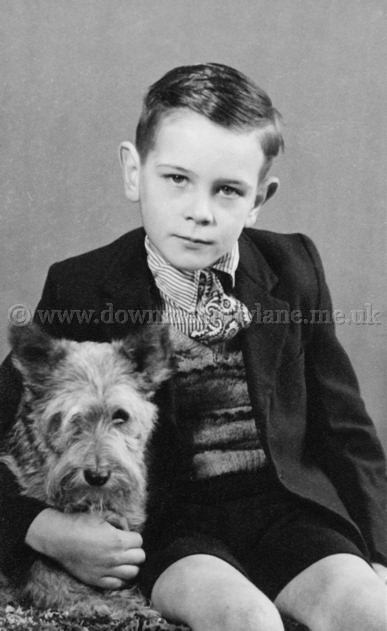 JACK DOWIE 2938
This is Jack Dowie from Randalstown with his faithful friend who is Unknown.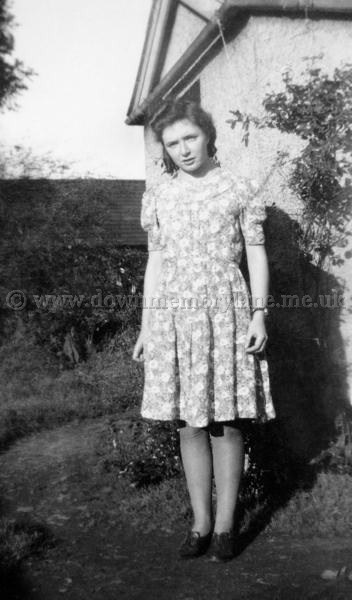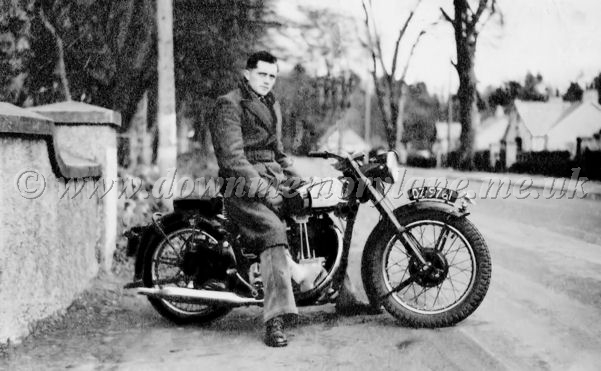 MADE OF MONEY 3378
This fake Egyptian Pound note with Robert John Dallas's photograph imposed on it was taken in Cario on the 1st March 1941 during his rest time from fighting on the front line during World War Two. Robert made it safely through the Second World war but was not so lucky in the Korean War when he was wounded at the Imjin river.
ROBERT JOHN DALLAS 3376
Sitting astride his Norton motorbike at the side of the road just outside Randalstown is Robert John Dallas, Robert had been in the Second World War.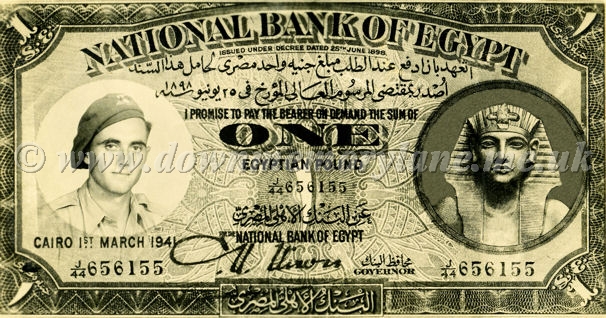 The fake Egyptian pound note was made not in Cario but by Bradbury Wilkinson & Co. Ltd. Engravers from New Malden, Surry, England!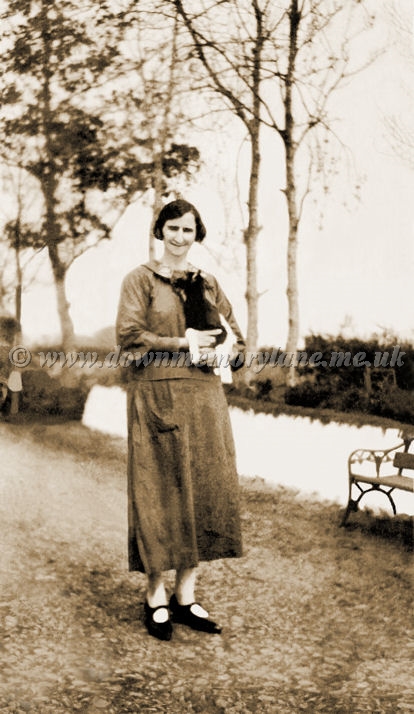 ANNIE DUFFIN 3430
Standing in the driveway we have Annie Duffin back in the 1930's and you made be supprised at what she is carrying in her arms. It's a kid, not a human kid but a baby goat!