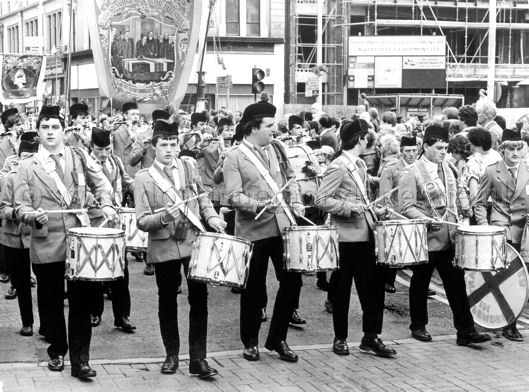 STEEPLE DEFENDERS BAND 1687
Playing their hearts out are the Steeple Defenders band from Antrim seen here in Royal Avenue, Belfast in 1982.
On the left is John Burke, then Paul Michael "a man for the people", Phil Forger, Stephen Houston, Jeremy Burke and Jim Rankin.
The only other two members known behind them are Sammy McCormick and Desi Wilson.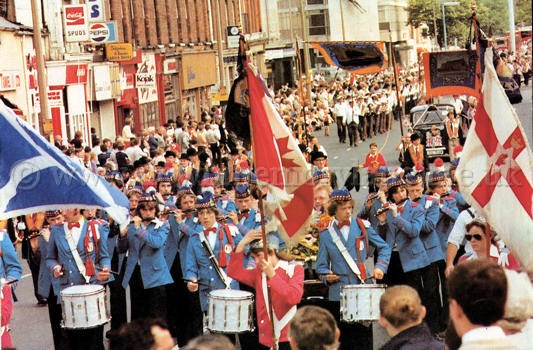 STEEPLE DEFENDERS BAND 2208
The Steeple band in Belfast in 1980. All Unknown.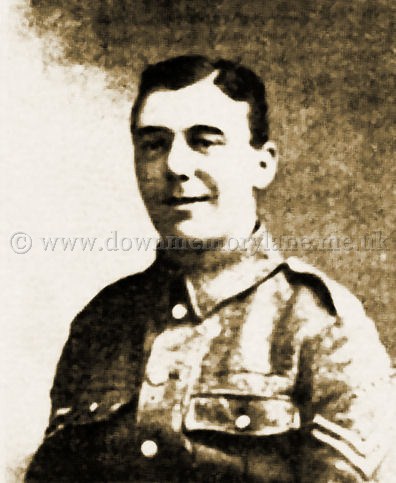 J. C. SCOTT 2563
This is Corporal J. C. Scott
Royal Engineers Ulster Division, 67 Bedeque Street Belfast died of his wounds. At the moment I have no further information.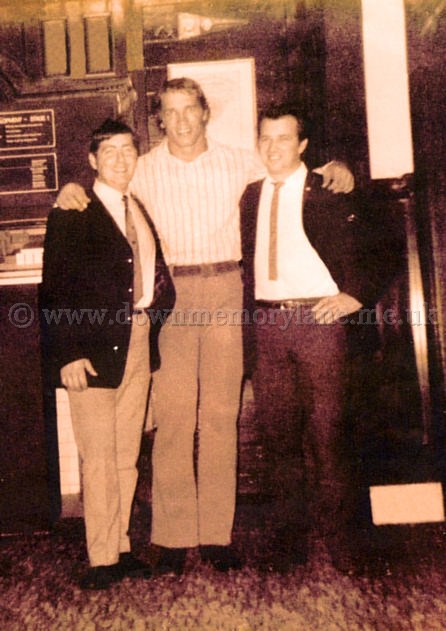 I'LL BE BACK
I't's 1972 and here we are in the foyer of the Stormont Hotel and these two men are over the moon at meeting their film screen idol in person.
On the left is Malcome Condie , on the right is Paul Hanlon and of course in the middle is Arnold Schwarzenegger!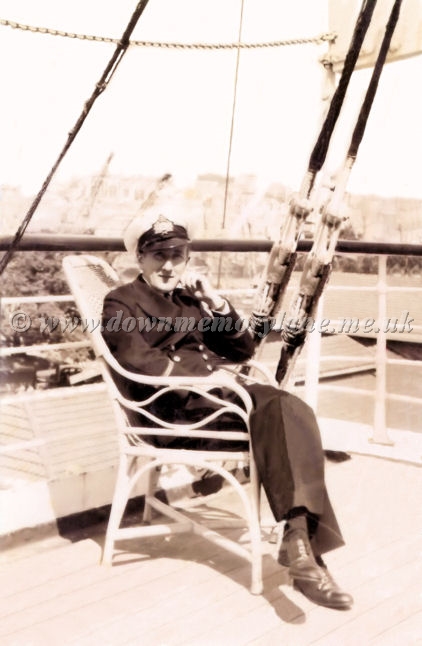 GEORGE STEVENSON 3440
Sitting relaxing in a cane chair in 1939 on the deck of RMS ANDES whilst in Belfast harbour is George Steven who is the Engineer Officer.
Because of the outbreak of WWII, Andes did not sail on her planned maiden voyage in 1939. Still in Belfast being fitted out by Harland & Wolff, Andes was quickly converted to a troop transport. Her wartime voyages took her mostly to the Orient, the Pacific and South Africa. At last, in 1947, she was
handed over by the British government to Royal Mail and was restored to her originally intended de luxe standard as a top class liner.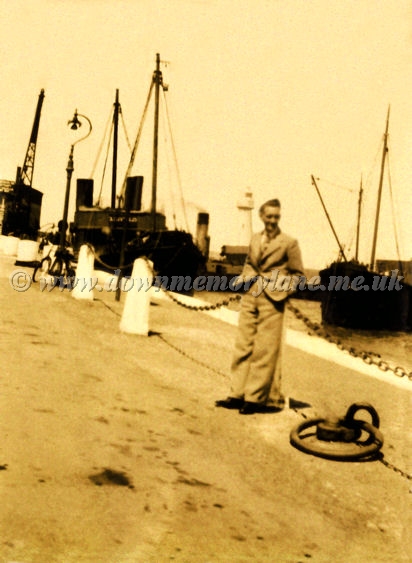 GEORGE STEVENSON 3441
This is George Stevenson leaning on a bollard on some quayside back in 1940. It seems to be a busy harbour for while one ship is tied up the one next to it is getting up a head of steam while behind George is another ship coming into berth. Looking unassuming with his hands in his pockets George and many others in his profession where anything but. Classed as bottom of the pile in the services they lost more men per ratio than any of the other services, it was
of course the Merchant Navy and all of them volunteers.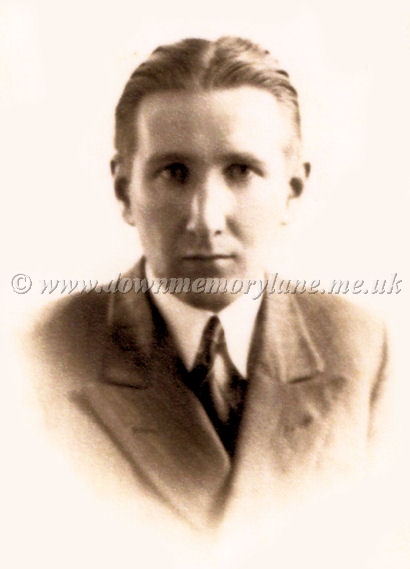 GEORGE STEVENSON 3442
Looking very solemn having his photograph George Stevenson should be smiling for it's 1939 and he's 21 today. George served in the Merchant Navy during and after WWII. George married Nora and they had two sons, they emigrated to Canada and by the 1960's with hard work and dedication George had become an Official Inspector for the Canadian Government. When he had time to spare George's hobby was boat building and became very skilled at it.
ELIZABETH STEVENSON 3443
This portrait photograph of Elizabeth Stevenson from Belfast was taken in 1940 with her WAAFF uniform. They should have produced this photograph in the thousands and dropped them over Germany, who would have wanted to fight against our Elizabeth!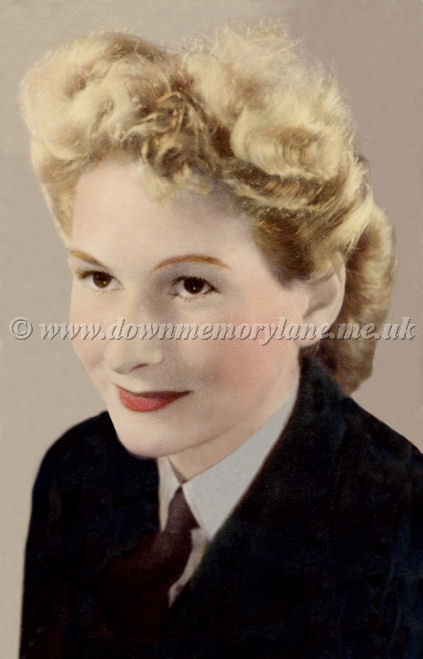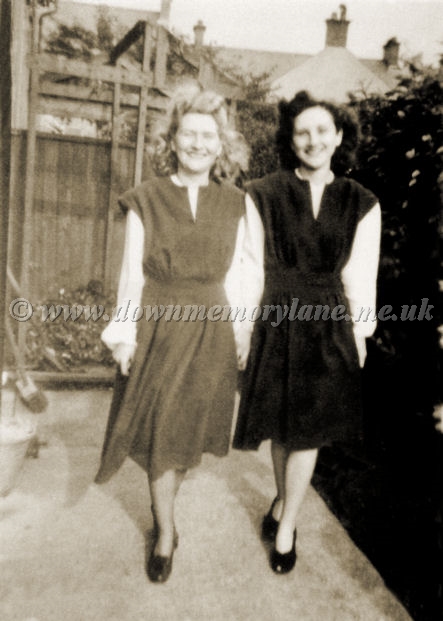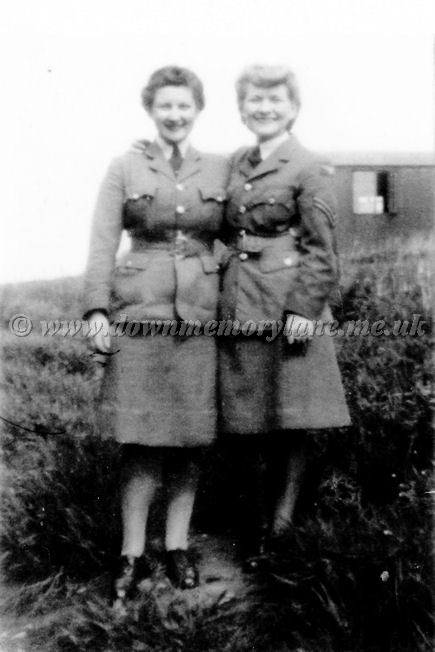 STEVENSON SISTERS 3444
Standing in their back garden all smiles are the Stevenson sisters on the left is Elizabeth and beside her is Marie. The reason they are smiling is that they are showing off their new frocks which Marie had made back in 1947. Even though war in Europe ended 7th May 1945 government rationing here did not end until the 4th July 1954 so most people had to save their coupons to buy materails or recycle old ones. My mother used to use my father's old trousers to make me short trousers.
WAFF FRIENDS 3445
Here inside their camp are two WAAFF friends in 1941 are on the left is sadly Unknown and Corporal Elizabeth Stevenson.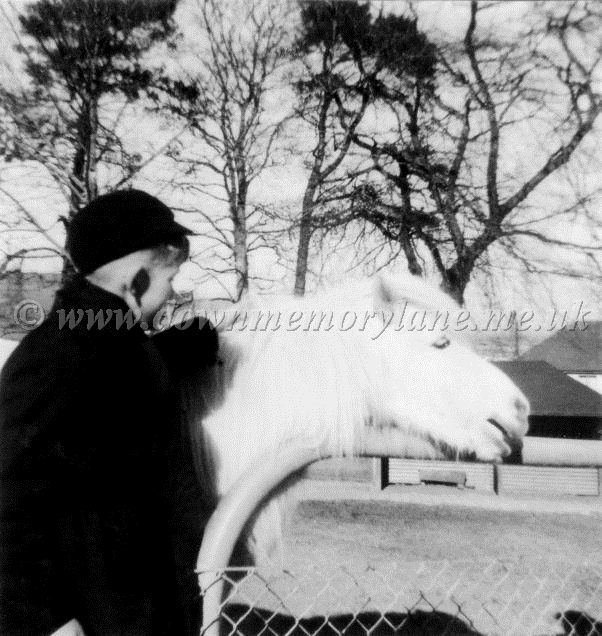 JOHN STEVENSON 3472
Here we have a young John Stevenson up at Bellevue Zoo just out side Belfast petting one of the ponies back in 1950.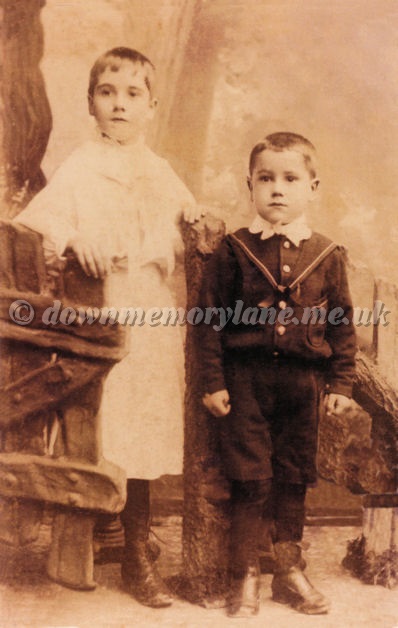 STEVENSON STUDIO PORTRAIT 3610
Here in a Belfast photography studio in 1890 we have Jessie Stevenson who was 9 years old with her lovely short hair and a beautiful white lace dress with laced calf length boots. Beside her is her younger brother Andrew and he was 5 years old and who looks scared because you had to keep still in those days but is dressed in a very smart outfit. Now Andrew when he grew up he played for the Scottish National football team, he was a very good player and oftenwon for the team so naturally he partied hard to celebrate every time they won which was quite often. His mother banished him for one year to theNew World to improve himself. He landed in Montreal and when the year was up he missed the boat home, the reason? Too much partying!
Andrew then moved to Toronto and set up an upholstery business. One contract he had was with the local Lunatic Asylum to cover all the chairs.
Meanwhile a Margaret Kirkwood who Andrew did not her had a job arranged by her father to be a housekeeper for Lord Baden Powell in Toronto.
Margaret tired of the job and took another in the local Lunatic Asylum where of course the two met and fell in love. Andrew and Margaret ran off to Buffalo, New York and married on the 1st July 1909 so Andrew was only 14 then! They had eleven Children in Canada who all stayed there and have many descendants. Eventually the horsehair used in the upholstery caused the death of Andrew, probably combined with the heavy drinking and smoking.