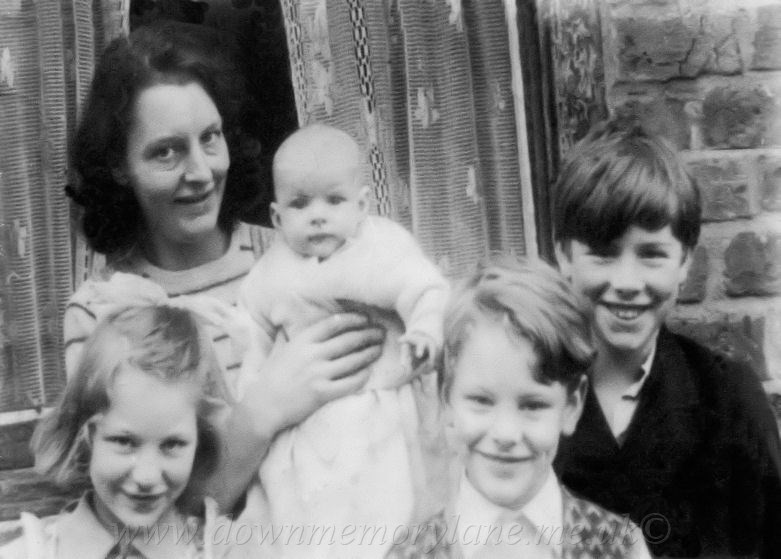 LOWE FAMILY 2443
Here we have mum Sadie Lowe outside her home in Scotch Street, Belfast in 1949.
In her arms is Rosemary, well known in Antrim and in front of her is Eileen followed by Jim and Sean.
LOWE FAMILY 2433
Well here we are in Scotch Street in the Pound Loney area of Belfast in 1959 with three of the Lowe family being photographed.
At the back with his Elvis hair style is Sean Lowe who went on to emigrate to California and went home some years past. Next is his sister Betty Lowe now a Graham and finally in front and the youngest of five children is Rosemary Lowe, her other sister & brother Eileen & Jim emigrated to Australia.
Now to hear the story behind the photograph we must rewind the years back to her parents. Her father John Lowe worked at a fair in Belfast. Her mum Sadie (Sarah) Macmillan originally from Coleraine went to the fair, met John, they fell in love, married and had five children. Now when Rosemary was being baptized, her Godmother Aunt Rita and Rosemary's sister Betty decided at the font that the Mary was not glamorous enough and changed it to Rosemary!
When Rosemary left school she went to work in Telephone House as a telephonist. There she got into the habit of having a telephone at her ear and to this day Rosemary can be found still with a phone clamped to her ear! Some time later Rosemary met,fell in love with and married Jim Drain and they emigrated to Brisbane Australia. But Australia was not for them and soon they were on their way home to Northern Ireland. Rosemary realized that it wasn't just going to be the two of them landing home it was to be three for Rosemary was expecting their first son. They came to Antrim and were housed in the just newly built Rathenraw estate. Later they moved to the Greystone road and altogether had three sons Alan, Colin and Richard. Rosemary, now retired is a E-Bay addict and is well known not only around the town but also at local car boot sales as a avid bargain hunter.
Her nieces and nephews know her as Auntie Hopey! Now a little birdie whispered in my ear that Rosemary's birthday was the 21st December.
Pages: