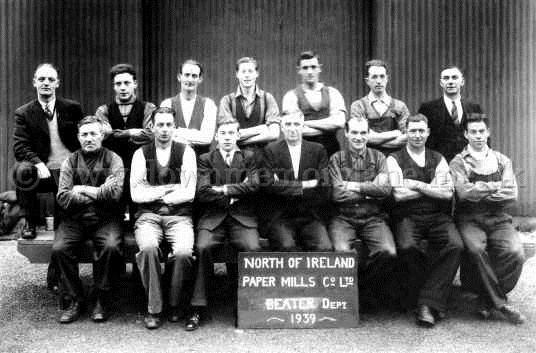 NORTH OF IRELAND PAPER MILLS Co.Ltd. 981
Seated on the right is Georgie Dodds, next to him is Andrew Strain and also in the group is Jack McCalmont and they worked at the paper mill in Ballyclare in 1939.
NORTH OF IRELAND PAPER MILLS Co.Ltd. 982
Seated second from the right in the front row and the only one known is Jack McCalmont at the North of Ireland Paper Mill in Ballyclare. Jack was an expert at mixing the dyes that even after he retired the company used to ask him to come in and mix the dyes they couldn't get right!
He also had fought in the First World war coming through it unscathed but not his brothers two were killed and never found and a third was injured.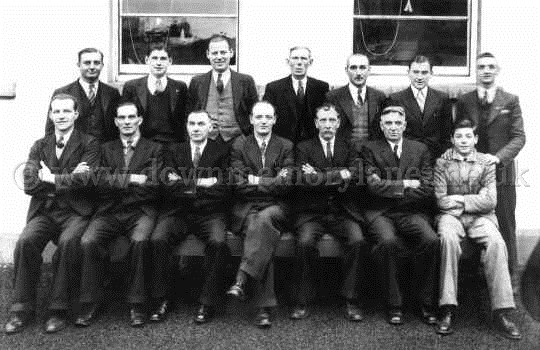 Pages:

.. .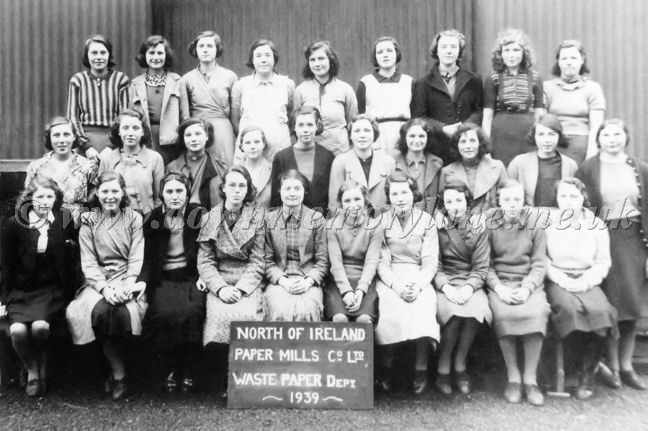 NORTH OF IRELAND PAPER MILLS Co Ltd 3162
Recycling is not something new as these girls who worked in the Waste Paper department of North of Ireland Paper Mills Co. Ltd. could tell you.
As you can see by the board it was 1939 and that September WWII started so that made cardboard and paper a scarce commodity
The girls had to sort the paper and cardboard by hand into white, brown and any other colour there was at the time. This was not a pleasant job and the hours they worked made it an arduous one, but that did not stop them giving the camera a smile, sadly at the moment none of the girls are known to me.
If you reconise anyone please let me know so that we can bring the photo back to life.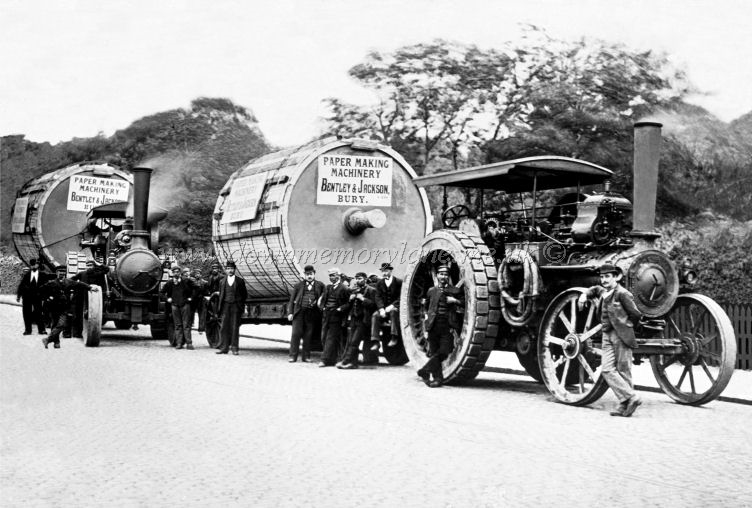 BENTLEY & JACKSON 3505
Having their photograph taken around 1900 - 1920 these haulage men are going to deliver these two massive paper making cylinders from Bury near Manchester to Ballyclare Paper Mill in Northern Ireland. Now this will take them a number of weeks to get there, no motorways and only these two traction engines which will need coal and water quite a number of times, they will be able to travel for some time in the dark as the traction engines have lights on them. The two cylinders were made at Bentley & Jackson in Bury from the original design made in 1888, with this size mills were able to produce much more paper and thus produce a greater variety paper sheets, envelopes and machine glazed paper.
This photograph is kindly loaned by Dr. B. Silke.