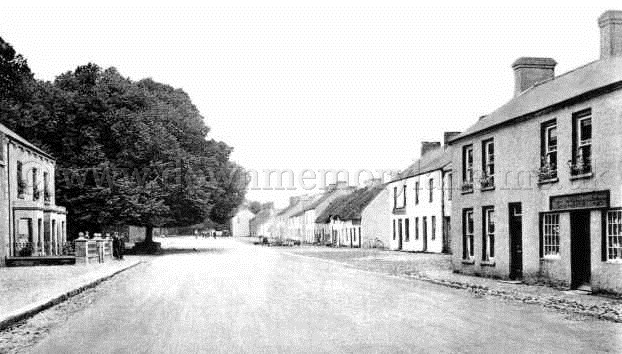 PARKGATE 754
This is the main street at Parkgate in 1910..
It looks so peaceful, three men on the right looking at the camera and behind them a couple of hens in the shadow of the tree. Over the road at the thatched cottages leaning against the wall is a bicycle and coming down the road is a cyclist. In front of the cottages is the village pump with a horse trough in front of it. A barrel on a trolley next to it is to be filled to take home remember no running water back then.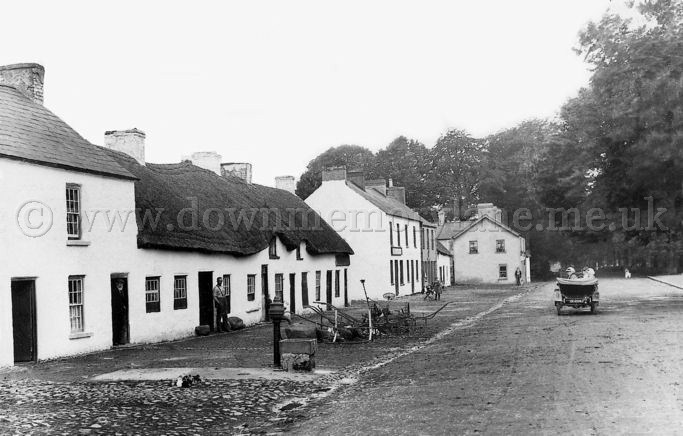 PARKGATE 1753
It is 1920 and here we are in Park gate village on the main street going towards Antrim.
The first man is unknown but the man standing at the door of the thatched cottage is the local smithy Jim McAuley, in front of Jim is some of the farm implements he has either made or repaired. In the foreground is the village pump which supplied all the water to the village. At the end of the thatched cottages is the local pub, then the post office in the next building and at the bottom with a man against the gable wall is Sterling's grocery shop. The car which was has stopped for the photographer to take them looking back.
Pages: