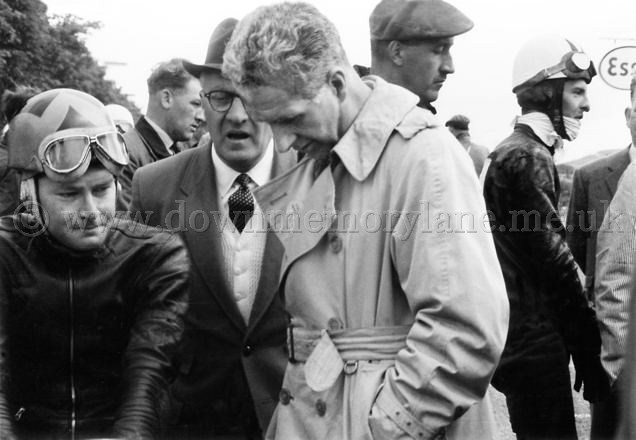 ISLE of MAN TT 2814
Here we are in the Isle of Man in 1957 for the T.T. races. Having a chat before the race is on the left Sammy Millar with Cecil Sandford former T.T. winner and Artie Bell.
My thanks to Ed Cunningham now of Ontario, Canada for this photograph.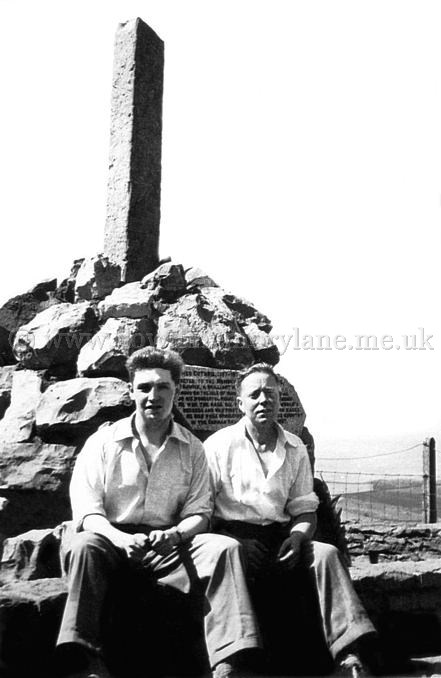 My thanks to Ed Cunningham now of Ontario, Canada for this photograph.
ISLE OF MAN 2955
Sitting in front of the James Guthrie memorial on the Isle of Mann TT course we have Ed Cunningham on the left & Paddy Lawler having a rest in 1955.
They were cycling round the course as they did every year. The Memorial reads as follows:
James Guthrie 1897–1937
Erected to the memory of Jimmy Guthrie, of Hawick, a brilliant Motor Cycle Rider, famous on the Isle of Man Tourist Trophy Course from his wonderful
riding and great sportsmanship. He won the race six times, beat many world records and was the first in numerous foreign races.
He died while upholding the honour of his country in the Germany Grand Prix, August 1937.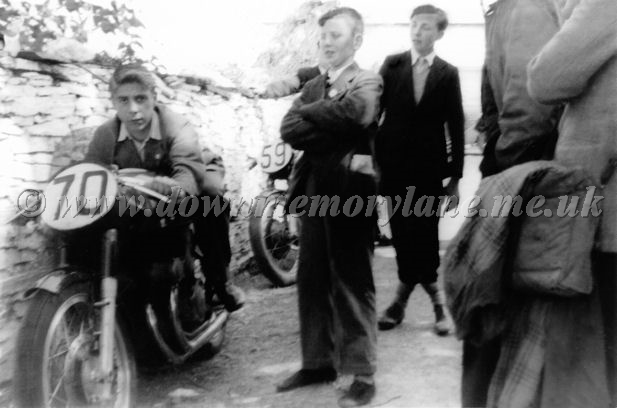 LEN IRELAND 3352
Here we are somewhere in the Isle of Man for the TT races and every young boy back then dreams of becoming a racer after their dream idol. This young man sitting astride this Alfredo Milanis works Gilera four is no exception as he strikes a racing pose for the Kodak Brownie box camera.
Now take a look at the lad standing with his arms folded and giving him a look of jealously but you can imagine him saying " Who do you think you are?"
Well later on in his life he will certainly know who it was for it is our very own racing legend Len Ireland.