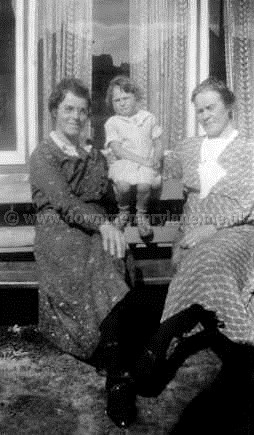 PORTSTEWART 375
This is Nellie Hannan and Rachel Baird on holiday in Portstewart with a baby giril who's name is unknown.
The year is unknown.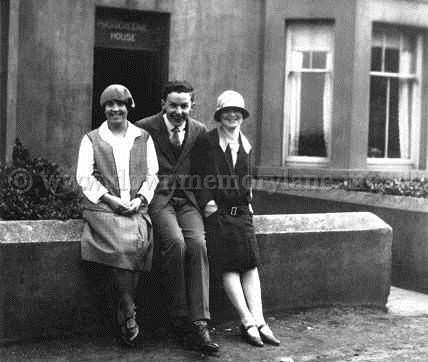 PORTSTEWART 317
Sitting outside Hazeldeene House in Portstewart are May Baird and Anna Baird, the young chap who is happy with his arms full is unknown and so is the date.
PORTSTEWART 295
Taking a stroll along the prom in Portstewart enjoying themselves is Elvyn McKinney the other girl is unknown.
Behind them to the left you can see part of a sea mine and to the right you can see a man in a striped jacket.
Date is unknown.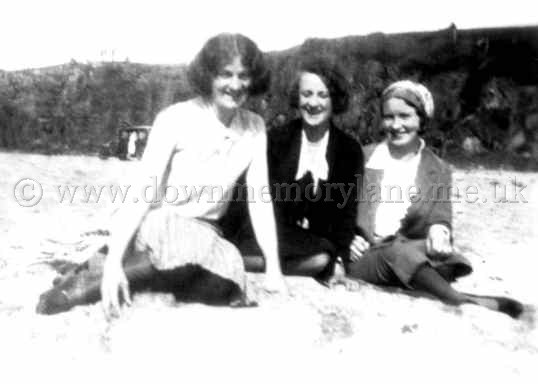 PORTSTEWART 272
Sitting on the beach at Portstewart enjoying themsleves are from the left Jeannie McKee, Unknown and Anna Baird. Behind Jeannie you can see a lady getting into an old car that has the spare wheel beside the engine.Date of the photograph is unknown at the moment.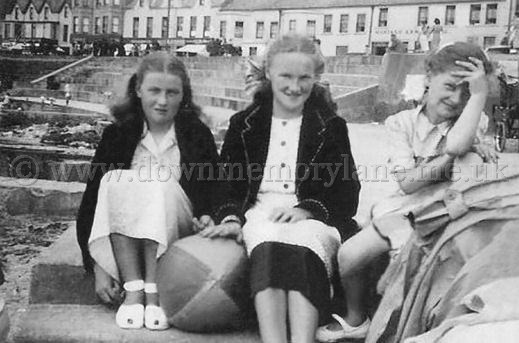 PORTSTEWART 2083
Enjoying a day out to Portstewart on the seafront in1949 we have from the left Margaret Hughes, Kathleen McAteer and her sister Patricia McAteer.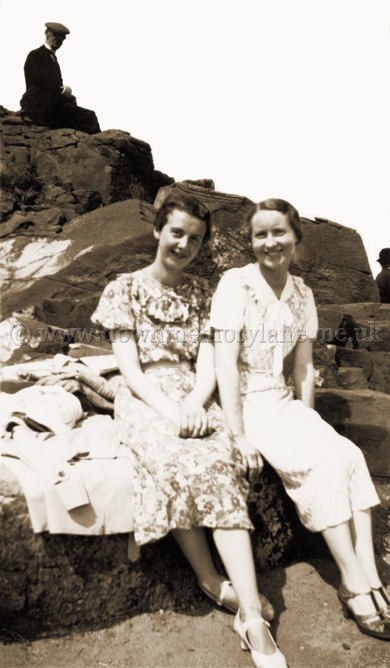 PORTSTEWART 2853
Enjoying the sunshine and the fresh sea air in the 1920's are Anna Baird and Ruby Baird sitting on the rocks at Portstewart.
Pages: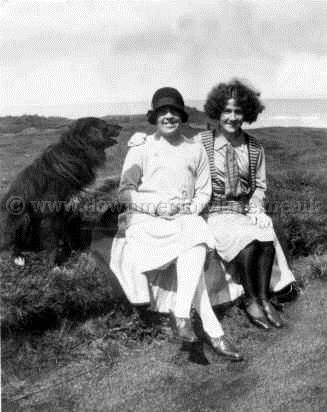 PORTSTEWART 288
Sitting enjoying themselves at Portstewart is Anna Baird, Unknown, Unknown and May Baird. The date is unknown.
PORTSTEWART 273
This is Anna Baird and Jeannie McKee near the beach at Portstewart with their dog who's name in unknown.
The date of the photograph at the moment is unknown.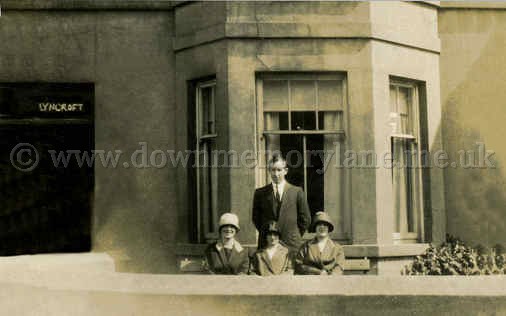 PORTSTEWART 286
On holiday in Portstewart and staying at Lyncroft House are Aggie Baird, Jeannie Baird, their mother Ruby Baird and standing is John Baird all from Antrim.Taken in the 1920's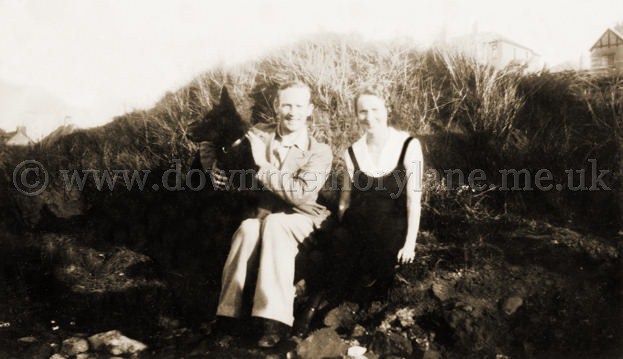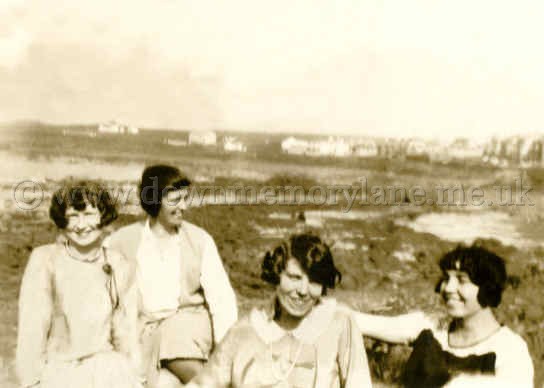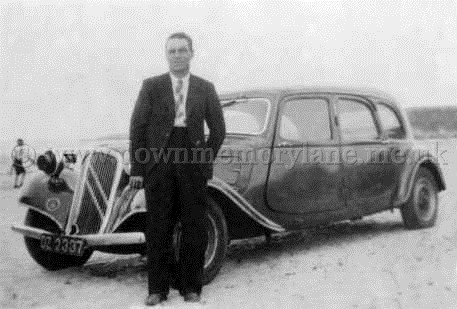 PORTSTEWART 2863
Out for a walk with the dog who is unknown at Portstewart is David and Anna McCabe.
PORTSTEWART 998
Standing next to his 1936 Citroen big 15 on the strand at Portstewart is Alex Agnew from Templepatrick.
As it was 1941 and the Second World War was still ongoing you still had the blackout curfews at night. It you look closely at the headlight on the left
you will see it has a cover on it with slats that pointed downward to reflect the light, this meant not much light came out of them and so they then painted
a white strip on the mudguards of the car to help other motorists to see you.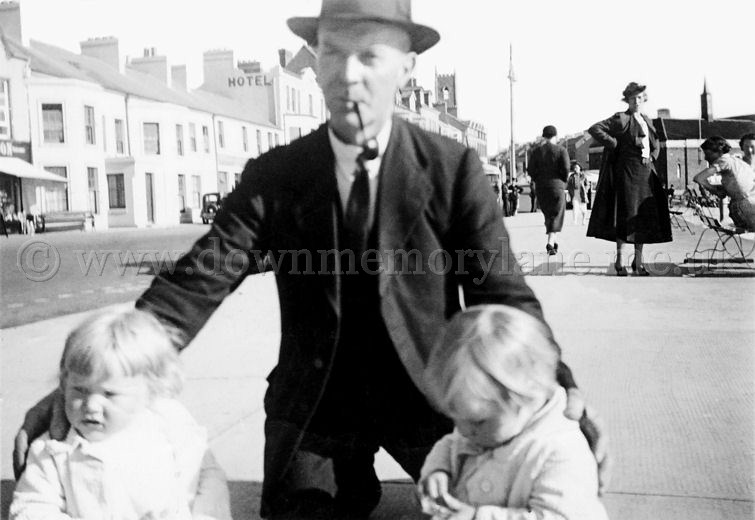 DAD'S ANGELS 2605
Here we are at Portstewart in1938 is proud father William McAteer showing off his beautiful Angels Kathleen and Alice to the camera.
While in the background with her hand on her hip is his patient wife Mary probably saying,
" Does that man think we are made of money, there will be soon no knees in his trousers at this rate of going."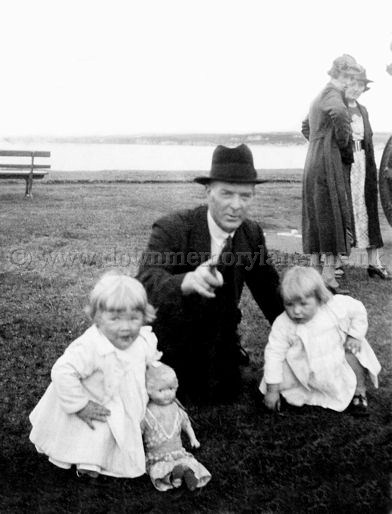 McATEER HOLIDAY 2600
Kneeling down for the camera at Portstewart July 1939 only 14 months from the start of World War II is William McAteer with Alice McAteer
and her dolly on the left while on the right is her sister Kathleen McAteer.
In the background is their mother Mary McAteer with granny Clarke probably saying" Look at that man sometimes I think I have three children!"
PORTRUSH ROAD 3464
Here we are looking at No.6 Portrush Road in Portstewart which Samuel (Pete) and Douglas McDowell's holiday home where they would come and stay. Seated on the steps could be Mr & Mrs McDowell and one of the boys.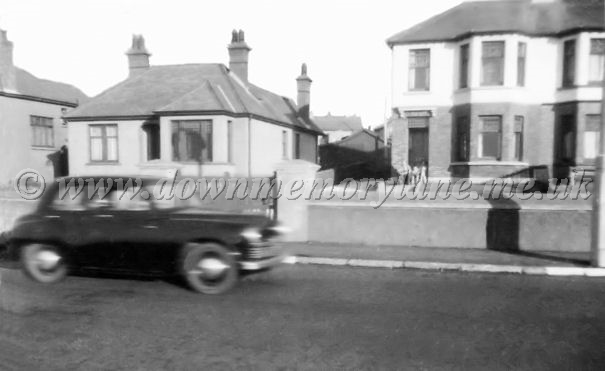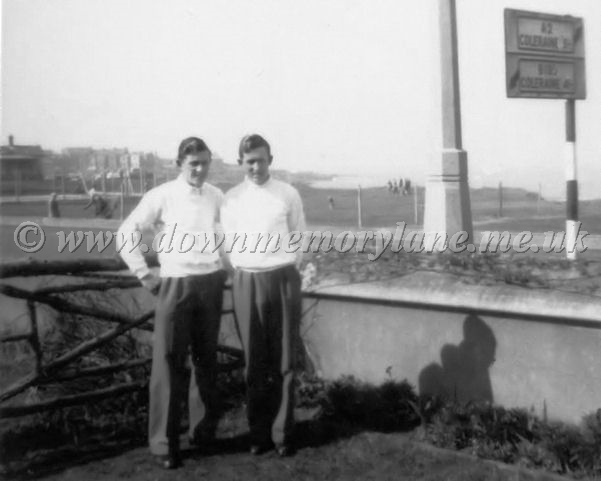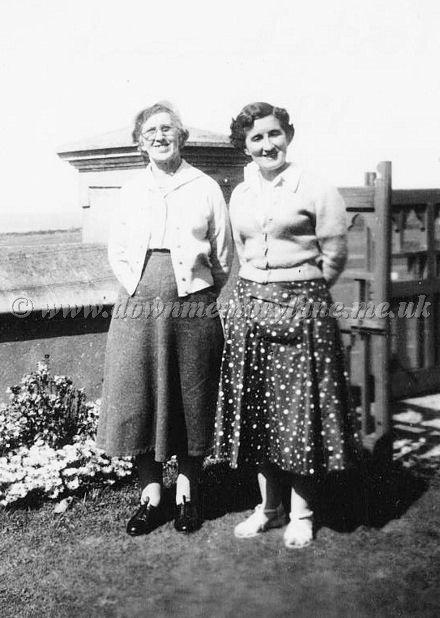 RELAXING 3466
Seen here relaxing while on holiday at No.6 Portrush Road Portstewart are on the left Sarah Hanlon and Isobel McDowell.
It's back in 1956 when summers meant sunshine for weeks and no rain.

THE McDOWELL BOYS 3465
All set for a day out in Portstewart in 1965 are the McDowell Boys - twins Samuel (Pete) and Douglas McDowell.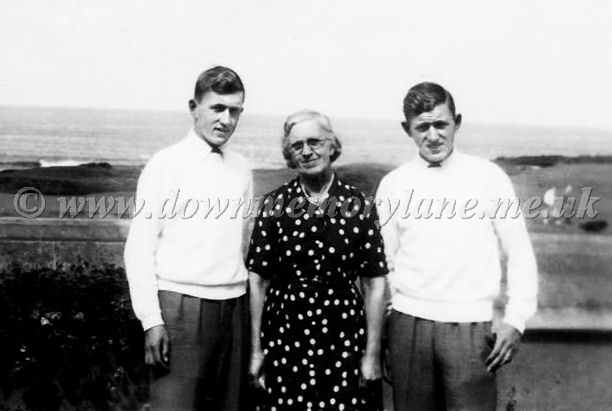 OUR GRAN 3467
Down having a break in Portstewart in 1956 are Samuel and Douglas with their Gran Sarah Hanlon.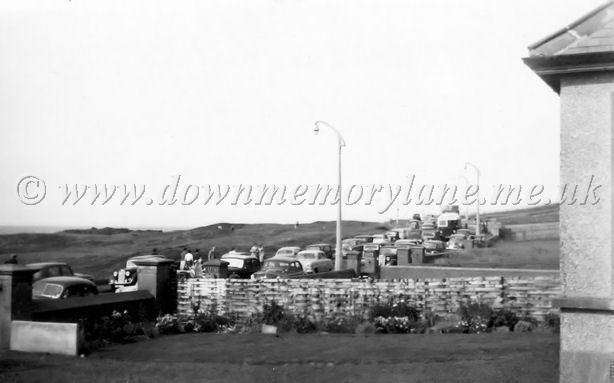 SOME THINGS DON'T CHANGE 3468
It's 1956 and it is Easter time and late morning and as always if you leave it later to go to Portstewart or Portrush this is what happens. Some things don't change and the same applies today.