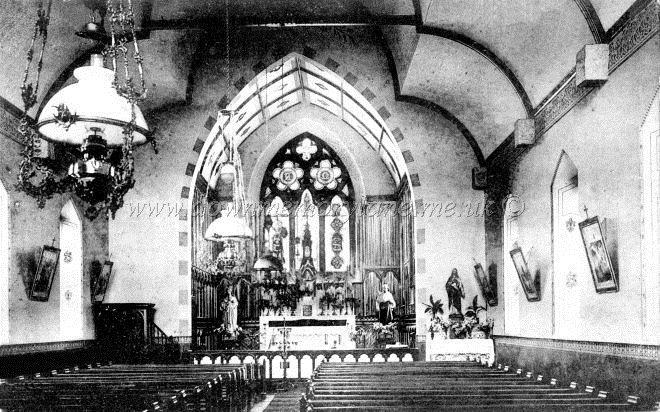 St. JOSEPH'S ROMAN CATHOLIC CHAPEL 0371
This is the inside of St.Joseph's Roman Catholic Chapel in Glenavy.
The date is unknown.
Pages:

.

GLENAVY RAILWAY STATION 3653
This photograph was taken looking on what seeems to be a very quiet Glenavy railway station in 1957.
I wonder did it have a spur line for leaving off goods for there is a small Signal box and also a crane for unloading goods.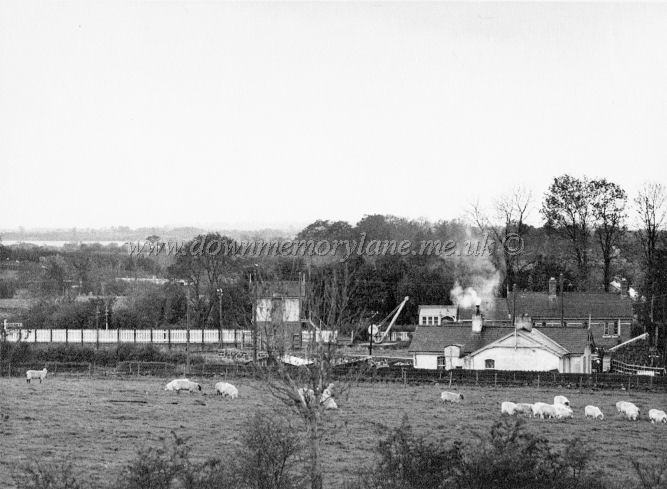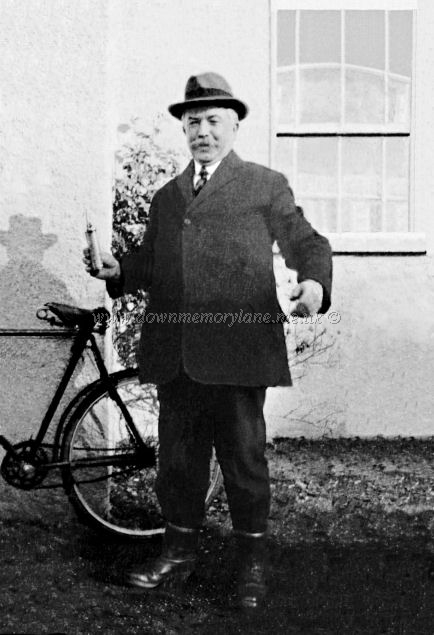 WILLIAM SHERLOCK 3795
Here having his photograph taken at Glenavy House round about 1935 is William Sherlock who at the time was the stationmaster there. In 1940 William Sherlock was presented with a engraved Elgin gold watch and chain by the community of Glenavy as a token of their appreciation of his courtesy and attention to the travellers on the line to mark his retirement after 50 years' service on the railway including 42 years at Glenavy he was presented with a generous wallet of notes as a tangible expression of good wishes by the inhabitants of Glenavy He is seen here looking jolly having well oiled the bicycle for a spin and wearing his cycle clips. William went home on the 27th November 1952 and he is buried at Crumlin Presbyterian Churchyard.
The following information was given to me by his Grandson David Sherlock in 2018 who by the way has his Grandfather's gold watch and chain which is still ticking and keeping perfect time after 112 years.
William joined the railway at Crumlin in 1890 as a porter then became signalman there, on the 14th December 1898 he took up duty as stationmaster at Glenavy until his retirement.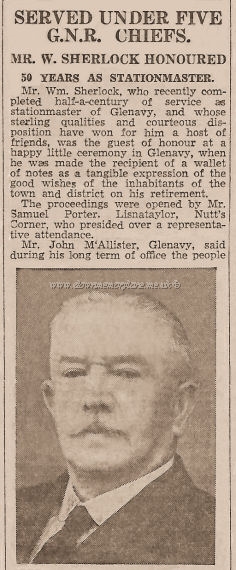 WILLIAM SHERLOCK 3796
This cutting out of the local Glenavy newspaper shows part of the write up concerning William Sherlock's retirement in 1940.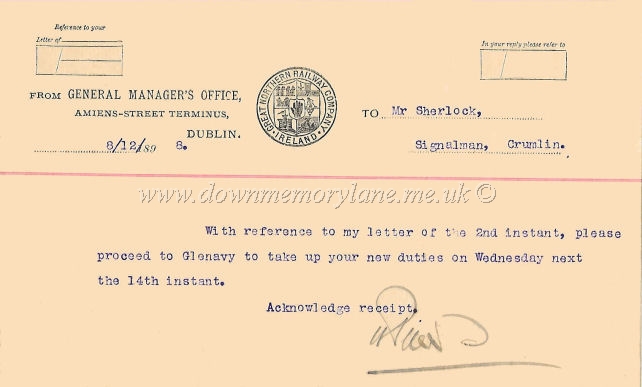 WILLIAM SHERLOCK 3797
This letter from the General Manager's Office was confirming Williams new position and starting date in Glenavy.
What an achivement when you think William started as a Porter and with steadfast dedication rose through the ranks to become the highest position in a railway station.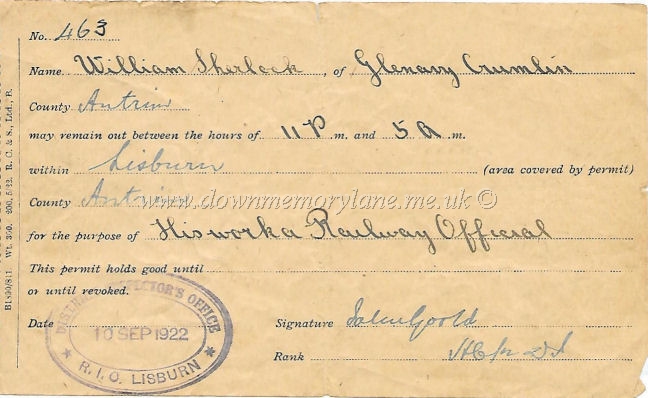 WILLIAM SHERLOCK 3798
The government at that time had brought in a Special Powers in April1922 to try and re-establish peace and law and order in Northern Ireland, this allowed them to impose curfews.
Thus Willian had to have this document so that he could travel freely if there was a curfew in place.