-
CART RIDE 3089
Here on the Wilson family farm in 1938 at Dernagross which was on the main road between Coleraine & Garvagh, the Wilson children are having a cart ride.
As you can see they don't need a horse when ever strongman Leslie McCurdy who was a scout is about. The "Horse" is being guided past a haystack by reins which Robbie Wilson aged 10 is holding, now aged 87. Beside him his brother George Wilson then aged 7 now aged 85,
In front of them are their sisters Margaret Wilson and Betty Wilson, Margaret later on in life married Robert Calderwood and Betty married a Bill Moore.
They then went to live in Australia where they live to this year 2012.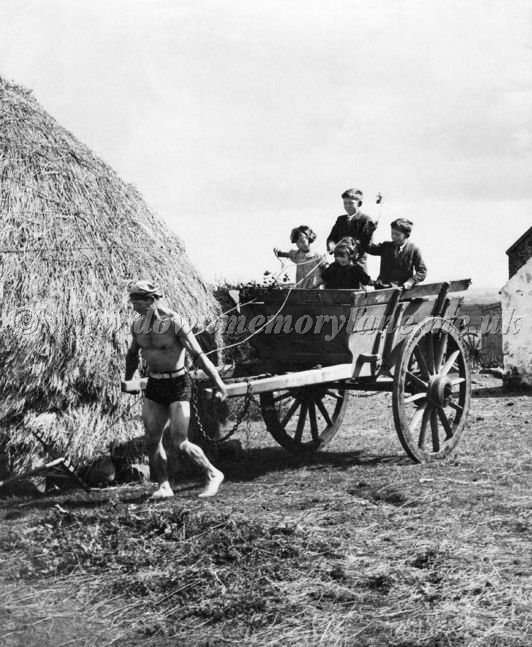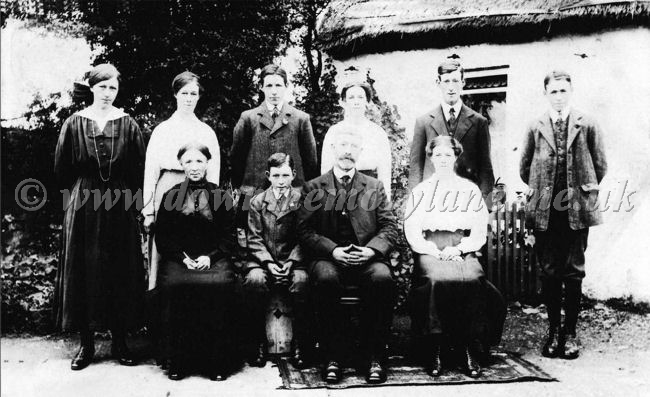 WILSON FAMILY 3090
This is the Wilson family around 1915 while the First World War was raging in Europe. They are outside the family home at Dernagross on the main road between Coleraine and Garvagh also the Irish meaning of Dernagross is " Oakwood of the Cross".
At the back 3rd from the left is James Wilson, then 5th is Robert Wilson and finally George Wilson.
On the left seated is the mother Mrs Wilson nee Woodburn, next John Wilson and their father Robert Wilson.
Of the four girls we only have one christian name, Lizzie, who never married. The other three daughters married, one became a Mrs William Reid and lived in Aghadowey, second one became a Mrs Tommy Clark and lived near Aghadowey. Lastly the third one became a Mrs James Kennedy and lived near
McDuffs resturant which was running back then. At the moment we don't know which girl is which.
Pages:

.

Index: